Events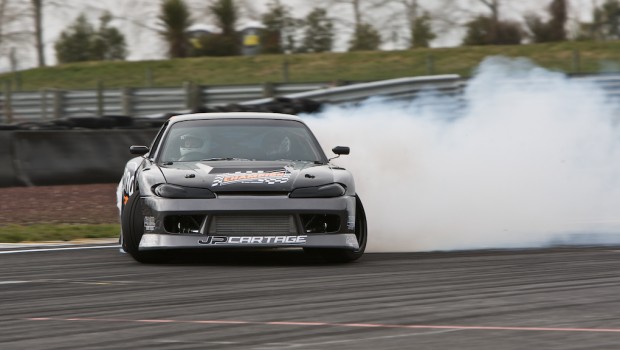 Published on September 9th, 2012 | by mrgrumpyninja
0
Fathers Day 400 drift by autofocused.co.nz
Paul from autofocused sent me these images from his recent trip down to the Fathers day 400.  Some of them have been seen before, some haven't. I quite like showcasing the work of others who love what they are doing and if you want to see more of Paul's work, then check out www.autofocused.co.nz.
From what I have been told, the drifters were basicly skidding track 2, onto the short remaining part of the straight, through the chicane and onto pit straight.
First shot is Cam Vernon's Skinny (it's a mobile phone co if you were wondering) sponsored R32 leading Drew "Doni D" Donovans LS chev powered S15.  Vernon debuted the car 2 days prior (link) , and it sports an RB29 engine rumoured to be capable of 600kw on e85, although one would think about 450-480kw will be all that is required for D1NZ competition. The current Pro-AM champ will step up to Pro this season, which will throw a few new challenges up with average speeds about 25-35kmh faster at most tracks. Reports were that Vernon seemed to have some early issues with the re-engineered car, but quickly found his feet again.
Donovan is the man behind DMNZ and will look to have a solid season as he focuses on competing and less on his own days.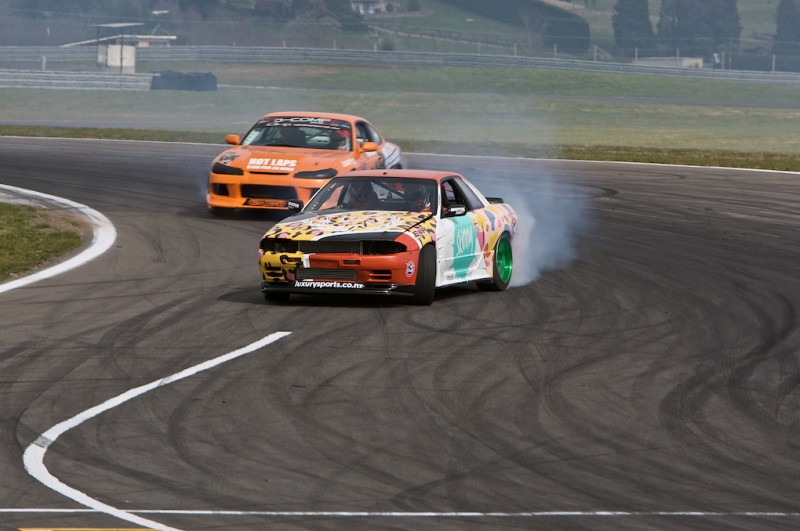 The much prettier half of the DMNZ team is Jodie Verhulst, seen here giving her Supra a good workout. Jodie gave all the Pro-Am drivers a big scare last year by throwing down a #2 qualifying run at the Taupo round and if she chooses to do the whole season and gains some battle confidence, we could well see our first female drift title holder.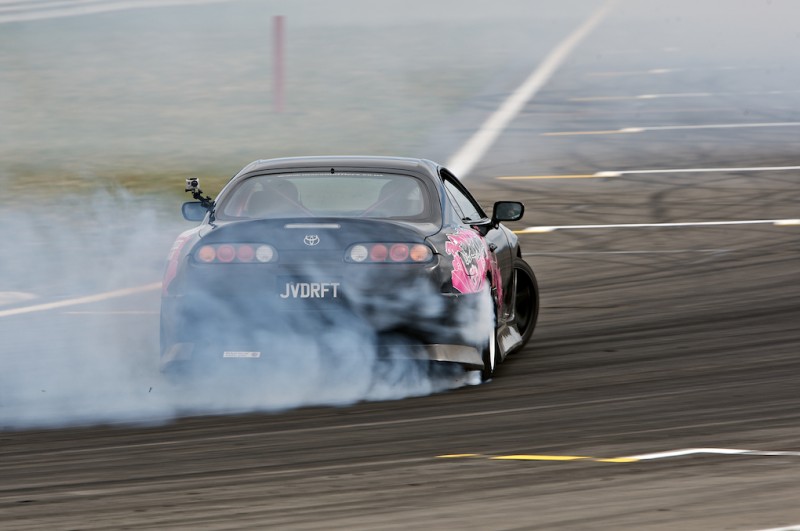 Shaneo Poultons car would be arguably the best engineered drift car in NZ. There are not too many areas that haven't been touched on this car, and it will be interesting to see how quickly he can learn to foot it with the top echelon of drivers as he steps up this year. The car is undoubtedly fast with 500+kw, however Shaneo has yet to be tested by tactics and like Vernon may take some time to find his feet in D1NZ's pro class.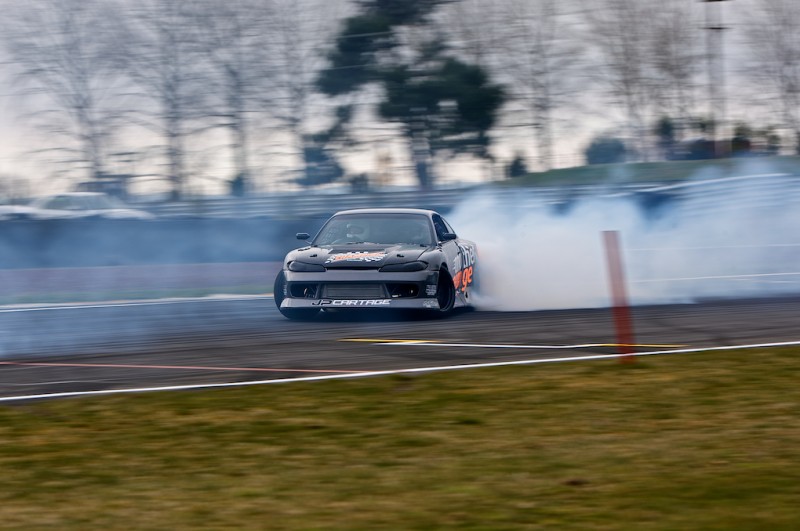 Demo's like Taupo throw up some interesting things, like a chance for Carl "drift tomato" Ruiterman to showcase his ENZED backed V11 WRX.  Carl and the car seem much more in sync over recent weeks, which I would guess may be to do with the change to a more road orientated performance tire, giving the car less tire foot hold and allowing Carl to use his skills and set up knowledge to set up mechanical grip. There is something cool about smoke coming off all 4 tires of a car as it skips around a corner.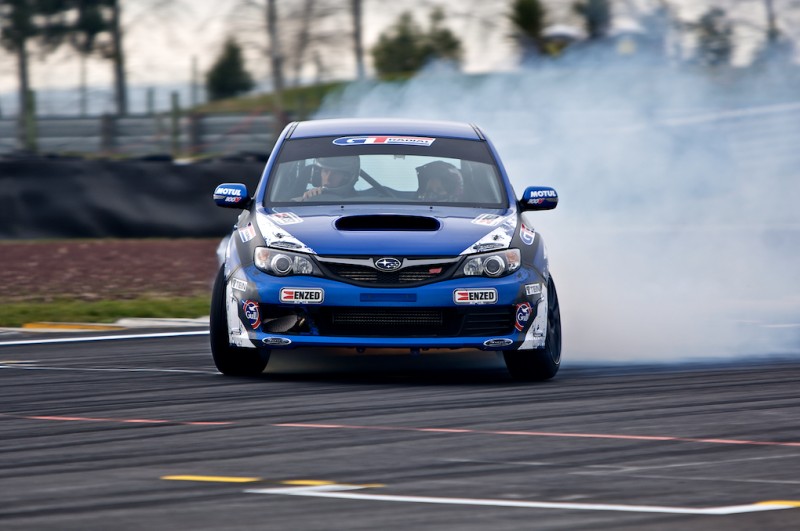 Shaneo getting a little Manji down the front straight.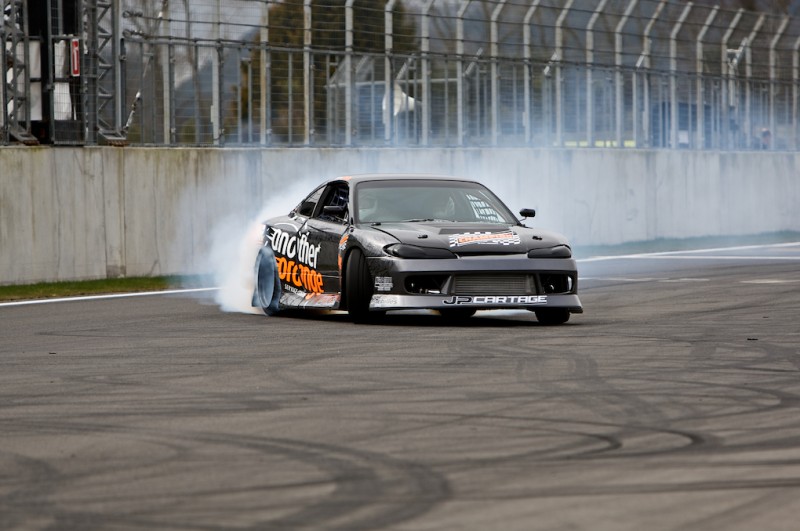 Before burying his rear tires in a display of GDS tuned Godzilla power. Plenty of rear squat in this car, due to all the custom suspension work.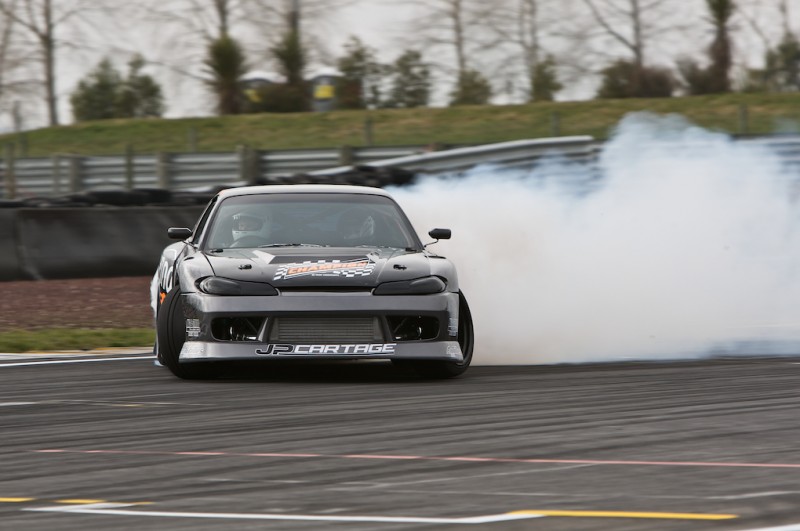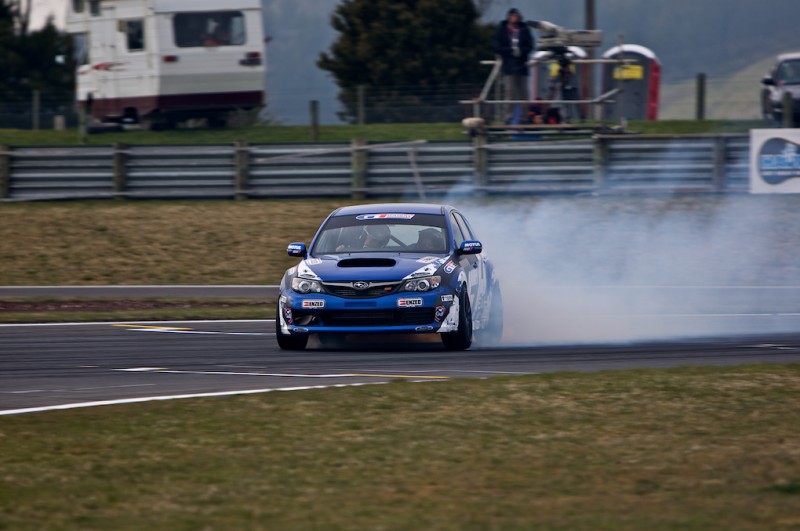 Joe Kukutai is a new comer who has yet to see any real competition action.  He's spent a lot of time and effort in the off season preparing his car and seems to have good core skills.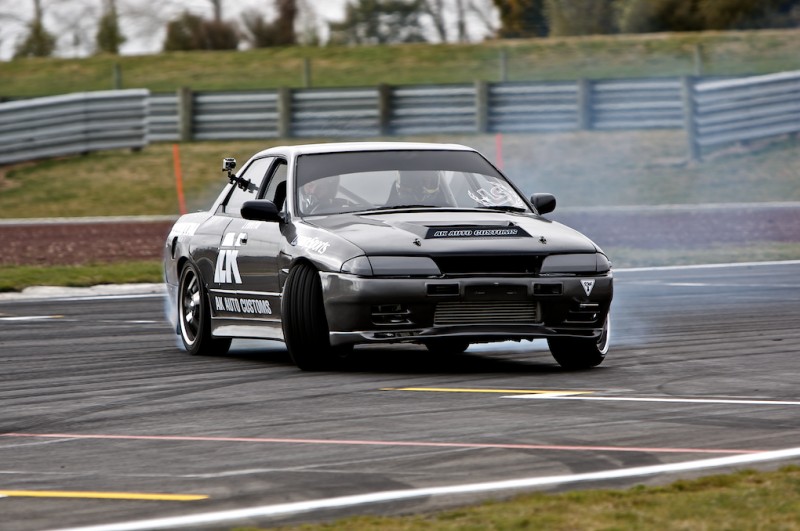 Local driver Rene Richmond was another to feature who has yet to compete. Unveiled the week prior, it seems to be a solid build and it will be interesting to see how the twitchy short chassis is handled in battles by Richmond.  The team has done a good job creating a tasteful and professional looking car, so that's not a bad start.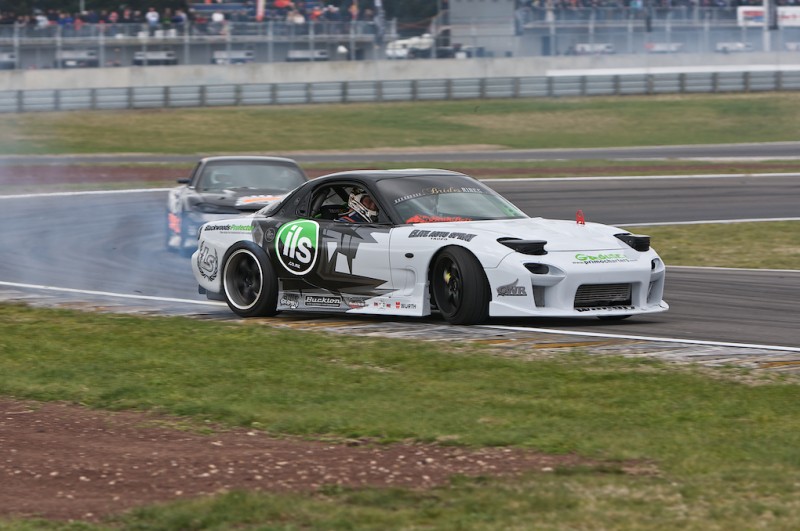 Thanks again to Paul for providing the shots.
I'll throw in a comment here, as it would be fair to say that there is a lot of debate among drivers and fans as to who should be doing demos like this, given the high profile and different audience than would normally see drifting.  There's no real right or wrong answer as ultimately no one can stop anyone doing anything, however I firmly believe that if things continue as they are then we may end up no better off than V8ST/NZV8 & NZDRA/IHRA…… divisions help no one (even tho some appear to keep trying to force this ) ….fans and sponsors get sick of it, and people walk away due to seeing split fields that lower the event quality. Food for thought perhaps, but hey its a good deal for v8ST as they get 90 mins plus of free entertainment for their crowd.
Drifting…..being seen by the masses…..guess its up to us to provide the best possible impression?