Events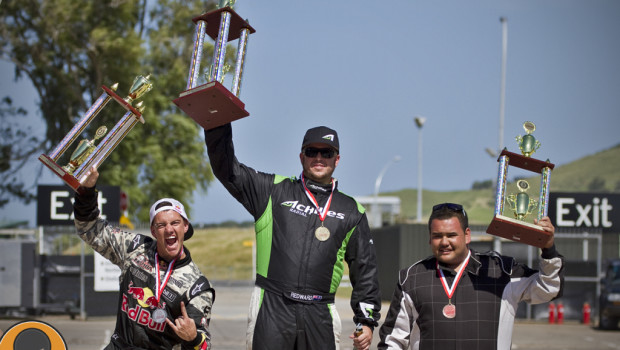 Published on January 22nd, 2014 | by mrgrumpyninja
0
Cody's D1NZ National Drifting Championship – Round 3 – Baypark
I'm writing this report earlier than usual, simply because I can't get over the incredible buzz from the weekend. The people of Tauranga, and there were about 7000 odd of you who came out to support Round 3 of the Cody's D1NZ National Drifting Championship were amazing, and you were without any doubt in my mind treated to the very best display of drift driving ever seen in New Zealand. Not only did the Pro's deliver a great show, but the Pro-Am field really stepped up and displayed some real talent.  Round sponsors Club Auto certainly got their money's worth.
Any time you have all the drivers on their feet and cheering and applauding for their peers you know you are seeing something special, and with driver after driver entering the first corner 110% committed and right on the wall, the drivers who walked away with podium spots truly earned them at this round. The title race has had a real shake up too, with car failures creating a real log jam on the points table.
DNS – Robee Nelson – Koba Batteries S15
Unfortunately Robee suffered an engine failure caused by excessive boost and caught on fire on day one, ending the round before it began.
DNQ-Cole Armstrong- V energy R34- We haven't seen this happen for a while, and it was a real shame as Cole had looked strong before damaging a gearbox and having to make repairs, then having a hard hit into the wall which damaged his front suspension. The car wouldn't hold a drift and spun twice in the same spot leaving Cole disappointed in front of a home crowd.  He spent the rest of the day cheering on his mates, showing what makes him a great brand ambassador and a fan favourite.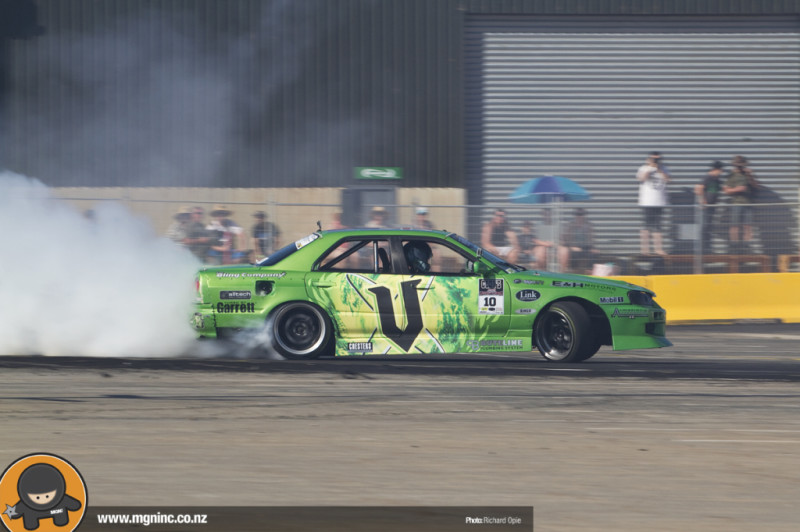 26- Brad Smith – Burger Fuel/ Laser Tools 350z
Due to other commitments, Smith couldn't practice on Saturday and that was evident as he was still trying to get a handle on his setup and line at qualifying time.  It took 75% of the field half a day to find their range to get comfortable with running the wall, and Brad simply ended up short on track time.  In the Top 32 he came up against Michael Prosenik who was relishing being back in his own car, and simply had too much speed for the Burger Fuel machine.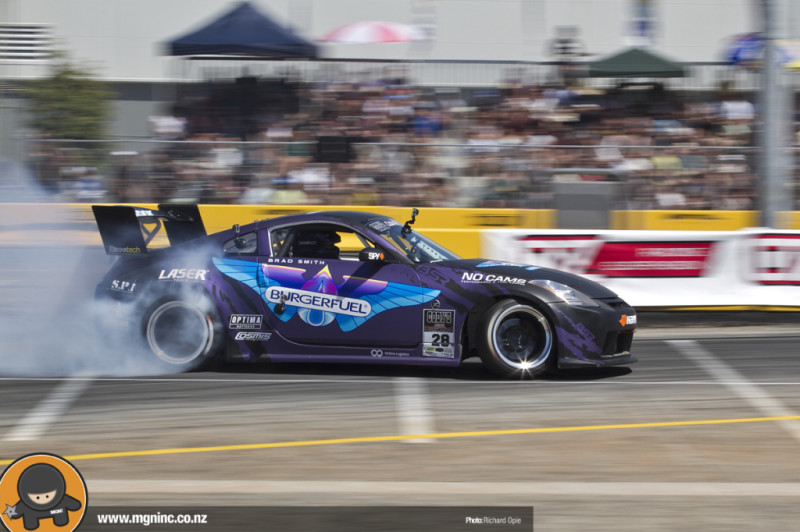 25- Jodie Verhulst- Milwaukee Supra
Had a tough day at the office,  speaking to Jodie in the pits after the event she said she'd had her line dialled and was feeling happy, then made some changes Sunday morning which threw her off and that put her off. Had the crowd right behind her after a spin almost saw her go out in qualifying, but was well beaten by Aden Omnet in the top 32.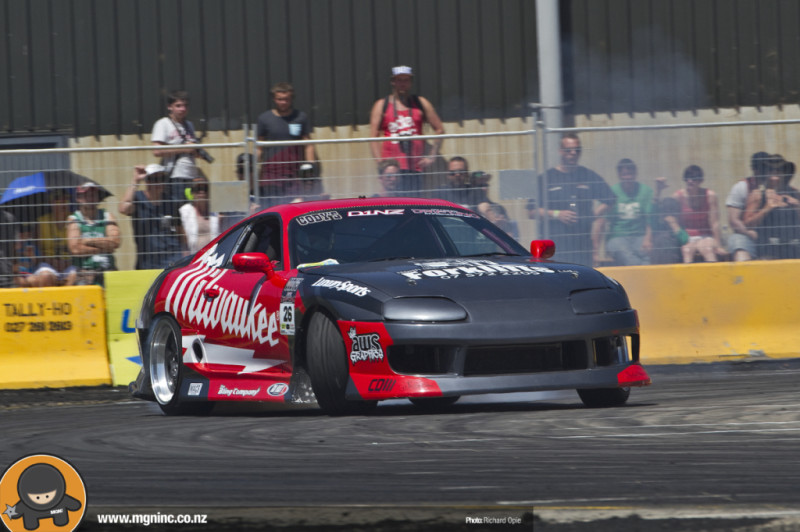 24-Kyle Jackways- Liquid Labs 180sx
Jackways has had a bit of a rough time since his round one performance, and in speaking to him after the event, perhaps was one who felt he'd been hard done by in his battles. Jackways has rediscovered some speed, and is chasing well. He was beaten by Jo Kukutai, who was relishing being back in his more familiar four door R32.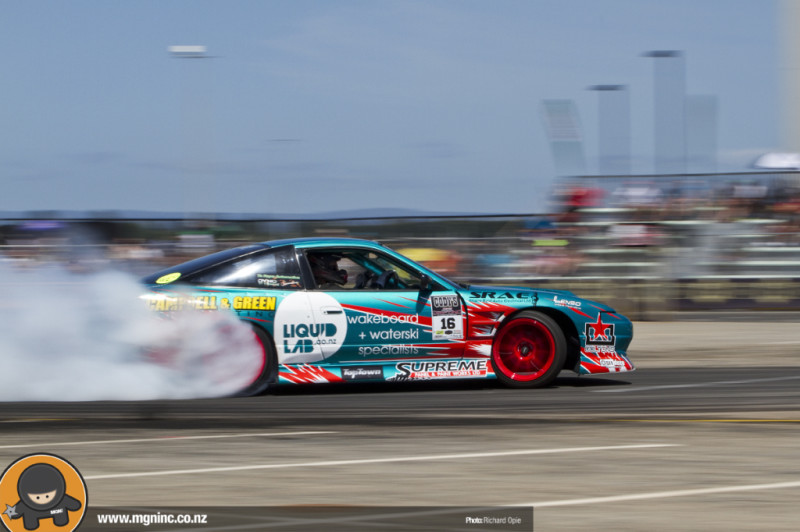 23- Jacob Hakaraia- Nexen C35 Laurel
When you hit the wall so hard that you break your shock absorber into three pieces, it's going to dent your confidence. Hakaraia doesn't have the greatest fondness for the concrete walled circuits and again here he looked a bit out of his comfort zone. Sky Zhao had more than enough speed to drive away from him in the top 32.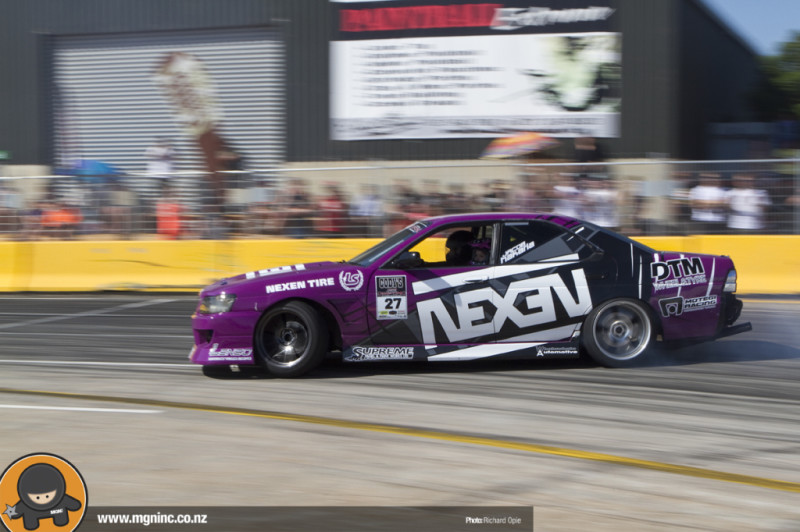 22- Dave Steedman- Team DSR S14
Gotta feel a bit for Steedman, the local man did a lot of work in the build up to promote the round and was looking good in qualifying with several runs right out on the walls. Didn't quite nail it in qualifying and as a result had a tough top 32 battle with current Pro Am champ Darren Kelly who was really pushing the limits. Kelly getting the win with Steedman out.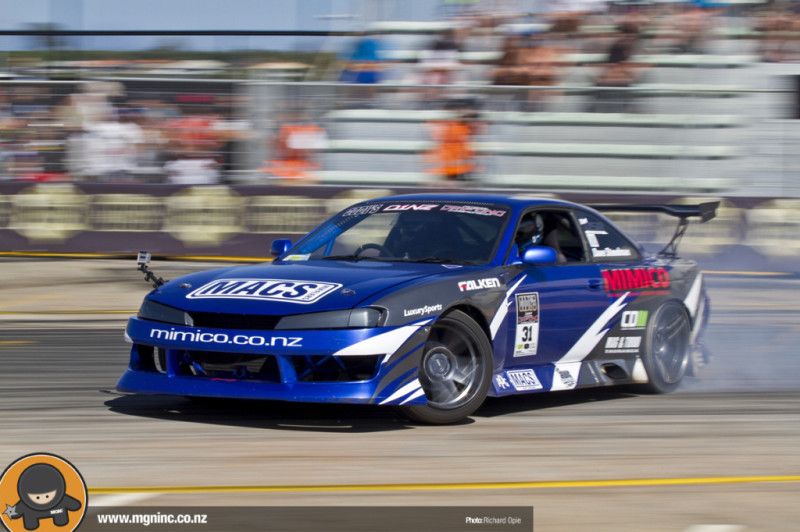 21- Gaz Whiter- Juice Polishes S15
Whiter must by now feel that there is some sort of curse on him at Tauranga. Again looking like the man to beat, Whiter came out to do his first warm up lap on Sunday, only to have his gearbox lock up and send the car speering straight ahead into the wall, damaging all the parts replaced after Whangarei and bending the chassis rails.  Pro- Am Troy Jenkins kindly offered his car, and Whiter accepted to keep himself in the championship hunt. An OMT battle with Drew Donovan going the way of Donovan after Whiter was simply left behind in a lesser powered car that he didn't want to damage.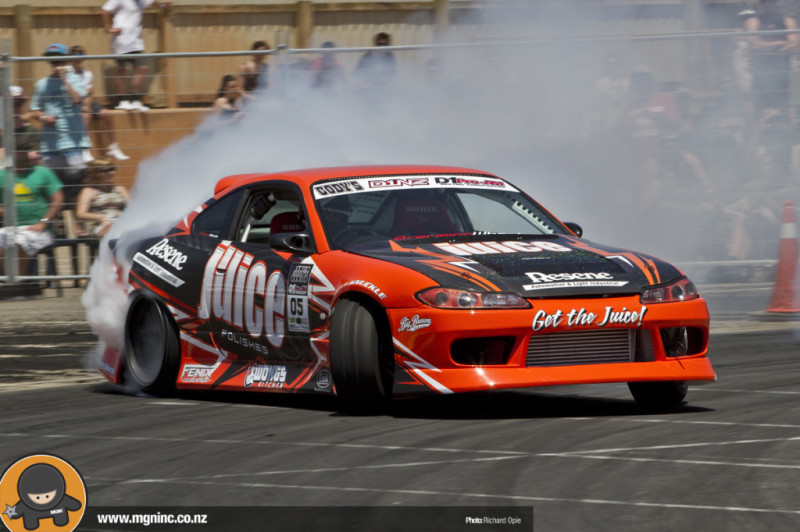 20- Shane Allen- Rattla Motorsport Falcon
The Green Machine had a tough weekend with mechanical issues limiting the teams test time and Shane Allen having to miss his first qualifying run due to the car still being worked on. With a single shot, it would have been hard to qualify high, and Allen came home in a still respectable 16th.  The gremlins would strike again leaving Allen out of the top 16 with Adam Hedges moving into the top half of the competition.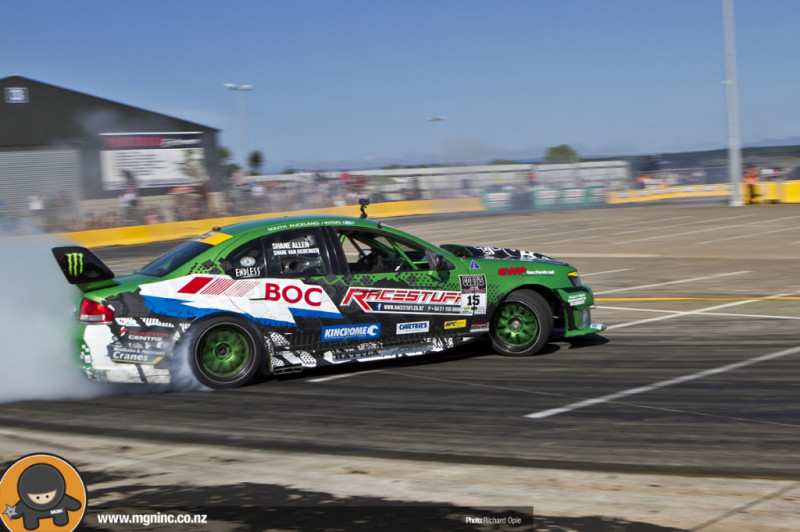 19- Zak Pole- Mt Roskill New World S13
Pole was unlucky to break a crank in his high powered R33 Skyline in early morning practice, after looking strong in front of his new sponsors Club Auto, who were also round sponsors.  Did all he could in a borrowed car, and had Ben Wilkinson's orange machine on song from its first lap. Came unstuck when he tried to over drive it to win his top 16 battle against Jonny Latham and made contact with the tyre wall, after perhaps misjudging how much grip the car had.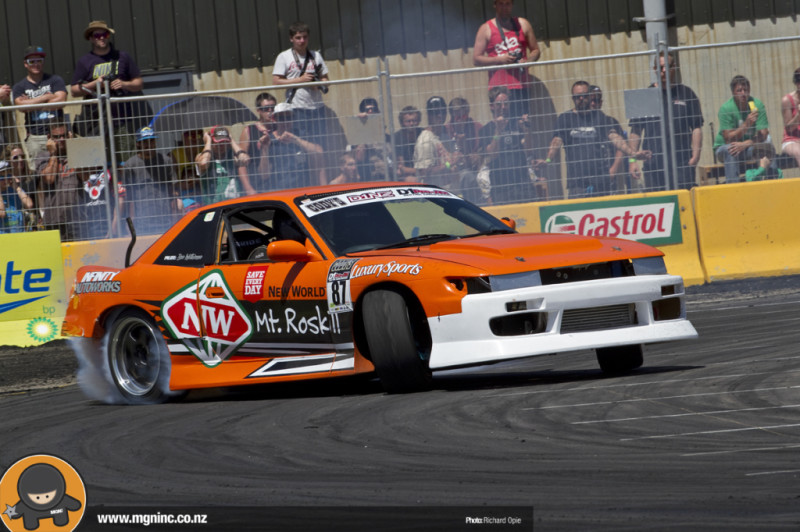 18-Troy Forsythe- Rapid Performance S13
It was a tough lead in to the round for the boys from the South who drove 20 hours towing just to get there. Forsythe likes these tracks and as always was straight on the walls with no fear at all. Would have been hungry to make up for what he felt was a missed podium at Whangarei, but came up against a whole new Bruce Tannock who found a new level of battle form and had too much speed for the Rapid Performance machine. Special thanks must go to Drift Direct for supporting Family Guy Drift to get them back on track.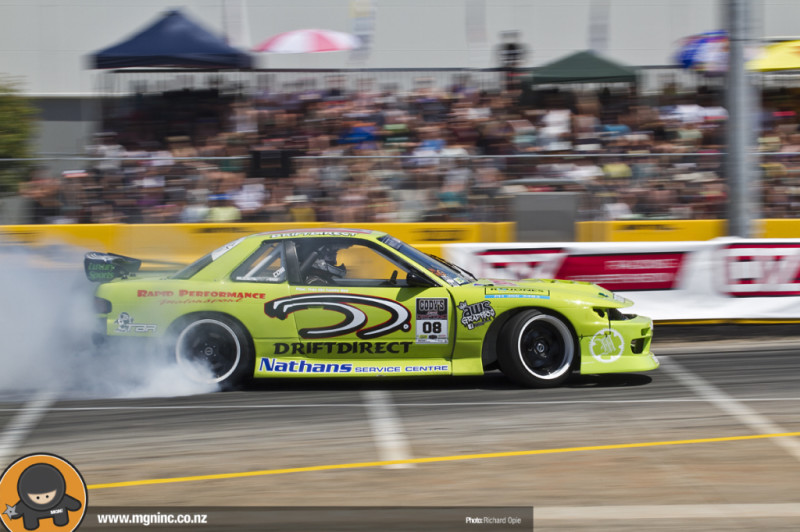 17- Shane Van Gisbergen- Rattla Motorsport Falcon
As mentioned with Shane Allen, the Rattla suffered from some Gremlins, and that robbed SVG of more seat time in his drift career. Looks dangerous still and will not be on anyone's list of desired battle opponents at the fast and flowing Taupo track for round four.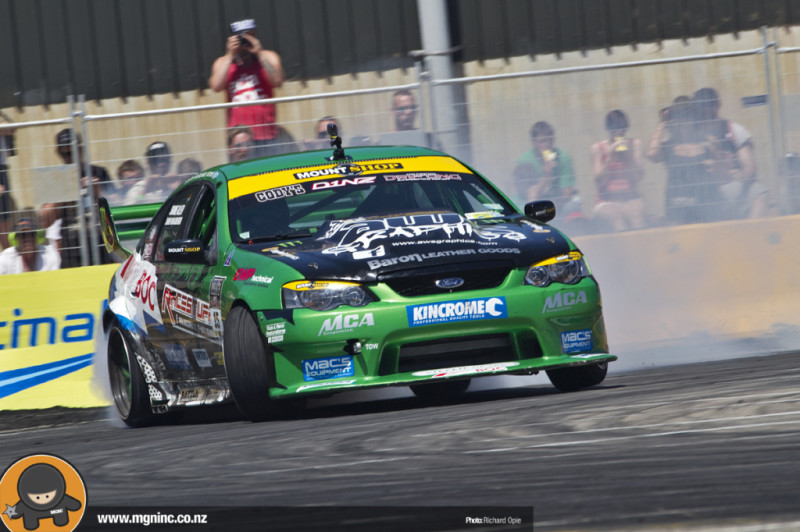 16-Adam Hedges- C's Garage S14
Hedges makes the top 16 for the first time and will be better for it in terms of confidence. I think he is struggling a little with not enough power and he's really having to work the car hard to keep up and then being relatively easily chased.  Taupo is going to be a hard round for these boys.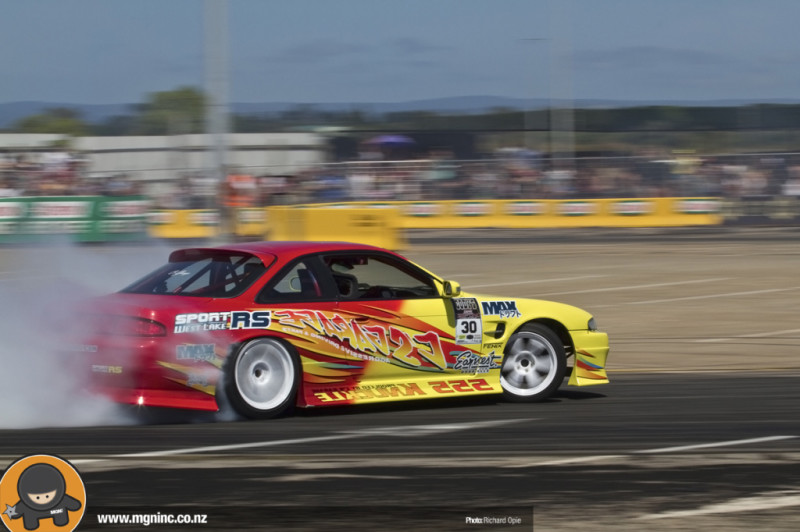 15- Jonny Latham- Privateer V8RX7
Returned to D1NZ for the first time since Christchurch last season.  Good showing and settled into his now supercharged LS1 setup well.  Latham has improved as a driver too and it showed with good confident runs and a solid battle effort that he should be happy with. One of the best looking cars in the field now with maximum attention to detail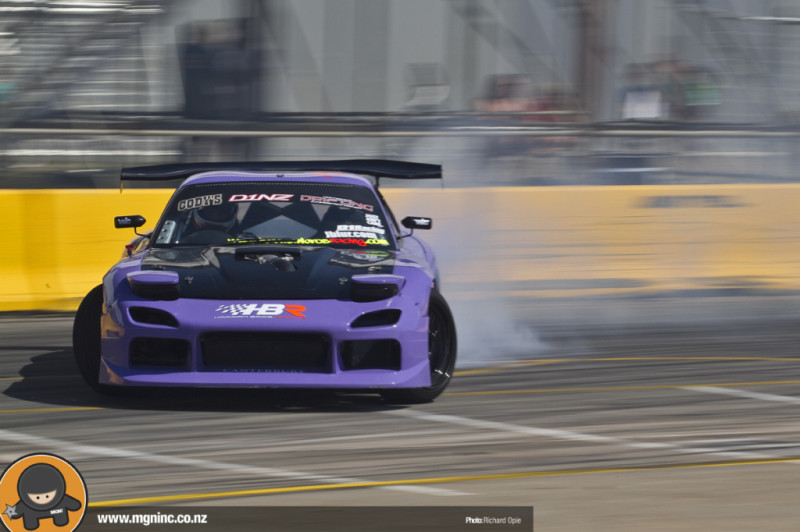 14- Chris Jackson- Surfab S14
Jackson's confidence would have been high after round two, where he showed he could really foot it with the better known names, and he again delivered a solid performance. He was halted by a rampant Mad Mike Whiddett who simply had better traction than Jackson and used it to his advantage.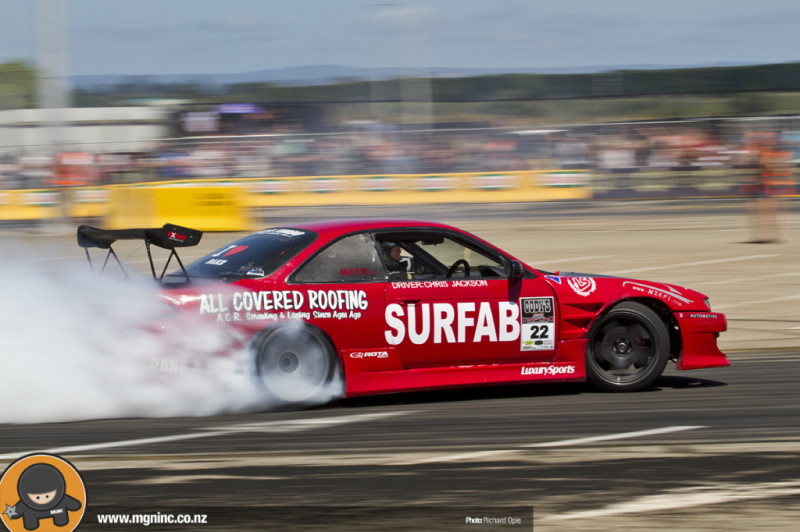 13- Drew Donovan- Milwaukee S15
Doni D is enjoying a strong season and was riding a bit of a wave of home support.  He looks to have now found some speed out of the Milwaukee S15 and is getting better each round. He's now looking confident in his battles, although he may have given himself a bit of a scare against Gaz Whiter by making contact and having to go to OMT before making his way into the top 16. Had no answer for the on- song Andrew Redward who blasted away from him, and then drove on his door in the chase.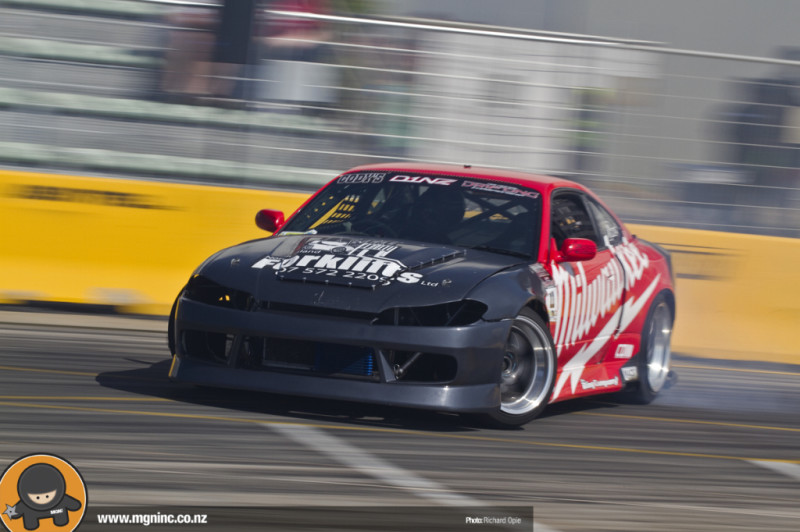 12-Darren Kelly- Thirsty Liquor R34
Kelly has developed rapidly amongst the pro ranks, and is a very tough battle for anyone who comes up against him. Took himself out by hitting the wall hard, perhaps showing just how committed he was, but will have again learnt a lot and will be a potential podium dark horse at Taupo.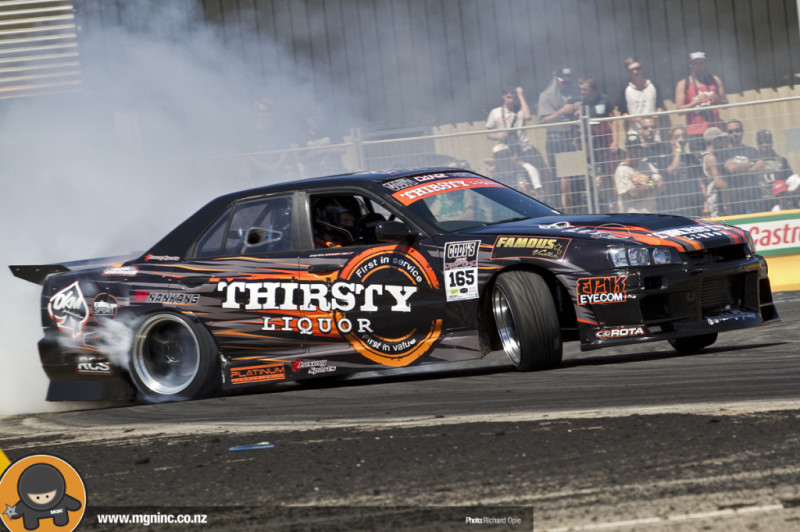 11-Sky Zhao- 2Degrees/CRC 700Z
Best season performance to date from Zhao in the now 7 litre 350z (hence the car name).  Still looks to be a little shy of getting right in close to walls and in battles, but with his new found speed can make life very difficult for any opponent and I think will be happy as he heads to round four where he enjoyed his best result last season.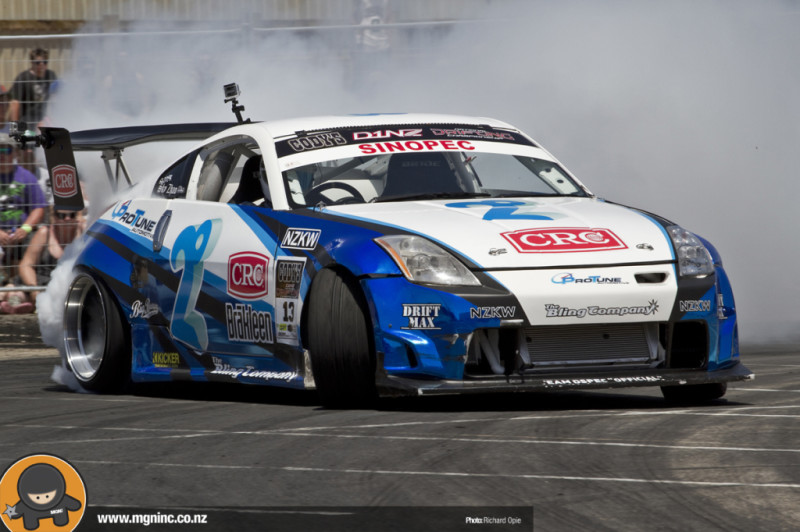 10-Joseph Kukutai- Gull Force 10 R32
Back in a car he is comfortable in and it showed. Ran on the walls and will need to replace most of the panels and lights in the rear of his car, with big smoke coming off the rear of the car. May well have gone further in the field if he hadn't come up against Michael Prosenik who had a point to prove and a traction advantage on 123 semi slicks.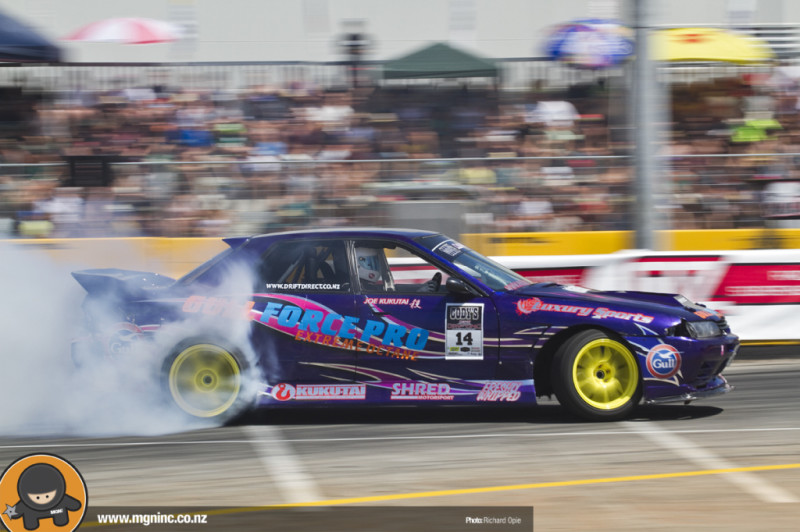 9- Curt Whittaker- Autosure Warranties R34
Whittaker would have been looking to capitalize on the exits of Whiter and SVG early and had looked to be carrying the same form and confidence he had at round two.  The car had none of the bogging issues it suffered from last season on this track, and it seemed the choice to run on ATR road tires was the correct one with Whittaker never lacking for speed or grip. Had to go to an OMT top 16 battle with Bruce Tannock who perhaps surprised Whittaker and was beaten on the re-run.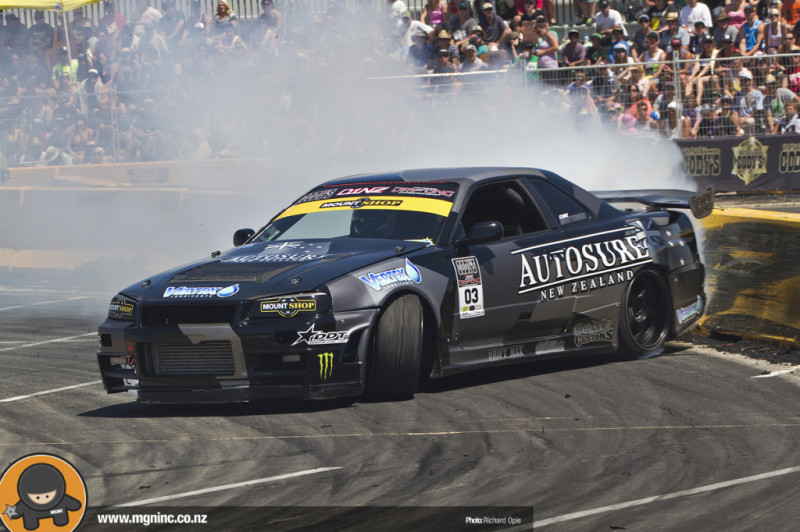 8- Bruce Tannock- Achilles S13
This was hands down the best performance ever from Tannock, who had the crowd and other drivers behind him as they sensed something special.  I've often given BMT a hard time as he's struggled to battle and disliked walls, but it was like a different Bruce that was in the car as he attacked each opponent and put pressure on with little thought to damaging his car.  Took out Curt Whittaker which will give him confidence and was rewarded with his best D1NZ result to date, and will be another who is very dangerous at a round four where his big power and grip will show through.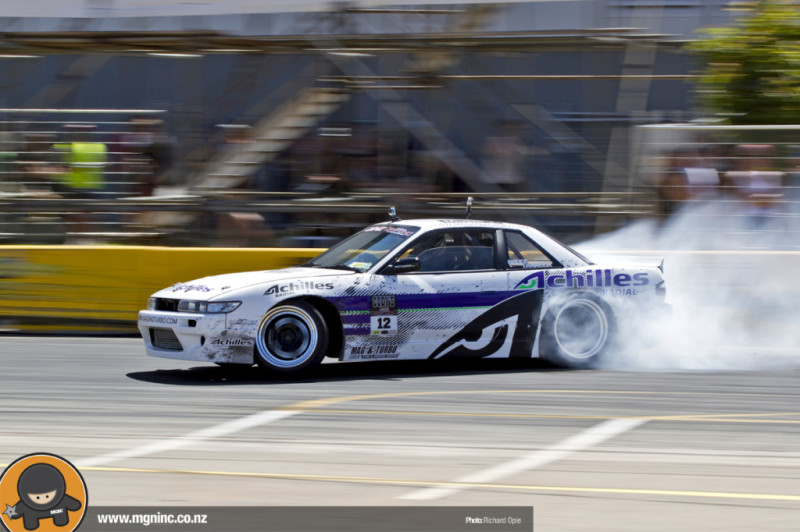 7-Aden Omnet- Adens Tyres Altezza
Quite frankly, where did this Aden come from? If you'd said to me 12 months ago that Aden was going to feature in the top 8, I wouldn't have believed you. Aden was on song right from practice and qualifying however and is another to have delivered his best ever result.  Former D1NZ driver Ben Belcher was in his corner spotting which no doubt will have helped and shows the value of good information. Aden will now believe that he can compete, and that will make him a tough opponent at coming rounds.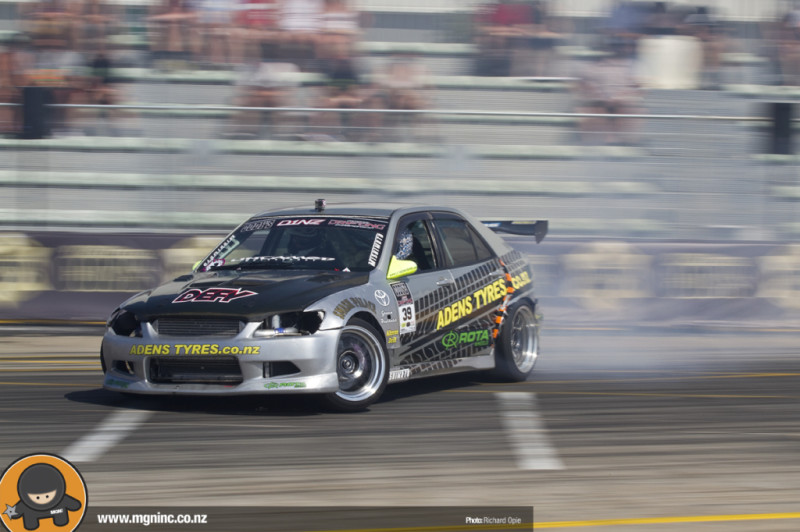 6- Michael Prosenik- SCR Drift Team S13
Pro- Sonic is a happy man, having bought over the car they call ' Dazza' from Melbourne to compete at round three. This is no small feat, as they are shipping the car straight back and 2 days after it lands its due in Sydney for ADGP.  Showed just how strong he is in the battle rounds, and was quite open about the fact he couldn't afford to seriously bend the car in an effort to try and top qualify and that he'd try and win his way through. The LS1 and driftworks components are a great package, look for Prosenik to cement his place in the upper brackets at the next few events.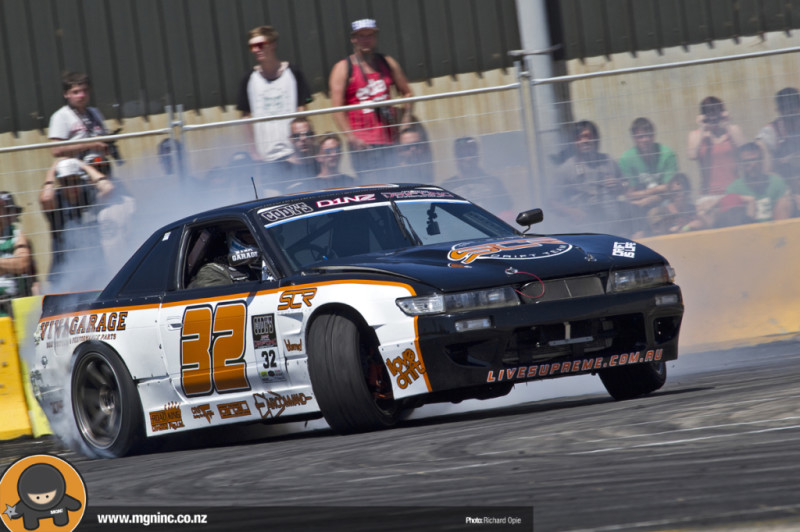 5- Matt Lauder- The Bling Co 180sx
'Louda' looked good all weekend and was on a mission to make up for his disappointment in Whangarei. Matt laid down a solid 92 qualifying run and decided to park the car up to save tires, only to have Fanga Dan bump him out of a top 4 qualifying spot with the very last run. Battle runs can only be described as spectacular, with the run he actually lost on involving at least 3 decent hits into the wall which bent all his wing stays.  Was millimetres I think from a maiden podium finish.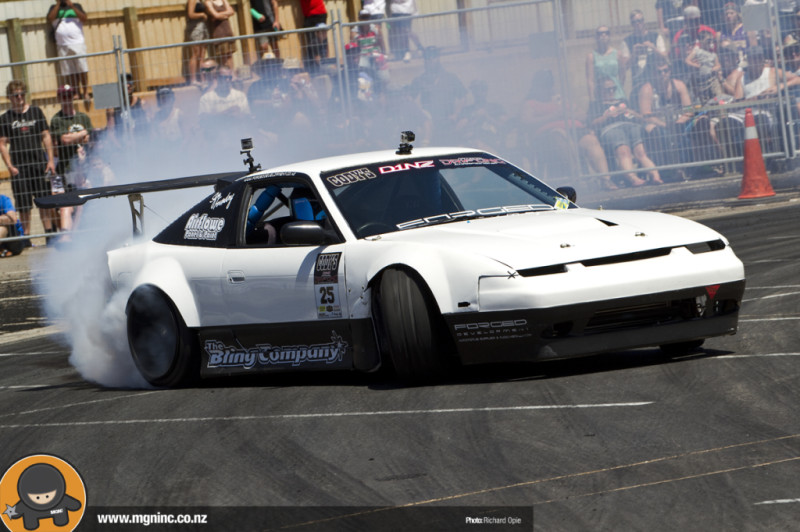 4- Daniel Woolhouse- Castrol Edge Commodore
'Fangas back' was last season's catch cry, and so it may be again this season as the champ mounts a run at a title defence. He's always been good at moving a big car around on a small track, and with the weight of the new car off his shoulders, and perhaps a lack of care towards the old one, Fanga bent, smashed and wrecked his way through most of his rear panels and lights, and straightened his car up Saturday night using a landcruiser winch.  Eventually went out in the top 4 battles, where he was involved in first an EPIC battle with Mad Mike that went OMT and many are calling the best battle ever,  before a 3/4th battle that saw Fanga leading after Nico put a wheel off, only to spin on the last corner.  Fanga to his credit got straight on the radio and confirmed no touch, giving the win to Nico.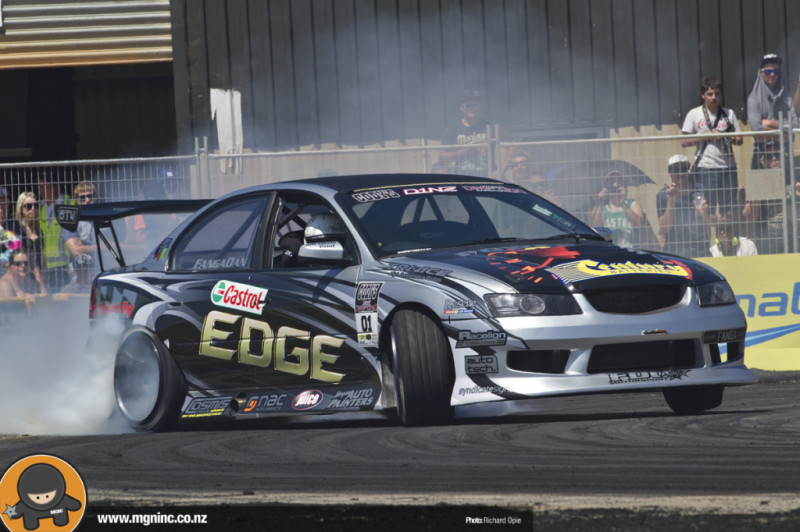 3- Nico Reid- Luxury Sports S15
Reid came to round three feeling that he'd perhaps missed an opportunity at round two and wanting to get back on the podium. We all know just how good he can be in a confined area, but I don't think anyone expected just how well he would battle including one run that must have had near on 80 degrees of angle as he wound the lock on to avoid contact.  It seems the team now have a good handle on the car, and I'd expect Nico to be right in contention for an overall season podium.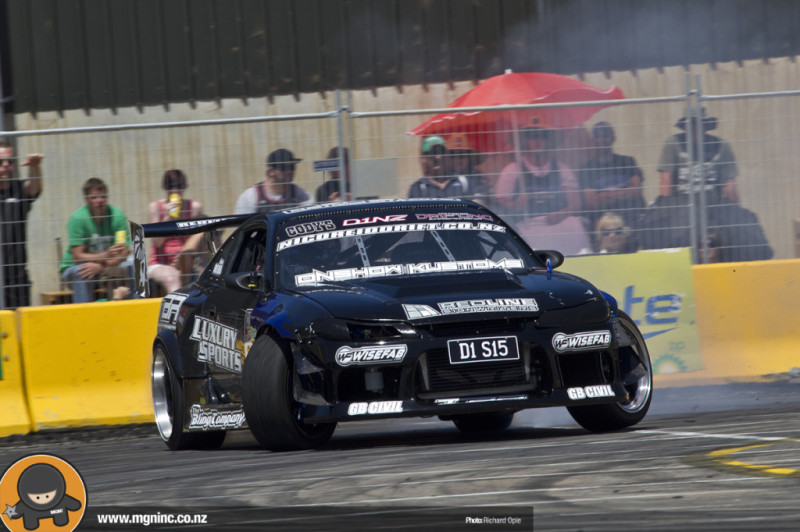 2-Mike Whiddett- Redbull/ Speedhunters RX7
Now run away series leader, Whiddett is on form at the moment and simply chases better than just about anyone else. Consistency is where Whiddett excels, with every driver knowing that he's going to be right on the door and applying the pressure.  Qualifying score of 95 is the equal highest ever recorded in NZ, and the #1 qualifier spot was his by virtue of second run score being higher than Redwards.  Bested only on the day by Reward after appearing to make an error (I suspect a mis-shifted gear)  in the final battle that slowed his entry and gave Redward distance that would never be closed down.
1-Andrew Redward- Achilles V8RX7
Missing a full round 2 assault clearly hurt Redward, and he was on a mission to prove a point and get his season campaign on track right from day one, being earmarked by all the other drivers as clearly being the quickest car on track. With his Achilles 123 semi slicks giving him massive grip, Redward simply ran around the walls and high velocity without lifting, and found some of the angle that he'd been missing at earlier round. A well deserved round winner, Redward took the victory in front of a crowd that was on its feet and cheering the entire final.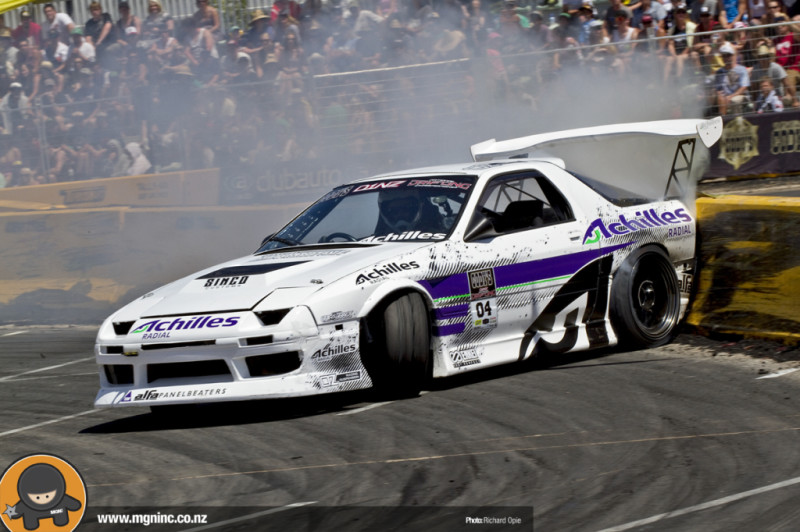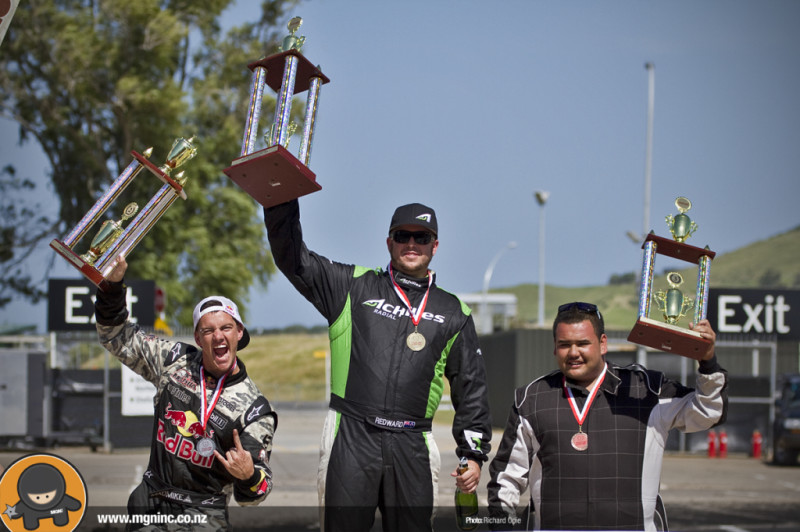 Whiddett now leads the series on 304 points by a 77.5 margin over Gaz Whiter.  Nico Reid,Curt Whittaker, Andrew Redward and Daniel Woolhouse are all within a 25 point range of 2nd place and are all still well in the title race with SVG 20 further points back.  As drivers step up and conditions playing havoc with cars, the title race is still far from over, and Taupo is going to define how this championship plays out with all drivers having done a large number of laps on that course. With 100 points on offer for a round win, 88 for second and 77 for third, the table can change rapidly.
Next Round- Taupo – 22nd February. – See D1NZ Official Facebook for details.
Images & text contained may not be used or reproduced without source credit.