Sideways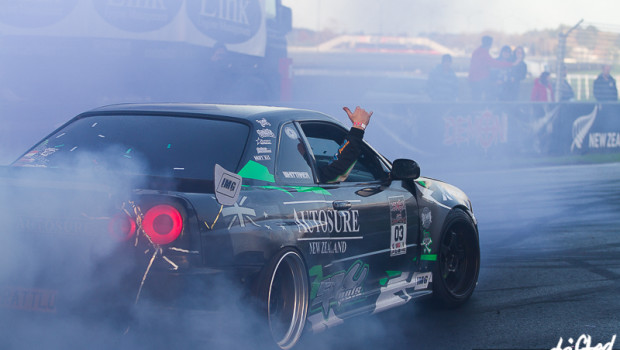 Published on June 13th, 2015 | by mrgrumpyninja
0
Whittaker grabs 2nz as season draws to a close
Rattla Motorsports frantic season of drifting has come to a conclusion with Autosure Warrenties backed Curt Whittaker sliding his Ford V8 powered Nissan Skyline to 2nd place for the season this past weekend at Pukekohe Park. For Whittaker, that makes it 5 seasons in a row finishing on the season podium.
Whittaker and team mate Shane Allen in the SP Tools/ BOC gases Falcon were active in promoting the return of drifting to its spiritual home in New Zealand with a number of appearances and opportunities taken to share their love of the sport and interact with driftings growing fan base. Both drivers equal parts excited and also nervous with the looming attack on what is the fastest corner in the sport in New Zealand a daunting prospect for all drivers, especially given the rapid rate of car development since the last event at the venue took place.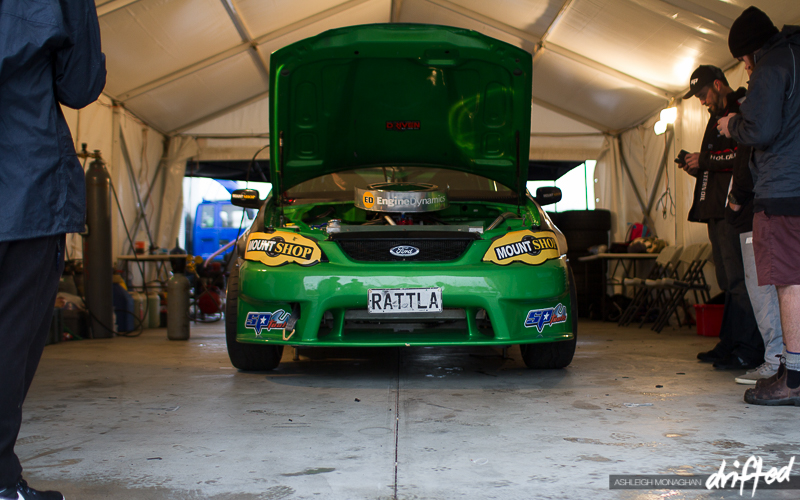 For Shane Allen, it would be his first competition event on the Pukekohe track and sadly for all drivers the Friday test day was the only dry day experienced by competitors.  The big Falcon clearly a handful in the torrential rain faced by competitors over both days, with Shane having a couple of very near misses and gentle contacts with the wall during the course of practice. The team had a bit of work to do overnight on the Saturday fitting a new front end setup on the car and the workshop was a hive of activity as the Falcon was worked on while the Whittaker Motorsport team talked strategy over brews.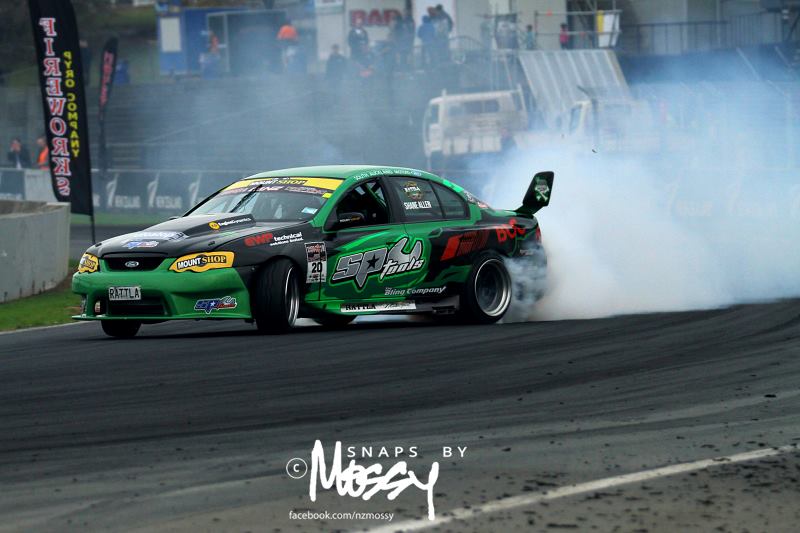 Despite the challenging conditions faced which saw only 1 driver get a relatively dry pass before rain showers, Shane Allen put in a good effort in qualifying and achieved a season best performance in 9th place. This meant an automatic top 32 bye as the field by this stage numbered on 18 competitors. The track at this stage was simply a lottery for the drivers and no one was really sure where there was standing water and where the track might suddenly grip up. It was a combination of those factors that saw Shanes day end against hard charging Wellington based driver Shayne Giles with youngster Allen just unable to keep a handle on the big car and spinning out. Shane Allen ending the season in 14th place overall which will no doubt motivate the team for the coming year with big aspirations and a strong program planned for the off season including a new car which has been well documented.  See HERE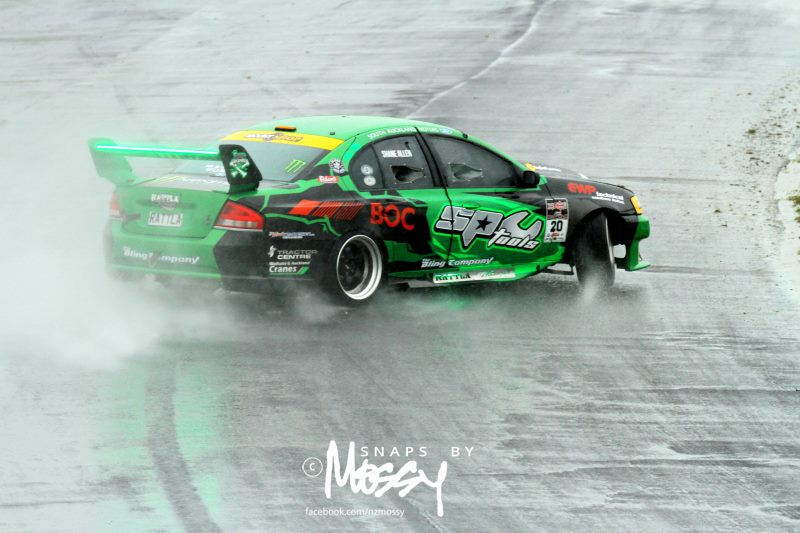 In the neighbouring pit, what could only be described as a highly motivated Curt Whittaker sat in his car simply contemplating the job at hand. Whittaker has a solid record at the venue and his team had been quietly confident that a working knowledge of the bumps would help with getting a good setup and also address keeping the nerves  in check which were a clear factor for some of the drivers who hadn't tackled the 200k monster entry. This is one team that never fully gave up on gaining the 1nz until the very end.
If you were looking for a sign of serious intention, then a number #1 qualifier effort when others were playing it safe is as good a way as any to send a message and that is what Curt did, attacking the section and winding on the angle then letting the big 410ci Ford engine sing through the section with what was the second to last pass of qualifying.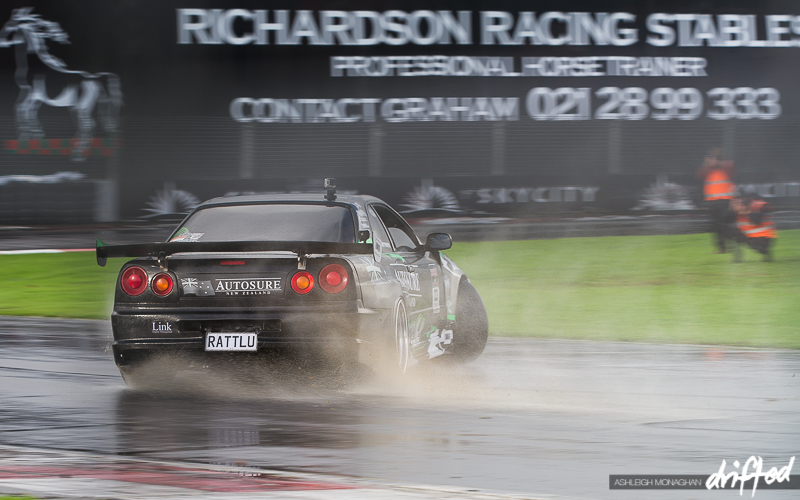 That meant an automatic bye pass into the top  16 where Drew Donovan sat waiting in a borrowed  car which ultimately suffered a mechanical failure and let the Autosure machine through into the top 8 against Shayne Giles.  Giles is a known hard charger and had already accounted for Rattla team mate Shane Allen so a bit of sweet revenge was had as the menacing black R34 was simply dominant and Curt continued towards the final 4 and a battle with long time rival Gaz Whiter.
There would have been 7000 people thinking just how amazing this battle would have been in the dry, but conditions were a  factor and after a tight first battle lead  by Curt, Whiter threw in an all or nothing lead run and created enough distance to get himself a win and a finals spot, while the Autosure machine would battle the ATJ slider of emerging talent Joe Marshall ultimately getting a win and 3rd place for the round.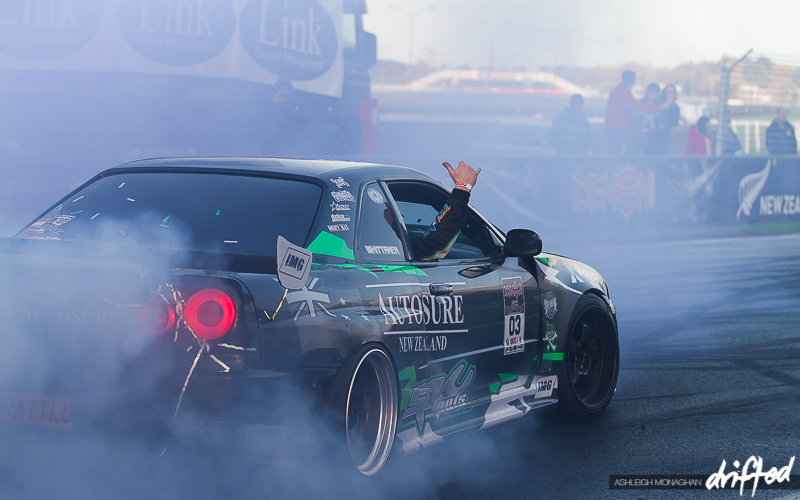 A season that was all about testing and development that ends with a 2nd in the championship is an outstanding result, and tribute to the strong support the team has received throughout the year. Without sponsors, family and friends, none of this is possible.
On behalf of Rattla Motorsport, Whittaker Motorsport and all the team. Thank you for your support. We will see you all again in 6 months to do it again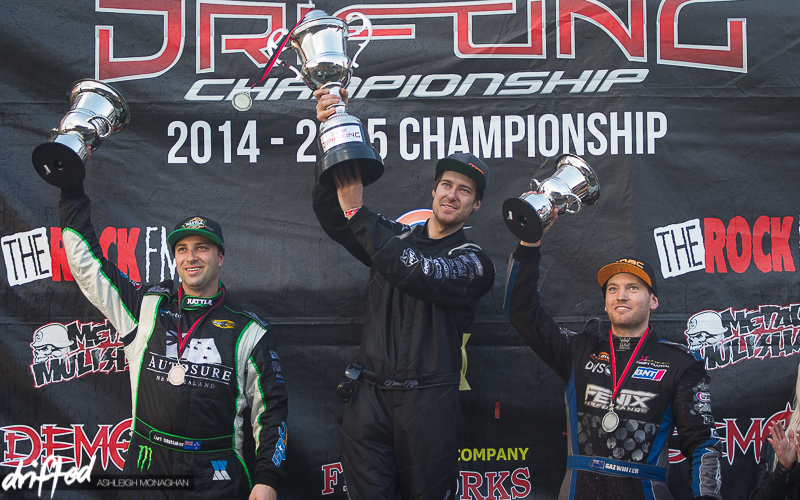 Photos appear care of Ian "Mossy" Moss and Ashleigh Mahogany. They may not be reproduced without permission.