Published on January 13th, 2014 | by mrgrumpyninja
Cody's D1NZ Round 3- Baypark – Preview
The new standard, the benchmark, the peoples round….call it what you want but after last years outstanding debut at Baypark, there was little doubt that D1NZ would return in 2013/4 after selling out an arena for the first time ever.  With pit bands already sold out for 2014, and less than 1o0 of the VIP tickets left, there is little doubt that the event will again reach capacity and people arriving late on the Sunday will likely be turned away.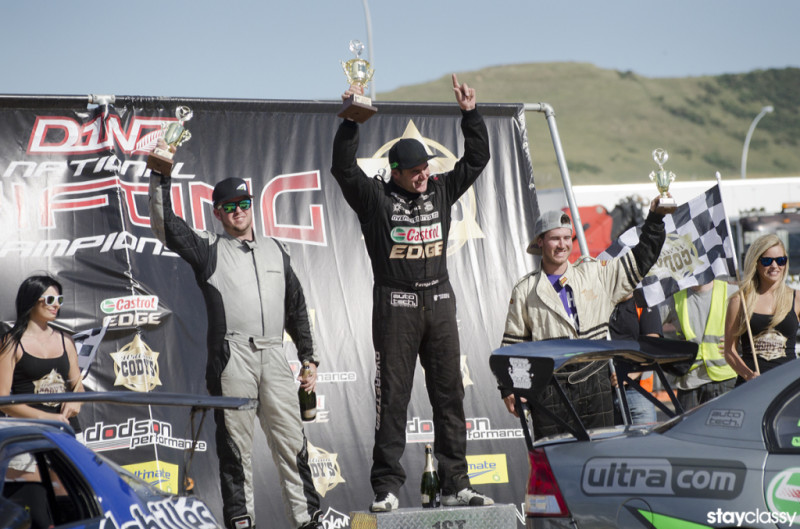 This years event is a little different, with drifting still the main staple, while an FMX and Skate/BMX competition dubbed NZ Allstars also takes place on the same days at the same time. This is going to make things a little interesting in terms of communication with lots of cross over noise, but there will be no shortage of things to see. Sunday is the day to be on site, with the $35 ticket getting you a look at not only the D1NZ Pro top 32, but an FMX best trick and whip comp featuring 5 top NZ pro riders.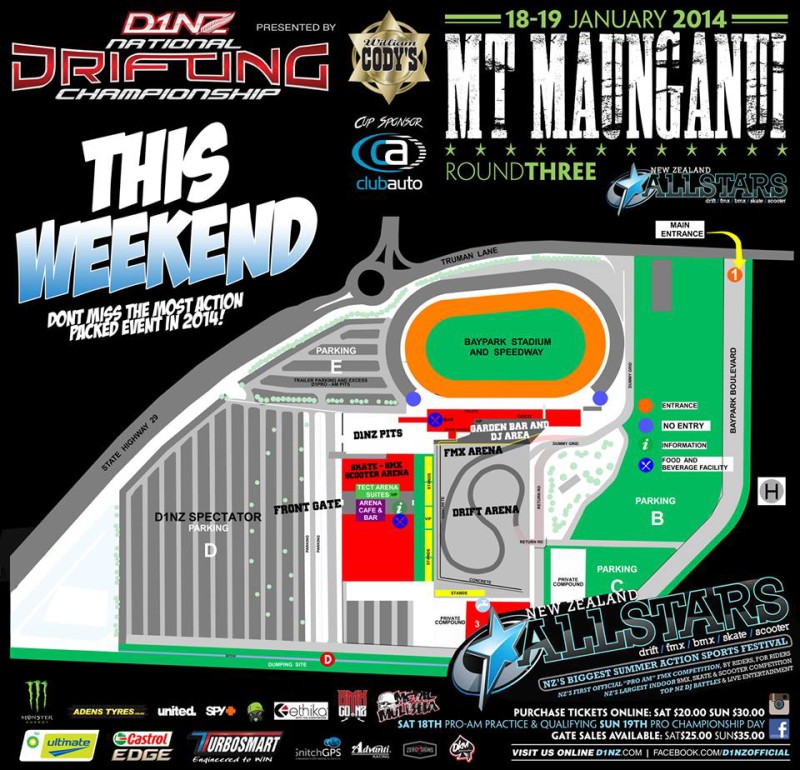 The track remains the same as last year, with a sweeping left hand entry being the only corner in the series that puts the drivers side of the car on the wall at the quickest point of the track.  Take a look at the video in the header if you want to know what happens if you get it just a little wrong. From there it is a tight slow turn that favoured the nimble lower powered cars, and  a relatively simple  set of outer clips that make the entry the key to this track. A track of upsets last year, it is likely that again fate will play its hand as drivers look to explore the limits of the track and on occasion get it wrong. Relatively short in duration, if you get gapped at Tauranga, it's incredibly hard to catch up distance excess speed generally pushing you offline and into the walls.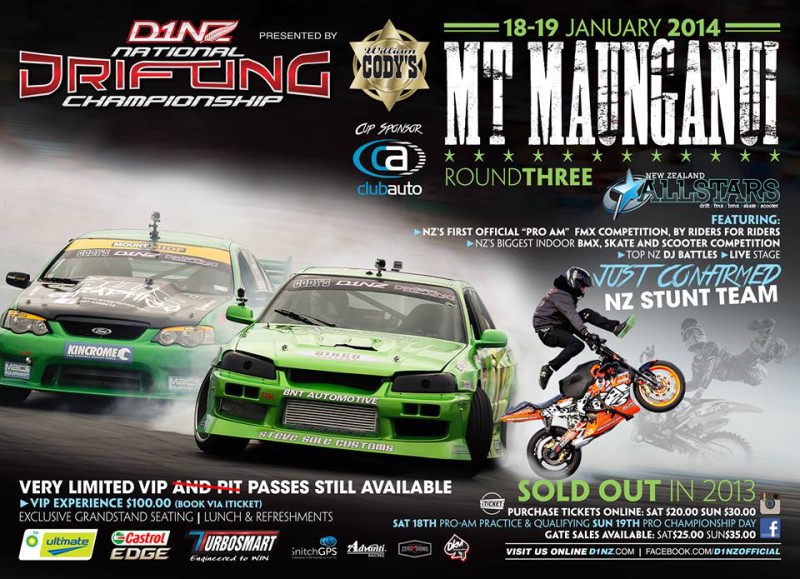 The drivers to watch are your usual names, with Whiddett and Whiter leading the title chase from Shane Van Gisbergen and Curt Whittaker. All 4 are at home among the concrete walls, and when you add in the likes of Nico Reid and Andrew Redward who excel on the smaller tighter tracks, it would be anyones guess as to who might come out of the round with the win.  One factor that may come into play is noise, with the rotary vehicles in particular sometimes needing to be muffled and robbed of horsepower when visiting the more urban tracks.
The local stars will want to make a big impression, with Cole Armstrong in particular expected to be well supported by a vocal fan base. Armstrong comes off a 3rd place at round 2, and will feel that he has a well sorted car to tackle his home event.  Team DMNZ's Drew Donovan and Jodie Verhulst will also be well backed, with  Verhulst achieving the first ever podium by a female last year in pro am, and Donovan looking to make the most of a good season start where he has been consistent and a real threat in every battle. It's fair to say that if any of the 3 win, we may be looking at a fairly wild after party.

FMX  will be headlined by the Metal Mulisha riders Nick Franklin, Truman Carroll and Mitch 'Mad Dog' Mchardy, who demo'd at the event last year and had the crowd on their feet with a display of flips, whips and supermans that normally is reserved for TV.
With only a limited amount of tickets remaining, it is advisable to pre-purchase to avoid disappointment.
https://www.facebook.com/D1NZOFFICIAL?fref=ts