Events
Published on December 29th, 2013 | by mrgrumpyninja
0
Cody's D1NZ Round 2- NAC insurance presents the Toll Whangarei Concrete Jungle.
I wasn't going to write this to be honest, it's been a long year and I was planning on trying to avoid any 'work' for a few weeks before the busiest part of the motor sport calendar. As usual though the summer weather gods have seen fit to take their usual post Xmas beer leak all over most of the North Island so I have some time to re-cap what was an amazing event held in the spiritual home of NZ  drift- Whangarei in the North of the North Island.As the region that has produced more NZ champions than any other, the fans are very much in the know with many on a first name basis with the drivers and are quick to offer their approval or disapproval on each and every battle.
We call the purpose built track at the Toll trucking yard the 'Concrete Jungle' because its a nasty place where only the strongest survive unscathed, and how true that would prove to be at Round 2 of the Cody's D1NZ National Drifting Championship. Panels, wheels, engines, chassis all took a beating as did a few driver egos as 350 tonne of concrete blocks wreaked havoc on cars that just 6 weeks ago were pristine and perfect after a long off season rebuilds.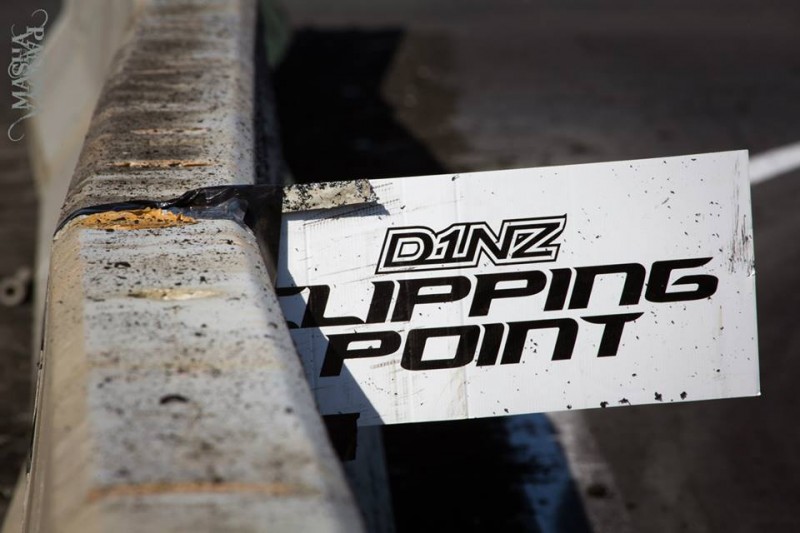 As is normal for me, we'll run in reverse order of finish. Usual disclaimer goes here, you don't have to read this and it's just my opinion. Some felt I was a little harsh with my last review however its not my job to bolster egos and promote each and every driver, this is how I see it and the idea here is to give those who didn't attend a 'warts n all' view . Images appear in this report care of  Maria Panova, I've used her images as the give a slightly different feel to the event. Please do not reproduce without her consent.
30th – Joseph Kukutai, Gull Force Pro R32
Kukutai fought with an electrical gremlin and that impacted on his testing time on both days . The team making a call to borrow Bex Bennetts Pro-Am spec car prior to qualifying rather than risk further damage to their main car. I actually think Jo looked better behind the wheel of Bex' lower powered car on 235s than he did in the Pro car, although he did manage to roast the clutch in that car resulting in an emergency lunch time swap with the unit out of his car. Delivered a solid chase run up against Mad Mike Whiddett but in the end simply didn't have the fire power to take out the #3 qualifier who was on fire in the chase. It's been a tough intro to the Pro field for the young man who is still learning his craft and struggling with reigning in his youthful enthusiasm.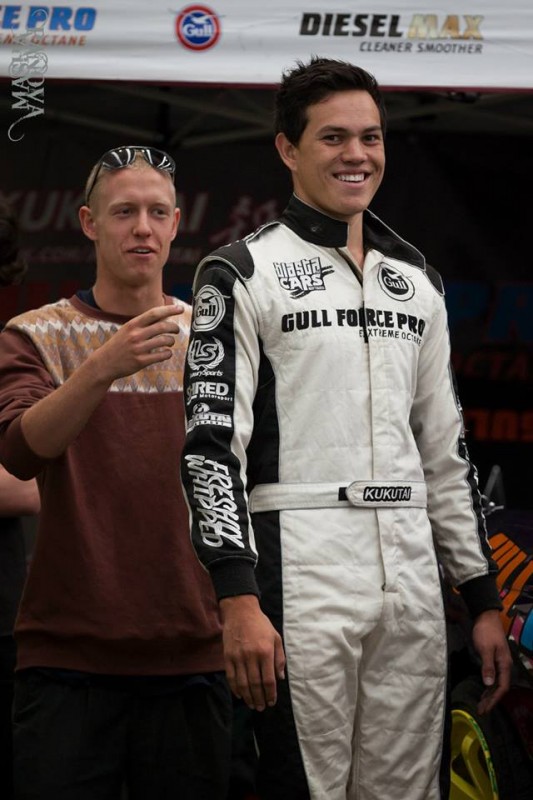 29th- Michael Prosenik- SCR s13
Lacking power, no doubt frustrated. First 2 rounds of 2013/4 are simply a way for Pro- Sonic to get a look at the Kiwis before his lS7 S13 lands from Australia.  Frustrating time at Whangarei with a missed qualifying pass due to a miss-communication and then couldn't get heat into his front tires, went straight ahead in his battle twice, game over.  Still smiling, and is probably getting just as much information out of watching the top kiwis from the tower as he would be battling with half the usual HP.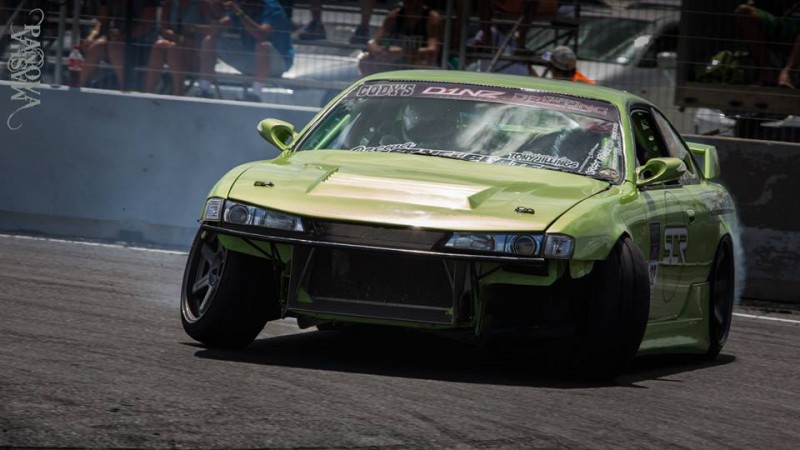 28th- Brad Smith- BurgerFuel 350z
Came out and said he wasn't afraid to hit the wall at Whangarei, and then did exactly that in practice sending bits of shattered rim flying. To their credit the crew got the car back out again within 90 minutes .This unique car still looks to be struggling for a setup and sounded like it had the wrong ratios for the track with a different entry line being used and a big limiter clutch dump. Came up against Daynom Templeman in the top 32 and got driven away from by the 800hp 2JZ monster and then seemed to suffer a mechanical failure and exited straight ahead off turn 4 giving the media a bit of a fright. I'd expect Taupo to be where we might see this car settle and show what it can do.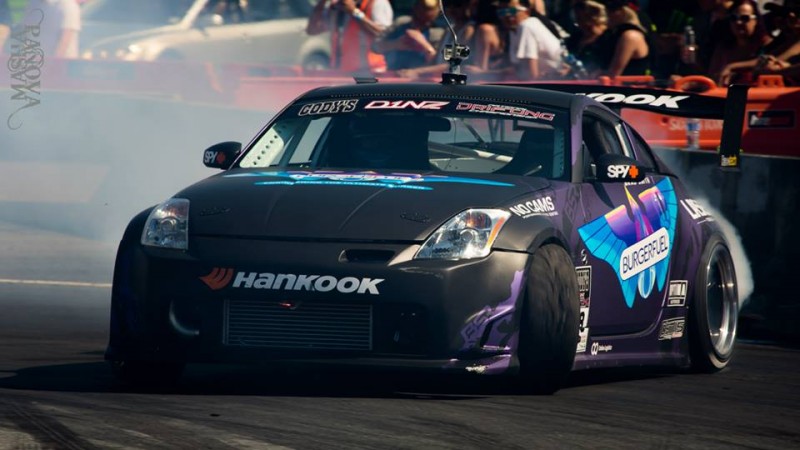 27th- Jacob Hakaraia- Nexen C35
Jake and concrete walls don't see eye to eye and that curse would continue at Whangarei with the likable Hakaraia having a tough time getting the big car where he wanted it on a tight track and then spinning in front of Nico Reid in battle to end his day and in the process causing some damage to both cars.  Will probably be happy enough to have had his gearbox hold together for an event and will chalk up his 2nd appearance in pro to experience.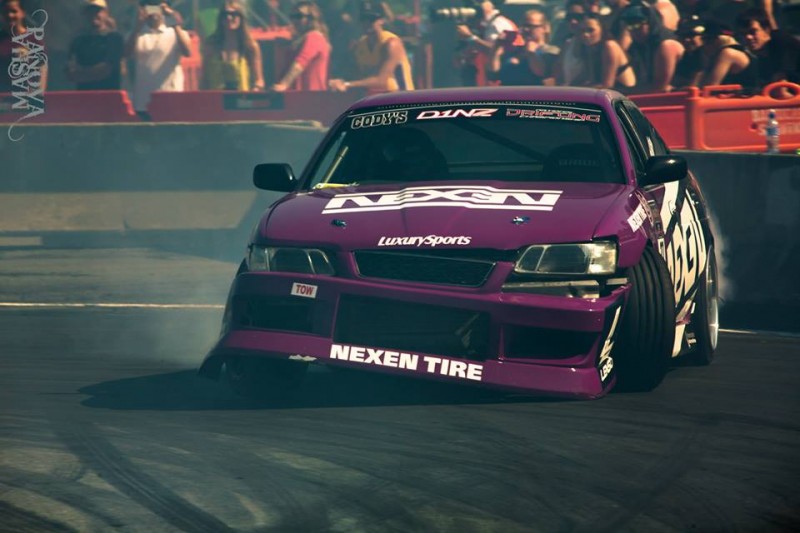 26th- Gary Tenana – Vehicle Recyclers S15
Gaza T was interesting to watch, he had turn 1 well and truly sorted with aggressive entries out on the wall, but he just couldn't get the 3rd and 4th turns sorted out and still seems to have to fight his car setup a bit of the time. Did mention the car was still popping out of 3rd, but was always going to have a tough battle to get by young local Robee Nelson, who had half the farming community of Northland present and cheering for him. Nelson taking out Gaza T.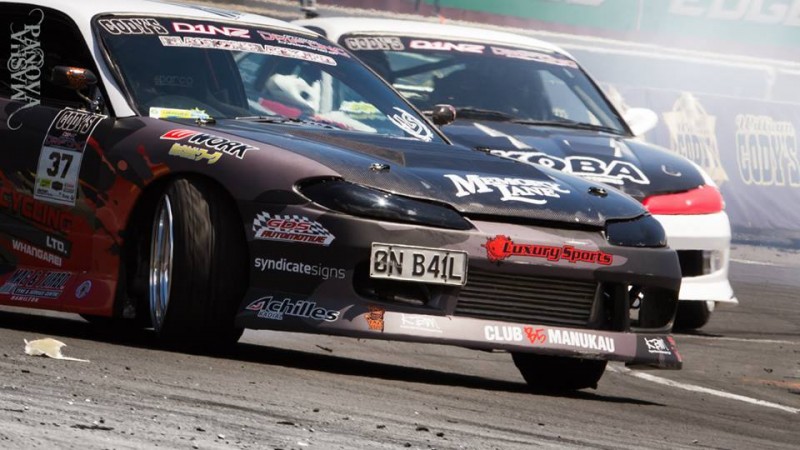 25th- Jodie Verhulst- Milwaukee Supra
Everyone loves her no matter what she does and hailing from just up the road didn't harm her vocal fan base. Had looked pretty solid in practice but I think ended up feeling the pressure a bit when it came to qualifying and stayed off the walls on both runs to bank safe but ultimately low scores. That meant a battle with former South Island Champ Chris Jackson in the top 32, who simply had too much speed. Will want badly to reach at least the top 16 in front of her adopted home crowd in Tauranga at R3.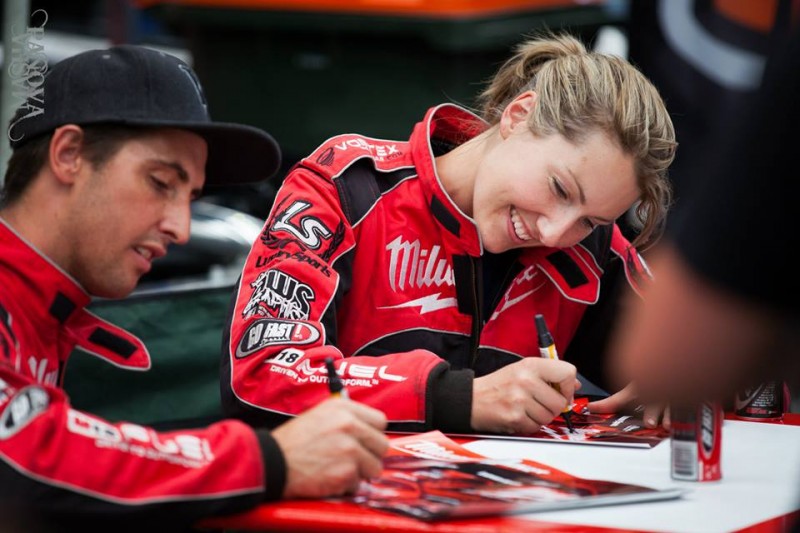 24th- Dave Steedman- Team DSR S14
One of the oddest battles of the weekend, Steedman had Gaz Whiter gain a huge lead on him off the start and then continued to chase a long way back, believing that a superior line and angle run would give him an advantage. Judges saw it otherwise with Whiter rewarded for his much closer chase and advanced him through.  A bit more frustration for Steedman, who has yet to fully settle in since returning to competition as he learns his new car.
23rd- Adam Hedges- C's Garage S14
The C's garage cars looked right at home on the tight track, with nimble and responsive performance from the lightly tuned Sr20DETs.  Adam finding the limits in a big way with a couple of big hits of the wall which resulted in some rather 'drift spec' panel beating using a winch and a 4wd prior to the cars coming out for qualifying.  A wall tap in battle again and that was day over for the once so pretty C's machine.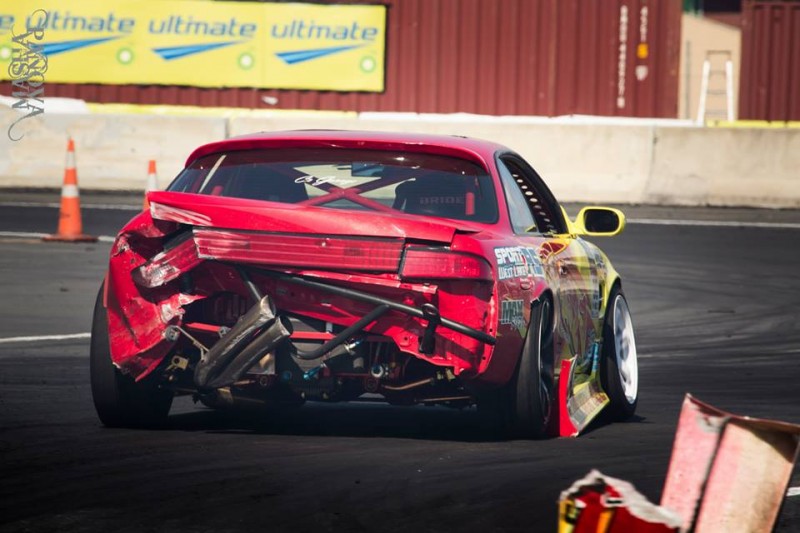 22nd- Matt Lauder- Privateer
"Louda" suffered a terminal engine failure in practice and borrowed the Pro-Am car of Jono Wade for qualifying and battles. Having not done a lot of laps in a fairly differently spec'd car to his own, Louda struggled where he had looked right on song in his own slider and ultimately wouldn't have the grip or speed to match a rampant Shane Van Gisbergen.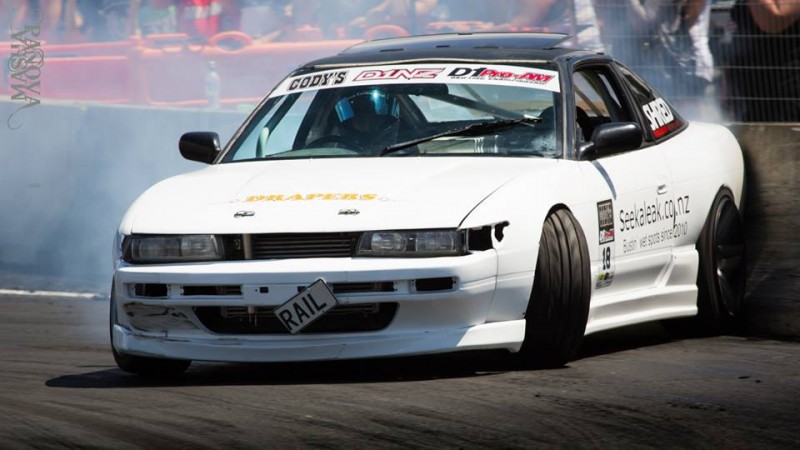 21st- Bruce Tannock- Achilles S13
Tannock is certainly looking more comfortable than in past on these tight tracks, but I still think ultimately does not want to bend the genuine Rocket Bunny kit which makes him hold back a little in the battle part of the event. Has the speed and grip to run with any in the field and would have been looking to gain a battle win over good mate Cole Armstrong. A straight line in battles putting an end to any hope of that for the Hamilton driver. Expect Bruce to be a force at Taupo where he can qualify high and look to drive away in early lead runs.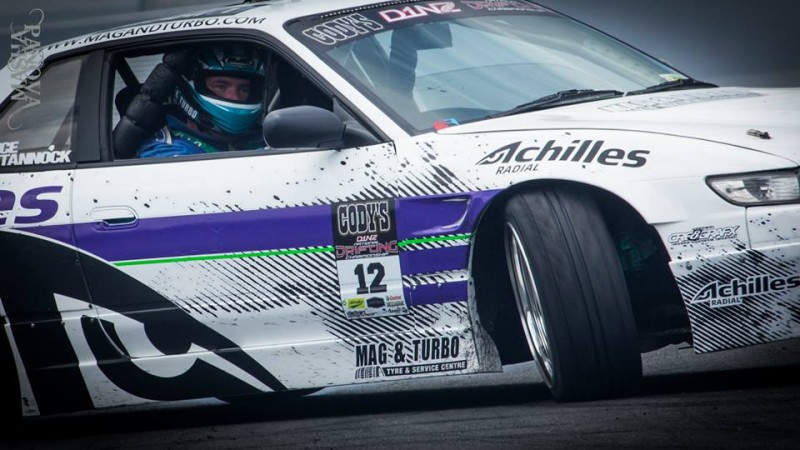 20th- Phil Sutherlund- DD A31
"Philthy" would have been a bit disappointed to lose to Zak Pole, after looking good through turns 3 & 4 all weekend with smoke pouring off the rear of the 2JZ powered cefiro, Phil would loop the car out while on his lead run and hand the win to Pole. His fellow South Island competitors paying special tribute to the always smiling Sutherlund, who had loaded up his truck with tires for all 3 Southern cars and driven them North over a couple of days.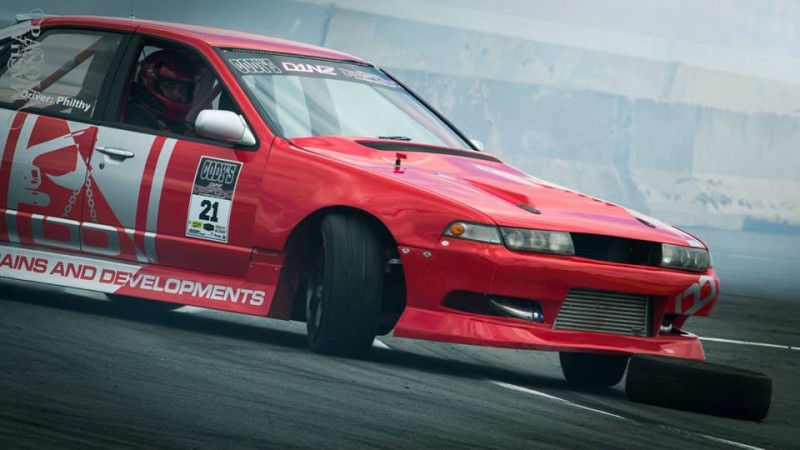 19th- Andrew Redward- Juice Polishes 15
Redward was never meant to even compete, and did so only to keep himself in the season points race. His own car left in Auckland, Redward elected to do a single qualifying pass in Troy Jenkins car and then withdrew before the battles having essentially qualified with only one working arm. This put Drew Donovan straight through into the Top 16.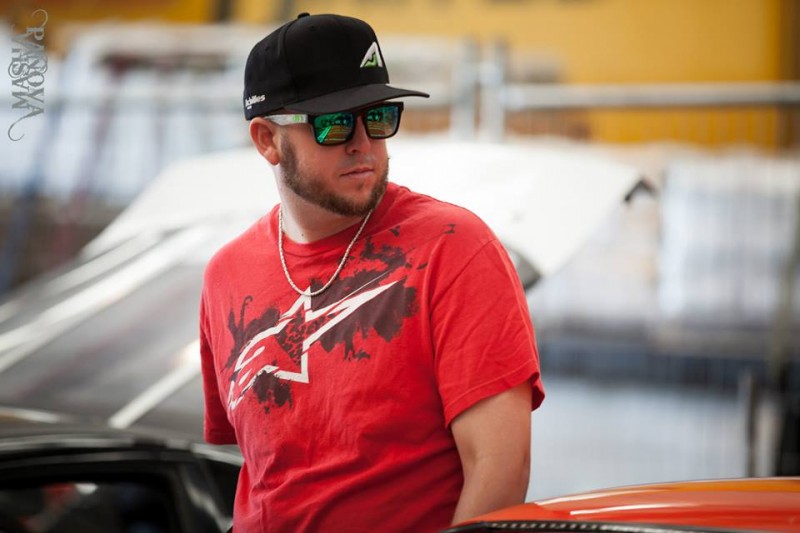 18th- Hugo Maclean- Privateer
Hugo was clearly unhappy at losing to friend Darren Kelly in the top 16. He'd qualified himself inside the top 16, and would have been looking to continue his small track form. His car is nimble and very responsive, and Maclean had snared his first podium at Tauranga the season prior. It was not to be with Kelly ruled to have had a better chase line, Maclean another to be punished for cutting in shallow on turn 1.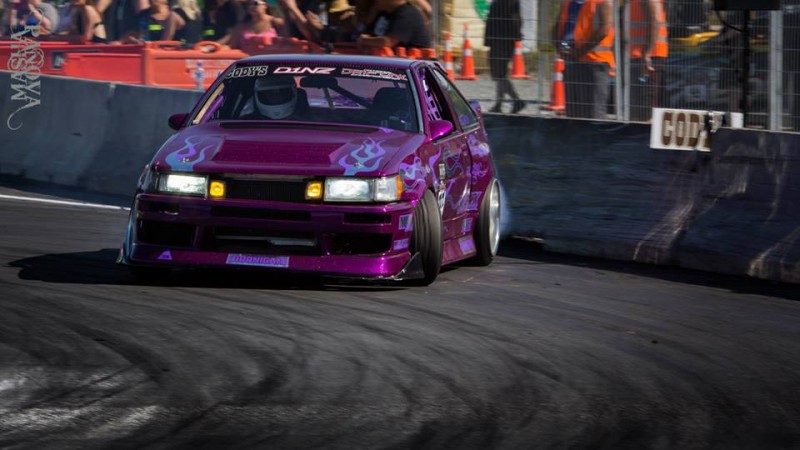 17th- Shane Allen- Rattla Motorsport
Allen is starting to show just how good he might be in this big car. Best ever qualifying result of 13th was followed by what will be a valuable lesson for the young man. After taking an advantage with his lead run due to making the most of his horsepower, Allen was given a bit of a lesson in race craft by veteran Kyle Jackways. Jackways would lead the faster car in and keep a steady pace for the entire lap, only to slightly ease off the gas in the final section just enough to unsettle the younger driver who had no choice but to take evasive action. The spin sending Jackways through and giving Allen something to think about as he starts to find his place in the field. An upset Allen knowing that he should have given more room, but carried away in the moment and wanting to always push hard.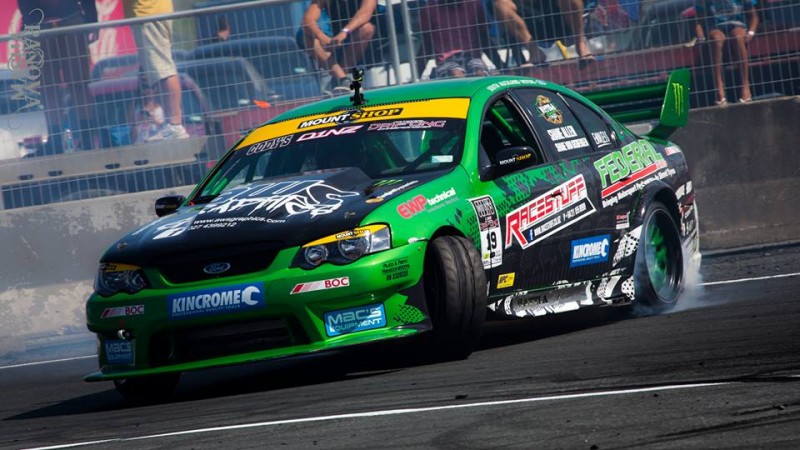 16th- Kyle Jackways- Liquid Labs 180SX
As above, Jackways has returned to some form and now looks like he is a threat each and every battle. Had to go OMT with Southern wild man Troy Forsythe and in the end beat himself by spinning on the chase. Jackways has made a solid start to the season and will want to take the next step into podium contention over  the next 2 rounds. One of the 'nice guys' who does it all on a teachers budget, Jackways success is a positive for a team that until 8 weeks ago were sitting out the season.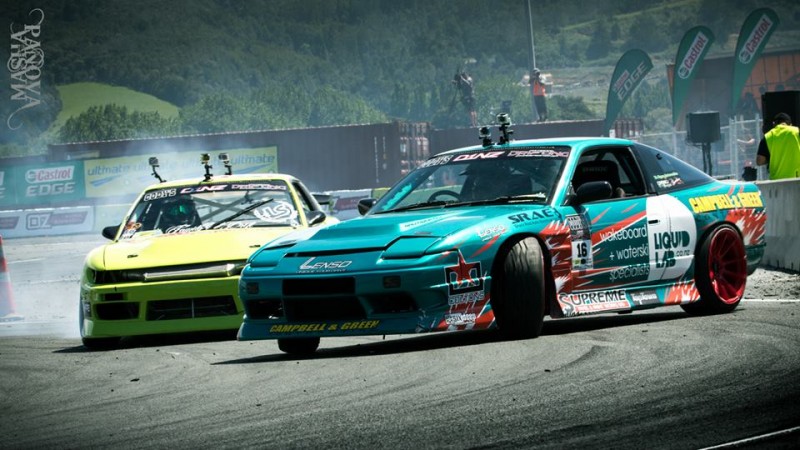 15th- Darren Kelly- Thirsty Liquor R34
Kelly was given a bit of a lesson by former DK Curt Whittaker, the speed shown by the top cars putting just that little ounce of temptation in front of drivers to shallow enter on the first corner and being punished accordingly by the judging panel. Kelly has made a solid start to the season and has shown that he belongs as the reigning Pro- Am champion. Will want to be on the top 16 side of qualifying in order to lead first at the next round and the big RB30 was suffering in the heat.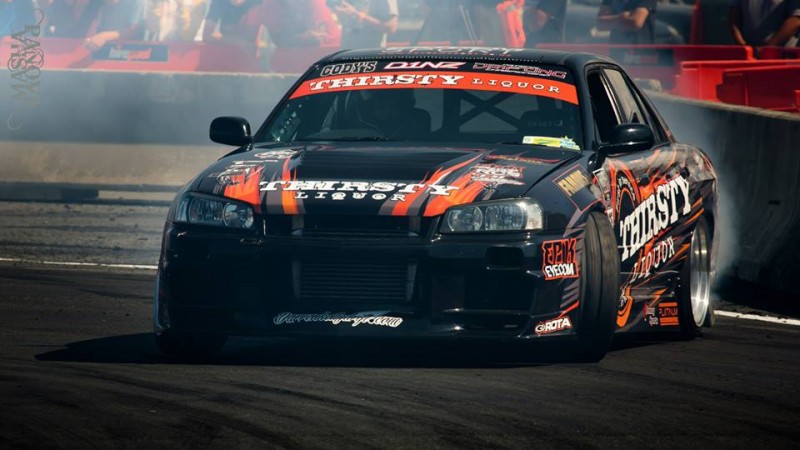 14th- Zak Pole- Rollei Actioncam R33
Pole had a much better round than his season opener and has welcomed some new sponsors on board which is a positive for his team. Was getting power to the ground much better than at round 1 but with the heat and nature of his power delivery wouldn't have had an easy day at the office. His rivalry with Mad Mike is starting to become a bit of an ongoing theme and once again the 2 would go head to head with the Redbull Rx7 delivering another of its trade mark door side chases to advance. Poles car another that started the season looking a million bucks and now sporting some fiberglass and panel damage.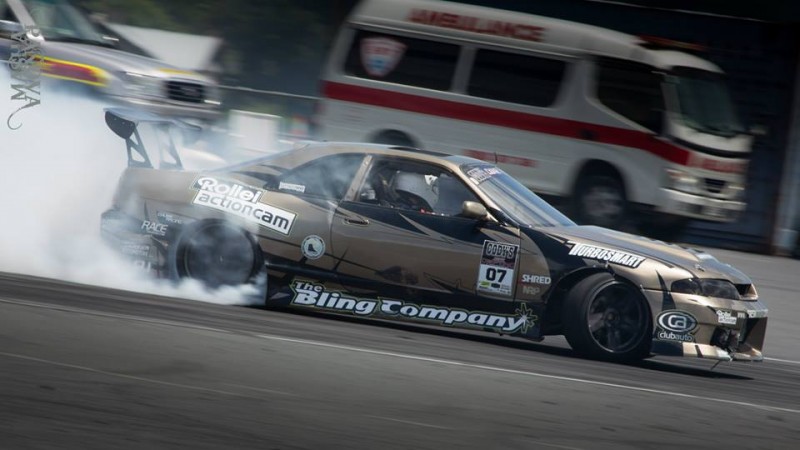 13th- Tuxx Teruya- 2Degrees 700Z
Just looked to be having fun after accepting an offer to drive from car owner Sky Zhao. Tuxx was on the limiter and on the wall on regularly, actually ending his day that was after a hard hit on the turn 3 wall. Was good to see the Japanese driver back behind the wheel, and we can only hope that perhaps some of the activity in the Zhao camp might be readying the old S15 for a Teruya return.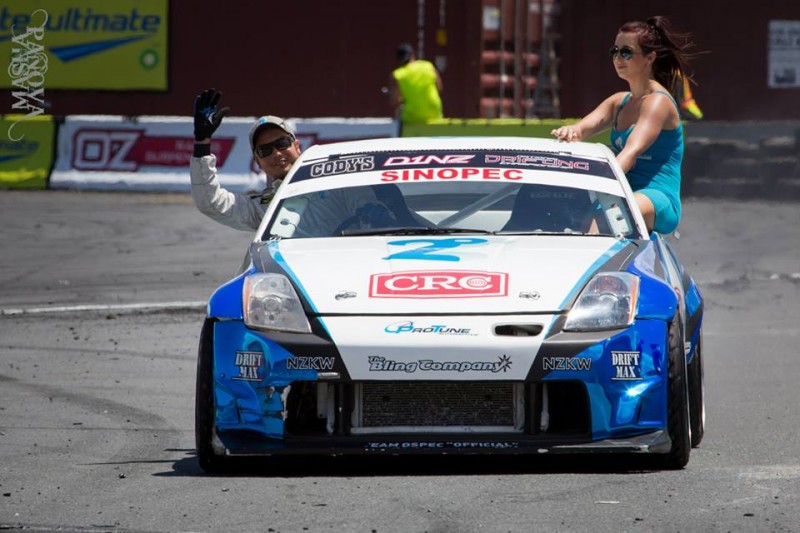 12th- Chris Jackson- Surfab S14
Jackson would consider himself to be a bit unlucky I think. His battle with Gaz Whiter could have gone either way and it was probably only a small difference in proximity that decided it in the end. He looked fast and aggressive and seemed to enjoy the tight nature of the track, leading me to believe that he may have learnt his early craft on the streets of Christchurch in tight carparks and abandoned lots.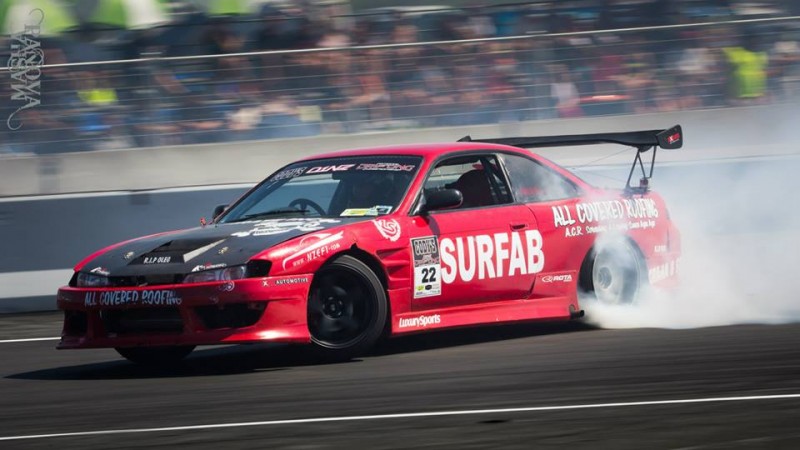 11th- Nico Reid- Luxury Sports S15
Hands down the battles of the day with Shane Van Gisbergen.  Nico would have no doubt gone further in the comp had it been any other driver he'd come up against, and I can't recall seeing a battle like this ever where the whole crowd would have just been happy for the 2 to go back and forward all day. One made a mistake, then the other would counter and when seemingly at the advantage would put a wheel off.  In the end it was SVG who advanced, but Nico deserved the applause he got for the effort and performance he put in.  It was mentioned after the event that the Reid team had actually loaned Rattla more tires so they could keep going on the day, the repeated  battles and dual drivers exhausting their supply.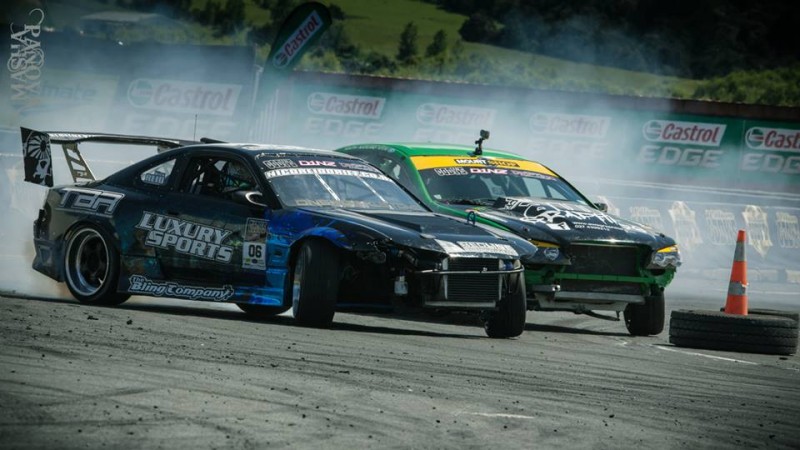 10th- Daynom Templeman- NAC Insurance RX7
Templeman was fast and wild, seemingly always on the very edge of control. He was clearly looking for a result at a round being sponsored by his naming rights backers.  The 2JZ under the hood and dinner plate size turbo hazing tires at will and filling the Toll track with a thick cloud of white smoke.  Templeman would come up against Cole Armstrong, and the pair would be so even that it would go to an OMT. The heat perhaps taking its toll on the horsepower monster with the car being shut down and pushed off the line with clouds of steam coming from the engine bay. Templeman out and Armstrong through.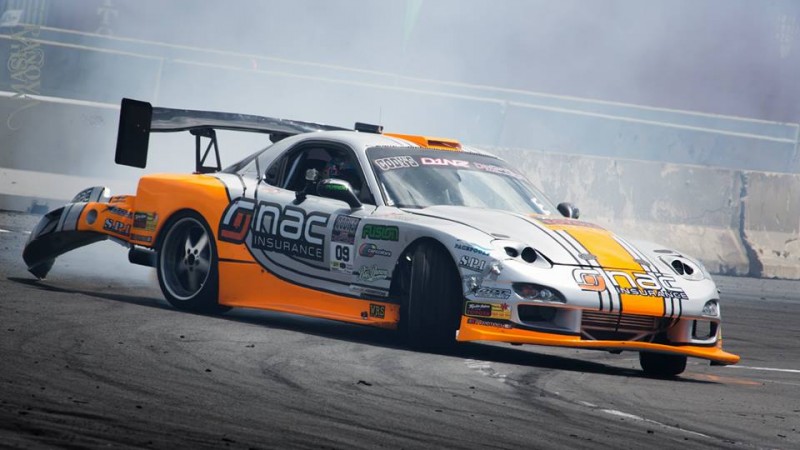 9th- Daniel ' Fanga Dan' Woolhouse- Castrol Edge Commodore
With his home crowd in attendance, Fanga Dan was looking to put on a big show. He had the spotlight on him with his new car unveiled the night before and although not ready to compete the car was at the track flying the sponsors flags.  A #2 performance in qualifying would have had Fanga feeling good, and a with a bye run into the top 16 confidence would have been high. Unfortunately for Fanga, this is where it all went off the rails with a hot entry to turn 1 causing Fanga to hit the wall and straighten out, handing an advantage to Drew Donovan. This is where things got a bit interesting tho as Donovan went to the inside of Fanga on Turn 3 and depending on your viewing angle looked to have made a pass. There is no clear rule on this in the D1NZ rule book and while the second run clearly went the way of Donovan, Fanga was clearly unhappy feeling that he'd been squeezed and that he should have been given a 10-0 lead run.  Readers can make up their own minds.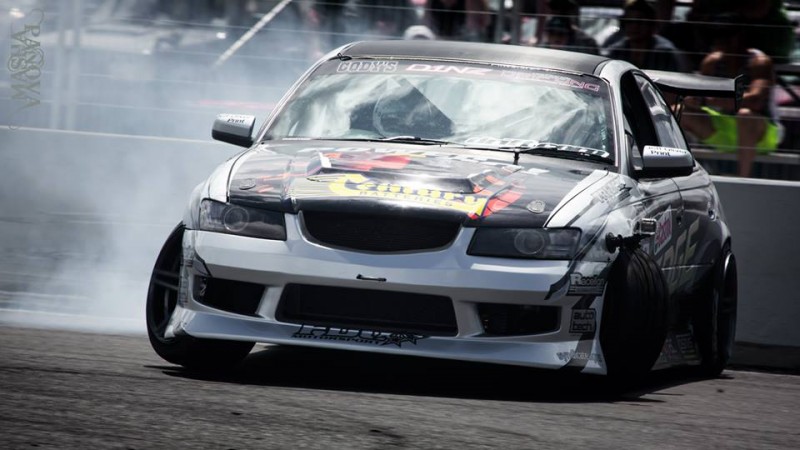 8th- Drew Donovan- Milwaukee S15
Discussed above at length, Donovan came up against a charging Robee Nelson in the top 8 and couldn't match the speed the youngster had.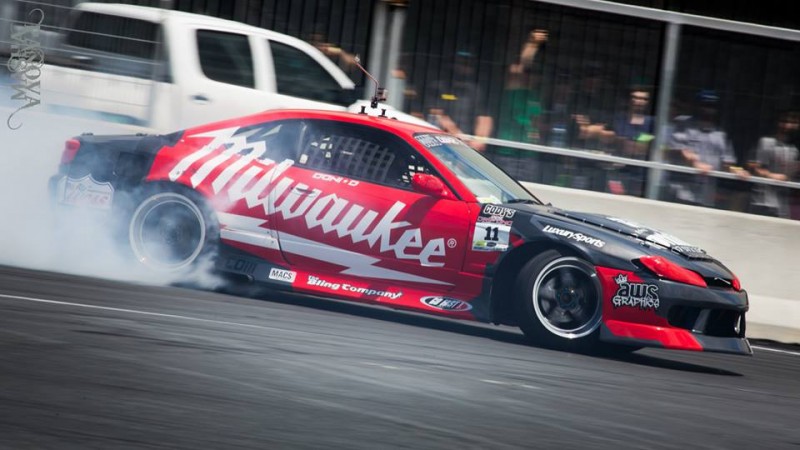 7th- Shane Van Gisbergen – Rattla Motorsport Falcon
SVG just gets better and better. He is now in the top 3 chasers in the field in spite of this being only his 5th appearance and once he has a handle on dictating the run via his lead pass and varying things up, he will be very hard to beat. At the moment, the top cars can still run with him speed wise, and know that hes going in at 100% but once he unsettles that thinking, he'll be on his way to the top step.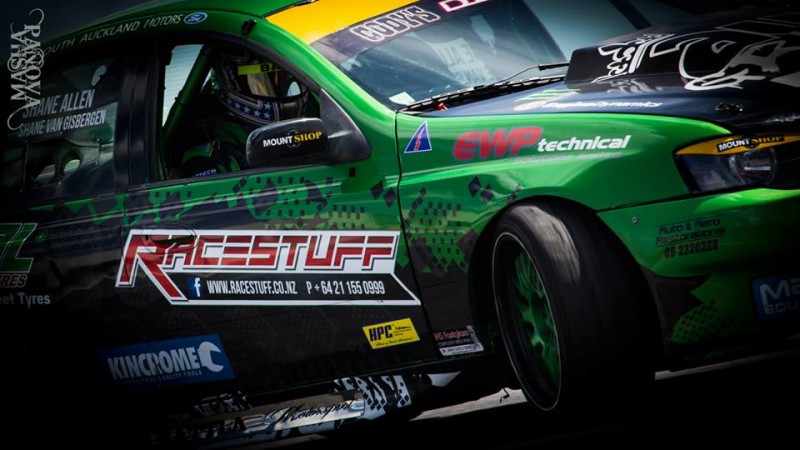 6th- Troy Forsythe- Family Guy S13
I personally believe that Troy was on his way to a podium at this round, He'd dialled up some of the biggest angle scores in qualifying and was on a real tear in his chase runs. Had the advantage against Cole Armstrong when he went into the wall on Turn 3, carrying just a little more speed than he had on other runs during the weekend. A number of teams have now rallied to get the Family Guy team back in action for round 3, with low budget not even beginning to describe the way Troy operates. He is still seeking a sponsor, and would be a good brand ambassador for a number of companies.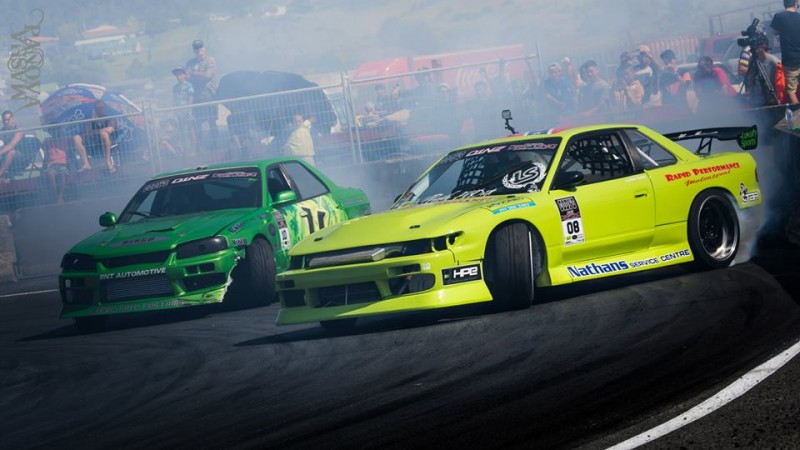 5th- Curt Whittaker – Autosure R34
#1 qualifier with a 94.5. I am always amazed at how Whittaker seems to look out of sorts on day 1, but I think I've got it figured out now. He's actually piecing together sections of the track using slightly different speeds and lines and then combining them all for day 2 into something that works and can be delivered consistently lap after lap. Beat Darren Kelly to set up a re-match of last years round with Gaz Whiter, and with many in the crowd on the edge of their seats to see what would happen, a hub failure on the scrub lap robbed us of a highly anticipated battle. Whittaker stating after he'd retired that he was pretty relieved as the hub failing at full speed would have sent the car into the wall and likely written off his own and the chase car as well, not something that would be wished on anyone.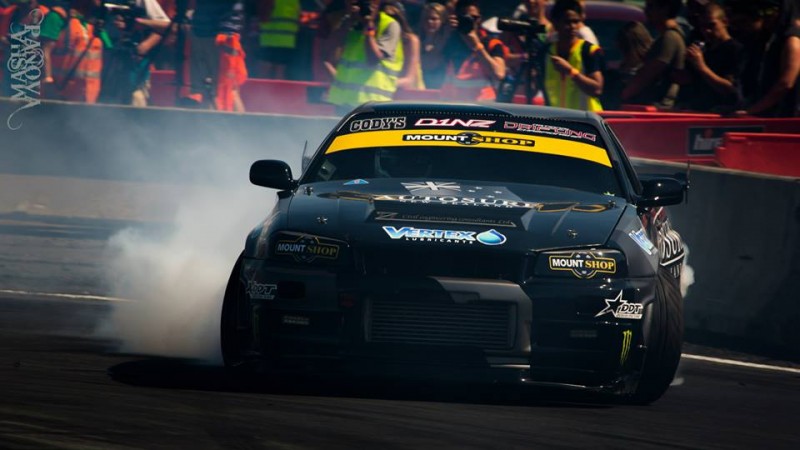 4th- Robee Nelson- Koba Batteries S15
Robee had the crowd on their feet , with every farmer North of the Brynderwyns in attendance. Ok, maybe thats not true but after a lean last season, Nelson showed what he can do and put in the drive of his career while proudly sporting his Northland Blue colours. The fairy tale ending was not quite what it could have been with a spin, but it would have been a special moment for the young man and his family to have the whole crowd on their feet as they tried to cheer him to his first D1NZ podium.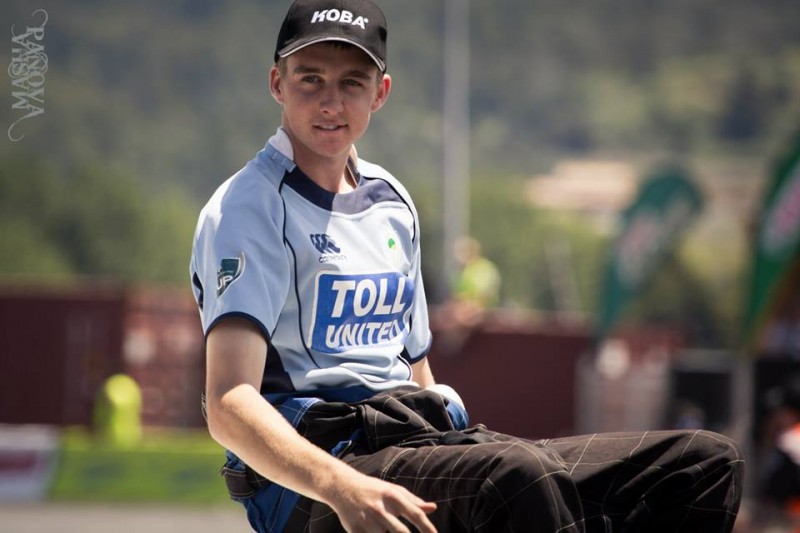 3rd- Cole Armstrong- V Energy R34
'New' Cole is all about business and while the fun loving joker is still there, Armstrong clearly has success on his mind now that he is running his own operation and managing himself. The RB30 heart with over 500kw was huffing and puffing and doing its best to destroy the rear tires and Cole looked to be finding a good line all day. Gaz Whiter would be in the way of Armstrong and the battles for first and second and he'd get the better of the re-match of the drift nats final. Armstrong having to settle for 3rd place and a fending off Robee Nelson to get his title chase back on track after an earlier than expected Round 1 exit.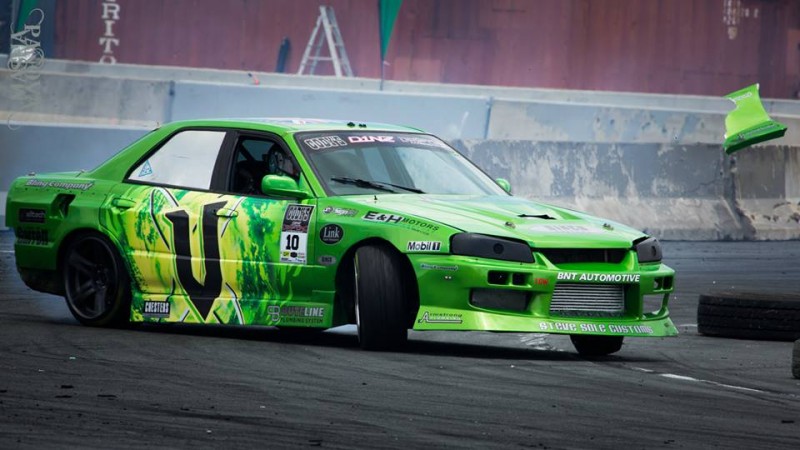 2nd- Gaz Whiter- Tectaloy S14
Gave himself and his team a big scare when he busted a diff on his first qualifying pass, with no score on the board as he didn't finish the section under his own power, his team did a rapid fire change and the car emerged to do enough to qualifying in P9 while fighting with completely different ratios. Whiter had been picked by many as the man to beat with his Round 1 form and he was on a clear charge into the finals. It all came unstuck for Whiter tho as he made a mistake on entry due to Mad Mikes entry speed being lower than expected and put himself into the wall. With the front wheel on full lock when the car made contact, all the arms were broken and there was no way repairs could have been done in 5 mins. The odd sight of a broken Tectaloy S14 being part of the prize giving in a somewhat unique ending to the event.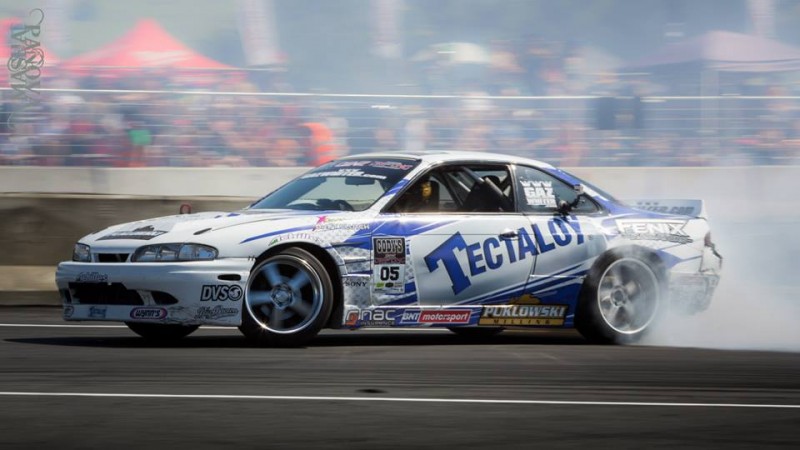 1st 'Mad' Mike Whiddett – Redbull Rx7
Could this be his year? People are always talking about it, but it's yet to happen. Whiddett has clear form on the chase, and seems to have managed to overcome mechanical issues at both early rounds to top the current points table.  Would appear to have changed his style slightly with less of the pronounced 'diving' at the lead drivers door then has been seen in prior years.  There will be some questions about noise at the next round and potentially the grand final, so Whiddett will want to build a good lead and create distance over the chasing Whiter who along with SVG are clearly the 3 form drivers currently.  Whiddett will again excel with walls to run, so its going to be interesting to see what if anything his rivals can do to unseat him from the top step over the next 2 rounds.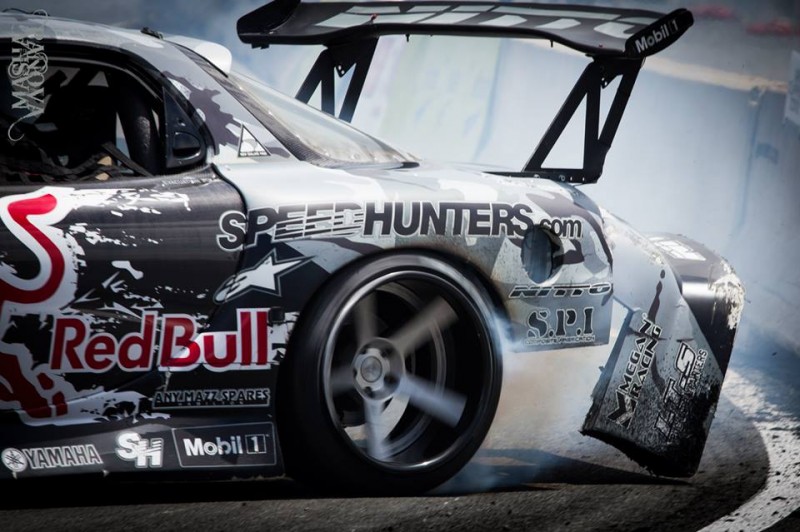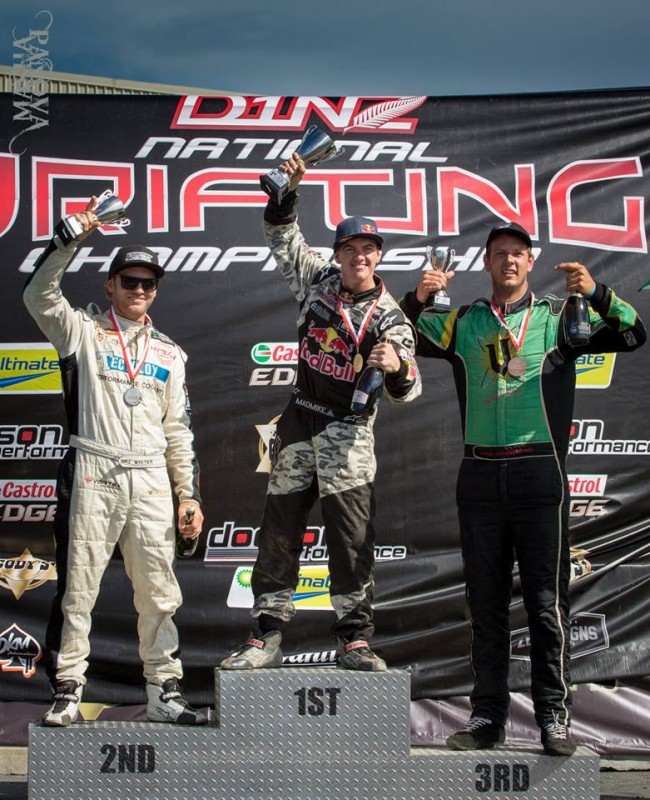 Whiddett now leads by 2 points from Whiter and Van Gisbergen, with Curt Whittaker just a few points behind. The title chase now moves to Baypark at Tauranga and the event that was without a doubt the jewel in last years crown. A win there will go a long way to cementing a podium for the year for potentially any of the top 4, so its all on come January 19th