Sideways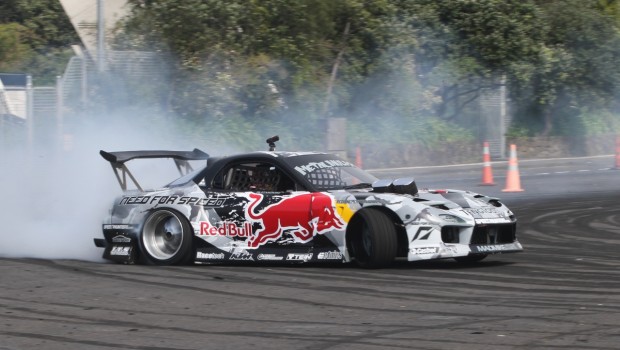 Published on September 24th, 2011 | by mrgrumpyninja
0
D1NZ MEDIA DAY- MT SMART
Earlier this week, the team from D1NZ put on a media day to showcase the upcoming season for interested journos and the usual assortment of hangers on (myself included).
The venue was Mt Smart stadium, where the legendary JR ( ex ASB showgrounds) who is known to be a huge drift fan is now running the show. Gotta say a huge thanks to these guys, as not everyone wants 95db (ish aye Mikey) race cars ripping up their facilities on a week day while people are at work in surrounding areas.
Its fair to say that it was a small turnout, but with drivers trying to save leave for events and in many cases still waiting on parts/cash to complete season prep I would never expect a huge turnout.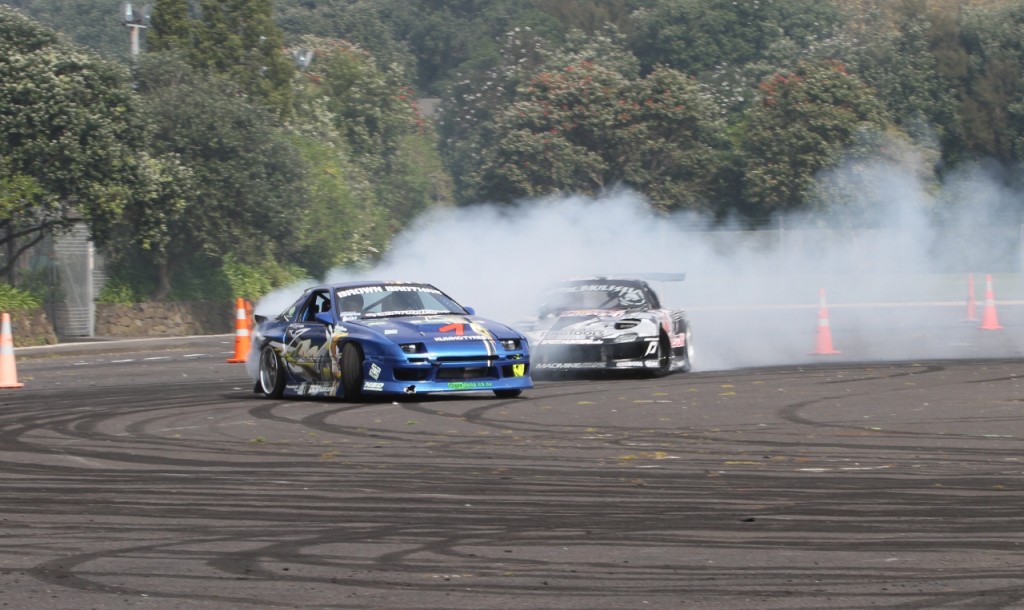 I was being lazy as I am prone to from time to time, so many of these images were taken by D1NZ's Kendyl Coleman, who didn't do to bad a job for her first time driving a DSLR!

Rocking a new kit for the season thanks to new backers Luxury Sport is Jason Sellers, Jase is an undeniably talented driver who spent most of last season battling away in his brother's rookie car due to mechanical gremlins with his own 2JZ Laurel. The car is now looking very solid, and crew chief Peter Sellers was left to do little other than put the car on the trailer and head for a cold brew, which bodes well for the season.  If the TAB did odds Jase would be a guy I'd throw $20 on, because if this car stays on song he will be right there at the end in the title hunt. I truly believe that the smoke screen from Jase vs Whittaker,Armstrong or Woolhouse will be like FOG!
Jase also welcomed Redline performance as a sponsor for the Supercharge batteries C33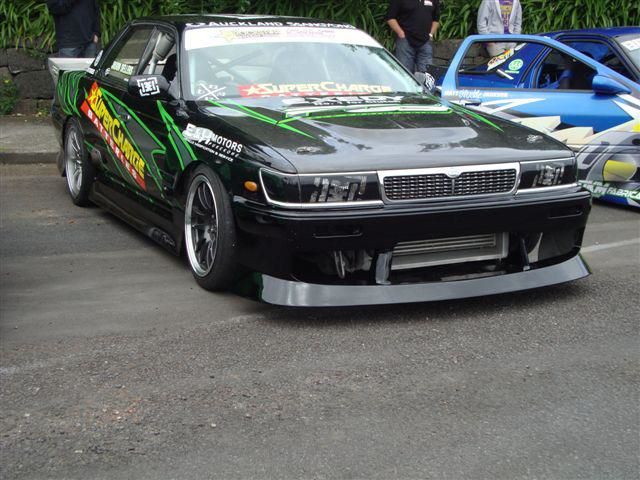 A new lease of life has been given to Andrew "Redwardo" Redwards Nankang S14,  fresh paint & graphics, re-wired and mechanically revived, Redward will be another to watch as he sticks to the same car for the season.  Andrew got an early welcome to the season from the Mad one who gave those fresh bumpers a christening, and if that's what guys are going to do at media days, then its going to be a highly competitive no quarter given season!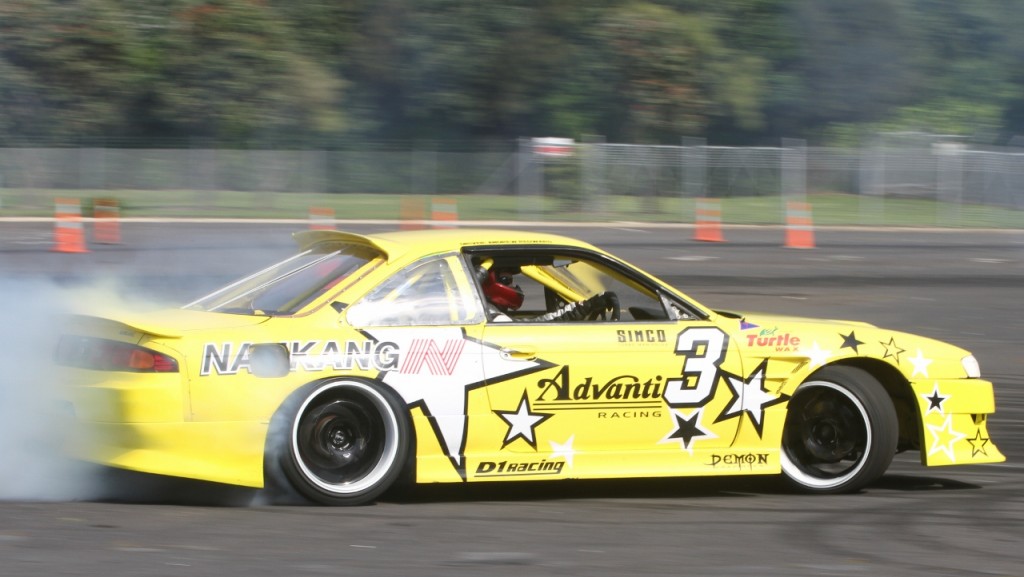 Speaking of Mr Whiddett, Mikey was his usual "only go 150%" self, and was putting on the usual combo of aural symphony and tyre shredding smoke. Mikey had the fastest entry at Mt Smart last year only to have a tire de-bead and it was almost like he had unfinished business with the venue. Yeah ok it wasn't a full blown comp, but it looks to me like if Mikey wants to win only one round this year, then it will be Mt Smart under lights with a HUGE crowd in.
Representing the D1 Rookie class was ex mini-stock pilot Shane Allen in the EWP Fix backed Falcon owned by father and highly respected racer Chris Allen. Apparently the car only has the "baby" engine in it currently, so its only 800hp not the usual 900. Curt Whittaker said "that thing has power from start to finish, you kinda just try and hold onto it" so the young guy is doing  a great job and will go well in Rookie.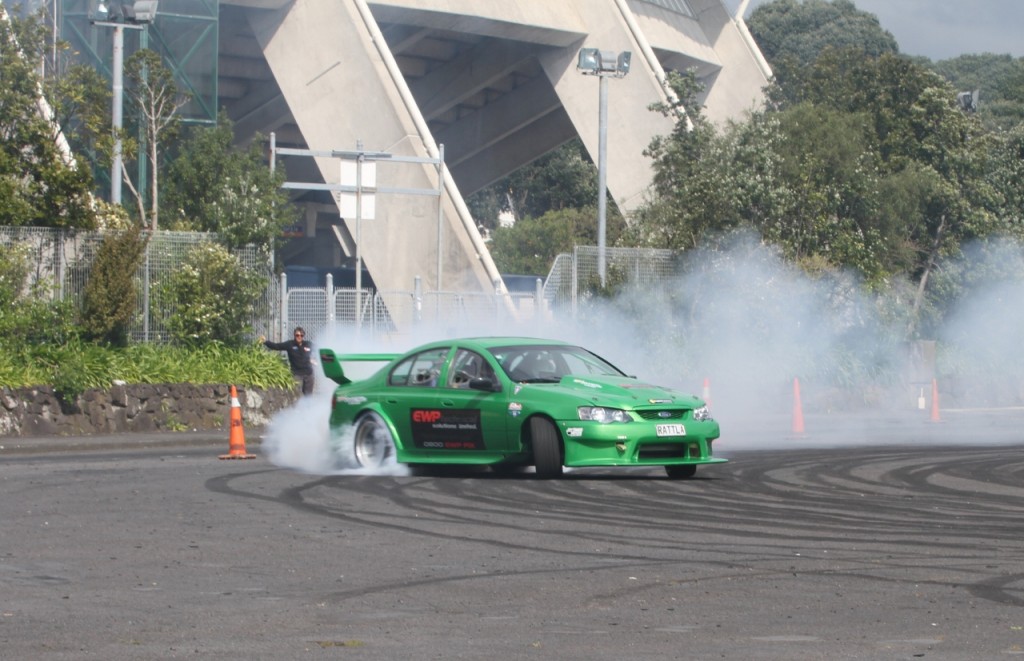 Matt "my girlfriend is more famous  than me" Jackson was another to show up and take the sponsors present for a drive. Chuckie destroyed his own tires, and some belonging to official sponsor Devolution Photography, and then went hunting for more…been missing drifting a bit have we Chuckie?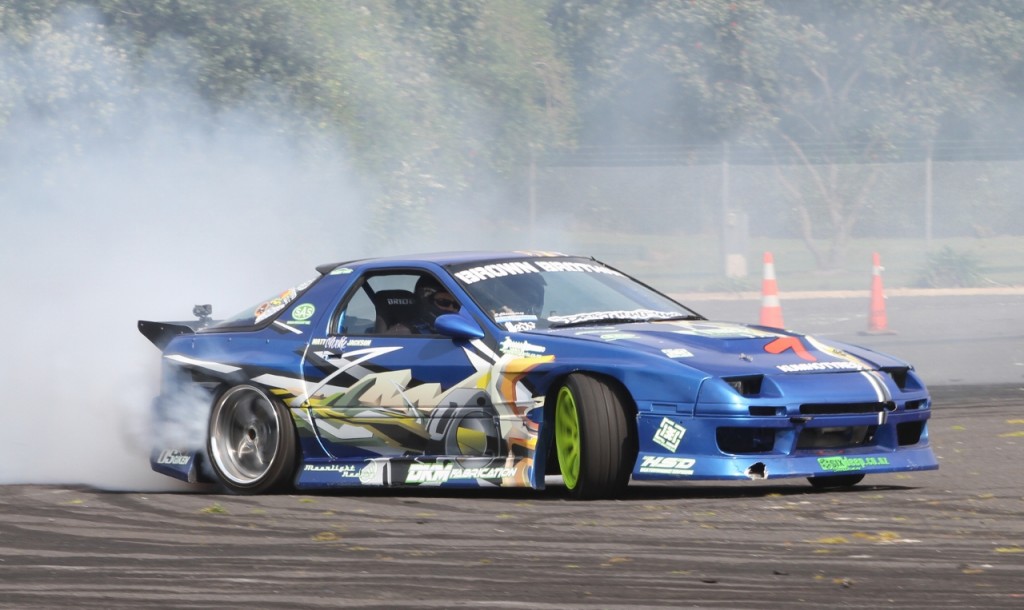 The other car turning tyres on the day was the D1NZ promotion car, which was having a photoshoot done. Built to give opportunities for sponsors to experience drift, it was great to see representatives of a number of companies turn up on the day and give it a crack, notably Hayden from GVI who seemed to be pretty at home…Rookie next year Mr Johnston? *image shown is Curt Whittaker shaking the car down*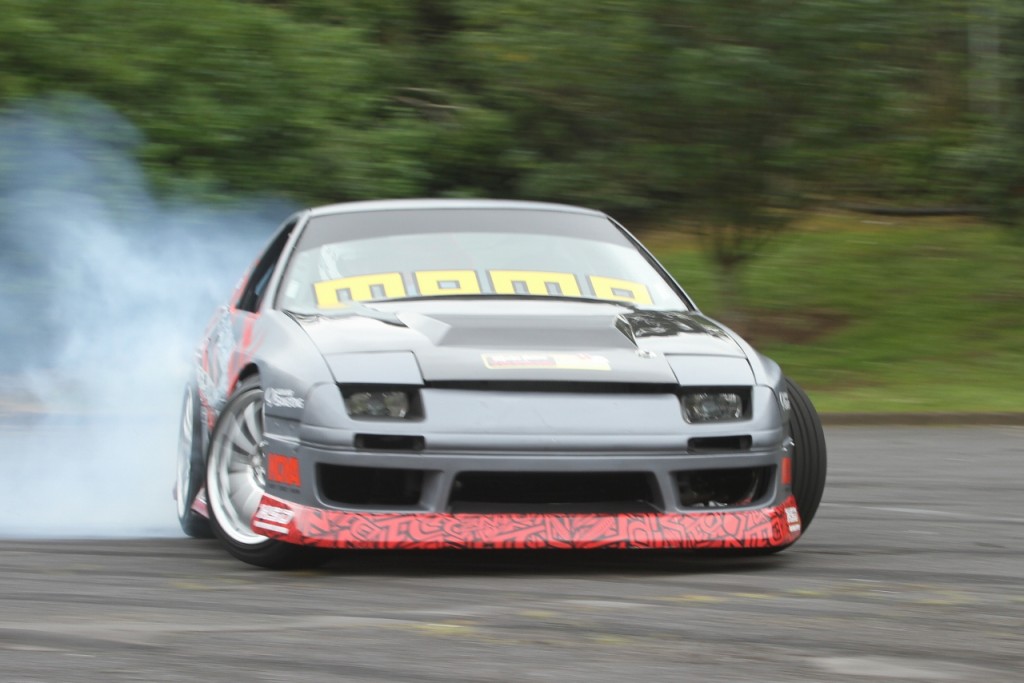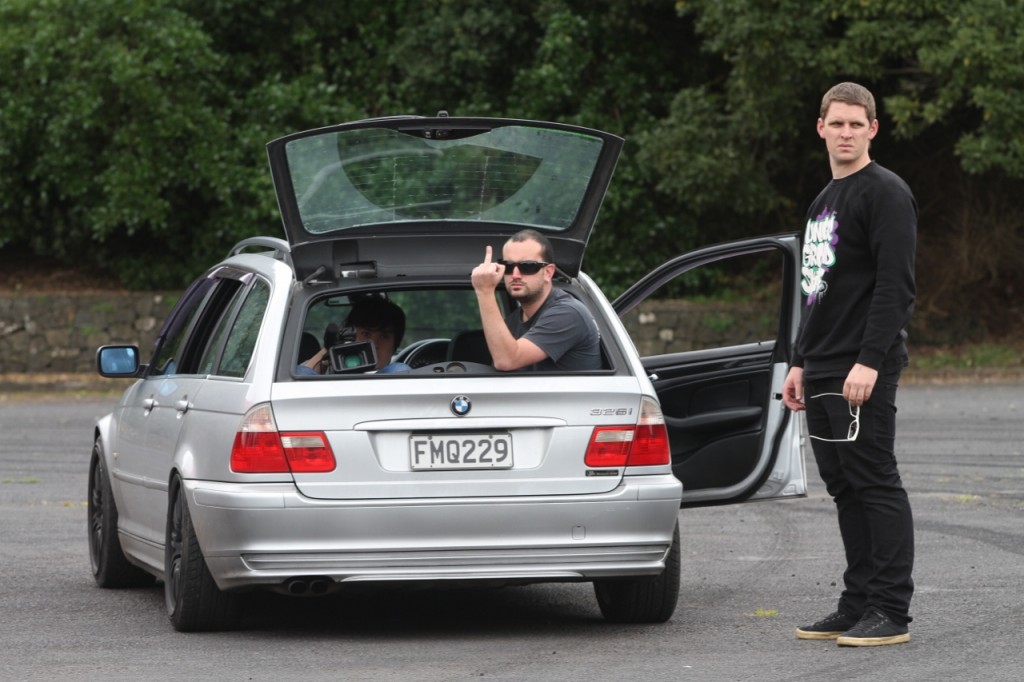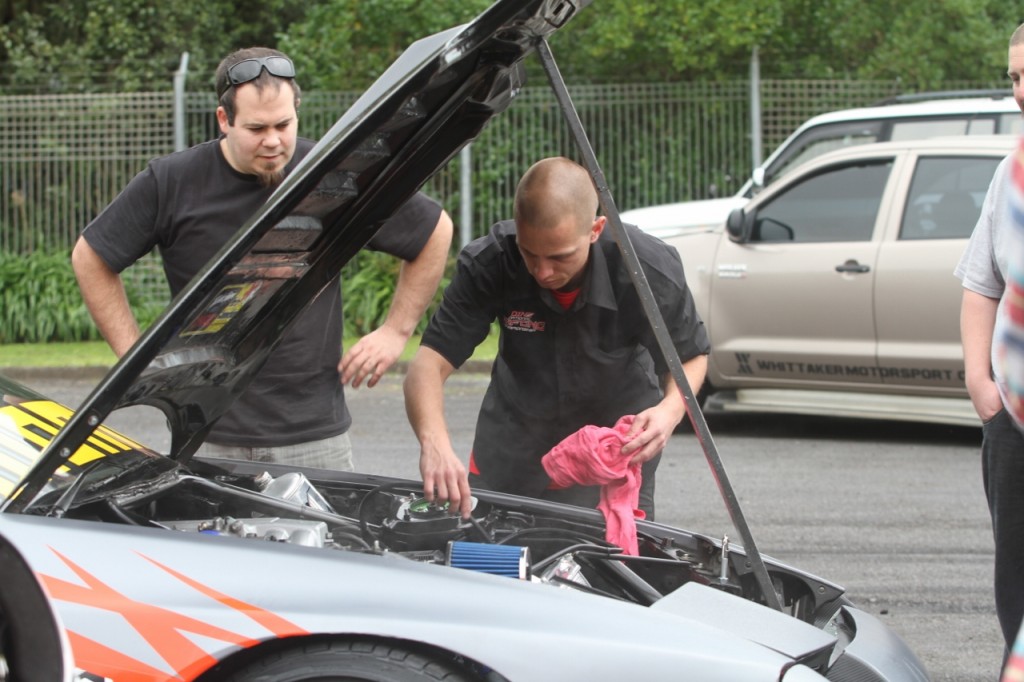 Here's D1NZ's Brendon White checking the car over under supervision. As with all good builds, it was still being worked on just prior to launch and the D1 team want to extend a huge thanks to those involved in this unique promotional product.link
So what of Gaz Whiter and Curt Whittaker? Both cars were there..you can see them clearly, well Whiter is still working frantically on sorting the new VE head configuration, and Whittaker is waiting on a new clutch assembly after finding his was toasted at TIDC.
Bring on the new season I say, CANT WAIT!! 

*edit- I borrowed your video Kenny :), you do vids, I do words :p
http://www.youtube.com/watch?v=of76qh9isrI&feature=player_detailpage