Events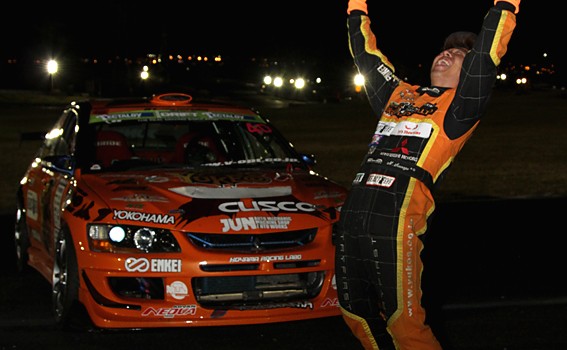 Published on August 13th, 2012 | by mrgrumpyninja
0
2012 Tectaloy International Drift Challenge- Team Orange Triumphs
Wow, what a weekend. It's about 6am NZ time which makes it 4am in OZ and I imagine that many might still be making their way home from the after function in Darling Harbour. The Kiwis might not have won on the track, but I'd be fairly comfortable in stating that they will have been on the podium as far as after partying.
I'm going to keep this post just about results primarily, and I'll deal with some of the 'thoughts' over the next few days. You may need to visit the link below to understand the qualifying format.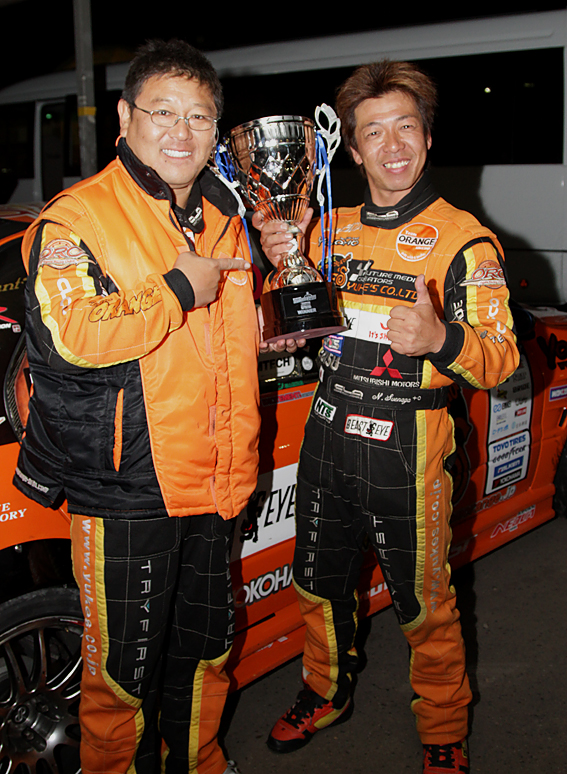 For clarification, I am part of the WTA staff and I spend the event yelling over a Mic so perhaps my experience is a bit different to others, but this is just my take on things from the platform and in no way official. The placings are how I assume them to sit after battles and taking qualifying (LINK) into account but may be a  little confusing as due to mechanical failure one car did not start the Top 16, and another was bumped up.
Apologies to Australian Fans, I had images sent to me at Midnight our  time so don't have the full field currently showing in this post.
2012 TIDC Champion- Naoto Suenaga- Team Orange Evo 9 – Japan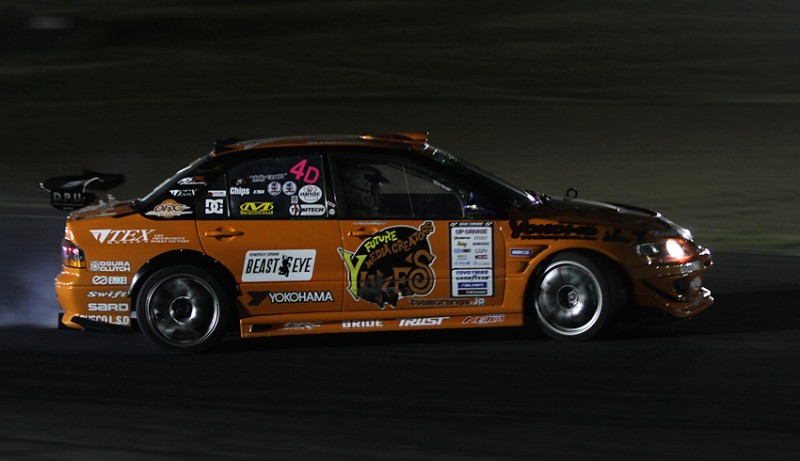 Suenaga San is who I picked in a few random sweepstakes as the likely winner and my faith was rewarded as He simply got better and better as the event went on. I was actually lucky enough to go for a ride in car with him and will upload that separately.  Fundamentally he is very similar to any top NZ guy, very small precise movements in car, fully committed and perhaps has that X factor that allows him to make a very quick minor adjustment on the fly which can be the difference between winning an losing. Suenaga was perhaps the only driver where you could see he was calculating the whole time, when he knew he had a large advantage from a lead run, the chase run was  backed off by 10% yet still clean and fast, without being a position of trying to allow for mistakes or tactics. Perhaps  you could say that ultimately the most professional team won
 Well done to the ' Japanese bogan' , it was a real pleasure to ride along with you.
Qualified P2 , In top 16 beat Josh Boettcher, Beau Yates, Leighton Fine & Tony Harrison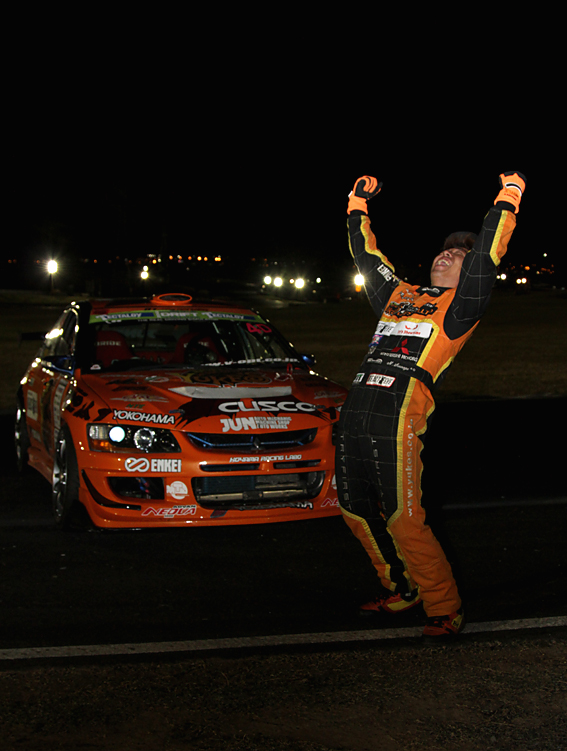 2nd- Tony Harrison- Hi-Torque Performance LS1 Silvia- Australia The 50-Man is someone who I'd admit to knowing nothing about prior to the event. That all changed at about 2pm Thursday when the sound of air being sucked into an angry built LS motor and tires being absolutely shredded resonated around Sydney Motor sport park. If you didn't know about Harrison, they you sure sat up and took notice of  the guy who did run after precise run at some of the highest speeds seen all weekend right from the start of practice.  Would have been a little disappointed with his single qualifying run, but was on form in battles and carried that over to Saturday. Had a tough battle with Jabbit to make top 4, before coming up  against Luke Fink in a tense encounter.  Talking to Tony post event , he suggested that he was mentally gone by the final battle leading to a mistake on his chase where he left the track before even making the section. It was all over at that point as the Team Orange driver was never going to open the door to a mistake being forced.
Qualified 5th- Beat Khudar Elhouli, James Abbott, Luke Fink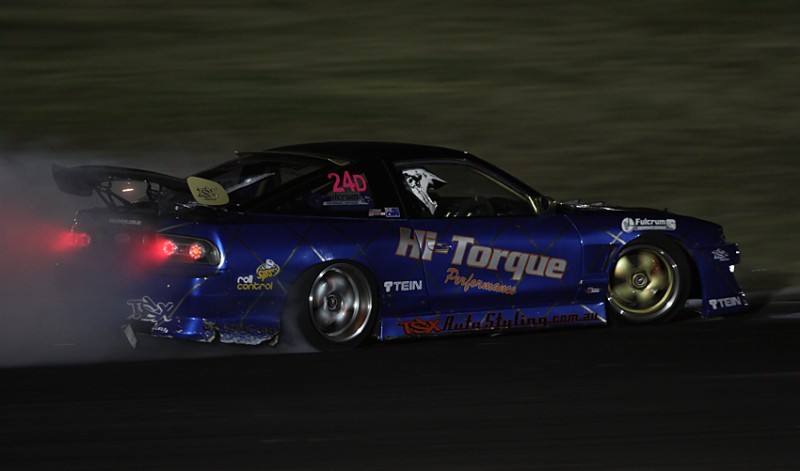 3rd- Leighton Fine- All Nissan Wrecking Nissan R32-  Australia
The Crabman was one of those drivers who attached himself to the bumper of whatever he was chasing all weekend. Driving what was called by by many a 'budget build', I was one of the many who doubted that an older R32 was a great platform to mount a serious challenge with, but Fine proved us all wrong with a display of solid driving. I don't think its unfair to say that the car didn't have huge angle during the weekend , particularly compared with the other top 4 cars, but getting the result is what counts and Fine enjoyed good crowd support over the weekend.  Had tough battles with Kiwis  Jason Sellers (who was leading after the first run) and went OMT with Fanga Dan Woolhouse before a spin from the commodore saw him through to battle Suenaga San.  A loss would see a battle with old foe Luke Fink for the 3rd spot and the 2 green machines put on one of the best battles of the weekend. Great speech by fine and good luck at your wedding this weekend
Qualified 15th- Beat Jason Sellers, Daniel Woolhouse, lost to Suenaga, Beat Luke Fink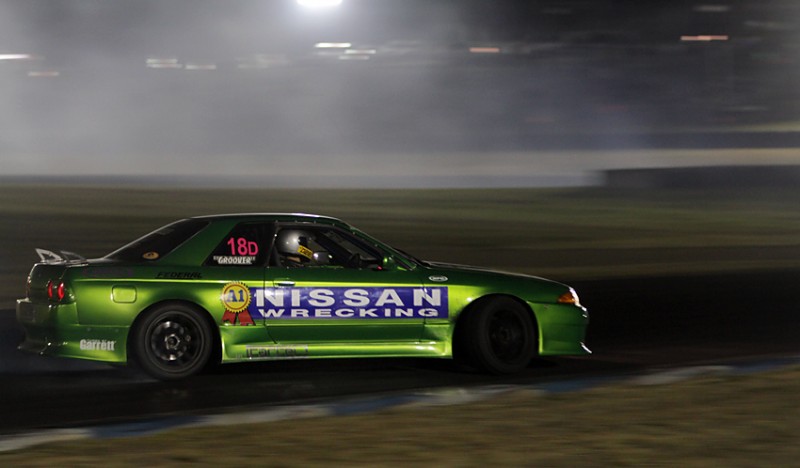 4th – Luke Fink- Holfords Motors S14- Australia
The Holfords car looked super strong after a few early issues where it dropped to 3cyl. Fink looked for all money to be the man to beat, and many would have been thinking that he'd grab the #1 spot after simply having too much speed for Nathan Wiesel, and then beating Gaz Whiter in a tough OMT  top 8 battle that was the subject of much debate on the embankment. Fink would however meet his match in Tony Harrison who was on form and would take out their semi final battle.  Fink then went on to battle Leighton Fine for 3rd and 4th, and the loss would have been a tough pill to swallow for a guy who is used to winning.
Qualified 9th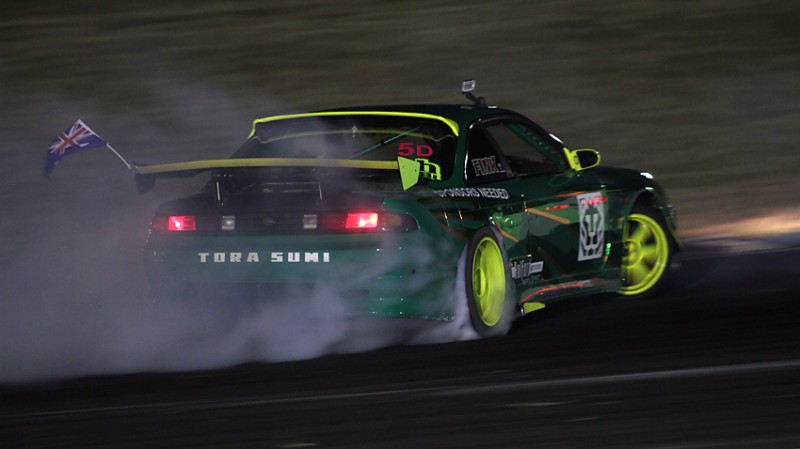 5th- Gaz Whiter- Tectaloy S14- NZ
Well, what can be said. There will be plenty of debate about the Whiter/ Fink battle that was probably way earlier than many would have liked. Took a comfortable win over Tasmanian champ Michael Truscott before going OMT with the Fink. Blew his bumper clean off for about the 5th time on turn 10 on his first lead run, before fighting back to force a re-run. OMT battle started and was called even on Whiters lead, only for Whiter to abort on his chase run feeling he'd been dragged off from the start line. I 'think' what then happened was a tire change for Fink to fresh rubber, which had been debated at length during driver briefing. Ultimately it did not matter and Fink took the win leaving Whiter once again frustrated with his Aussie experience after it promised so much.
Qualified #1 
 6th- James Abbott (Jabbit) – 3 Fingers Neat 2JZ S15- Aus
Jabbitt has the loudest and rowdiest of the Aussie fans, and listening to them go back and forward with Team NZs supporters was a real highlight. Jabbitt looked really strong right from qualifying and was sitting in 3rd place after the single runs, eventually ending up 4th after the battle qualifying round due to a strong performance from Suenaga against opponents. Had a  tough first up top 16 battle with Cole Armstrong who was driving the wheels off the borrowed Hi- Tec Oils r33 and had to go OMT before going into the top 8 and finding  Tony Harrison to big an obstacle to overcome. Was treated to a real hero welcome on the embankment when he drove up post battles.
Qualified 4th-  Image to come
7th-  Daniel WoolHouse – Castrol Edge/ Juice Polishes Holden Commodore- NZ
Fanga Dan it would be fair to say was all over the place and simply admits that they made too many changes to the car before the trip and should never have come in untested.  You know something isn't right when the Marshall's are asking " has that guy ever drifted before?" and he was probably surprised to be sitting 2nd after single pass qualifying. Fell down the order a bit after struggling in battles and entered the top 16 in 6th place. Defeated Rob Whyte after Whyte spun and went into the top 8 vs Leighton Fine which was fought out over an OMT. Woolhouse would spin and Fine would move on, leaving Fanga much like teammate Gaz Whiter a frustrated man.
Cut off his exhaust before the top 16 for bonus bogan points.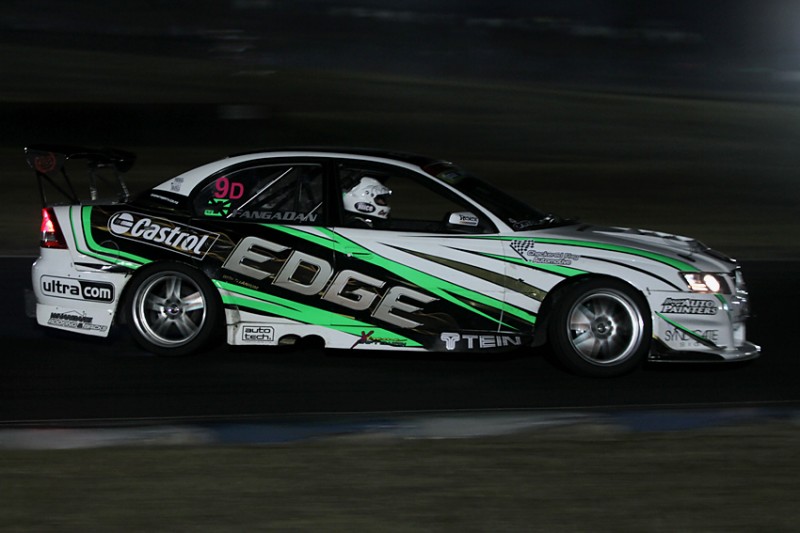 8th- Beau Yates- 86/ Toyo Tires AE86- Australia
The Show seemed a bit out of sorts after last years clinical performance. While he might only compete once a year, he was among the fastest and his 160kmh tandem with Tony Harrison in qualifying was insane. Danny Kennealy spun against the show in the top 16 which sent him into the top 8 vs Suenaga and once an uncharacteristic mistake was made , it was all over for Yates.
Qual- 8th
Image to Come
9th- Jason Sellers- JSR/ Wongs/Blue Bin C33 – NZ
Was on a massive high after a standout Friday night performance on a track he'd only seen for the first time the day before saw him Qualify # 3.  Would have been expecting to go deep into the field but talking to Jase after the event he admitted that he simply got mentally tired and made a mistake, causing him to lose against Leighton Fine. Will be better for having had further overseas experience and appears to again be  feeling happy in car.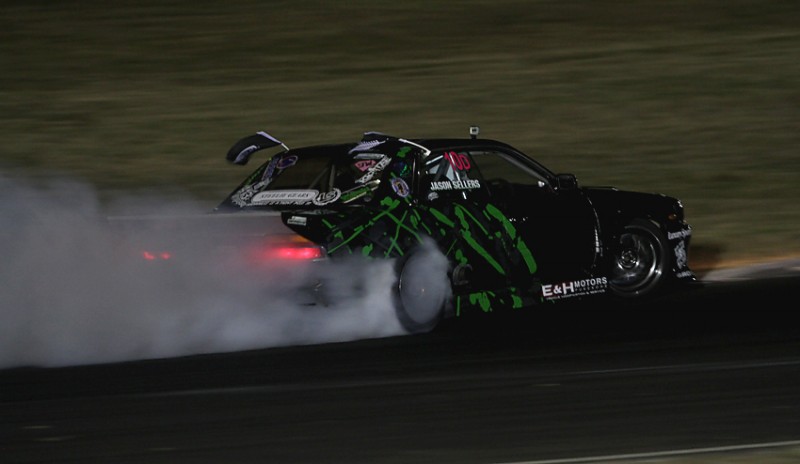 10th- Nathan Wiessel- O2 Motorsports R32
Solid effort from a guy who came in as a replacement for Levi Clarke after Clarke couldn't start in Qualifying. Simply didn't have the speed in the R32 to hang with Luke Fink who created and then increased his lead, and then sat right on the bumper in chase.
11th- Danny Kenneally- Hogs Breath Cafe A31
"Boss Hog" looked much more at home this year in his a31 Cef. Was carrying good speed in qualifying and would have been feeling pretty good.  Beau "the show" was simply too fast in the top 16 in the light and nimble little 86.
12- Rob Whyte- Monster Energy 350Z
Spun in his battle vs Fanga Dan Woolhouse in the showdown of supercharged vs N/A V8.  Whyte showed glimpses of the form which have him leading ADGP, but was probably let down by a messy single qualifying run when he would have been hoping for much higher.
13th- Khudar El houli- JAK Motorworks S14
Much happier event for Khudar this year, as his crew said " anything more than a lap" was better than last year. Benefited from good points from battle qualifying, but never really had an answer for Tony Harrison in the top 16, as Harrison was simply too fast.
14th- Cole Armstrong- Hi Tec Oils R33
Cole fought hard all weekend in a car that he'd only done a handful of lap in, at a venue that he'd done perhaps 4 laps of.  Cole was fortunate to secure an offer of a drive from Matt "redneckdrifter" Hambridge for the event and showcased his skills  by even making the top 16 in a car that had little in common with his regular drive. Worked hard on the wheel and showed 110% commitment and challenged Jabbit  hard in the top 16 before eventually falling in a very close decision. It was evident from the judges platform just how hard Cole was having to work the car to get it where he wanted and he will be stronger for the experience once back in his own car.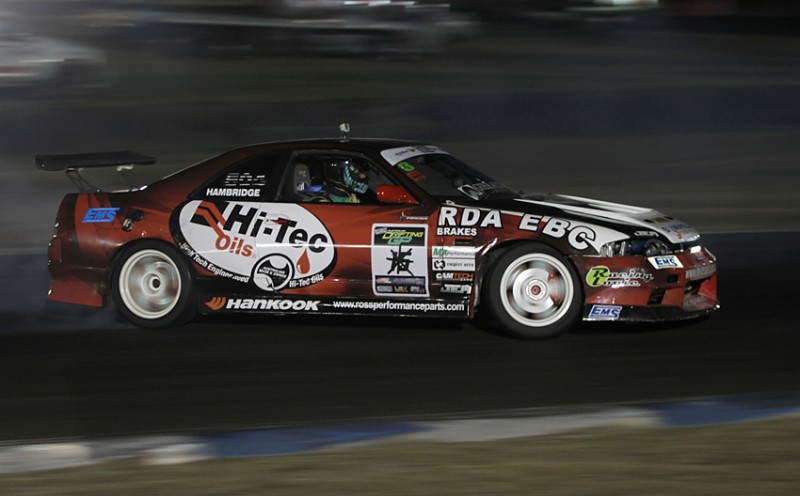 15th Josh Boettcher- GT Radial S15
Boettcher looked to be a much stronger competitor than in 2011 having just returned from an Asian campaign. Simply came up  against an on fire Team Orange Evo 9, being driven by a clinical pro.
16th- Michael Truscott – Kumho Tire S13
The Tasmanian champ never had the speed to hang with Gaz Whiter and was simply run away from.Underpowered car that was driven well, and slotted into the field after the withdrawal of Mad Mike Whiddett.
DNS top 16 – Mad Mike Whiddett- Redbull RX8
The BADBUL was always going to be a handful to tame, with a monster power rebuild and drive line changes to come to grips with. Mikey was pouring smoke off the rears in Thursdays practice, but an intermittent engine issue which was causing the car to run on 2  rotors and a loss of a gear in the sequential box saw the team pull the plug to prevent further damage. With a number of commitments coming up, Mikey joined the team on the bank cheering on the other NZ drivers, although he was eyeing up Matt Mingay's stunt bike for a little entertainment.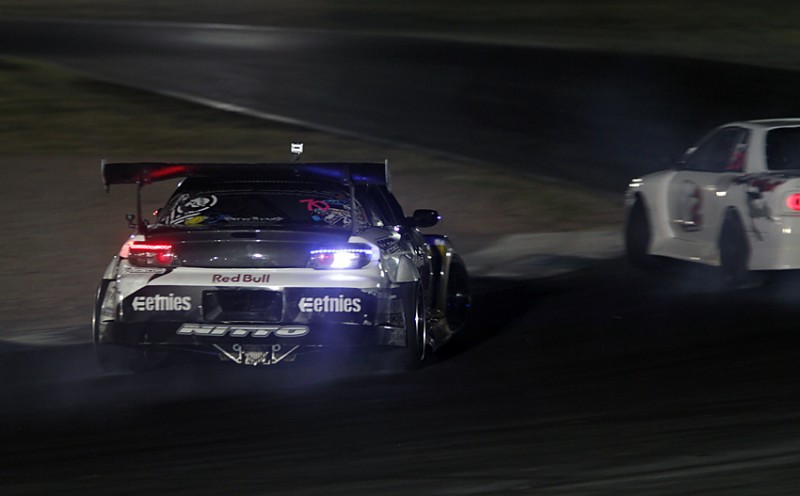 Best of the Rest is a name I don't really like, so in what I'd call the 'plate' group, those who didn't make the 16 battled it out. It would be fair to say that once the drivers discovered there was no 'wildcard' spot into the top 16 available a bit of the sting went out of these battles. We'll talk about it in the opinion piece, but it was a case of maybe just too many battles over the weekend. I don't actually have a full table for this, so I can only include what I can remember. I will update this once I have it.
17th- Simon Michelmore
Michelmore was perhaps a little unlucky not to make the Top 16, and was victorious over Steve Sole after a spin from the 'Yakuza Cruiser'
18th- Steve Sole
Soletrain had looked good on the Friday night and was in the running for the Top 16 until a spin in battle cost him dearly. With others getting the max 20 points, it bumped Steve out of the Top 16 Comp. First international experience for the team and regardless of the outcome the team were realising a dream being on an international stage.  Soletrain won valuable points for the NZ team in the Team comp, and acquitted himself well against Australian and Japanese Competition.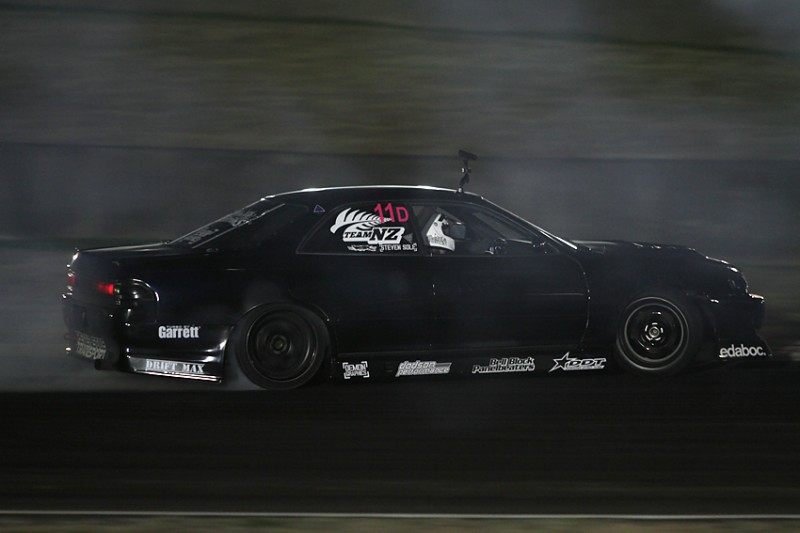 22nd- Curt Whittaker.
Lets just say it wasn't a happy weekend for the Team from Whittaker Motorsport. Mechanical issues robbed Curt of the reliability he needed to ever be in with a show of retaining his title, and with the one shot qualifying format it essentially consigned Whittaker to testing with his new power. When he was on, and the car was behaving, he was on the same line as last year and pouring smoke of the rears. Just their turn for a little bad luck it seems. Whittaker had picked up the support of Hi-Tec oils for the weekend and is hoping to  secure further backing for the NZ season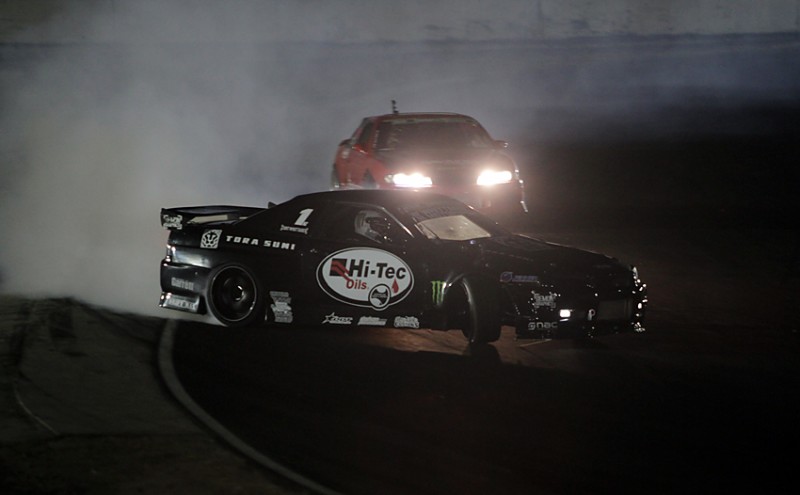 Kumabubo San- Japan- GD8 WRX
Wasn't a happy event for the Team Orange boss. Seeming to just never really settle, and then fighting a suspension failure, the D1GP champ and owner of Ebisu circuit found himself at one point beached heavily in the sand. Never stopped smiling and interestingly is a huge fan of NZ women, the All Blacks and the Haka (Video to come) .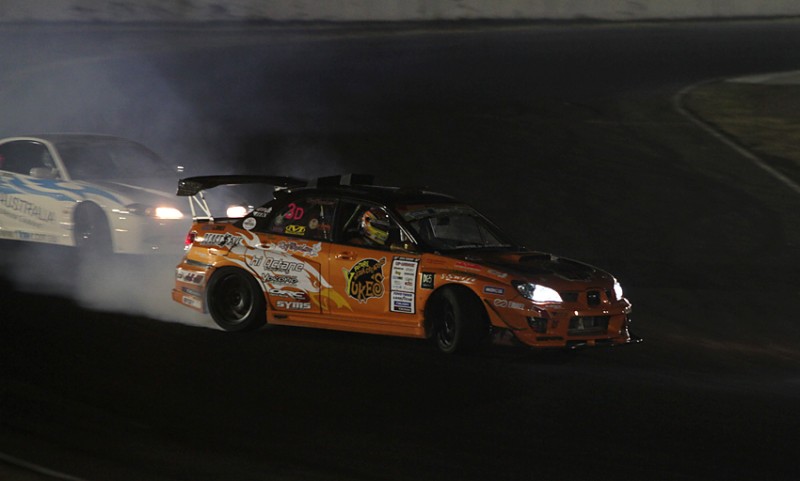 So that's that for another year. It's always tough to go and compete in another country and the boys all did NZ proud.
I want to say a huge thanks to the Drivers, Crews, Fans, Sponsors and all the people who pitched in to make this possible . Always a genuine pleasure to work with my Aussie buddies Mozz and Diggles, and I look forward to hopefully getting you guys over here one day.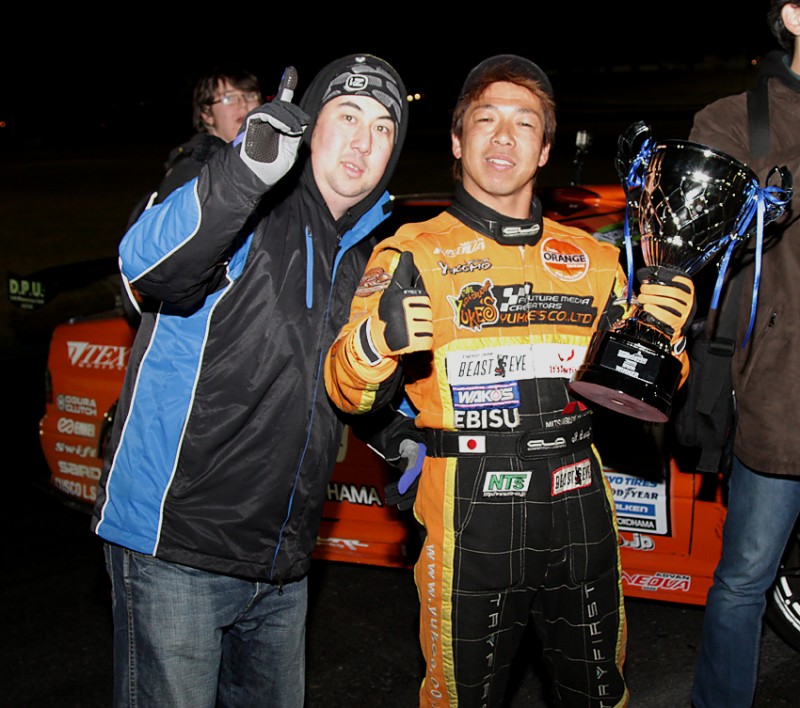 Right,now….I might go have a nap.
*Disclaimer- Opinion piece only, results and statements should not be taken as fact* – Inserted for those who are 'overly enthusiastic' in creating issues.  Go run your own website, most people know where the X is if they don't like whats written
Full battle tree