Random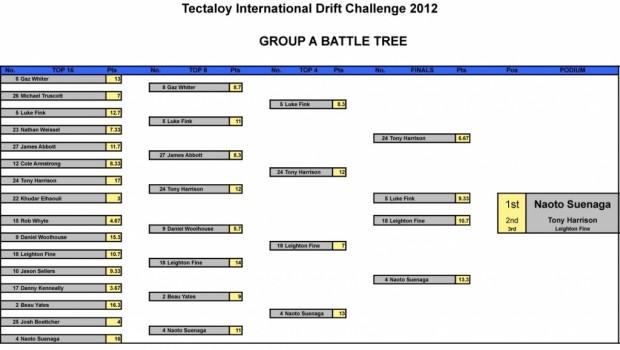 Published on August 19th, 2012 | by mrgrumpyninja
0
Battles to qualify- an opinion piece
We are now a week post World Time Attack which played host to the Tectaloy International Drift Challenge, and I thought it might be worth investigating one of the aspects that appears to have been a focal point, that being the qualifying format which involved a single solo qualifying pass, followed by a pair of battles against randomly selected opponents.
The idea in itself is fairly simple, but deviates from the usual format of two or three opportunities to lay a single high scoring run.
I found myself wondering why was it so difficult to grasp/understand/accept, and came to the conclusion that anything that is different within a judged sport is always  going to be a problem as drivers, crews and fans struggle to understand it, within the context of what is already a subjectively interpreted sport.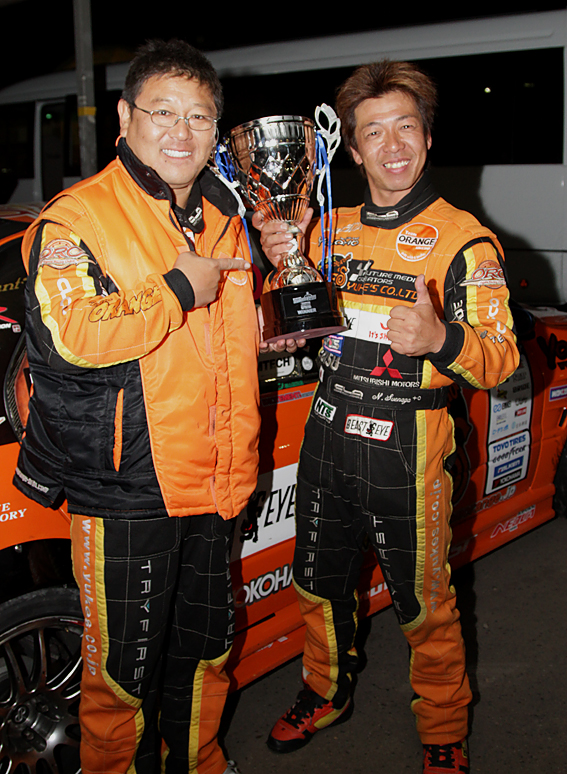 Lets first of all look at the positives.
It's different- That is good when you are dealing with a crowd like that at WTA who may only see drifting once a year. It enabled the first night crowd to see the likes of Suenaga, Tony Harrison, Gaz Whiter and Luke Fink do what they do best and that is chase. While a purist might be able to see the beauty in a 90 point plus run from a single car, most fans attend to see head to head combat and let's be honest to hope that they might see an incident.  Battles therefore may help to draw new fans to drifting.
*Yes, it could be argued that the team challenge could have been first night, but that is only 6 cars, not 28.*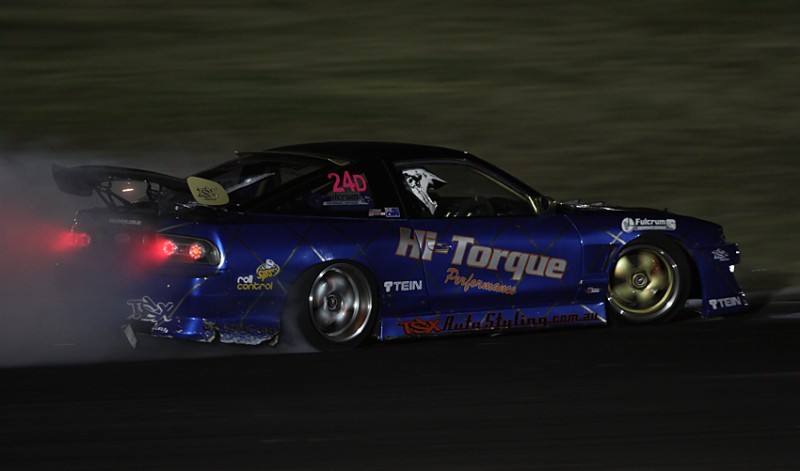 Development-this format delivers opportunity and while you could argue that perhaps practice battles would achieve the same, you'll never get full commitment from top guys, nor would you have the less experienced drivers get to feel the heat of a top driver breathing right down there neck. Self selection practice always leads to drivers battling those they know and trust. As we saw, a number of guys actually stepped up a lot once they were faced with a challenge.
It rewards those who excel at battling, who tend to be those who end up fighting for the title anyway. It always interests me that guys who don't really stand out in solo qualifying often do well, so perhaps this is a fairer reward for a more complete skill set. We'd have a VERY different title race in NZ if we worked off this format.
It removes some of the emphasis on power, speed and smoke with the chase factor coming in. Skill and bravery become factors, as does ability to read the driver in front.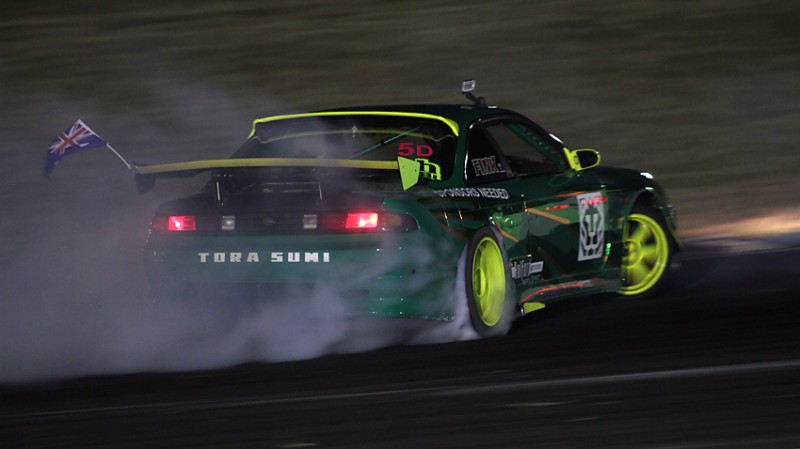 And now to the flipside,
There is an issue with scoring in relation to a mechanical withdrawal of a driver. Two drivers got max 20 point runs due to no opponent, and that shouldn't have happened. A cap needs to be set, or a driver should perhaps be awarded the 'average' score achieved by lead and chase cars, which I suspect would be around 6.
It does put a lot of pressure on drivers to deliver a high score in a single run. There was some debate among drivers about 'playing it safe' and just banking a score. I know a number of drivers also like to come out and do a 85-90% run first up to get a read on the track, particularly those with a circuit racing background or greater levels of car adjustment. This format doesn't suit those at all, it's more a Fanga Dan ' balls to the wall and go hard' approach . There was also mention of the fact that drivers electing to qualify early would get lower scores as judges established a benchmark and drivers wouldn't then have a chance to improve.
Mechanicals, high strung race cars are prone to odd and intermittent issues. When you have one shot, and your clutch slips like it  did to the reigning champ, then you are in trouble.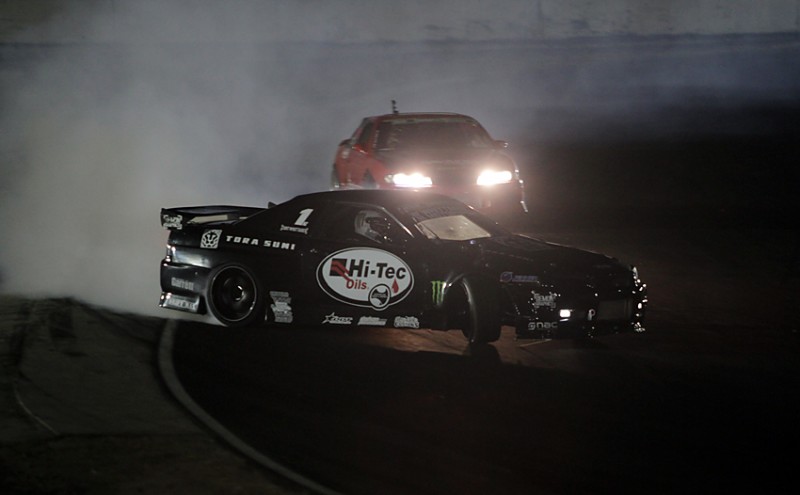 Drivers don't like change, especially in a judged sport. It's a new set of rules to understand, combined with rules they already struggle to understand, and I don't know any driver that understands 100% of a judges mindset.
The commentators need to do a good job explaining what is happening to the crowd, who may get confused. That can only happen when the commentators know exactly whats going on, who is on track, and who is still to come.
So……..
I suspect we could probably go on for hours, just like a drivers briefing, but I won't. For purposes of clarity and showing what difference the format actually made here is a look at the judging table and the scores after solo runs, and then the results after battles. I inserted the highest solo score, and the lowest top 16 solo score just for information purposes. Forgive the spelling, I was trying to do it in a rush during work hours.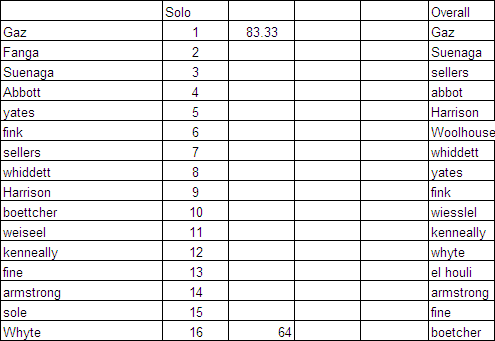 As you can see, while there was a fair amount of movement within the top 16, only one driver actually ended up being ousted. That being Steve Sole who had the misfortune to spin in his battles.
*note-  table doesn't match the field that started Saturday Night with Mad Mike withdrawing and Michael Truscott moving up from 17th.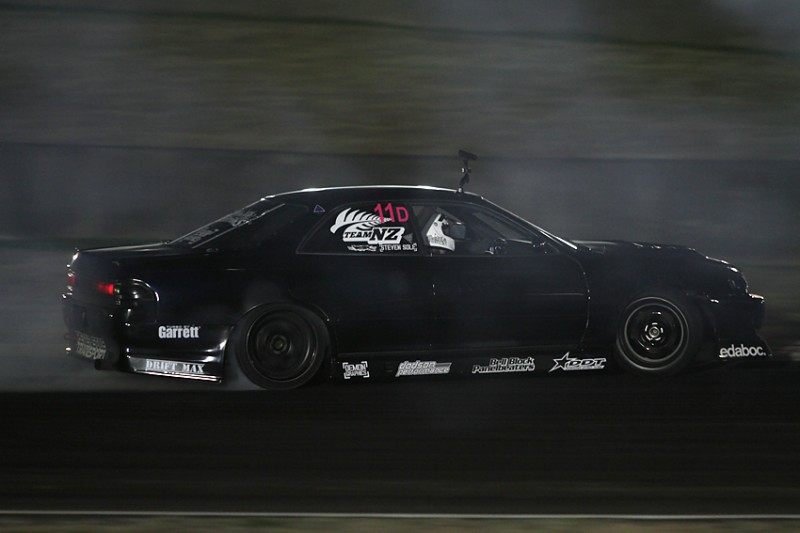 While we can debate that perhaps the order would have been different anyway with 2 or 3 opportunities to solo run, you don't get that chance in battles, so all you are really doing is bringing the pressure on drivers in earlier, and I don't think that is a bad thing.
In NZ this is a format that could work for Hampton Downs and Manfield, where most have done a solid amount of laps,  where as Pukekohe for example there are often big gaps due to 'crazy factor' so it likely would create bigger gaps in the top 16.
I don't think the format would work for the D1NZ championship,  but for a one off event, I think it has its merits just as a point of difference.
So here's my suggestion….. NZPC/ 4 & R….. Let's trial run this format here at the NAC drift Nationals. Give the crowd more battles for their money and lets see how drivers respond. This format is good for events where there could be delays, and you may have a portion of the crowd who haven't seen a lot of drifting.
What do you guys reckon? Would love to hear your thoughts.