Events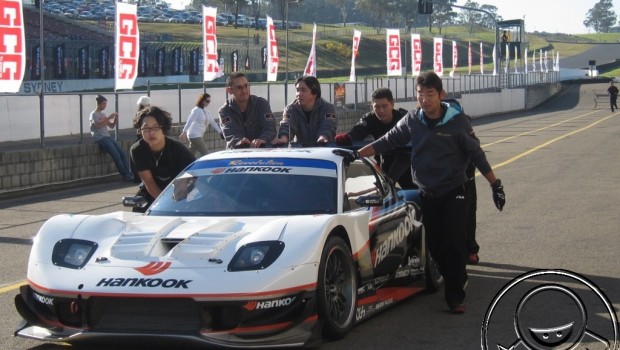 Published on August 14th, 2011 | by mrgrumpyninja
0
World Time Attack Wrap up
Wow….what an event World Time Attack is, I wish we could do something like it here in NZ. I can't tell you how much I truly enjoyed the event, and I will definitely being adding it to my calendar each year.
You may have read my story earlier in the week about the Tectaloy International Drift Challenge and to be honest if you're from New Zealand you would probably be under the impression that the Drifting was the major feature. That's actually far from the truth, and while Curt Whittaker won that event focusing the NZ spotlight on him and opening many new doors, there was actually a much larger battle being wagged during the daylight hours between over 130 circuit warriors.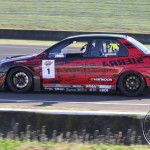 Perhaps the most interesting thing for me is that the event highlights the difference between our countries in terms of focus, with the drift field of 32 dwarfed by the entries in the World Time Attack event. Time Attack is a serious business in Oz with a huge number of builds well in excess of the quarter million mark, and the top guys in the $500k+ bracket. With international visitors Cyberevo, Sierra Sierra, Panspeed & Garage Revolution on hand, and a number of very pro looking Australian builds, this is an event with credibility and prestige and every team chasing that last 100th of a second regardless of class.
Read on for further images and more rambling, she's a long one as there was just so much going on.
Its a massive three days, with Thursday being shakedown day for the teams, in particular the internationals. What this means is that garages are open, teams are under far less pressure and people are happy for you to poke your nose and camera pretty much where ever you want and have a little chat (language skills permitting).   No one records full laps with most teams just doing "sectors" in order to gauge  their setup, although at this level the teams know roughly what will happen once the sectors are added together.
Come Friday and Saturday, the mood changes, and while there are still smiles there is a definite air of "business" about the drivers and crews, with no one giving away too much. At one point I was in the Panspeed Garage and the driver was asleep in full racing attire, helmet, HANZ and all, which I though was odd until the team liason pointed out this is the only way these guys can deal with the extreme mental stress and "zone out" so that no one talks to them. Think of it as an extreme Ipod at your desk when you're at work, only carbon fibre.
Entering the venue, this was the first car I saw and while it clearly wasn't racing I thought it worthy of a snap.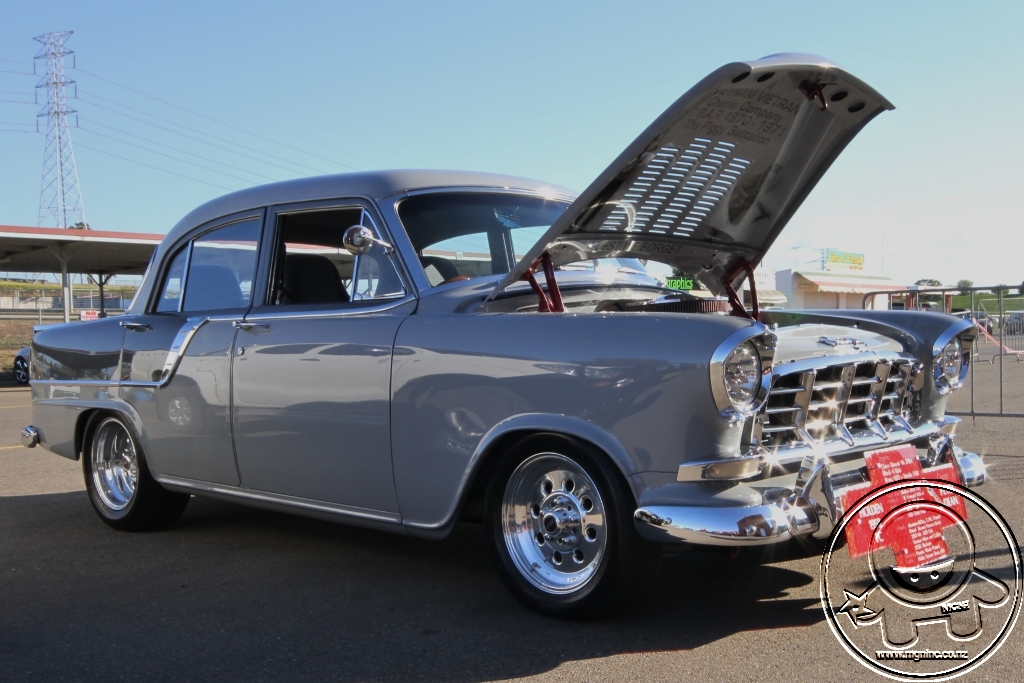 This was followed by a small Japanese man doing wheelies past  me on this…… if you look closely, you'll see the familiar name "Orido" on the tube.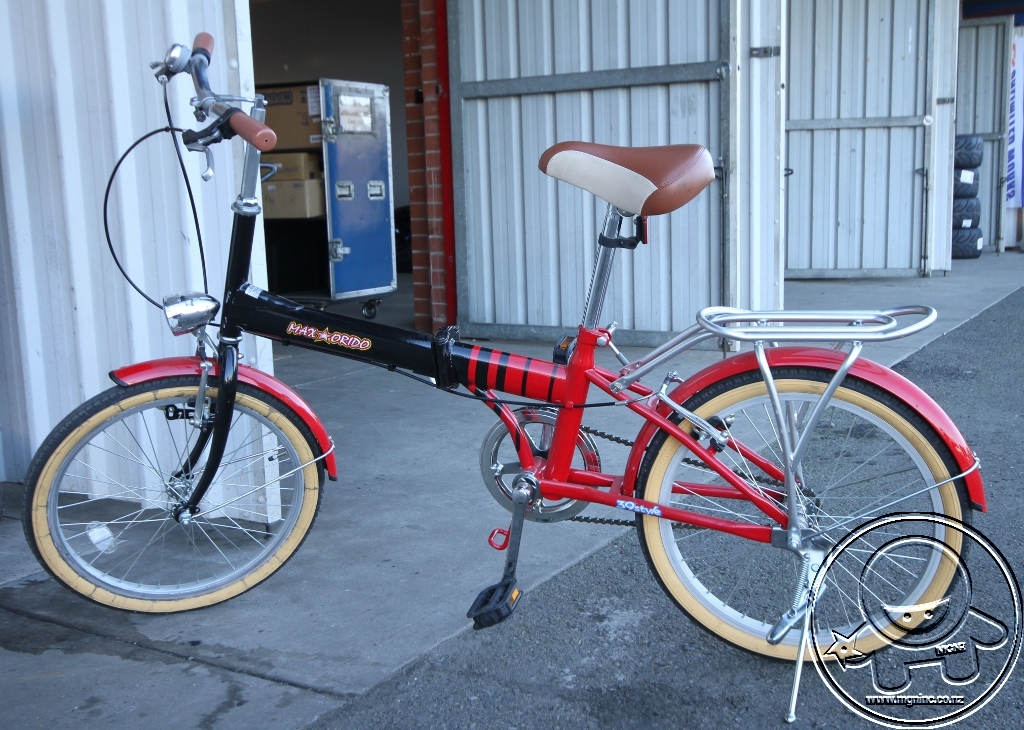 So where do I start this story? Well, when your playing at this level grip and aerodynamics are every bit as important as power and reliability, no sense having a million HP if you can't get it down out of corners or go bang on the 2nd lap. I heard a number of NZers who were lurking in the crowd comment on this, so it will be interesting to see if we see more of a focus on these areas in NZ. There also seem to be a lot of "games" played in the pits, with 3.5 bar boost figures chucked around and a lot of inspection of Aero packages and guessing at various settings.
Here are a few snaps of some of the various wings, canards and undertray arrangements to give you a bit of a feel for the event.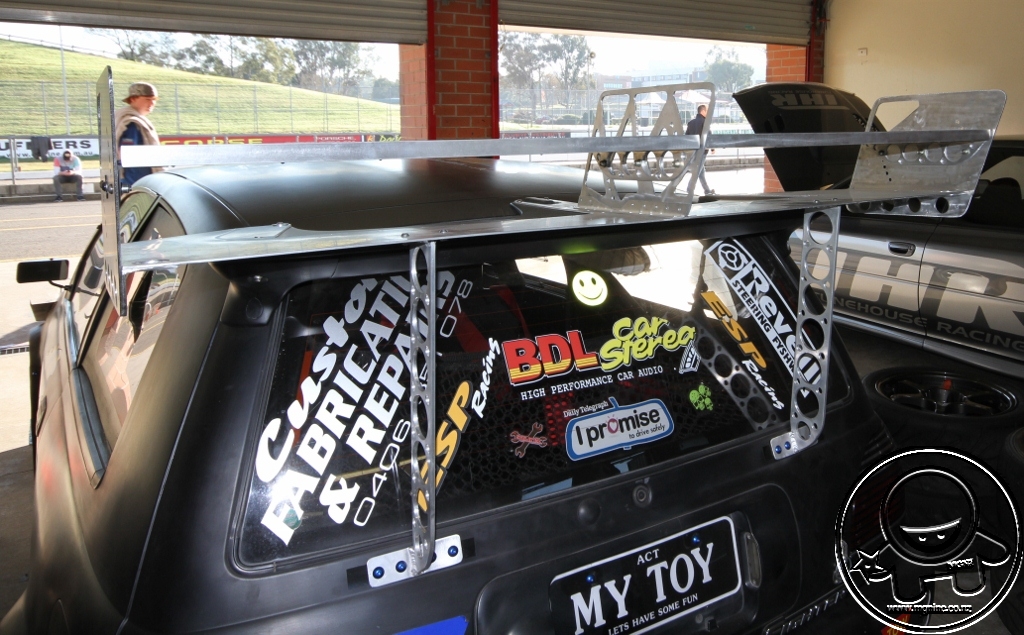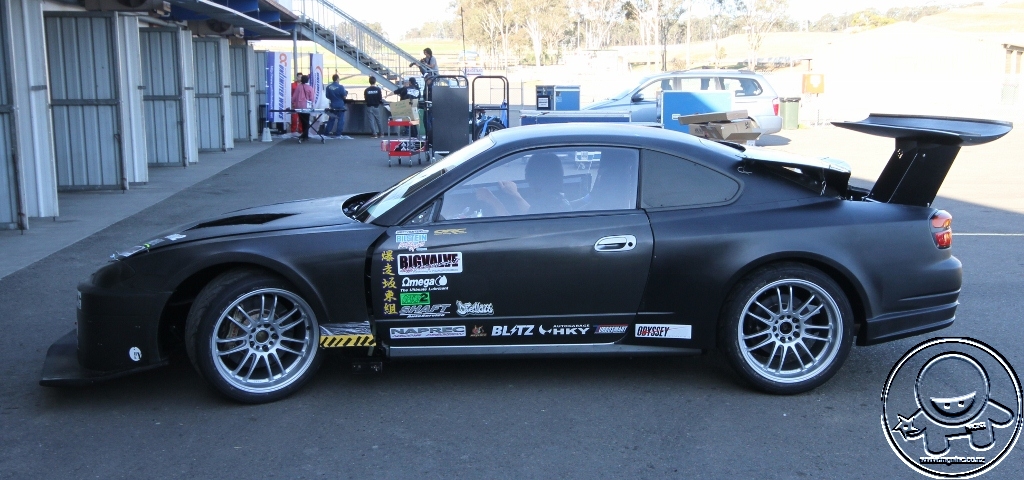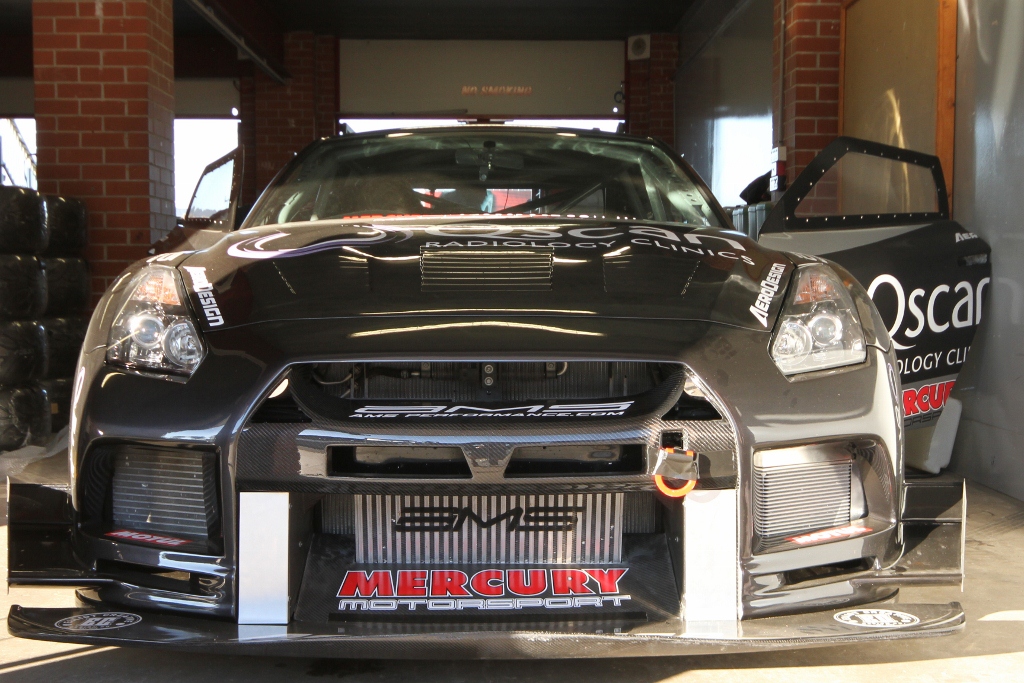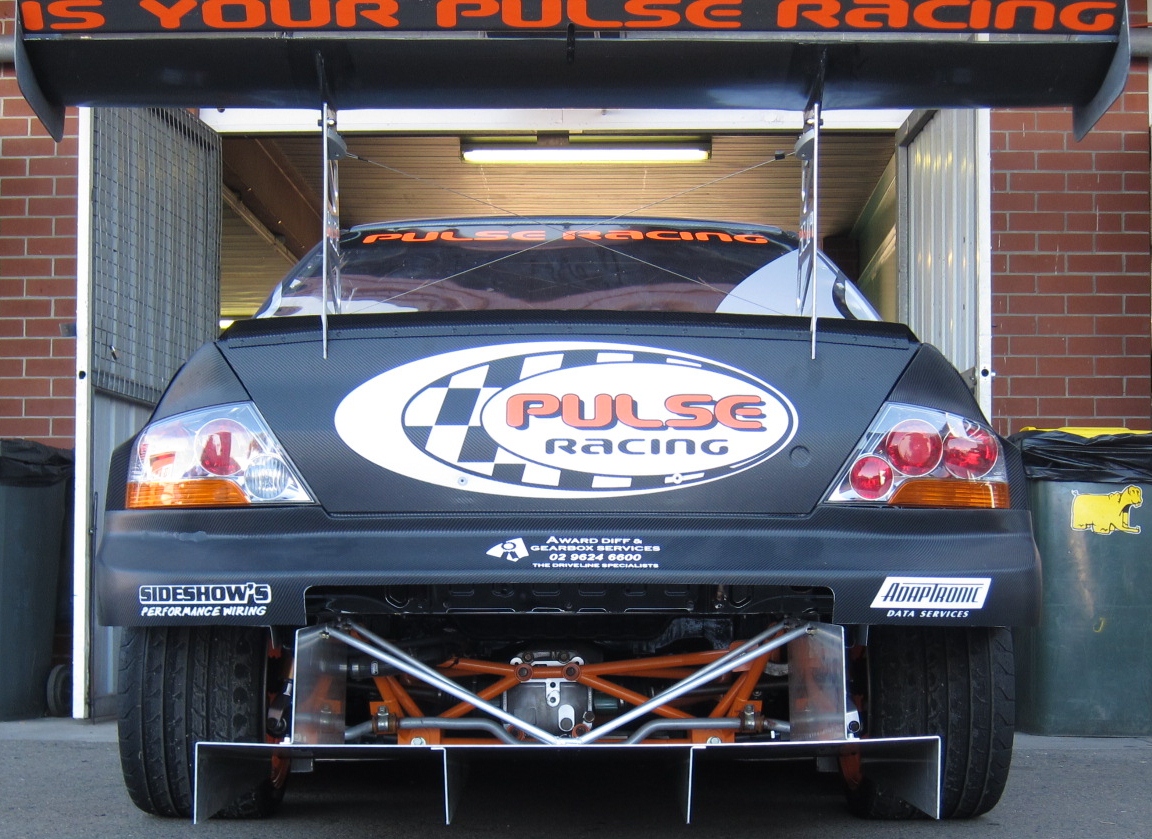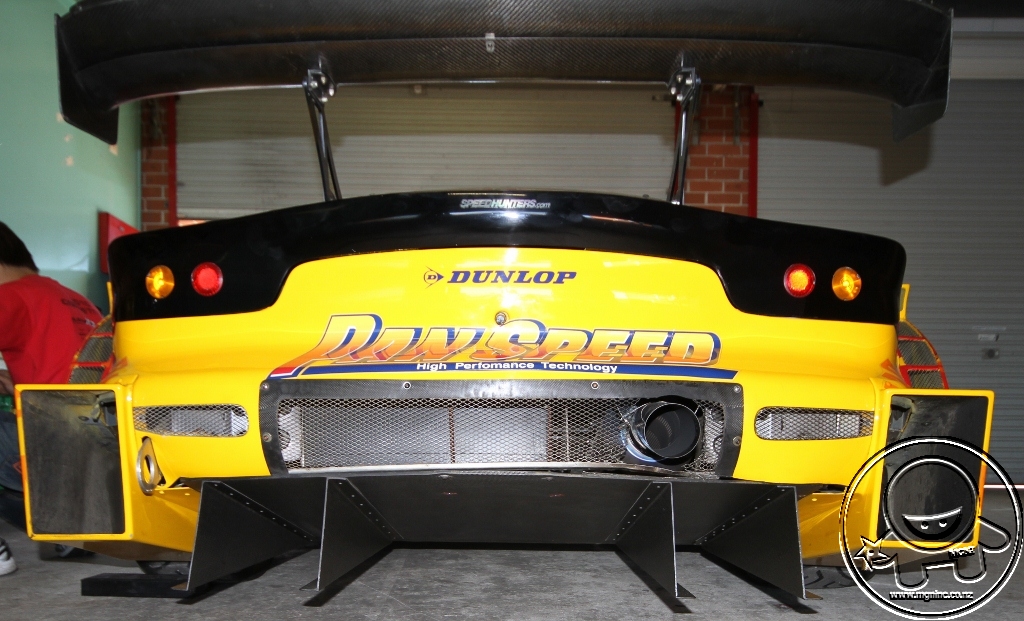 Last years winners "Cyberevo" driven by Eiji "Tarzan" Yamada were occupying garage number 1, and happened to have their custom Voltex Aero out for an interview with Video Option during the day, the Option guys pretty much just follow Tarzan all day documenting his every move. There's a reason for that, Tarzan came in as the man to beat and by the events end had once again set the benchmark with a blistering 1.28.851, recorded during one of the very last sessions sending the crowd and the announcers into a frenzy.  Check out the stack of rubber they bought, $500+ a corner tires are pretty much disposables at this end of the field, and there was a similar stack in every pro garage.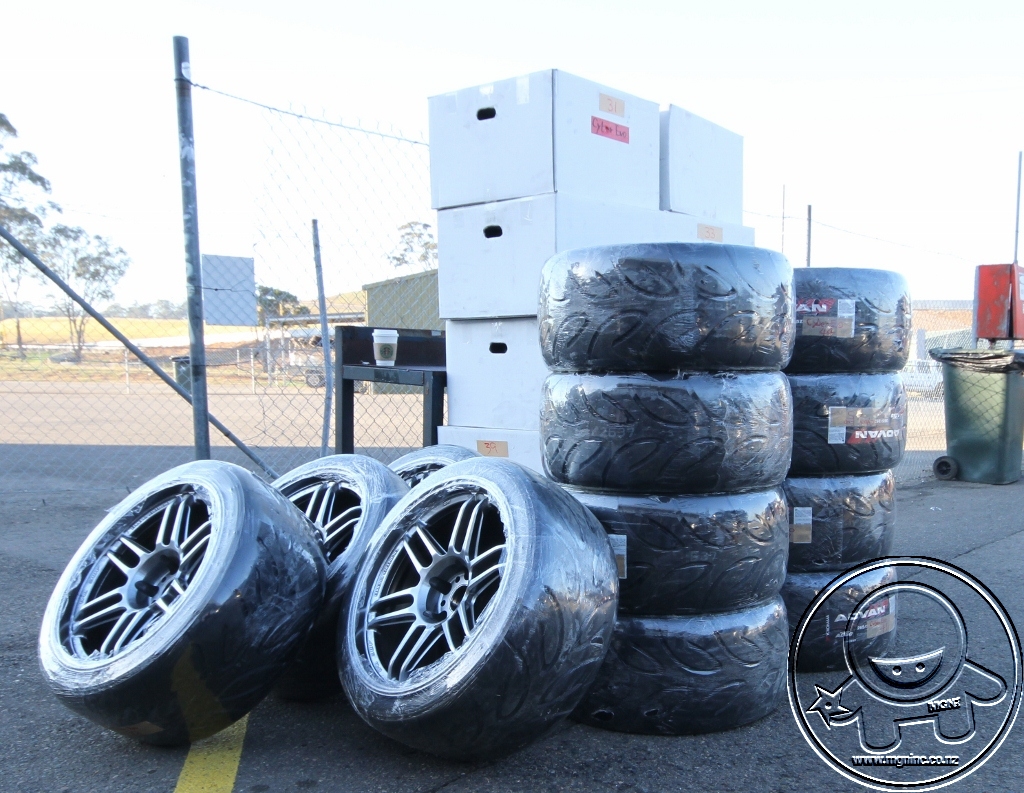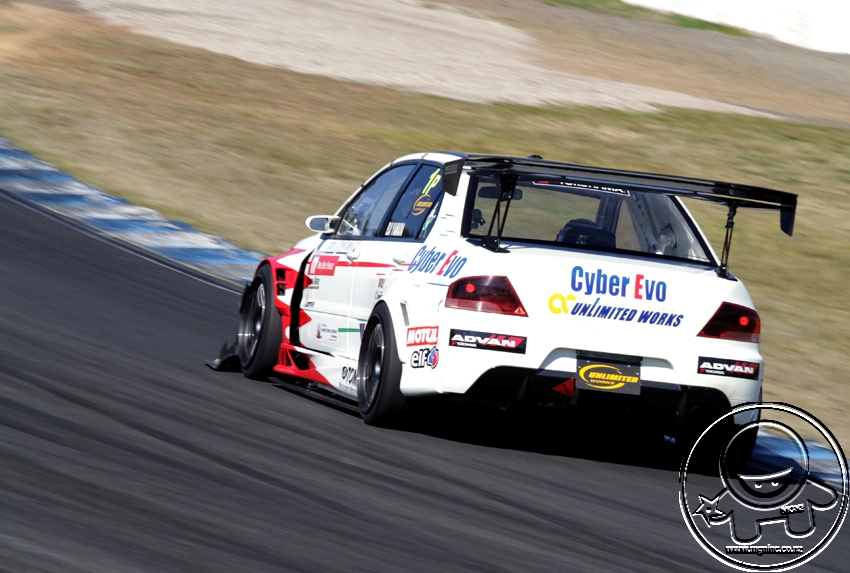 Another highly important factor is weight distribution, which in the case of the Sierra Sierra Enterprises team means getting the driver sitting as far back as possible, this is not a great shot but it gives you an idea of just what lengths David Empringham and his team go to chasing perfect balance. This team were definitely one to watch clocking off almost 300km on the straight and leading for a good chunk of the event only for Tarzan and Cyberevo to snatch it at the death, David Empringham clocking in at 1.29.024 to take 2nd place overall.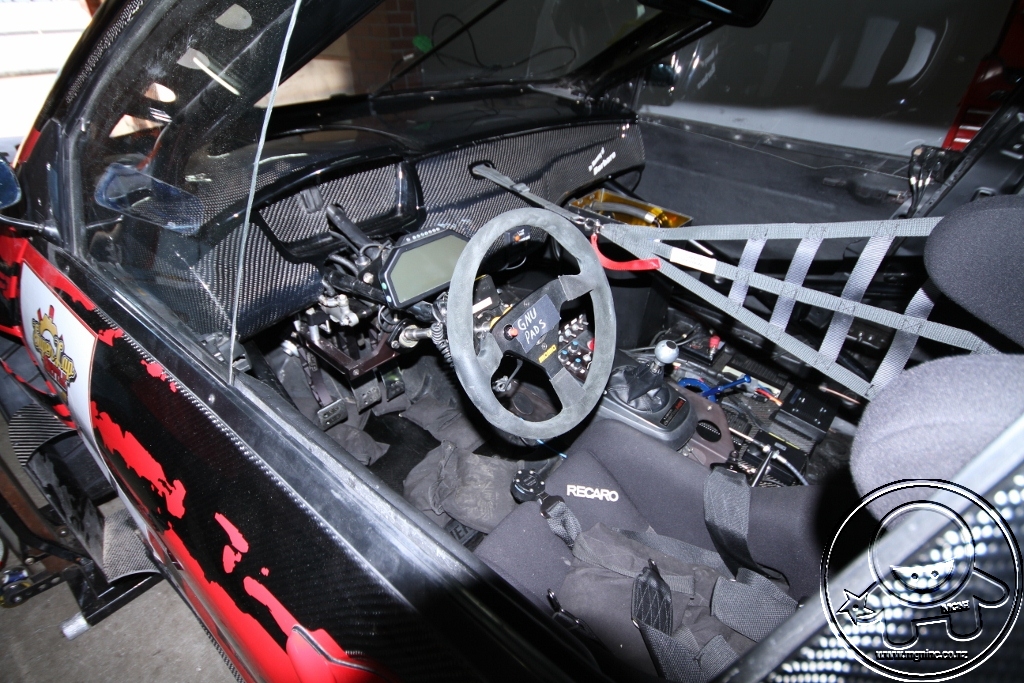 Lets take a look at  a few other parts of this amazing machine while we are here, yep…that engine wears the number "Cosworth 01″, and this is without a doubt one of the most professional yet at the same time nicest, most helpful and approachable teams around. Make no mistake tho, when its business time these guys have no qualms about throwing up a makeshift wall so they can work in peace and 110% focus on the task at hand.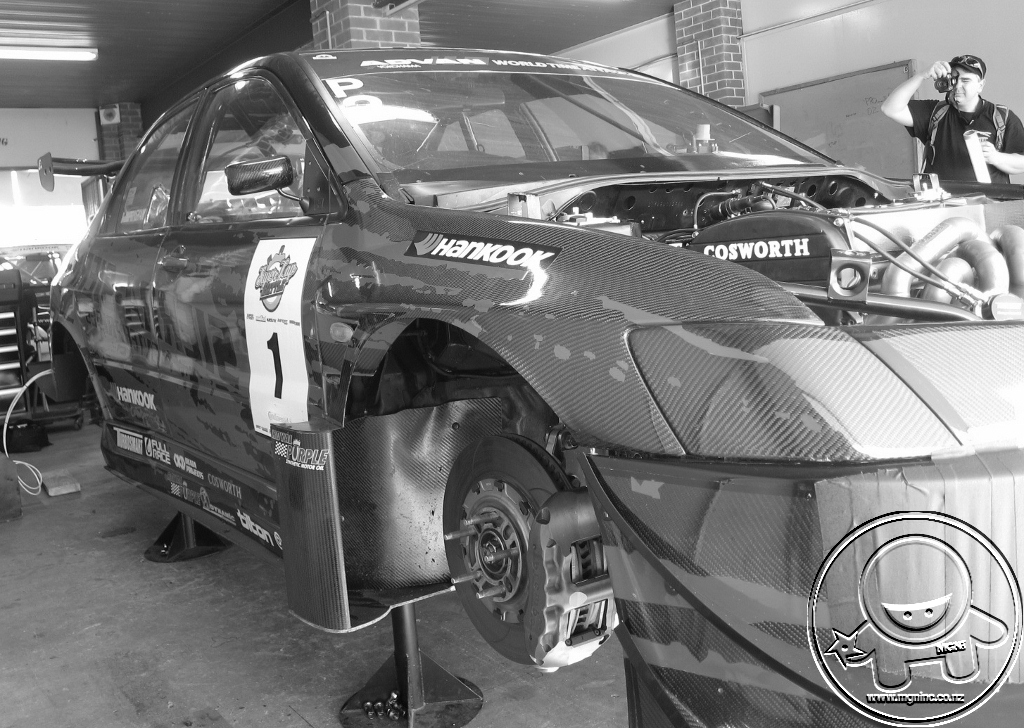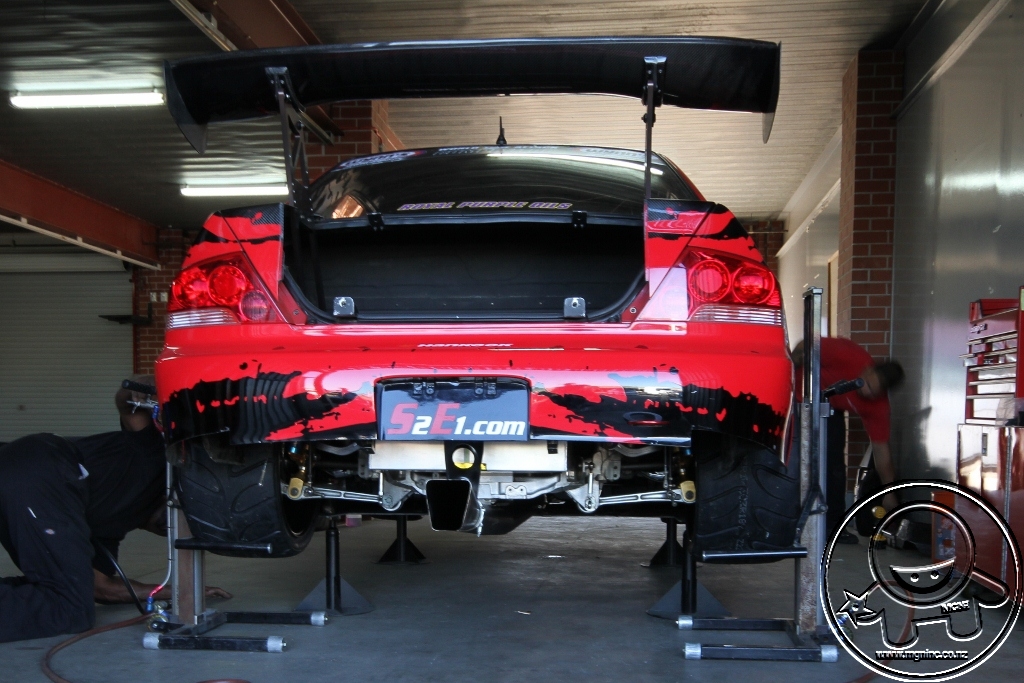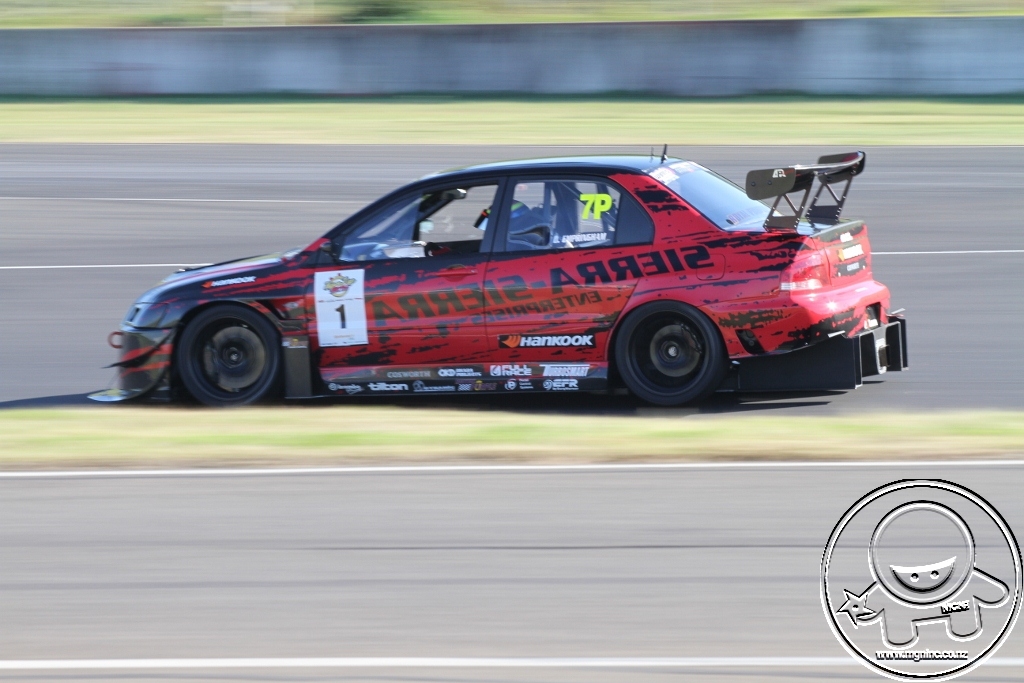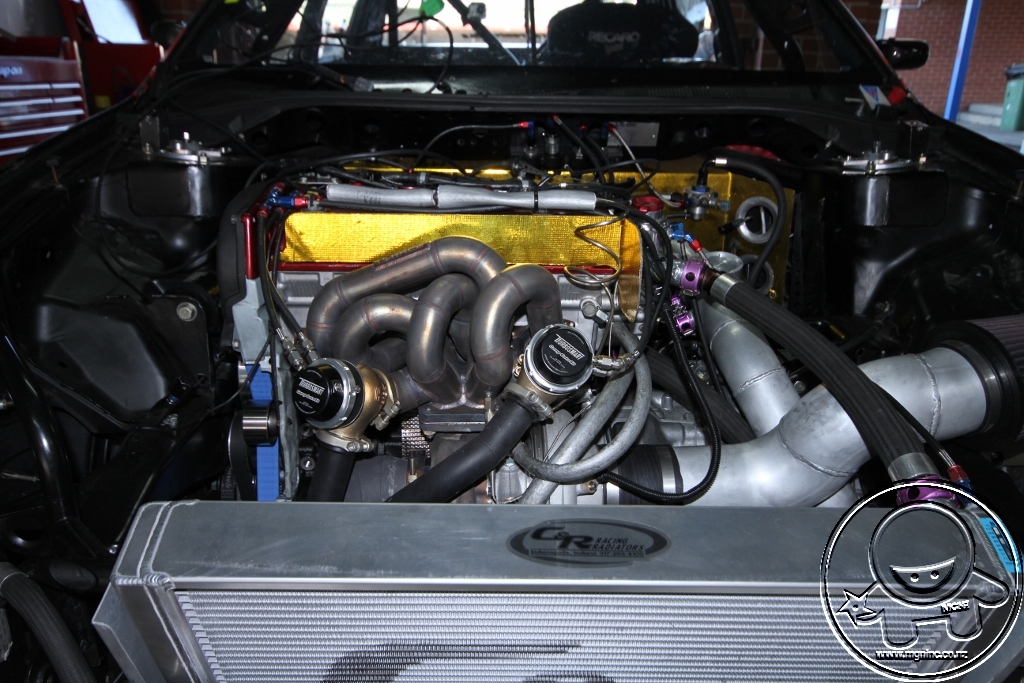 A newcomer this year that was expected to challenge strongly and ended up in 3rd place overall was Garage Revolution with their Hankook RX-7 driven by Mitsuhiro Kinoshita. This is a highly professional and well regarded team out of Japan, and talking to people in the pits the car has a good reputation for running strongly all event and very rarely breaking. Kinoshita took 3rd overall with a 1.30.50 1.  As you can see, a feature of every car at this level….is a MONSTER brake setup.
The first Aussie home in an impressive effort was the Tilton interiors car of Garth Walden who wasn't far off a podium in what I understand is a largely new car. Waldens time of 1.30.866 was good enough for 4th.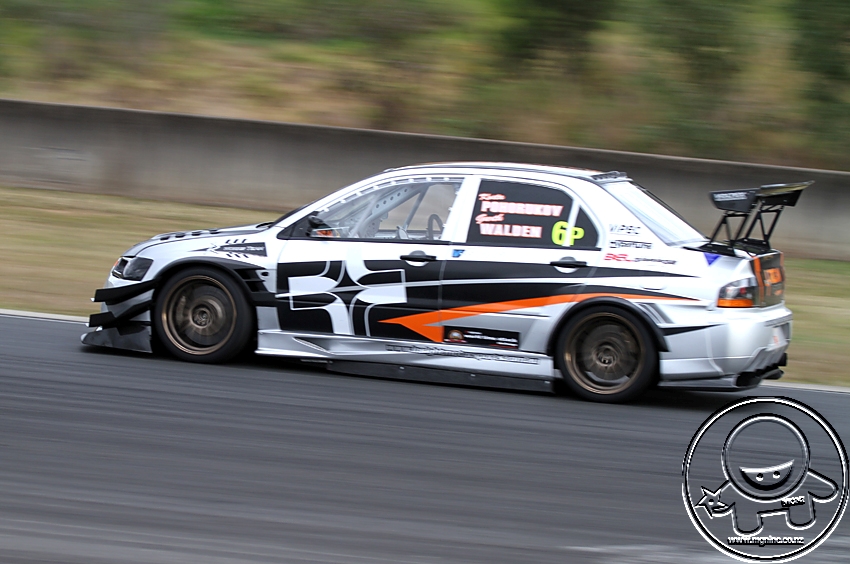 So what of the Kiwis who were in the field, and it has to be said it was a truly international field with drivers from many parts of the globe.No doubt NZ drivers Jono Lester & Earl Bamber may have had a little side wager of a couple of pots of hair product on the go, and it would be Earl, with a 1.33.062 and 10th place who would claim the title of first Kiwi home
Earl was in the MCA( Murray Coote)  racing S13, which also could double quite nicely as some type of crop harvester. You had to be careful whenever you were near this car with the super wide front aero extending out further than any other car in the field in a fashion similar to an open wheeler.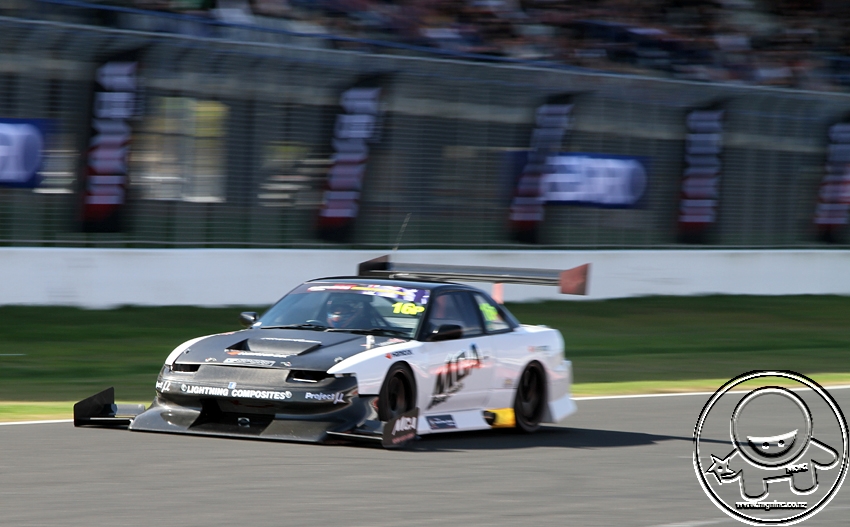 Jono meanwhile in the Team RevolutioNZ Evo 8 spent the event fighting small issues, only to find them and then have the 525kw monster twist and break the rear sub fame effectively ending their event.  Jono and the team were happily inside the top 10 for most of the event, and their sole Friday lap would put them in 13th with a 1.34.82. Jono has written a comprehensive report that can be found here.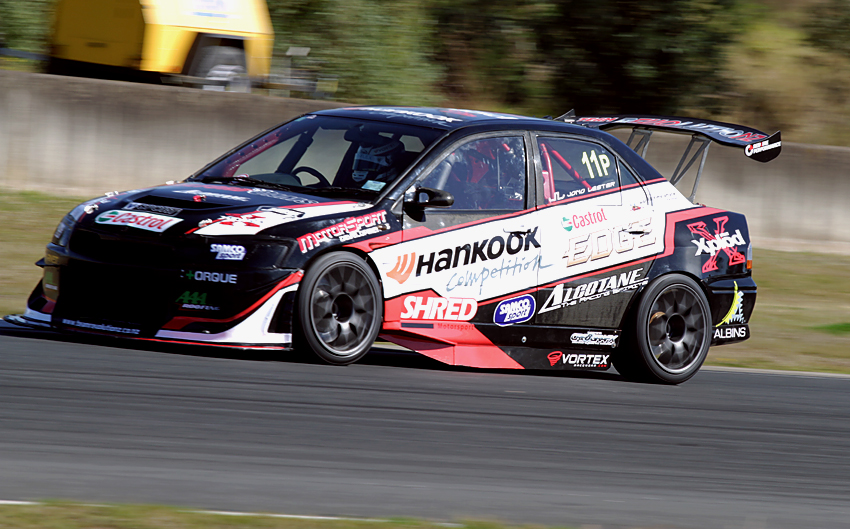 For me World Time Attack more than delivered, there is something fairly awesome about seeing machines like the Mercury r35 which could easily fund several house being fired around a race track. Across all the classes there were people who just love their motorsport and such a wide variety of cars from CRX's to Exotics to High power Jap Rockets and even a guy who looked like he'd just driven his AMG Merc from his law/accounting firm car park . Regardless of if you were a privateer having syphoned gas to get there or a workshop team with several hundred thousand invested, all were united in the goal of being as fast as possible, and sacrificing everything in the chase for speed.
Man and Machine vs the clock…..where ability and balls talk….and bullshit, dyno figures and bragging walks.If you ask me, that's just the way a car event should be.
Thanks World Time Attack crew, see you again next year.
More photos are on the MGN Facebook page, as I thought this was long enough as is.
Full results of every class are on www.worldtimeattack.com