Sideways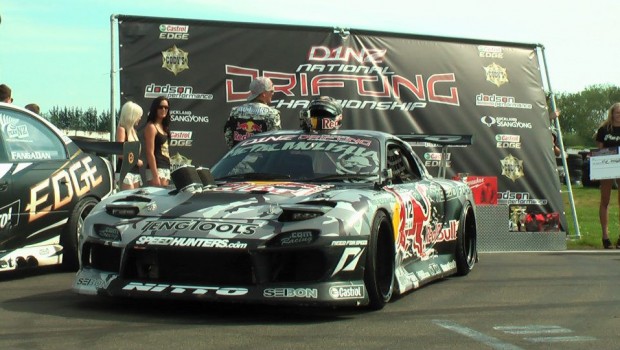 Published on November 1st, 2011 | by mrgrumpyninja
1
The running of the Bull….Madmike Whiddett takes D1NZ Round 1
You can see it in his face…people have been talking about it in quiet whispers around the pits, over beers in the pub and around various electronic mediums….Mad Mike is hungry for a title, and he wants this to be his year!
Ok, so that's kind of an odd way to start a post about an event but hey it's no secret that Mikey won and I thought now that I've had a few days rest I might throw a bit of an event report/review together.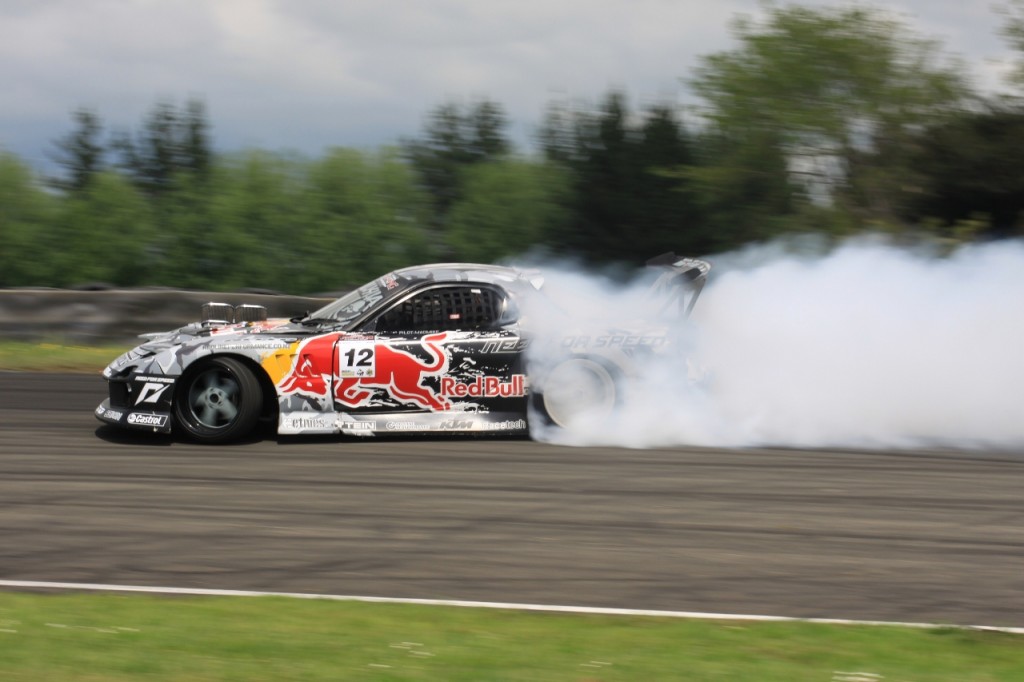 Thanks to Simon at Devolution Photography for all the moving shots
I love how just about every time I go to Palmy there is some rain that decides to f*ck with whatever event I am attending, and Round 1 of d1NZ was no different. When you fly into a what appears to be some sort of tropical cyclone, on a plane accompanied by a team of 1000 year old marching girls you know your about to have an fairly odd weekend, and that's what it proved to be.
Friday out at the track was best described as like water ski-ing, with drivers just trying to find any sort of grip they could and the bigger power and heavier cars pretty much just floating through each corner and trying to hold on.  There was one little hidden gem to be found tho, in the form of Fanga Dan Woolhouse sporting fresh graphics care of  new season sponsor Castrol Edge, it was great to see the smile on the face of the former champ and his team.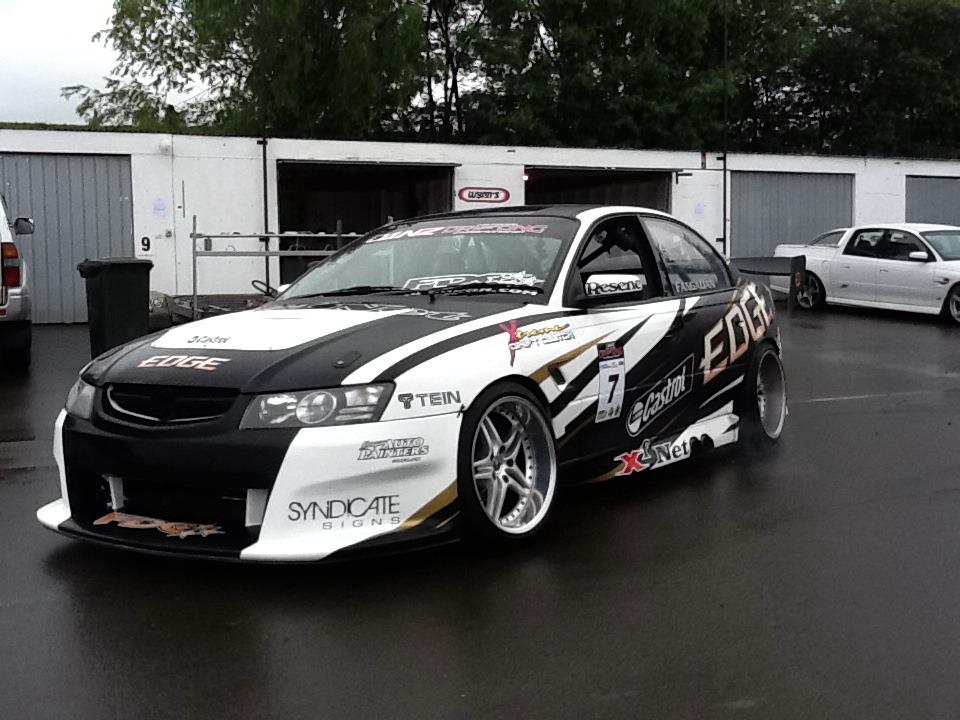 Pro practice saw plenty of worm hunting and guys just trying setups to find traction. Mad Mike trying the most extreme angles, and showing form along with Bruce Tannock, Andrew Redward, Gaz Whiter and Fanga Dan.
Friday is also all about the D1NZ- Pro-Am, which was formerly known as rookie. With a solid number of entries, the drivers did what they could to cope with the massive river of water running through the Castrol esses, and it would eventually be first time entrant William Foster in the Bennett Motorsport "lilac" Ae85 that would qualify numbers 1.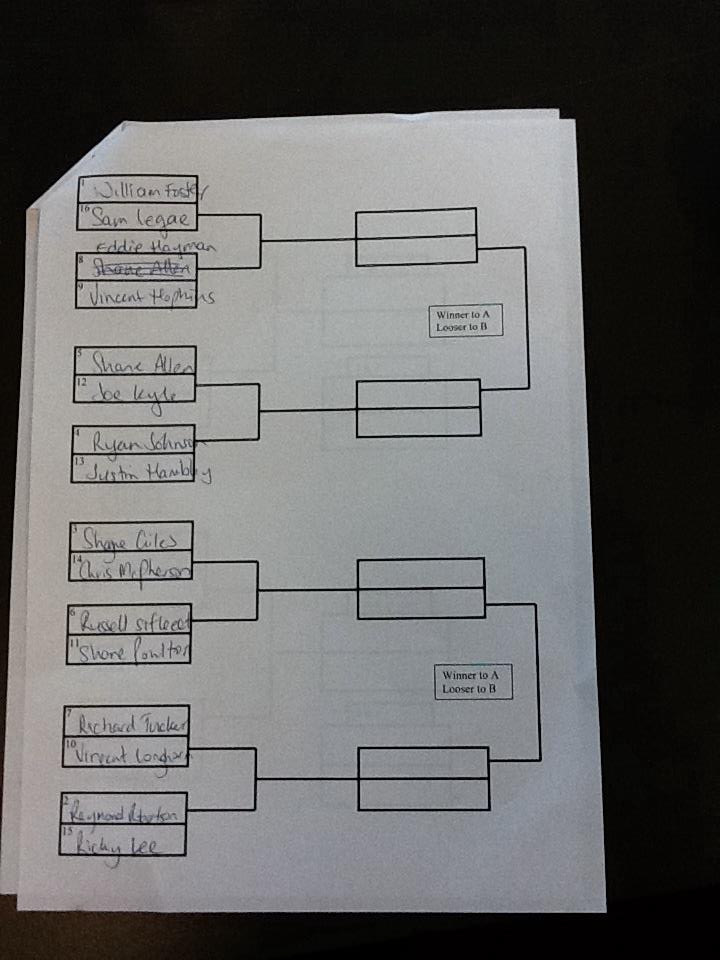 Foster, Hopkins, Allen, Hambly , Giles, Sifleet, Tucker and Lee would move through from the top 16, and that pretty much put a wrap on Friday which came to a close at around 4.30pm. Toughest battle being Russell Sifleet and Shaneo Poulton who went OMT twice.
Pro- Am top 8
Held on the Saturday morning, this is just a quick summation
Foster beats Hopkins,
Allen beats Hambly who looks like he had a mechanical and didn't really drift the section
Sifleet beats the super aggressive Giles after a OMT
Tucker beats lee after OMTS and both drivers spining while holding the advantage
Top 4
Allen beats Foster in the ex Soletrain r32.4
Sifleet beats tucker after a OMT
3rd place-Richard Tucker
2nd- Shane Allen
1st – Russell Sifleet
Judges leave the box for a little breather feeling that they have already earnt there event fees.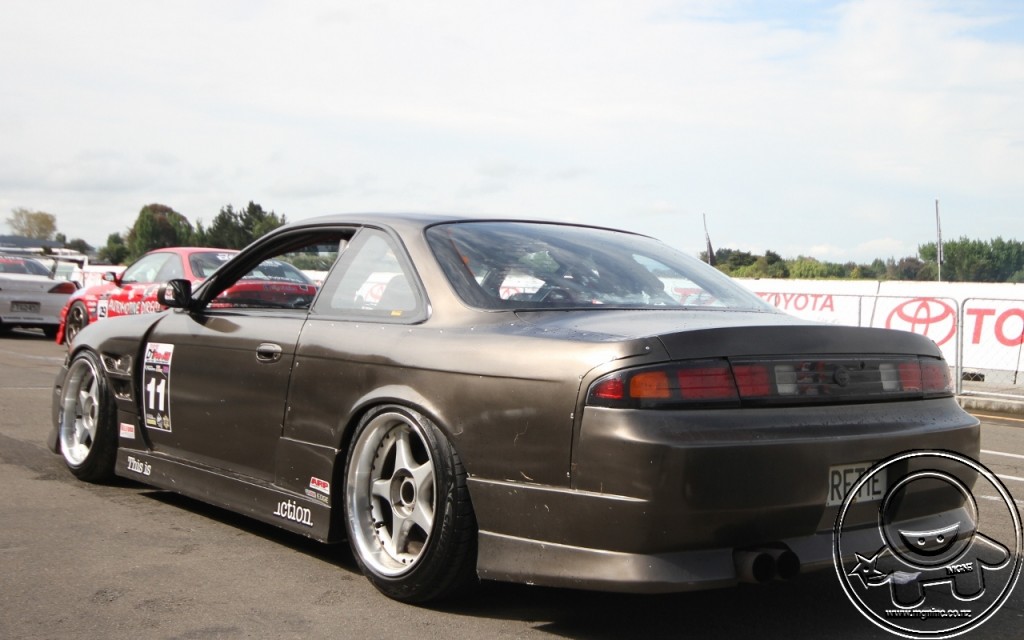 Fast Forward 18 hours….. What a difference… the sun came out along with the people of Palmerston North, and visions of tire smoke, screaming wastegates and top level drivers battling played on the minds of the eager public.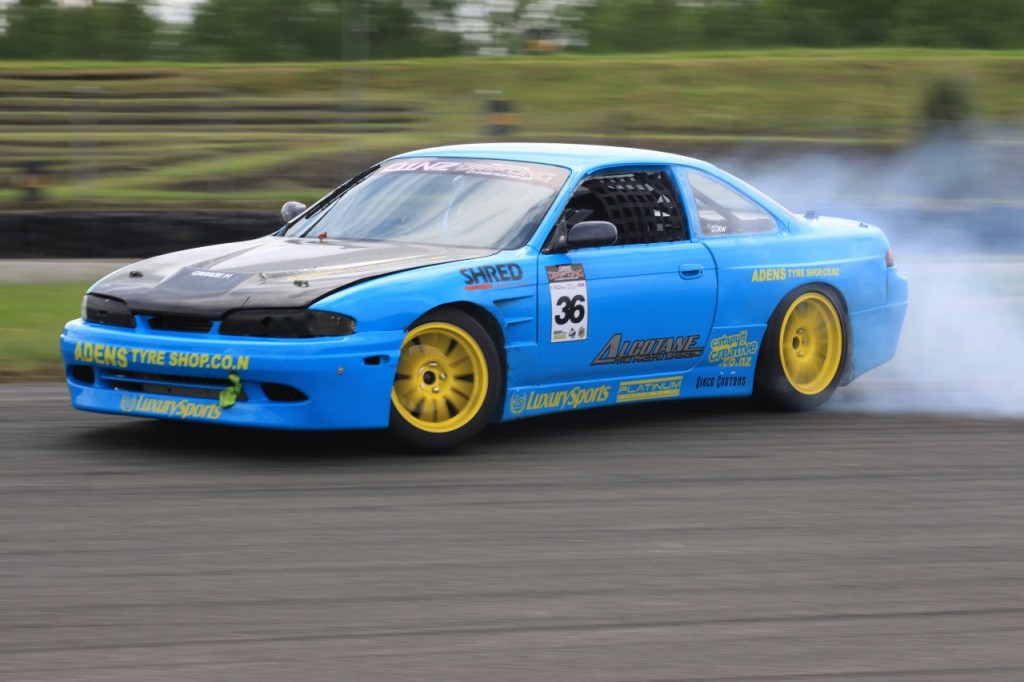 I feel like I will probably remember this round for a few reasons, and one of those will be the emergence of some of last years rookie class as true podium contenders. This event really got turned on its head initially due to having a top 32 format, and then secondly some of the more fancied drivers ended up on the trailer early to use a figure of speech. Top 32 is an interesting thing, cause it means if a top driver has a bad run in qualifying, he's still in with a chance, and where he would have been out of battles, can now figure in the results at almost every event based on current competitor numbers.
Huge congratulations must go to Cole Armstrong who smashed out a great final run to snatch the top spot from Mikey and the Madbul. It has to be said that if Andrew Redward had got his last run to stick, he would probably have been contending for #1 qualifier also, but it was Armstrong and his team who were ecstatic with the performance of the new 4 Door V Energy R34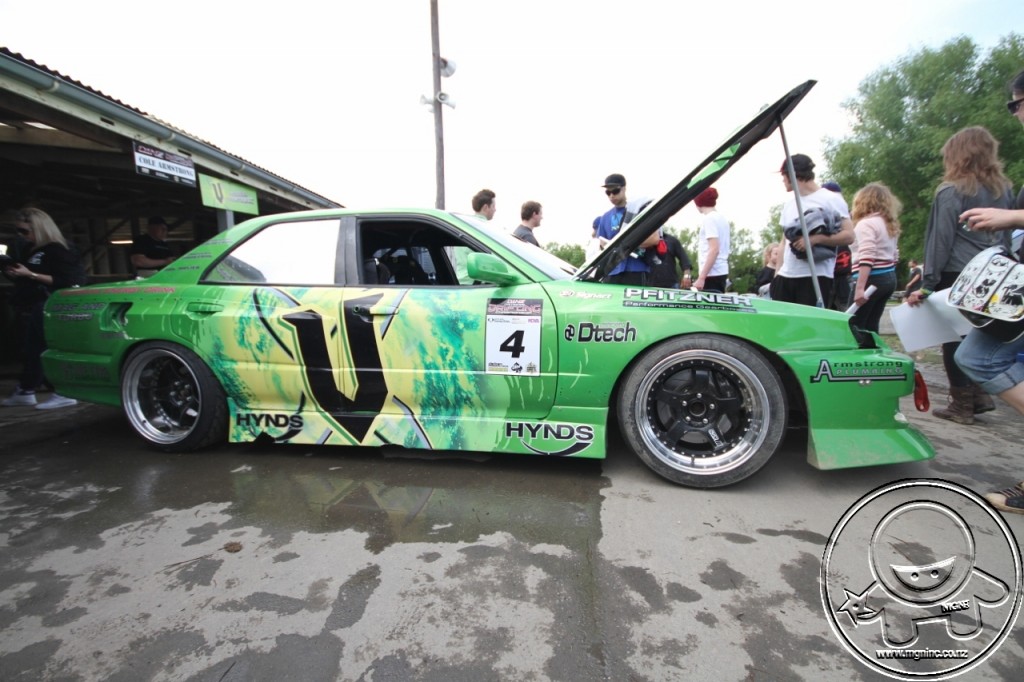 Full order for the 32
1 4 Cole Armstrong 91.00, 2 12 Mike Whiddett 89.20, 3 7 Daniel Woolhouse 87.00, 4 6 Andrew Redward 83.50,5 2 Curt Whittaker 82.00, 6 3 Bruce Tannock 82.00 ,7 24 Darren Benjamin 81.00, 8 22 Steven Sole 79.00, 9 1 Gaz Whiter 77.50 ,10 30 Jock Bennett 76.50, 11 36 Bradley Lauder 76.00, 12 14 Mac Kwok 74.50, 13 37 Dimitri Amos 74.50, 14 25 Mark Burling 74.50, 15 35 Dave Steedman 72.50 ,16 28 Robbie Nelson 68.50, 17 9 Jason Sellers 68.50 ,18 8 Nico Reid 67.50 ,19 13 Carlos Walters Rangitihi 65.50, 20 26 Chris Trundle 62.50 ,21 20 Daynom Templeman 59.50, 22 19 Drew Donovan 57.00 ,23 17 Sky Zhao 51.00, 24 29 Shane Rutland 48.50 ,25 31 Matt Jackson 42.00, 26 32 Will Cook 31.00, 27 15 Hugo Maclean 3.00
Over the lunch break people took the chance to have a good look around the pits, take photos with the cody's girls and check out the machinery on display, some supporters also took the chance to warm up vocal cords.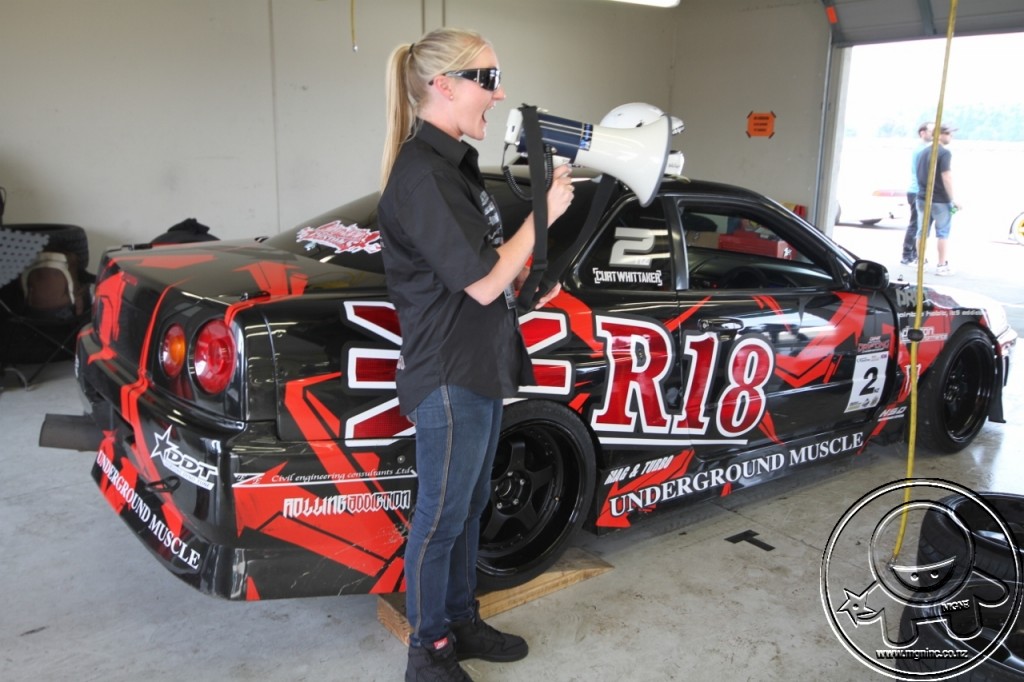 The top 5 qualifiers would all get bye runs straight into the 16, and interestingly none chose to run and get extra laps in on the circuit.
Now about here is where things get a bit hazy for me, as I was on commentary and its hard to watch, talk and remember then blog it a few days later so from top 16 on here's what I think happened.
Armstrong v Nelson- Armstrong to much power and experience for the young man who'd done well to make a top 16 first round in pro, and seemed more interested in the promo girls
Sole Vs Whiter- This was the first upset we saw and sent a huge murmur through the crowd. Soletrain is a freak of a driver who can spend half a day falling off and spinning, then come good when it counts which is what he did against the 3 x champ, who for some reason held just a little back
Redward vs Amos- I'll be honest, Amos was amazing in his first battle with trundle, but redward was on form and took the crazy man down.
Whittaker vs Kwok- Surprise number 2, Whittaker made a mistake with a straight line correction and that was all it took for him to join Whiter in the pits. Kwok solid and I love that v8 TT sound.
Whiddett vs Reid- No power in the old SOLJAH,  Mikey all over Niko to send the young man out
Benjamin vs Zhao- Darren Benjamin is a man to watch..as he gets more battles with top drivers under his belt, he will get more and more dangerous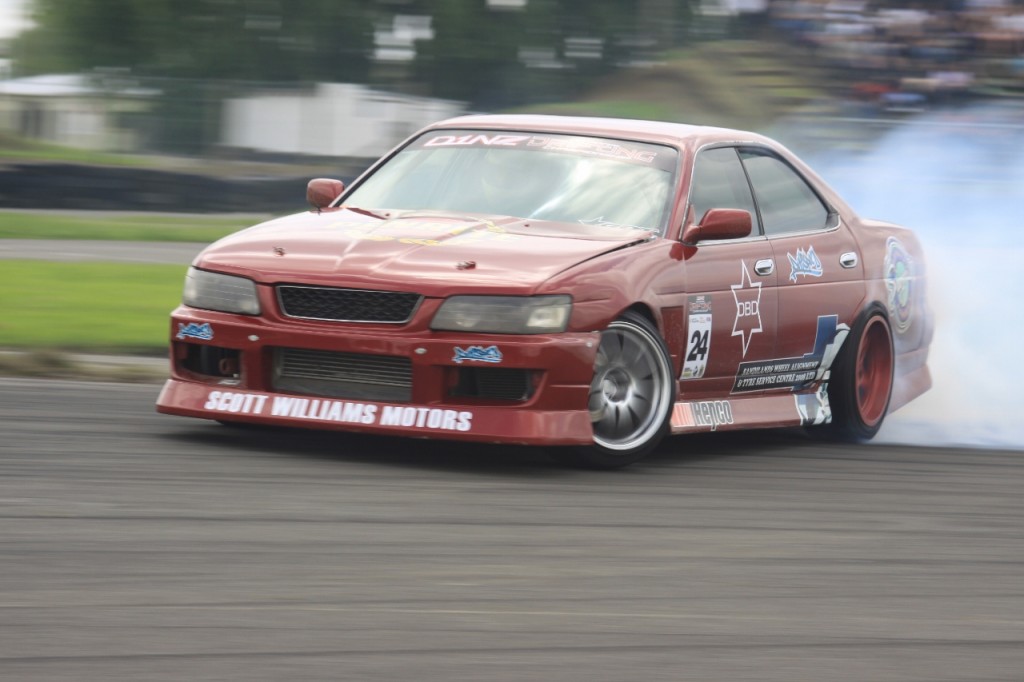 Woolhouse vs Burling- All Fanga Dan, burling still learning the ex drift south S15
Lauder vs Tannock-  Bit of an odd battle with a 5 min call, Lauder wins and goes on, leaving Tannock questioning the decision.
Top 8
Armstrong vs Sole (image below) – Great story in that Cole's new car was given to him by Steve, close fought battle and Sole took the fight to Armstrong hitting the rear of his car.  That would be it for Sole and the green machine would go forward to the top 4
Redward vs Kwok-  I don't remember much of this battle, Redward had looked dangerous all weekend and advanced on
Whiddett vs Benjamin- This was to be the end of the road for the Naki lad, the Madbul simply dances on a throttle string and Mikey has the ability to put the car where he wants, when he wants.
Woolhouse vs Lauder- As above, you know when your battling Fanga you need to chase well, cause hes going to be ordering food from your window when he's chasing you. Game over for Lauder with Fanga moving on.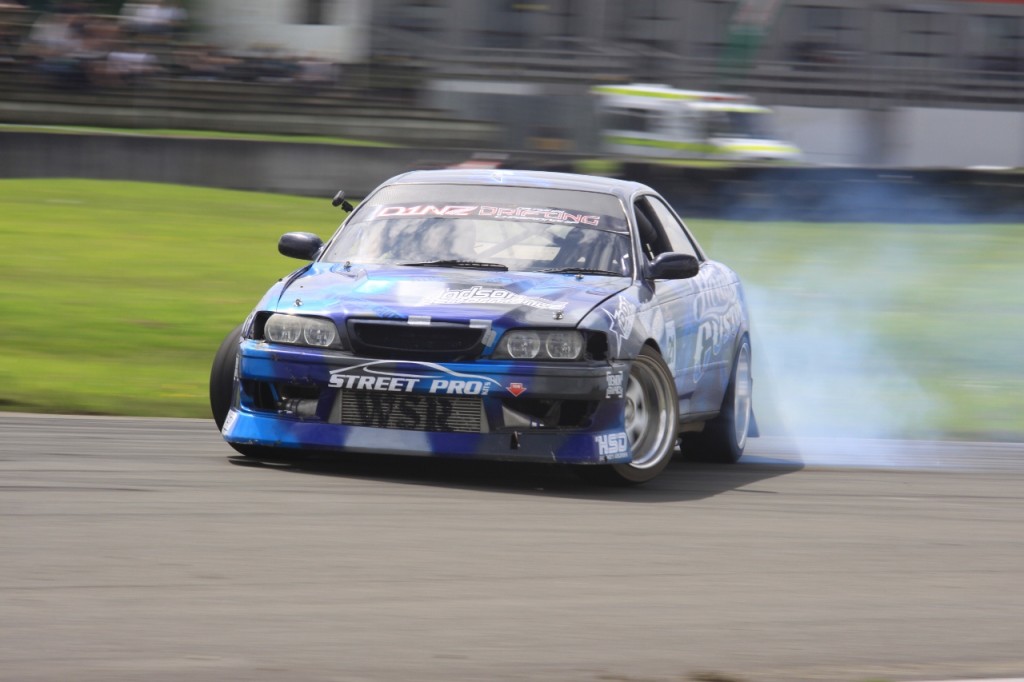 Top 4
Armstrong vs Redward-   Armstrong looes a close battle to Redward,
Whiddett vs Woolhouse-  I couldn;t call it, but the judges did, and it would be Mad Mike moving to the finals
3rd/ 4th
Fanga Dan beats Cole Armstrong who to be honest just seemed like he was happy to be there, Cole is one of the guys the crowd love and its fully deserved for a guy who's worked his guts out to get back on track
Whiddett beats Redward- I am not sure that this one was ever in doubt, Whiddett had the line , angle and smoke from his Nitto tyres all weekend.  Both drivers were hugely deserving of being in the final, and it was almost a shame that one had to lose. In an interesting side note, this was Redwards highest ever finish at a D1NZ round inspite of a couple of prior #1 quals.
* Image by WCP*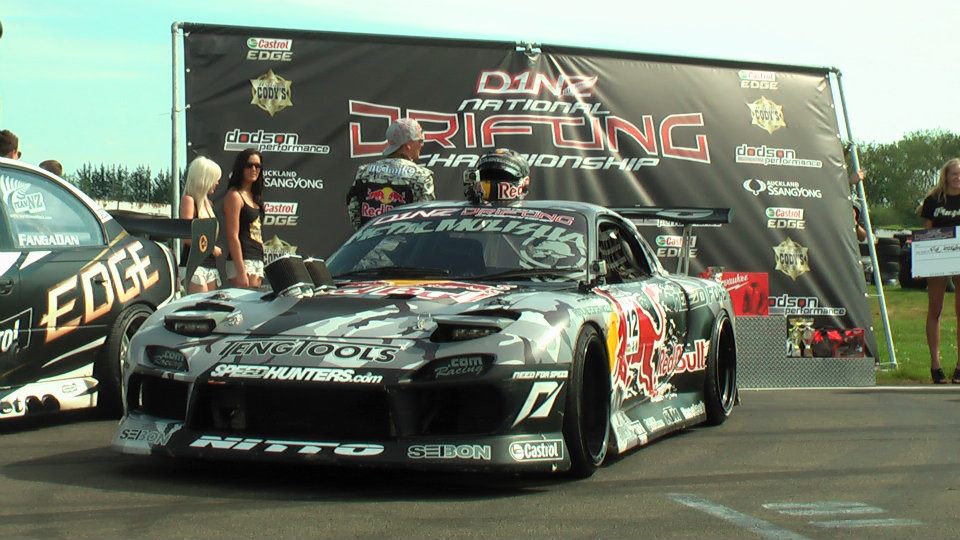 The day however belonged to the Mad one and the Redbull Need4Speed team, and we all know no one does victory skids like Mad Mike.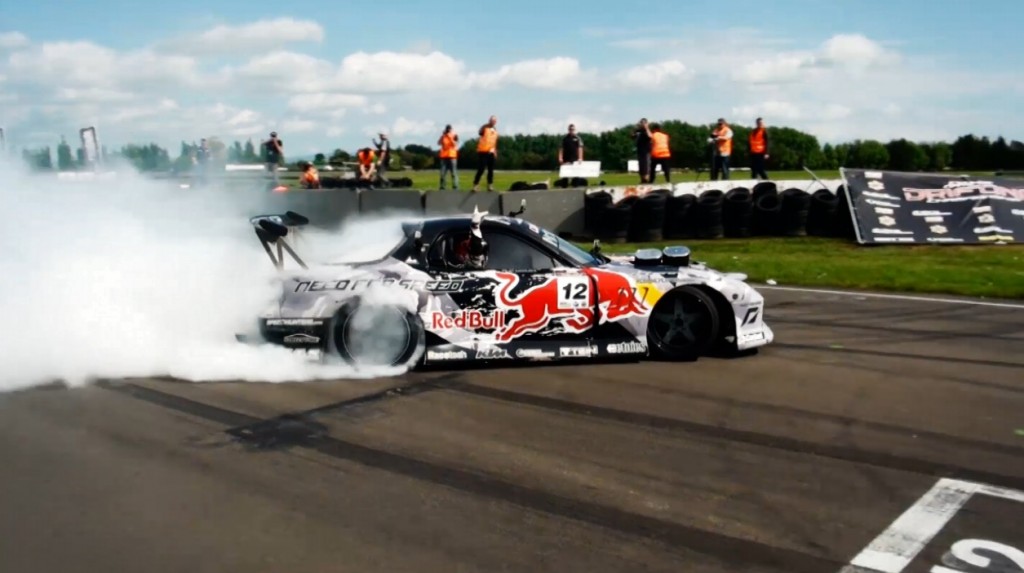 The best way I can show the action is  for you to head on over the SBPnz's highlights vid….or copy the link below
http://www.youtube.com/watch?feature=player_embedded&v=c3jHwX5QROY
And thats it from Manfield, see you all at Pukekohe