Sideways
Published on December 21st, 2011 | by mrgrumpyninja
2
Upsetting the apple cart-Daynom Templeman snatches the cash at D1NZ R3!!
The Codys D1NZ National Drifting championship round 3 in association with Taupo Motor sport park is over and done with, and what a difference it has made with a clear picture of the title contenders starting to emerge and the class car/driver combos starting to rise through the field.
Notable for three things, the event returned to the central  North Island for the only time this season and played out in front of a small but dedicated crowd of knowledgeable drift fans.They were kept guessing right throughout the top 32 battles with several OMT calls and a couple of decisions that could have gone either way depending on where you were sitting.
When I wrote both my season and round previews, I noted that a couple of drivers seemed to be coming of age and this season would be hard to win with the champion truly earning the crown, Round 3 has cemented that view.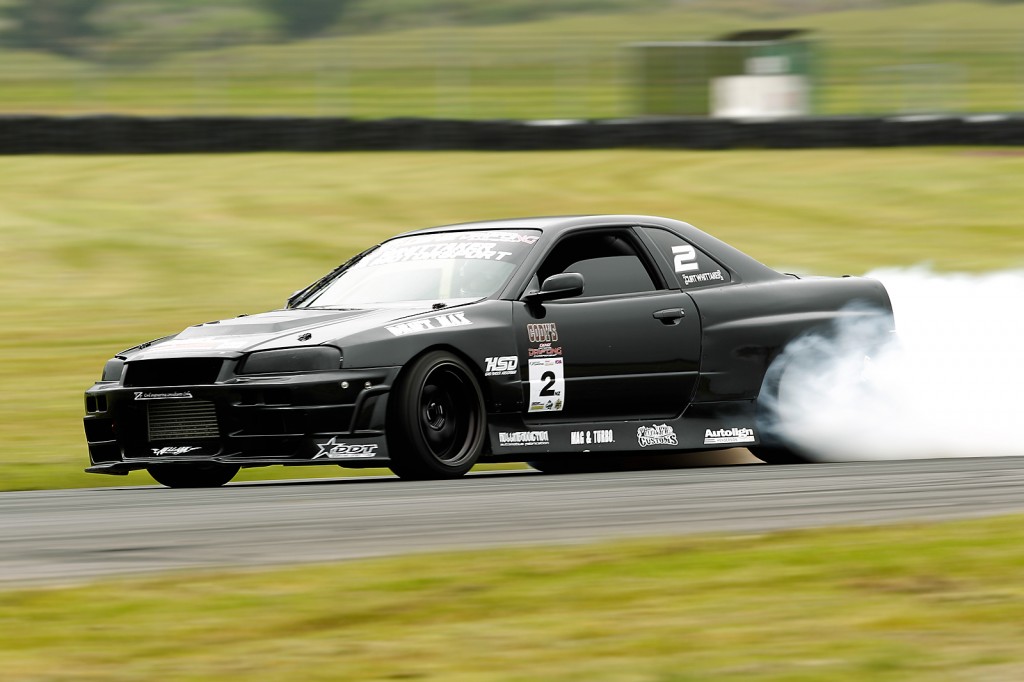 I'll start with Pro-Am, as Friday really is their day and it's here that you get an idea of who might transition to Pro, and who is really just in it for fun. In this class to be fair there are a couple of drivers who appear to be a decent way ahead of the rest both in seat time and machine spec, and it was those drivers who shone through on what had ended up being surprisingly warm and sunny day, catching many out and resulting in some fairly amusing sun tan lines.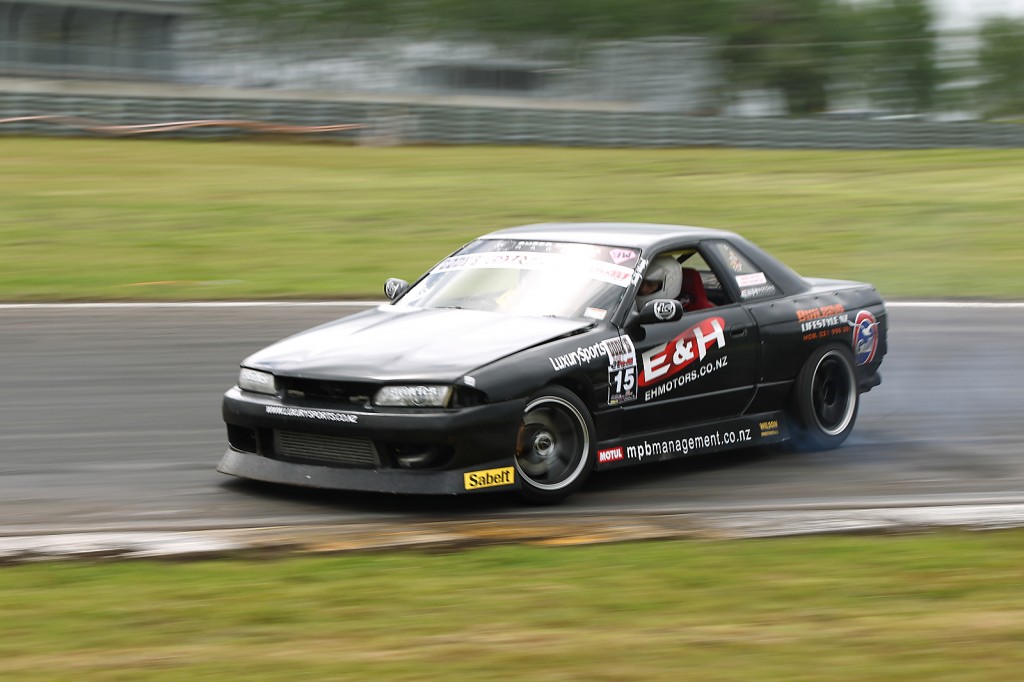 In order of finish, it would be #4 qualifier Cam 'Sheep Shagga' Vernon (above)  in his E & H motors R32 who would top the podium, beating a determined Vincent Hopkins in the Final.  Both drivers laid some solid smokey runs during the day, with Hopkins perhaps unfortunately producing his best run of the day to eliminate eventual 3rd place finisher and overall series leader Shaneo Poulton.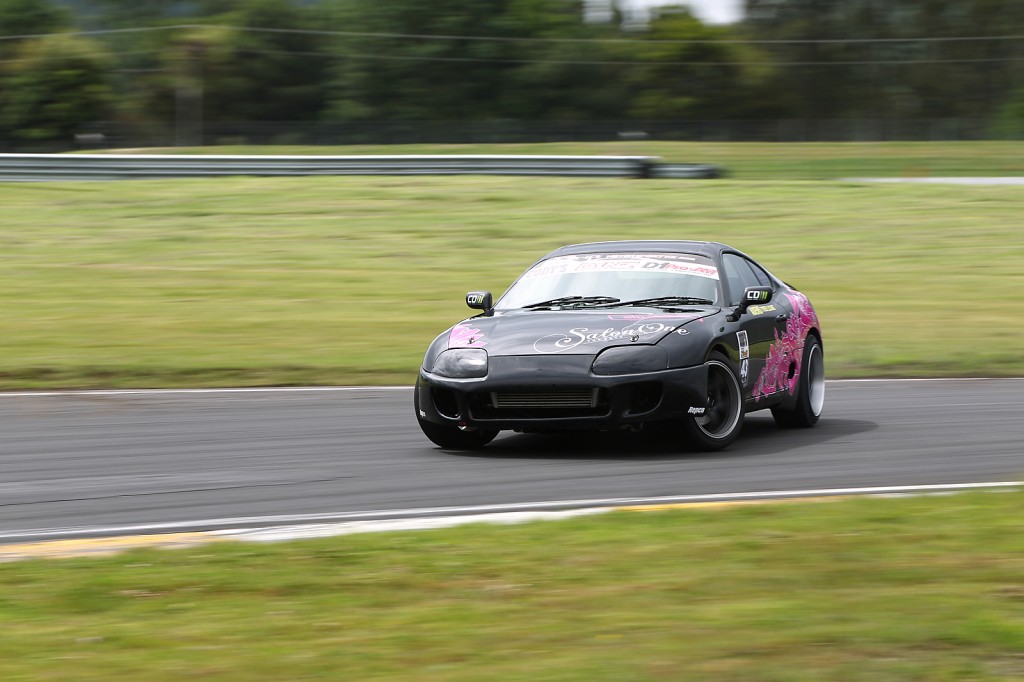 Special mention should be made of Jodie Verhulst (above), whom in her supra laid the first qualifying pass of the day as a 77.5, and ended up with a solid weekend result, qualifying 2nd and placing 4th. Verhulst appeared to be a little unsure on her chase runs sitting well back, and once she gains more comfort has the skills to challenge the top Pro-Ams.
Also part of the event was round 2 of Time Attack, which I missed most of due to crewing one day and commentating the next, so will simply mention Leon Scott (shown) and Hans Ruiterman as the respective class winners.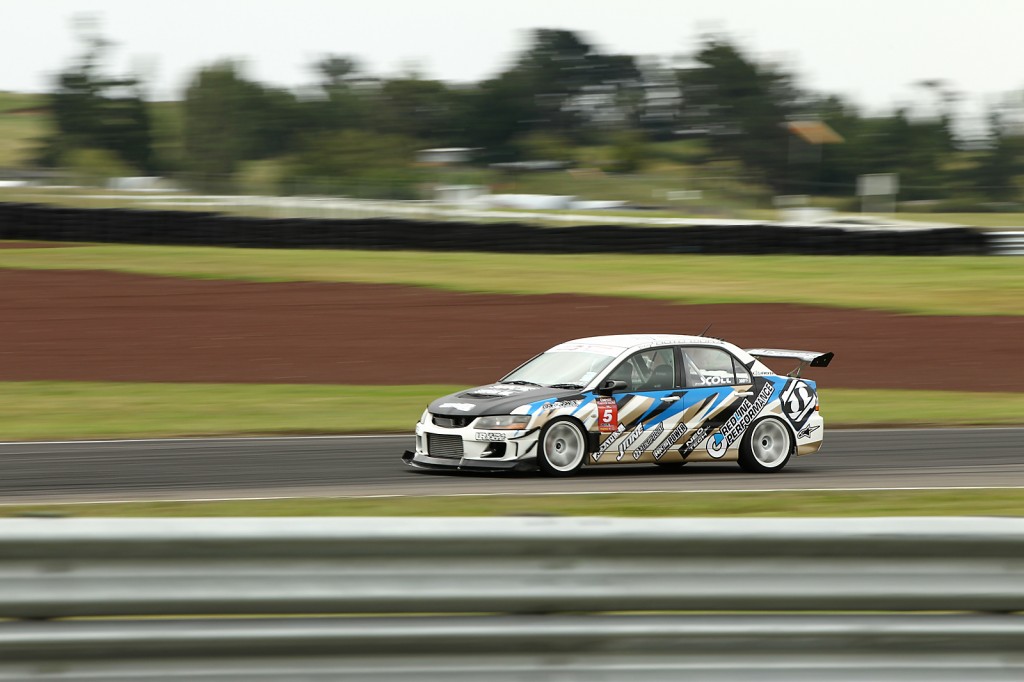 So what of the Codys D1NZ nationals drifting championship round 3 then…since its the reason you're all here, well it would be fair to say that it was a tough day at the office for many on Friday.  Gaz Whiter replaced a steering rack , Daniel Woolhouse (below)  an engine mount, Andrew Redward lost an engine, Cole Armstrong cracked an intake manifold and sent his car back to Tauranga, while many others had misses and various issues with the high strung nature of race cars.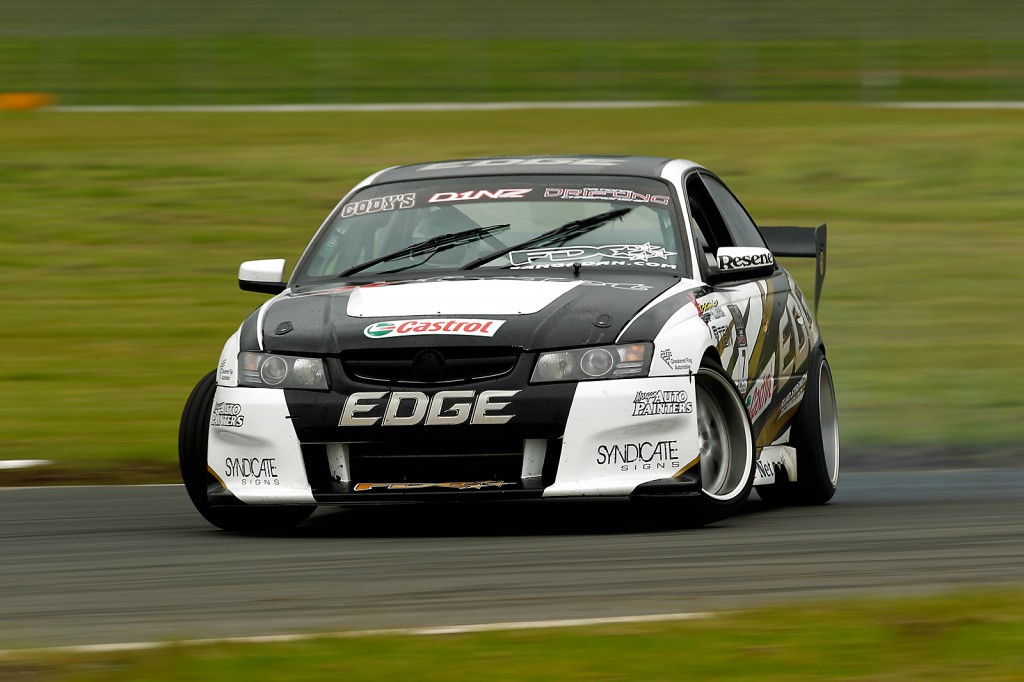 Some of the standouts from practice were Daynom Templeman, Bruce Tannock (below) , Curt 'the hoff' Whittaker , 'Mad' Mike Whiddett and the usual Driftcorp suspects, while all stepped up their game when the Garden City Helicopters team arrived to do some fly by footage. I can confirm that there is no truth to rumours that many drivers were seen applying makeup in the pits before hand, although Cole Armstrong did fix his mullet.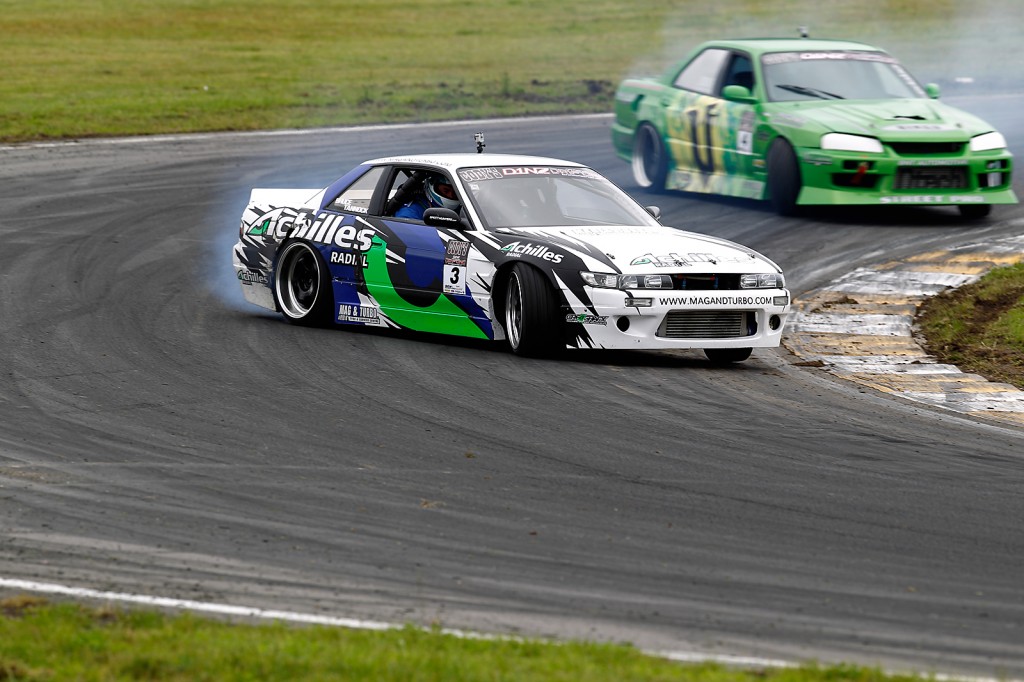 Saturday as always is the competition day for D1NZ, and what a change in conditions from the Friday with a cold wind and rain greeting the teams as they rolled in the gate, many needing to make the odd repair before the day could start properly.It's fair to say many looked like they had been enjoying a weekend a way in Taupo for a pre- Xmas blowout a little too much.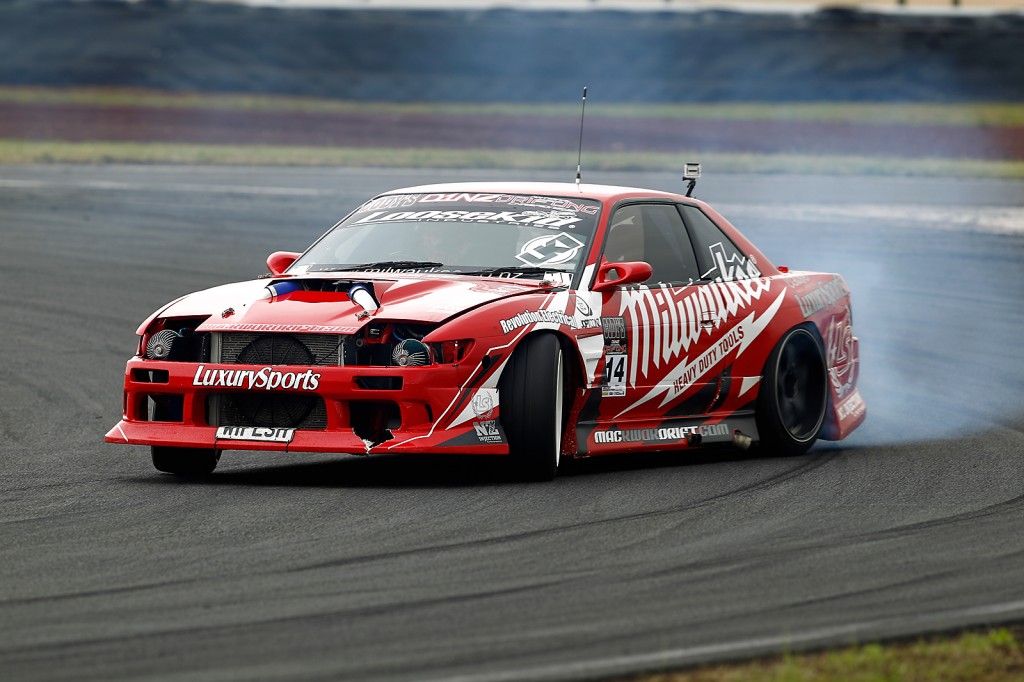 While the season format has expanded out to a  top 32 , we have yet to see a full 32 car field , and with the loss of Nico Reid before the day began, and Chris Trundle going out after a single qualifying pass it would be a 26 car field who would go into battle. Others like 'Crazy' Dimitri Amos ended up borrowing cars after breaking their own.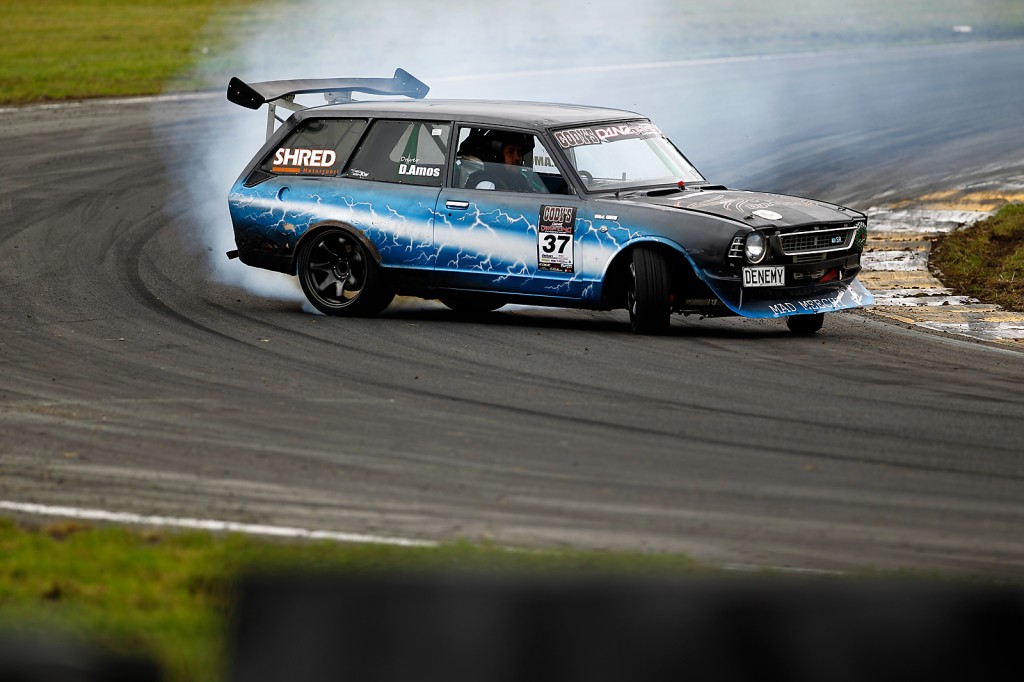 Special qualifying mentions go to 'Mad' Mike Whiddet, Bruce Tannock and Gaz Whiter who came out and laid down their best runs first pass, Chinese Slider Sky Zhao who posted a best ever result qualifying 11th, and Andrew Redward (below) and Daynom Templeman who actually scored better once the track got wetter.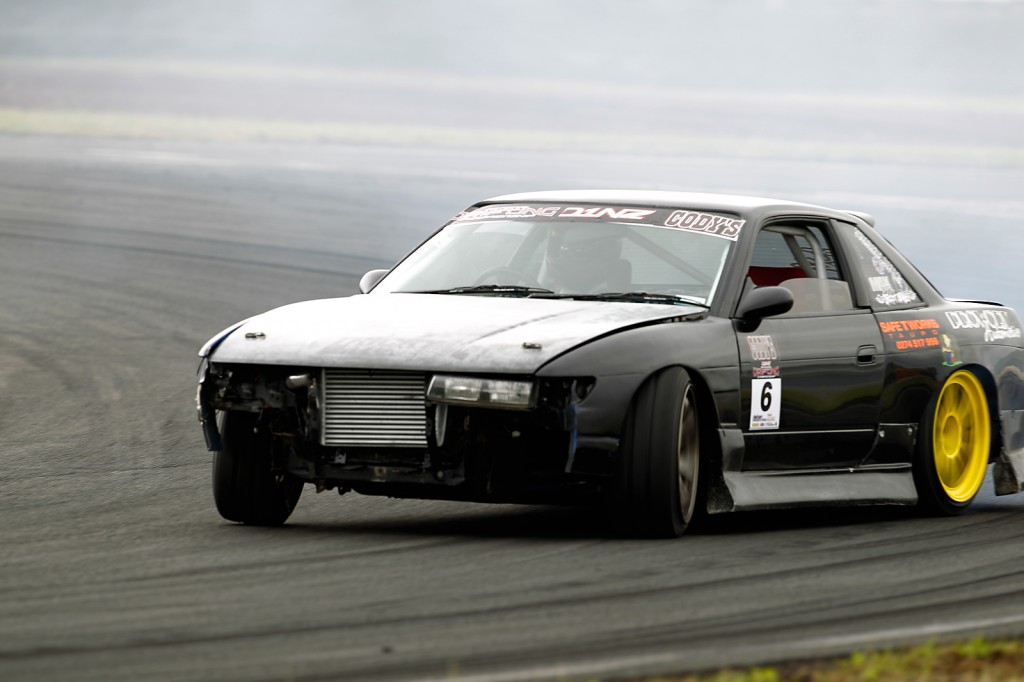 With 3 rounds complete, the final qualifying order was set with Templeman in 1st on 87 winning $250 from Wongs Kitchen , Redward 2nd with 86  and Whiter 3rd 85.25.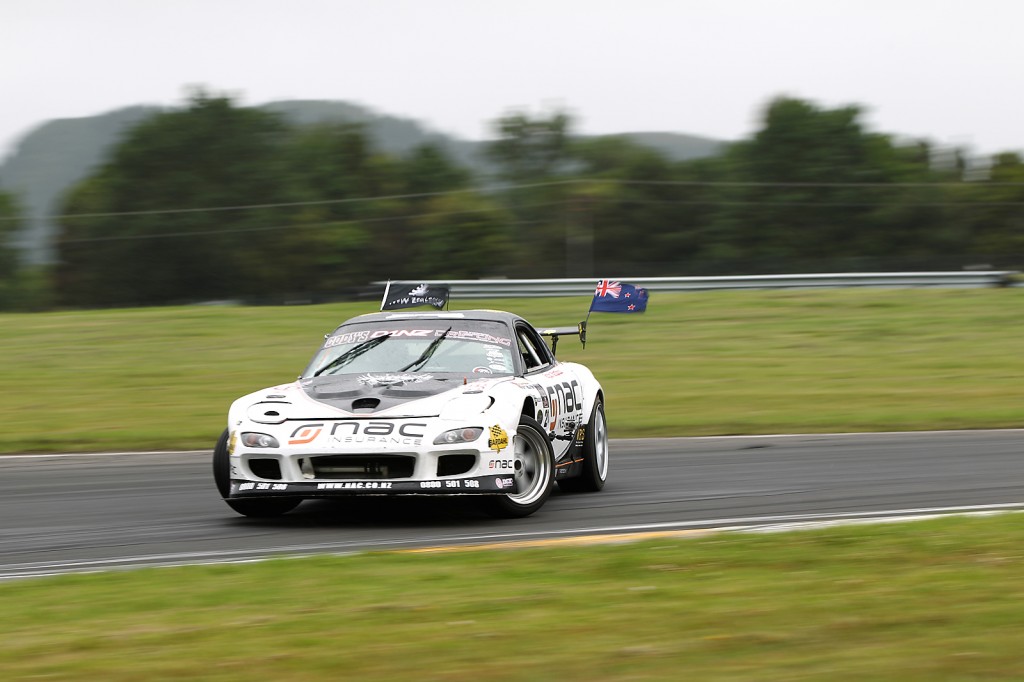 Into the top 32 we go and of those who would battle
Carlos Walters beats Dave Steedman, Curt Whittaker beats Will Cook, Darren Benjamin beats Gary Te Nana, Dimitri Amos accounted for Steve Sole after Soletrain spun, Jason Sellers eliminates Matt 'Chuckie' Jackson, Mac Kwok beats young Robbee Nelson, Jock Bennett beats Drew Donovan, Cole Armstrong beats an out of sorts Brad Lauder who had struggled to qualify, Mark Burling beats Randall Luipuhi who was driving the AOSC S15, and in the ugliest of all top 32 battles Hugo Mclean eliminated himself by rear ending Sky Zhao, sparking a huge amount of online debate.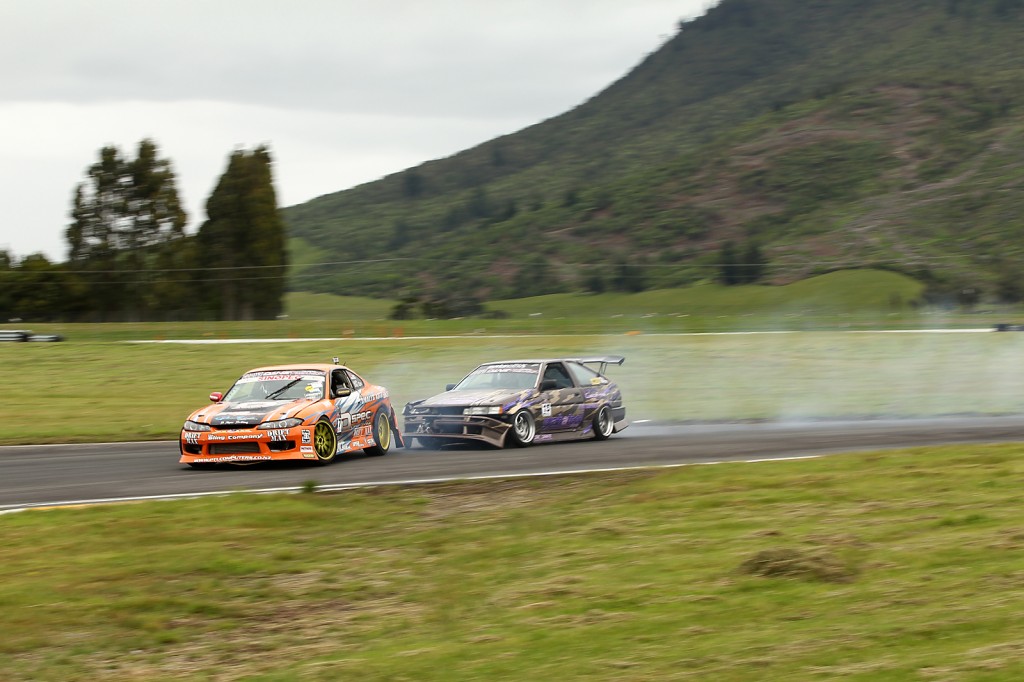 Top 16 parade then takes place with Cole Armstrong again attempting to hi-jack all the promo girls.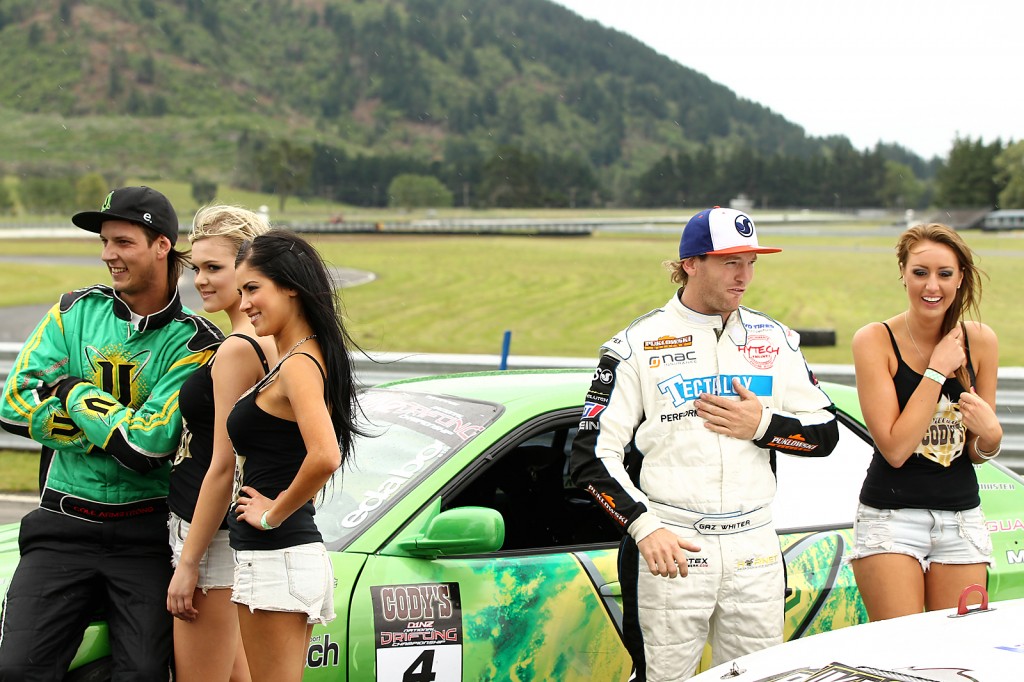 Templeman battles Carlos Walters in a re-run of the jamboree final and wins, Curt Whittaker accounts for Darren Benjamin, Mike Whiddett easily accounts for Amos in a borrowed car, Jase Sellers wins the battle of the big boys with Bruce Tannock who speared off course attempting a max angle entry, Mac Kwok beats Andrew Redward after his throttle stuck and he overshot the final corner, Jock Bennett beats Cole Armstrong after a OMT with a very divided crowd and Armstrong asking for the judges to review, Gaz Whiter goes OMT with Mark Burling before winning and Fanga Dan Woolhouse accounts for a battle damaged D spec slider being driven by Sky Zhao.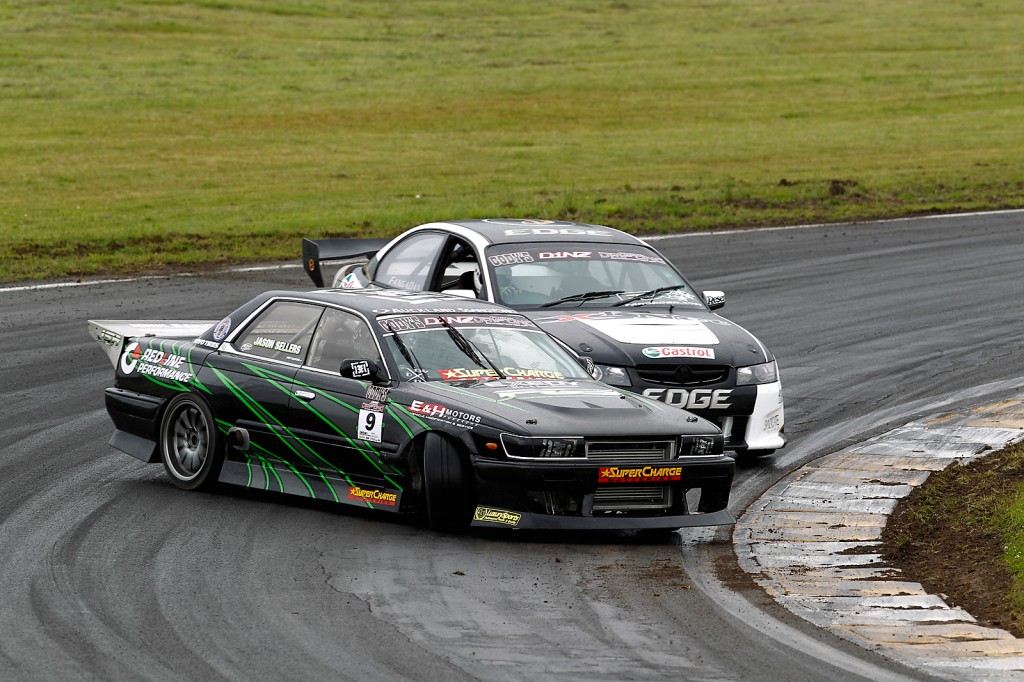 Top 8 battles and what a line up it would be with several final worthy match ups
Daynom Templeman battles Curt Whittaker in a re-run of the TIDC final, this time its Templeman who grabs the advantage and the talk begins that Daynom might just be on a roll this round
Mad Mike battles Jason Sellers, and as Mikey admitted he took a quick peak over his shoulder and got a shock to see Jason right on his door and by the time he looked back he had straightened up just enough to cost him. In spite of one of the most insane chase runs ever seen, Jason would go through in the Redline Performance C33 Laurel
Mac Kwok and Jock Bennett go head to head and regardless of outcome, this would be the best result to date for both cars. Bennett lays down a good clean lead run and then on his chase run hits the rear of  Kwok due to a broken 4th gear in the Milwaukee s13. After consultation with both drivers, Bennett advances as the rules state that mechanical failure causing contact gives advantage to the chase driver.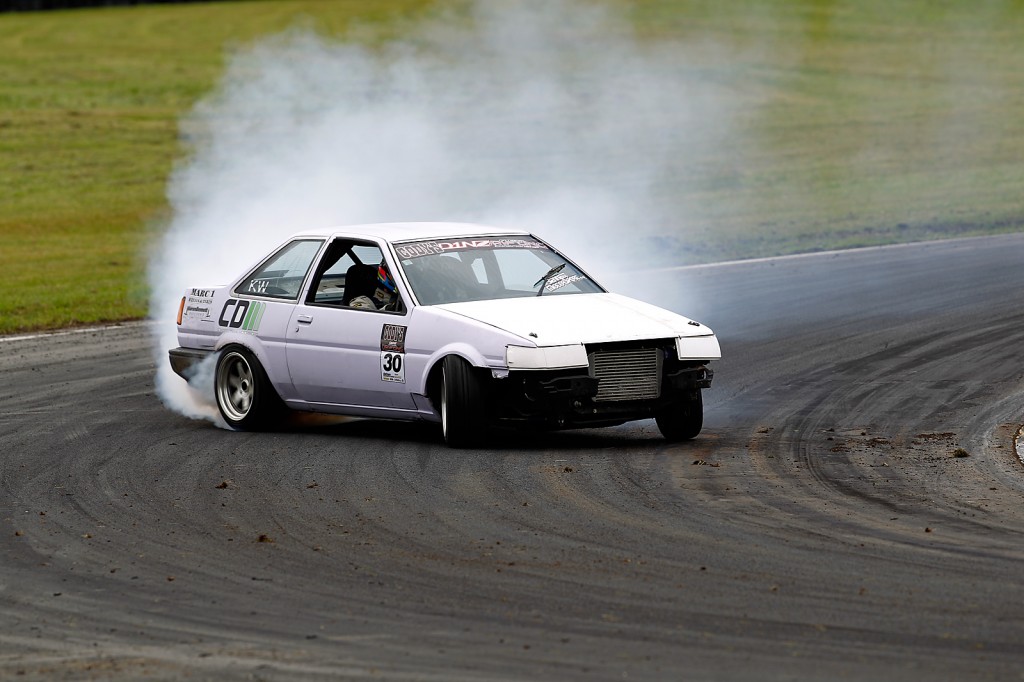 Gaz Whiter vs Fanga Dan is a battle we are used to seeing in Semi or Final match ups, and this time the good mates would meet in the top 8, with Whiter taking the advantage and putting his good mate on the trailer in a reversal of the last time they met at Taupo.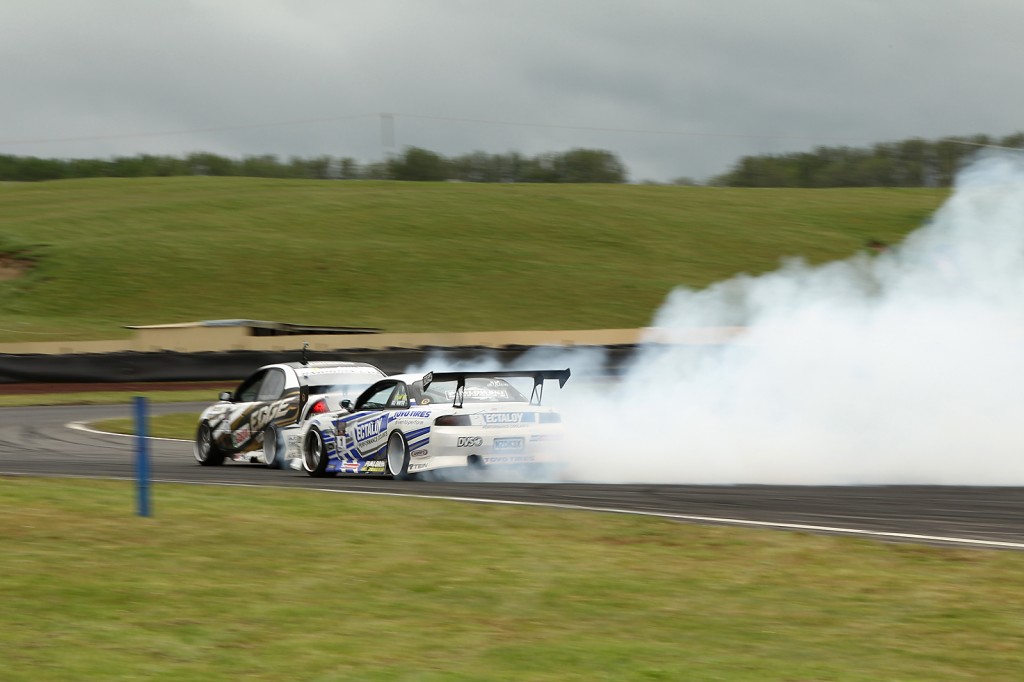 Semi Finals and we see Sellers vs Templeman, with the win going to Templeman who is clearly on a mission, having driven everything from cars to off roaders, the conditions just don't seem to affect him,
Gaz Whiter has a tough battle with Jock Bennett who is driving the wheels off the little AE85, the battle goes OMT it is Whiter who goes on to battle for the round win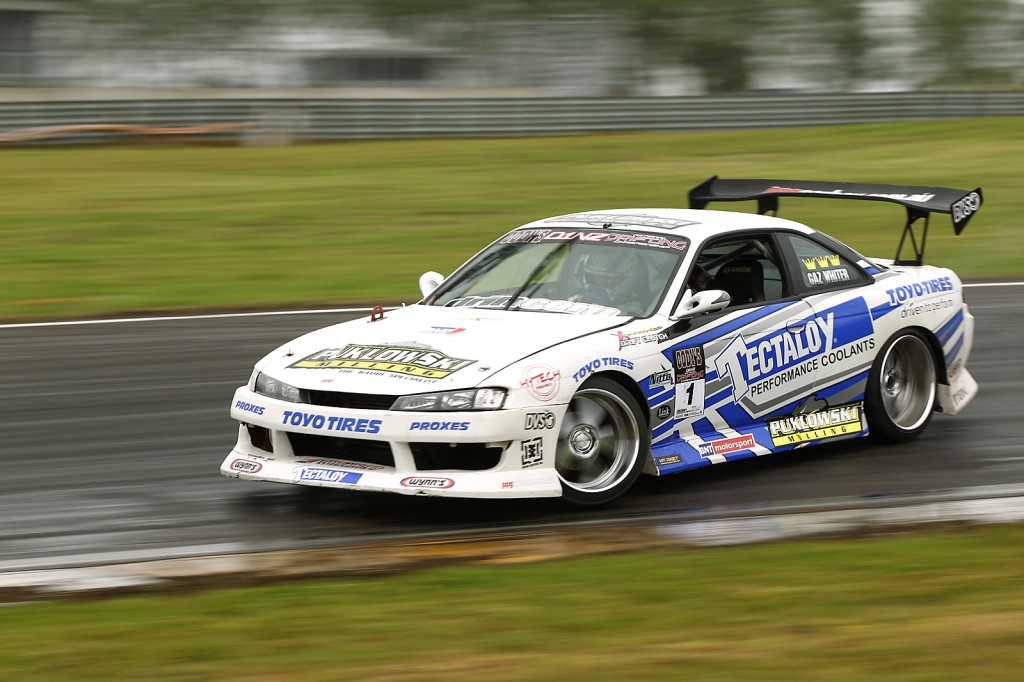 3rd/ 4th battle, and the day regardless is going to be a success for all remaining drivers who are looking at their best results all season so far. Sellers goes in hard against Bennett and spins handing the 3rd place spot to the the little purple car that could, owned by Bennett's cousin and Pro-am competitor Willy Foster.
Its final time and the cold crowd get to see what they expect with Whiter dialing in a maximum angle early entry chasing Templeman, and if that wasn't the closest anyone had been through clips 1 & 2 then it was damn close, unfortunately for Gaz he would effectively undo himself by simply getting in to close and being unable to maintain proximity when he had to back out of the throttle handing the advantage to Daynom. Chase run begins and Whiter throws it in with Templeman chasing like he never has before, staying close but not so close that he can be forced into a mistake. I'd call it a "professional' run, knowing what he had to do, and not allowing his opponent the chance to force an error.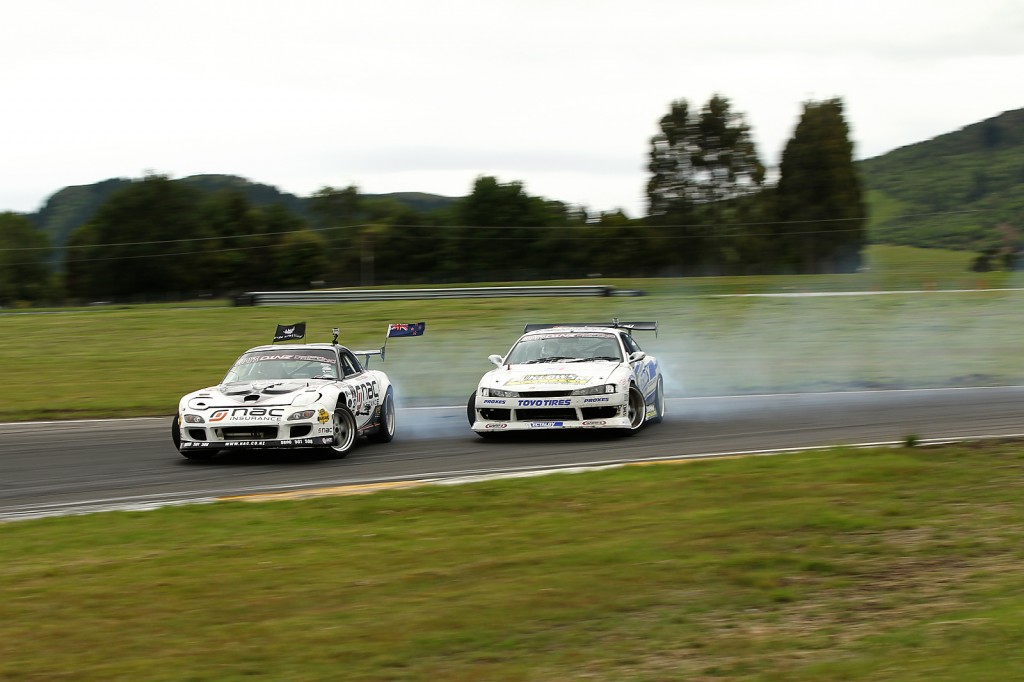 Templeman wins,grabbing $5000 in cash and prizes and the ice is broken for one of the most professional and passionate teams in pit lane, grabbing their maiden D1NZ round win. I've been saying for a while once Templeman gets confident he will be hard to beat, and it could just well be that we see him start to emerge as a consistent force if the car plays the game.
Well done to the Templeman team , and take a look at what its done to the tree….. (this is my own personal table, so hopefully its right, don't shoot me if its wrong!)
| | |
| --- | --- |
| cole armstrong | 235 |
| mike whiddett | 234 |
| gaz whiter | 229 |
| curt whittaker | 225 |
| Dan Woolhouse | 218 |
| darren benjamin | 210 |
| daynom templeman | 199.5 |
| andrew redward | 183 |
| Mark Burling 111 | 166 |
| Sky Zhao 109.5 | 165.5 |
| steve sole | 152 |
| brad lauder | 151.5 |
| mac kwok | 149 |
| bruce tannock | 141 |
| jason sellers | 117.5 |
| Dimitri Amos | 109.5 |
| Nico Reid | 109 |
| Jock Bennett | 107 |
| Matt Jackson | 105.75 |
| Dave Steedman | 104.5 |
| Robie Nelson | 104.5 |
| chris trundle | 82.5 |
| Carlos Walters | 79.5 |
| Randal Luipihi | 79 |
| Hugo Maclean | 73.25 |
| Drew Donovan | 49.75 |
| Will Cook | 48.5 |
| Brandon Rogerson | 24.5 |
| Shane Rutland | 24.5 |
| Gary Tenana | 24.5 |
All images appear care of DFimages, please do not copy or reproduce without crediting source.