Published on September 23rd, 2012 | by mrgrumpyninja
The little red snail- blast from the past
I drove past Meremere today and it made me reminisce a little about the many hours spent at that venue over the years. I'm sure my time pales in comparison to some of the veterans around the place, but hey..this is my story. Anyway , I miss it a little every now and then, there is nothing quite like spending the day as part of  a race team and all working towards a single goal, feeling the highest highs and the lowest low and then packing up, having a beer and making plans to do it all again in 7 days time.  (I'll ignore the sunburn, hay fever, methanol fumes and Curran bros 'giving it a rev bro' and making everyone deaf) .  Each different form of racing has a slightly different feel to it, shaped by the unique people that make each sport what it is.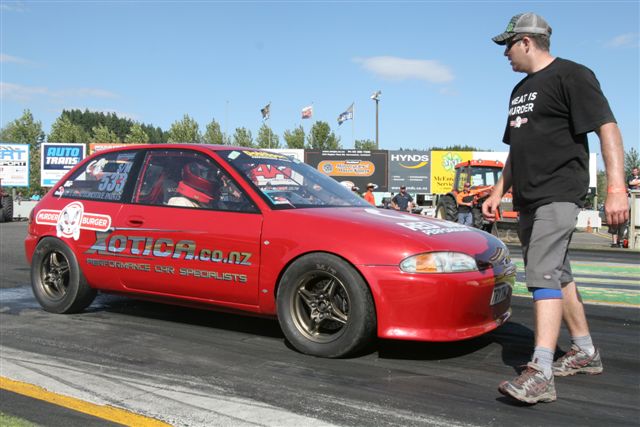 A good friend of mine built and campaigned the "TRYTNC" mirage, 850 odd horsepower of methanol snorting, one piece front ended Mitsubishi madness that would go on to record  a best time of 8.43 seconds.  It didn't actually start out like that tho, and was originally the drive car of a little old lady that was bought and slowly converted by owner/driver Simon Steffek and his now wife Kaz, with the help of a few good friends and the family business Exclusive Panel and Paint.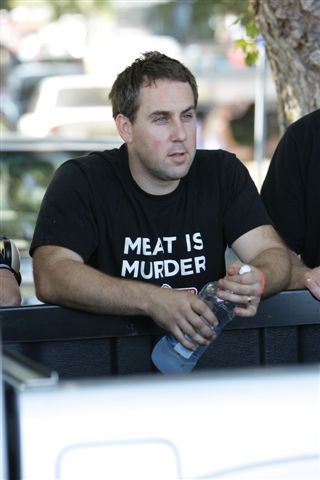 Starting off black, the car was originally resprayed in a kind of odd blue/black/purple that never saw the light of day (perks of working in a panel shop) before emerging in the Lamborghini Silver that the car spent a couple of seasons in. In this guise, powered by a basic engine that had been constructed by STM for Aaron Colvins VR4 that was described as 'basicly just rods and pistons' the car would run consistent 10 sec passes back when that was pretty much unheard of . I don't recall much in the way of mechanical failure and Simon's driving and reactions meant he was always at the sharp end of the field.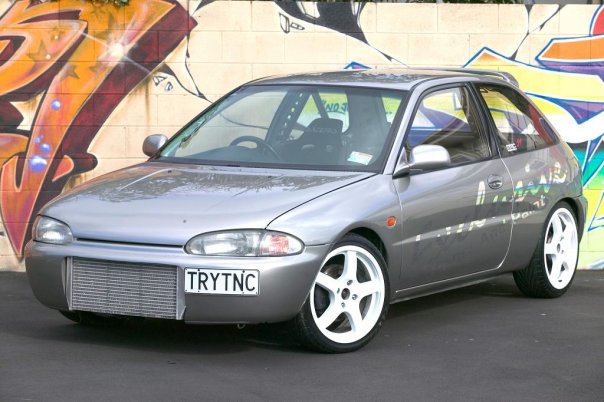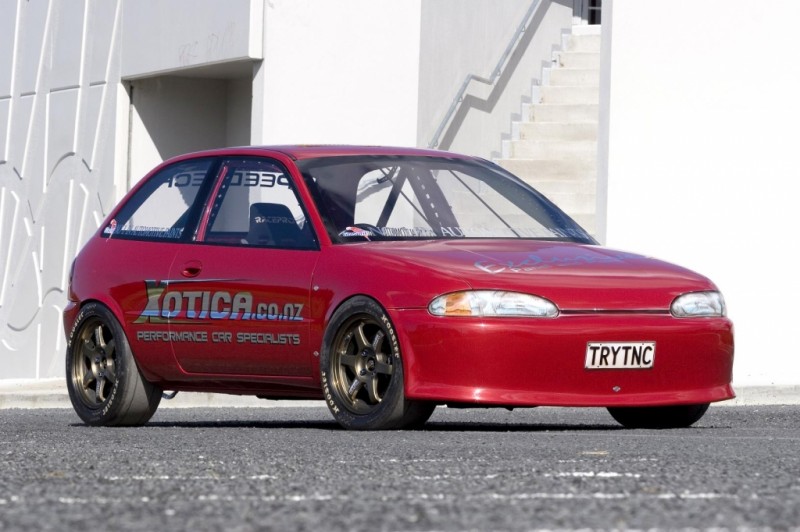 At some point the bug to go hard bit, and things started to get cut up and chopped off, motor and turbo combos were sold and a plan was formulated.  That part is all pretty well documented by NZPC so I won't spend much time with it. The car was stripped, PMW got involved with some more fab work and the end result was a potent BBQ factory that would either go fast or spit the axles out the bottom of the car.  By  the end, I think the crew were doing axles eat meeting just as a precaution.
Just because I feel like mentioning it, the strangest thing about this car….was that it had one of Karens mothers good baking tins filled with lead welded to the bottom of it, to ensure it was over minimum weight.   One of the best things about this car was being in the workshop with Simon and Father in law Brian while they were  'brainstorming',  you could never quite tell what kind of #8 wire genius was about to take place.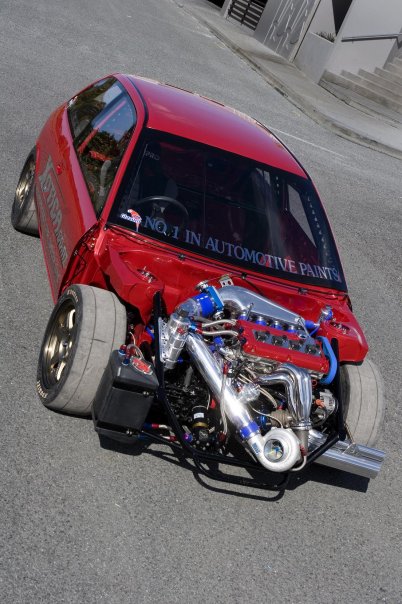 Anyway, priorities changed and the Steffek Family expanded so the little red monster has gone to a new home. While the last run I ever saw it do ended in a contact with the wall, that is but one small blip on a couple of fantastic seasons of drag racing action , and while I don't miss the inevitable gut ache from re-fried hotdogs and chips, I do miss the "team" and what it set out to achieve.
I hope the car can bring as much joy to its new owner as it did the prior, and hopefully we see it again cutting quarter miles soon.
Go hard Little Red Snail.