12 Rounds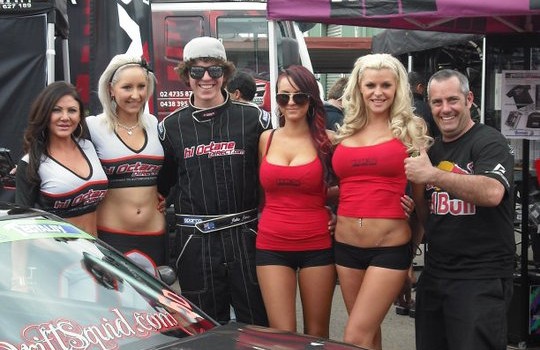 Published on August 28th, 2011 | by mrgrumpyninja
14
Rotangs, Swifts, Girl Racers and Chrome- The man who's seen it all
With over two decades of experience in the race car world both here and overseas, there are very few people who carry the level of respect in the pits of an event  like the man they call "Cromey",  otherwise known to his parents as Ian Sheppard.
As crew chief on Mad Mike Whiddetts cars, Cromey is directly responsible in a big way for the performance that can be delivered by one of the sports highest profile and most watched personalities. If something goes wrong,while Mikey might be the public face of it, you can bet that Cromey is feeling the pressure just as much back in pit lane,  perhaps even more so.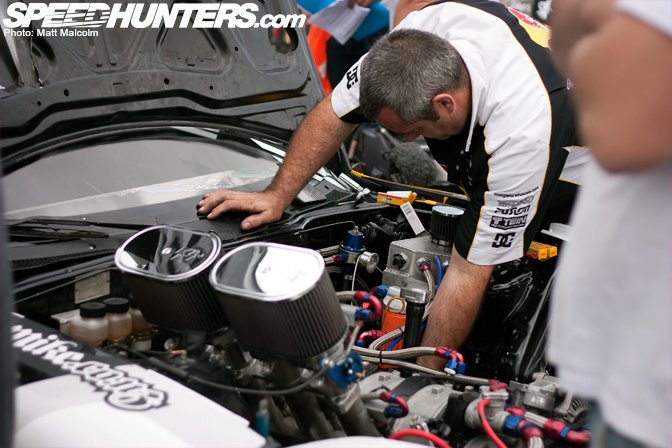 I was quietly surprised and pleased when Cromey said yes to putting something on paper for me, for me there is nothing quite like hearing from people who are salt of the earth in their own words, and I truly believe he just wants you all to understand what goes on for him during an event.
This is a bit different from my usual interviews and was penned by Cromey, its his story in his words, so without further rambling from me….. This  is "Cromey speaks",
*photos were hard to find, so thanks to Matt Malcolm for his images*
Hi, my name is Ian aka Cromey,
When I was asked to put a few words together about being a crew chief and the goings on at the track, I thought,"ok this will be easy" , but then I actually sat down and started to think about it. Then it got way longer when I was asked to talk about my background too, ever tried fitting 20 years onto a couple of pages? Anyway ..here goes…
So, Where did it all start?
I have been involved in some form of motorsport for over 20 years now, from karting to offroaders , rally cars to drift, I have been lucky enough to go to some amazing places around the world. It all started with messing around with karts with a mate, we won a couple of championships and some North Island stuff.
As most Kiwis have, I jumped a plane for England for my OE where I quickly ran out of money so started job hunting, I applied for a job as a fabricator and when I turned up for the interview I found out the place built Swift racing cars. I got the job and was soon asked to go along to a race meeting. The Formula Ford championship was a support class for the British touring cars and I was keen to see them live. The next day I got pointed to a car and told, "You will run this one, here's a tool box, any questions ask him (pointing to the engineer) " well done Ian, in the deep end!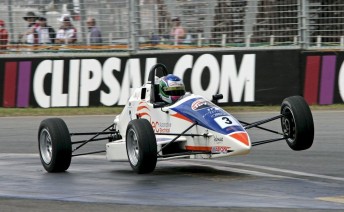 I was lucky I had a good driver who gave good feedback, we ran 4 or sometimes 5 cars out of our team and I learned a lot from the guys around me that year. I was number 1 (crew member) on a race car and a part time truck driver, they were great little cars to learn on because they all ran the same engine so set up had to be spot on to get the most out of them. We also ran a Ferrari in the Maranello cup series, we were leading the series when we  crashed the car pretty heavily during testing a week out from the next event, we had to buy our parts from the UK importer who also ran 2 cars in the class, they pretty much dragged their feet getting the parts to us and we only had 2 days to get it all together! Thornton (car owner/driver) ask'd if we could get it done in time, so I said we would try and jokingly told him that if we got it done he owed me a lend of his road going  F 355 for the weekend. We cleaned up the event and the series, so back at the shop a couple of weeks later he came in, threw me the keys and told me,"smile for the speed cameras!"
By now I was pretty much hooked and thought I better have ago at driving, there was a scholarship series running in the winter where the winner of the 4 round series got a paid drive in the main game, So with a borrowed car, borrowed suit, borrowed van and trailer I entered. With a lot of luck and a tiny bit of talent I was leading the points after 3 rounds, all I had to do was finish in front of 2nd in the points to take it, in the last race I was running 3rd or 4th and comfortably ahead of my rival when I went for a move that with hindsight was never on, banged wheels and ended up in the gravel and DNFed!  So my career as a driver was fun, but short lived! Over the next couple of years I moved around different teams learning new tricks, Fred Goddard racing, West Surrey Racing and a few others, car building, set up, tyre technology etc.
After living out of a suitcase for all that time I headed home. Back in NZ, I bumped into a guy who wanted me to give him a hand with his sons Formula Ford,that son was a guy named Fabian Coulthard  who is now V8supercar driver. It turned out that it was Daynom Templemans ex car and we got top rookie that year I think. Fabian went on to win the championship the following year.
It was around this time Team Kiwi racing started up and I came on board as their first full time employee, mechanic and fabricator, we went to Bathurst and had a ball. Aside from the v8supercar we also built 2 primeras for NZ, they were 2 litre cars, one for Jason Richards(current v8 super car driver) and Angus Fogg( former NZV8 champion), we came 1st and 2nd I think in the championship, By now I was getting over all the bullshit that goes along with being payed to do the job as it had turned into "a job" so I decided that I would no longer work for pay but for enjoyment only.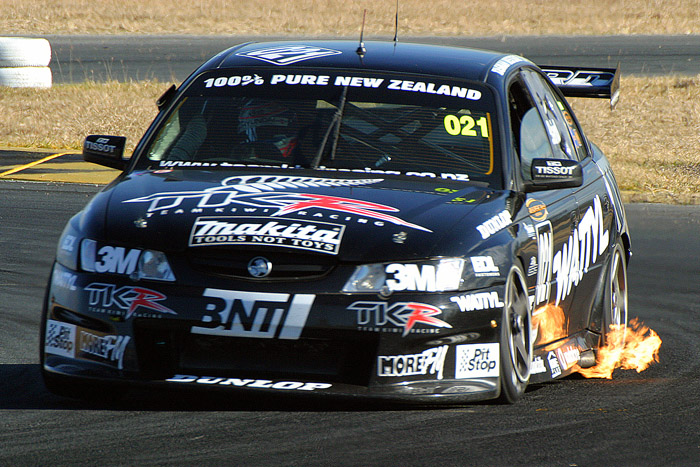 I also did some stuff with Simon Richards, & Nick Ross (both current NZV8 drivers).I did 4 seasons with Nick in the NZV8's, this was fun trying to get those old taxi's to handle, I was also having fun messing with the rules, stretching them to the limit of interpretation! There have been a few rules re- written because of this!
I had a small shop out west where I first met JT Wharerau, I did some work on his k-style car which lead into building an rx7 for him, my first impressions of drifting before seeing it were less than flattering! That was until I had my first ride at Pukekohe, in my opinion there is as much, if not more skill involved in drifting than circuit racing and lets face it, it's way more exciting! That lead me to doing a little steering mod for some guy called Mike Whiddett on his 20b bat, he asked me to head out to the track to lend a hand and I have been lending a hand ever since!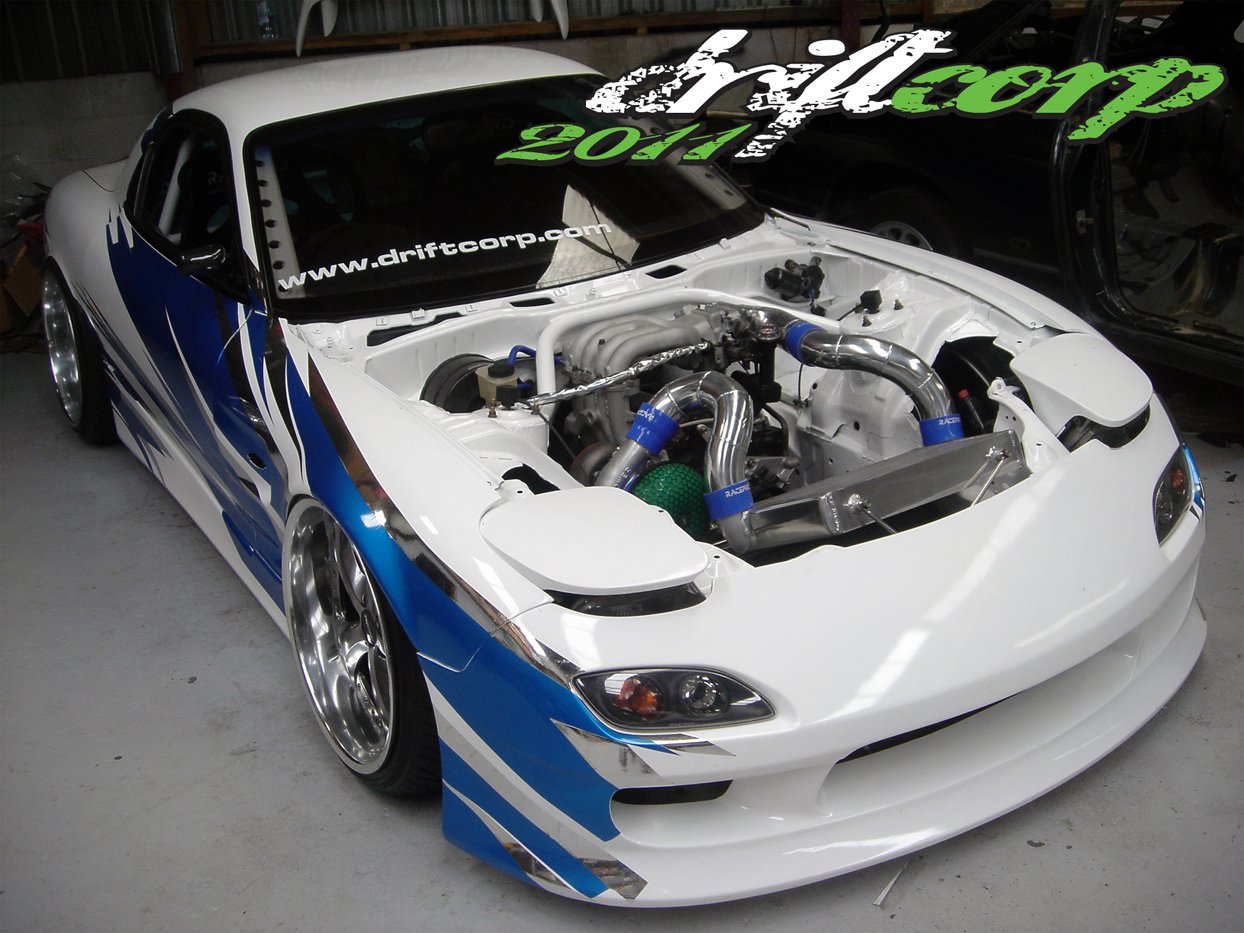 I have had a crack at most things , building cars, driving cars,(I suck at drifting), crew chief,  judging, even drivers committee spokesman! And have enjoyed it all. The people involved in drifting are a breath of fresh air, competitive on the track but friendly and helpful off it, where as circuit racing its all secret squirrel , smoke and mirrors, at swift I had to sign a contract stating that I would not associate with other teams!
I have helped a few people over the years, bit of fab work, set up  and enjoy seeing somebody improve from my involvement,  it's mostly just little things, but I built a cage in Daynom Templemans first RX7 drifter, did set up for Kat Benson, Will cook, Jodie Verhulst   and have even had to drill spark plugs out of a head for Gaz Whiter while it was still on the motor at the track!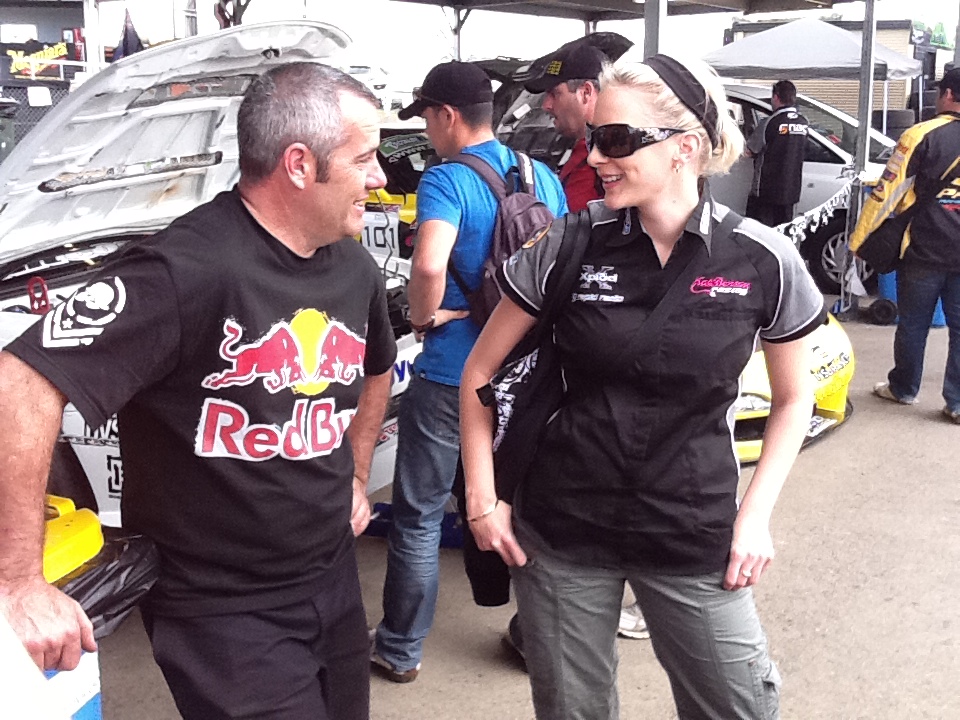 Away from motorsport is my wife and 2 kids, possibly the most understanding family around! Who by default are involed in motorsport as well, I mean who else would agree to change our wedding date at the last minuite because it clashed with a v8 round! I try to get my KTM out when ever I can, nothing serious, just trail riding and maybe the odd hare scramble,I am to old and fat for anything more serious than that!
I guess that's about it, 20 years in 2 mins! Now…what was your question again?? oh yeah….being a crew chief….
The role of crew chief is pretty diversified in a small team such as ours. On a big team in other forms of motorsport the role is pretty straight forward, you make decisions and appoint the appropriate crew member to take on the task at hand, but in our case it's more like being a jack of all trades. I can be found covered in crap, head down in the engine bay trying to fix a small miss, or crawling around on the floor covered in diff oil trying to replace a diff,  basically if a job needs doing and the guys are busy I will do it.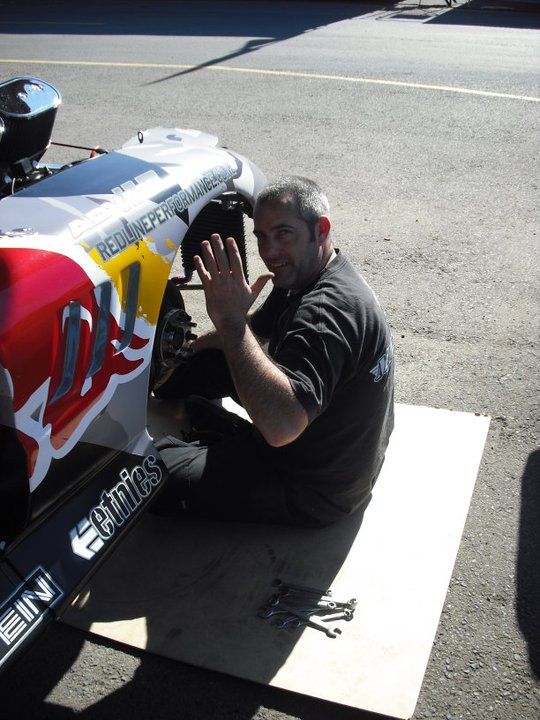 Aside from mechanical jobs, I go to driver briefings, spend time yapping on the radio with Mike, harass the stewards (sorry Dan) and annoy the judges (not so sorry Sam G!).
I consider our team lucky that Toni (Mikes Fiance) is so involved, she spots for us (watches all the drivers runs and takes notes, offering advice)  and takes care of the hundreds of other things that need doing behind the scenes,  as well as doing her best to keep us in line!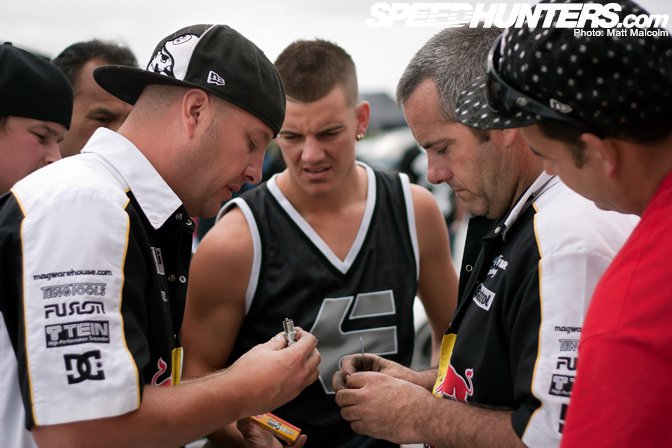 Being highly competitive, I hate losing with a passion so I am hard on myself when things don't go as they should in the pit.  To be a crew chief you must be able to put the cock ups and wrong decisions to one side, and get on with getting the car back out. It doesn't matter if it's crash damage or chassis changes, a 5 min between emergency battle repair or in between sessions.
To give you an example, when the collector came off MADBUL at WTAC mid battle, we had 5 mins to turn the car around. There were a lot chiefs and not enough Indians until somebody yelled "everybody f?&k up and listen to Cromey!". I told Toni that I was off radio, got the car in, air into the airjacks, car up with axle stands under it, dove under the car and tried to line up 4 header pipes into the collector while they were literally red hot! While I was under the car, I was literally yelling for tools, I was yelling at beau yates crew when I heard " we've got 30 seconds, drop the car!"  followed by some colourful words and my own brand of sign language, thankfully I managed not to get squashed by a 1100kg car,  and get mike back out with 10 seconds to spare.  I have to say a massive thanks to Benny, Al and Advan Teammate Jake Jones boys for the help.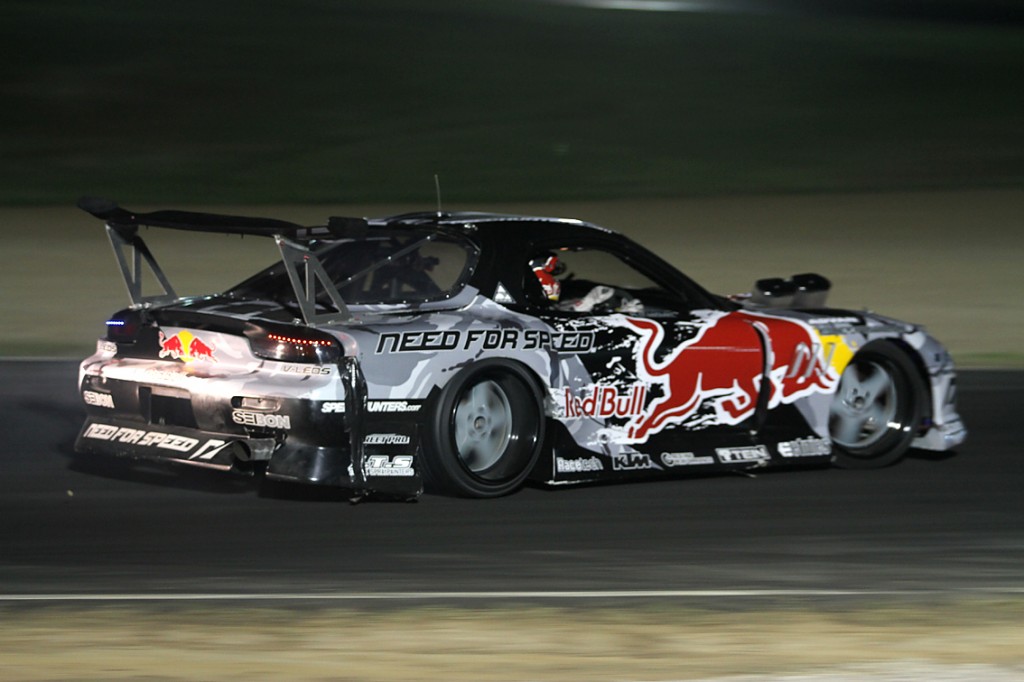 I am a terrible worrier, I'm always thinking have I checked the bonnet pins, tyre pressures, brakes bled, wheels torqued, fuel cap on, because every time Mike takes the car out, he pushes it to the absolute limit in the knowledge that I have said"the car's all good". That responsibility weighs pretty heavy on my mind, as without wanting to sound mellow dramatic, he is actually trusting me with his life every time he takes the car out.
Another example for you, when we were in oz the car was flaming pretty spectaculary, yeah it looks cool for the crowd but I was pretty close to pulling the pin. A part of me was actually kind of relieved when we lost to Beau Yates, that may sound bad but I could justify the decision if it came to it, that's another element to a crew chiefs job, making the hard choices, and driver safety has to come first.
I look after chassis set up of the cars and this is always a battle for me as some of our team members (Mikey!) want the car slammed in the weeds where as I want function over form! There has been some positive spinoffs to come from it for me knowledge wise, as I have had to make the chassis work while working within the 2.5mm ride height!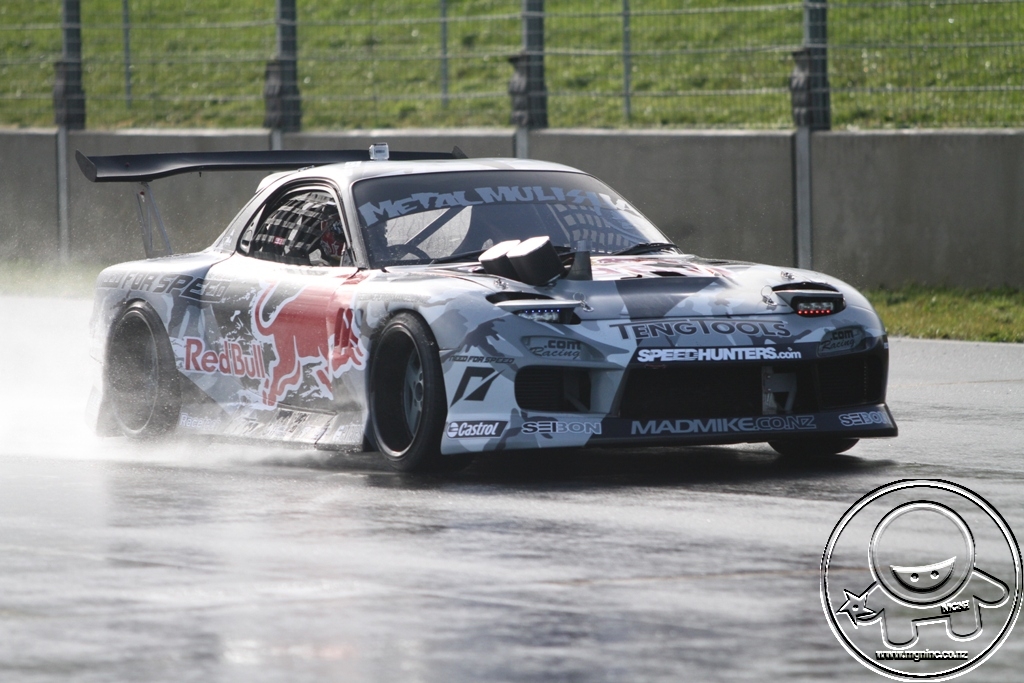 Stratagy is also part of the job, I will discuss with Mike the up coming opponent and offer some suggestions as to the best way to tackle them, we look at things like are entering slower than us, are they likely to push too hard and crash into us etc.
At the Redbull champs in Longbeach, we had a poor qualifying session due  to some dramas and ended up having to battle the Third placed qualifier, over there you have another practice session after qualifying so everybody tries to practice with their  upcoming opponent. The guy we were up against had a mean line but was a little slower than us, so I told Mike to go a little slower than normal on the run up and through the section in practice. Then when battles came along Mike went in at his usual speed and our opponent was caught out with the change of pace, so pushed harder to compensate and ended up making a little mistake on entry which threw his whole run out, giving us a advantage and ultimately the win,
So I guess being  a crew chief is a lot of doing a bit of everything, from teaboy to mechanic ,  strategist to tyre changer, it's not glamorous but it is hugely rewarding………when I get it right!!
Ps, just in case anyone was wondering….Cromey comes from being harassed by Dale Lambert about having grey hair, to which I replied, "its not grey, its chrome highlights!"
Cheers
Cromey