Events
Published on September 28th, 2012 | by mrgrumpyninja
1
NAC Drift Nationals- A window to the season
Now in its 3rd year, the NAC Drift Nationals returns to Hampton Downs on the 7th October. For many teams this is the first chance to competition test the off season changes made, and perhaps more importantly to get a look at what others have been up to and what works and what doesn't. It's difficult to tell who will bring form into the event as some do a lot more driving than others over the winter months, and with the national title race starting in 3 weeks, there is perhaps a thought that some perhaps hold back a tad so as to not show all their cards.
This years event is promising a top 32 format,  although I would suspect that traditional gremlins might appear for a few drivers and would expect the top qualifying  drivers to get a by round to the top 16 battles. Judging in itself will be interesting as it will be by different people to those most are used to which will also take some learning.
The field is very open for 2012 with a mix of veteran D1NZ drivers and up and coming Pro-Ams, through to those who are rarely or have not been seen in competition at all. That alone will make for an interesting mix as the likes of Mad Mike approach turn 1 at 150-160khm, some 40k an hour faster than many of the newer drivers.
Taking a look at the field and the obvious #1 seed will be Mad Mike Whiddett. Last years event winner and pipped at the post for the D1NZ title , Whiddett does a lot of laps around Hampton Downs and will be looking to continue his winning form from the world power slide champs. Speculation over which car will take part forms part of the mystery with the Rx-8 as yet unproven in its re-built guise, while the 7 is a known animal yet supposedly the harder to drive of his 2 weapons.  Personally, I think he could enter his van and probably still hold his own.  Whiddett will be very hard to beat if things go his way and will be odds on favourite to #1 qualify given a likely large and vocal crowd who love the screaming rotor.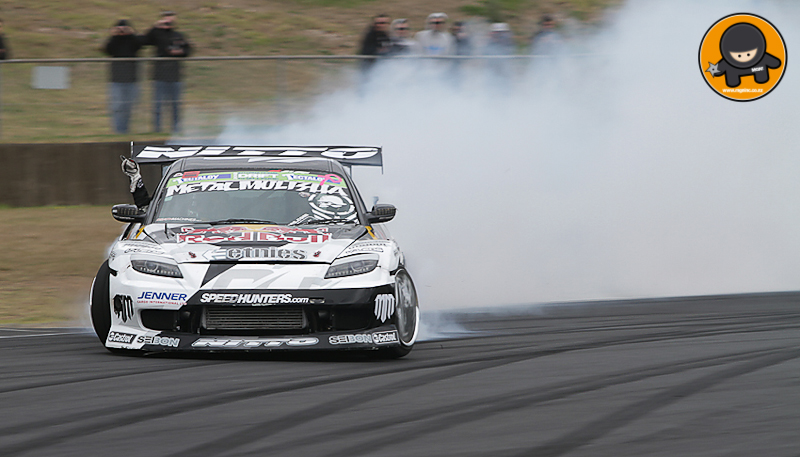 #2 seed for me is Nico Reid, a top 4 last year at this event and strong end of season form give me confidence that this could potentially be a breakthrough win for Nico and the SSS/HnF team. Talking with the team, there is a strong desire for a focused effort this season, and wanting to be seen as a team that is  a threat each and every event.  Rumours were that Nico was even hitting the gym in a quest to be ready for the season.  Never afraid of a chase door to door, the question will perhaps come in the form of how well Neekz can chase a slower car that will be contra to his natural aggression.
#3 on experience and results will be Daynom Templeman.  Daynom is more than capable of the fastest entry speeds but doesn't have the best luck.  With Achillies now on board, he will be confident in the car and will be a real threat if things go his way. If it rains expect Slim to really shine and I'd place money on him winning.  Expected to be running the 20b car that has been used for FD Asia in a brand new graphics scheme.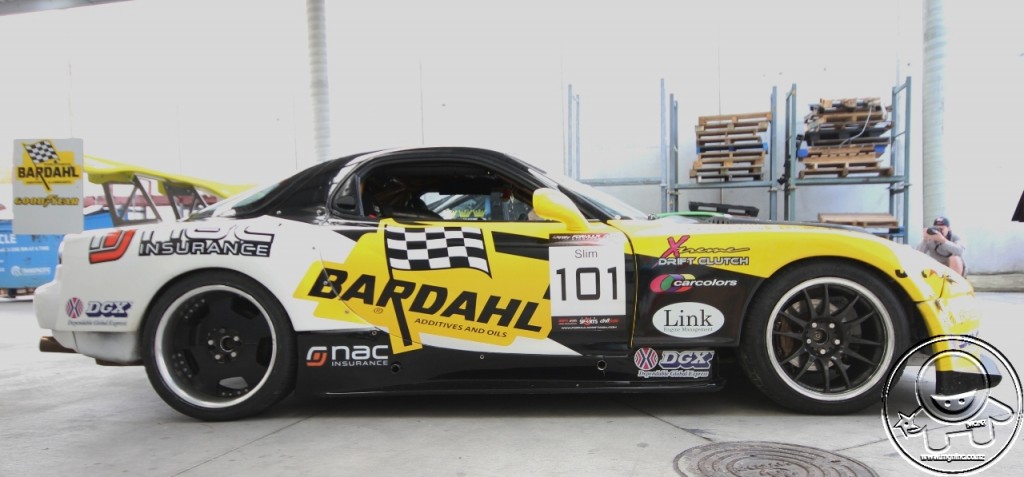 #4 in my eyes will be Cam Vernon in the Skinny SSR machine. Its a tough call to make a to insert last years Pro-AM champ ahead of a few others, but he has a lot of laps on board around Hampton and power to burn.  My honest view is that he has yet to be tested repeatedly in battle, so this will be a good gauge of how the laid back Vernon reacts depending whom he comes up against.  With the right draw, Vernon could be a dark horse to possibly win the event.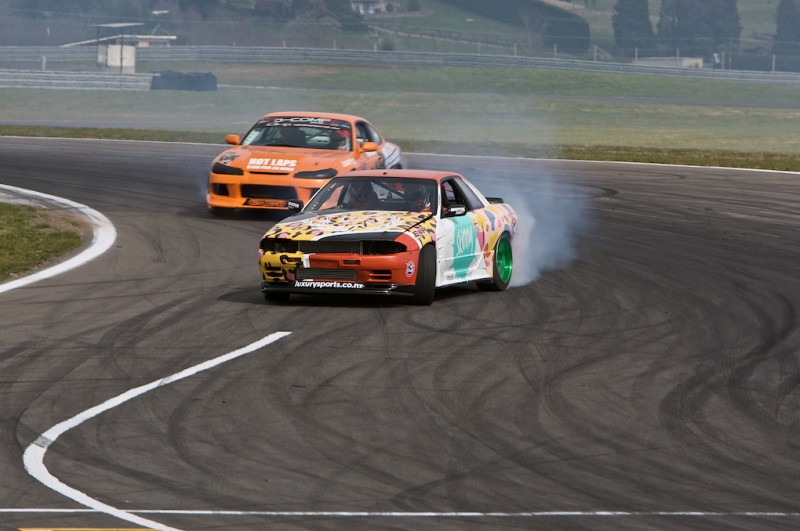 Those are my pics for the top 4, but there will be a number of others more than capable of making the final.
Bruce Tannock has one of the best engineered and presented cars in NZ, and has shown in the past the ability to qualify highly. Tannock hasn't had the best luck battling and has appeared to struggle in particular chasing slower cars, but if he can dial back a little then he will be right there at the end.  Off season drive line changes will give the big man from the Tron confidence.  Will easily win the drivers sledging battle in the pits.
Robee Nelson will be looking to improve on a best result of 6th in D1NZ.  Young, Fearless and always keen to show off  for the ladies, Robee will want to show what his revised car package fresh out of Tony Whiter Automotive  is capable of.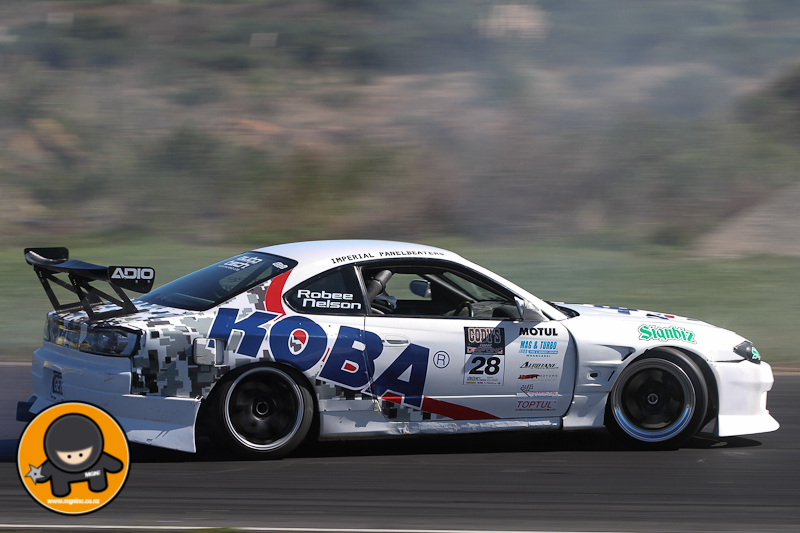 Shane Allen will enter the event on a wave of publicity following the high profile signing of Shane Van Gisbergen to be part of the Rattla team.  Reports are that the Falcon is brutally fast, and Shane is still coming to grips with the car every time he drives it. There will be very little in the field that can stick with the car in a straight line, and it will fill the corners with smoke making chasing the car very difficult. (Car is shown before re-design for new sponsors). Curt Whittaker said this car switches faster than anything he's ever driven, which makes it a real handful.
Drew Donovan- Shown in pic with Cam Vernon above , Doni D is another with lots of laps at Hampton. Has the ability to do well, and a lot will depend on how the draw falls.
Jodie Verhulst- Now with the backing of Gull, Jodie is capable of solid qualifying runs, however self admits needing to improve on battle technique. Hard to see her going further that top 16 on that basis with the track layout rewarding chase aggression up and over the hills.  Will at least win the best looking driver prize.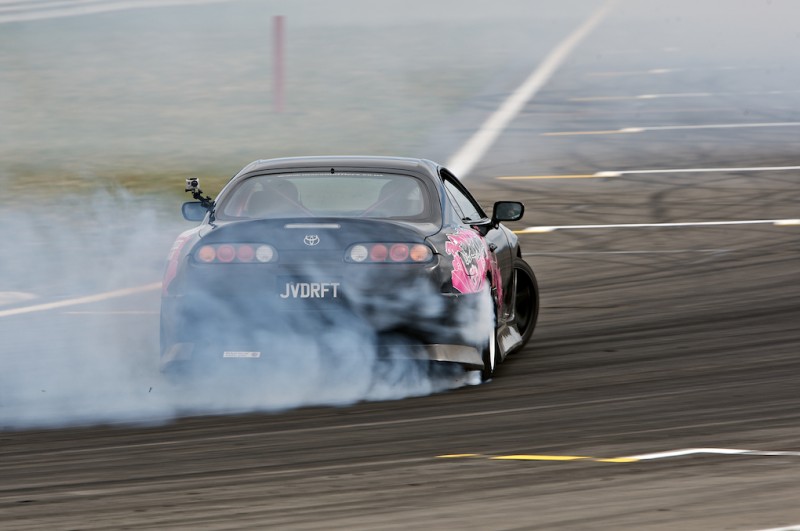 Ben Belcher- Car hasn't been sighted for a while and I don't know much about Ben, last seen at super show.
Ricky Lee- Debuting new look and rebuilt car, no image shown for that reason.  Emerging Pro-Am who is building strong profile, but will need to step up a lot to threaten the top echelon. Good experience to be gained but likely top 16 at best.
Eddie Hayman-  The pornoflage TTT Cefiro will make one of its limited appearances for the season, with Eddie focusing on crewing for Nico Reid in D1NZ.  Step up from Pro-am will prove a challenge if hes not on his game.
Sky Zhao-  The 570z will make its competition debut at the event, and for that reason I see him going top 8 at best. Its fast and its smokey, but Sky likely won't have the comfort factor that is needed to win those tight battles just yet. Has in past struggled with the qualifying line at Hampton but this car is a much better package and if I am wrong could be a real threat.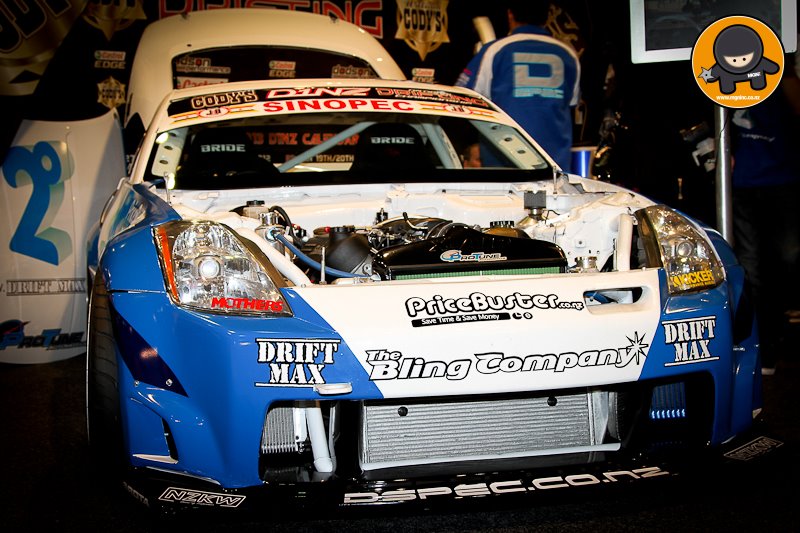 Kyle Jackways- The manchild returns after a long absence and time spent on the judging platform. Will be debuting a brand new car and that always provides challenges, not to mention the fact he fell 40ft out of the sky and broke his legs in a moto-x accident recently.
Hugo Mclean- Current cover car of NZPC.  New 20b engine package and yet to be tested as far as I know. Hugo has the potential to do well, but has always seemed to have gremlins at events (or large rocks hit his car).  If the package works, could be a real dark horse.
Shane Poulton- Probably the best engineered car in NZ currently. Steps up from pro-am and on that basis will be tested by having tough battle after battle and coming up against car and driver combinations that are capable of matching 513kw . That being said, if the draw goes his way could find himself in a battle for a podium.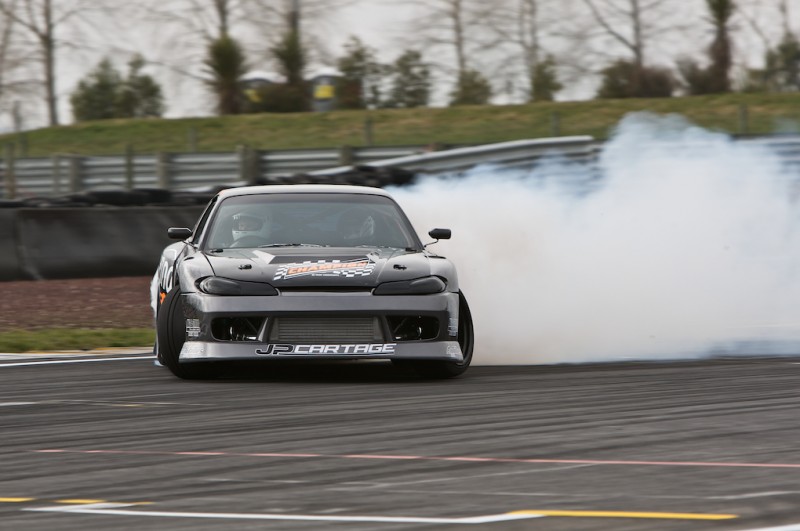 Jon Udy- Returns from being away from the sport for a fair while. Udy has a great racing pedigree and will fly the Holden flag for this event. When last seen the Monaro was 700hp+ and Udy has spent a fair bit of time recentlywith Victor Chapman doing tandem donuts in the big ben utes so won't suffer any rust.
Geoff Muggeridge- Not well known to me, other that I am lead to believe he won the Power cruise drifting. Powder blue s4 Rx-7
Zak Pole-  Zak was identified by Justin Rood as being someone with strong talent who will develop into a very good drifter. Only did a limited number of events due to car being built but showed ability and has been graduated to Pro class.  I see him as being this years Darren Benjamin who could well surprise at a number of events. R33 packs a decent punch and will push any opponent hard.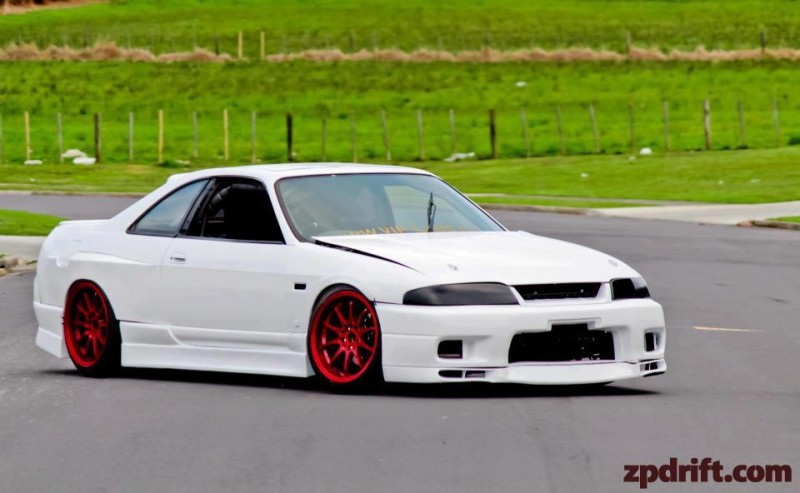 Troy Jenkins-  Made a limited number of a appearances last season, but made a good go of final battle with Cam Vernon. S15 has undergone upgrades to free up a bit more power.
Carl Thompson- I'll be honest, I know nothing at all about this entrant.
Joe Kukutai- a graduate of the DMNZ program, Kukutai has rebuilt his skyline in the off season and will be looking to get valuable experience from the event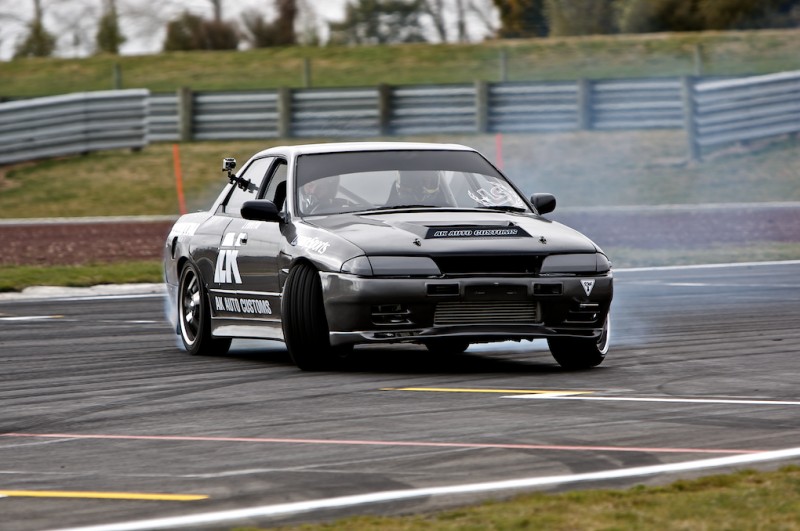 Justin Hambly- probably just wants to beat Eddie Hayman if they end up battling. Owes a box from last round.
To be confirmed
Brad Lauder- Car having major work done at Shred
Andrew Redward
Rene Richmond
Not Competing 
Gaz Whiter-  other commitments
Curt Whittaker- Car not ready following World Time Attack
Fanga Dan- Car not ready following World Time Attack
Darren Benjamin- Selected events only this season
Mac Kwok- Car not yet ready
Matt Jackson- Car not ready
Jason Sellers- other commitments
*Post intended for discussion only, no offence is meant by any statement….don't like it? write your own article
*