Events
Published on November 11th, 2012 | by mrgrumpyninja
0
Just hangin at DMNZ.
These days, I look forward to any meet I can go to  where I can just relax, wander around with Anna and generally talk sh1t  with people. DMNZ have built a good name for hosting stress free days, and every now and then a handful of the top drivers will show looking for more testing time and this can create some pretty spectacular sessions when the pressure of competition is off.
Before we go any further, I'd like to thank Jodie and Sarah from DMNZ who let Anna help them out, waive the flags and make a mess of all of their paper work. Guess she really is going to turn into  a mini me.
Here are  a few images captured at Hampton downs that we quite liked.
Gaza T was out in the Black on Black C33, with a solid RB30 heart, brofessional garage black paint and Work rolling stock, TOUGH doesn't even begin to describe this slider.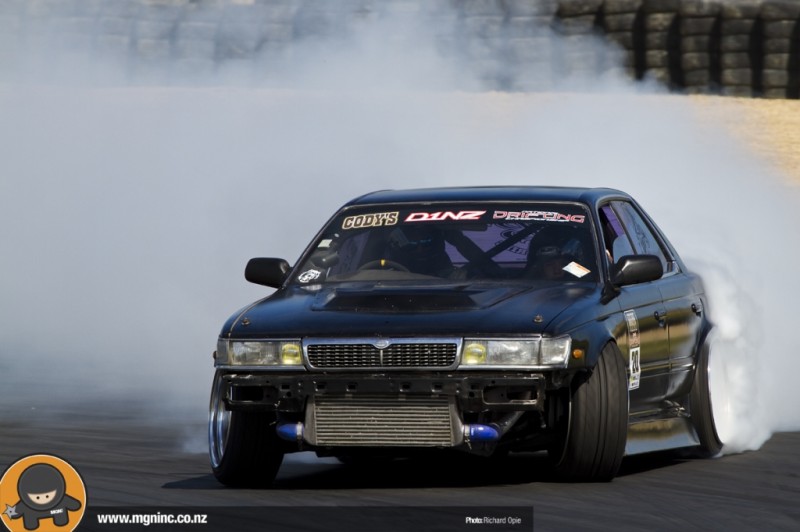 Chinese Pro drifter Jerry Zhu built this fruit dripping monster which is destined for offshore competition duties. Sounded like the gearbox was less than happy, but the high pitched scream as the car was powered up and over the hill wasn't that dis-similar to  another offshore comp car we often see
Pro- Am competitor Troy Jenkins was out looking for more seat time to get his setup dialed, engaging internet legends and creators of the 555 Knuckle C's Garage to give him direction and feedback on the car which has seen a bit of off season development.  Troy went out in the top 16 at Manfield and is looking for much stronger results at Whangarei.
Cole Armstrong looked to be enjoying himself and was as usual wide open and smokey up and over the hill. Cole has been out of action while his car was in China bar his stint in the Hi Tec R33 in Australia, so was taking advantage of the chance to grab more time behind the wheel in what is probably one of the stronger showings of 'pro' cars at a practice day.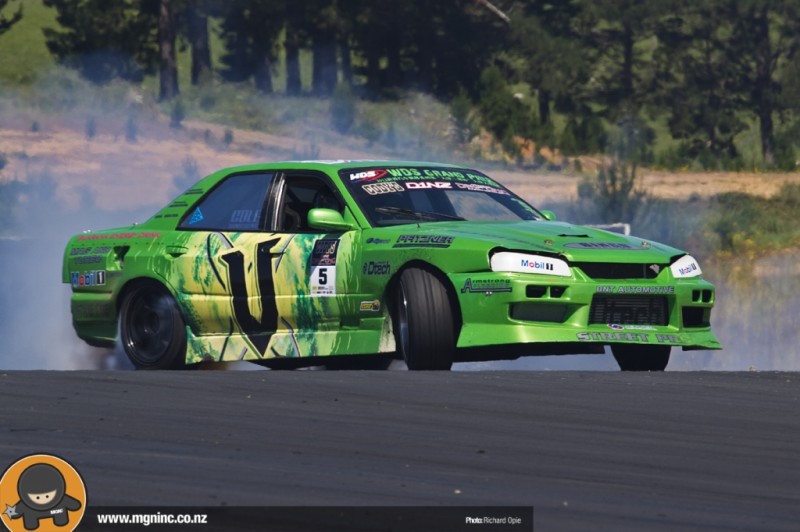 Gaz Whiter bought the new S14 down from the North and was testing Tein spring rates and a revised diff ratio. Looking like he again has confidence in his car, I suspect that Whangarei might see something special from a guy who hates losing, especially in front of his mates.  It confused me why so many people thought this was the old car with a new engine. This is a brand new chassis and engine combo, although it has been set up very close to the old one geometry wise.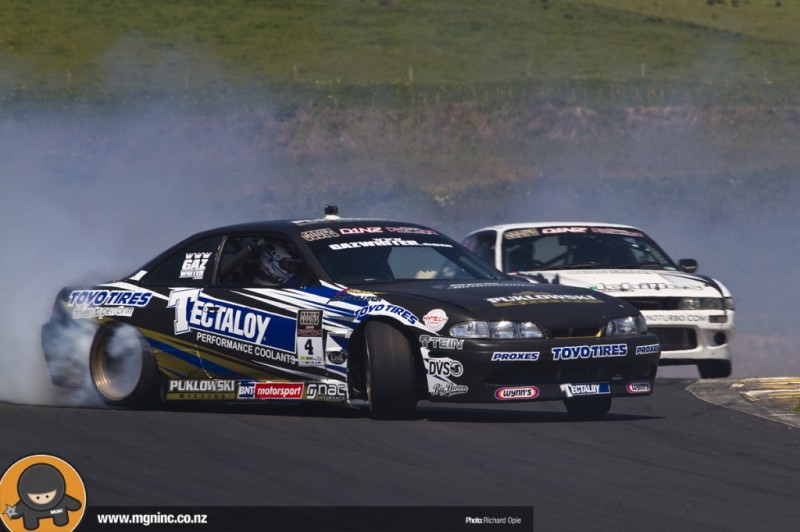 Drew Donovan does a good job trying to manage running the events and doing laps, and had the services of Ian "Cromey" Sheppard for the day as they worked on the revised front end setup of the Mag & Turbo TGA/ Elf sponsored S15.   Looked to get stronger as they found a setup that worked as the day went on, and we know Cromey has a trick or 3 up his sleeve.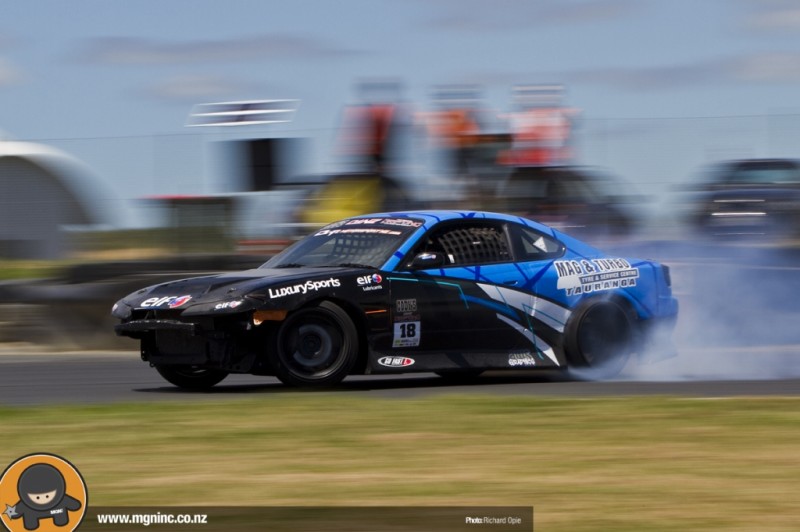 Carl Ruiterman looks to be comfortable again behind the wheel of the now GT Radials S14. The car went to China for the WDS meaning Carl hadn't seen it for several months prior to round 1, so it will take him some time to find the "oneness" with the car again that he formerly had. Will be expecting to be a threat at Whangarei for round 2 of D1NZ.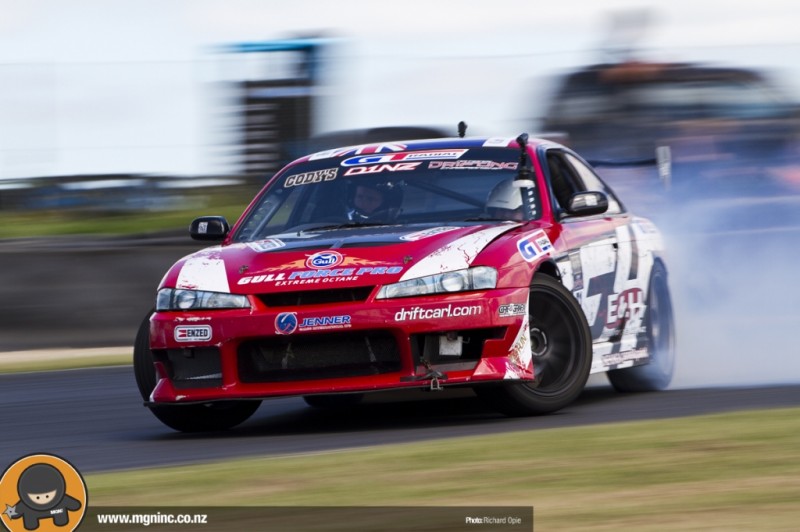 Just another shot of the rear end squatting in the Tectaloy S14, while it tore Toyos finest to bits.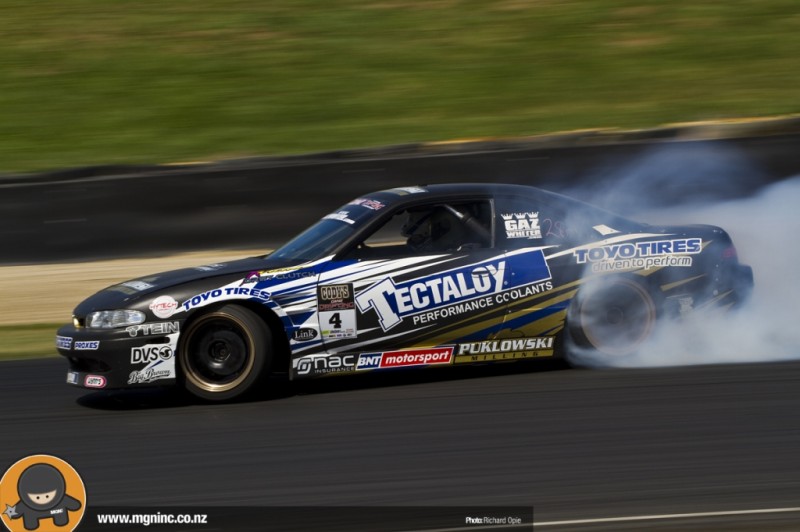 Kyle Jackways had issues with a lack of smoke and speed at Round 1 and was trying to work out why. Jackways is one of the good guys of D1, so hopefully can find an answer.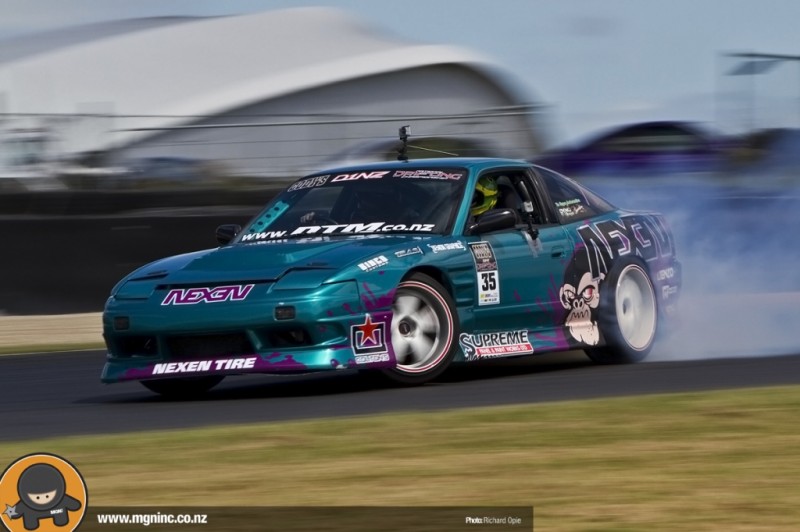 And now to the highlight of the day…. a 6 car train with Gaz, Cole, Carl, Bruce, Gaza and Kyle trading places over a number of laps. Bought a smile to the face of everyone present.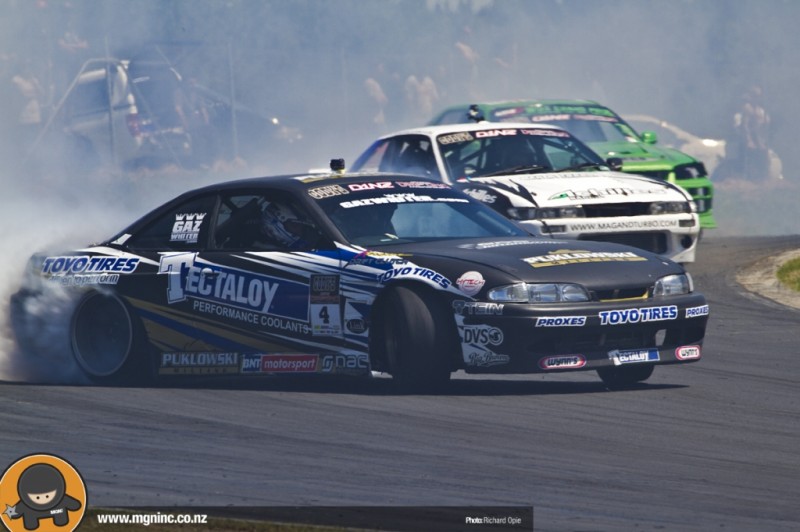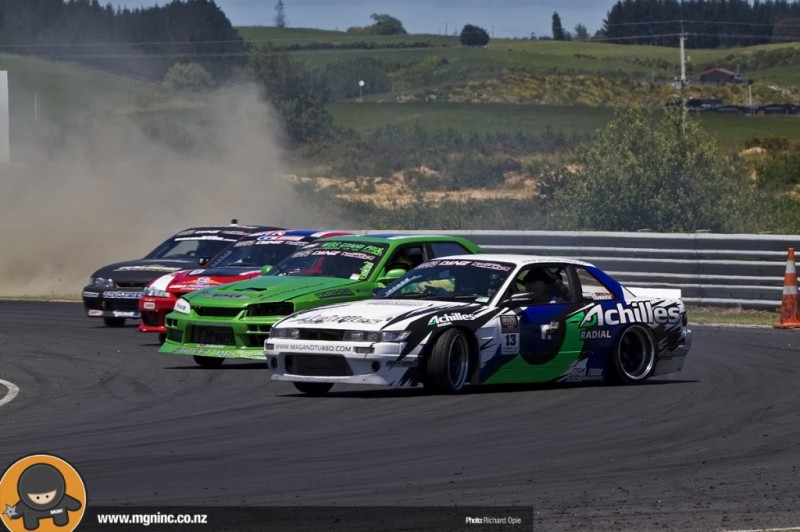 More images will be uploaded to the MGN Facebook page over the next few days