12 Rounds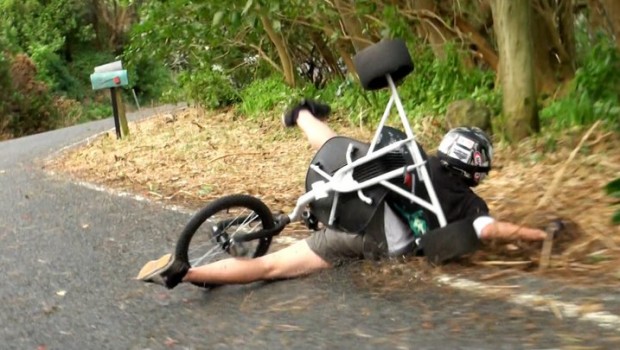 Published on August 31st, 2011 | by mrgrumpyninja
4
Insomnia, drift trikes and films on a budget…..its the SBPnz way!!
One of my favorite discoveries of the past 12 months have been the films created by a bunch of crazy young dudes from the far North.  I remember coming home from work last year, a day or 2 after the NZ Drift nats, looking on the internet and thinking F**K how the hell did that guy make that so fast?
Since that time the boys have gone on to become fairly legendary at least in their own short lifetimes, with constant quality content from just about every drift event going.
They also work for beer, which in my books is a massive bonus.
A major release will be happening very soon with the NAC backed Team NZ at TIDC doco to be hitting screens soon….but in the mean time….here's a little insight into just who SBPnz are…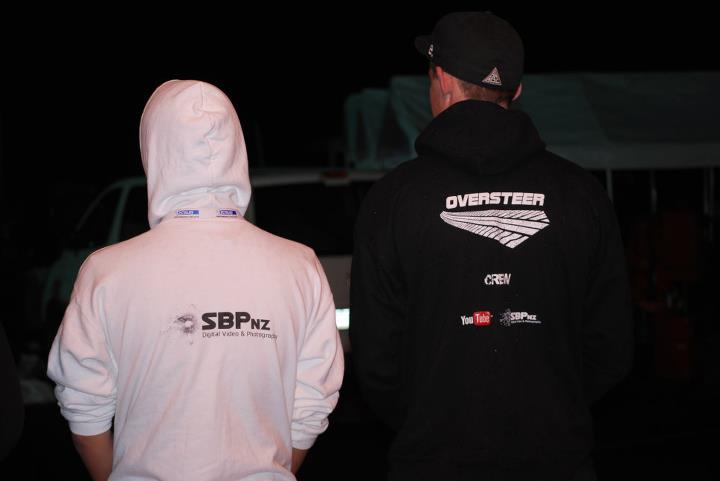 Right, lets start at the beginning, who is/are SBPnz?
SBPnz, Silver Bullet Productions was a something I(Kenny) put together out of my room.. it started back when I was 12 or 13,  it was originally called Kenny Studios, and made stop motion films with lego and a webcam.
As time progressed I pretty much taught myself about computers, filming and editing. Eventually I stole mum and dads new dvd handy cam and started filming some of the events we attended, the V8s at pukekohe and airshows to name a few.
By High school I had met a bunch of GC's who were into the same stuff, eventually I'd changed the name to the SBP and bring the guys onboard, a bunch of wannabe photographers and keen filmers and guys who just wanted to stand around or light some dodgy looking homemade explosives for us. From then on we would progress to what SBPnz is now..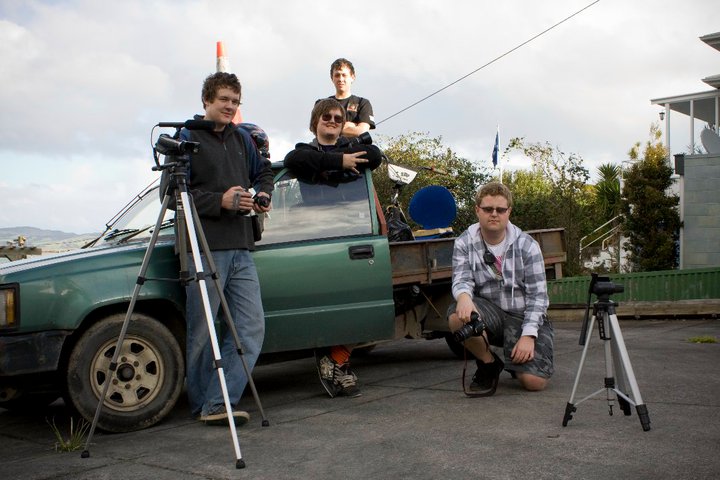 Who does what within SBP?
There are so many people who I call part of SBP, a lot of people have chipped in their time and effort on all sorts of projects over the years and we can't thank them enough for being there for us and jumping on the band wagon, I'd like to name them all but I'll have to settle for the core guys who put up with my poor planning every D-day..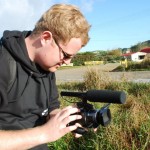 James aka Yetti, is our comms man, manager, photographer and a top camera man. He does alot of things really, keeps us in check and in the loop with some pretty fancy communications gear and gets crew to places on time via thrashing the vtec. His police scanners come in handy too…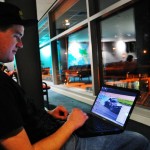 Braden aka Caveman is one of my good camera men, often running around chasing cars with our gopros and onboard cameras, he got a good work out running from the judged section at Eastern Creek back to pitlane during World Time Attack thats for sure! Not a bad actor either in a few of our films..
Kevin is another one of our top camera guys. Hanging out of car windows, running from illegal fireworks, hes caught some good action over the years. His commodore ute provides some decent entertainment and extra transport duties, especially all those drift trike guys.

Matthew Markby is our top photographer, I really rate the quality of work he produces despite having a rather basic equipment, but thats the sbp philosophy, we're as budget as they come. His photos are always fantastic even on his "bad days" and is a real asset to the team. I'll flick him an email, he'll attend an event and bring back the goods.

There's so many other guys and support crew, Carlin from the old days, Tal Easton, Jared Ross Andrews, James Cheng, and of course Hayden Sterling whos taken on the rookie role this year and has been learning the ins and outs of sbp already producing some good work.

Finaly theres me (Kenny) , Bossman & Head director, and the only video editor on the team. I run / build the websites and try to keep everything in order and generally dont get much sleep.
How long have you been making short films for?
I made my first 'real' short film for the Whangarei boys high school film comp when it was first introduced in 08? I was 14 or 15, I won against 4 or 5 other entries. So I guess 2008 was when the short film side of things started.
Do you have any formal training?
None. None of us have. Apart from Level 3 photography (when we weren't trying to drift the computer chairs or bunking to get kfc) we've all taught ourselves and each other.
Working as a group is great, everyone has different skill sets, and we share ideas and learn from each others mistakes.
Myself and James managed to get into Level 3 Media Studies across the road at girls high but the theory was all pretty basic common sense stuff to us, when it came to producing video I'd end up having to sort out issues with everyone's computers or telling their tech guy who looked like a life version of Sideshow Bob to install some basic video editing software (they didn't even have windows movie maker..)
Basically years of trial and error got me to where I am now.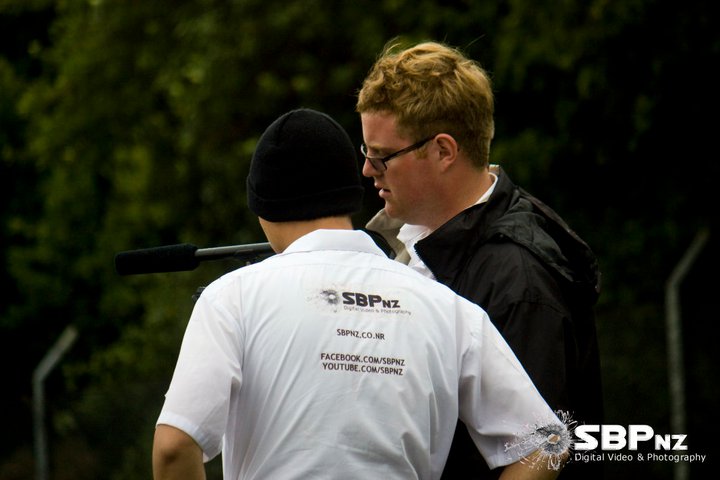 You won a couple of awards for films?
Yes, first going back to back taking out the WBHS school film comp 2 years in a row, before going on to win 1st place at the Whangarei Film Society awards for our media studies documentary on Drift Trikes.
We then won 3 awards as a finalist in the Waikato Institute Of Technology (Wintec) National Secondary Schools Short Film Competition in 2010, Best Film runner up and Best sound design (Making mad mikes car sound just as good on video requires a bit of finesse..
)
We haven't thought about entering any further competitions yet, perhaps next year we'll get the larger sbp team together and have a go at somthing like the V48 hour film contest or somthing like that.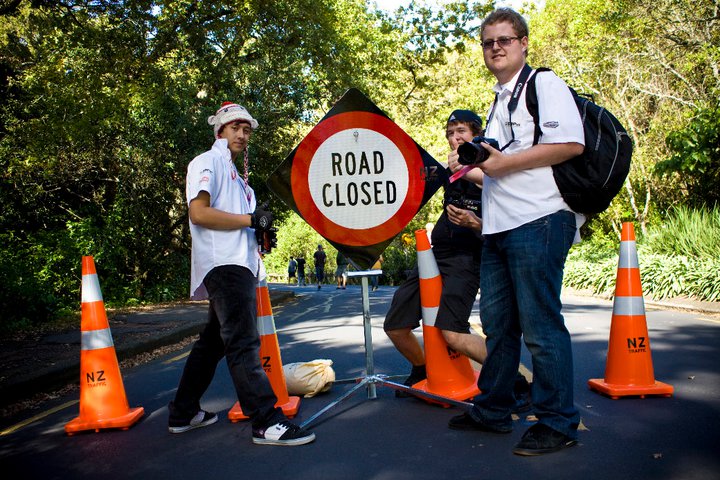 How do you turn around your films so quickly? everyone else seems to take weeks?
Haha.. I get asked this A LOT! In the words of Fanga "Does he like.. not sleep!?" Short answer is yes. I have a terrible often non-existent sleeping pattern.
Long answer is, I've quickly learned the Adobe Premiere CS5 platform and love working with it. I can edit quite quickly and actively analyze what clip goes where, its like I have gigs of RAM stuck in my brain.
I guess I can only describe it as somthing that comes naturally to me, it just works and flows off my finger tips and I'm quite proud of it.
Alot of people take weeks if not months to produce what I can do in 48 hours – 24 if  I dont have to wait for processing and dealing with raw HD video. We only moved to HD this year and it's doubled our editing and processing times.
Sometimes I need to slow down and take a little more time on things but I soon realise it often isnt my editing but my own camera work that lets me down. Sometimes the quality I'm after from the cameras just isn't there, but thats all I've got to work with on our non-existent budget and just one single camera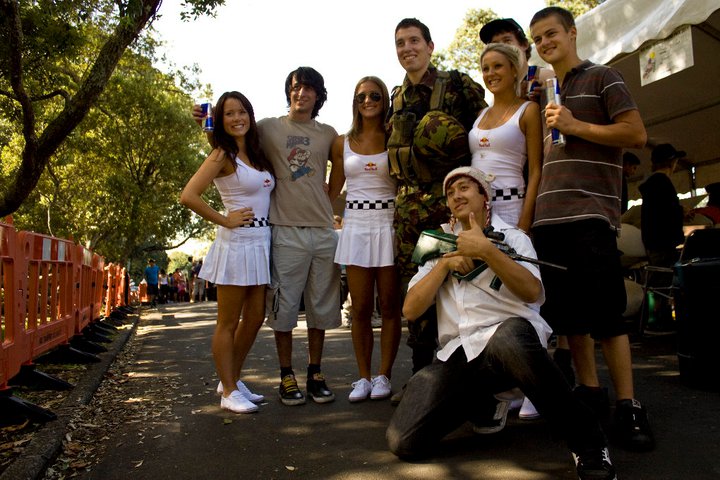 Outside of films, you guys are into drift trikes? tell me about that?
We LOVE drift trikes. At first glance it might look stupid but once you have a go or jump in for a ride on our 2 seater you'll see why we love this sport. Its pretty much the budget version of drifting but with a higher chance of killing yourself..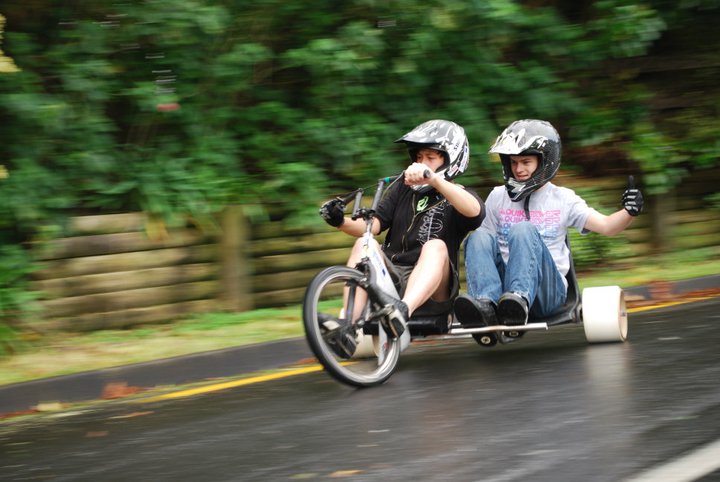 We pretty much started the whole drift trike scene up here in Northland, skipping school exams to cruise the ghetto streets for some old bike frames, Kev doing some half ass crispy welds in the SBP workshop and generaly putting these things together with whatever we could find.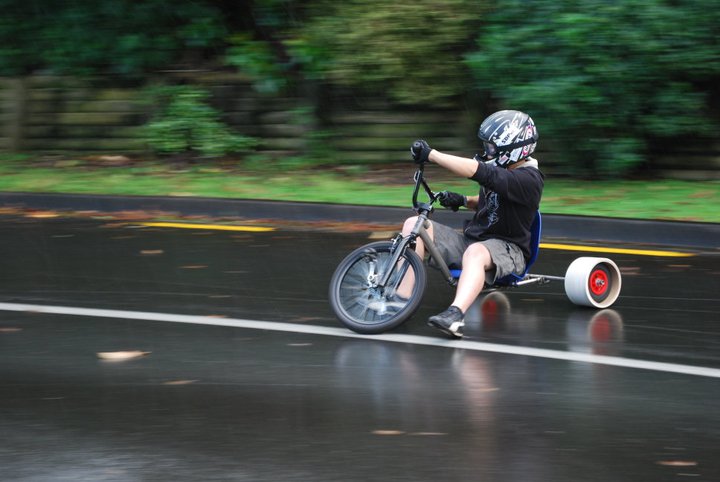 About a year and half down the track we got sick of crashing and joined the NZ forums sharing tips and tricks and got ourselves into the wider scene. Now its developing into a full on extreme sport which is fantastic, I qualified and finished 7th at Round 2 of the Demon Energy Champs which technicaly makes me the best rider in northland at the moment (BRAGGING RIGHTS!)  5 SBPnz 'sponsored' riders qualified for the Demony Energy World Champs in November, including our cameraman Braden, so its back to the workshop for a few mods and rep the Drift Trikes Whangarei crew!
You did the Redbull trolley GP to?
Oh yes, our 15 minutes of fame. Featured on tv3 twice, kinda like seeing your mates on Police 10-7.  Basically we saw the tv ad for it and just had to be part of it. Of course we didn't give a shit about winning, we wanted to drift somthing! (we also assumed the judges points would actually be in favour of this but unfortunately that didn't eventuate)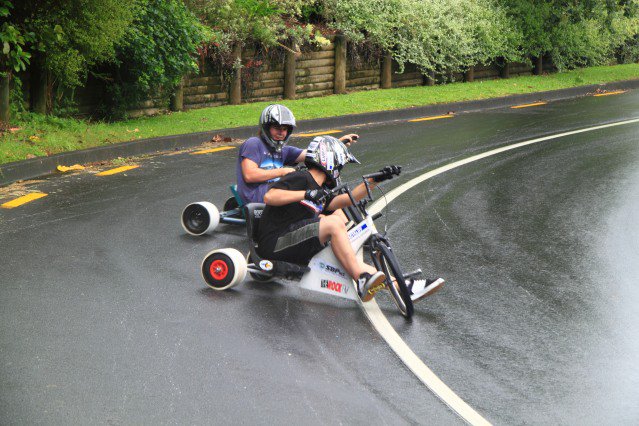 We fabricated a steel frame army tank, plastic armour held together with driftspec ties which sat ontop of a modified drift trike frame. Hand break installed, and we were good to go!  Mad mike gave us the approval as well as Munter from Outrageous fortune, I think we put on a decent show for the crowd. Im sure DVS are happy with my advertising for them during the crash… definatley a load of fun! (Looking at you Gaz Whiter….hook us up some Ts!!)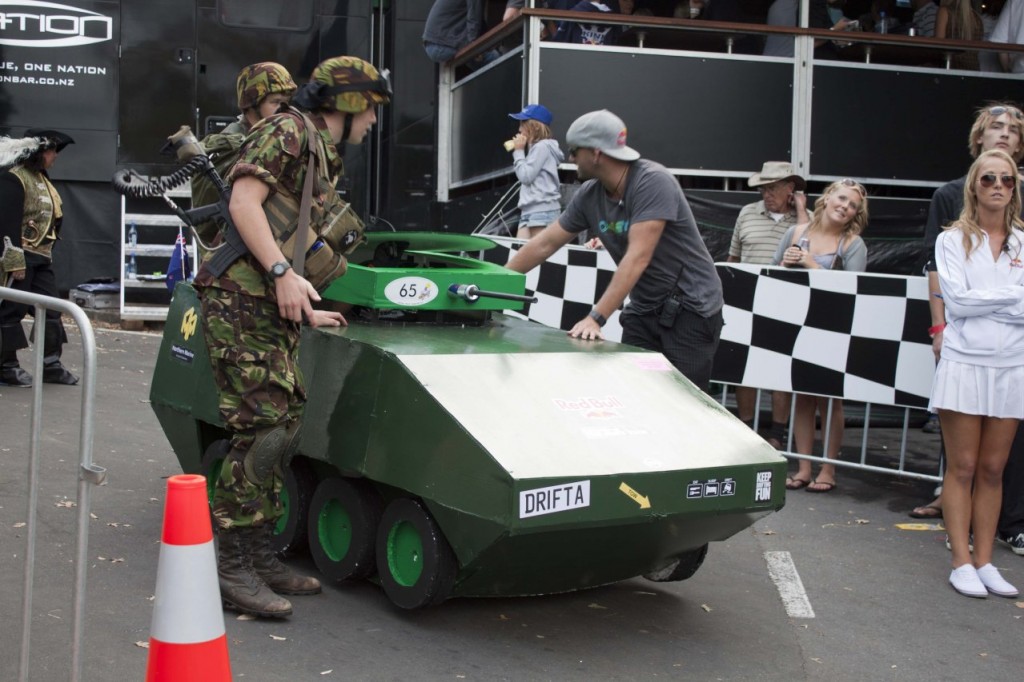 Whats next in SBPs quest for world domination.
Ideally we would like to rob a bank and get away with it but that isn't going to happen…
We didn't even think we would be doing all the things weve done so far this year – essentialy for myself this has been a gap year though I have no interest what so ever in university.
Instead the gap year has turned into some pretty awesome opportunities for myself and the team and we have to keep building on it.
Money is the big issue right now, at the moment we are pretty much a non profit outfit. As much as I'd like to take on quite a few jobs for people I dont have a 24/7 work vehicle or a spare set of camera kit for insurance.
The money coming in at the moment is enough to get by and cruise along but it isn't enough to take us where we want to go. Parents will kick my ass out soon so ideally I'll have to figure out where I want to take this and make it happen.
We also have the problem where weve filmed track action since 06/07 and its sort of gotten to the point where we want to have a go, paddock bashers don't cut it and the lsd in dads ute isn't going to hold up any longer I'm sure.. Watch this space I guess..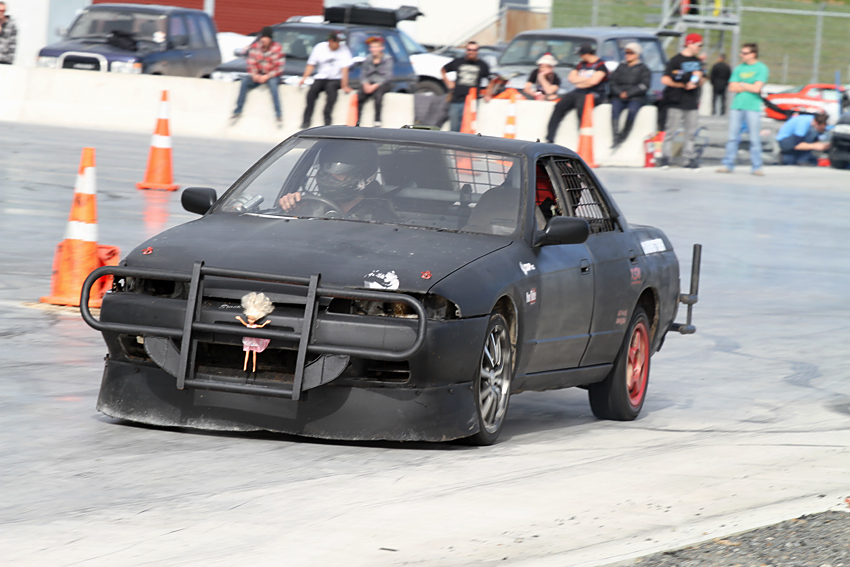 Finally, your Top 10 moments as filmed by SBPnz..
10 Buying the first KFC Double Downs in Whangarei
9 James thrashing the Vtec at a stunning 90kmph
8 V rocket man at the nats!
7 Airforce 757 flying "vertically"
6 Mad Mike's Rx7 screaming its tits off with No Exhaust in Aussie
5 Crashing my drift trike and the guys thinking I broke my neck
4 Fanga Vs Gaz rerun, D1NZ Mt Smart
3 Our first interview with Gaz Whiter and not having the mic turned on
2 Pulling our mate John away from a homemade bomb after one of our wannabe film stunts went wrong..
1 Crashing in the Redbull Trolley GP and loosing a shoe on national tv
Thanks Kenny,
Lets close with a few random images of your choice