Sideways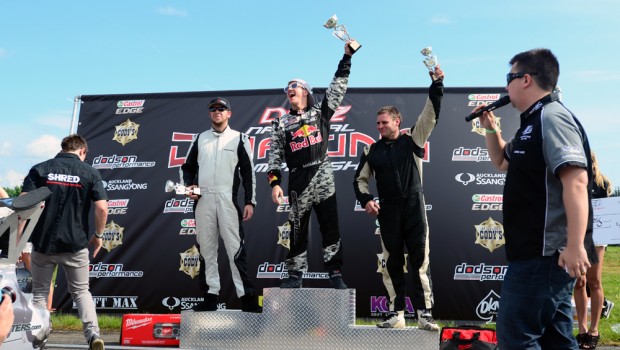 Published on November 18th, 2011 | by mrgrumpyninja
3
D1NZ- Round 2 Pukekohe preview
After the massive interest in the SBPnz boys latest vid, I thought I might as well take a quick look at the upcoming Pukekohe round taking place on the 25th & 26th of November.
Here's a quick look at the track, and some of the contenders.
Points situation covered here LINK
Photos again care of Roo "stayclassy" Wills.
This is a rough and ready map of the track that I ripped off the net and before we go any further, I thought I'd have 2006 D1nz champ and perennial Pukekohe threat Fanga Dan Woolhouse talk you through the section .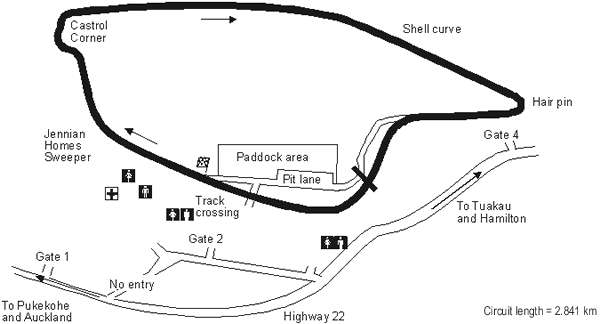 Fanga says -

" Pukekohe starts when you come up the hill and over the Mountain, as I do this I make sure I am comfortable and  my tires are warm, last thing you want at Puke is a lack of grip, I also give the brakes a quick pump to check them.

I like to start off on the inside of the track and accelerate hard from under the bridge (track crossing in the image)  in 4th gear and change up into 5th gear, then as I pass pit exit veer across the track towards this little gate on the grandstand side and I weight transfer the car with the hammer down, this is the hold on and hope moment. If you get it right then you're good, but if you're off or slow then you're in trouble and the armco isn't far away. (With the weight of my car it slides out in the sweeper corner wider than a silvia would). I try and wind on heaps of lock to slow the car down round the sweeper and about half way round the corner start thinking switching at about 150-160k and at around 130k(top of 3rd)  I'm sliding through through the esses… if I have it right on line, then I just line up the clipping points and power through, if I'm a bit off then I use a bit of handbrake to adjust, ( In battles when your chasing a slow car through the esses it can require a heap of handbrake to maintain angle) ,then I line up that last apex and hammer it out of Castrol and I'm done.  Switch over in a battle and go again!

Gaz Whiter chimed in here and said "if you're a metre late on entry you're f**ked pretty much, and the faster you want to go, the earlier you have to enter"  .
While he said this laughing, I'm sure part of that is natural drifter attitude towards the thought of a close to 200kmh slide onto the very uneven grass surface and a possible heavy impact and role, as seen in the SBPnz video
Some technical debate then ensued about Silvia vs Commy and how the Silvia is set up to hug the inside of the sweeper where as the big cars naturally drift out to a middle and outer track line. There was also a bit of talk of a "bump" in the track that actually sends the cars airborne and skipping over the surface.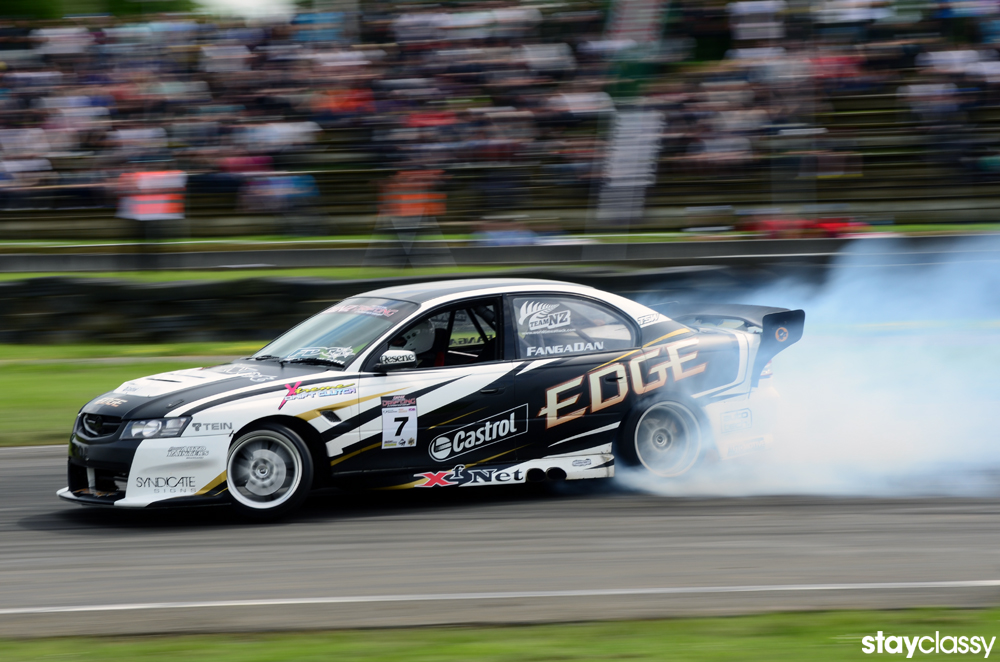 So now that we've done a lap with Fanga Dan, and trust me when I say it is a lot f**ken scarier in real life (even the drivers don't like getting in each others cars at Puke) We should take a look at the field, which I think numbers over 60 across D1NZ Pro and Pro-Am.
Heading the field on points, and always a strong qualifier at Pukekohe is the Mad One in the Redbull Rx7.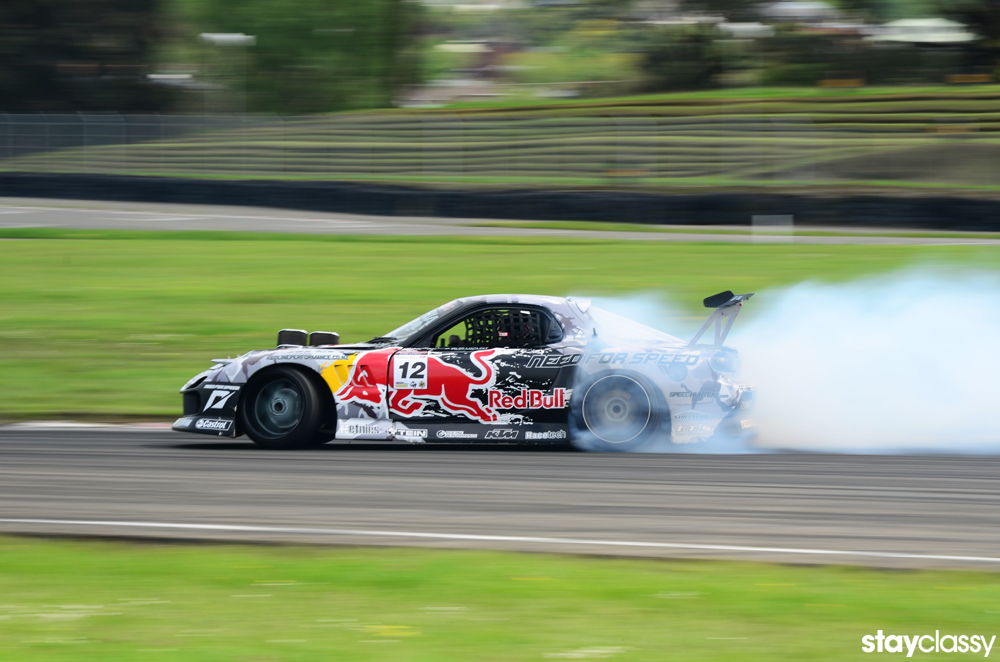 Mikey proved at Manfield that he is a man on a mission this season and with a car that appears to be able to dance on a throttle string, and some of the wildest entries at Pukekohe I have ever seen, I expect him to qualify well and be around in the final battles .
Finalist at Manfield and someone who knows all about the demons of the Pukekohe sweeper, Andrew Redward is another who has traditionally gone well in qualifying and made the later rounds in the south of Auckland. Redward seems to have dialled back the wildman streak 0.5% this year and I expect that he to will feature at the sharp end.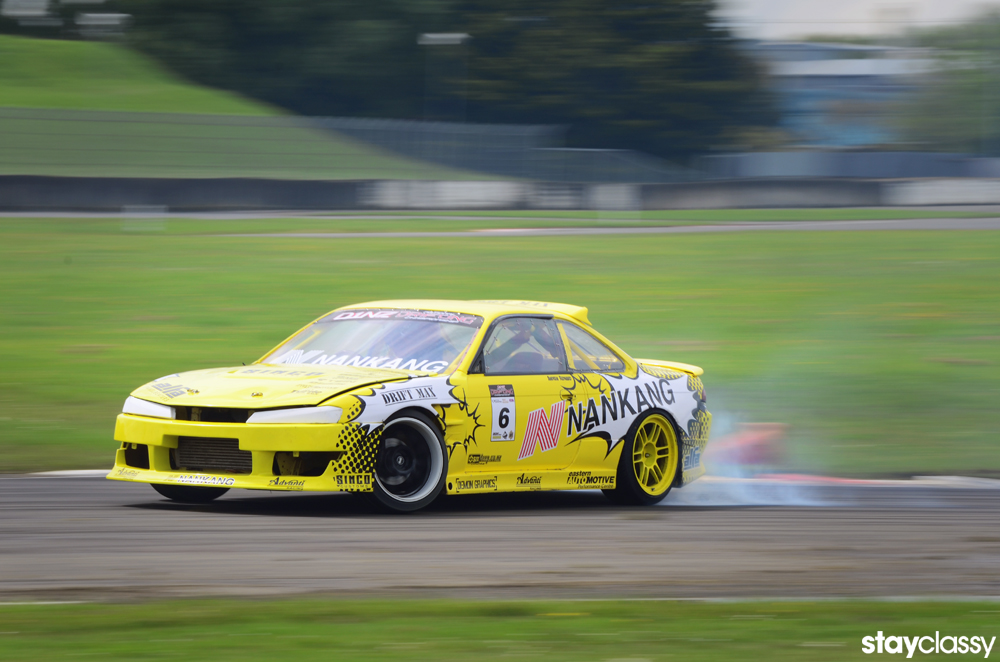 Fanga Dan we already talked about and I don't think there are many more glorious sounds than hearing that big V8 load up and fire into the sweeper, expect Fanga Dan on the door of his rival on section entry and applying plenty of pressure in every battle
The King is on notice that his throne is under attack this season, and it would be fair to say Gaz Whiter has been placed on warning. This seasons fight will be like no other with machinery up another notch, and a start to the season that shocked many, it will be an angry Whiter, a man whom is noted as hating to lose who shows up for round 2.  Whiter has a good record at the venue,  knows the track well and will want to grab back valuable points.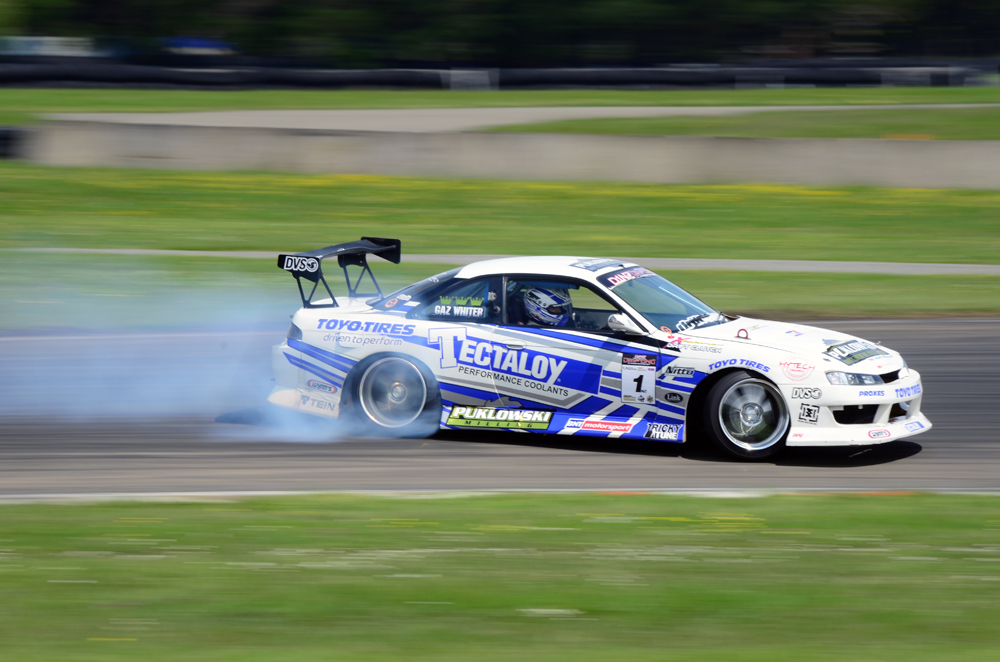 Another whom I expect should go well is Jason Sellers, that 2jZ C33 again had gremlins and Sellers surely is due for some luck. Having had to go to war in a 200kw car with a sweeper entry speed of 130kmh last year, Jase will be wanting to show what he can do in front of a big local crowd.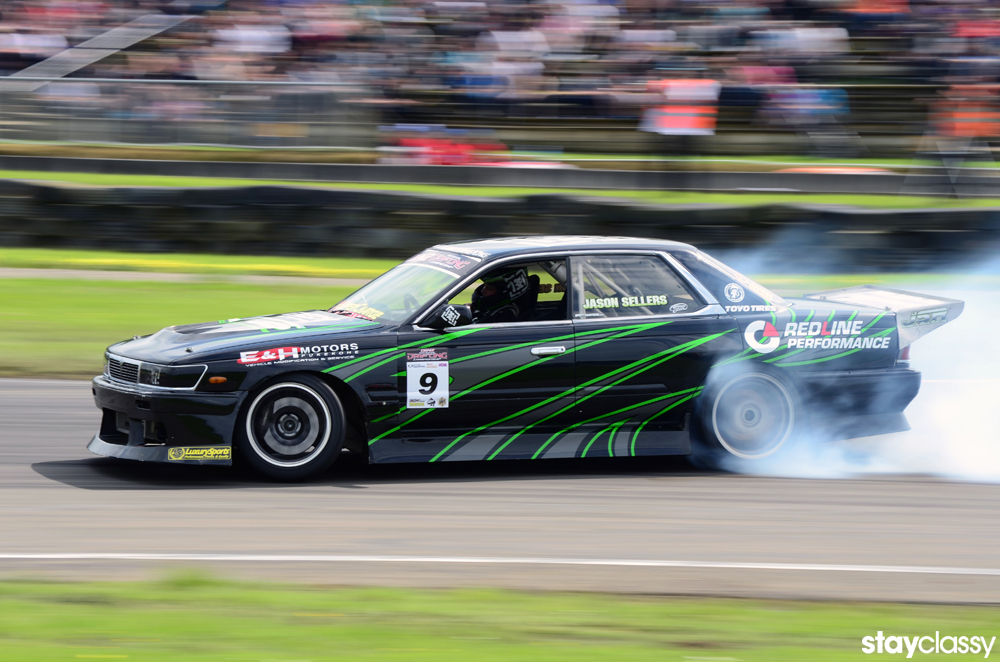 Cole Armstrong proclaimed himself to be "happy as, and the girls love it too" with the new V energy r34 skyline. After taking out the number 1 qualifying spot at round 1and showing he was capable of a 195kmh entry last year, Cole will be wanting to capitalise on a good start to the season. Cole appears to have an even more relaxed air about him this year, and I suspect that should lead to him getting at least 1 round win if not more this year. In past there's been an edge thats lead to over driving in late rounds, and that now seems gone.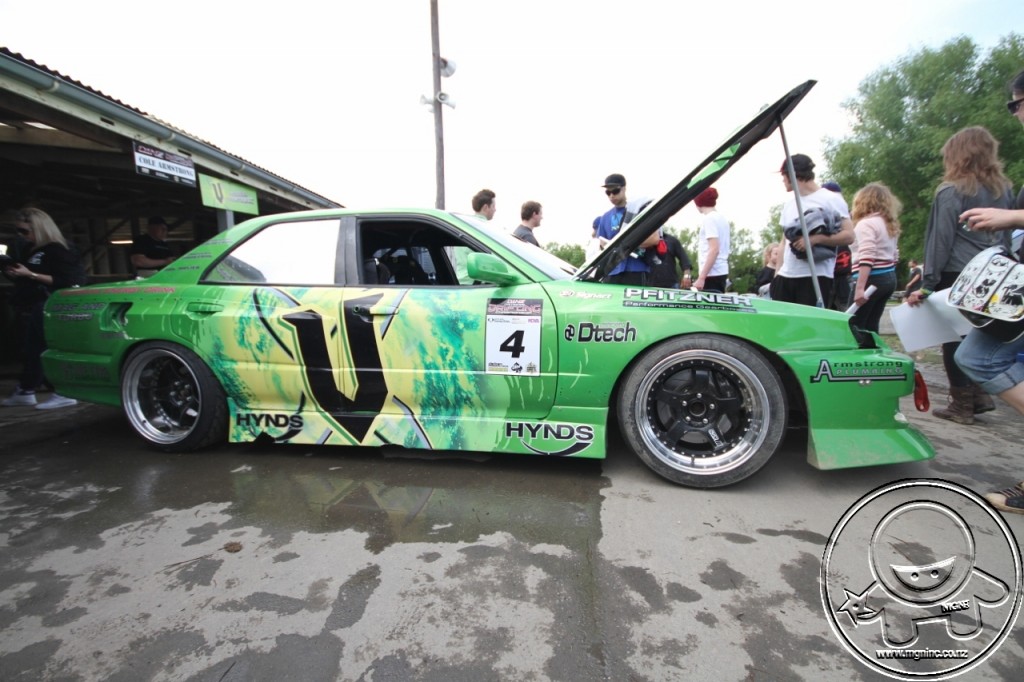 So who else could figure, well the honest truth of the matter is that a whole host of drivers could be in the running and I just don't have the space to feature images of them all.
Daynom Templeman has shown good form at Pukekohe in the past and speed wont phase him.
Bruce Tannock is showing constant improvement and has the car to get to the podium.
Darren Benjamin, Brad Lauder and Mac Kwok all frightened the more established drivers at Manfield.
Niko Reid has the new waka firing and ready to wade into battle, and we all know he won't be afraid to bend the brand new panels.
I think if I was going to throw a real wildcard in, I'd go Dimitri Amos to make the top 4,  He just seems to have something in that crazy car that makes you want to watch him.
For more info- check out D1NZ and get yourself along, at $15 or $50 for VIP you really can't go wrong.
Hope to see you all at Pukekohe…..see if you can guess whose faces will be in this photo next time around