Events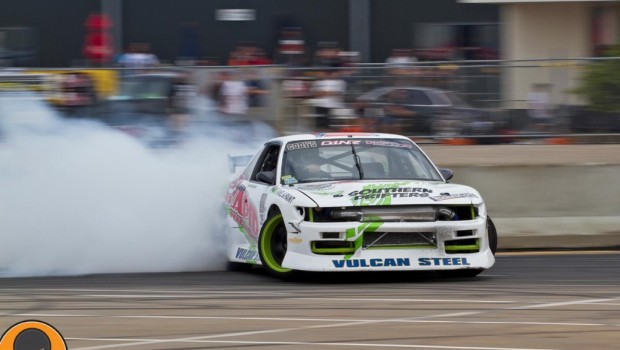 Published on March 25th, 2013 | by mrgrumpyninja
0
Codys D1NZ Round 5-Ruapuna gets EPIK!
For the first time in many years, the Codys D1NZ National Drifting Championship is  headed back to Powerbuilt Tools Raceway at Ruapuna.   There has always been a bit of debate around the fact the South had missed out, and having recently had a number of events cancelled down that way, the word on the street is that the locals are amped to have their OWN event to get rowdy at. Combine that with the fact local star Troy Forsythe has been knocking on the podium door the past couple of rounds, and this is sure to be an intense event with plenty of local passion.  Throw in the fact that the BP triple crown comes to a conclusion and I think we might be in for an event that may even surpass Tauranga?  It's really up to the people of the South to show just how much they want events down there.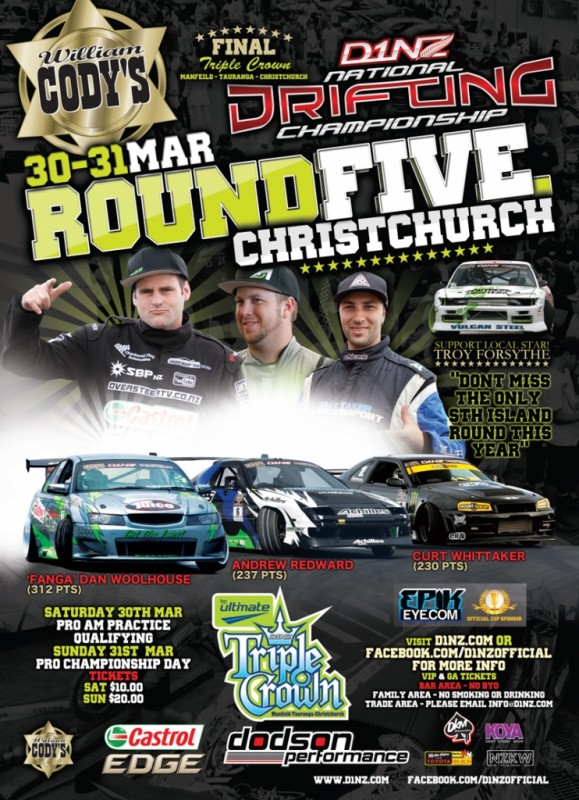 Ruapuna will be very new to many of our drivers, so I went straight to the big guy himself  (Troy Forsythe ) for a bit of an insight into what drivers would face at his home stomping ground, and this is what he said :
"Accelerate out of the hairpin (M closest to top left)  to the top of fourth gear and then feint into the 1st right hander chopping back to third gear and staying hard on the gas, switch left and around the left hander back up to fourth and hard up it again right to the outside of the track to make the next section in one switch, switch right back and into third and go up over the crest which has a violent switch on the top of it and back to fourth,  out wide again to make the section in 1 smooth go back to third for the last left hander.
I got tired even reading that, and I am not facing trying to drive it with another driver hard on my door!
I think it will be a real tough ask for anyone to unseat Troy at home, but there are plenty who will give it a real strong shot. Fanga Dan in the Castrol Edge Commodore knows that Andrew Redward in the Achilles FCV8RX7  has closed right in after Hampton Downs, and with Curt Whittaker, who will want to make amends for his last trip and Mad Mike lurking in the wings, this event is really is going to shape the run to the title.  Don't coun't out Gaz Whiter who has had a horror season or Cody Collis who has done plenty of laps and will be wanting to show what he can do against the best in front of local fans.   Nico Reid will be another who after Hampton Downs has plenty of motivation.
With a number of drivers not making the trip, some South Island wildcards come in and that will throw a real cat amongst the pidgeons with drivers being unfamiliar to the top guns, making upsets a real possibility.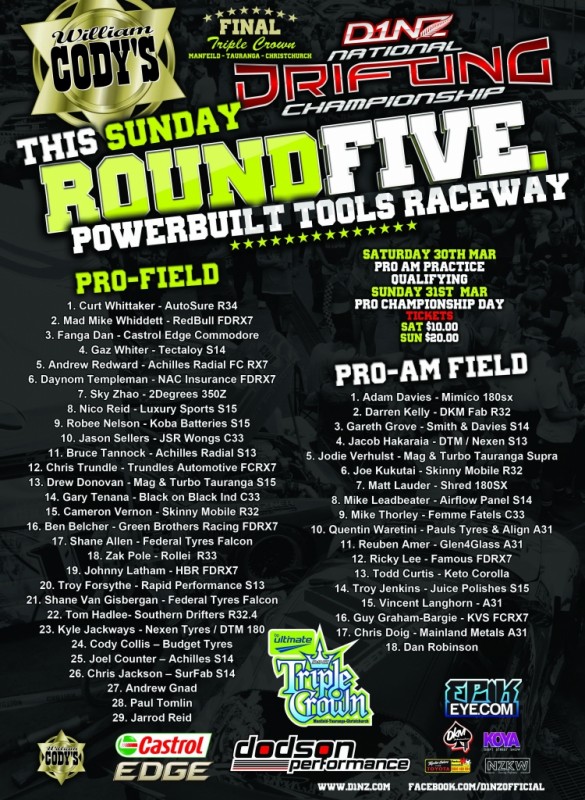 Gates will open at 9am on Saturday and expect to see the local boys going hard to try and win the Pro-Am section of the event before we move into the main game on Sunday, with Qualifying being around 11.30am and battles underway in the pro top 32 kicking off straight after lunch.