12 Rounds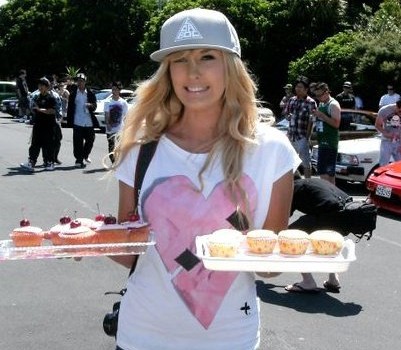 Published on July 10th, 2011 | by mrgrumpyninja
0
Check your fitment yo….it's the Queen of Stance!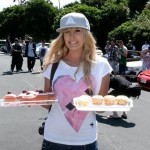 I'm the first to  admit it, I just don't get this "stance" thing.  It's become such a "buzz word" recently, that as much as it's loved, it also seems to have also spawned a number of people who don't like it just on principle alone. So why the hell am I doing an interview with someone who is New Zealand's self proclaimed "queen of stance" I found myself thinking? Well the simple answer quite frankly is that I am not that cool, I am a self professed grumpy old man and just because I don't like something doesn't mean it isn't worth investigating further.
So here's an insight into the world of Taryn Croucher, founder and creator of Iheartstance, and a girl who claims to "dork out"  over stance, fitment, poke, offset and being hellaflush (I think those are the correct terms, refer above re-uncool and old) .
Usual starter for 10, who is Taryn and where are you from?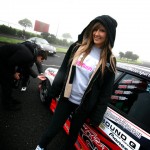 I grew up in Hunua, not sure how many people reading this will know where that is? (South Auckland yo!) I pretty much grew up on a farm! I spent my teenage years living in Whangarei though and eventually moved back down to Auckland 2 years ago. I am 22 years old.
*hoodie photo chosen to support South AK roots
Your blog has attracted quite a few followers, what inspired you to start it? And as I'm learning, stay motivated to keep updating it.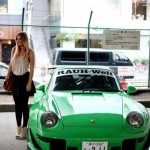 This is a really good question! Most car enthusiasts would tell you a story starting with "When I was a young boy…" or "I've loved cars for as long as I can remember.." but I'm just not one of those people. I know that on my blog I say that "I just woke up one morning and liked cars" but that actually is what happened! Before I met my fiancé I had no interest in anything automotive related whatsoever. Perhaps one day his enthusiasm for it just rubbed off on me – that or maybe he was brainwashing me with subliminal messages in my sleep! He introduced me to a website called Hellaflush and I started checking it everyday for new photos. I soon found myself following several automotive blogs religiously and realised that I actually really enjoyed reading them! At first I was more attracted to the 'style' aspect of it, but as my interest has grown I've become more into what's under the bonnet too. I enjoyed it so much that I started up my own blog and it has grown from there. I didn't realise at the time that I had a point of difference that was actually going to get it noticed, that being that I'm a girl.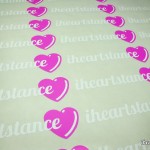 Blogging is an interesting concept because it's something that any person with access to the internet can do, but there really is a sort of invisible and unwritten 'etiquette' for it. If you want your blog to be successful it needs to be interesting, informative and creative; and I always try my hardest to achieve this. My main motivation is my own passion and interest for cars and wheel fitment, it's something that I really love and enjoy and it's cool that blogging has given me the platform to share these interests with other people. The most rewarding part of it is getting feedback from figures that I look up to in the automotive industry and also networking with other enthusiasts around the world. It blows my mind when I blog about a car in America and then the driver adds me on Facebook the next day. Stuff like that is really cool!
Do you prefer writing, or photos?
I've always loved writing but I'm not sure that I'm really a natural writer. I have to be in the right mood for it if that makes sense? I've always loved photography though!
You had a job taking pics of kids when I first met you, you must have dealt with some "special" parents?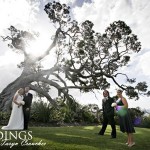 Yes – I used to do a lot of wedding photography and I worked at a children's portrait studio, that was pretty interesting. Don't get me wrong, I love kids but I don't love editing snot off their faces. Cars don't have snotty noses so they are way easier to deal with!
What's it like being the partner of a "celebrity" like PD (NZPC editor Peter Kelly) , his job obviously means sometimes he has to tell people there car's aren't good enough for covers etc?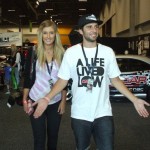 It's really awesome seeing Pedey get to do what he loves as a job, but I think that he often doesn't get enough credit for it as people don't realise how much hard work goes into making the magazine! His role is a 24/7 gig and he works so hard every month to bring the magazine to fruition. It can also be very difficult trying to keep everyone happy and he is always trying his absolute best to do so. I think that a lot of people forget that it isn't about being the best and who is better at what, it's about coming together as a community and sharing our appreciation for what we all love – cars! It is sad to see that some people lose their way and end up on the 'hater' bandwagon.
You often talk about being a "girly girl", similar to the 3ft Blonde Mafia , do you think people treat you different because you are a girl?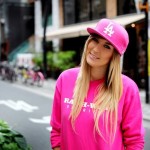 I love being a girl, I think I get away with so much more because of it! People aren't as quick to 'hate' on a girl, which really when you think about it is actually quite stupid. I'm not a tomboy at all though which a lot of people think is the stereotype for 'car girls' and that's not at all true! Since I started my blog I've had the opportunity to meet so many other female enthusiasts which has been really awesome; Christy and the girls from 3ft Blonde Mafia are really sweet and I'm a big fan of Christy's beautiful Silvia. Kat Benson from Burger Fuel racing is great too – she has been very kind and supportive of me especially with me getting into track days with my MX-5.
BB to MX5, why?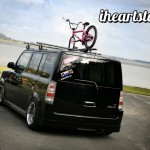 As I said earlier, at first my interest in cars was based more around style. The Toyota bB is so different and can look so cool when modified properly but it's definitely not a fast car! I would still have it as my daily driver though if I had the choice! When I realised that it was quite difficult to source parts and when I couldn't get the car any lower without not being able to get into my work car park I knew there was a problem. I made the decision to sell the bB and buy two cars instead, one for daily commuting and one for doing bad, bad things to! It took me a while to get used to the idea of having an MX-5 but the more research I did on them the more I fell in love. I'd become more interested in performance as well as looks and the MX-5 was a cheap option that had potential for both. So that's what I've been working on for the past few months.
You have some interesting family pets to? (not PD) the Alpacas?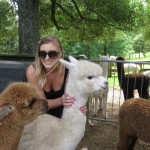 Pedey and I both love Alpacas! My parents just bought 4 of them and they are so hilarious!
Tell me a little about your project car?
It's a '93 NA Mazda Eunos Roadster – an MX-5. Most of the carpet has come out and I've put two Bride seats in. I've also bought a hard-top for it and just had a bolt-in half cage put in. At the moment it's sitting on BC gold coilover suspension with some genuine 14″ Watanabes which I've had painted in hot pink! It's seriously so much fun to drive; it's latest addition is a big pink JDM shift knob I bought in Japan which makes driving pretty interesting. I took it for a road trip on the weekend and I now have a bruise on my arm from hitting the corner of my seat when changing gears! It's serious business.
What do you do to get away from your lifestyle surrounded by cars?
Are you kidding? Cars are my hobby so I love getting the chance to do anything car related. We've recently just got back from a holiday in Japan where we got to check out the Tsukuba Circuit and see some amazing Rauh-Welt Begriff Porsches. It was out of this world! I guess when I'm not working on my blog or out doing 'car stuff' you'll find me doing housewife duties or perhaps drinking wine or buying shoes..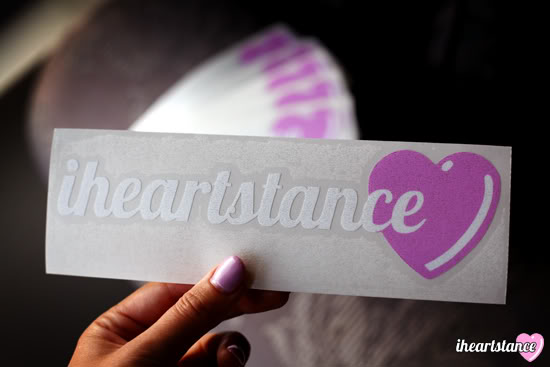 .
If I said to you, end this with your 5 favorite photos, what would they be
Wow, that's a tough one! Though I was worried that for this section you might choose 5 of your favourite unflattering photos of me from your vast collection! [MGN- I tend to catch Taryn in "work" mode at events, when she's trying to get shots or helping PD]
Okay so these are just a few of my favourite photos from 2011…
Picture of Nats grandstand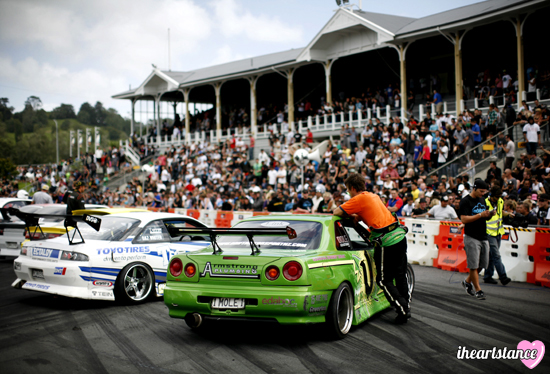 I love the 4 & Rotary Nationals and I think this photo really captures the atmosphere of it quite well. The boys had just finished their annual drift demo and I like how this always brings such a huge crowd to the stands!
Joel's Onevia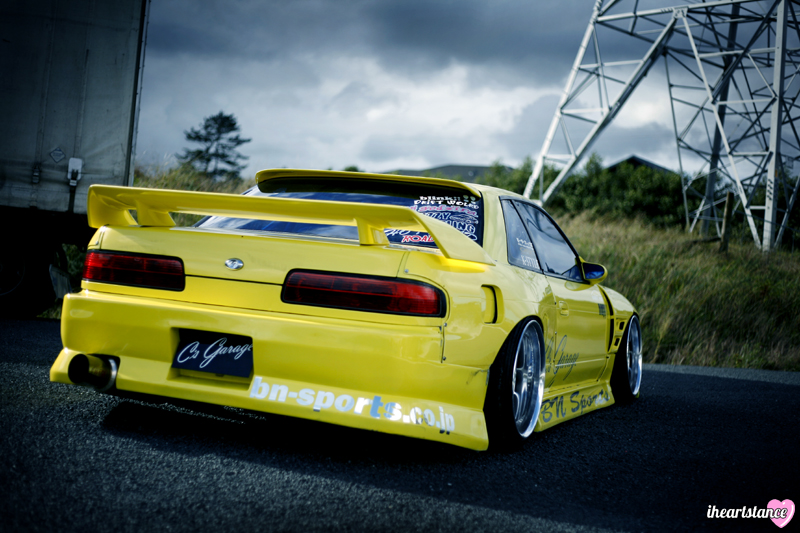 I recently got to go for a quick cruise with Joel from C's Garage in his awesome Onevia – this was such a cool moment for me as I love this car!
Paul's RX-7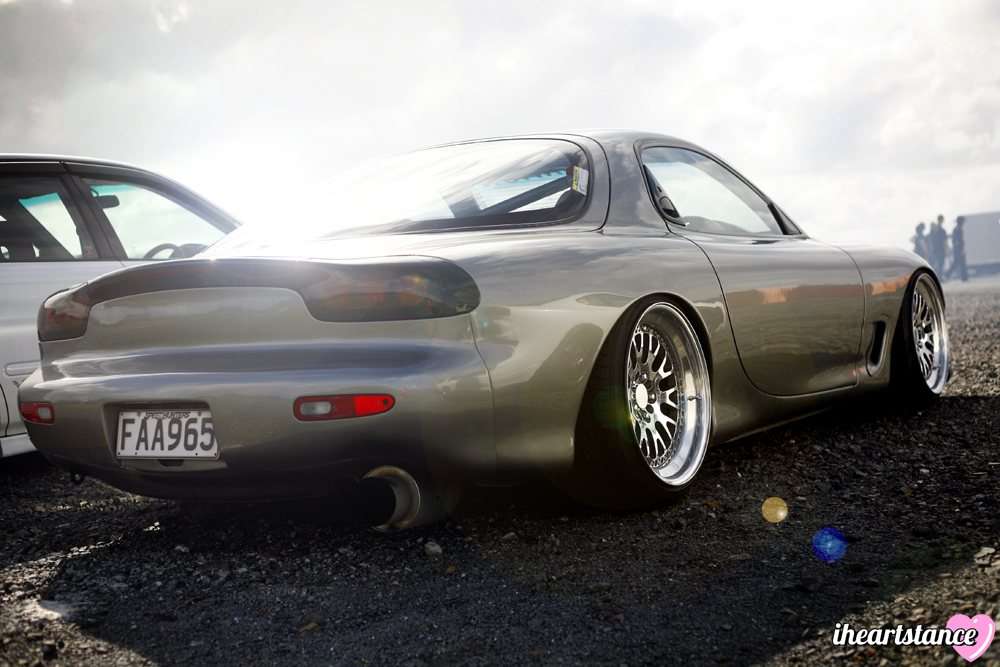 Paul from CJC has really stepped up the bar with his custom made CCW Classic rims! These have to be my favourite wheels ever and I was so stoked to see that Paul had gone to the next level and decided to rep these wheels in NZ. So rad!
Pink Cadillac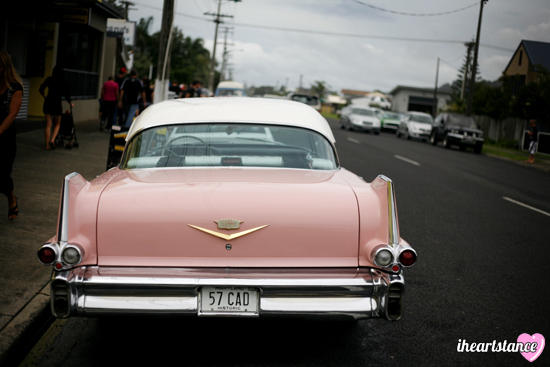 Another of my favourite NZ events is the Beach Hop festival and despite the rain this year, this didn't stop me taking my camera out to capture some snaps of the beautiful classic cars on show. This '55 Pink Caddy was my favourite – something about these cars in pink just makes my heart flutter!
Nakai San's Porsche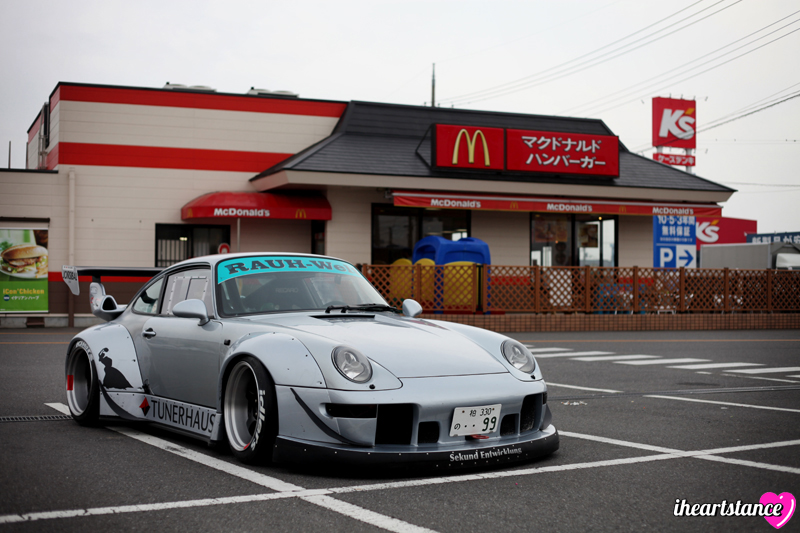 On our recent Japan trip we got to see the amazing RWB 993 Porsche "Tunerhaus' and I think this car is the absolute coolest thing I've ever seen in real life. I was totally gobsmacked!