12 Rounds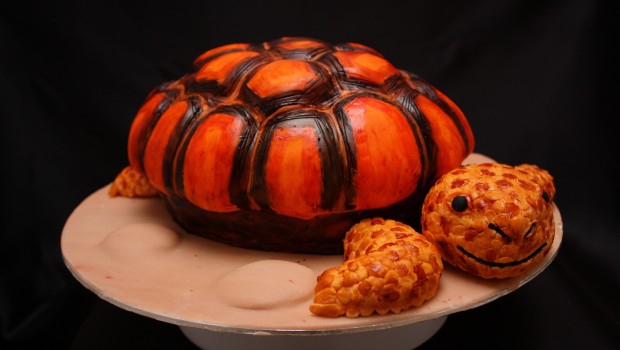 Published on June 19th, 2011 | by The Ghost Blogga
2
CAKE OR DEATH – LITTLE NINJA TALKS CAKE KITCHEN
The Ghost Blogga (TGB) is something that was created so the other members of MGN and random contributors could put their 2c worth in.  Todays effort was put together by Big Tall otherwise known as Gray Lynskey, Captain Rasberrry Lemonade, or Harry Potter. If you can't workout why it would be a bad idea for me to interview my own wife…well, you're either not very clever, or have never been married. Anyway..enjoy – MGN
While 'ladies week' has somewhat blown out to 'ladies however f**king long we want to make it', we figured we couldn't move on before talking with a woman that has been around NZ's import scene for a number of years, is heavily involved with all kinds of industry events, and is the face behind some of the best baked shit seen on the internet, Sarah Sare.
Like a non-gay Eddie Izzard, sitting down to talk life with the ninja behind Little Ninja Cake Kitchen is going to go one of two ways – she's either going to stab me, or feed me cake. I suspect the latter followed by the former.
Mrs Sare (I feel it appropriate to call you Mrs Sare now after I read that on the back of your hoody once)….. Most people know you as the nice Sare, the kind Sare, or the better Sare. Those who don't know you by name, are more familiar with you for what you've become somewhat of an e-lebrity for – your baked goods. Tell us; who is the person who spends all of her time in the kitchen like a good woman?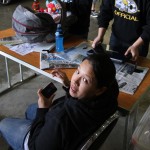 Hahaha damn Azhar putting that on my hoody! And what you mean in kitchen like good woman!!!!! You will keep for now Gray!
Well my name Sarah, I'm married to MGN Inc creator Warren.  Some you may recognise me as small asian handing out food at 4&R events, or as sober driver for staff MGN Inc.
Having met you before, it's fair to say that you're not from around here. What part of mainland China did you grow up in?
Arse! Just cause I'm asian and small do not mean I'm from mainland China. I'm not fresh off boat! I was born and grew up in Palmerston North.
Okay – I should probably stop editing your answers to make it sound like you've only swum ashore from a refugee boat then, right? Tell us, what was it like growing up there?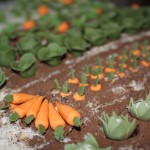 You really are an arse! Well I didn't have much of a social life growing up and I lived out in the whop whops.  While other kids would be out playing after school, I would come home and go to work in our family market garden until it was dark. I guess once I got my licence life got better, and there was more fun to be had hooning around the square.
You wisely bounced Palmy as quickly as you could to Wellington and never turned back. Why is that?
Palmy was boring and I moved to Wellington to study. I had applied for CIT and Massey and got accepted to both (TGB – good to see that despite growing up in Palmy, your asian genes did you well), but my Massey acceptance didn't arrive until after I had already planned on moving.  I also wanted to get out of having to work for my olds, but that didn't really work as I was home helping out every weekend at the markets anyway! At least I got to make Warren come and help me, which he hated (TGB – a surprise to many, I'm sure) but then grew to like, but only since it involved driving the tractors.
You've gone from Palmy, to Wellington and ended up in Auckland, how did this come about, and what's your story for ending up here?
Warren had moved up for work, so we did the long distance thing for a year while I was still studying. That didn't really work out, so I moved up to be with him. We both needed to be here for career reasons, and Wellington's too bloody cold!
You create the best baked shit I have ever sampled (and I am a man who prides himself on his eating) – how long have you been crafting cakes, baked goods and weird small babies from icing for?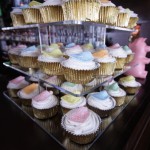 Hmm – I've been baking since school. I even scored straight A's for home economics – not just for baking, but woodwork and sewing too!  I started decorating cakes after I took a night course because I was bored. This was about two years ago, and I haven't stopped since. My family laugh at me because it's the longest I have stuck to any hobby ever. (TGB – I suspect they're not just laughing at you because of the length of time you've stuck to it!)
What is it about baking that you are so passionate about and makes you want to dedicate so much of your life to?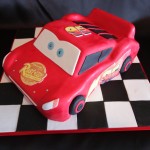 For me, it's seeing the reaction on people's faces when they see the finished product. I really like working with people to create something right from a concept that's special and personal to them or the person receiving the cake. You can always tell that people really appreciate having something personally made just for them; it shows in how their eyes light up – especially kids. It's also my creative outlet, and I like to prove I can do something when people say I can't!
So where do you find this inspiration for baking from? I know you spend a lot of time watching Food TV. Do you use that for new ideas, or purely because you just like food?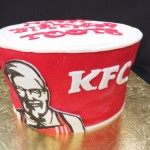 Hahaha, I love food!  Yes food TV is a good source of inspiration – I love watching the baking shows but I also get a lot from the net and magazines. I am also a member of a club, and we have demonstrations each month where we learn new things that I always want to try out.
You spend a lot of time with, let's call them, fellow cake nerds… How does this help your abilities, what is it like having a bunch of cake-obsessed women in a room together, and where do you see your involvement heading in the future with this?
Hmm – I hope none of them are reading this now! All the ladies are really nice and share tips and tricks of the trade, so I'm really grateful for that.  I am one of the youngest, but I have been made really welcome. I think I will always be a part of a club as it's a great way to learn something new and there will always be new tools or techniques out.
Little Ninja Cake Kitchen, or LNCK as it's known – where'd that come from, and what are your plans for it in the future? You've built somewhat of an empire amongst friends (and friends of friends of friends) for your talents, but do you think you'll ever take it further?
A friend started calling me Little Ninja when I first started racing cars, and the nickname has just stuck. My other nickname is Pooh, but let's be honest – no one would buy "pooh cakes"! When I started doing a bit more baking, we wanted to use a business name and create an identity, so it made sense to use Little Ninja. Our good friend David Cooper from Designworx designed a logo and business cards in exchange for a tray or six of baked goods, so it all started from there I guess.  People now approach me via facebook or word of mouth, and I am happy just doing occasional jobs for now until my daughter gets a little older.
My dream is to one day have my own commercial kitchen and a successful business doing what I love. People are always trying to get me to go on hottest home baker, but it's not really my thing.
I'd come to buy some stuff! I'm willing to say that you're the most talented cake baker/decorator I have ever seen – some of the shit you've created is simply amazing! There are some out there who probably think a cake is just a cake, but creating these intricate cakes is truly an art. What would you say to people out there who wish they could create what you do, but just don't know where to start?
Well firstly, thanks! (TGB – that better get me more cooking, otherwise I'll have to take back that nice stuff I said :P)
If cake decorating is your thing, then I would start with doing a short course or joining a club; this way you learn the basic techniques. You need to get good at doing basics consistently and quickly if you want to make things for people. It really is a case of practice, practice and even more practice! I am constantly learning new things, and I go to every demonstration I can so that I can learn new techniques and keep pushing myself to do more and more difficult cakes.
What's the typical process behind one of your cakes, and how much work goes into a cake like you would submit to one of the competitions you've entered?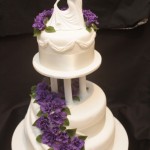 It really depends what the cake is for – a wedding cake for example is usually three or four meetings with the bride trying to firstly get a concept and design, whether it be from a picture, magazine, or in the person's head. Then I need to plan it out and make a shopping list and get everything I need. Then it's baking and cooling time, cutting and shaping, icing, molding and putting it together. If someone wants a custom figurine or sugar paste flowers then it takes at least a week, allowing for drying times.
People seem to think that it's easy and cheap to just whip up a cake, but if you add up the cost of ingredients and time you put into it I actually get a pathetic wage. In fact, most kids would get more pocket money a week than I do based on an hourly rate! Roughly it will take at least a week to do a cake from planning to finished product; people always seem to forget that and I get lots of people asking for jobs for that coming weekend! (TGB – you need to practice the art of the f**k off look that your husband has perfected)
What do you consider to be the pinnacle of your work? What have you created that you're most proud of?
Wow, that's a hard question! It's probably easiest I attach a few photos. I have a few favourites,…
There was my Tasmanian devil, which I made to prove the boys wrong; yes you know who you are! Told you I could make it! That was my first ever "carved" cake.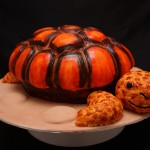 Then there's a 3D turtle, which I decided to do for the hell of it.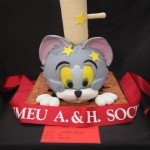 Tom and Jerry, which I won first place in the novelty section last year at the Kumeu Show.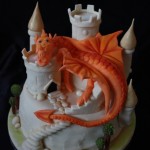 My Debbie Brown Dragon Castle, which I built at my first real workshop.And all the family cakes for weddings, birthdays, etc, as a lot of sweat and tears went into those.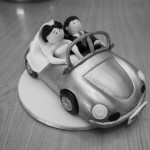 Oh and special mention to my Wiggles cake, which OG Drifter Sam Groombridge (TGB – please refer to Sam Groombridge as Andy Bell from here on out, thanks) damaged. Lesson: Never leave a man who has had 20 beers near a 3D Wiggles car cake, as the end result was a decapitated Asian wiggle!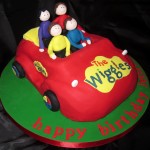 How is it that, despite the fact you're in the kitchen daily, you do not resemble a typical girl car club member? I sure as shit know it's not due to your rigorous exercise regime, given this consists of sleep (despite the fact I vividly recall you telling me you weren't lazy)…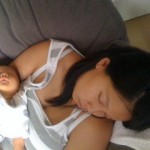 Ok, my secret is out – I LOVE to sleep! Who doesn't?! Unfortunately, my daughter just doesn't seem to agree with that!
So Gray, who/what is a typical girl car club member… please describe this to me, so I can answer this question…. I suspect this is why you are doing so well with the ladies Mr Lynskey!! (TGB – what is a typical girl car club member? That's not nice. Unless they're gingers, then they are not undead, so deserve to be referred to as a person instead of an object. However, that aside, my experience is that there are a few members of these clubs that tend to be slightly bigger lasses. Right, now that I have singlehandedly offended all members of female car clubs, I best lay low before one of them knifes me at an upcoming event).
While I don't really want to get into this in depth, it's worth noting that outside of cakes, you're well known within automotive circles for dropping the best part of a few house deposits on a car. Talk us through that journey.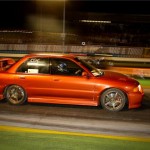 You will be surprised to know I have no idea how much money I have put into that butter chicken diarrhoea car in the garage.  There were always small mods to the car; ewww, I remember the harlequin wheels we had at one stage (I blame that on my husband), but the major mods all started out with a typical Mitsi roof that needed to be fixed.  That led to the repaint (well it was boring white), new sound system, engine rebuild times a few (MGN – five, to be exact) and someone suggested we put it into the next show, which was Auto Salon at the time.  To cut a very long story short, thanks to the boys and a lot of food and Woodstock, we were in the show scene.  Nowadays, when it's running, the car gets bashed around the track whether it be Manfeild, Taupo or at Meremere. I did used to drag race it a bit, and have a PB of 12.1. One of these days I'll give it another go – I always had better reaction times than my husband!
Would you do it all again, or would you spend that shitload of cash on more baking supplies now?
Hahaha, can I do both?  Nah, I wouldn't have changed building the car, as a lot of very good friends put their blood sweat and tears into it, however, the amount of engines we have gone through are a different story! Actually, make that the amount of engines Warren has gone through! I have never blown any, although he tries to blame me for at least one.
What would you like to see done with that car now that its days of sitting inside halls for the fans are over?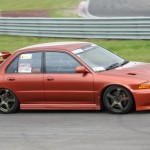 Hmm – hard question. It needs to be loved a bit more definitely, as it just sits in the garage neglected, so a bit of track time might be on the cards. Currently it's just a convenient place to dump washing.  I used to really like the old track at Taupo, so if all goes to plan I will race it again later this year.
Late last year, you took on a new life-changing role as a mum, to possibly one of the most abusive (towards me) babies I've ever met. Tell us about that. (I understand babysitting isn't something new for you though and has been something you've been doing it for a good 12 or so years now)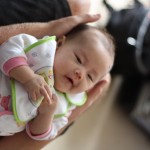 Yes, babysitting Warren is a hard job! Try putting up with his grumpiness 24/7!  Being a mum is great – I wouldn't change it for the world. We are lucky Anna is so easy going and we can pretty much do anything with her, even go to the pub for a beer or two
(or six). Life pretty much revolves around her now, so cake decorating, cars and the family bulldog Maddy take a backseat.
You're married to a man who says what he wants, does what he wants, offends any and everyone over a microphone and generally makes an ass of himself in almost all circumstances. In fact, if there ever were a man who is likely to get knifed at an event for something offensive he said, it would be him. What is that like?
It can be embarrassing; sometimes even I think he's a dork and annoying. I don't really even listen to him half the time – it's bad enough I have to at home!
I have learnt to ignore him when he's in "show mode", as he's snappy and is on edge most of the time just from being tired and stressed. I usually just make sure he eats, has water and applies sunscreen, and then go back to looking after the happier members of the crew. (TGB – everyone else whose name doesn't end with Bhamji, then….)
Right, well, I'd like to finish this off with a word association game. It's pretty simple – I say a couple of words, and you say the first thing/s that come to mind…
Ninja: Swords (TGB – interesting, because I heard that meant 'No income no job asian…)
Disneyland rides: Teacups (TGB – is that about all you could do last year when you went there, or all you are brave enough to do?)
Bowl cut: Didn't have one!
(TGB – not what I heard!)
Tree Adventures: No!!!! (TGB – as soon as my shoulder is good, you're coming with me to climb those damn trees!)
Snakes: F$#k off!!! (TGB – fair enough, I hate them too)
Swimming: Can't
(TGB – and you want me to let you loose on my jet ski!)
Cake nerds unite: Food!
Skype: What do you want? (TGB – you know instead of writing notes and showing it to other asians via Skype that you can just use that thing called email, right?)
Husband: Dork
(TGB – there's no evidence to dispute this claim)
Well, thanks for your time, Sarah. It's been good learning more about you and your passions in life. And thanks for reminding me about my failures as a human being.
Go f**k yourself, Gray