12 Rounds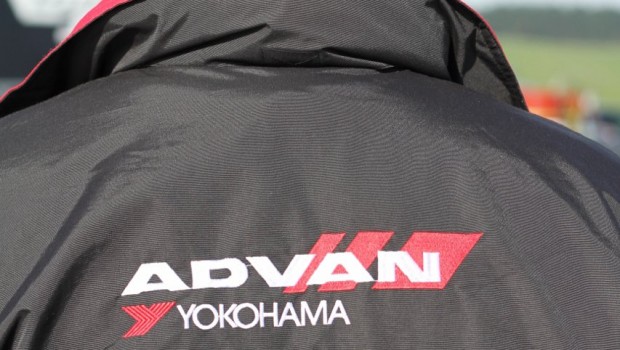 Published on July 24th, 2011 | by mrgrumpyninja
0
Bakers Dozen…getting the recipe for World Time Attack with Ian Baker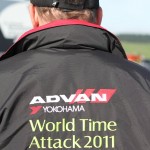 World Time Attack and the Tectaloy International drift challenge have taken up a fair bit of my time lately. If you've been under a rock or something, then you won't know that the Kiwis are sending our strongest ever line-up of drifters to an international event, which is  being held at Eastern Creek in Sydney.  The event is about 10 days away now and I am really looking forward to checking it out, learning a few new things we can bring back and apply to events here, and doing a little commentary while I'm there.
Events like this simply don't just happen, they are the result of hard work, dedication, a lot of swearing, endless late nights and being willing to quite frankly put your financial balls on the line in the hope that maybe just maybe, if the sun gods are in the right mood and the planets align, that people will come and see what you have created.
So who is the man behind World time Attack?  The answer is Ian Baker (and a strong team) , and this is a bit of his story……I'm 110% sure there is lot more to this man and I only got a small way into his considerable background , but here is a little of the surface we managed to scratch when we had a chat over a beer or 3.
I'll be honest too and say that I actually think this interview is wasted on my humble little web page just for the shear value of the history discussed, and it should be a "real" magazine article, but hey…what do I know
My cellphone rings, and at first I think it's Darren Lockyer but then I realize that I do car stuff and there's no mistaking that voice and the distinctive "GIDDDAAAAYYY MAAATEEEE" that signify that the caller is the one and only Superlap CEO- Ian Baker. – MGN
Ian Baker is a successful business man, a part time professional beer conniseur and the driving force behind the sensation that is the World Time Attack,  So today I set out to find out a little more about the man behind the gravelly voice, and the event that speedhunters.com voted as a hell of a day out for car fiends. Here's how it went….
Ian, you're clearly from a different graduation class than our first Aussie guest, ( Jake Jones) who we spoke to a couple of weeks back, tell us a little about yourself?
First, get me a Jack Daniels and coke! Yeah ha ha, there probably is a few years between us (Jake & I) , but he does in some ways remind me of myself when I was younger, he is just so passionate about what he does.
I am a very young fortyish, and the managing director of the Hi Octane group of companies. We (Ian & his business partners) run Hi Octane Racing which is wholesale and retail Japanese performance parts and Hi Octane direct.com which is our online division. We  also have Hi Octane Performance Coatings which offer Ceramic and specialised coatings, the coatings area has experienced fantastic growth over the past couple of years. More recently I became the CEO of Superlap Australia which is the company that runs the World Time Attack Challenge so I guess you could say I am pretty busy.
I was originally a race fabricator, I started a company called Performance Metalcraft in the very early nineties when all the turbo stuff was in its infancy. My focus was always high end fabrication and We did a lot of fab work for people like Bruce Garland and the Holden Rally team who won the Australian safari three times.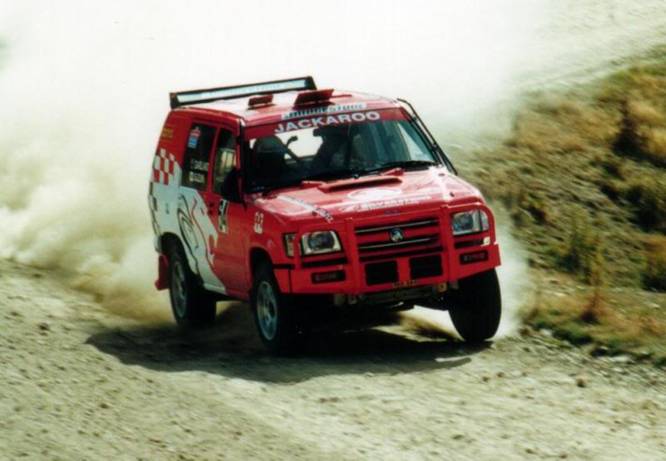 Back in those days I also had a lot of involvement in designing and manufacturing intercoolers and turbo systems when it was a bit of a "black art". I had my gear on all the fastest rotaries in Australia. Pac Performance and Maztech were the two fastest and they were running in the nines in about 1994 and all using my intercoolers and bits and pieces. After that I was having a beer with Peter Muir from Bond Roll bars one night and was showing him some of the R and D that I had been doing on the then "new" series 6 RX7 and within a day I had Mazda Australia on the phone asking me questions and then I became involved with the design and prototyping of the legendary RX7SP that you can read about here

Back in those days we had to be a bit hush as the car was a "factory" car but these days it is pretty common knowledge who was involved and since then I have been involved in every single SP project ever since including the MX5 and the RX8SP, but I will be the first to tell you that it has gone a lot faster in recent years since they got Rocky Rehayem involved .
I then worked as senior fabricator on the Hunwick Hallam project which was an Australian designed motorcycle that had some ingenious ideas not unlike the John Britton bike in NZ. This bike was the vision of two guys though. Paul Hallam from Hallam Boyz racing and Rod Hunwick from Action Suzuki (He is also actually a Kiwi and one of the founders of the uber successful Dues Ex Machina brand) and Paul was near a genius,  was the son of Frank Hallam one of the engineers on the Repco Brabham F1 engine in the sixties.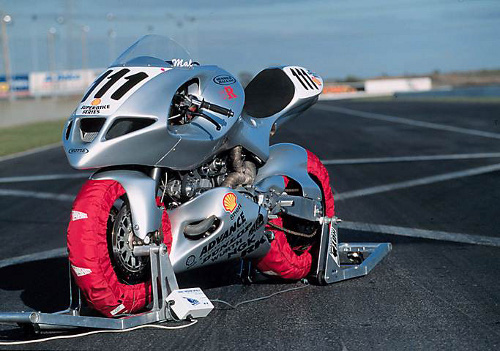 Unfortunately like many manufacturing exercises this fell short of going into production due to funding but the bike did do a couple of rounds of Australian superbike. We also did many twin turbo ski boat kits for the Super Class ski boats and also got into working with exotic materials such as Titanium. I sold this business in 2003 to focus on Hi Octane to my long time offsider Leon Sokalski (another Kiwi!) and this business is still running successfully today producing extremely high quality hand crafted products.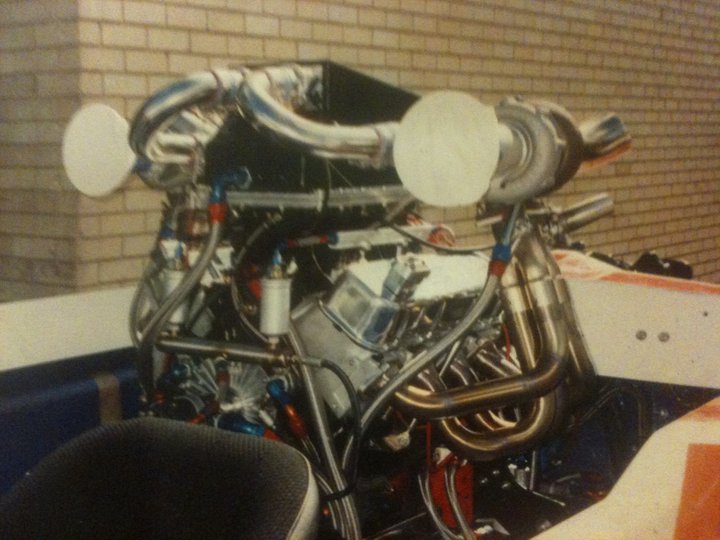 I know you via the World Time Attack, and the Tectaloy drift challenge. How did that event come about? Was it one of those great brainwaves over a brew?It cant have been easy to pull together, or even get people to take seriously?
This whole Time Attack thing came about when I suggested to Mark Berry that we take the original Hi octane R32 GTR to Tsukuba in 2007. We did that and when I was in Japan I then decided that Australia really needed this concept back home so I set about doing it. Believe it or not when we did the first event in 2008 we had never even run a track day before and suddenly we had people coming from all over the East Coast of Australia to check out this new "Superlap" event. In 2009 after proving our concept we managed to raise a fair bit more capital as now people had "heard how good" the first event was and wanted to be involved. In 2010 I had this grandiose idea of bringing the cars from all over the world to run a "world standard" event here in Sydney. So I grabbed the marketing manager from Yokohama Australia CT Hansen, my mate Steve Glenney who is a pro driver and we headed off to Japan and the USA to "find the cars". Now I can tell you CT thought I was "barking mad" and probably still does but after some insane negotiations over a few Asahis we managed to get the first team to commit, that was Panspeed. Then we flew to the USA for the Buttonwillow Superlap and tried to get Sierra Sierra. I will never forget the first thing these guys asked "who else is going, and where is it? Austria?" I told them "if you win today I will ship your car to our event for FREE" and guess what they won!! I can tell you though it sure isn't all beer and skittles. Whilst to the outsider it may look like we have an untold budget I can assure you this is not the case. The reality is we work on a shoestring but we invest heavily in bringing over the cars that our fans want to see.
The drift component we actually more or less inherited after Drift Australia collapsed we figured we may as well make the guys a small part of our show in 2010 and it worked so well we are giving them their own night show this year with many of your top guys as you know. The drift will be a BIG part of the show this year that is for sure.
It can't be easy to deal with multiple countries, and multiple teams, who's the easiest/ hardest to deal with?
Honestly……. New Zealand! They almost  speak Australian!!  The hardest? With the exception of my good mates at Sierra Sierra……..the Americans.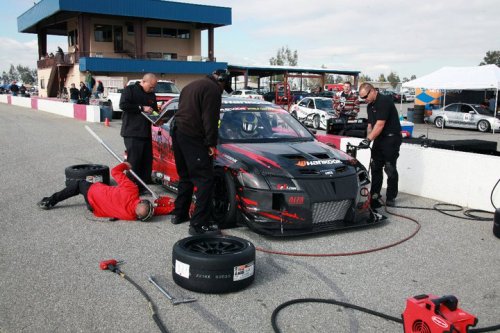 In Australia if we say we are going to do something…. We do it. The Japanese have been exceptional considering how hard it must be for them because hardly any of them speak English and they are coming to a foreign country that is on the other side of the earth but when they say they are coming…… they come………. EVERY SINGLE ONE OF THEM!!!  The Americans promise they are coming……………… and then pull out at the last minute. Don't worry too much though Sierra Sierra are still coming 100%!!!! Those guys are as passionate about this whole thing as anyone you will ever meet and they want the win BAD!!! They are a former Formula Atlantic Championship winning team that has moved over to time attack and a real good bunch of guys.
Have you done a bit of track work yourself? What were you behind the wheel of?
When I was young I built a 1956 Oval window VW with a peripheral port 13B with a 51 IDA and a Holinger gearbox. That was my daily driver back in the eighties! I have spent a large part of my adult life building cars and most of the cars that I have been involved with building are probably way beyond the average driver. From an engineering standpoint we normally view the driver as just another component and if the component was inferior we would replace it with something superior to achieve the desired result, and I certainly would never hold a candle to many of the pro drivers I know . Yes the reality is I would be WAY too slow and need replacing! I do like doing the occasional road rally though for a bit of fun, in particular the Clipsal rally. I did that in 2009 with a mate of mine in a 7 litre Zo6 Corvette, now THAT was fun!!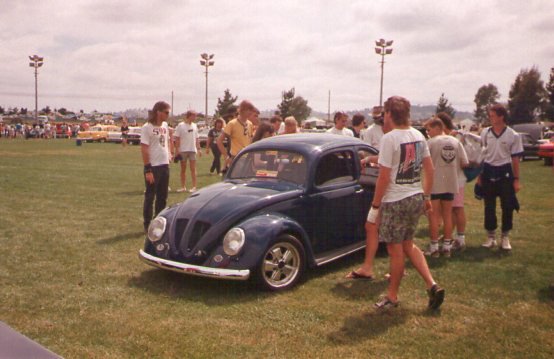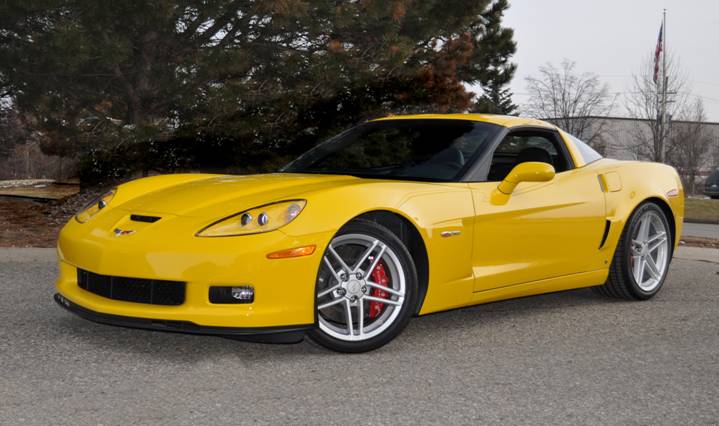 Its not all about roundy roundy though is it, You also have some ties to the drag racing world?
I'm not  into drag racing all that much to be honest. We have sponsored Ray Boxs Jamboree event a few times and I do go up there for a look but that's about it. We sell a fair bit to those Sport Compact drag guys though at Hi Octane and do a fair bit of coating for everything from Junior dragster to Top Fuel.  Believe it or not I personally have done more drag racing on Harleys than cars in recent years but that's another story. We have a 7 second R100 that lives here and my mate runs but to be honest I don't have lot to do with it. It sure looks cool when they run it though and the build quality is second to none. The owner Graham Prior has been a mate of mine since the early nineties when he built a Mazda 1300 wagon that looked standard and ran in the tens and was all but unbeatable back then. This car was built using mostly second hand Mazda parts for a fraction of the cost of more fancied opponents but he did have some smart things on there. In fact from memory this was the fifth fastest rotary car in Australia at the time and it looked like your Nana was driving it.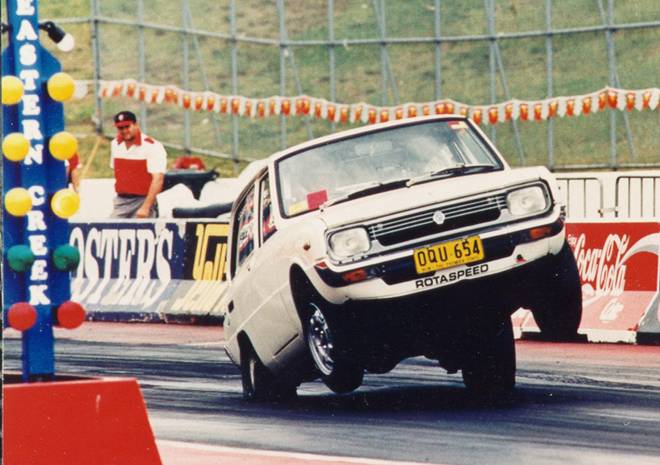 Talk me through the event weekend? or week before? do you get any sleep? You must have about the biggest phone bill of anyone I know
You know we have got better at running it every year. I make a point of finding THE BEST people available and appointing them their job. We try and micro manage everything so everyone has their job to do and that's it. It is important to  make sure that everyone gets a chance to enjoy some of the event too as this is an event that EVERYONE needs to experience. The crew that will running the time attack will be sitting on the hill enjoying the drift and visa versa. We have two completely separate crews, one for the drift and one for time attack. It is too long a day to expect the same people to work both shifts and be switched on. Yep the phone bill is bad for sure!
Who or what would you truly give anything to have come out? Lots of people say 787b or something like that?
They are pretty much all coming!!! The fastest time attack cars!! I would have loved to have seen some Japanese D1 cars and maybe Americans Formula D guys for the drift show but all that turned out to be either cost prohibitive or impossible to organise
It would be cool if HKS could have run the CT230R but I do understand the reasons they don't and maybe Ken Block for a Gymkhana demo  but that's about it for our fans I reckon. The rest of the stuff they want to see is already coming. Oh and Nob Tanaguchi would be good to get here !!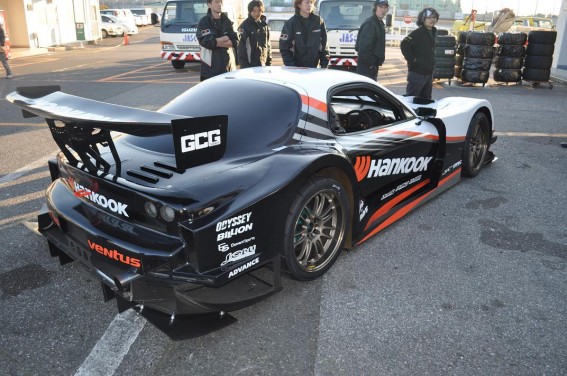 Outside of world time attack, what else are you involved in?
Mate this is all encompassing, there is not a lot of time for much else when this event is coming up but I hold a secret desire to be a Rockstar. I still play the  guitar every single day of my life, and my passion is collecting guitars. Here's some of the current collection.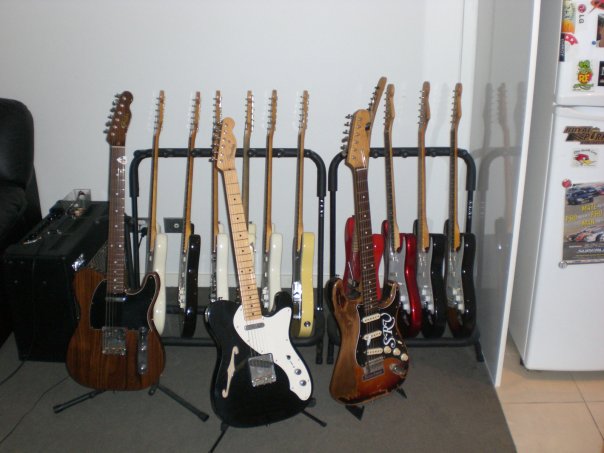 What does Ian Baker do to get away from things 4 wheeled?
Apart from Guitars, I know this is going to sound crazy but I am building an old school fifties style Harley Chopper for a bit of fun. I have built quite a few bikes over the years in fact long before it became fashionable on American television! In fact I was on the build team for the Australian biker build off that is on Foxtel In Australia. Kinda funny when people ring up and say "was that you I saw on the tele last night? I didn't know you built motorcycles?"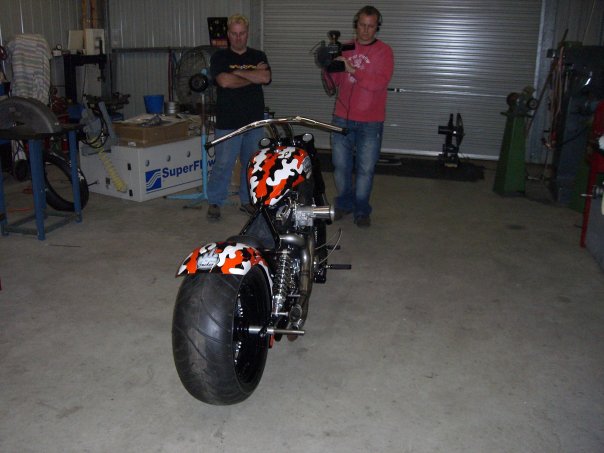 Whats the first thing your going to do when the event finishes at 9.30pm on Saturday night
Well the drift presentations will probably continue until around 10pm but after that the Coldwater Creek tavern across the road will be rocking!! Your shout!!!
Ian, thanks so much for your time….and after all You've done I'll happily buy you a Jack or 3 .
I hope to see you all at World Time Attack on the 5th & 6th of August, Eastern Creek, Sydney, I heard it might be one of the few times that MADBUL will appear this year, and it is also the only time the Aussies will see Gaz Whiter, Curt Whittaker, Fanga Dan and Cole Armstrong this year on their soil.
Info at www.worldtimeattack.com