12 Rounds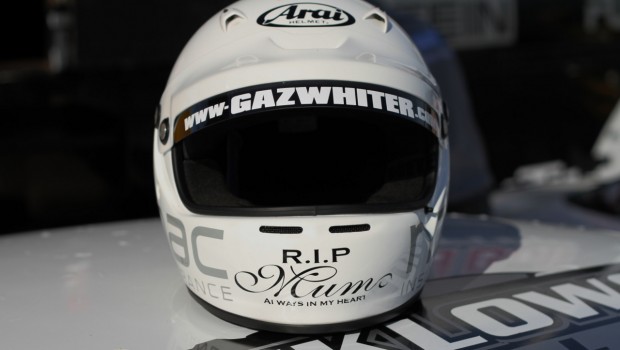 Published on June 26th, 2011 | by mrgrumpyninja
0
A quick catch up with the champ- 3x DK Gaz Whiter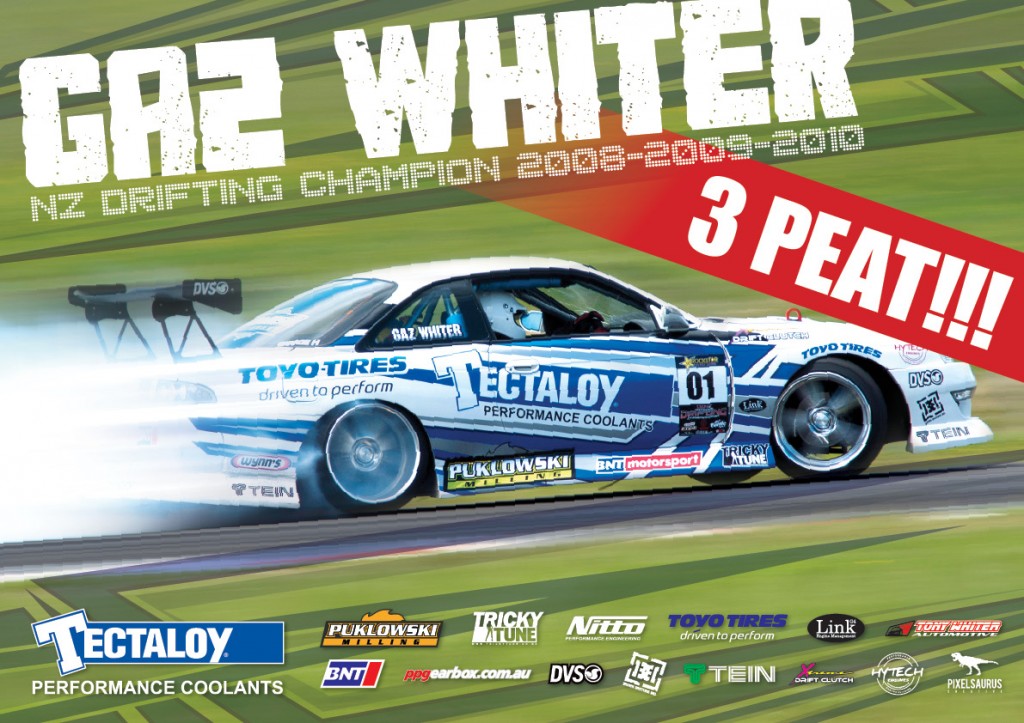 One of the things we do here at MGN is look after the management interests of 3 time Drift King Gaz Whiter, the 08/09/11 champ is a special ( read- demanding ) client of ours, so I thought I'd have a little informal chat with him today as we headed to the the Tron to pick up the newest member of the family with fellow Drift Corp OG's  Reece McBreen and Sam " Geebus", who just for a change alternated been being drunk, annoying and abusive,asleep and then finally spewy for most of the trip.
Gaz, what's been going up in the North at Tony Whiter Automotive in preparation for the Tectaloy World Drift Challenge.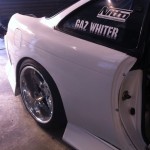 Just a general tidy up ay (said with a smile) , I'm  really lucky to have real good mates, and I especially want to give huge thanks to Mike " the Real Mike T/ that pissed c*nt" Templeton and DriftCorp founder Justin Rood,  also Sam G, Dad ( Tony Whiter), Tricky Tune and everyone else who's been working real hard on the car, ohhh and Zee….better not f**ken forget Zee .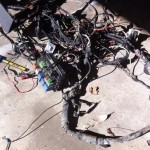 After the last round and that burnout ( as usual we got side tracked talking about how awesome that skid was culminating in the shattered guard) We took the car home and pretty much pulled it apart and almost started again,  well not really but it felt like it!  When the car was first built it was all done for reliability, so it had some pretty "solid" (agricultural) fittings and stuff used. What we have done now is replaced, tidied and improved a whole lot of stuff, also lightened things that we never worried about like the boot lid and removed the tire well, which has resulted in some good weight saving , Mike T was able to save further weight by replacing the factory loom with a custom one. Justin has also done  some pretty sick looking fuel system mods.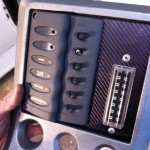 I took it out for a quick skid and it feels real good, looking forward to some testing this week hopefully.
I suppose for those living under a rock, we better at this point explain what the rebuild is for.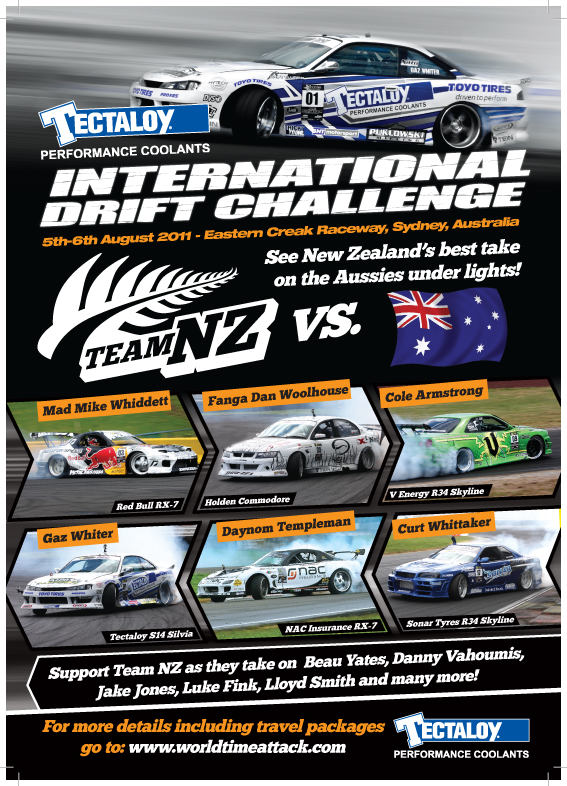 Sure,  I (Gaz) am one of six cars heading over to the Tectaloy International Drift Challenge, being held as part of the World Time Attack event at Eastern Creek in Sydney. It's on the 5th & 6th of August, and will be under lights.  From what I have seen the section looks really fast, and I wanted the car to be as good as it could be for that event. With our mate Fanga (Dan Woolhouse), Curt Whittaker, Cole Armstrong, Daynom Templeman and Mad Mike Whiddett all heading over, that's pretty much our top cars, and when you throw in Josh Coote and Jake Jones, who we saw for D1NZ this year, along with Beau Yates and Luke Fink, its gonna be a f**ken sick event! There were meant to be some US and Jap cars coming down which I would have loved to battle again, but I heard it got too expensive to bring them down or something.
Check out www.worldtimeattack.com for more details
Thoughts on the biggest threat?
Don't know really, Curt pushed us all the way this year and Cole has more power for this trip. Fanga is always a threat and same with Mikey. Haven't seen much of the Aussies bar Jake and Josh but Luke Fink is meant to be good and has won a few events. I think its just gonna come down to on the day and who is on their game.
So anything else special going on for the event car wise?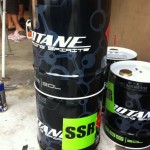 Not really, we need to get back on the dyno over there as we are going to be testing Alcotanes new "pro e85″ which is meant to be a little cleaner and should give us a little more power. We still expect about 420-450kw roughly, which is going to feel a bit faster with the lighter weight.
The other thing I want to do is run the Toyo R1R over there, its a bit stickier than the CT-01′s we use in NZ, but with all the cars being really close at the top end, we gotta do what we can to get the max out of the car.
All of our sponsors have been really good so far and helping out, so all the suspension, box, clutch etc has had a once over.
All up to me really to drive it properly now hahaha.
Big crew of supporters going over?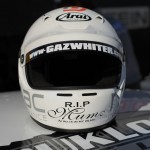 Yeah, hah, half of Northland !! Hope we don't get kicked out of the motel!! (laughs) kidding (looks at Sam who's coma'd in the back seat) .  We have all our regular crew going over, plus I heard there's heaps of people going over which will be cool, always nice to have some of the crowd on your side!
Finally, since this is getting a bit long, what are we going to get, and why?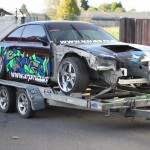 Well, we are going to pick up a second shell for another team car. Since the season ended a whole lot of thoughts have gone through my head and I am quite keen to look at overseas options, which would perhaps mean the main car going offshore for a while, all really depends what the sponsors want to do. I love drifting in NZ too much not be part of it, so Tony & I are going to put together a second car using all the spare bits that are at the shop from various builds over the years. I want to be able to teach people and do press days etc, and Tony & You (MGN) have both talked about doing some learner stuff, so this will be a way we can do that. (In fact…while I remember if you want to learn ,check out the  Dcorp drift day, where you will get a chance to learn from Me, Justin, Fanga and ohh I suppose I better include Sam to, unless he's just on the bbq.)
This car will be built to a level so that I can still compete in it, but it wont have the dog box and big power to start with ….well…not when you guys have it anyway! ha …we are pretty good at fast motor swaps these days and we can always give it a couple of tunes, or maybe just turn the boost control off.
So there you have it, a quick update from the world of Gaz Whiter,That where the interview finished because we got to Wongs Kitchen and eating chicken was more interesting than talking.
Gaz Whiter Links-
Gaz wants to Thank all his sponsors
Tectaloy, Toyo Tire, Puklowski Milling, Hytech Engines, NAC Insurance, Nitto Engineering, Tricky Tune, DVS Clothing, Link engine management, Brown Bros, PPG Gearbox, Tein & MGNinc.