Events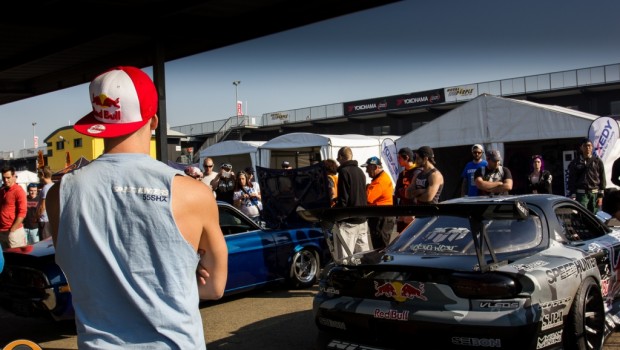 Published on October 26th, 2013 | by mrgrumpyninja
0
The essence of World Time Attack
I've spent the last week answering the same question  for people " so, how was World Time Attack?" . It's hard a question to answer and to in any way  be able to truly put into context for anyone with even an inkling of passion for the import motorsport scene just what the event is like and what it delivers, so I had a quick catch up with my photographer mate 'the handsome table' and we tried to come up with a few shots that go some way to telling the story of just how special this event is. I've captioned some, but others tell a story all on there own.  I look forward to my annual trip to be part of the WTA family each year, and the standards just keep being raised.
All photos appear courtesy of NAC Motorsport.
A new addition to the program this year, the flying 500 was an uphill sprint featuring a selected range of tuner vehicles. PJ bought this 8 second capable Silvia to the party and provided the biggest hero save of the event, pedaling the car through as it got well out of shape north of 220 clicks.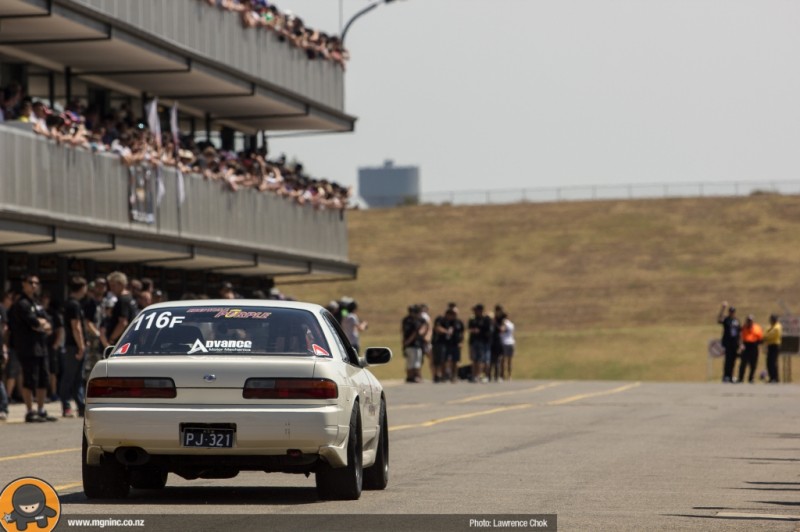 If its high profile, it demands spectacular and it involves performance cars, then chances are that Mad Mike Whiddett will be there. Here he is getting in some practice laps on the new south circuit that this year was dedicated the sideways warriors.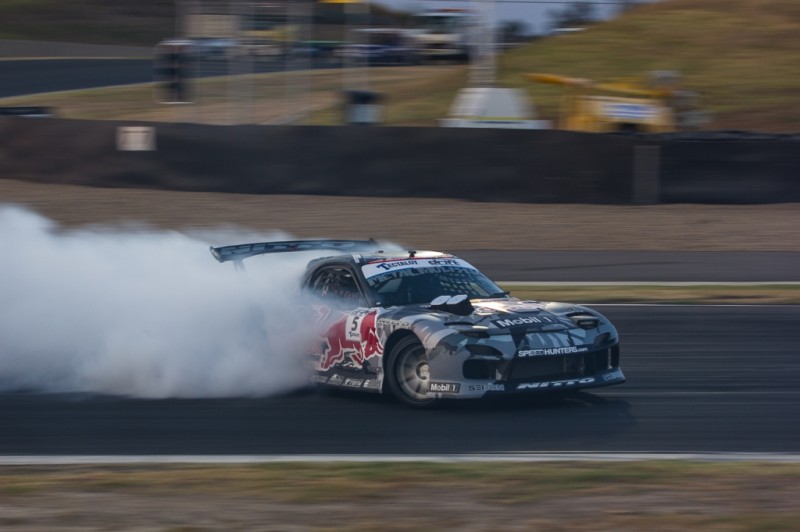 Where was the best place to watch the South Circuit from? I'd say atop Matt Mingay's Stuntz inc trailer. That's me and the big marn Mozz up there having a little chin wag while judges Smith , Lynskey and Takako observe proceedings. Mozz had heard that the ladies in the audience were keen for a little Tassie beef, so bought his own bodygaurd with him.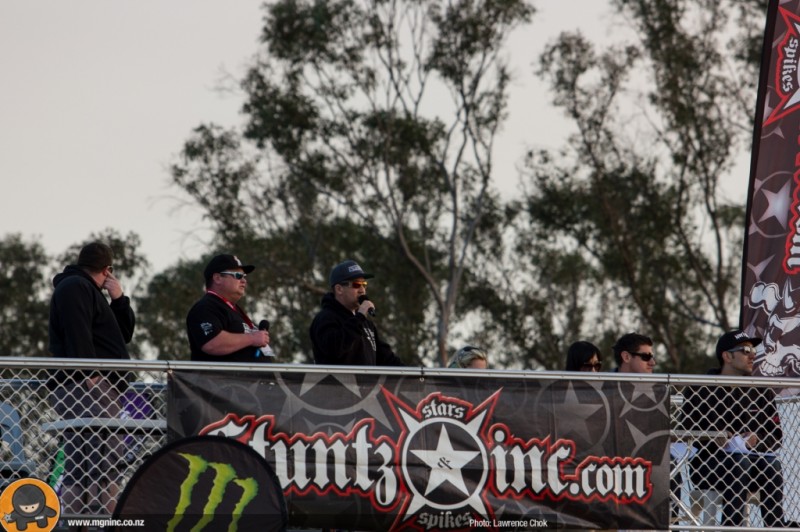 Down in pit lane, it's all business. Crews are frantic and tenths and thousandths are being chased. It's not uncommon to see engine and gearbox replacements, with sets of tires being thrown out after a single hot session. The top teams have spares of just about everything and even those in the clubman class run pretty serious crews and do detailed analysis of every section of the track.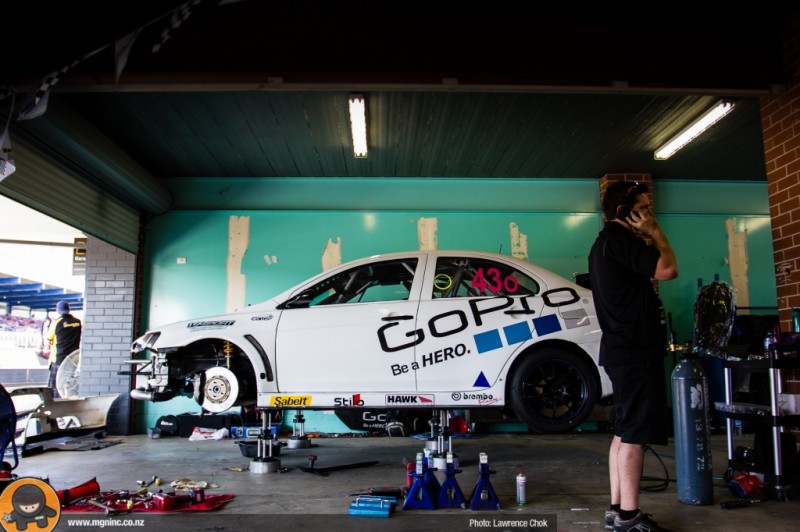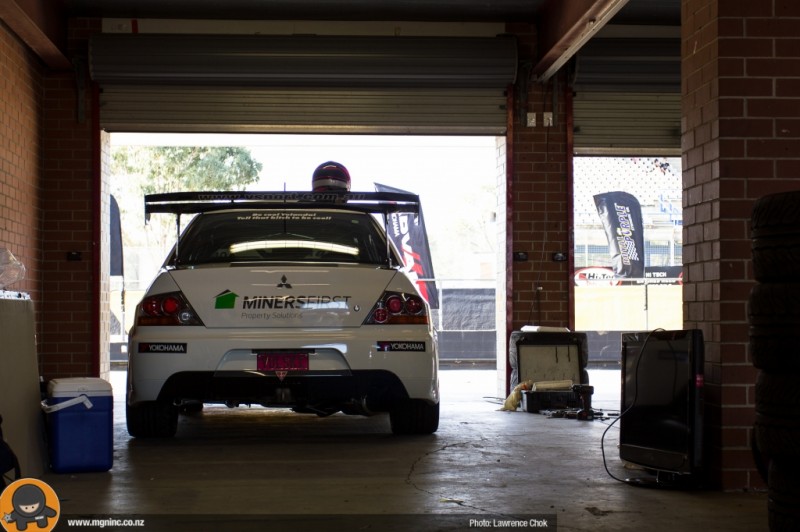 The cars are not the only impressive sights on display, with all the serious traders investing in ambassadors who reflect the quality of their products. Miss World Time Attack was on the cards this year, and was won by one of the hot ladies in purple, just don't ask me which one as I was there to watch the racing ok….. (or just forgot)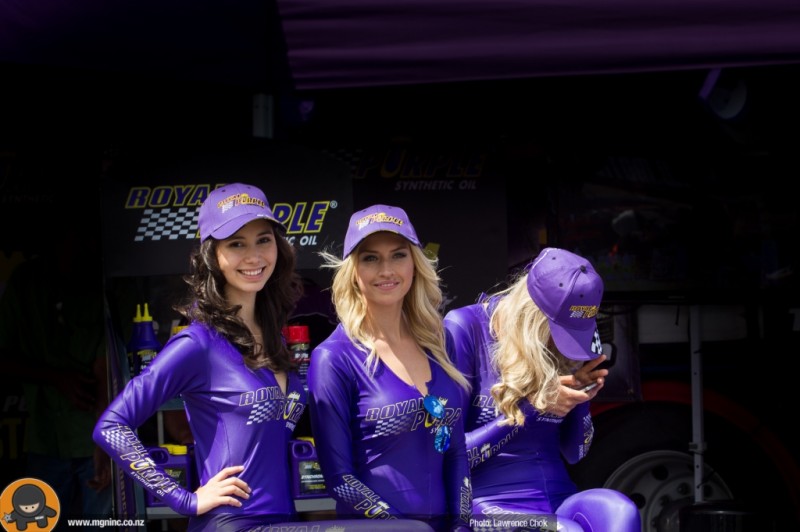 The field for the Tectaloy International Drift Challenge was wide and varied. Jarred Klingberg bought this SR2.2DET Corolla wagon to the party for Team Spot On Fishing. Not the easiest car to compete in, Jarred made a good showing and had a close call go the way of his opponent after leading the first run.  Lurking in the background is the new Beau Yates slider, which called the Tectaloy tent home for the weekend, and is easily one of the best ground up drift builds in the Southern Hemisphere, if not the world.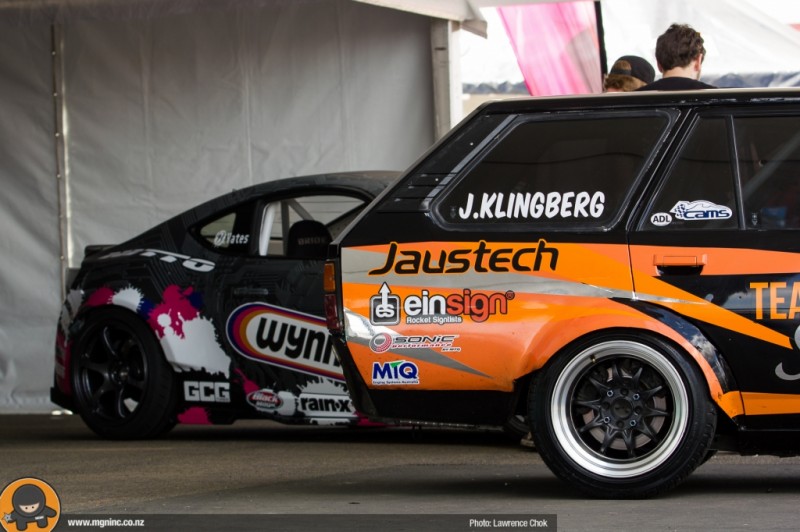 The top professionals are super busy at this event, with many jumping between multiple cars, juggling autograph sessions and trying to get in some time to eat or in the case of the Japanese , sleep. Mad Mike was on drift and flying 500 duty and had the crowd on its feet for the international debut of the PPRE built 6 Rotor. This particular car actually woke me up Friday morning….through the sound proof glass of the hotel.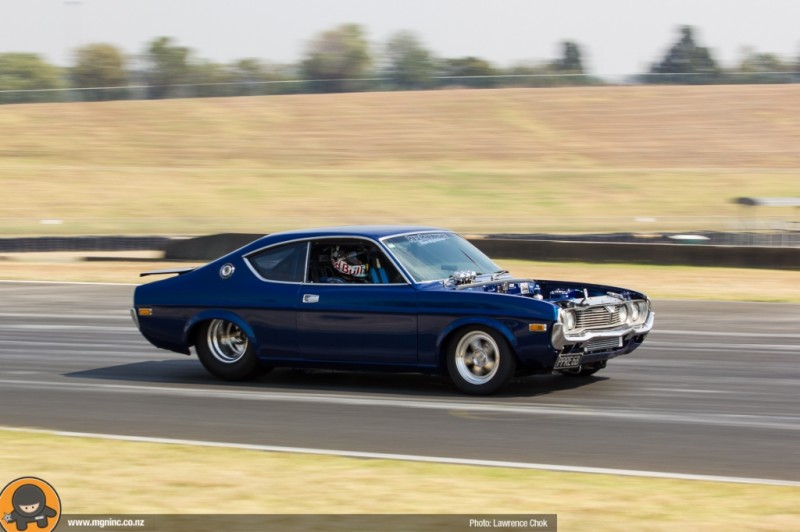 Lotus anything special?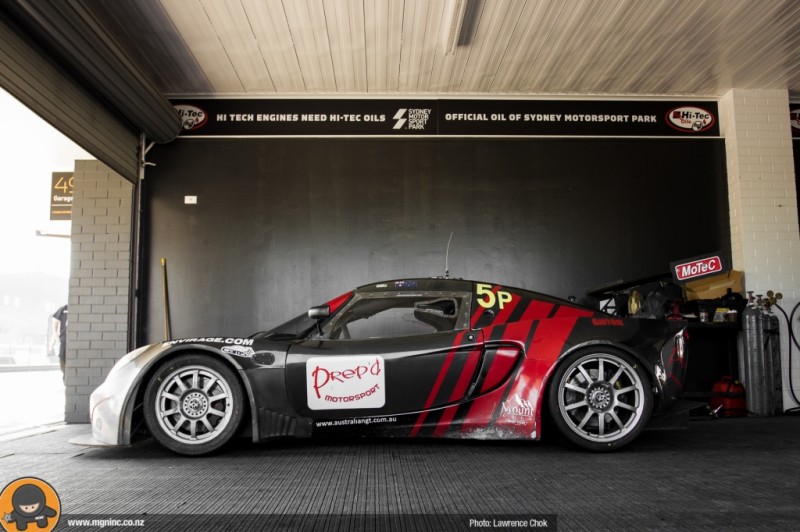 "Don't mind me, just a Kiwi guy with a love of rotaries" . Mad Mike just taking it all in between sessions.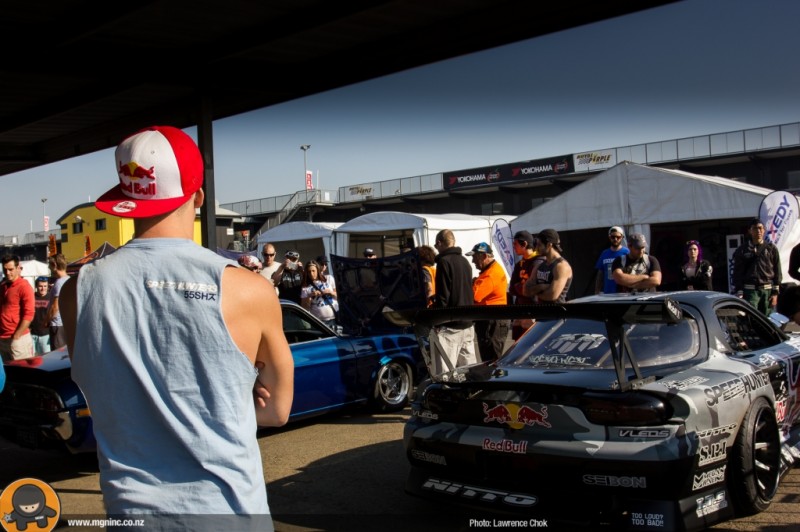 Aussies either love or hate the big lizards. There were a number of outstanding examples prowling around either racing, on trade stands or simply on show, not to mention the 9 sec street legal examples in the flying 500.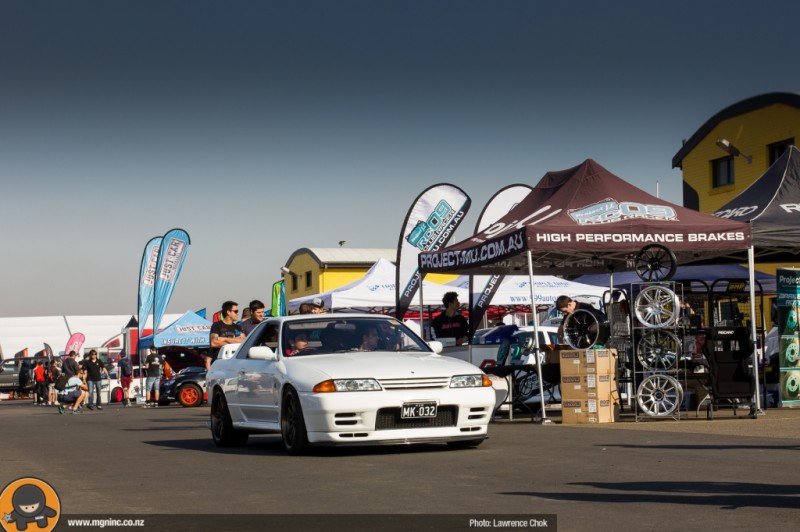 Nigel Petrie might as well be Australias Eminem…. to quote a song line…. "he created a monster". Was a real treat to see this thing lighting up the tires in anger during Thursday nights drift practice.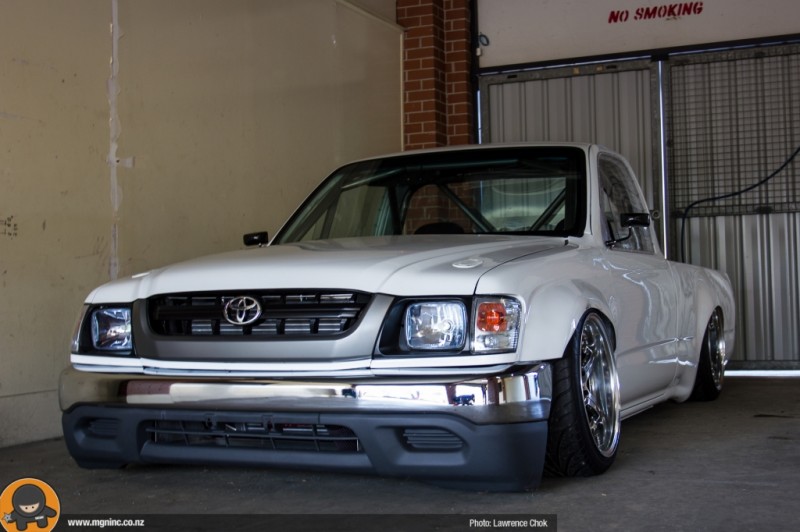 Seen one event…..seen em all? Media are almost a little show of their own, and you can largely tell the ones who are the experienced pros as they seem disinterested, grumpy and bored, and then produce outstanding images and story lines.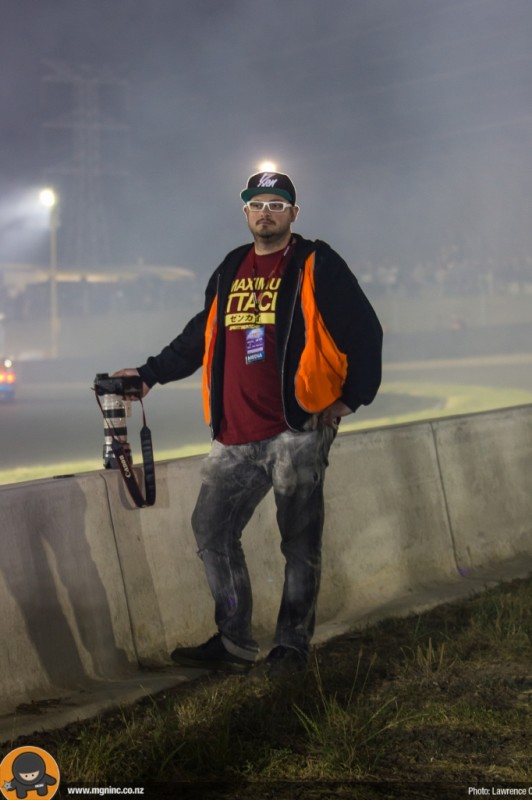 Nemo was the defending champion and many came just to see the car that re-set the benchmark in Australasian time attack racing. Sadly this was not to be their event and after a low boost run, the car was found to have serious mechanical issues that put a very expensive engine at risk of irreversible damage if leaned on. Warren Luff got it into the 27′s anyway, and then owner Chris put it through its paces on Saturday arvo.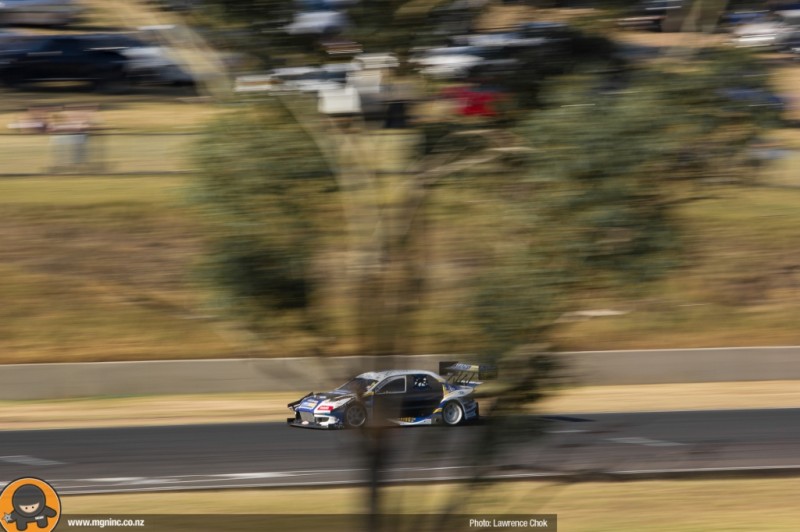 Over on the skid pan, the Motographix show n shine was in full force, its easy to see a lot of state side and Euro influence, oh and the girls were over there too.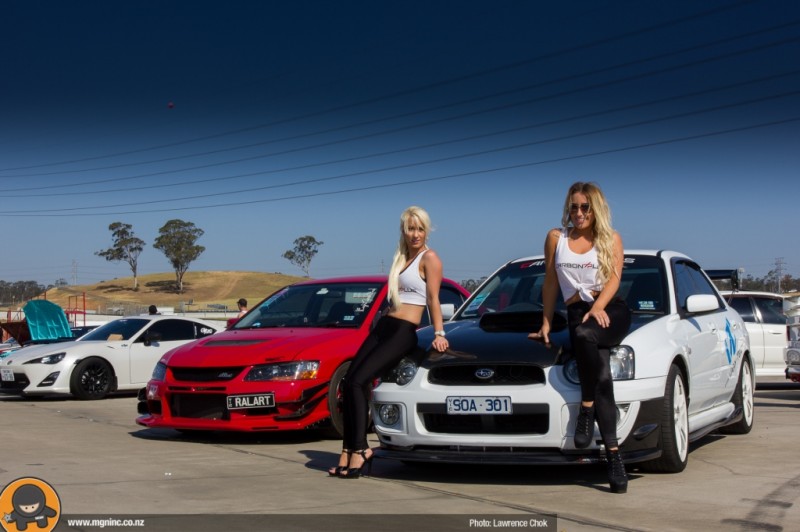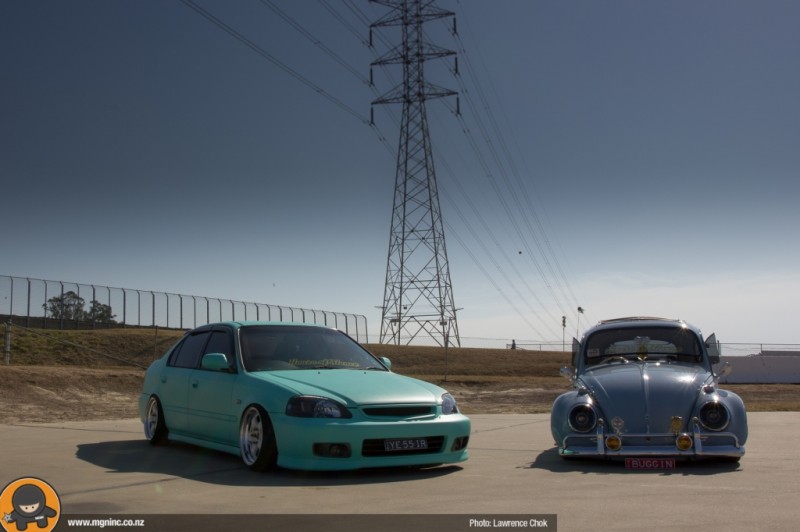 This is how my night ended, out in the middle of the track presenting the winner of the TectaloyInternational Drift Challenge, Daigo Saito. Pretty sure he had no idea what I said, but he sure does know how to drive and how to win. For me, seeing him ply his craft along with watching my good friend Gaz Whiter hit form were worth the journey alone.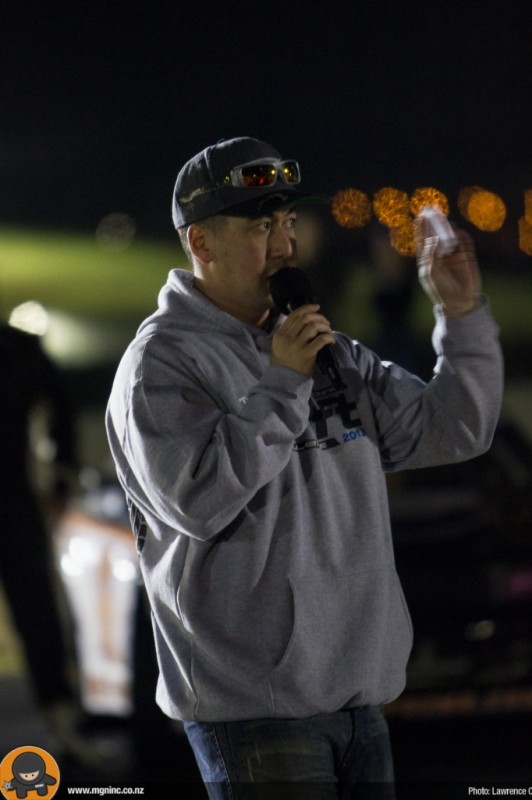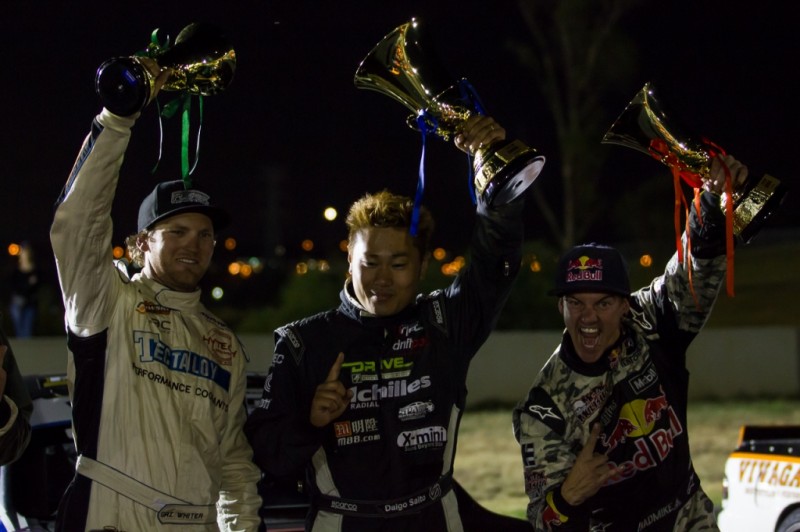 So that's what World Time Attack is like, its an experience, its a pleasure and it has different little things in stall for everyone. I've already got plans under way for next year, have you?
What was that question again? How was Australia? …..best you go and see for yourself