12 Rounds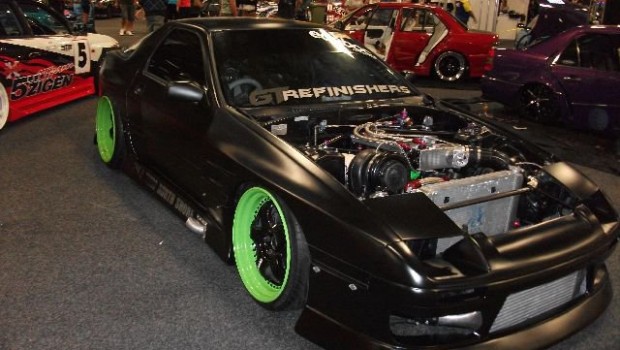 Published on June 23rd, 2011 | by mrgrumpyninja
4
Solvent abuse, Fattening stuff up and a lack of sleep- 6 shooting with GT Refinishers

You know a business is doing something right when over 700 people vote for it in a fan competition, so it was with that in mind I selected GT Refinishers for a Six Shooter.  Owner Grant Walker has a reputation for turning up at events covered head to toe in bog dust & paint having slept very little, and still working on those final finishing touches that set a car apart. Its that type of dedication that have earnt him a loyal following among fans of cars so wide they make Rosita Vai nervous.
Grant, You're a busy man who has made a huge impact on the show scene in particular over the past few years, thanks for giving up some time to do a quick interview, Quickly who are you, and what's your business?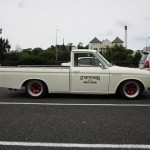 I'm Grant Walker, a car painter by trade and our shop is GT Refinishers (GT is actually also my initials but it suited the car scene nicely). I am not entirely sure how it happened but I went from opening a general panel and paint shop to I guess you could call it a custom shop. We are located in Penrose, Auckland in a reasonably small shop.
Some of your famous projects would be Vik Bhattis Convik, and Aaron Keachs FC, talk us through the planing and time investment process, how many hours are in each of those cars?
After years of doing what the customer wants from the word go, I have learnt what things work and what don't. Customers can have an idea, but to make it work and last is another story.
Generally people want to buy an off the shelf wide body and kit, Most want these wide bodys moulded into the car and through a few years experience I have found it doesnt work well and there are better options.
That was when I started to work with steel and making custom wide bodys out of steel, it gives a far better final product and will last years to come. Also knowing its a one off fully custom kit makes the difference too for a customer.
Before starting a custom job I will research on the net and find as  many pics of cars and body kit styles as I can so we can go over what we like and dont like, this is not limited to only that make of car but all makes in general. This helps me get on the same page as the owner.
By this point I have a concept, but I am not really 100% set, so I get out the power tools and start cutting, its hard to get your head around not having a plan but that's custom work in a nut shell.
This is where the hours really start, something like Viks 350z has around 300-350 hours work in it. Countless visits  and convos and more and more parts dropped off.  There are also alot of things that have probably never been noticed, little thinks like all of the carbon on the car was tinted with a yellow tone as it was quite blue looking off the shelf and it didnt match the car colour. It's all these little touches that will never be noticed but need to be done to make it work.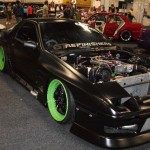 Something like Aaron's FC is a bit more simple and was around 200-250 hours work. Being simpler (if that's the word) didnt mean not as much thought went into it. We wanted it to look staunch but retain a semi factory look, I had seen glass wide kits on FCs before and they look good but didnt look factory, That's why we decided to take the wide body into the door, other things I threw in like the vent on the top of the bumper, which I had seen on the super made kits while researching a 180sx kit.I thought it would suit the car, so I decided I would add in. Quite often I dont even tell the customer I just do it.
I'm thinking that people perhaps have odd expectations, and a custom car can't be created to a high level when rushed right? How long do you tell people cars will take?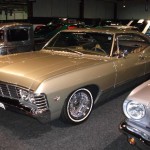 People these days seem to be a bit more reasonable (bar Vik and Azhar haha) 3-5 day turn around on full panel and paints aint easy to do when you have everyday work to fit in aswell.
In all seriousness we all know in the import scene that it seems everything is rushed, all last minute etc etc so sometimes it comes down to working for a full month running on 4-5 hours sleep each night.
For any big jobs I let the customers know a estimate of time, but depending on the size and my normal work load depends how long it takes. Repaints are 2-4 weeks depending how much work is needed,  wide bodys 4-5 weeks and restos 3-6 months.
*image shown in NZPCs Peter Kellys daily drive
Any favourite jobs? Or anything you really didnt like/werent happy with?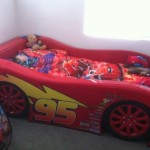 Viks 350 would have to be my favorite job to date, it was a huge test of my skills and the first time I won a prize which made all the hard work pay off, in saying that I could easily have spent another 300 hours on the car. There are always jobs where I get near the end and think should of done this or that and made changes but overall I don't let things go out of the shop with our name on it that Im not happy with.
Another favorite would have to be my son Jaxons bed, It was alot of hard work but he loves it to pieces and it puts a smile on his face, At the end of the day nothing can beat that.
You were a nominee for NZPC shop of the year, did it feel good to see the love for your business from the scene?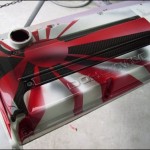 I was just keen to go to the awards night in general, its not often everyone in all aspects of the business will get together at a "non car" event. When I saw who got nominated I got a huge surprise seeing our name, it was an honour just to be nominated along side some of the biggest in the business. It was a great night had by all, congratulations once again to all the winners. Bring on next year! [ MGN- a BIG night for you I hear]
Anything big you're working on right now that you can give us a sneak peak at?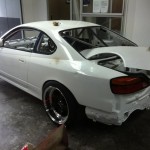 Shop is full of wide bodys at the moment, but nothing full custom going on, Niko Reids new drift car will be getting a new look at over the coming weeks.
There is one big build coming up soon, but I am holding off untill we move into the new shop before we get started. It will be ready by the end of the year.
Finally, what would be GT refinishers dream project?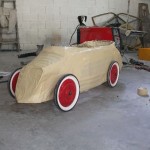 I have cars I would love to build but never seem to be able to find the time, I do want to finish Jaxon's Custom pedal cart soon maybe for X-Mas. I guess for now I get my fix through doing other peoples.
Once Jaxon is old enough I'm hoping we can build a car together I've always loved the idea of building a 240z but I'm forever changing my mind I guess we will see at the time. I would love for him to build his first car after all there has to be some perks in having your dad in this business.
If you like what you see, and want to talk about how GT Refinishers can take your project to the next level, then contact details can be found via
Follow the blog at
Or get your like on at
Thanks for your time Grant…..now GET BACK TO WORK!!