Events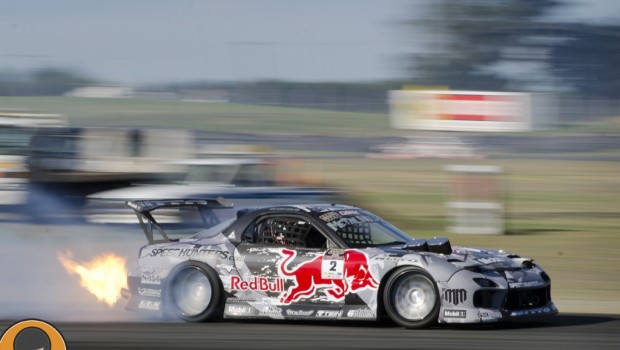 Published on April 2nd, 2013 | by mrgrumpyninja
0
Round Report Codys D1NZ Round 5- Ruapuna, sponsored by Epik Eye.com
It's a funny old place the South Island, staunch and stoic is a way of life and you need to earn respect not expect it. Round 5 of the Cody's D1NZ proved just how much love the people of Christchurch (and a fair few travelling Aucklanders) have for the sport of drifting. We started to refer to it as the motor sport of the future over the weekend and based on the thousands attending the future looks pretty damn bright in my opinion!
Ruapuna will be remembered as a car killer, a round of upsets perhaps, a round of emerging stars and above all a showcase  of the talent and skill that resides in the South. Drivers like Phil Sutherland, Paul Tomlin, Chris Jackson and Tom Hadlee would be welcomed for a full season campaign and really made life hard for the series regulars. Throw in the clear confidence boost that Cody Collis had, and the wave of emotion Troy Forsythe was on , and you perhaps wonder what would happen if there was more than one South Island round.
It felt really good to be back in front of a big and knowledgeable crowd, and the people who were there should be proud of' 'their' event, big thanks also to Dan Yeoman, the voice of Drift South for sharing the mic duties.
Anyway, let's take a look at how things fell. Usual disclaimer, don't like it, don't read it or write your own
Driver / Top Qualifying Score /Second highest score /Qual Position/ Final Position
James Hopman               48                    32                                   32
Lowest powered car in the field, which had it's own little cult following thanks to being of the legendary 86 family. Hopman did what he could but had to take a different line to 90% of the field and was simply stomped in his battle with Daynom Templeman.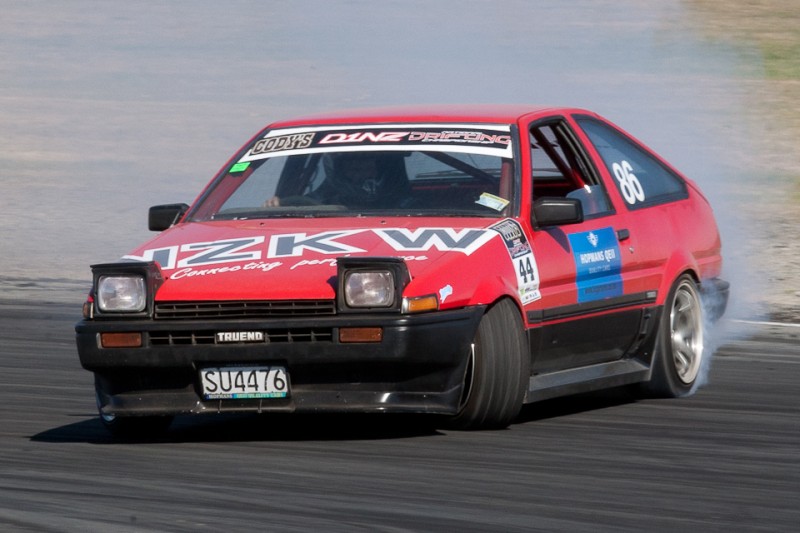 Shane Allen       52                                       31                                    31
After losing the engine in the Rattla Falcon on Saturday, it was always going to be an uphill battle for young Shane and while he made a valiant effort to come to grips with Vince Langhorns C33 Laurel, a pro-am spec car was never going to behave the same way as the 700hp monster he is used to driving and Andrew Redward  simply had too much speed and grip.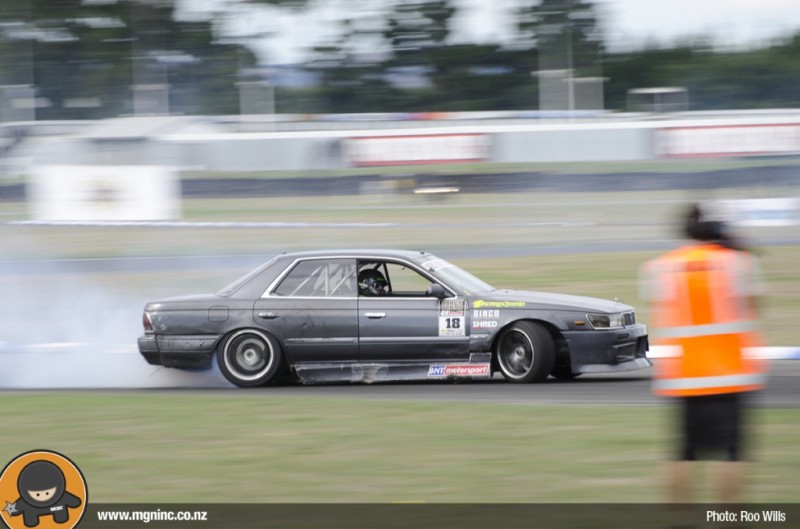 Jarrod Reid          62            58                                         29                                   30

DriftSouth competitor Reid did what he could, but couldn't match a rampaging Shane Van Gisbergen who seemed to relish being behind the wheel of Darren Kelly's DKM R32 Skyline.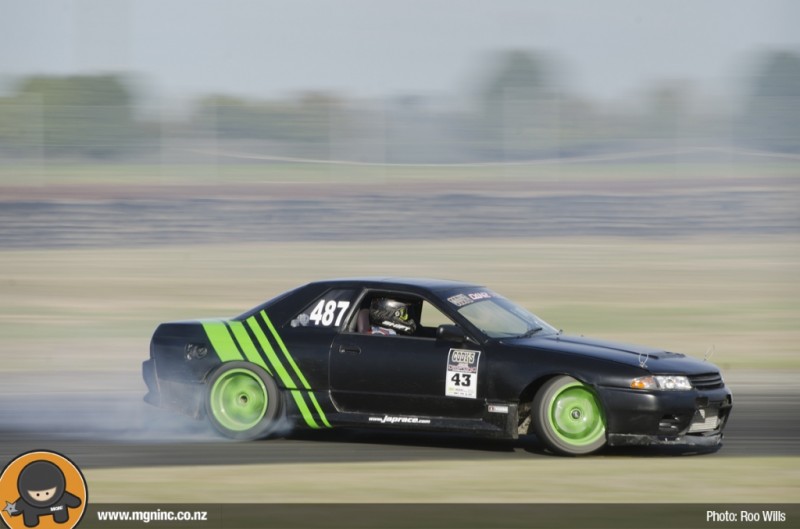 Robee Nelson     62                  61.5                                      28                                   29

Hard to know what to make of young Robee at the moment, has moments of pure brilliance balanced out with mistakes which belie his age. Suffered a gearbox failure in his battle that made the car pretty much impossible to drift, but in true Robee style he still gave it a shot and beat on the limiter in the car as hard as he could with clutch kick after clutch kick.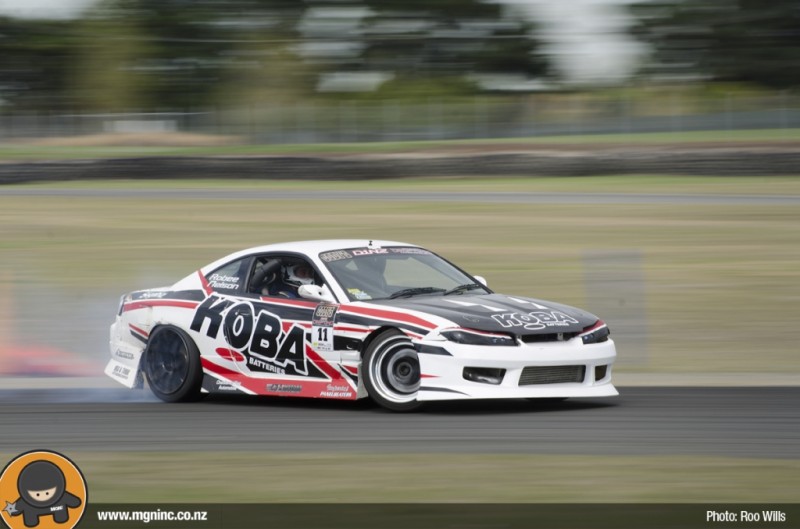 Jonny Latham           63.5                     53                                          27                                   28

Latham made what he could of his battle with Mad Mike, but just didn't seem to have the speed to match the screaming quad rotor.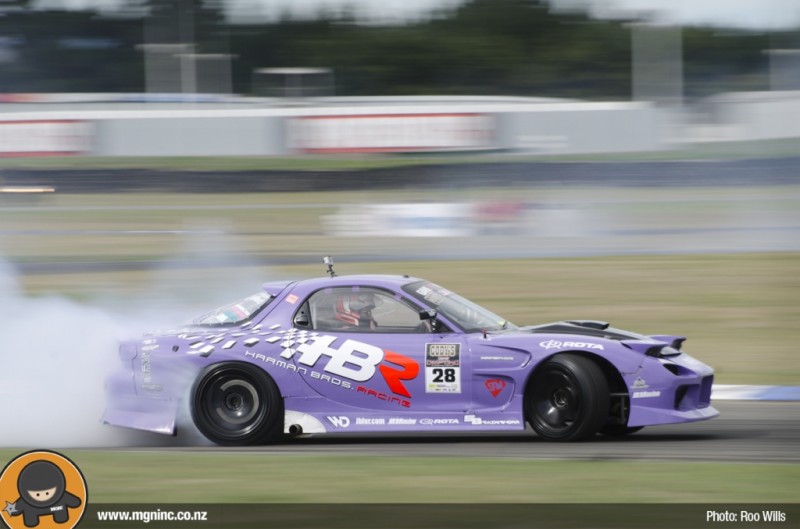 Lyndsay Lasson        63.5               63                                          26                                    27

Another of the Southerners who hadn't been seen before by the D1NZ regulars, Lasson had plenty of HP and made a good go of his battle with Troy Forsythe, with neither holding anything back. Forsythe taking the win with another of those aggressive chases he is well known for, while Lasson found the dirt.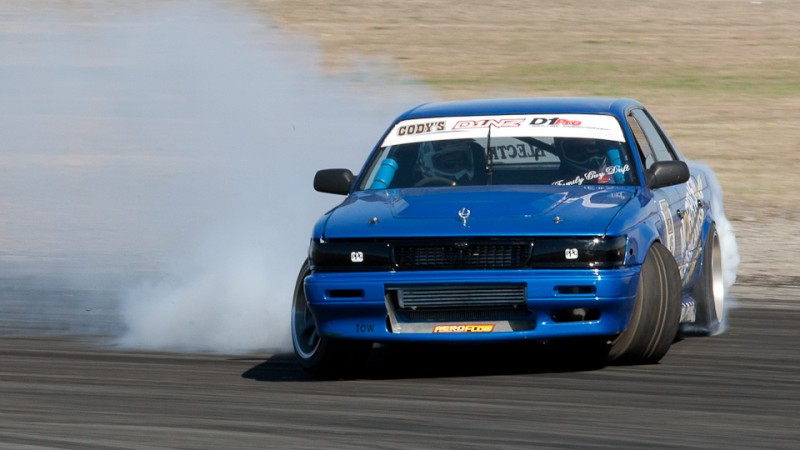 Andrew Gnad          64                                        25                                    26

Gnad was described a number of times as  being a driver who favours the safe and consistent approach, and that simply wasn't enough in a field of this size and calibre.  Phil "Philthy" Sutherland running away on his lead and then putting all sorts of pressure on in his chase run.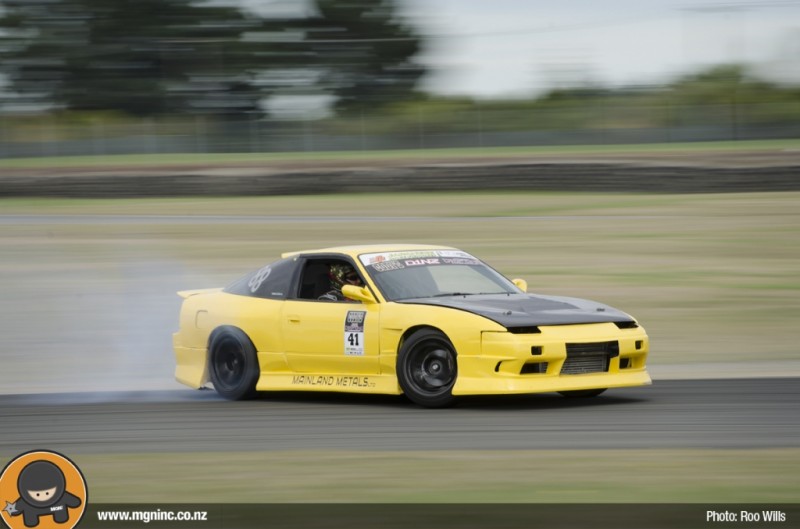 Kyle Jackways             65                   54                                          24                                    25

Jackways broke the gearbox in his own DTM/Nexen S13 in practice and stepped into team mate Jacob Hakarias lower powered car to qualify and compete. Jackways seems to be finding some confidence again and is getting stronger as the season goes on but had the misfortune to go up against Fanga Dan Woolhouse who was dialing in crazy angle at high speeds all weekend.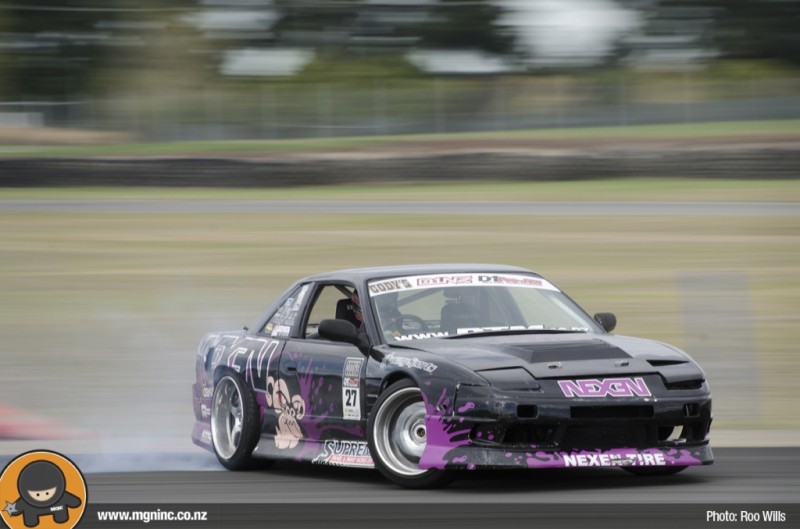 Nico Reid                65                        63.5                                      23                                    24

Tough weekend for the boys from South Auckland who had traveled South in force hoping to witness Nico's maiden event win. The team chased a miss all weekend and after hours of work including making new leads and sourcing new coils, enough was done to get the car out for qualifying. It was pretty clear that the car was down a little on speed from where it had been and Nico would meet good friend Gaza T in the top 32, who had been driving fast and smooth all weekend. Gaza would take the win and Nico would go out much earlier than anticipated, but thankfully perhaps for the team the points impact was minimised due to other teams also having issues.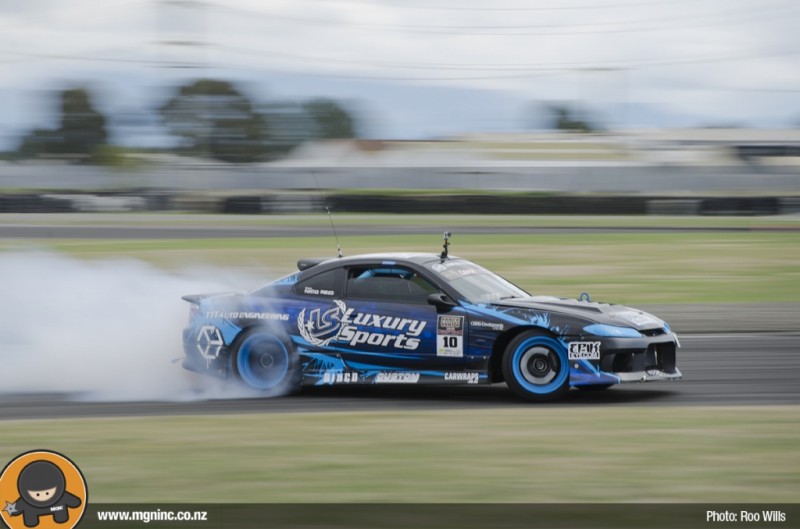 Guy Graham-Bagrie (Kerr)          65             64                      22                                    23

I did see a comment from Guy pre event that he'd been bumped up from Pro-Am to pro, and I suspect the speed difference  to the top cars was just too much. Coming up against Zak Pole who had made the move to Achilles 123 semi slicks, he was never really in the hunt and went out in the the 32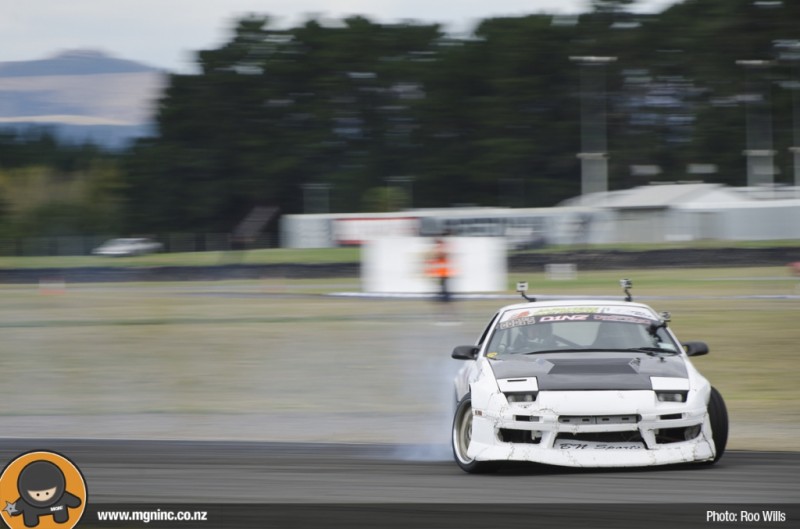 Bruce Tannock                                   67                                   21                                    22

The Rocket Bunny had looked pretty good through practice, but it all seemed to unravel in qualifying and Bruce was faced with a single run to get him into battles.  Came up against last years DriftSouth champ Chris Jackson in the top 32 and looked like he was going to really put the pressure on before getting too close and perhaps losing his line in the smoke and going off track.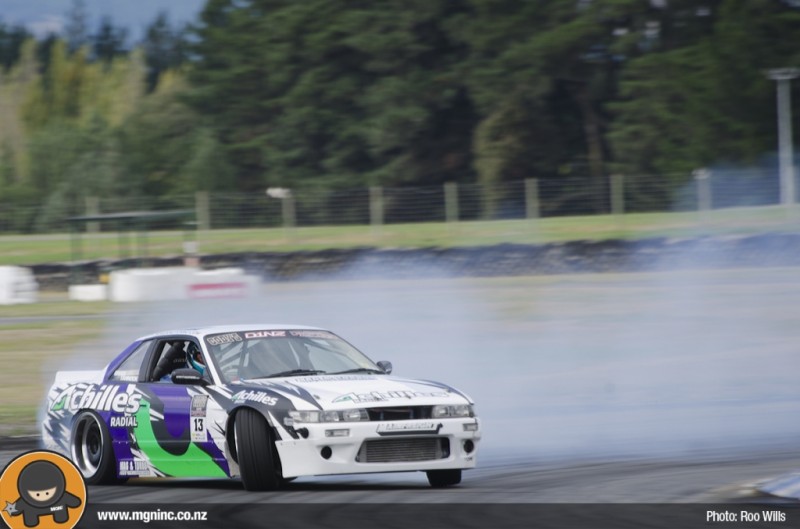 Jason Sellers                                    72                                   18                                    21

I'm getting pretty sick of writing this, but Jase simply has no luck. A belt coming off in qualifying sent Jase skidding off track on his second qualifying pass, and that was the last we would see of the Wongs Kitchen laurel.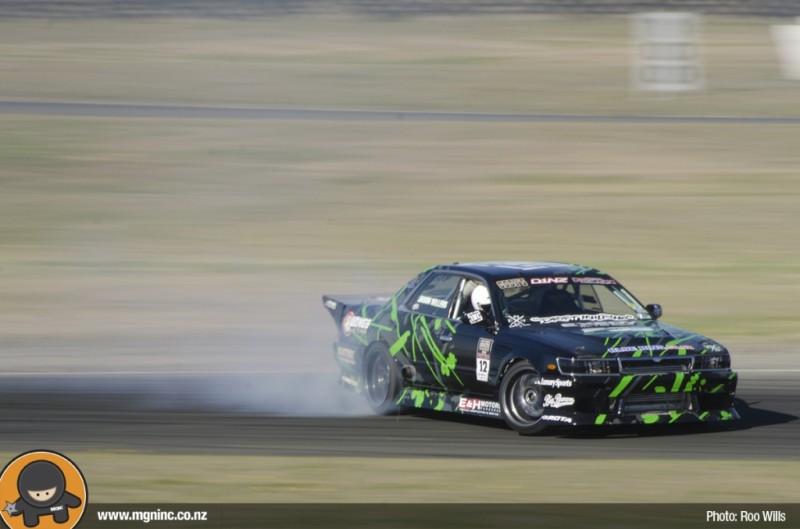 Paul Tomlin                  75                             65                                          16                                    20
Tomlin isn't unknown to D1NZ followers having done a few rounds in the past and he was expected to feature or at least spoil the hopes of a few in his largely self built and engineered car. Tomlin was looking the goods up against Drew Donovan before simply making a big mistake and taking himself out of the running.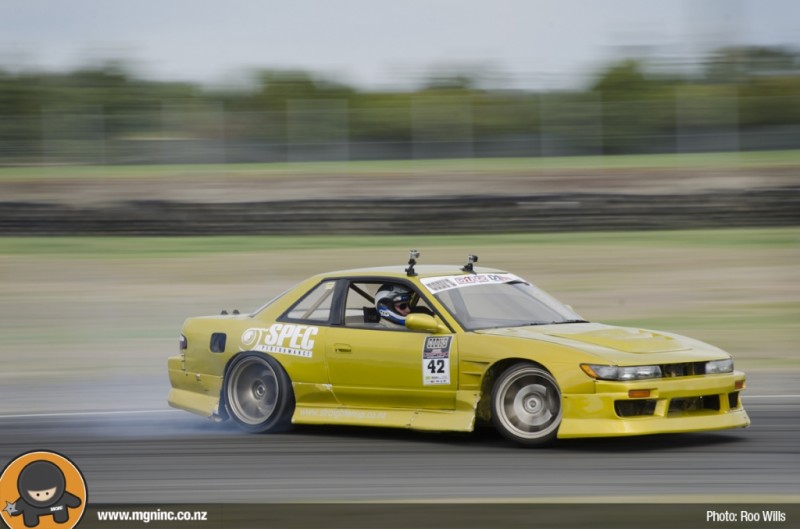 Ben Belcher                   76                  0                                             14                                    19

Belcher broke an axle on the run up to his first qualifying pass and had to abort and make repairs leaving him one run to get into the game. Would come up against Curt Whittaker who was in a borrowed and underpowered Pro-Am Cefiro and on his chase run he spun sending him out of the competition.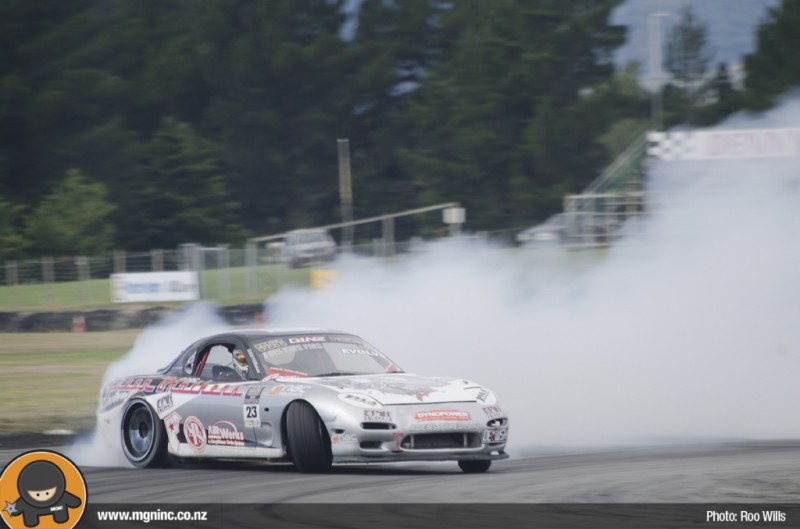 Tom Hadlee             76              73                                13                                    18

Hadlee is the other half of Southern Drifters team and was looking strong in qualifying with plenty of smoke and angle in particular up to and over the little rise before the final corner. Looked like he had the win in the bag against Sky Zhao only to make a mistake and eliminate himself from the competition.
*image coming
Gaz Whiter                                       84                                               3                                       17

New engine had the car humming, then it went boom . All over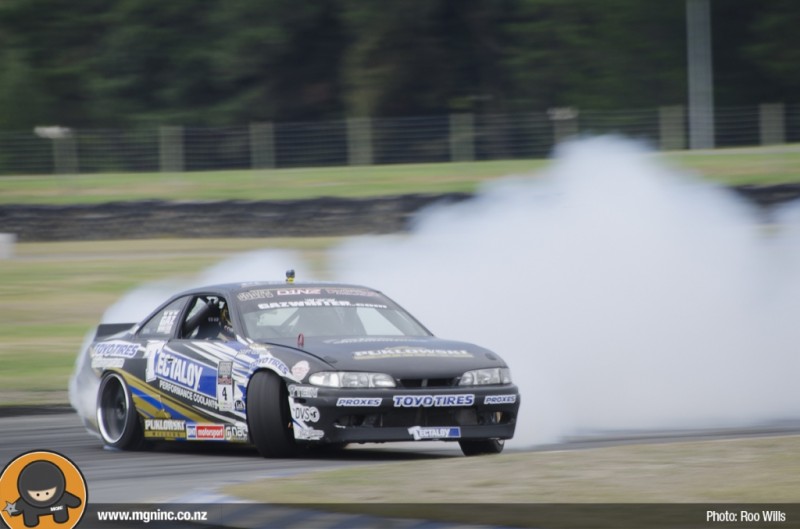 Joel Counter                               60                              30                                    16

Had a by-run due to Whiter not making it back on track in the 32 and came up against Curt Whittaker who nailed his run and made less mistakes. Counter looked to grow  in confidence as the event went on and will be better for the experience.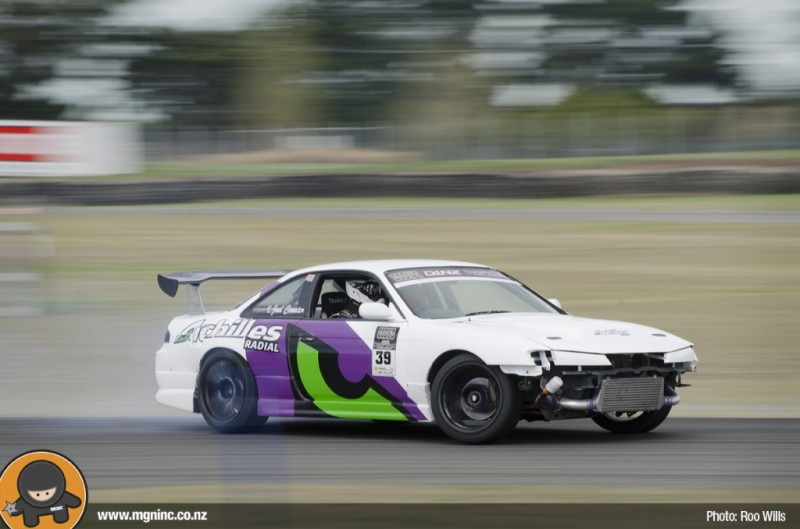 Sky Zhao                                          68                                            20                                    15

Zhao's car still lacks speed and it was highlighted by the way Shane Van Gisbergen attacked his lead run in the top 16 and then sat on Zhao on his chase. Needs to get the Ls7 into his car or perhaps move to a different tire/suspension setup.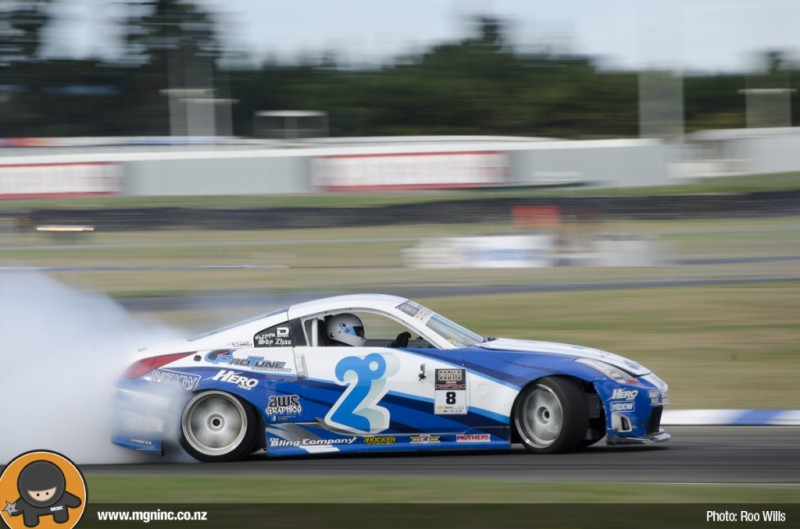 Chris Jackson                             78                 57                                          12                                     14

Jackson chased car issues all of the practice day, but had the car dialed and looking good on the main competition day. Is capable of massive angle and smoke and chases with the best. Came up against Cody Collis in a battle of a couple of the South Islands best and made a tiny mistake and that was all it took against Collis who simply looked like he was enjoying himself.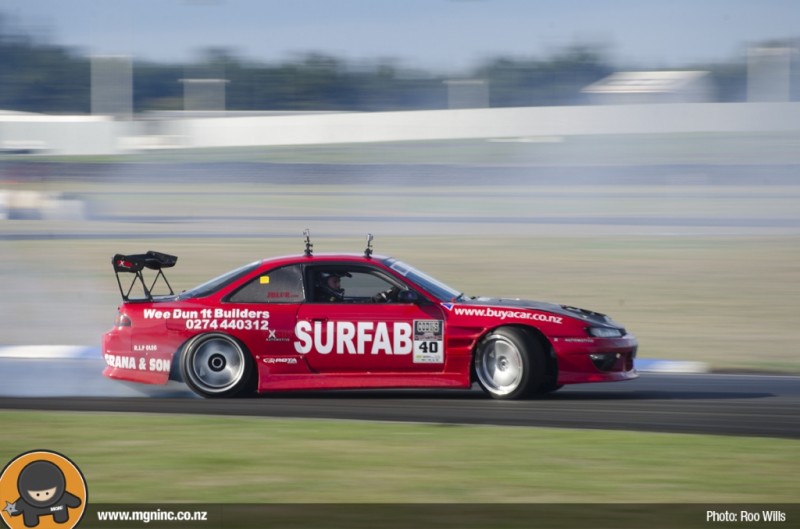 Zak Pole                                       78                      72                                          11                                      13

It takes a bit to push Mad Mike to an OMT and Zak Pole showed just how good he is going to be with a massive effort in his battle with the quad rotor. Some thought that Pole was hard done by, but the judges called as they saw it and the battle went one more time with the mad one coming out on top after Pole put a wheel off the track on both his lead and chase runs. Car looks very fast on the Achilles tire, and will be a real threat at the final round.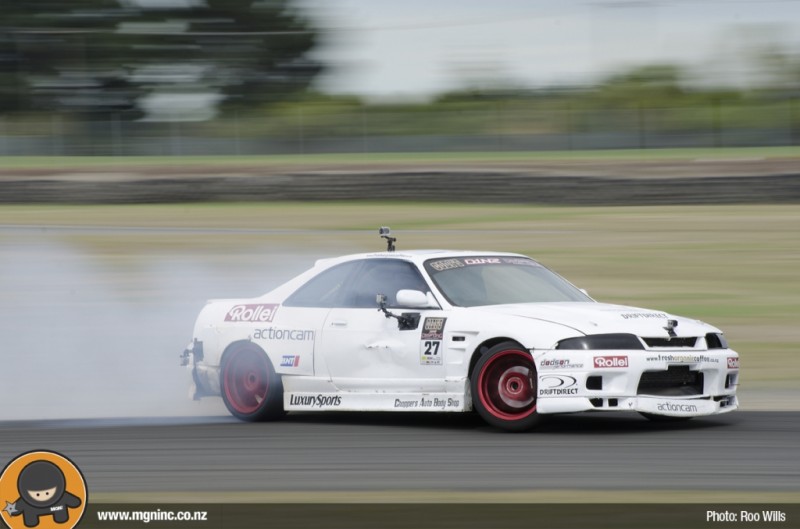 Daniel Woolhouse                   79            79                                           9                                       12

Fanga Dan hates to lose, but couldn't get past Phil Sutherland after being forced to a one more time.  Managed to hit the red Cefiro after asking  yours truly just how hard and aggressive he could go in on his chase.  Another who will be perhaps thankful that results fell the way that they did and he still holds a points lead going into the final round.  Is  still able to put a big car at angles that seem impossible and at high speed.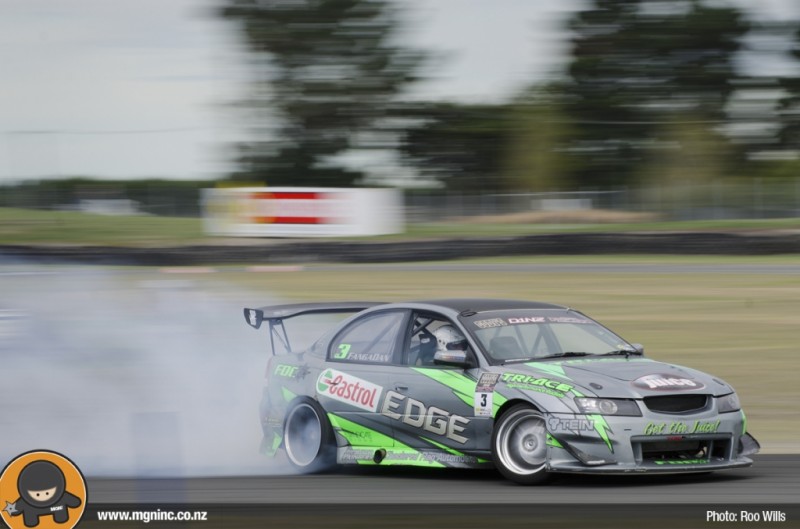 Troy Forsythe                         80.5                                      7                                       11

The Family Guy really wanted a win at his home event and he was looking strong in qualifying only to blow his turbo. After a call went out to the crowd a spare 35/40 was found and fitted to the S13 to get it out for competition. Troy would come up against Gaza T and the battle was looking like it would go in Troys favour when the car went off song and lost all power. The event over for the undoubted peoples champ of the South and the disappointment on his face able to be seen by all. Will now continue his campaign to have D1NZ come South for 2 or 3 rounds per year.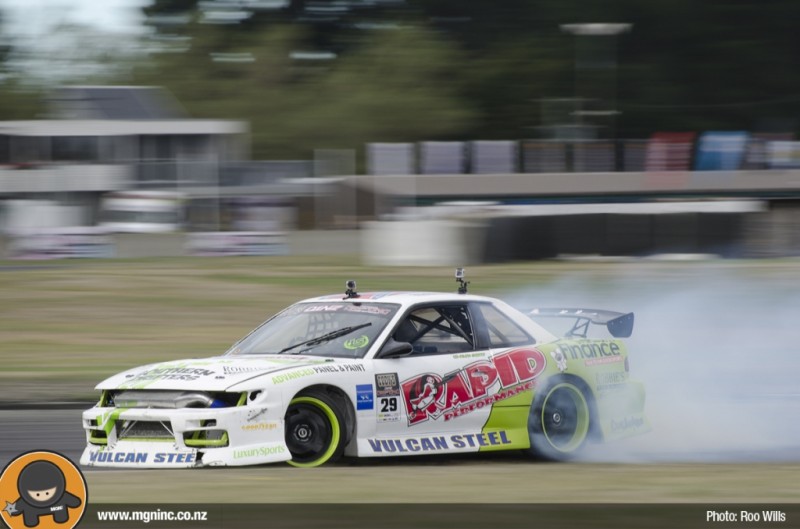 Andrew Redward                     85                                   2                                       10

Fast, flowing and aggressive, Redward looked like  he really wanted to shake off the bridesmaid tag that hes managed to garner over the past few events. Qualified a strong number 2 and would have been feeling good in the car after his first battle was won with relative ease.  Moved up to the grid area and was sitting waiting when for some unknown reason his brand new Liberty gearbox simply failed. Redward left literally sitting on the grid and needing to be towed off with a look that was part disappointment and part anger on his face.  * Failure diagnosed post event as a failed bearing*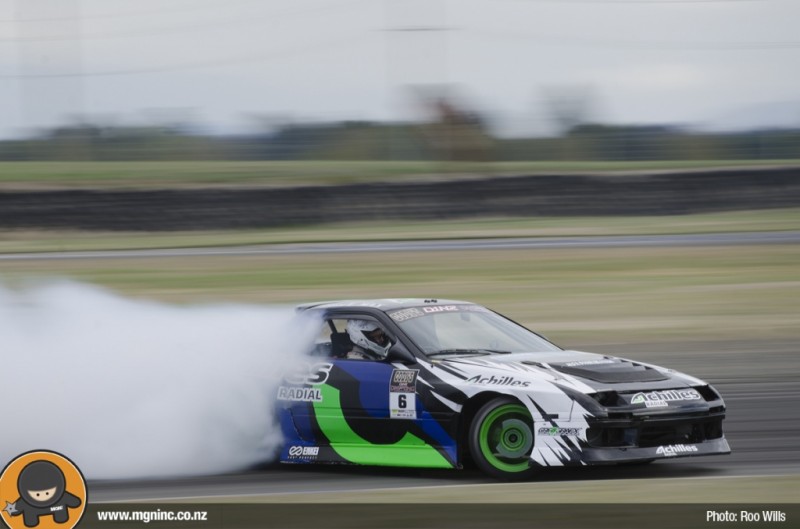 Daynom Templeman               86.5                                              1                                        9

Slim is a driver of considerable talent, and with his new 2JZ powered RX7 starting to show just a glimpse of its potential, Templeman grabbed the number 1 qualifier spot with a run that was so fast with so much angle it was almost silly to watch. What is perhaps scarier is that had his last run held , he would have scored higher. Templeman ran away with his first battle and then simply had it all go wrong in the top 16,perhaps misjudging speed differential.  Slim will now be confident in the car though and its abilities which will make him more dangerous in future.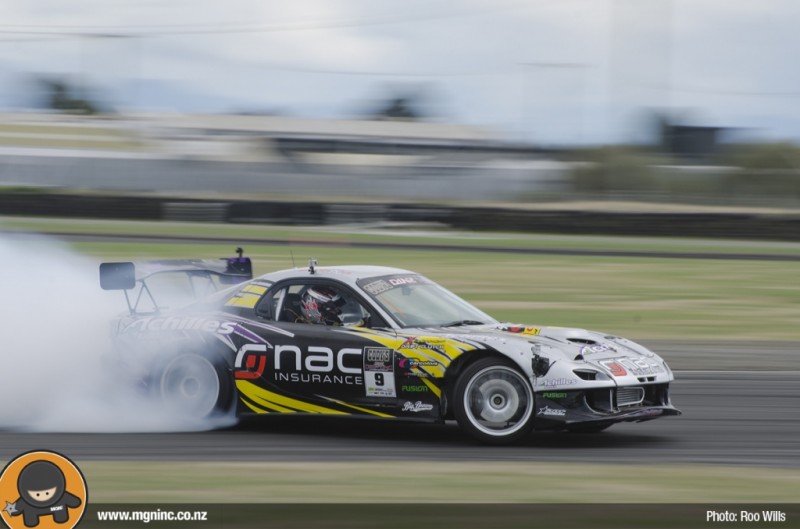 Curt Whittaker                       71.5                             19                                      8

Whittaker lost the engine in his Autosure R34 in morning practice and was forced to return to his drift roots in a borrowed Pro-Am Cefiro belonging to Rueben Amer. Curt worked hard with a car that at a guess was around 200kw less than his own and had much less lock simply trying to do the simple things right and chasing as hard as he possibly could. Wins over Belcher and Counter ensured that a decent points haul was had, but there was no way the car was ever going to be able to hang with Mad Mike who simply drove away in the top 8 before delivering a considered chase run.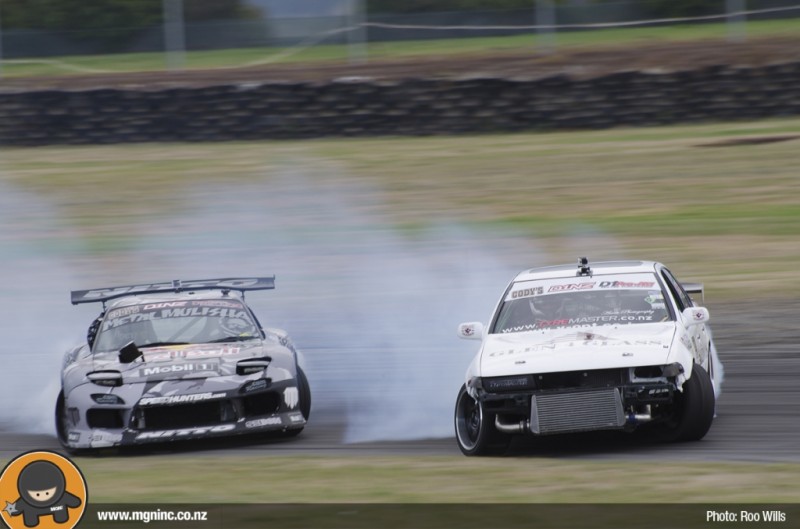 Gary Tenana                         79                             70                                          10                                      7

Gaza T will be stoked with his first ever top 8 performance, coming on the back of a good qualifying effort. Had a good battle with Nico Reid and then got the win over the Family Guy when his car went off song before meeting Cam Vernon. Gaza perhaps showed some nerves at this point when Cam upped the speed and made a few mistakes that ultimately cost him. Will be better off having some wins under his belt and won't mind the fine for that skid he did after being knocked out.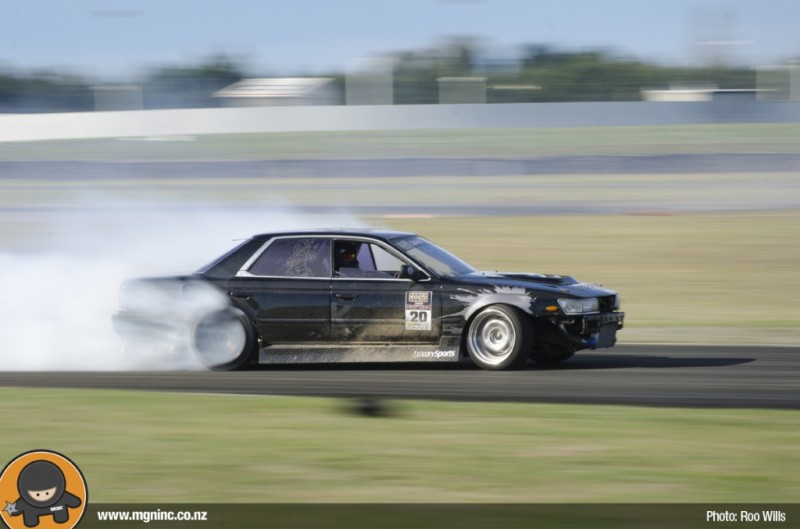 Phil Sutherland                     80                                   8                                         6

Big Phil was an unknown to many before the event, but will have come away with drivers and fans respect. Looked the goods all weekend on the final corner and simply mashed the throttle and smashed the limiter time after time.  Took down some decent scalps and then went OMT with Drew Donovan in the Top 8, only to have 3rd gear fail on him. Clearly a man who is loved by the people and had a huge smile on his face pretty much the entire time. I hope to see him venture North in the future.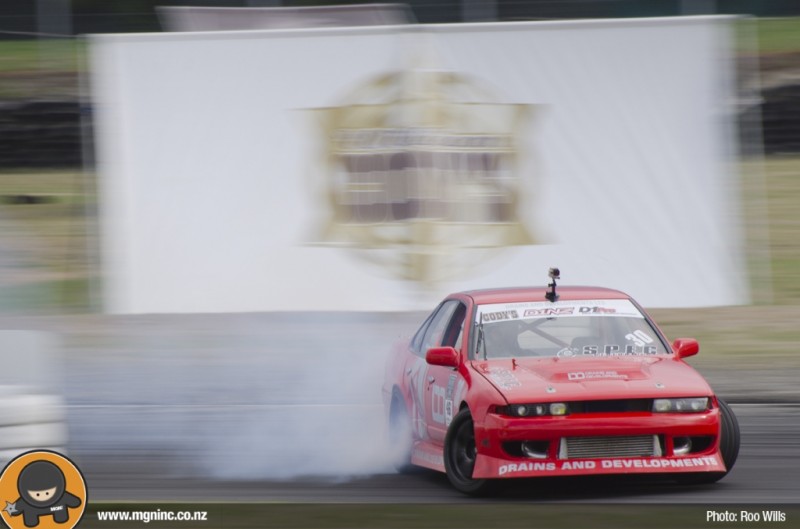 Shane Van Gisbergen              83.5                 82                4                                         5

What an effort, talking to Shane post event he really enjoyed the challenge of jumping into a  car he'd never driven before and pushing it to it's limits.  The crowd right behind his every run, he was the only driver to improve his qualifying score each pass. He did tell me that he had got so excited at one point he grabbed the gearstick instead of the handbrake against Cody Collis, but no matter what the outcome he has proven just how good he would be in a full season campaign. It will be interesting to see what lessons have been learned and are now applied to the Rattla Falcon.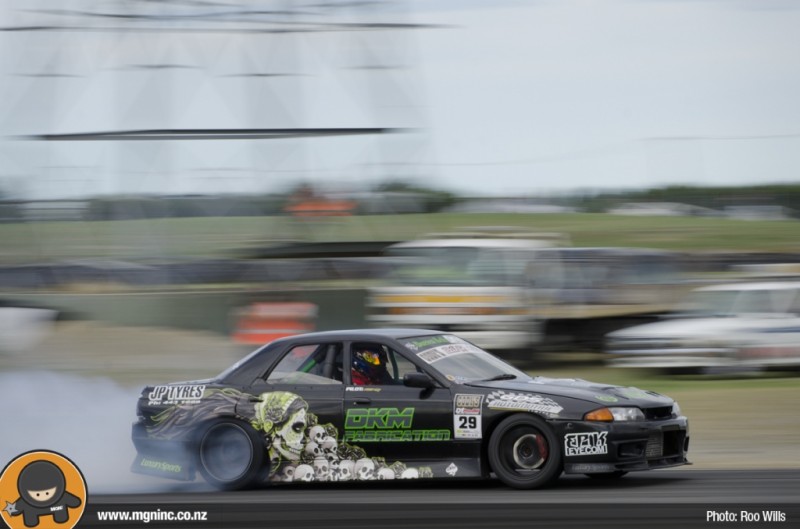 Cam Vernon                                    75                         71                   15                                       4

The defending Pro-Am Champ seems to be on a new level of relaxed and happy at the moment. Vernon didn't actually have to battle until he came up against Gaza T, but when called upon he was fast and aggressive and put pressure on his less experienced in battle opponent. Would go on to battle Mad Mike and did what he could, but it would prove a step too far and he would battle Drew Donovan for 3rd/4th.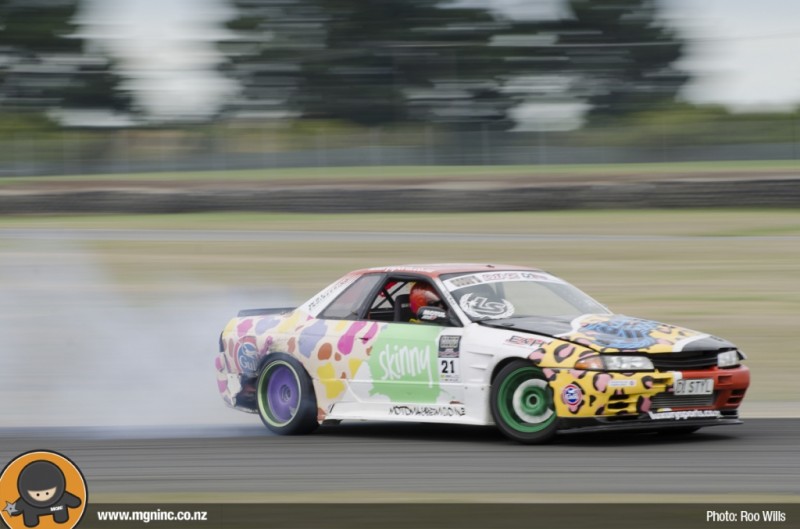 Drew Donovan                         72.5                                     17                                       3

I don't think you'd find  a happier guy right now that Doni D, he and his vocal support crew made a last minute mad dash South after working on the car to get it running and Drew stands on the podium in a D1NZ pro comp for the first time.  Had a battle with Cody Collis for a spot in the final and the Southerner had too much speed so went up against Cam Vernon and got the win after Vernon made a mistake.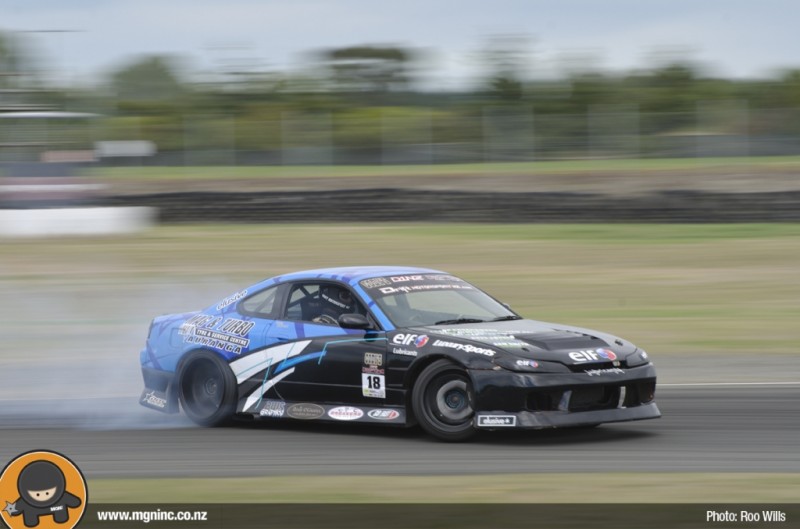 Cody Collis                                83.5                         77              5                                          2

I'd say the star of the event, just based on the fact he is local and has struggled this season since mounting the wall at Whangarei. Collis looked so much more comfortable and confident than at prior rounds, amazing what local support and knowledge can do. Jackson and Van Gisbergen were good victories on his way to the final and from the banging on the roof in anticipation it was clear just how amped Cody was for the final.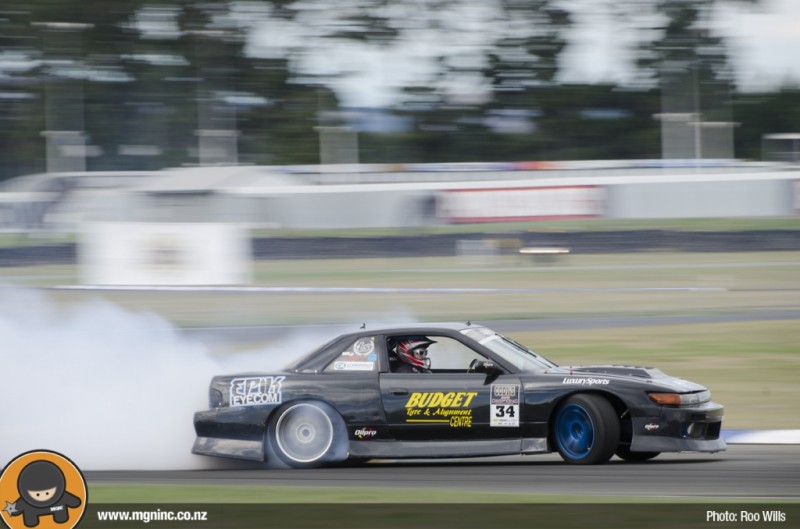 Mike Whiddett                         83.2                            6                                           1
The Mad One has a chase game like no other in the business, with the Rx7 simply dancing on a finely balanced throttle string all event. While much will be made of the misfortune of other top guns, the simple fact is that to win, first you must finish and Whiddett has had more than his share of bad luck in the past.  Battle with Zak Pole is bound to make for a highlights package somewhere and when it came to the final, Mikey simply went into business mode and put pressure on Cody Collis causing his to go off track and making the final over effectively on the first pass. Collis had a mechanical issue and called for 5 mins but couldn't repair the car and victory and important title race points would go to Whiddett and the Redbull team.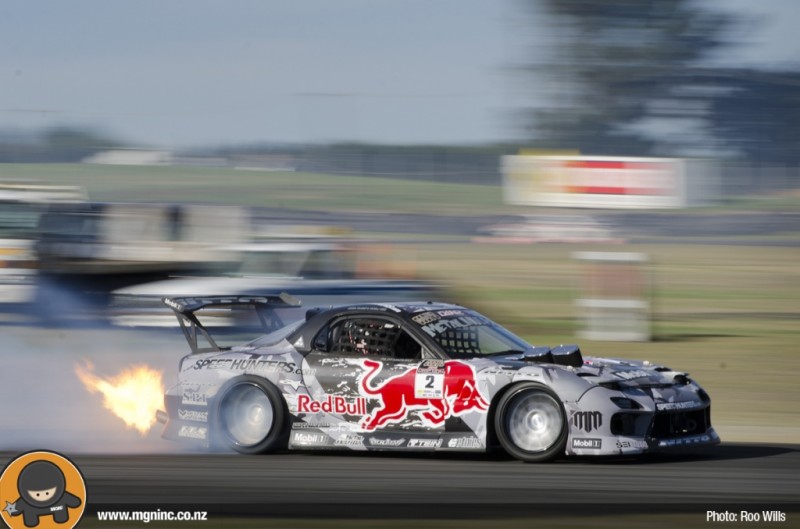 Whiddett took out both the Epik Eye.com round title, and the BP Triple crown that had been contested over rounds 1, 3 and 5.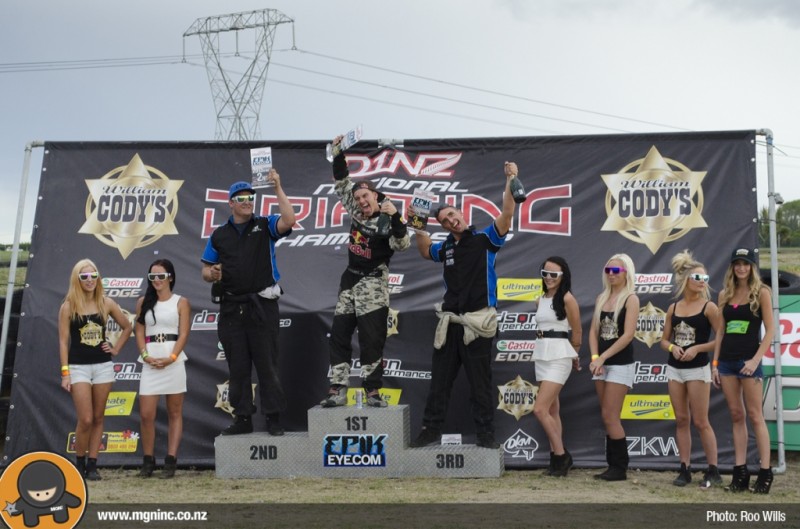 The title race is now all on as results mean that once again 4 drivers are potentially in with a shot at the title, and as Christchurch proved, anything can happen on race day.
Once again, Thanks to the people and drivers of Christchurch, It's fair to say that I am sure we will be back again.