Circuit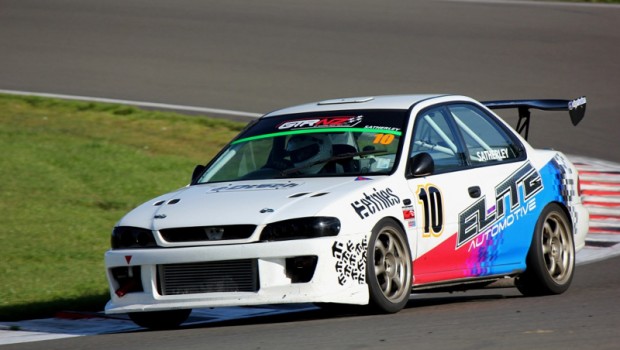 Published on August 16th, 2011 | by mrgrumpyninja
0
Race Report- UTRS Manfield- Tony Satherley NZGT WRX
Because I love this kinda stuff, here is a race report I received from Palmy based NZGT competitor Tony Satherley. Tony runs a largely self prepared and funded WRX with what could be called at best a very limited budget, and is one of those guys who just lives to race. He is so dedicated that he came across to world time attack, then flew back Saturday night just so he could run is his local winter series.
He also happens to one of those good buggers whose hands have been put to work on many a Subaru around New Zealand, and is jokingly referred to as "Palmys version of Ken Block", although if that is to do with his driving or his large collection of Flat peak hats I'm not really sure. Tony was also the Superlap Street Class champ at 4 & R Jamboree before stepping back from racing to help run the event.
Tony wanted to send a special thanks to -Elite Automotive -06 35 MOTOR , Etnies, Dtech Motorsport, Ocean & Ice,  Signfusion, Mag & Turbo PN, Wongs Kitchen, Alana my complaining understanding and supportive wife, and anyone who ever lends a hand on the car.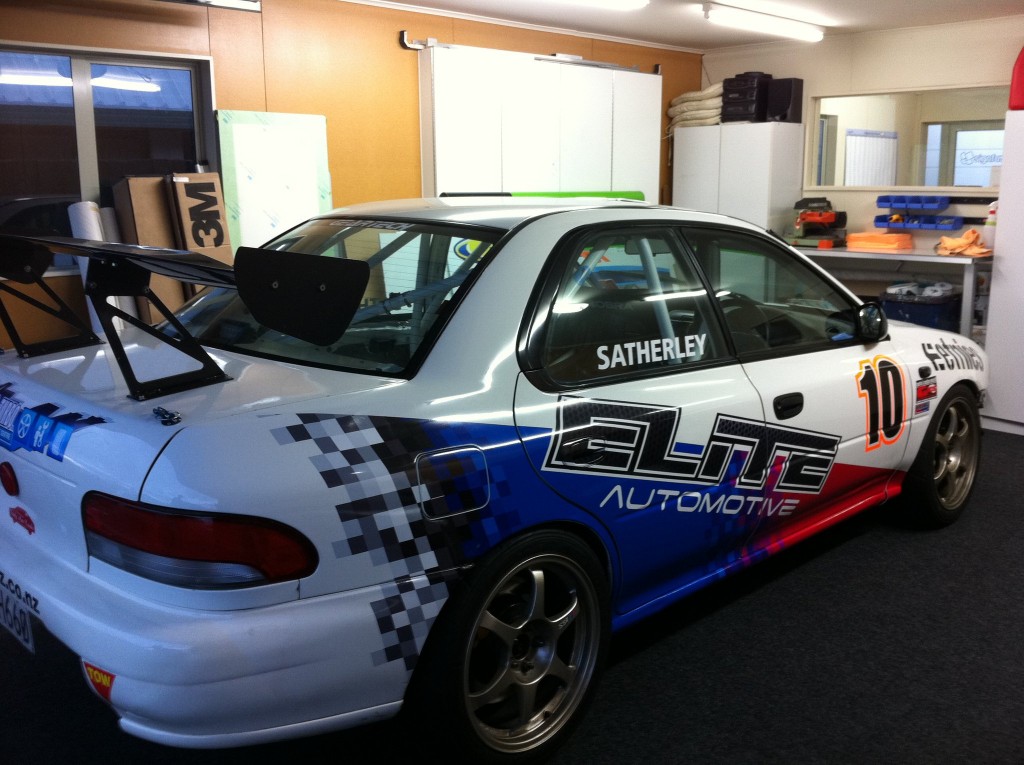 *Pics are a random assortment, sorry – MGN* 
Hi again guys,
I'm writing this having just finished round 3 of the United Travel/Manfeild Winter Race Series, which was held on Sunday 7th August. (Manfield for those who don't know, is located in Fielding in the Manawatu region of New Zealand) 
 
It was a tough & very tiring day for me, I decided that I really wanted to race and support the local series, so I flew back into Wellington from Sydney at 11:30pm on Saturday night.I then had to drive back home to Palmy, arriving home a bit after 2am on Sunday morning and then be up at 7am headed to the track.
The weather was forecast said it would be complete crap, and by the sound of the wind & rain at 6am, they weren't wrong, however upon arriving at the track, I found the rain had cleared with just a very cold, blustery wind buffeting the pits. Looking at the track, it was damp but rapidly drying thanks to the wind. My class (GT Cup) was 4th up on the grid for qualifying, so I figured after 3 sessions of qualifying before us the track would be dry enough to do qualifying on my slick tyres.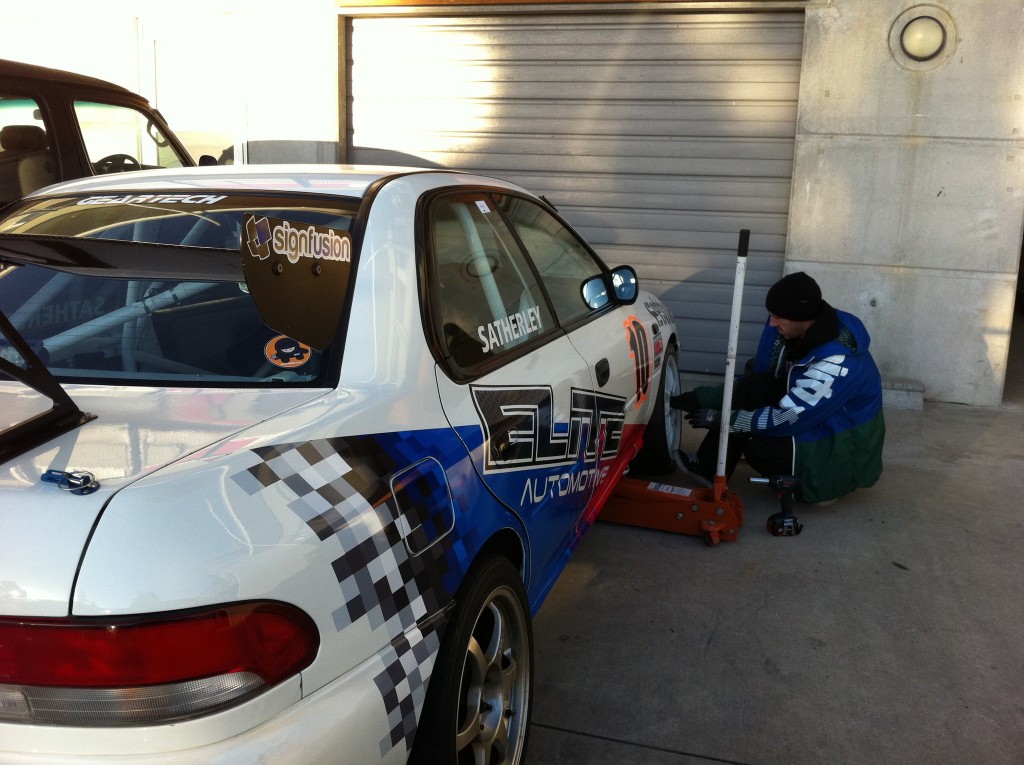 Qualifying:
 
While I was hoping for rain, the dry conditions actually worked out pretty damn well for me.Rain helps remove my horsepower handicap vs many of the top runners, and allows me to take advantage of superior traction and speed through the dipper and infield section.
I went out and circulated for a few laps, and then threw down a couple of flying laps which I deemed good enough for my qualifying. Surprisingly the track had a decent amount of grip, which was a bit strange as there were still a few wet patches here and there, but they didn't seem to affect anything too much.
I came back in and found out that I had qualified in second place with a 1.13.4! I was well pleased to be doing 1.13s so early on a very cold day!
Kerry Halligan in his amazing big horsepower Evo took pole position with a blistering 1.11.00 (a new personal best for him), with myself in second. In 3rd place was Brendan Neiman in his RX7, while Colin Parkin in his Subaru WRX seemed to have some issues in qualifying and ended up in 4th spot with a 1.15 (usually sits around the 1.11 – 1.12 mark).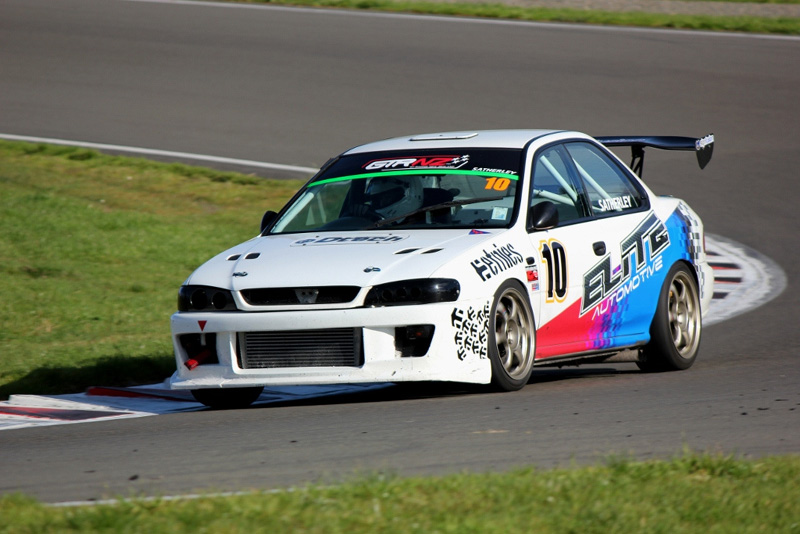 Race 1 – Scratch:
 
It turned out that Colin's Subaru had developed a nasty misfire, which was holding him up in qualifying. The crew seemed to have fixed the problem in time for race 1, so I had to be aware that he could come screaming past me at any point.
I made a bit of a mistake on the start, as I looked away for a second and then realised I missed the start lights! Recovering quickly, I made a bit of a comeback and managed to catch up with Kerry's Evo through the infield. Once we made it to the middle straight though, Kerry's massive horsepower kicked in and he disappeared off in to the distance. I started to keep looking in my mirrors expecting Brendan and Colin to be right on me, but they were still a few cars back so for the time being I had some breathing room.
It wasn't long before Colin caught and passed me though, and after that I was still expecting Brendan to be right on me, but he was still a few car lengths back. The rest of the race was uneventful, and I crossed the line in 3rd position.
Seeing that Brendan didn't manage to catch me, I figured that I must have done all right lap time wise, as he is usually slightly quicker than me. Upon returning back to the bits I was greeted my some of my friends telling me that I had managed to break into the 1.12s with a 1.12.97!!! I was soooo stoked, it was my ultimate goal to be able to run a 1.12 at Manfeild and I am really pleased that I have now achieved this. I must say that this was something I would have never thought possible in my car, but it turns out that it is! Not bad for running on second hand tyres, and well down on power when compared to the other guys that run in that time bracket! I can only imagine what would be possible if I was running on brand new slicks – maybe a mid or low 12?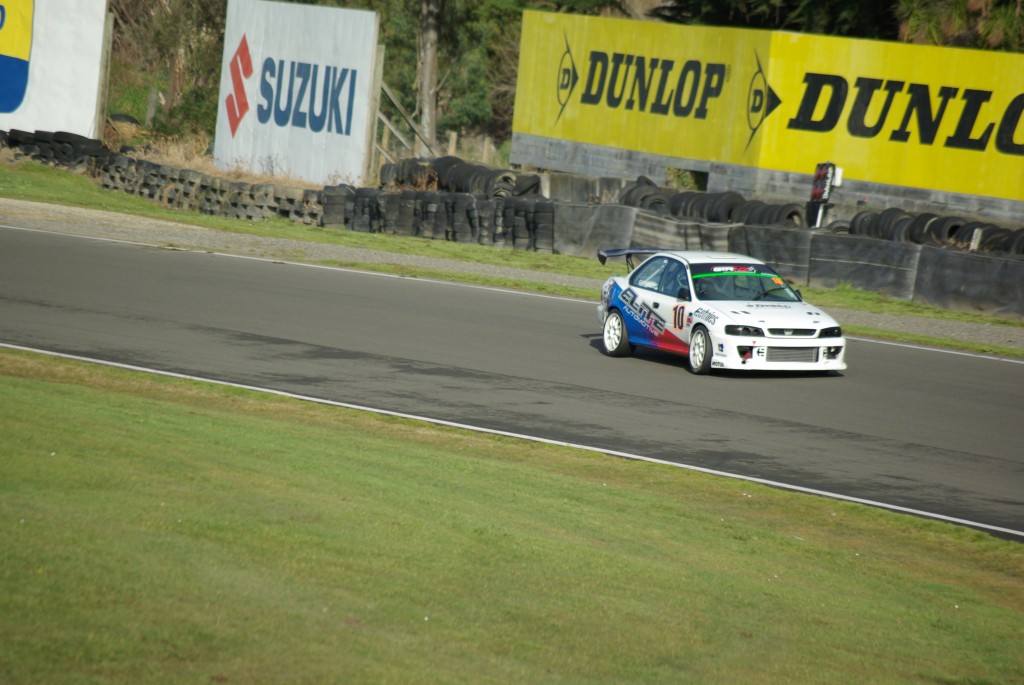 Race 2 – Handicap:
 
For Race 2,  I was starting in 3rd to last position with a 35 second handicap way back on grid 25. I had Brendan Neiman in his RX7 starting next to me, Colin Parkin starting 5 seconds behind me, and Kerry Halligan a further 5 seconds behind him.
I got a good start thanks to 4wd traction and lead Brendan into turn 1, through the esses and the hairpin, and up the middle straight. He then got a bit of a run on me down the back straight and passed me going into Dunlop corner, but I had better drive out of the corner so made a pass attempt,  but with his superior horsepower once he was wound up he took off from me.
I managed to catch him again as we went into turn 1, and was all over him through the in-field. We then came up to the hairpin and I took a wide line which gave me good drive out of the corner and I got ahead of him for a while, only to be passed again as his power kicked in. This continued pretty much every lap, even as we caught the pack of cars and made our way through, we were still battling.
On the last lap I had a bit of a plan, I stayed with him through the in-field again, and made sure I got really good drive out of the hairpin so I could get a car length in front of him – it worked, and I had enough room to move over to the inside line and hold that for approach to Higgins corner. Brendan was right next to me and going for the pass but I braked later, turned in tight, went to the outside and powered out of the corner, once again putting a bit of space between us. This was all I needed as I headed to the final corner.
Again I stayed in tight and took the defensive line – coming out of the corner it was a sprint to the chequered flag, but with my 4WD advantage out of the corner, he couldn't beat me to the finish line and I ended up in 4th position, with Brendan close behind in 5th. Kerry didn't quite make it up to me and he finished in 6th place. Colin meanwhile had driven really well though the field and finished in 2nd.
I was pleased to be running mid 1.13s in that race given I was battling with Brendan and making my way through traffic.  After the race Brendan came up to me and said how awesome that battle was. It was some really good racing, and was probably one of the most fun races I have ever had.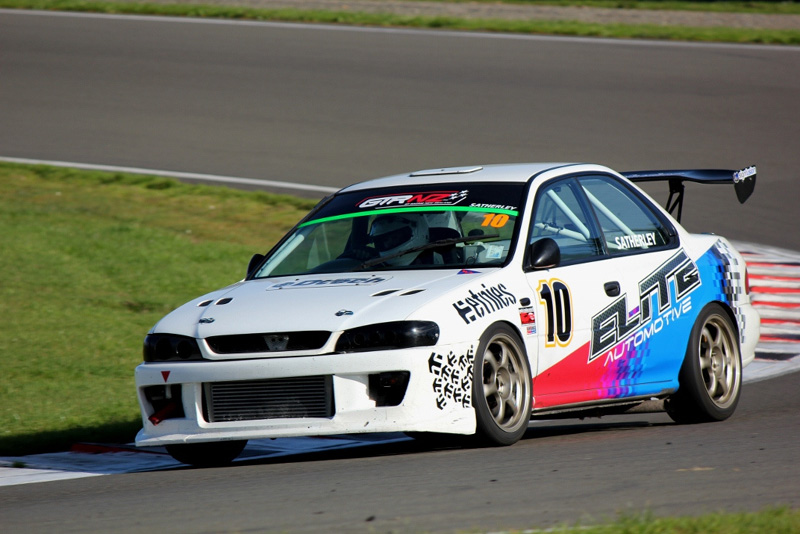 Race 3 – Handicap:
 
Again, for this race I was starting in 3rd to last position with the same 35 second handicap and next to Brendan.
I got another good start and managed to stay ahead of Brendan for the whole race this time. This worked out well as once I had caught the pack of cars that had started earlier I could concentrate on just getting through them rather than also worrying about Brendan being right on me the whole time.  This also made it a lot easier to work my way up the field, but I could see Colin and Kerry hunting me down in my rear view mirror.
Coming up to turn 1 on the 4th lap, I was approaching a group of 3 cars, and then saw there was a Porsche that had gone off and got stuck in the gravel which brought the yellow flags out – I backed off as you are not allowed to pass in the yellow flag zone, but Colin went flying past me under brakes! I figured he would be penalised for this so wasn't too worried.
Once flags went green again,I got back on the gas and got past the other 3 cars to put me into 2nd place behind Colin, only to be passed by Kerry, knocking me back into 3rd and this is how the race ended.
I figure the marshals/officials must not have seen Colin pass under the yellow (passing under yellow is not permitted) unless he actually passed me before the zone marker? Sometimes it's so hard to tell with so much going on around you!  Either way he was not penalised and the results stayed as they were.
I was still circulating in the mid 1.13s for that race, which was decent given my tyres are now pretty shot.
 
So again,this was another successful race meeting for me, with two 3rd places, and a 4th. This gives me the lead in the championship.
 
Current championship standings for our class are as follows:
 
1st      Tony Satherley    Subaru WRX 2ltr      496 points
2nd      Richie Arber        Mitsi Evo 2ltr            426 points
3rd      Craig Bartosh        Ford CapriTurbo    425 points
4th      Kerry Halligan    Mitsi Evo 2.3ltr           417 points
5th      Colin Parkin        Subaru WRX 2.5ltr              366 points
 
Full championship results here: http://www.mylaps.com/championship/view.jsp?id=17601
 
Round 3 Race Results (All classes) here: http://www.mylaps.com/results/showevent.jsp?id=696066
 
So its gonna be all on for the final round, as I don't have in it the bag yet! Those quick guys can potentially beat me in each race so that will definitely help them to bank the points. I just have to concentrate on finishing each race in as high position as I can, and preferably ahead of Richie Arber as he is usually a strong contender in the second handicap race with 2 race wins under his belt.
 
Fingers crossed I can get everything sorted for the final round, as I ended the meeting with a few issues L . Two of my tires are completely worn and no longer usable, and I have cracked one of my front brake discs. I will see what I can come up with I guess and just do my best to get out there.
 
Again, thanks for your support.
 
Tony Satherley #10