Events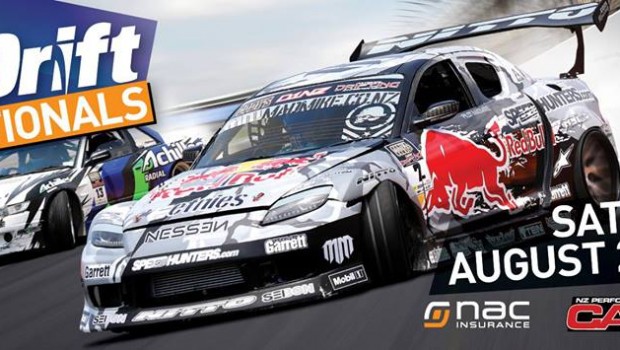 Published on August 18th, 2013 | by mrgrumpyninja
0
NAC Drift Nationals returns to Hampton August 24th
It seems like not that long ago that we waived farewell to the 2012/13 D1NZ National Drift Championship season and already we are upon what is seen by many as the traditional season opener, even tho its a completely stand alone event run by a different promoter. Who will get that big kick start to the 13/14 year and get themselves in the spotlight early, and perhaps set up a strong run for an overall title?

The NAC Drift Nationals is an interesting proposition, with a single day event format and the winner crowned champion at the end of the day, no battling for season points, nothing to loose by throwing everything at it , and perhaps the most challenging for all is that there is no class distinction between what would normally be known as pro and pro-am. While that may not seem overly important, what has become very clear recently is that many of the very fast drivers have just as many challenges chasing a slower car, as the slower car does chasing a very quick slider.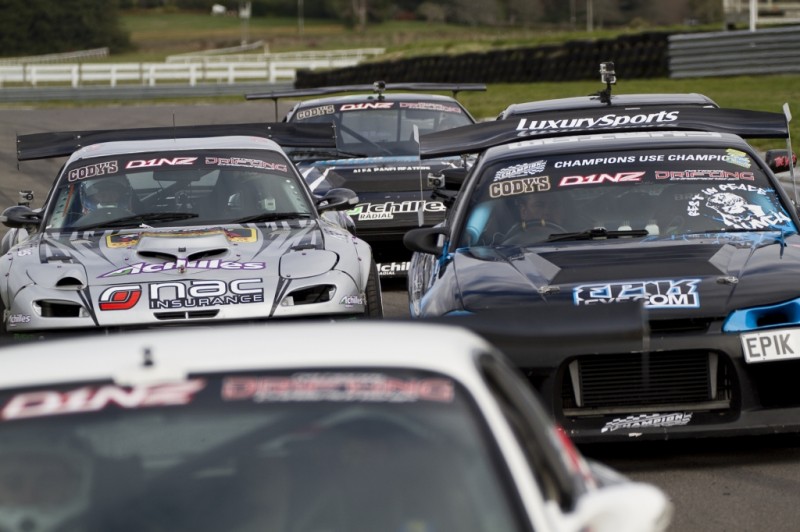 The real wildcard for this event is that rumors of the love it or hate it 'top 16′ lock in system are abundant, and we could see for the first time ever the top 16 set after 1 run, with only those who miss out getting a second run to try and slot into the top 32.  Factor in the well known Hampton Downs circuit which stats show is by far the closest matched track in terms of qualifying scores and amount of one more time battles , and you have the makings of quite a good day out if you like all things sideways with a side of tire smoke, wastegate and rev limiter.
In a nutshell..this is the course- The section starts with a scrub prior to the grid lines up on the main straight away from spectators eyes (except those in the apartments)  before the drivers accelerate through 4 gears and attack turn 1 in a grip style to set themselves up for the run down towards the Gulf Oil billboard, the very best will be well sideways by this point and carrying as much angle as  possible as they go from what will likely be an inside initiation to an outside clip before coming back into a clip on the inner apex of turn 2, a smooth switch up and over the hill to an inner apex on turn 3 to another outer clip around 75m past the crest of the hill and if the drivers get their way a further switch back to a final clip on the opposite side of the track.  Battles at Hampton are generally won at the base of the hill, where the judges tend to punish those who have sat back and then shallow up on angle to close the gap up as drivers accelerate up the hill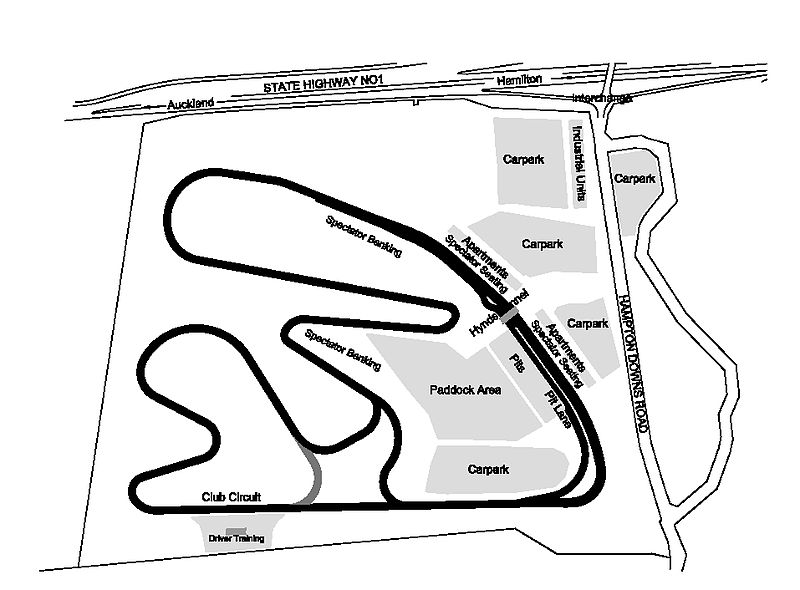 So lets take a look at who might be the real contenders, this of course is based on my opinion only and form at Hampton Downs. My understanding at this stage is no Fanga Dan due to 'retiring' the Commodore , and Curt Whittaker with a new baby also possibly sitting it out.
Mad Mike is always the man to beat at Hampton, he knows the course well, tests here often and if he's in the RX7 which I believe he will be then he has a car that dances on the throttle and can seemingly real in a car on chase at will. Add in the aural symphony of the quad rotor and the Nitto tire smoke screen and the crowd will pop for everything he does which makes him hard to tip over. Has won the previous 2 Drift Nationals titles so sits on a potential hat trick.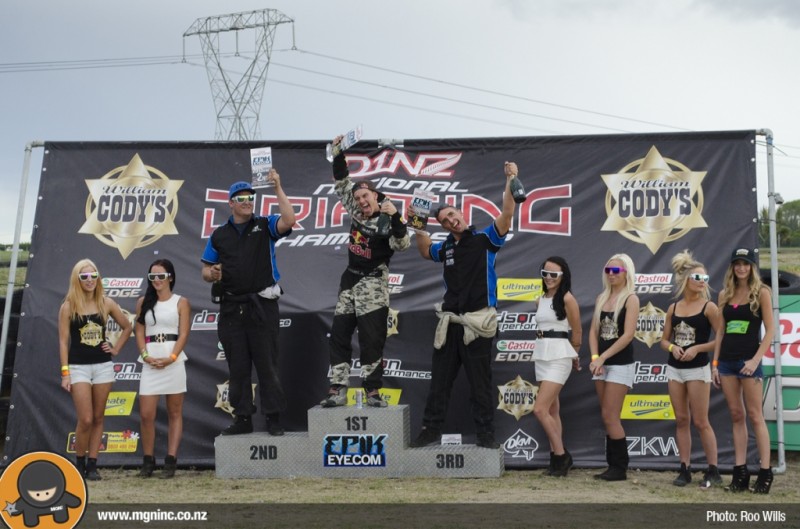 Nico Reid will feel he has unfinished business at Hampton Downs after grabbing his first #1 qualifier result here at D1NZ round 4, only to go out in the top 16. Its a mark of how the team has grown that rather than dwell they went looking for solutions and now boast a refined aero and grip package from Townsend Bros racing which sees the car achieving much higher speeds, better angle and looking  a whole lot more settled. You won't miss the Tanefa fan squad either, they'll be loud n proud.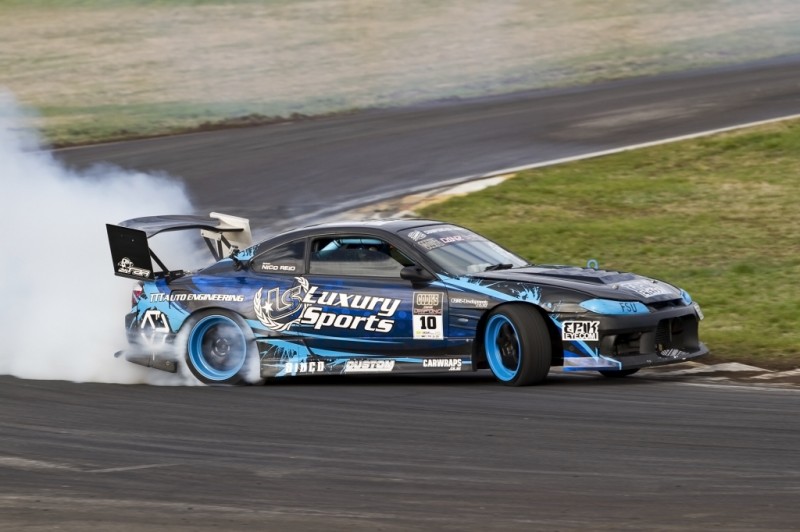 Andrew Redward is due for something good. He's a talented slider who just hasn't quite put it all together at the right time yet. With a lightening fast car  and plenty of grip via Achilles 123, look for Redward to fire into turn 1 at some of the highest speeds seen and then either drive away or close right up on the lead car up the hill.  Will want to lose the bridesmaid tag he has garnered and erase memories of  a sub standard Taupo season end.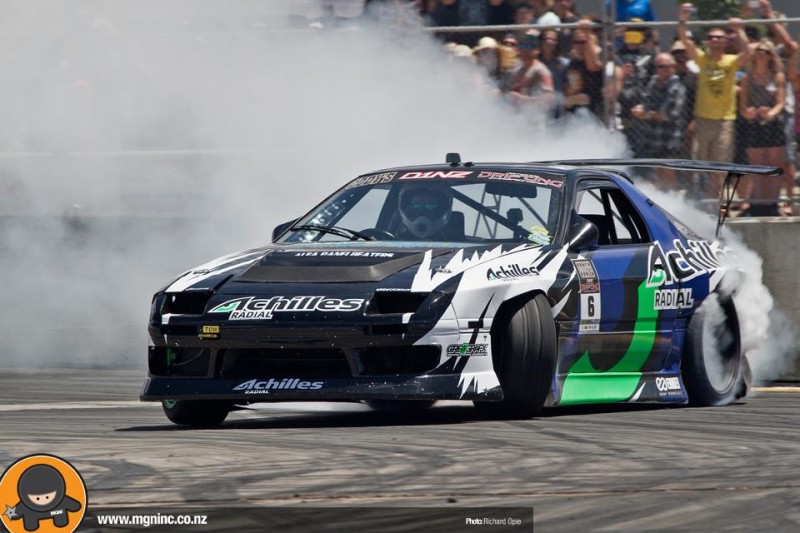 Gaz Whiter took a 240kw loaner car to 4th place last time he was at  Hampton, and is another who's done a good amount of laps and knows where the points of difference are.  Will want and perhaps needs to get back on the podium to restore some confidence and give his loyal fans and sponsors something to cheer about.  Will fly the flag for Toyo Tire as always, and that may be his 'Achilles' heal so to speak if others are on semi slicks.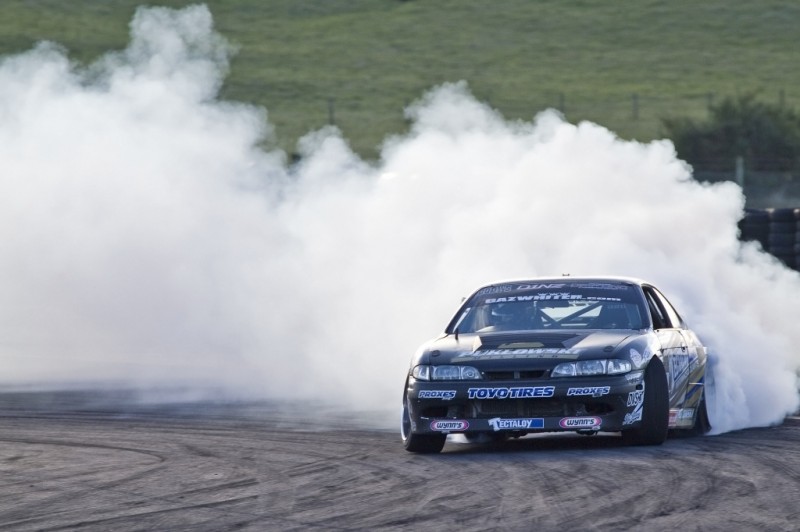 Bruce Tannock went as far as the final at last years event and has clear speed. Much will depend on the draw as the Hamilton man seems to have developed a bit of a habit of beating himself against slow cars, but if he has the right luck then will be wanting to go one step further and cement a first event win.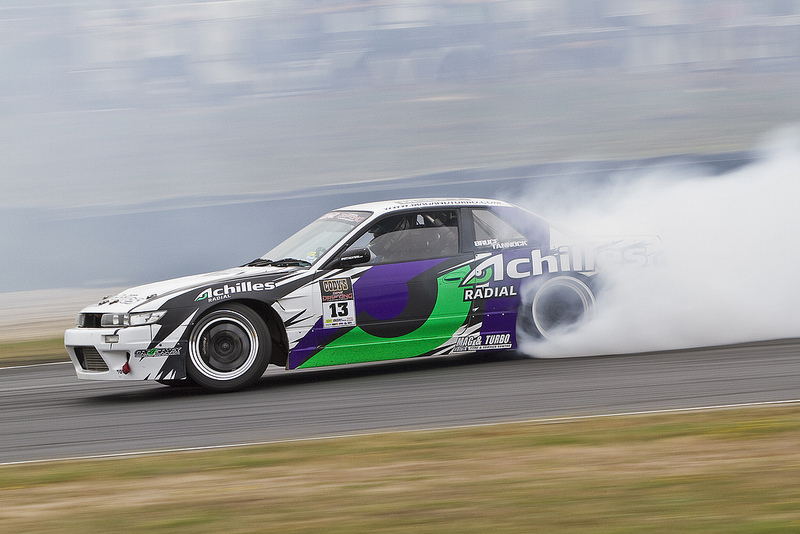 Cole Armstrong will return from Australia for the event and jump back into his 4 door R34 for the event. Cole has been keeping his skills sharp with a grass roots style build in Australia so it will be interesting to see how he settles back into his big power RB Skyline after using a V8 in China and then an SR in OZ.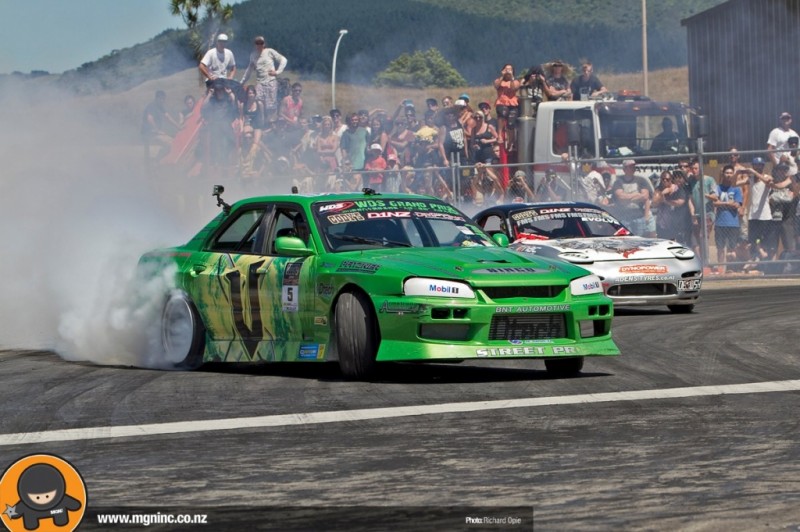 Personally I can't see the winner coming from outside that group, although Daynom Templeman and Carl Ruiterman are both seasoned pros who have the ability to beat anyone when they are on form. I suspect there will be much interest in how some of the newer crop of drivers progress with the likes of Darren Kelly and Matt Lauder stepping up in open competition for the first time, not to mention intense interest in the quad rotor lexus creation of Carl Thompson, who has yet to compete in drifting but has proven some considerable wheel skills in the drag racing arena.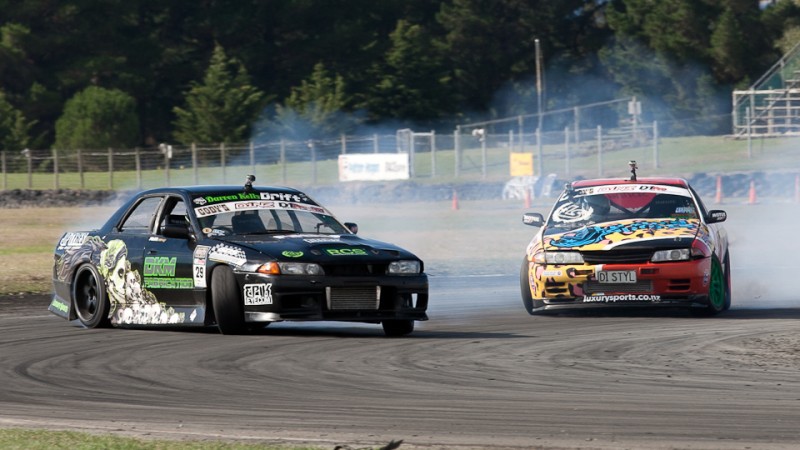 Whatever the outcome, there will be a big crowd and I am quite looking forward to jumping back on the mic for the day. There is a fair bit of action planned for the day, and if there is  one thing we know about this event, it is that it tends to throw up a fair few wildcard results so it won't be too much of a surprise if there is at least one lesser known name at the pointy end of the field come 4pm.
For event info see - https://www.facebook.com/events/502664223146662/?fref=ts