Events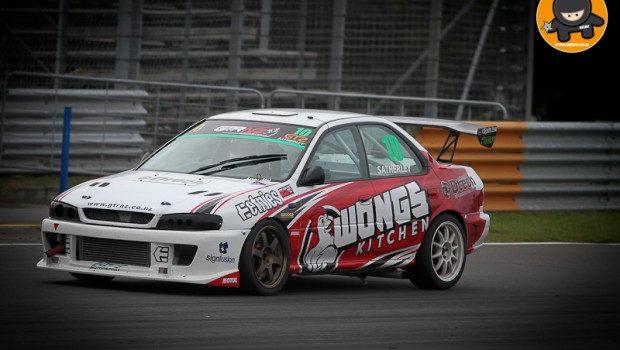 Published on October 13th, 2012 | by mrgrumpyninja
0
Jerkfest 2012- Taupo Track 1
Taupo motor sport park played host to the annual event that is the "Jerkfest' this past Friday,  an event for a group of mates referred to as the 'Circle Jerk Crew' or CJC, who are a rag tag bunch of misfits roaming the earth fighting evil and slaying b!tches…. one forum page at a time.
After speaking to Chairman Wong, in between insults and references to Gangnam Style,  it was decided I should load up the old girl, and head down to see what the car was capable of.  It actually hasn't  been raced since it was rebuilt almost 3 years ago, so let's be honest and say pretty much everyone including me thought it was going to break and probably in spectacular fashion.
Unfortunately due to GPS not being quite as accurate as I had hoped I don't have any lap times until I do a rough guestimate off the video, unless you think the 384khm max speed recorded by my phone is legit.
Here are a few snaps of the day taken by JGM.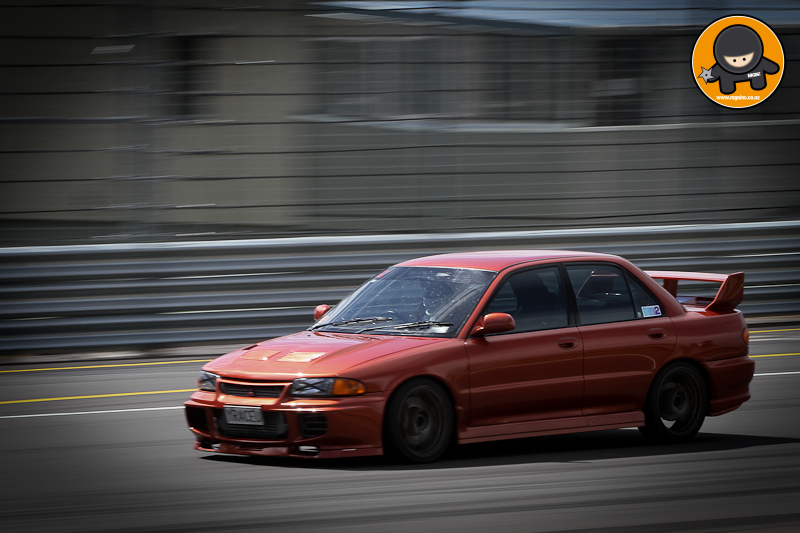 NZPC's Peter "PD' Kelly enjoying some down time after finishing an issue the night before, seen here sizing up track conditions with flatmate, part time leprechaun and current feature car owner Patrick O'Carroll (I think he might be Irish).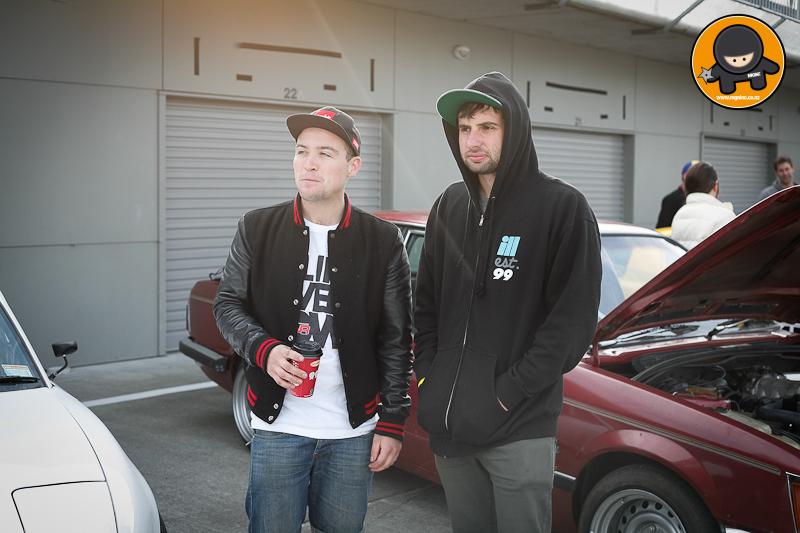 Usual briefing before heading out. Translates to don't be a dick, don't crash and could all the Chinese drivers try not to cause road rage.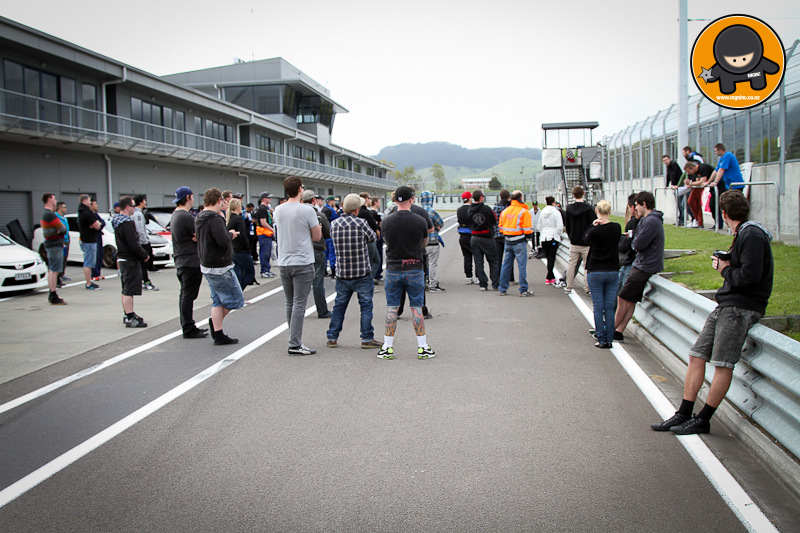 Indian file line for access to what was an open pit lane all day. Worked really well with plenty of track time for all. Only time there was an issue was when there were too many Indians in line and Rocky held everyone up trying to sell genuine fakes.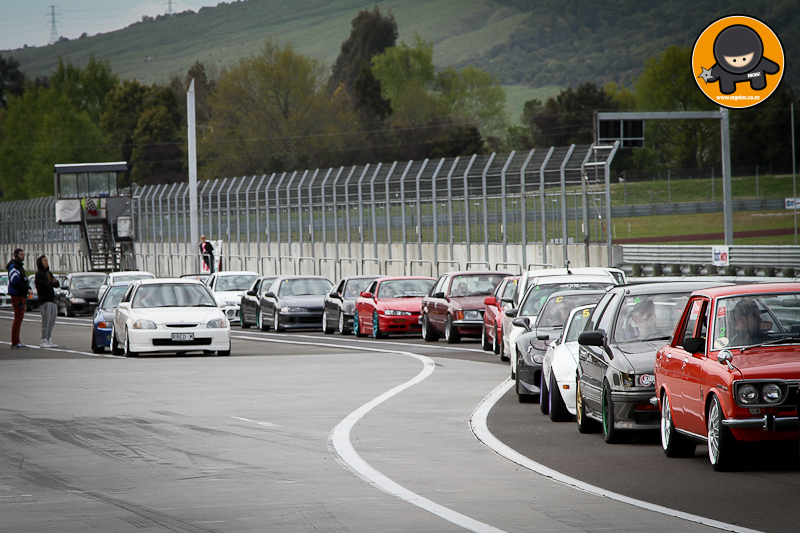 This is not Fanga Dan's new drift car, fan of all things stance Anae and his Girlfriend were sharing driving duties.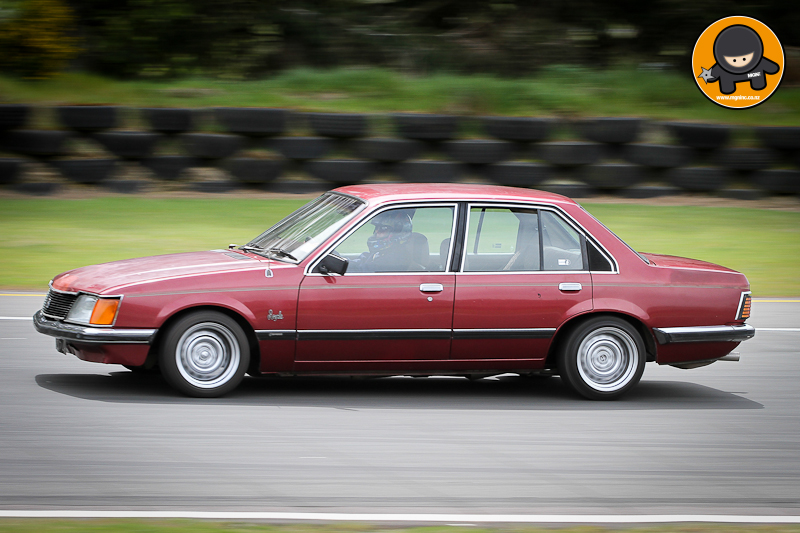 Highlighter yellow rocket ship aka Lotus. Seen plenty of laps I would think and was among the quicker cars present with a supercharger underneath the bonnet.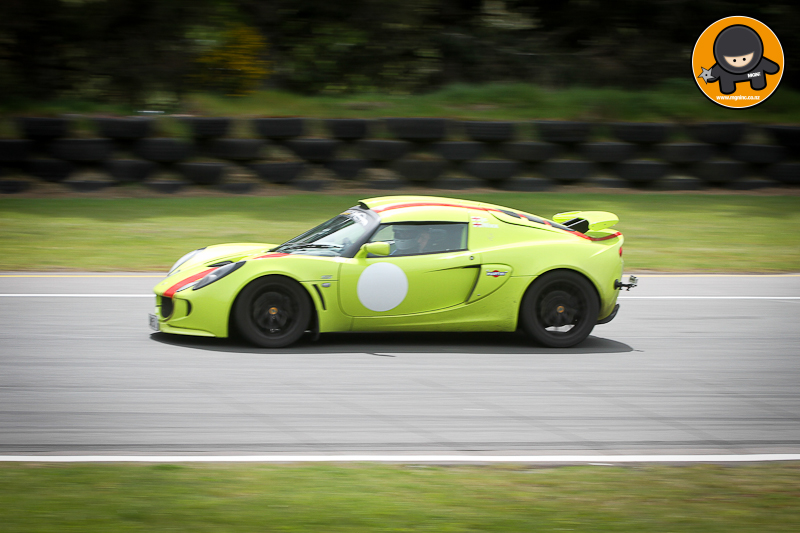 Indian #36 had invested in semi slicks for the day, and was pushing to find the limts of grip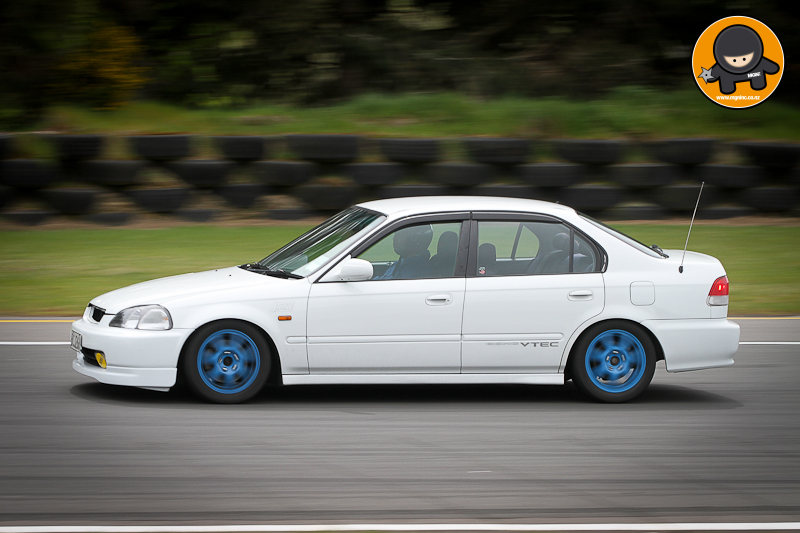 Damian Wigglywood had been shown up by his Mrs, Laura, who had been out at lunchtime for some reccy laps. Here he is trying to reclaim his pride. Yes…that seat is as far back as it goes..he's just really tall.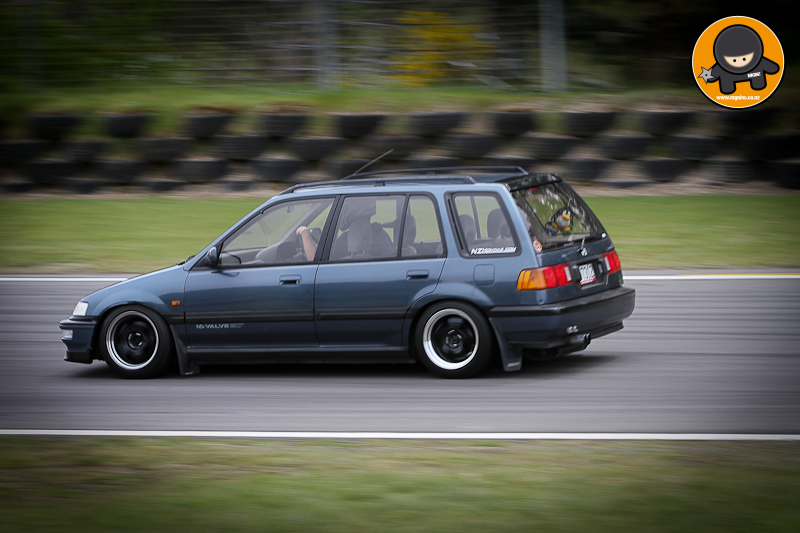 Davids Evo 9 was looking good, driving duties shared with Jake "Da Mussel" Hakaria, who also managed to wreck someones go pro. Hakaria offered air rights as repayment which was declined.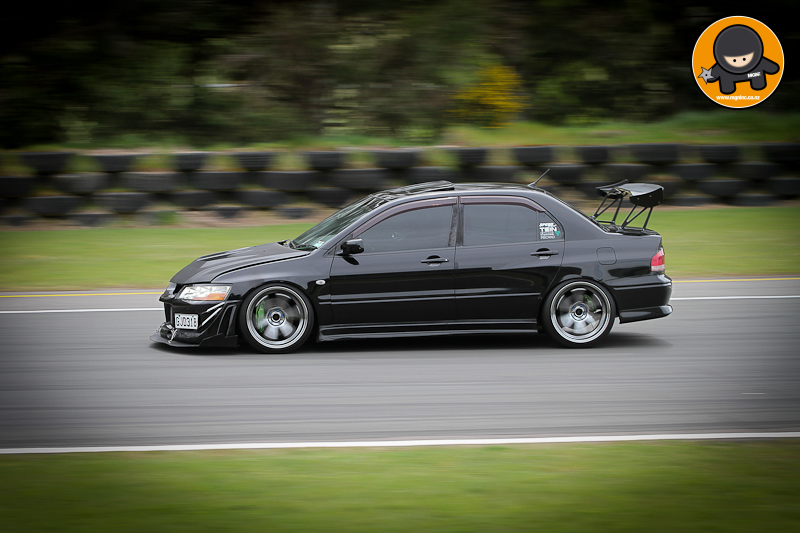 Jerks do things different, so it wasn't any surprise to see a ute out doing laps.
The fastest car on the day was Tony Satherleys Wongs Kitchen Racer. Tony competes in GT2, and managed a PB  on the day of a 1.38, which is fairly quick in anyones language.  Also driving was his partner Alana, who spent most of the time looking for places to pull over and have a nap, and abusing marshall J Mills.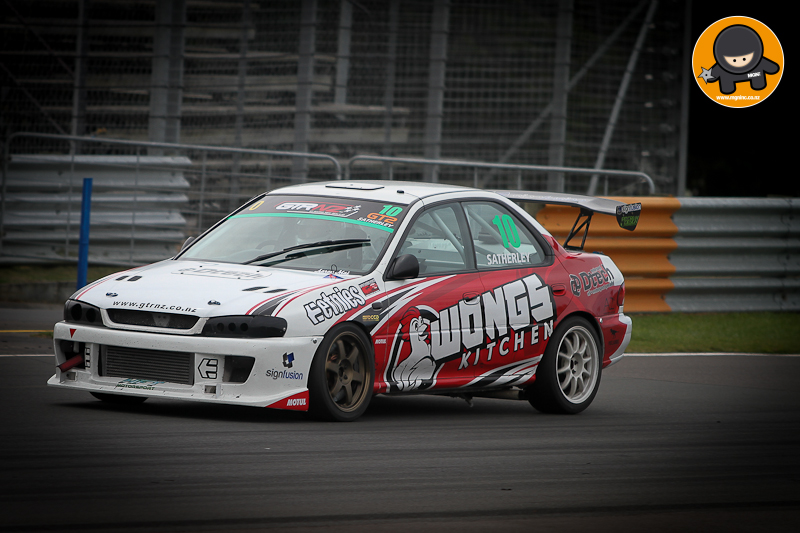 Lunchtime bought about the jerksale, with T shirts , Stickers and other items available.  Dion Torretto was uninterested in anything bar 10 second cars.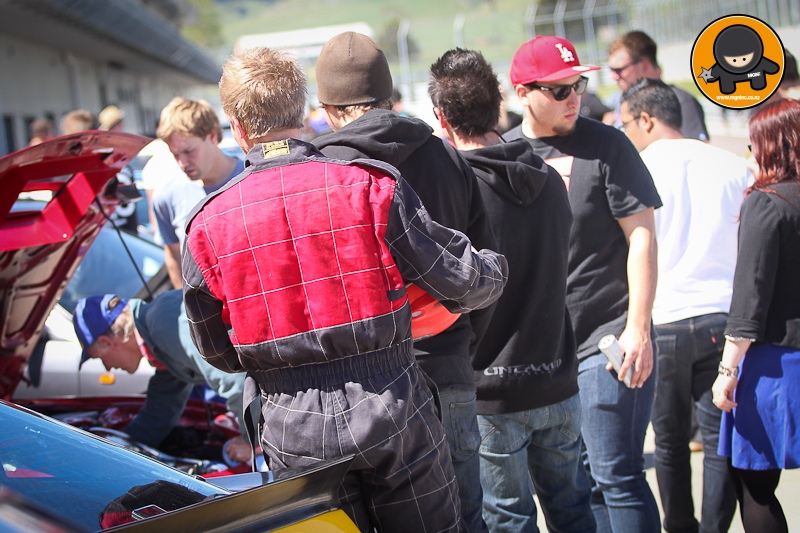 Grandpa Jimmy Lucas made the trip down to ensure the young'uns knew what was up and who paved the  way for their youthful excess. Either that or he just wanted to drive 'BigRed', Anthony Wongs Super Street cover car.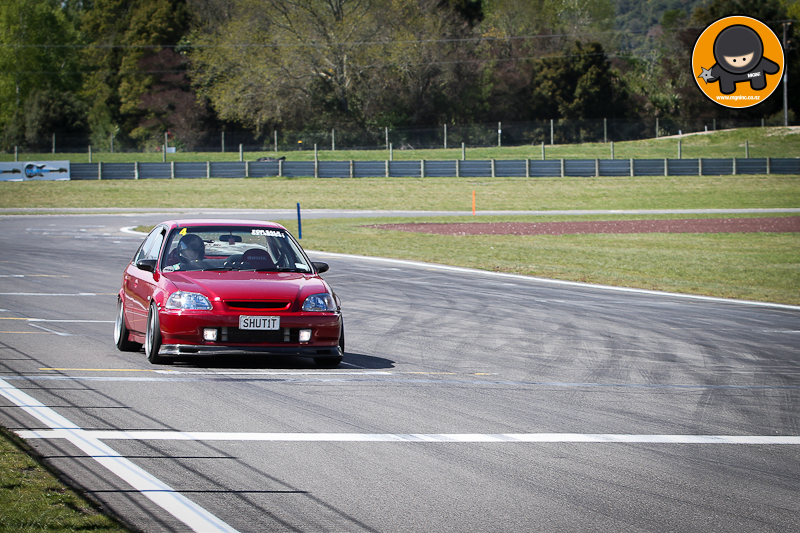 Waynes S14 was turning  heads in the pits due to its new Rocket Bunny addition. Probably the nicest anyone has ever been to a ginger person.
Taryn aka Iheartstance was representing for the girls and did a whole bunch of laps.  The car has been hibernating and seems to have a few noises, but Taryn was loving it and seems a lot more confident than last time I saw her on track.   Pd also had a go with me following and managed  to loop the car out on camera, which will be uploaded shortly.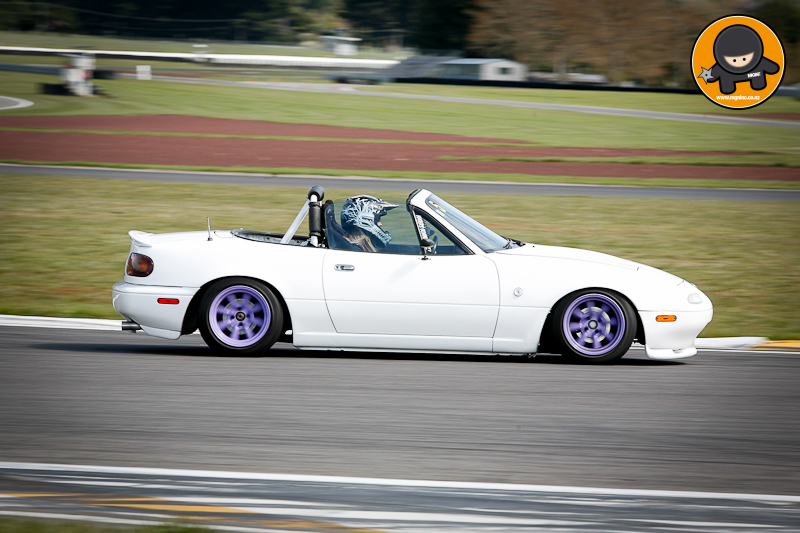 I wanted these….. fitted to a very new Honda out of Wellington owned by Gung.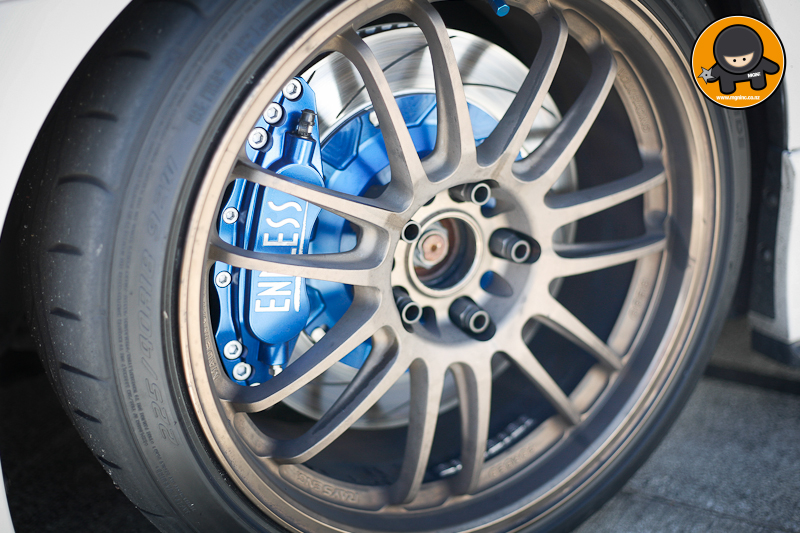 Not sure who took this, but I was just heading out to pick up my camera from the marshall point when my foot slipped off the clutch. Very fast little car that I would have loved to have driven with a helmet on and less fear of wrath of angry Wong .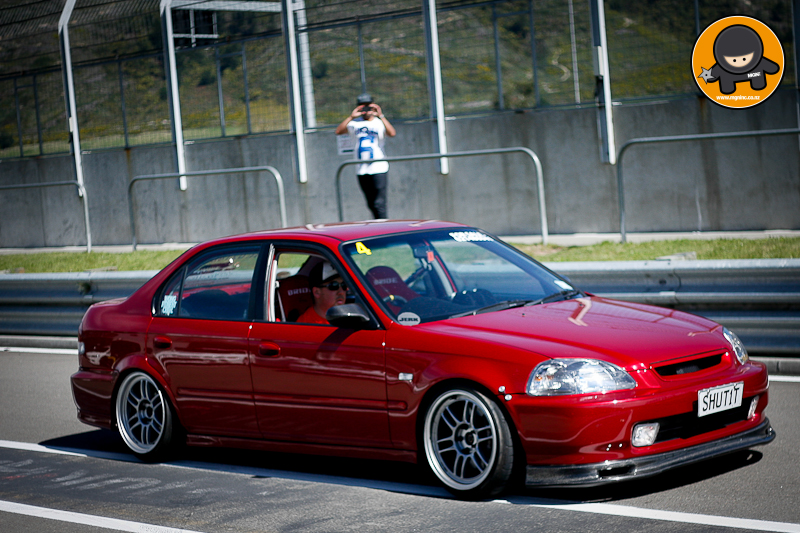 Afternoon sessions produced a bit more 'spirited' driving.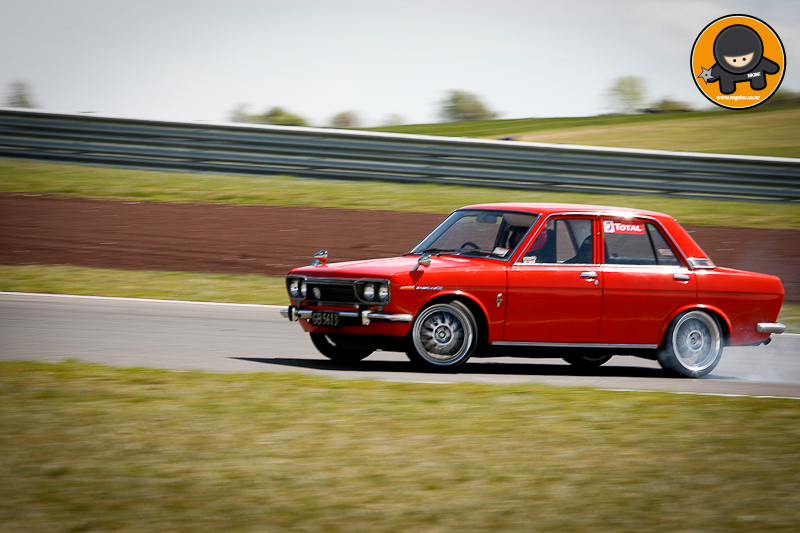 Take that Hondas!!!!! QOS outta here!!!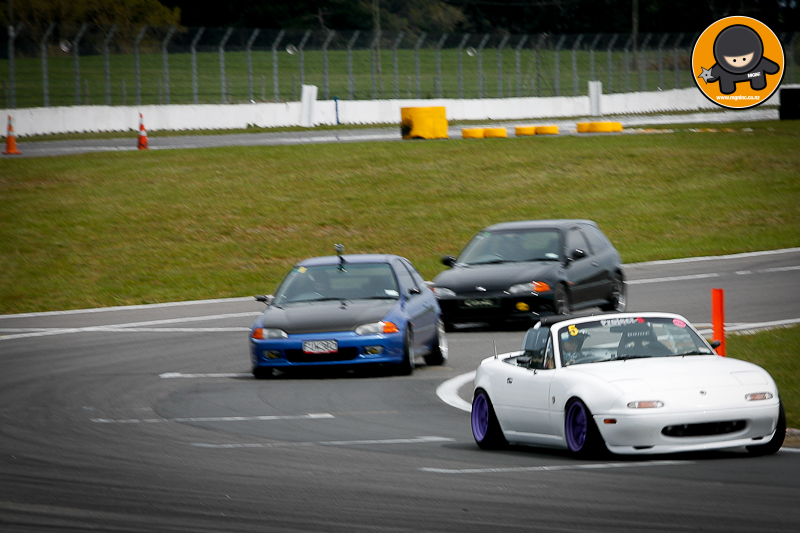 Patricks car got louder and louder all day, eventually crying enough. Fortunately he is a mechanic and that engine has lasted 5 years, so he'll be back better than ever.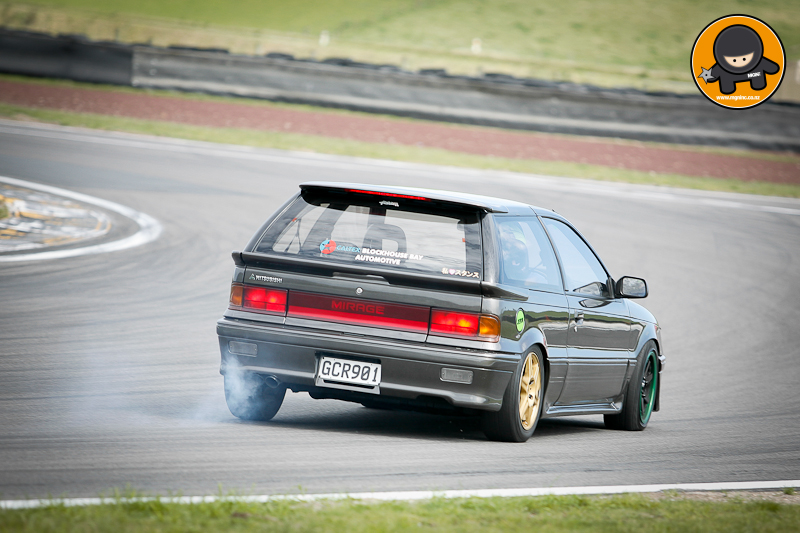 I'll end this with a few shots of the old girl. Built in 2004, and rebuilt engine wise a few times since then. I've actually owned this car since 2001 and it's generally been pretty good and really isn't used as often as it should be. I'd like to thank the CJC boys for having me down there, it was an awesome day and I am pretty keen to get back out there again soon. Might be time to bin the 6 year old semi slicks tho and put in a half cage as a minimum, wound well off the clock or close to a lot of the time, its probably at the limits of what is 'safe' .