Events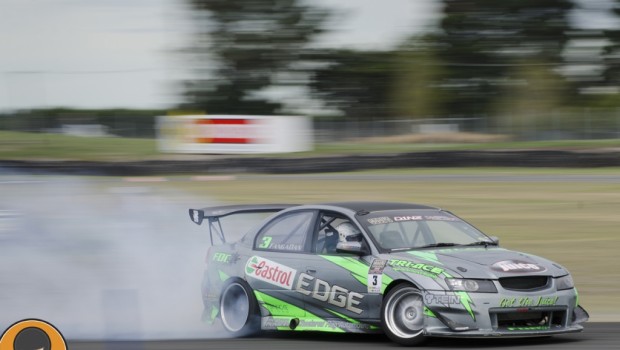 Published on April 3rd, 2013 | by mrgrumpyninja
0
Fanga Dan stays in front with one round to go
Castrol Edge Commodore pilot Daniel 'Fanga Dan' Woolhouse has had a tough last couple of events after dominating the early rounds of the Codys D1NZ National Drifting Championship.
With 3 podium appearances to start the season, Woolhouse streaked away to a lead that looked at one point unassailable,  however drifting is a sport of equal parts skill and luck of the draw, and 2 exits in the top 16 are not what the Northland based driver wanted.
Remaining as laid back as usual about everything, Fanga was noted to be frustrated by his loss to South Island driver Phil Sutherland, but also conscious of the fact that the title is still his to lose with a 28 point lead going into the final meaning it is up to him to work his way to at least the top 4 at the final event, and force another driver to win the event to win the title.
The Commodore itself appeared to be well balanced all weekend, with angle being carried at high speeds and plenty of smoke off the Tri-Ace tire that the team have well dialed now. A qualifying position of 9th was more reflection of the strong showing from a number of drivers than a drop off in the form Woolhouse has had all season, a score of 79 being his highest recorded.
Woolhouse would battle with Kyle Jackways in the 32 and get so close  he actually touched Jackways car, but didn't knock him off line so no penalty was given.  That meant a top 16 battle with Phil Sutherland in his cefiro and the judges couldn't seperate them after the first battle calling for a one more time.  This time Sutherland would be given the advantage and Woolhouse was on the trailer.
Focus now shifts to the final for the team, and all eyes will be on the 2006 Drift King to see how he faces into the the challenge
Fanga also decided to do a little skid to celebrate his 2nd in the BP triple crown LINK