Events
Published on February 14th, 2013 | by mrgrumpyninja
0
Drivers Guide- V8Supertourer demo – 16/17 Feb
D1NZ rekindles it's relationship with the V8Supertourer class this weekend by way of being asked to provide the lunchtime 'entertainment' in the form of  some tire smoking sideways full track action.
This is a bit unique as drifting is normally restricted to set sections of Hampton Downs between turns 3- 6, so it will be a treat for fans to see turns 1 and 10 getting the full treatment, and its a bit of a shame that the likes of Whiter, Woolhouse and Whiddett can't be there, however current Drift King Curt Whittaker will lead the full course attack  supported by the smoke producing skyline of Cole Armstrong, D1NZ's Angle King in Andrew Redward and the ever improving Nico Reid.
For those unfamiliar with the sport, I describe it as Automotive Ballet, where cars are finely balanced on the very edge of being out of control. Using acceleration, brake, clutch and shifting of weight, cars are positioned towards specific points while travelling sideways, the aim being to carry as much speed and angle as possible without making corrections. It is unlike other motorsport in that it is judged, so being first past the post means little in this action packed world of driver vs driver.
I thought I'd put together a quick pictorial guide for fans so they can put names to cars as they blaze past as the drift cars won't be on the official program.
Curt Whittaker- Autosure/ Whittaker Motorsport
The current New Zealand Drift champion drives a Nissan Skyline R34 with the 2JZ engine usually found in a Toyota Supra fitted in the bay. Tuned on the dyno to make over 500kw or 800 horsepower in old school terms and sporting a huge single turbo, Whittakers car turns the 265/35/18 tires fitted to steel belted messes  in around 3 laps.  Won the Tectaloy international drift challenge in 2011, and is known for consistency coming from a karting and touring car crew member background.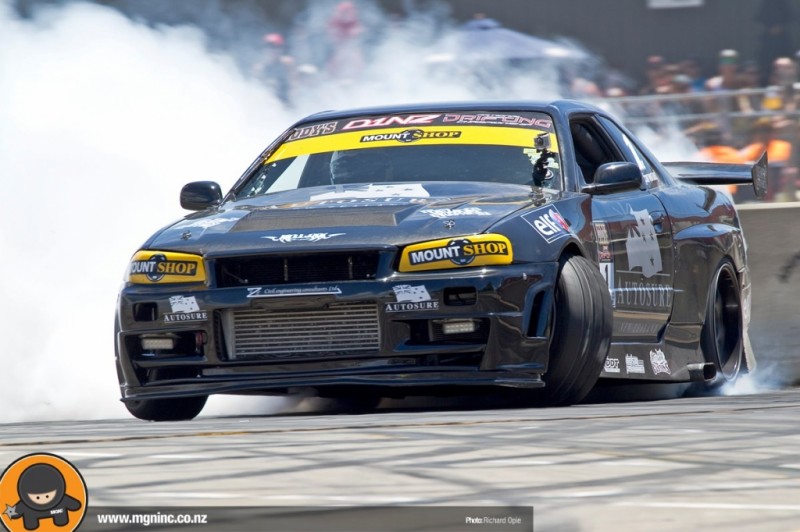 Andrew Redward- Achilles Radial
Your ears are not deceiving you, that is a burbling v8 nestled in the engine bay of Redwards RX7.  Taking the light FC chassis and removing the rotary engine and then fitting the LS2 Engine from a commodore, Redward has found a fantastic balance of speed and steering lock that make him the reigning angle king, a title reserved for the drifter who caries the most angle through each corner drifted. Redward keeps his horsepower low at around 300kw to keep the cars handling  in check.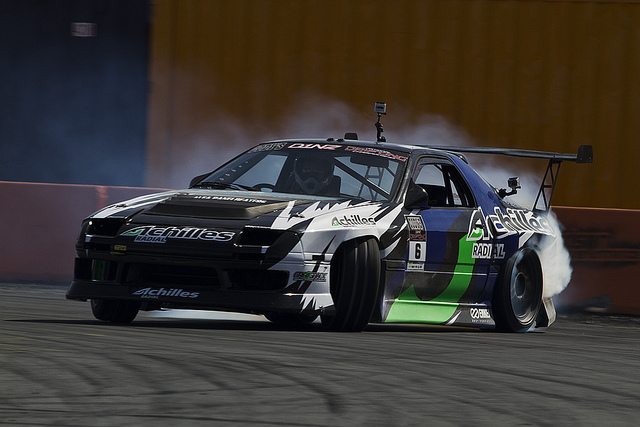 Nico Reid- Luxury Sports/ TTT Engineering
Young up and coming competitor who is as proud of his Maori heritage as he is his abilities behind the wheel. Has really found form recently in his Nissan 2.5litre Turbo powered Silvia, and is known for his ability to chase another car right on its door without fear. Car is a Nissan S15 Silvia and has a custom wide body kit car thanks to his major sponsors.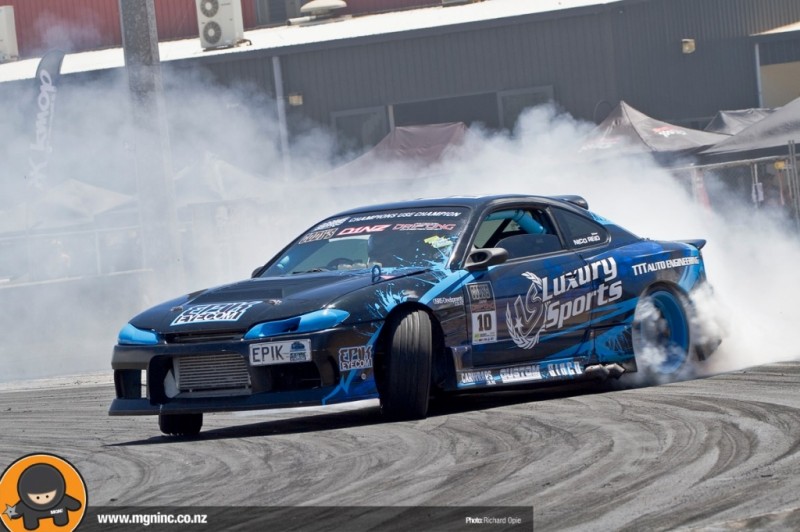 Hugo Maclean- Grabatool
Sole rotary in the group, Hugo's car is a Toyota AE86 or 'hachiroku' as it is known in Japan, the birthplace of drifting. This particular model of car was made internationally famous by a cartoon based around this type of vehicle, in which its owner learnt to make deliveries while mastering the art of drifting as a form of car control. Macleans version sports a 20b engine from the Mazda rotary family and makes around 400hp.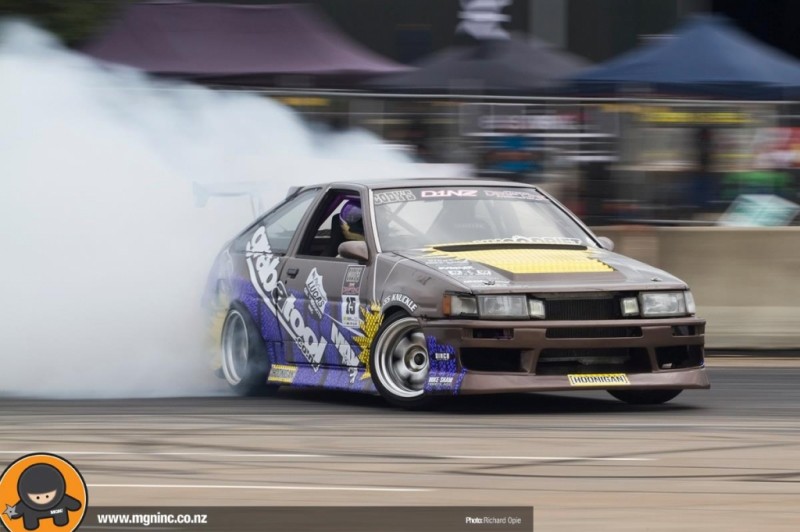 Kyle Jackways- Nexen Tire/ DTM
Jackways is a former nationally ranked BMX competitor who took up drifting after a number of injuries forced him off 2 wheels. This is his first season back behind the wheel of a Nissan Silvia after spending 3 years as a D1NZ judge, and he is the first to admit that the speed and skill required has continued to grow year on year, since he first started in the sport in 2004.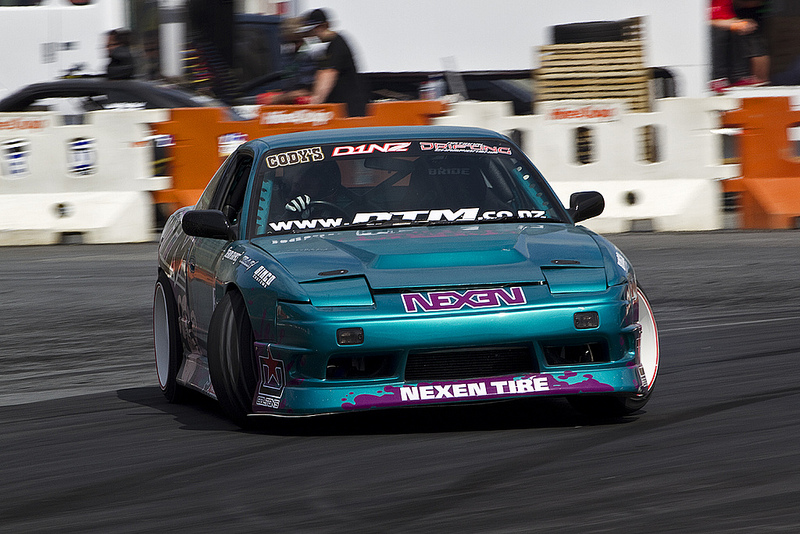 Shane Van Gisbergen/ Shane Allen
Sharing the drive of the most  powerful car in the field are Supertourer driver Shane Van Gisbergen and Shane Allen. Originally an BA Falcon competing in NZv8, the green machine has been rebuilt with the single intention of drifting and tearing tires apart as fast as possible. Van Gisbergen has impressed all in his debut season, with an ability to chase and mimic the lead car that has perhaps never been seen before so early, while the younger Shane Allen improves each time he gets behind the wheel of what is a real handful of a car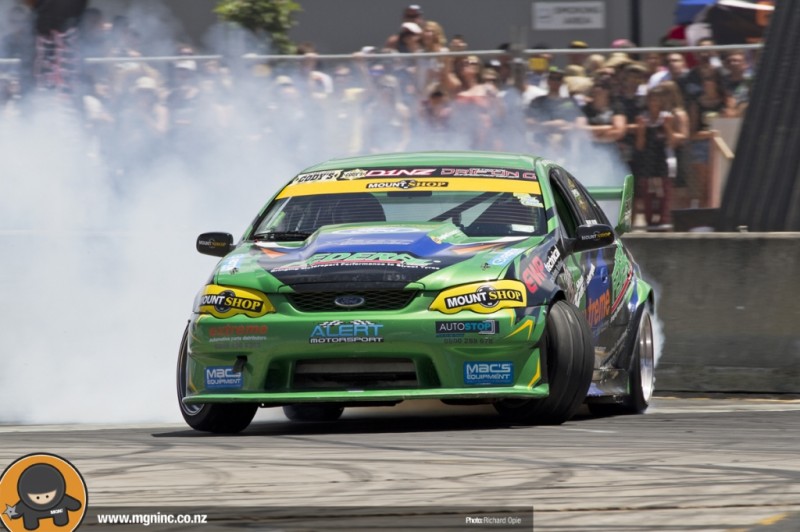 Cole Armstrong- V Energy
Armstrongs Nissan Skyline is well known for making massive amounts of smoke and the angry anti-lag backfires that it emits from its highly tuned Nissan RB26/30 engine. If you are thinking that sounds familiar, it's due to the 26 part being the basis of the infamous 'godzilla' engine found in Nissans legendary GT-Rs,  with the head off a bigger 3.0 litre RB30 engine attached to create greater torque. Cole is another to have traveled the world to represent NZ in this sport, recently having gone to China for the World Drift Series.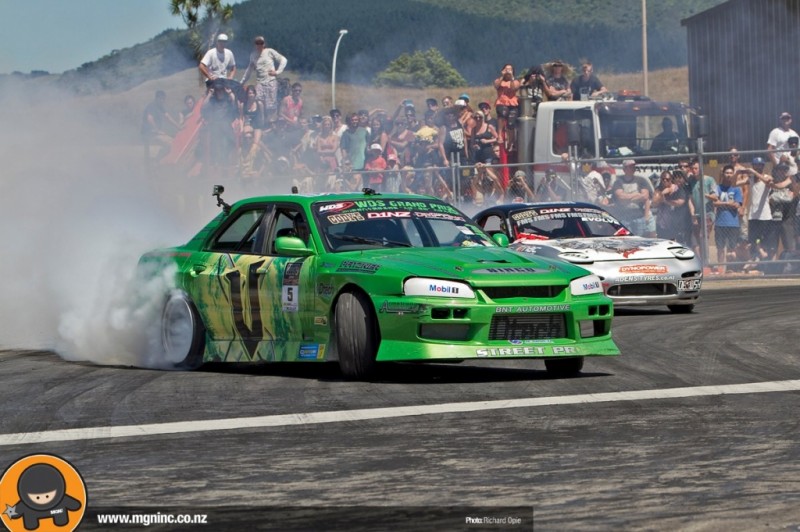 Darren Kelly- DKM Fabrication
The black Nissan Skyline is the current stand out in the D1NZ development series, with Kelly's speed and aggression setting him above his peers. The development series limits drivers to a narrower 235 wide tires (as you would find on say a commodore or falcon) as opposed to the 265 favoured in the pro class.  This allows drivers to develop skills and keeps costs lower before progressing in class. Kelly also runs an RB26/30 combination and his in excess of 600hp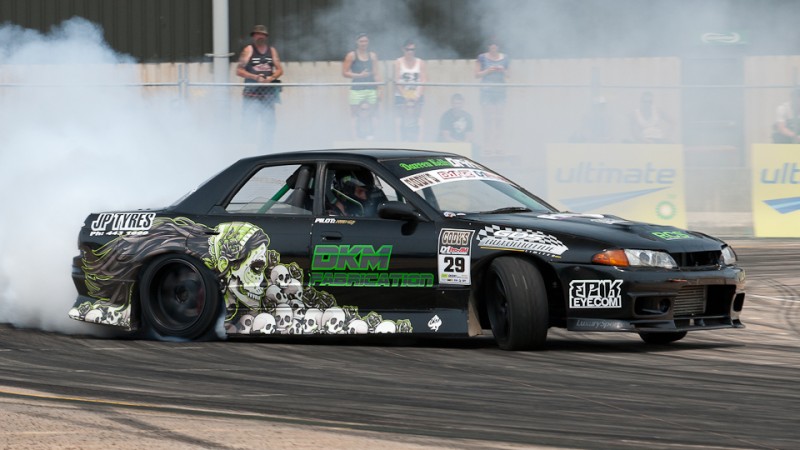 Carl Ruiterman- GT Radial
Ruiterman is one half of the brothers behind Pukekohe workshop E & H Motors, and has had a hand in building many of New Zealands top drift cars. Widely known as a technical perfectionist, Ruiterman is in a similar mould to Whittaker in the ability to hit consistent lines, honed by years of karting.  Has taken his skills to Asia on a number of occasions to both build cars and compete.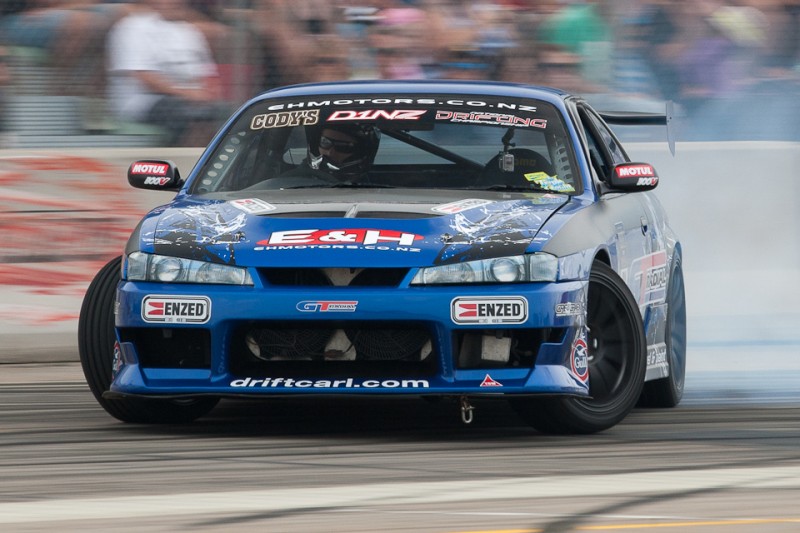 Cam Vernon – Skinny Mobile/ Gull
Defending development series champ, former thunder cat boat racer and all round character. Vernon is known for his laid back attitude and the sense of fun that make him a brand ambassador for Skinny and Gull. Has a very unique engine in his Nissan Skyline, which is built to secret specifications by E & H Motors and produces over 500kw.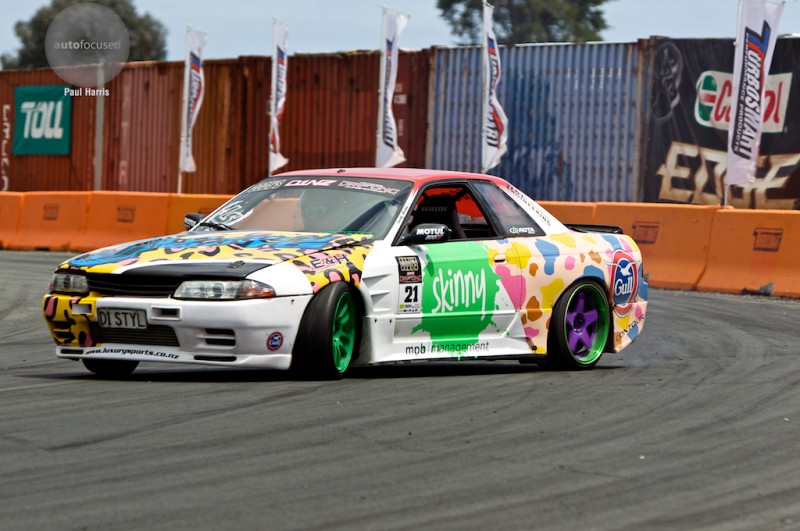 Jodie Verhulst- Mag & Turbo/ Gull
Verhulst is NZ's leading lady of drift in her unique Toyota Supra. Achieved the first ever podium finish by a female driver at her home event in Tauranga, and has got better and better as the season has gone on. Will like Darren Kelly be on 235 wide tires, and relies more on torque than outright power from her Toyota 2jZ 3.0 litre engine.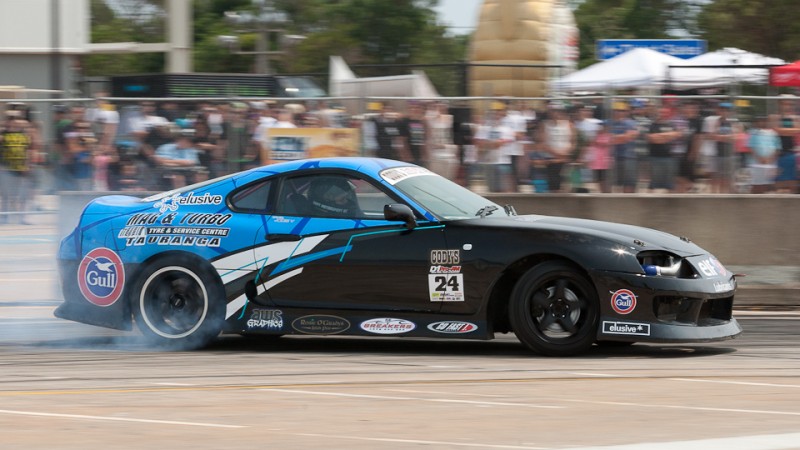 The drivers will be pitted at the end of the skid pan in the horseshoe, and will have posters and some give aways.  Head down and chat to the team for more information on the upcoming round at Hampton Downs, or how to get into drifting if it spins your wheels.