Events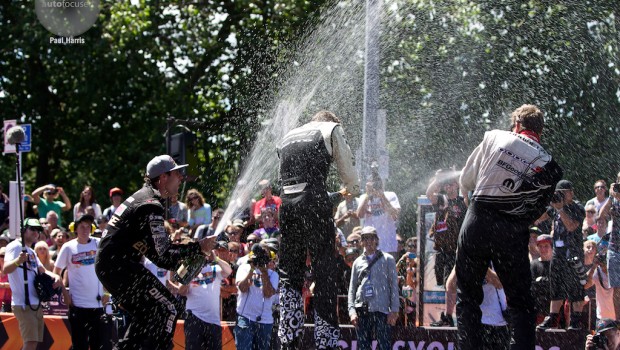 Published on December 10th, 2012 | by mrgrumpyninja
0
Drifters Shift Auckland mindset
When it was first announced that Red Bull athlete 'Mad' Mike Whiddett had come up with his own drift event, no one really knew what to expect other than that it would be extreme, entertaining and above all else different. On Saturday the 8th of December, the Mad ones plan came to fruition as top New Zealand drifters joined 3 invited international guests as  they introduced the central city of Auckland to drifting as a motor sport in true Mad Mike Style.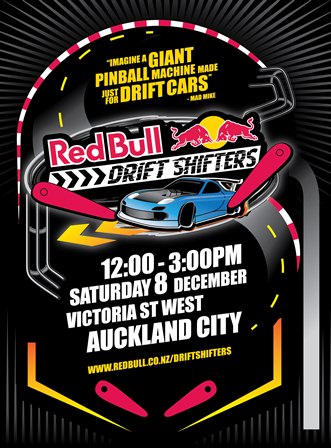 Set up as a giant pinball machine using drift cars as the ball, drivers would face a highly technical course that housed a purpose built proximity sensor setup requiring both precision driving and bravery. Over 10,000 fans jammed the Victoria park area for this free event, grabbing any vantage point they could including scaling trees and with international voice of drift Jarod DeAnda on MC duties with ZM's Jay Reeve, the crowd were primed and ready well before the event kicked off.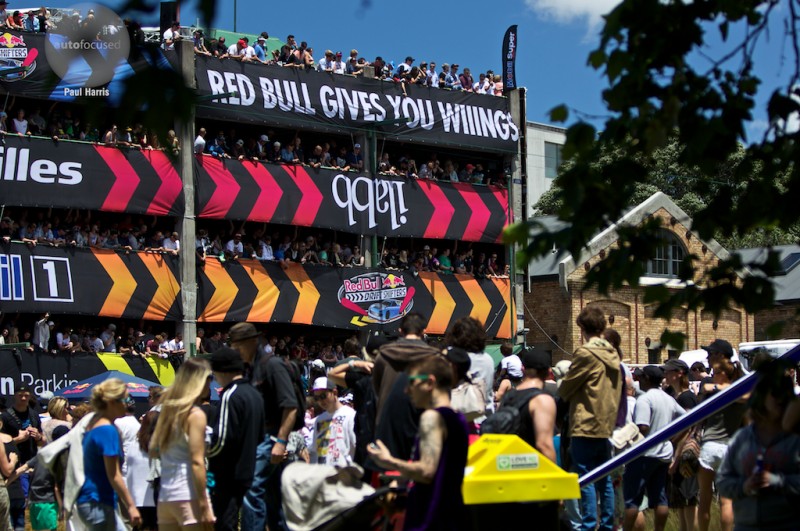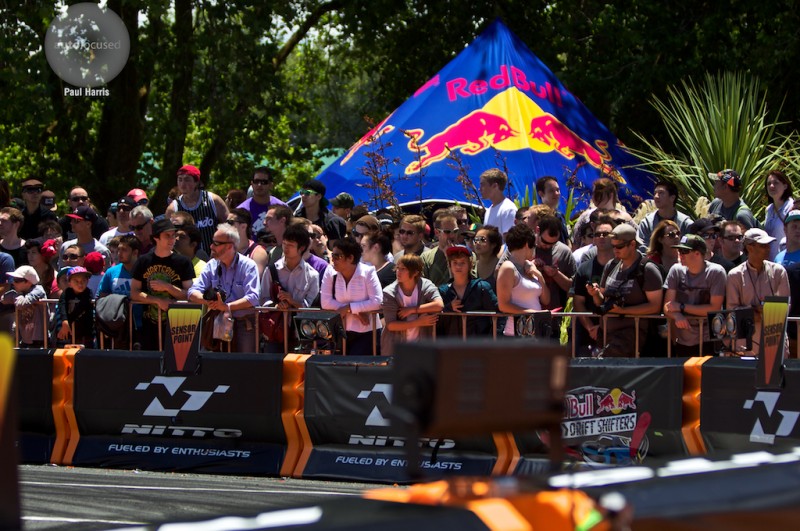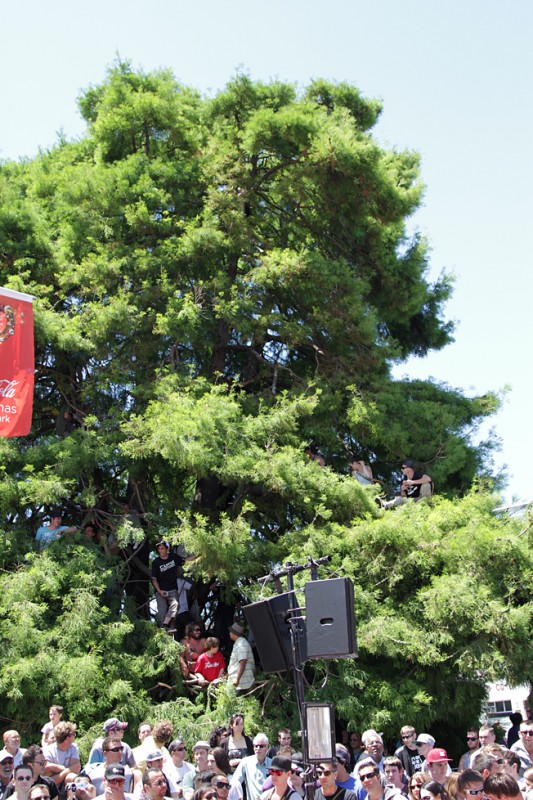 Starting with a formal introduction, drivers got 2 practice runs before going into a single qualifying pass which would eliminate the 4 drivers with the lowest scores. It was apparent  from the first run that drivers were prepared to lay it all on the line as almost everyone chose  to go under the truck obstacle, many ripped bumpers straight off and Fanga Dan decided that a windscreen was as good a thing as any to use to see how solid the Achilles Undertaker big rig was.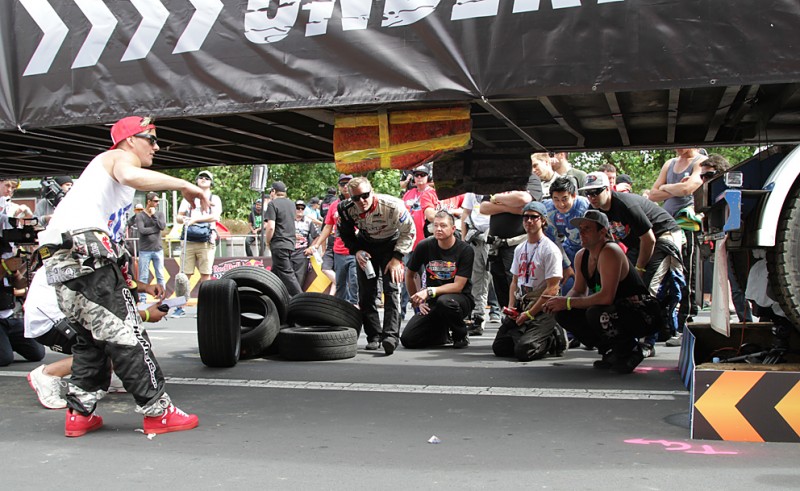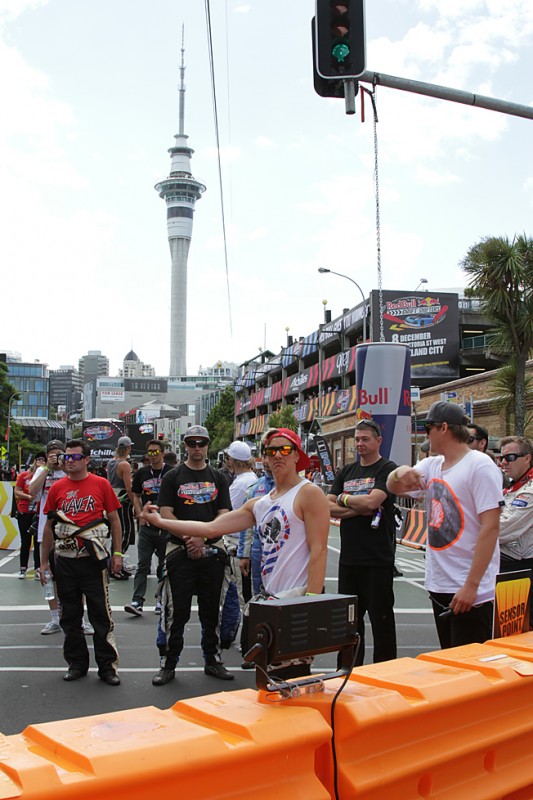 Sadly for Andrew Redward, after nailing his practice runs and looking strong, his rear differential cried enough and that would put reserve driver and Chinese community favourite Sky Zhao into the running.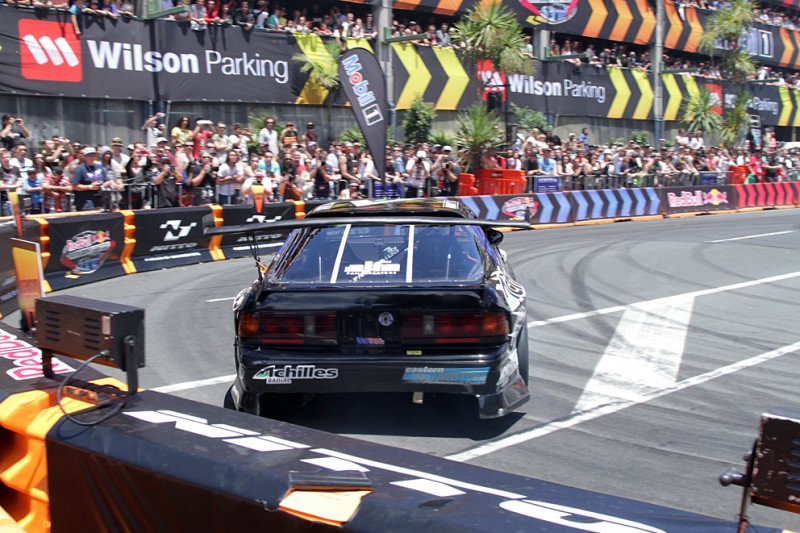 Eliminated after the first round of qualifying were
Sky Zhao- Seemed to struggle with the course and it's possible that not knowing if he was in or out till the last moment was a factor. As always Zhao and his team were super professional and interacted well with the fans.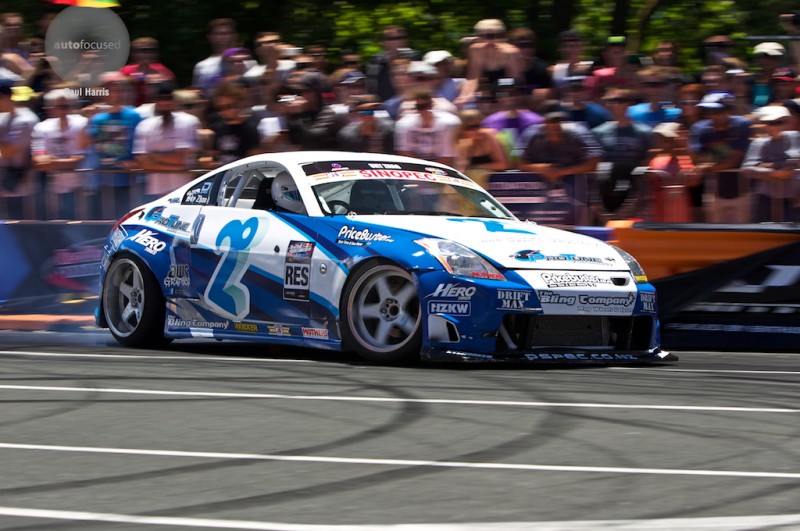 Cole Armstrong- Always a crowd favourite, 'Tauranga Boys High's best pupil' may have been a stretch as an introduction but what Cole is good at is smoking up the rear tires. Had one of the taller cars and with his head being closer to the roof than others given his 6"4 frame was understandably careful the first time under the truck. Missed a few combos which cost him a spot in the 8, here he is with MGN CEO Anna at  the driver signing session after the event.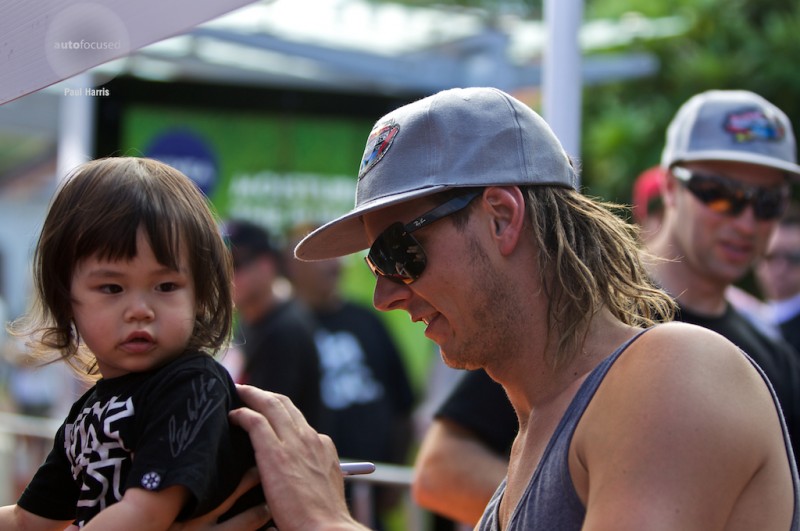 Jason Sellers- While that big wing is great when it can run over the top of the concrete barriers, it was a disadvantage when it came to the plastic barriers which were a little taller. Sellers just couldn't get the C33 Laurel tucked right in on the valuable wall rides as he had an extra 30mm of aluminium off the back of his car. Impressed many with his skills in what would be a taxi in Japan.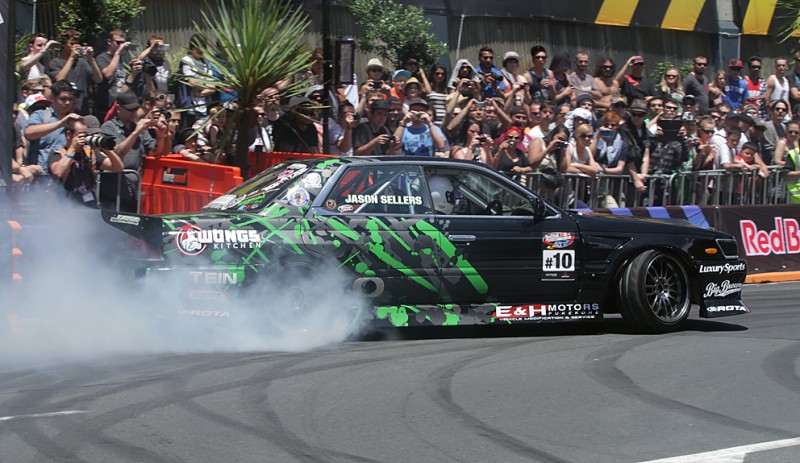 Gaz Whiter-Looked super smooth and set one of the higher practice scores. Officials actually admitted post event that Whiter was mistakenly bumped out of the 8 but it's in the books now and Whiter seemed happy just to be part of a relaxed yet high profile event that grew the profile of the sport he loves. Undoubted crowd favourite who got a massive cheer on introduction. INCAR LINK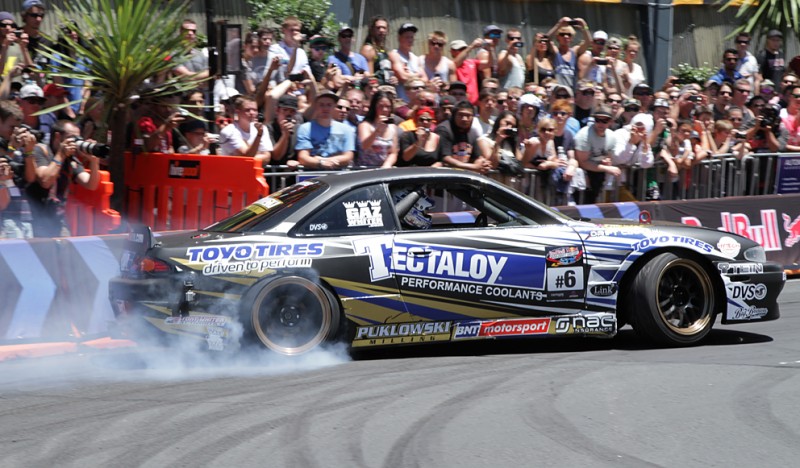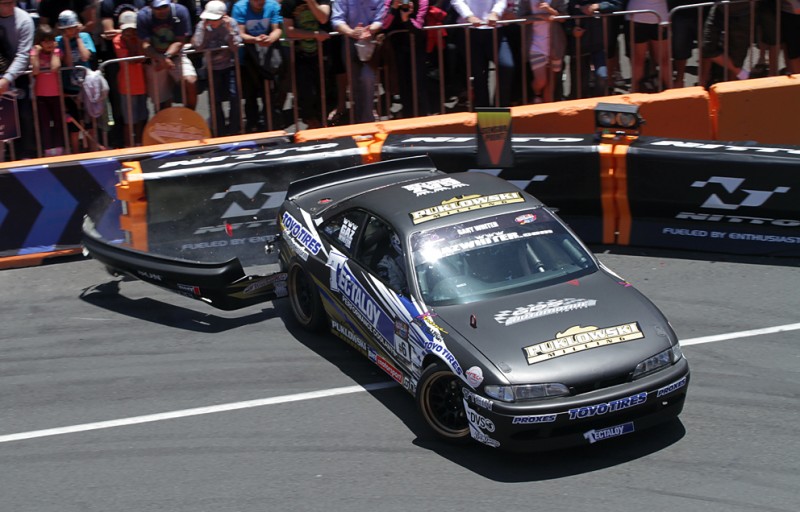 Drivers then went into a top 8 shoot out running in order of lowest to highest qualifier with current DK Curt Whittaker the first to run. Whittaker would tag the barrier hard and stall which ended his run, however he had accumulated solid points up to that point and was still in the hunt right up until the final drivers. His crew were heard to mention that a power  steer belt may have again come off effecting his run.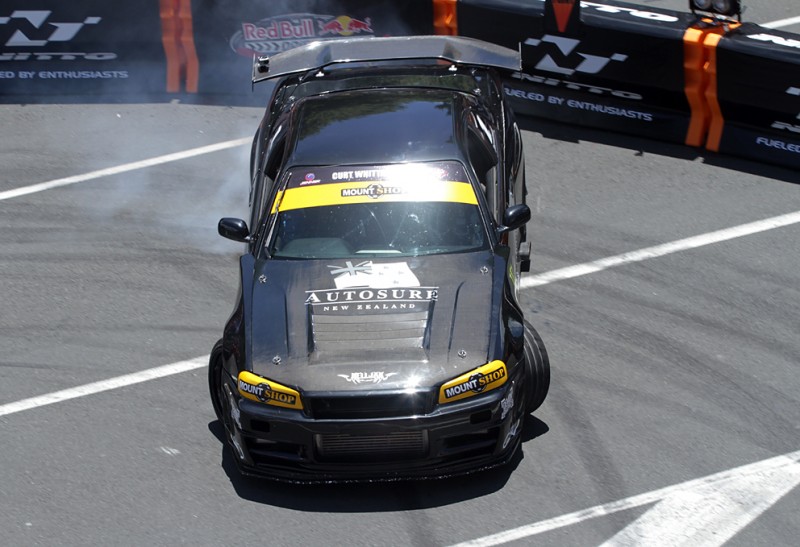 Also eliminated at this stage was Daynom Templeman, who bent the car they call Leroy again after it had just come off the chassis machine post D1NZ Whangarei . Hard to tell if the RX7 or the Dodge was the loudest car there, this car is so violent its almost scary.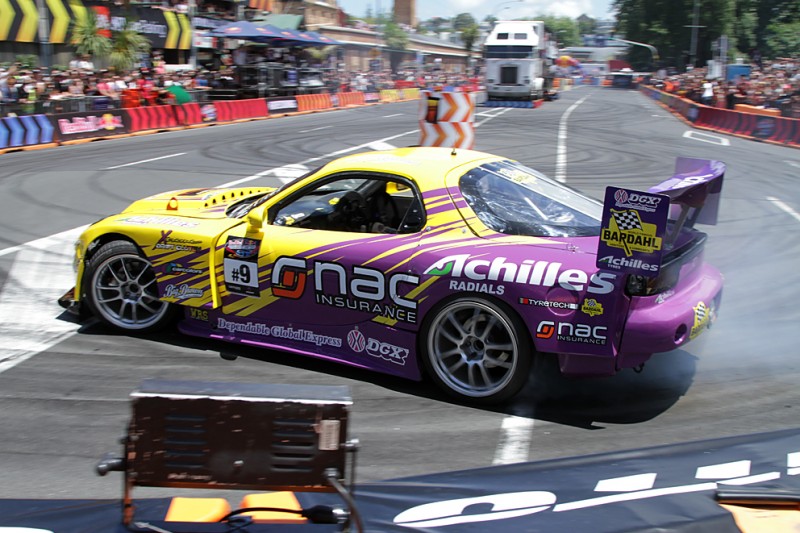 Hugo Maclean- Only driver not to go under the truck and probably fair enough given he would be the least experienced by a long way. Had a new PPRE power plant on board which sounded pretty crisp. Made the most of his opportunity and will be better for the experience. Based on intro had strong support from a younger female audience.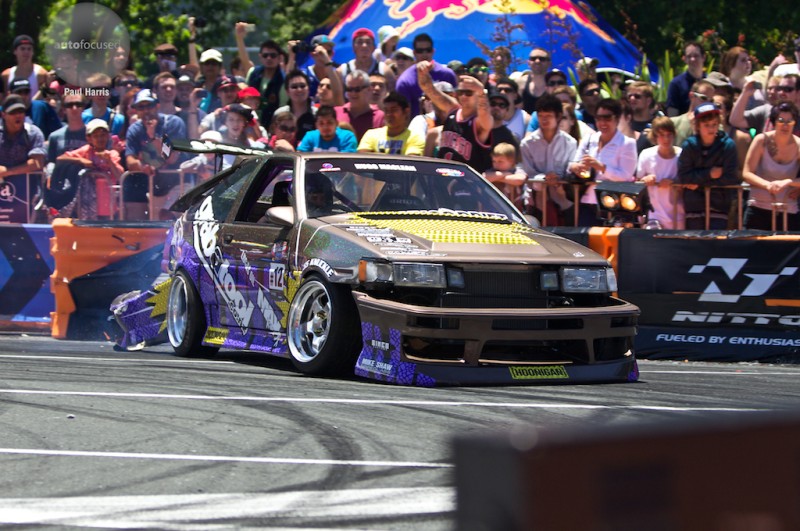 Daigo Saito- The defending Formula D champ and the man many were there to see. Saito is a bus driver back in his native land, but I guarantee he got down Victoria St faster than any Auckland city bus driver driver ever has.  Was only just beaten for a top 4 spot and I hope we see him back again. There was talk on Friday of trying to get access to Pukekohe and you can just imagine that the 200kmh turn one sweeper would have been like Christmas for Saito.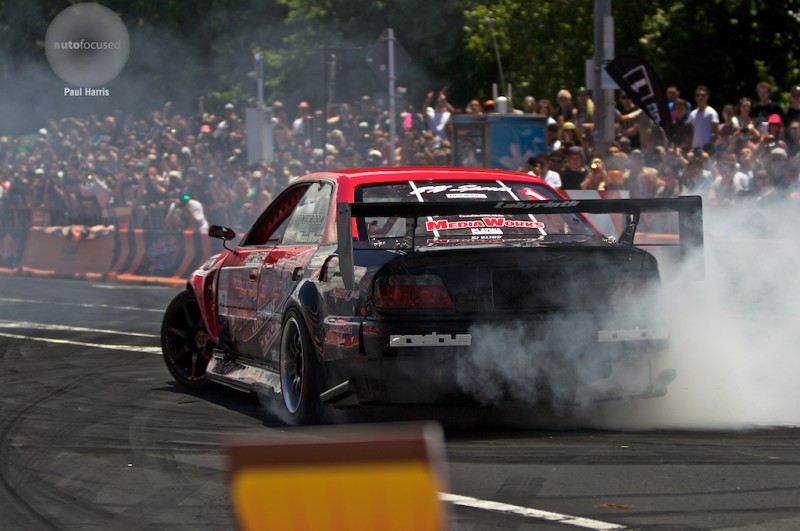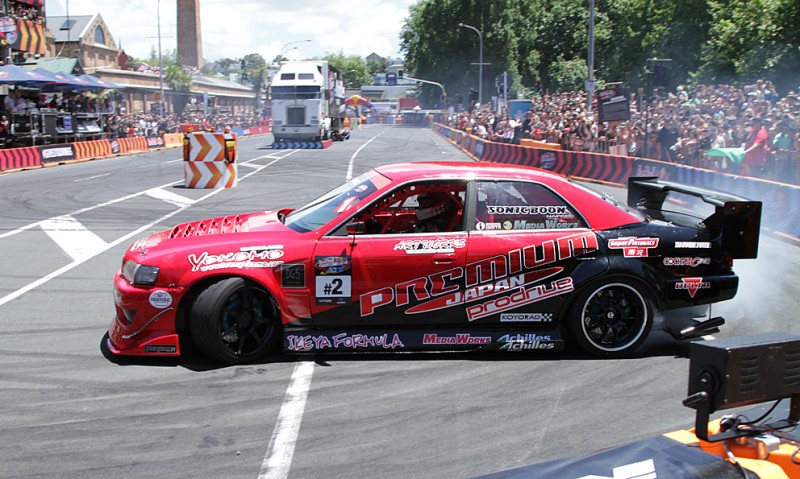 Top 4 in order 4th- 'Mad' Mike Whiddett-  First to rip a bumper off in practice run 1, first to hit pretty much everything. Mike and his team deserve massive respect for creating this. Looked to be the man to beat leading the table before Matt Powers unseated him.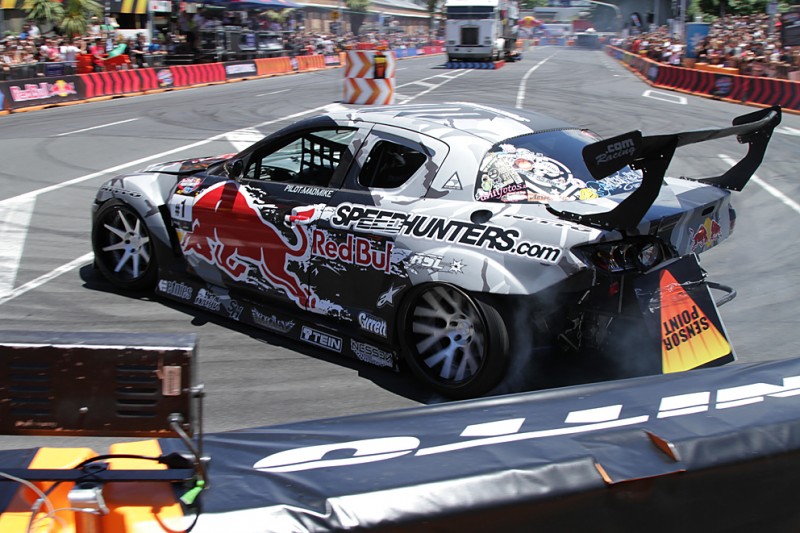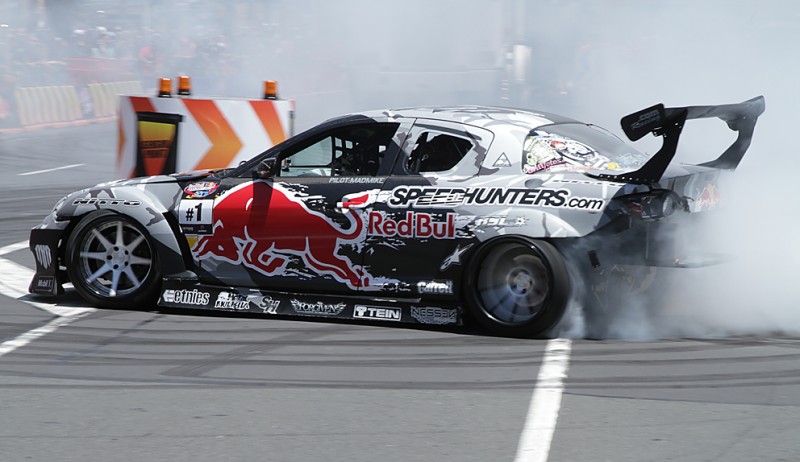 3rd- Mr NA All Day Fanga Dan Woolhouse is on a strong run of form and not even hitting the truck and smashing his windscreen would stop the man who currently leads the standings in the NZ drifting championship. It was quite amusing to hear many in the crowd saying ' this is just like Port Road on a Sunday in Fungaz" , and its true, Woolhouse did look right at home on the course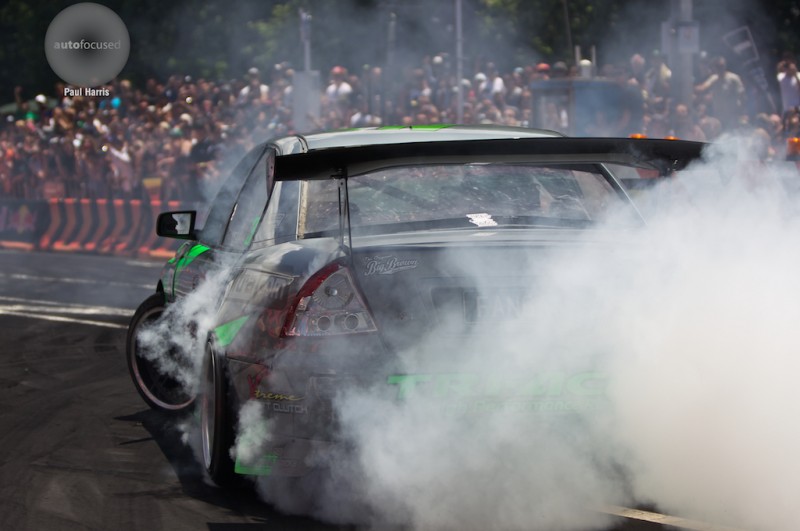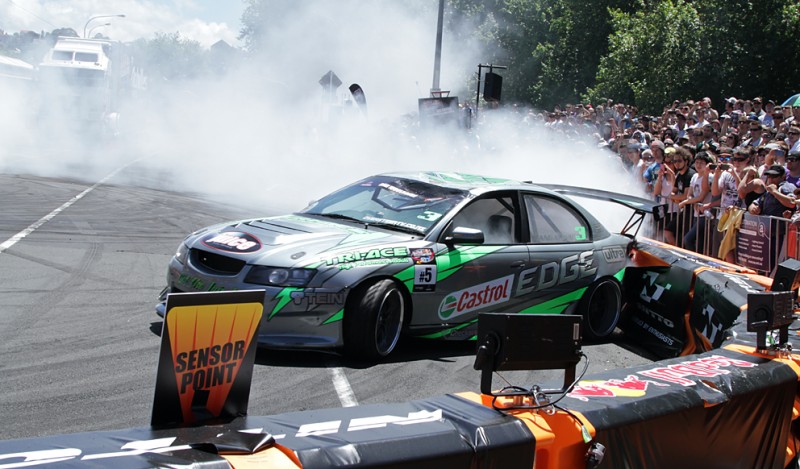 2nd- Sam Hubinette, the Swedish driver was a massive favourite right with the crowd from the moment the monster Dodge fired into life with an angry rumble. Pouring smoke off the rear tires and carrying massive speed into the first part of the section, Hubinette would put the rear bumper of the big car in places it had no real right to be and always looked like he'd be in contention for the win. Powers advantage seemed to be in the final obstacle named the "carwash" , and Sam was always going to battle to fit such a huge car into that tight space, although he did give it a good go.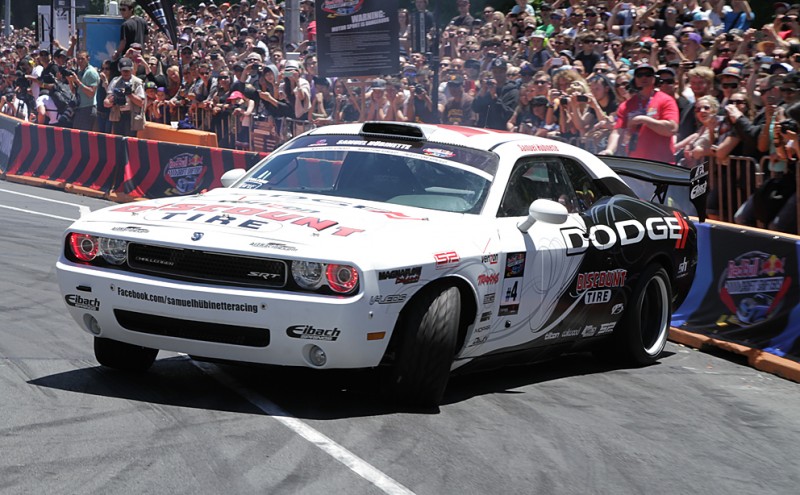 1st- Matt Powers, The USA based Formula D superstar came to life as the event went on and showed the skills that have made him a worldwide favourite ( Seems very popular with the ladies for some reason). Managed some amazing combos and showed great car control to get as close as possible to the central bollards.  Found his limits early when he went straight into a bollard and then gently hit the truck.  Owned the Wall rides and Car Wash obstacle which was the winning of the event and stood victorious to a rapturous crowd applause as the minds of new fans opened…and perhaps just perhaps opinions of what drifting is well and truly shifted.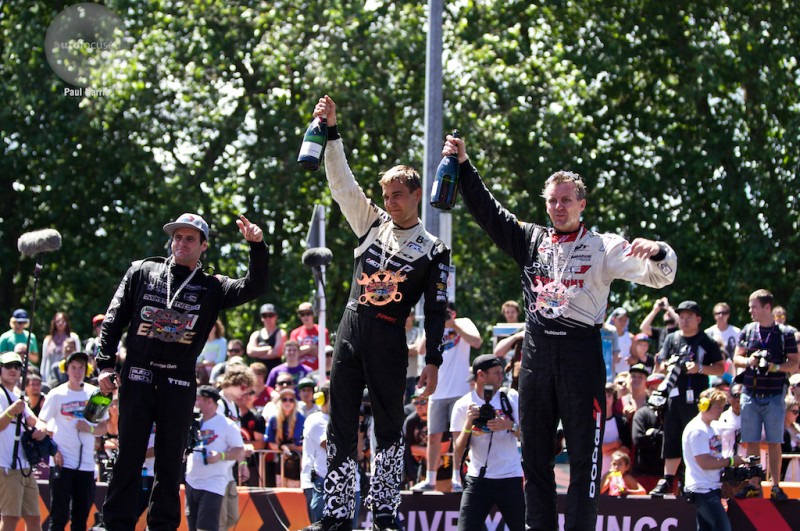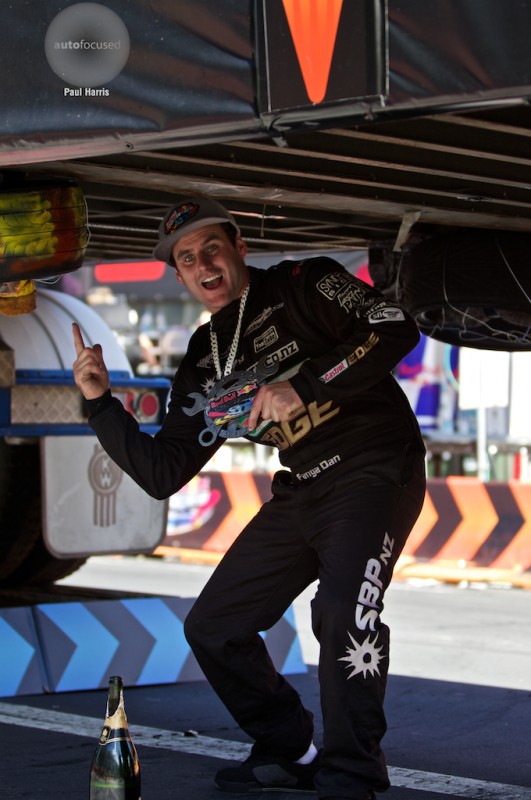 Images care  of Paul Harris @ Autofocused and Gray Lynskey for MGNinc
I will do a follow up post to this with the learning's we can take from the event and some behind the scenes stuff