Events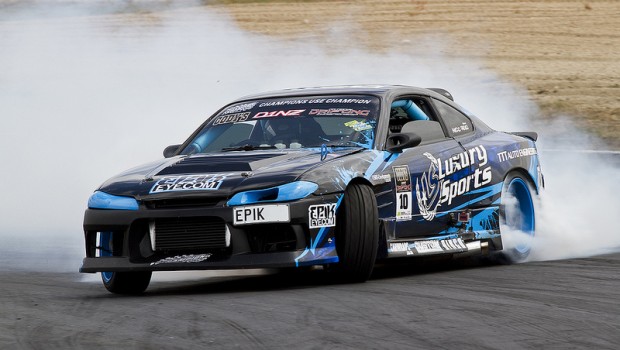 Published on March 5th, 2013 | by mrgrumpyninja
0
Codys D1NZ Round 4- Hampton Downs- Sponsored by the Tractor Centre
I'll be the first to admit, I wasn't feeling great about Round 4 of the Codys D1NZ National drifting championship when I got home Saturday night, and a few hours on I am still perhaps feeling a bit let down. Let me just state up front that the driving we saw from both Pro-Am and Pro was first rate, and we saw some great battles, and a lot of what I 'feel' post event relates to the unique situation I am in as a Commentator, Manager, Friend, Foe and whatever else I end up being to the fans, drivers and anyone who is a part of each event.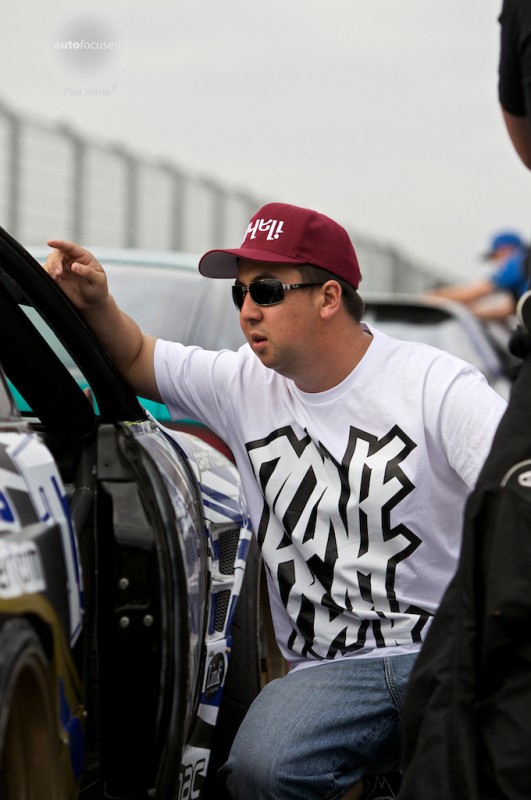 As a core event, the round was solid but it lost the 'close' feel of Whangarei  and Tauranga due to the crowd being spread on both sides of the track, and only VIP and a limited few which were mostly driver teams being close to the commentary position. Combined with a track that has limited viewing , a PA system that tests even the most patient, and what in my opinion was simply too much drifting, the 'wow' factor left the event as being solid, rather than spectacular.  I do wonder also if Aucklanders are becoming a bit like Cantabrians with rugby, and there is now some apathy as 'there will always be another event', sometimes even the next day or week.
Anyway, let's get into the traditional post round dumping of thoughts. Usual disclaimer, don't like it…well no one is forcing you to read it.
Driver                    Top Qual Score  Second highest                 Qual Position     Final Position
Andreas Paraskevas       51                                                           25           25
'Aggess is the Victorian state champion and was given a wildcard trip over to this event by ADGP organisers. Described by his fellow countrymen as a bulldog on the chase, Aggess would show that aggression and it would prove his undoing as he made contact with the returning Johnny Udy and that would be the end of his NZ campaign.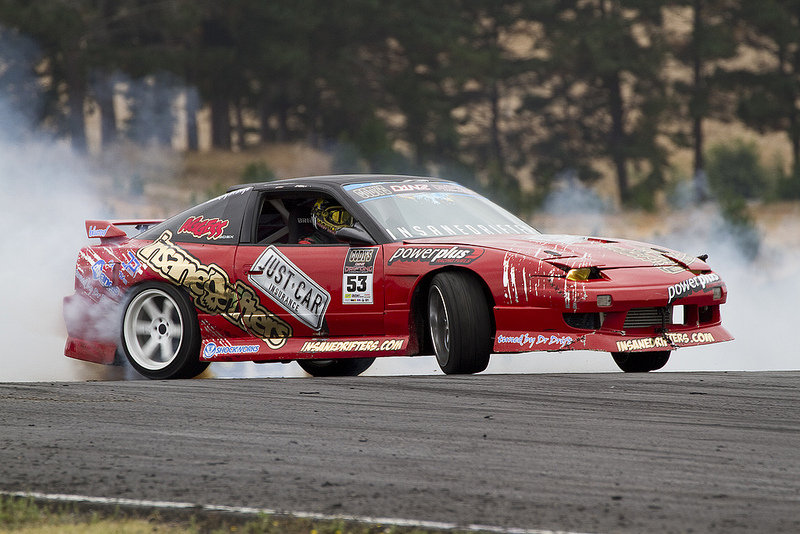 Cam Vernon                       54                                                           24           24
The Skinny Mobile driver will be feeling a little disappointed post event, but will still have a smile on his face. Vernon came up against current Drift King Curt Whittaker and had grabbed an advantage with a solid chase run that had the crowd applauding him (or maybe just a very loud fiancé) and would have been feeling good going into his lead run when he was controversially in the eyes of some called by the judges to have put a wheel off causing the chasing Whittaker to cease his drift and correct. ( Video released post event is inconclusive and the judges called as they saw at the time)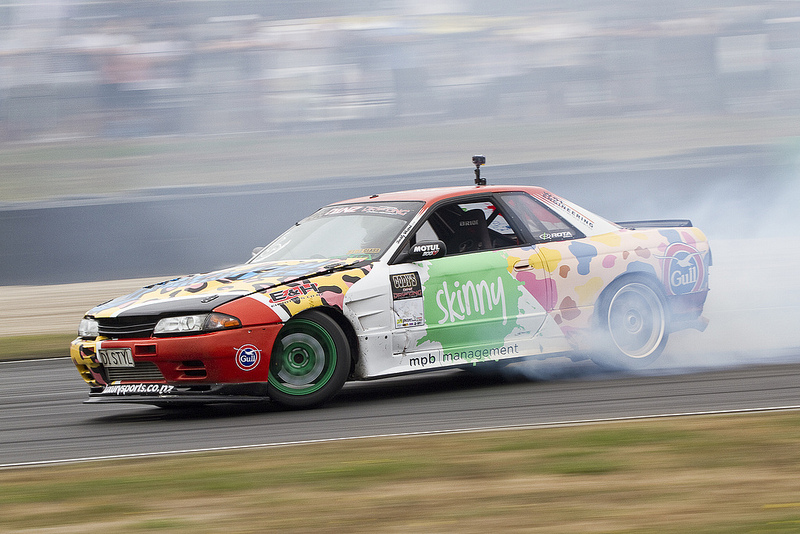 Shane Allen                        61                                                           22           23
Allen seemed to be getting a handle on the big monster Ford, but is still having some trouble taming its power on the chase and would ultimately spin against Kyle Jackways ending his campaign.  A car with so much power and grip is very hard to slow and maintain angle while drifting and the Rattla team are still learning setups as they go.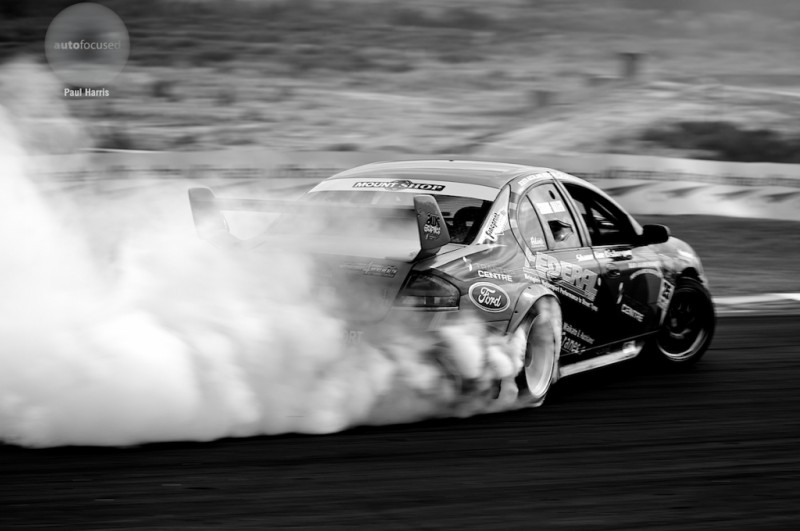 Sky Zhao                              62                                                           21           22
The 2degrees 570z still seems to be struggling for speed and was no match for the pace of Andrew Redward who simply drove away and then performed a near perfect chase, a big show being made of left foot braking over the hill with lights ablaze in the tire smoke.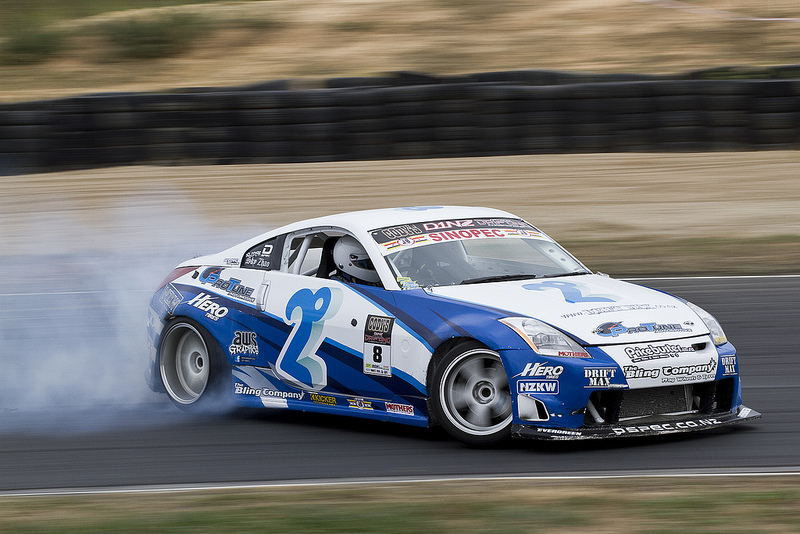 Brad Lauder                        64                           61                           19           21
Lauder broke his regular car in the morning practice sessions and jumped in brother Matts pro-am title leading car to qualify and keep gaining points. Never really looked as comfortable without his usual power levels and couldn't keep up with Daynom Templeman's new monster.
Cody Collis                          67                                                           17           20
Collis is having a tough season up north and ran into Gaz Whiter in a borrowed car who had only intended to try and qualify to gain points after losing an engine. Collis tried but was given a bit of a lesson by the 3 time champ who in only his 4th lap in the car managed to extract a solid close chase.
Drew Donovan                  69                                                           15           19
Still without a new LS engine after losing it at Tauranga, Donovan entered in Jodie Verhulsts Mag & Turbo Tauranga Supra and made what he could out of a largely unfamiliar car. Came up against Jason Sellers and there was a bit of debate around Drews chase run as he did fall back notably, later explained to be due to the fact Sellers car was leaking fluid from the rear of the car.  Donovans team did lodge a safety query however the breather system on the Sellers car was ruled to be acceptable.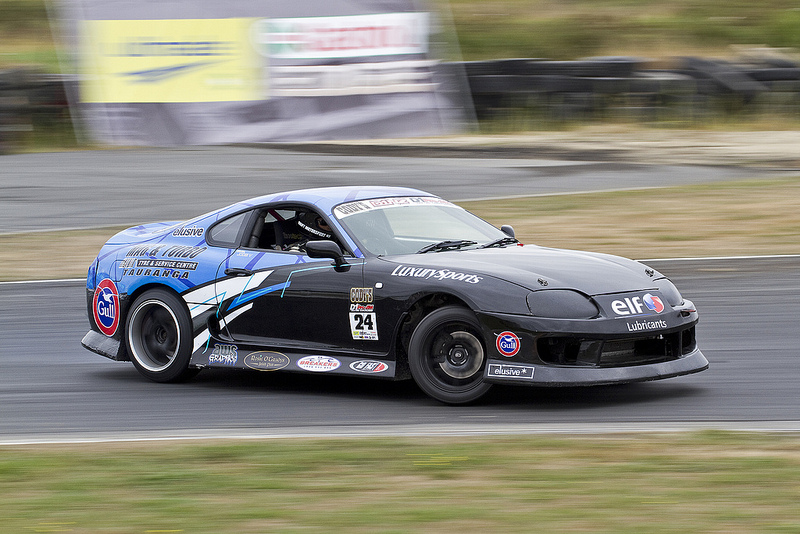 Gary Tenana                      71                                                           13           18
Gaza T was looking strong and qualified well in 13th place, went head to head with visiting ADGP champ Rob Whyte and held his own with Whyte advancing after Gaza shallowed up over the hill on chase and Whyte  stuck to the rear of the C33 like glue on his chase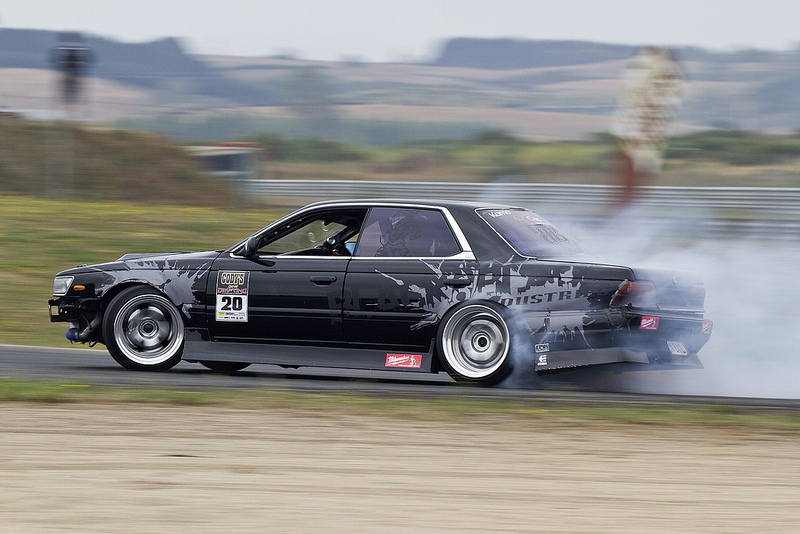 Ben Belcher                        76                           75                           10           17
Belcher in the Green Bros machine looks far more at home on faster track circuits and qualified in the 10th spot only to run into fellow rotary pilot Hugo Maclean who seems to be much better in battles than qualifying. Maclean again delivering a monster chase with Belcher then having a car issue on his chase run.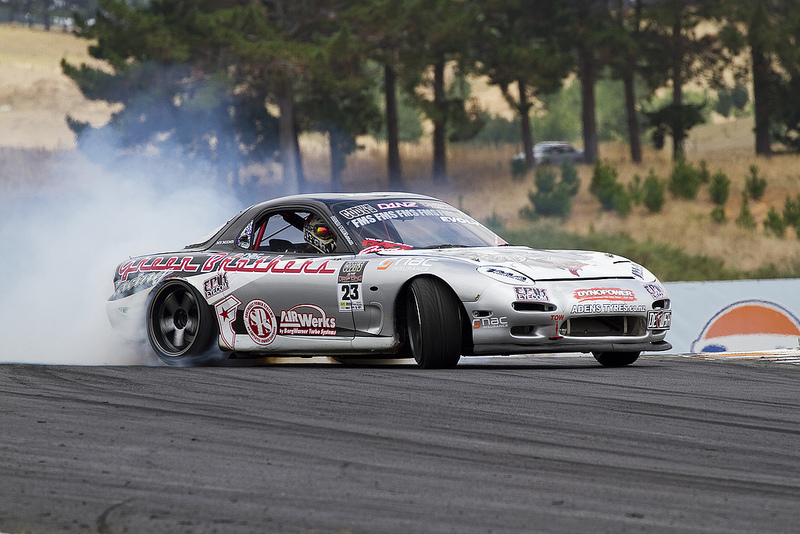 Hugo Maclean                   56                                                           23           16
The GrabaTool 85 is a bit of a mystery machine, capable of either the epic or the very messy and that I suspect makes Hugo a very hard opponent to plan for. Beat Ben Belcher before having a great battle with fellow youngster Zak Pole. Hugo looked like he was again going to fight his way through the field before making a mistake and gifting the win to his opponent when chasing.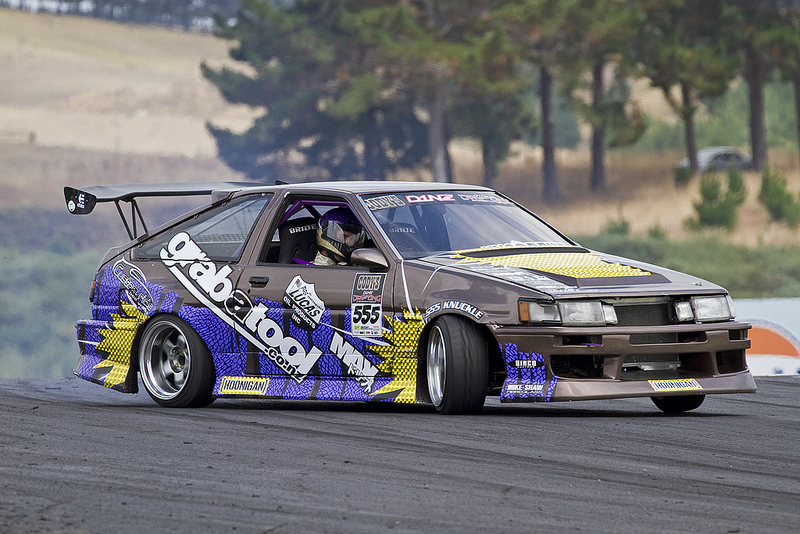 Rob Whyte                         64                           50                           20           15
Whyte beat Tenana before coming up against the South Island Champ in Forsythe. No one was really sure what was going to happen with both having reputations for super close and aggressive chasing. Both drivers would bring their all and throw in hard and fast and it was a close decision with Forsythe going through. I sure hope that we see Rob over here again, as he showed just a little of what he is capable of.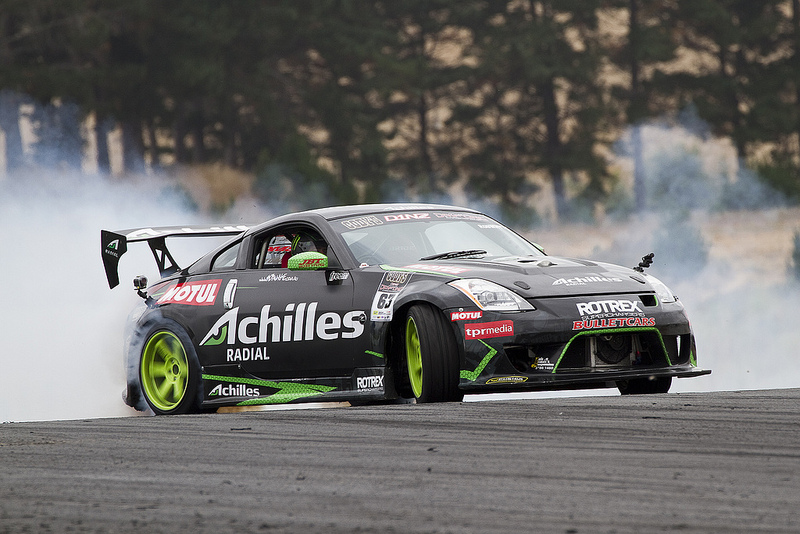 Jason Sellers                      66                                                           18           14
The Wongs C33 pilot would have been hoping for a little more but was really struggling to hold onto the 600hp 2JZ monster up and over the hill.  Beat Donovan before coming up against Cole Armstrong who had looked fast all weekend. It seems like maybe Jason is a bit flat currently and needs to bring back the fire he showed in Australia (his sister told me to write that)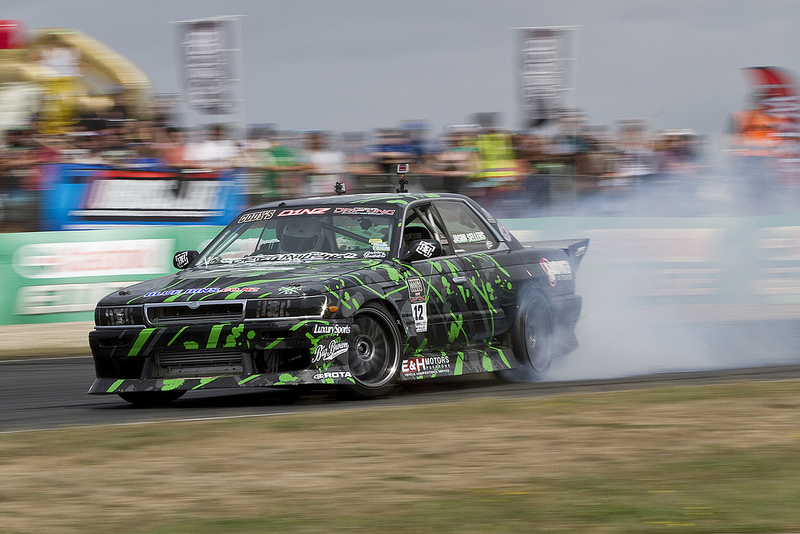 Daynom Templeman      70                                                           14           13
Interesting debut from the new 2JZ powered series 6 Rx7 of Templeman. The car has huge speed and lock, and will be a weapon once its fully dialled in, its destination being FD Asia.  Beat Brad Lauder before coming up against #2 qualifier Mad Mike who simply threw down a massive chase and matched Templeman for angle.
Kyle Jackways                    76                           61                           11           12
Jackways will be happy to have got the DTM/Nexen Machine up nearer to the front end of the field in easily his best performance this season.  Would face up against fellow Waikatoite Bruce Tannock, and with the two well-known to each other it was a real battle for bragging rights. Tannock advancing after Jackways looking like he was going to take the win only to put a wheel off the inside of the track.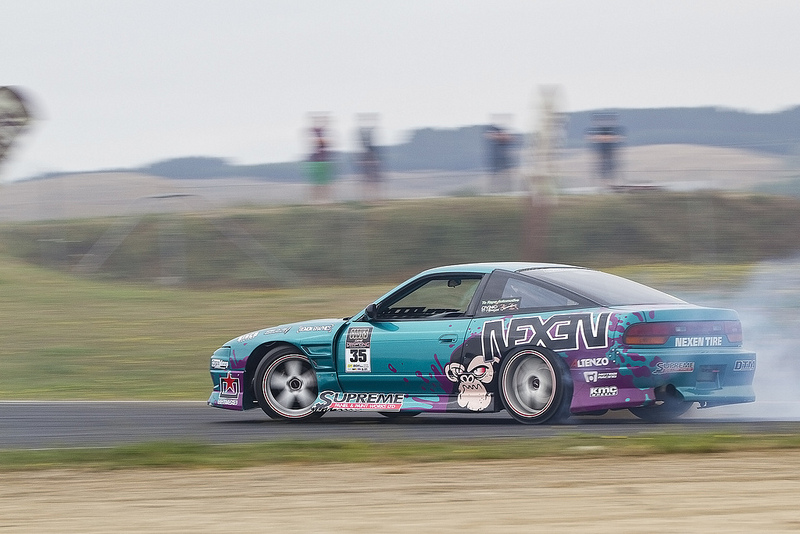 Johnny Udy                        77                           51                           8              11
Udy last competed in 2009 and seemed to ease back in nicely in a car with a near standard steering lock setup.  With a strong circuit pedigree, he coped well with speeds that have gone up noticeably since 09 and made a reasonable showing against champ Curt Whittaker.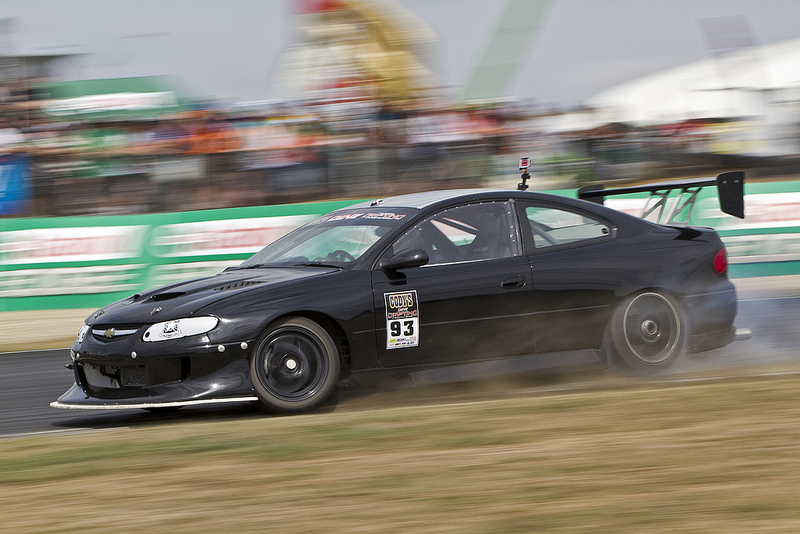 Daniel Woolhouse           80                           76                           5              10
The Castrol Commodore seems to have a bit of a target on it these days and Fanga was heard to say that a fair few guys had gone looking for him for practice battles during the early sessions. Earned himself a bye-run into the top 16 for qualifying in P5 and came up against a red hot Andrew Redward who was outstanding on his chase run and then pulled away from Woolhouse up and over the hill when he had the lead.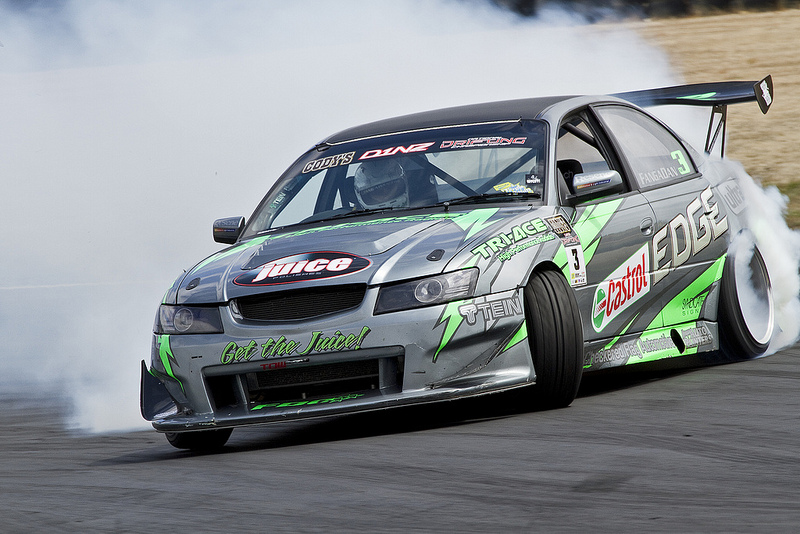 Nico Reid                             90                                                           1              9
Reids team experienced the highs and lows of drifting this weekend, punctuated by a first ever #1 qualifying spot and then losing to Gaz Whiter in the top 16, how they deal with that may well define their season.  Reid was the clear standout of qualifying and managed to create a smooth angular run with a 90 and an 87 which gave the highest 2 recorded qualifying scores of the weekend. His battle with Whiter was interesting, as no one really knew what to expect given Whiter was doing only his 6th lap ever in a borrowed car. Nico threw in hard as he had been all event and Whiter somehow managed to hang with him in good proximity, which wasn't expected as both previous attempts at that speed had resulted in spins. Reid then switched over to chase and was undone by the slow speed that Whiter was forced to enter at in an unfamiliar car, getting offline and correcting. The judges ruling in favour of Whiter to much discontent from the passionate Reid camp who considered a protest but then decided otherwise.  This may well simply be another lesson on the journey for a driver many consider to be a champion in waiting who was perhaps caught out by his own aggressive style. ( For purposes of clarification, Gaz Whiters qualifying entry speed was 55kmph and during his run vs Nico it was 53kmph, this was ruled to be within range regardless of what speed the chase run against Nico was done at)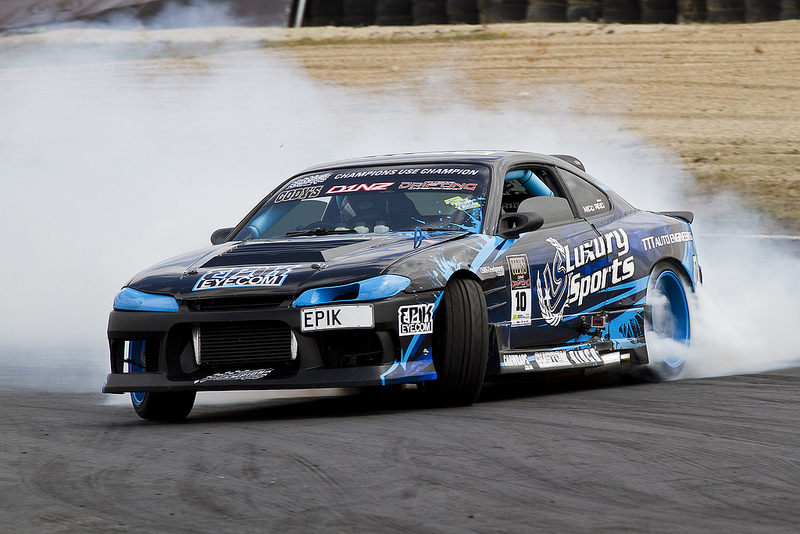 Curt Whittaker                  77                           0                              9              8
The Autosure R34 is always a weapon at Hampton Downs, and again laid down thick smoke screens. Curt did seem to be missing some of his usual flow as the car would almost lose momentum at the bottom of the hill due to what the judges interpreted as a preferred feint entry line. Beat Cam Vernon in the top 32 and then defeated Johnny Udy before meeting old foe Gaz Whiter.  This battle will again go in the books as being somewhat controversial with lengthy debate between the judges.  The result eventually going against Whittaker, with elements of similarity to the Reid battle where the speed or lack thereof was a real factor in unsettling how drivers dealt with approaching opponents.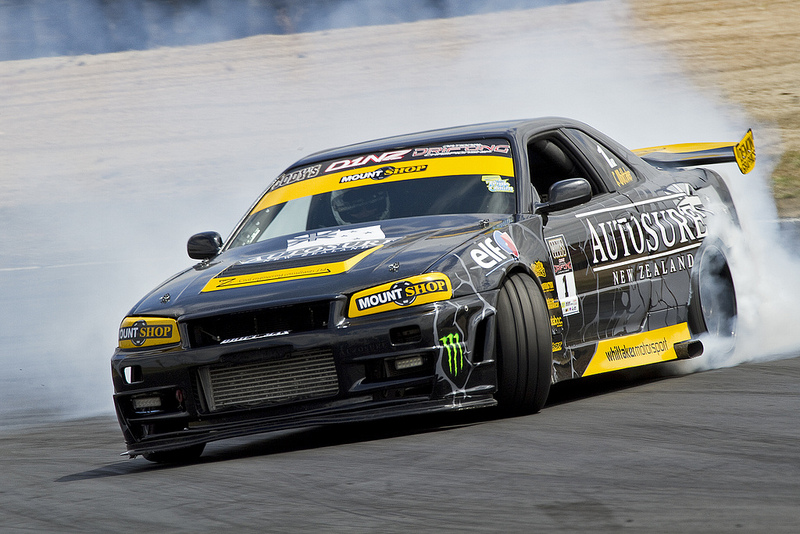 Zak Pole                               78                                                           7              7
Pole in the Rollei Bullet car has been really consistent, qualifying in the top 8 and proving that he belongs in the Pro classes after a limited Pro-Am career.  Beat Maclean after a one more time battle, before running into the green smoke machine of Cole Armstrong, Armstrong winning out and advancing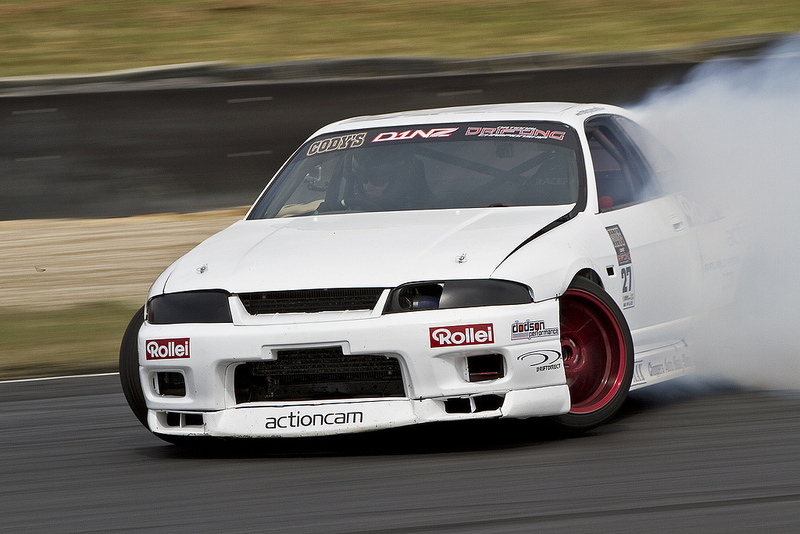 Bruce Tannock                  80                           74                           6              6
Tannock was at home again on the faster race track circuits, and accounted for Kyle Jackways before meeting the charging Badbul of Mad Mike Whiddett who was taking no prisoners and made life hard for Bruce with a thick Nitto tire smoke screen. Tannock home in 6th place to grab some decent points.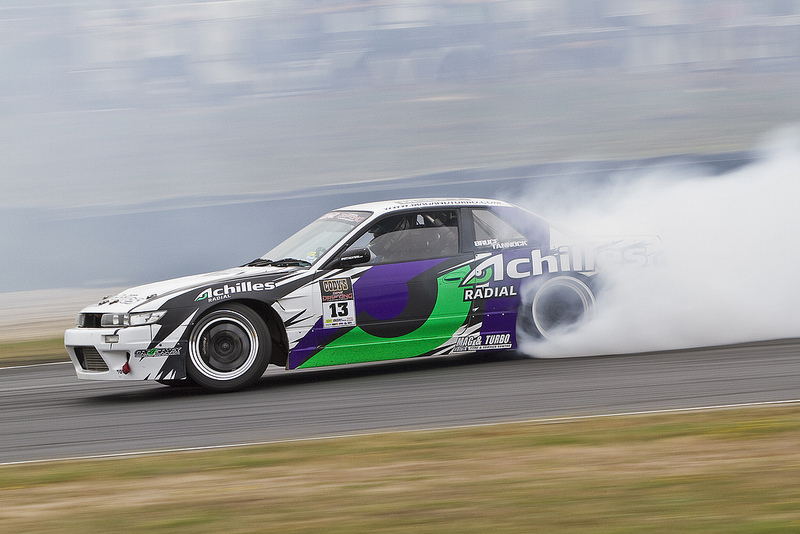 Troy Forsythe                    82                                                           4              5
The Family Guy is sometimes called the peoples champ and is well known for maximum aggression and wild entries.  4th after qualifying, the Family guy would have been looking to grab his first podium in the North island and it looked like he might be on his way after a strong showing vs Rob Whyte. In the way however was Andrew Redward who would have been on par with Reid for the form driver of the day and would take troy out in the 8. Returning home for the next round, I'd be putting money on Forsythe on his home track.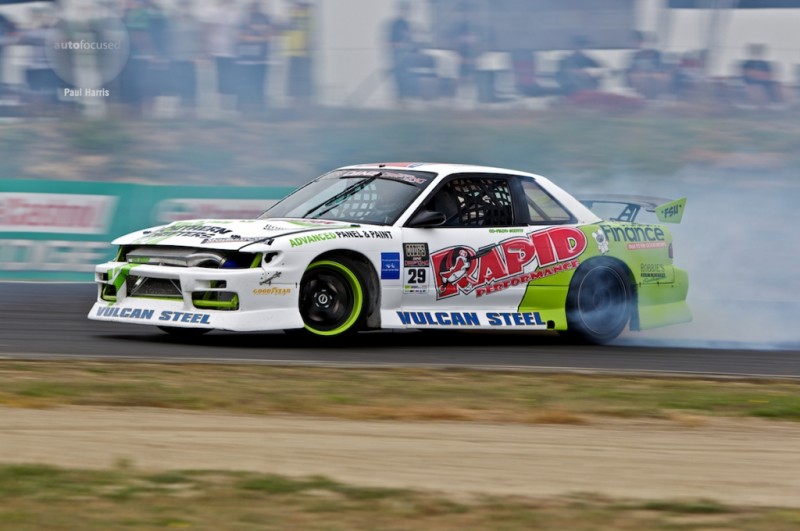 Gaz Whiter                         68                                                           16           4
If you asked anyone in pit lane who the guy to beat was after practice, they'd tell you Gaz Whiter. All that would change at about 10am Saturday morning when a hole in the LS Chev block appeared and dumped its contents all over Hampton Downs.  The Tectaloy driver turning to fellow Dcorp driver Justin Rood who had his car on site for the legends challenge,  Whiter stepping into qualifying having never even done a lap in the 180sx before. The result was 2 very messy spins, one of which was a near on super 6 into a wall, before a score of 68 scraped Whiter into battles. At this point it was expected that he'd simply take those points and bow out, however a win over Cody Collis saw him advance to face Nico Reid and then Curt Whittaker, both of which had controversial elements and have been covered already.  Whiter had no answer for Andrew Redward in the top 4 who was simply too fast then played a smart game sitting back just enough off Whiter to take the win on the chase. Cole Armstrong drove to largely the same game plan and Whiter had no answer . Many however were impressed that Whiter achieved what he did with the tools he had to use.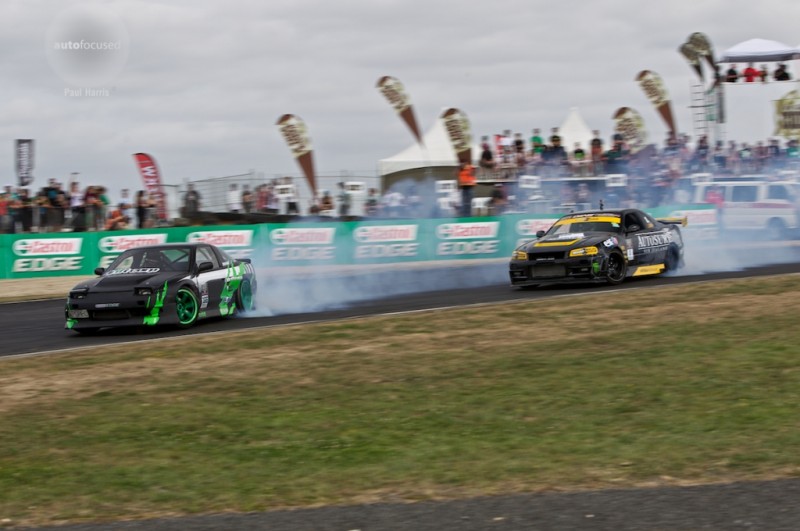 Cole Armstrong                                86                                                           2              3
The V Energy machine was back on the podium and Cole was pretty happy about it. He had an answer for everyone bar the Badbul and made a good show of smoke and angle up and over the hill lap after lap. When the car left on the trailer for repairs on Friday, many wondered if it would stand up to another full day, but it proved more than capable with a driver who again looked to be enjoying himself on track. Coles biggest gripe being that he was unable to do a huge victory skid on the track after prize giving.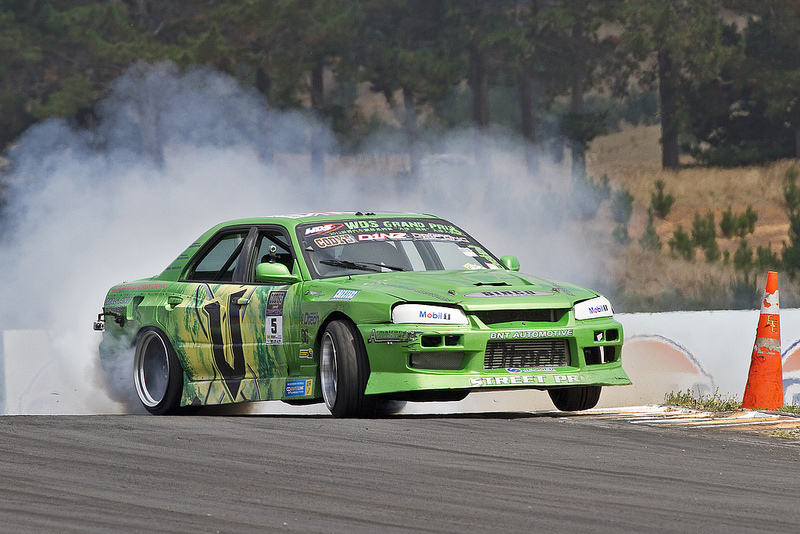 Andrew Redward            75                                                           12           2
The Achilles driver was good…so so good, and will again perhaps rue that going 11/10ths caused the final battle contact with Mad Mike after he got lost in the tire smoke over the hill.  Redward was on form and had more angle than anyone over the whole section, almost too much angle a few times on the first corner that would cause a very minor correction or slow down. You don't beat Woolhouse and Whiter by fluke and Redward is definitely on a charge this season. Is now in a good place for the season and likes the Ruapuna track so will want to get past the bridesmaid spot.
Mike Whiddett                 84                                                           3              1
You won't find many drifters who've done the laps Mad Mike has of Hampton and his performance on the weekend showed just how good he is behind the wheel of the Rx8. The 605kw PPRE triple rotor screaming on song as it did lap after lap pouring tire smoke out the rear.  A minor lovetap with Aggess on the Friday punctured the oil cooler, but Whiddetts team had the Redbull slider back ready for action first thing Saturday morning, where he would be the pace setter in qualifying after the first round.  Accounting for Templeman and Tannock, then Armstrong and Redward shows the talent that the mad one has, and it is always a special sight to see his unique victory celebration style.  Whiddett jumps up the points table as a result and will set his sight on grabbing #2 spot off Redward at Ruapuna.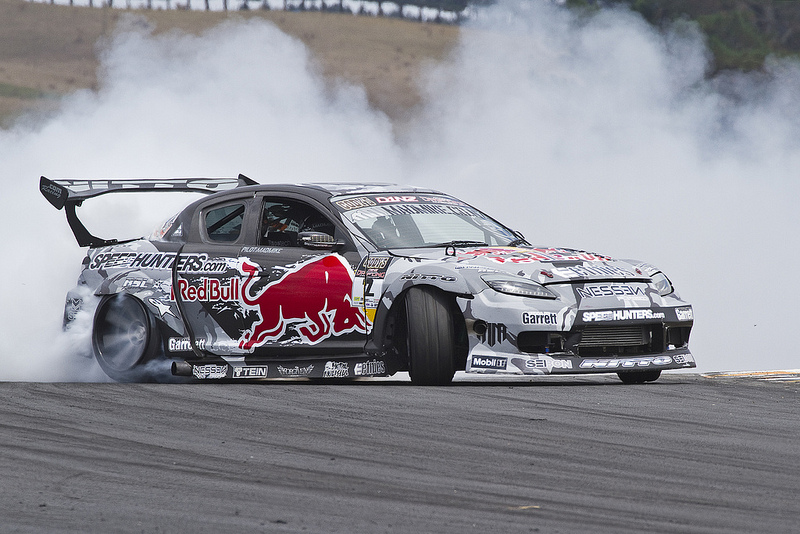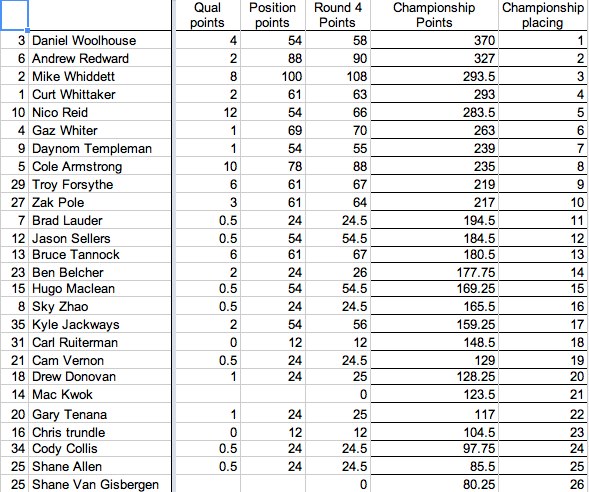 IMAGES CONTAINED IN THIS MAY NOT BE DOWNLOADED OR USED FOR COMMERCIAL PURPOSES WITHOUT PERMISSION , PLEASE CREDIT SOURCE WHEN SHARING
Photos by Richard Opie and Paul Harris
Attempted proof/sub edit- Chloe Sellers