Events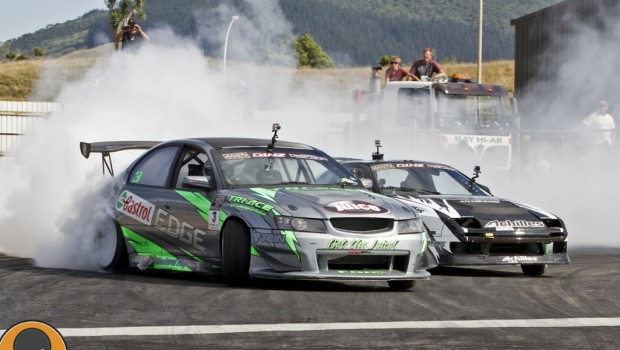 Published on January 25th, 2013 | by mrgrumpyninja
0
Codys D1NZ Round 3- The best drift event ever in NZ!?
I found myself wondering if I really wanted to write this, I wasn't sure to be honest that I could really reflect the highs and lows that came with what many are calling the best drift event to ever be held in NZ. When you have an event that the top 2 drivers qualify on the same score and have to be separated by second highest score, and the drivers in positions 3-5 also have the same score, you know you are going to be in for some crazy battles, and so it would be as D1NZ came to the Tauranga region for the first time.
Car park drift rounds bring the fans into the equation more than anywhere else, but they also come with a few problem areas like 2 tonne concrete blocks that are not particularly forgiving when you hit them. Add in a field of drifters who are getting faster and more aggressive round by round and it was inevitable that it was going to be expensive for someone. A further factor is that the differences now in battles are simply so small that in many cases the judges are having real trouble finding a winner, and I'd take a guess at going forward we will see more and more division in the crowd as to who wins each time.
We also had some bizarre things, like 2 bearded brothers kissing each other to get monster truck tickets, a biggest bicep contest won by what I'd guess was a 12 year old, and some FMX nutters throwing down back flips over cars doing donuts. Best drift event ever? Well if not its got  to be bloody close.
Here is MGN's look at the event which is perhaps a bit more brief that usual as for me personally the event was quite taxing due to heat, so much going on and Gaz Whiters crash.
Mac Kwok , Chris trundle , Shane Rutland  , Carl Ruiterman – all  Mechanical failure and advised out
Ryan Johnson – Did not qualify ( did not complete a drifted lap to standard required to achieve a score)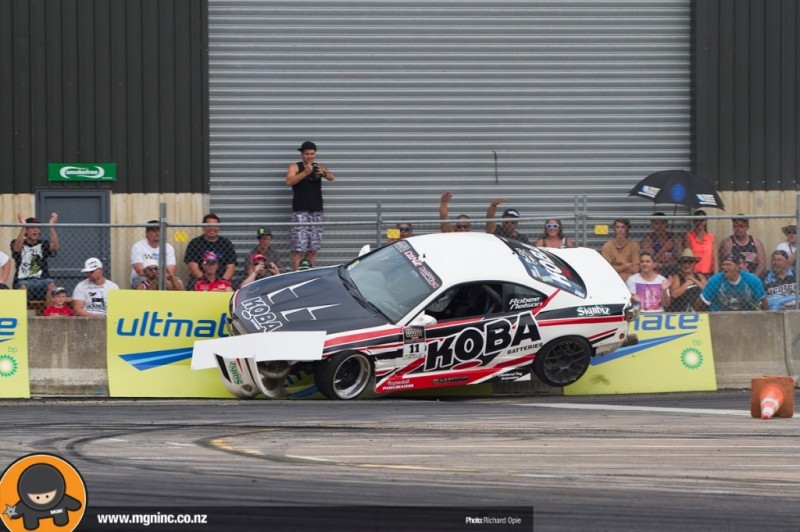 27        Robee Nelson            (Qualified 27 ) Koba Batteries
Hit the wall hard in practice and most were surprised to see the car in qualifying. Had to adjust his style and line to battle the car around the track and stood little chance against a charging Zak Pole.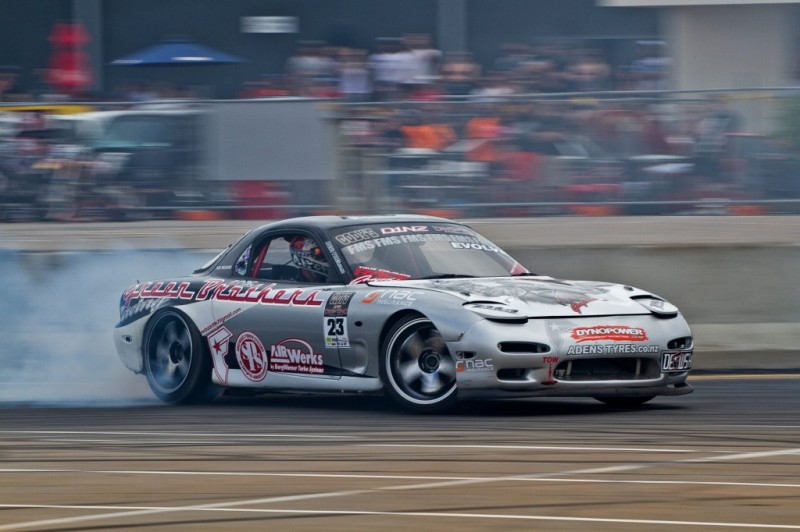 26        Ben Belcher   (Qualified 26 )           Green Bros/ NAC Insurance
Had issues with his dog box gearset on practice day and while he seemed to be a lot faster and more aggressive than Whangarei, hasn't really looked as at home as he did at round 1.  Expect Belcher to climb back up the field at Hampton Downs.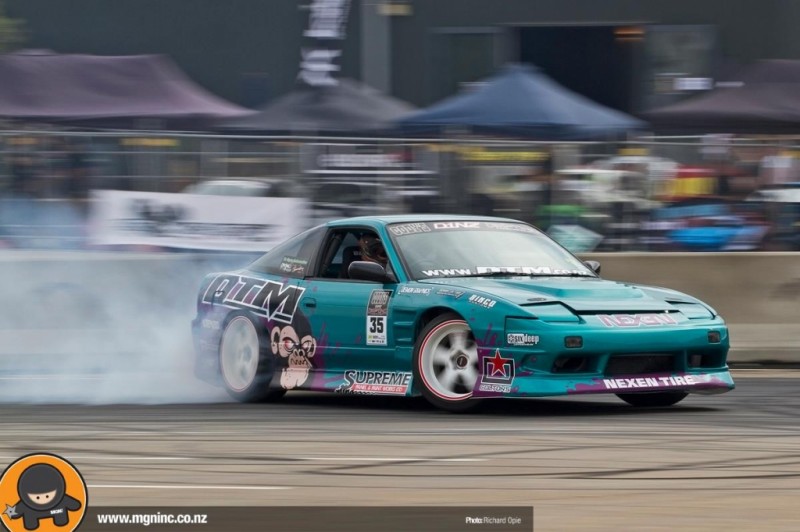 25        Kyle Jackways            (Qualified 24 ) DTM /Nexan
Refer prior round comments, car is getting better but still seems to be taking a while to settle back in. Upped the aggression in his battle and seemed to be happier in the car when he did.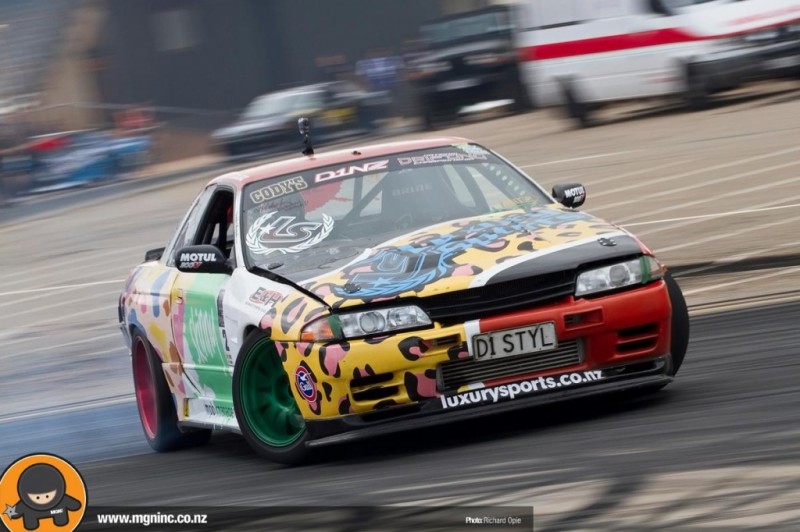 24        Cam Vernon   (Qualified 23 ) Skinny Mobile/ Gull Fuel
Not sure that the car was 100% on Sunday, seemed to lack some of the pop he had on the first day during practice and was known to be trying tire combos. Another who will be happy to see Hampton Downs which he knows well up next on the schedule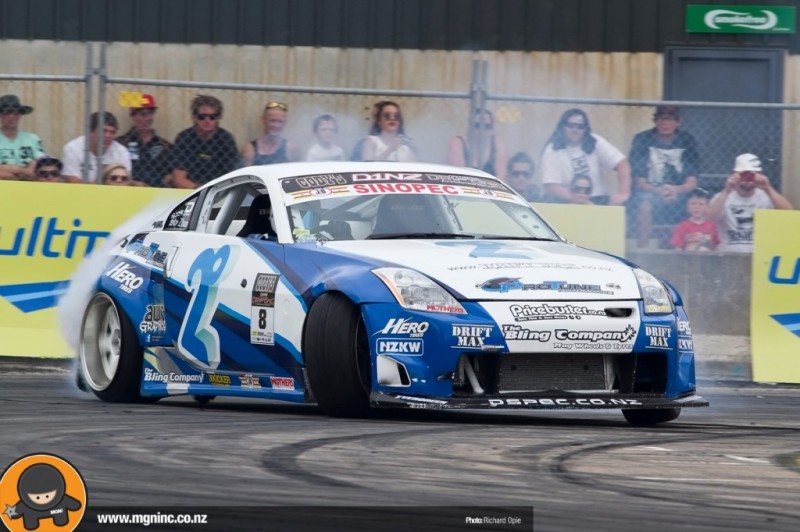 23        Sky Zhao        (Qualified 22 ) 2 Degrees
Car simply isn't fast enough on these types of tracks. Lacks either grip or horsepower or both and just gets left behind on the chase run.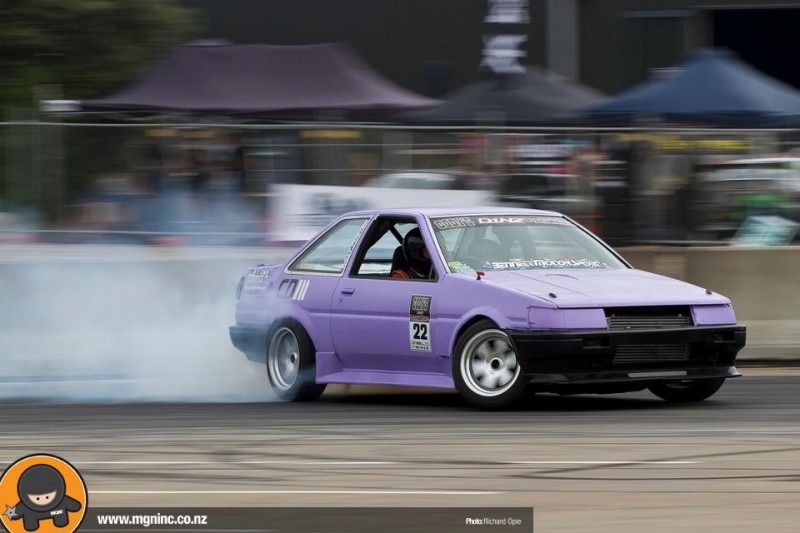 22        William Foster           (Qualified 21 )
Willy and the wall are not mates…end of story, was unfortunate to save himself from going backwards into the wall only to be collected by the chasing Jason Sellers.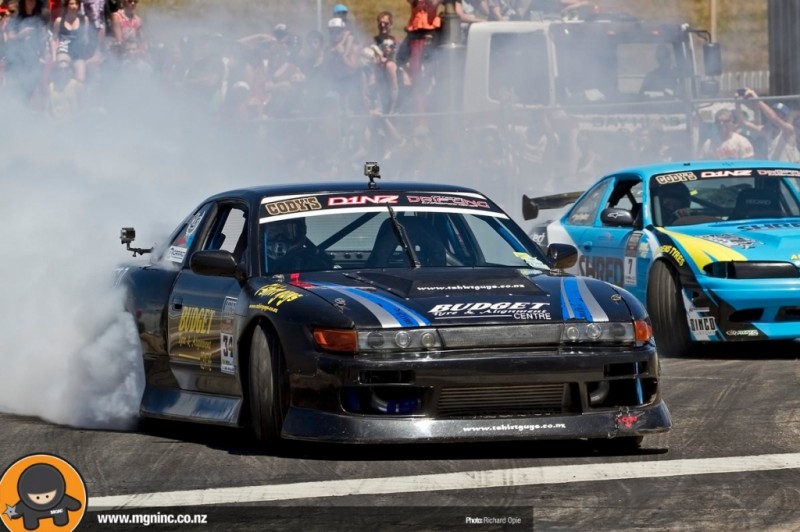 21        Cody Collis     (Qualified 20 ) Budget Tires
Cody seems to be struggling for consistency and maybe isn't getting a lot of feedback from his spotters and his line was widely varied.  The Southerners haven't seen these small car park tracks before and maybe the big wall hit at Whangarei was on his mind and never really seemed to get into the swing of things.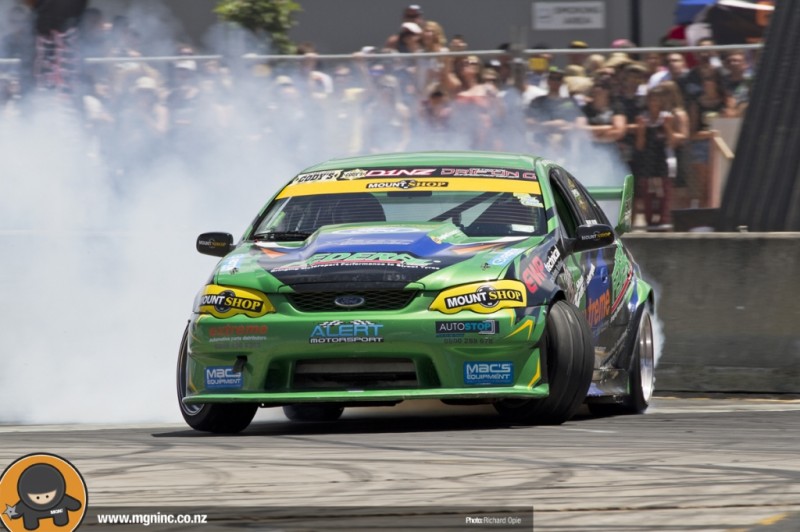 20        Shane Allen    (Qualified 19 ) Rattla Motorsport
Fought a car that was overpowered for the track. Got better as the weekend went on and perhaps needed a bit more practice before qualifying as the shared drive means a relative newcomer is only getting 50% of the practice others are.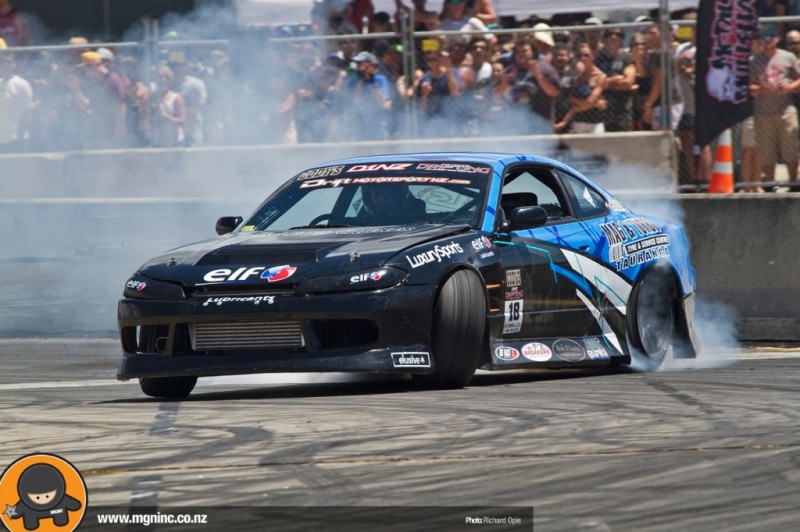 19        Drew Donovan          (Qualified 18 ) DMNZ
Amazed everyone by popping his LS2 and then fitting an RB30DET overnight to come back and fight. Was looking to put on a big show and home and did the best he could with the lowest powered car in the field. I thought he actually performed better with the RB than the LS.
18        Aden Omnet   (Qualified 16 ) Adens Tires
Much stronger showing than at Whangarei, and another who was motivated by local fans and involvement as a round sponsor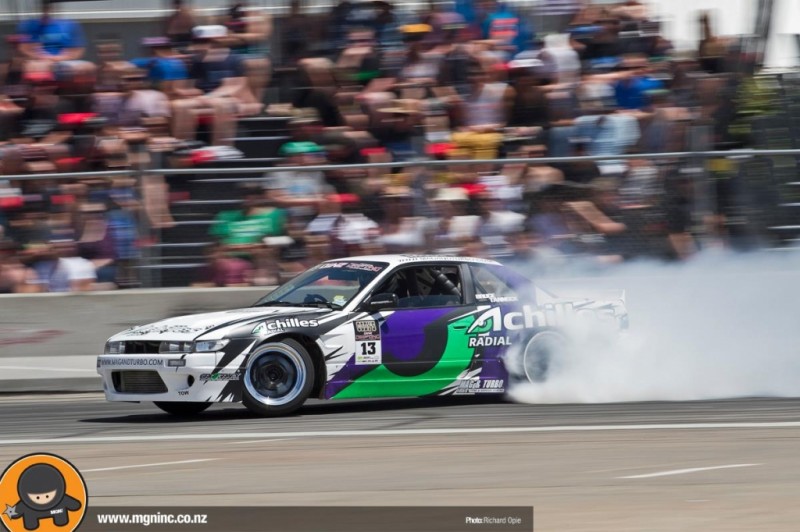 17        Bruce Tannock          (Qualified 8 ) Achilles Radial
The big guy qualified much better than at Whangarei and it all came undone when he tagged the wall and damaged rims, arms and bodykit. Seeing a car like that on the forklift would bring a tear to the eye of many enthusiasts, but Bruce drove much harder than we have seen before, and this may well be what he needed to see him on the podium this season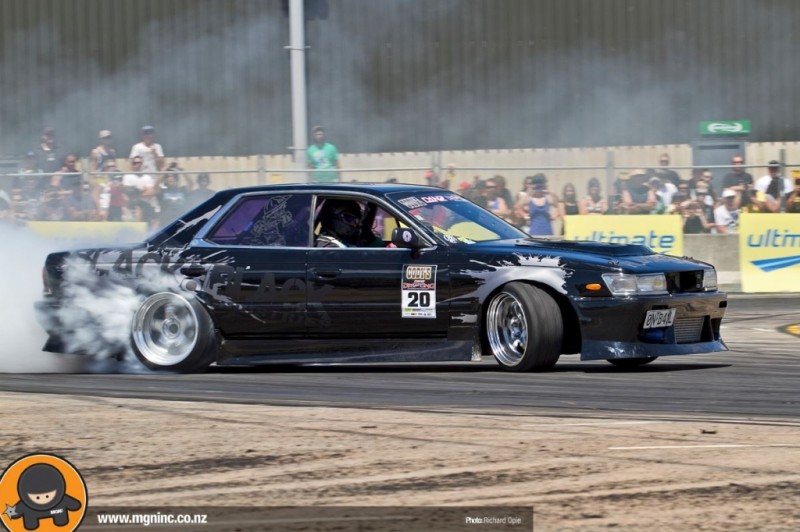 16        Gary Tenana  (Qualified 15 ) BoB Industries
Looked real smooth and drove his car to the event! Rego and Wof and more smoke than a forest fire. Gaza had a fairly strange battle with Mad Mike where there was contact and that ended his day.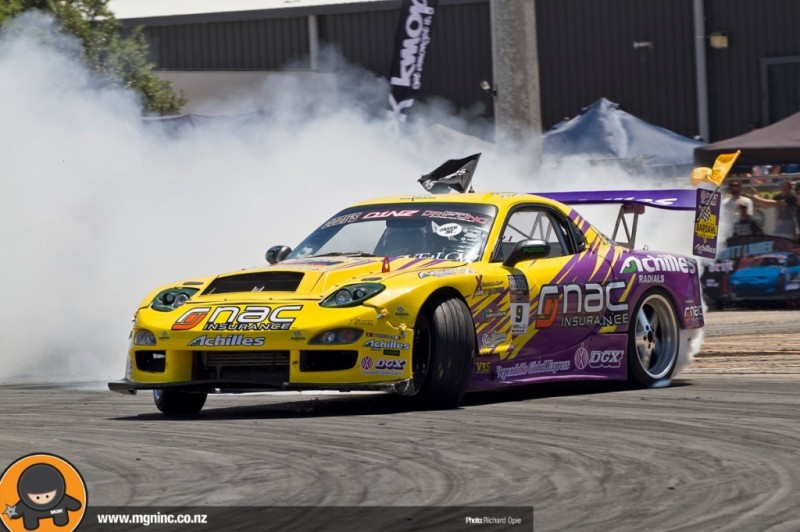 15        Daynom Templeman            (Qualified 14 ) NAC
Daynom and the team chopped the rear off his car 3 days before the event, and then decided they needed to find more power too. Don't think this car is so suited to these little tracks and came up against a red hot Fanga Dan. Expect him to fly at Hampton, some rain would have swung things his way, but it never arrived.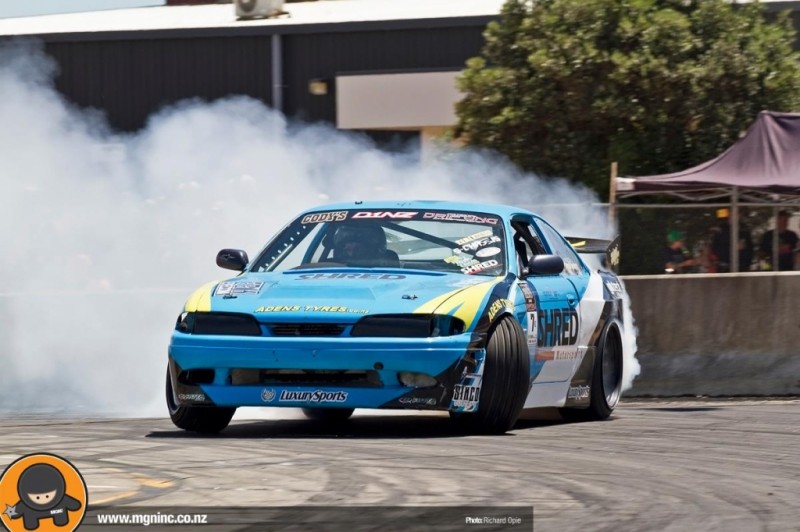 14        Brad Lauder  (Qualified 13 ) Shred Motorsport
Hit the wall and had upped the aggression from Whangarei like many, simply came up against Andrew Redward who was driving the best he has all season.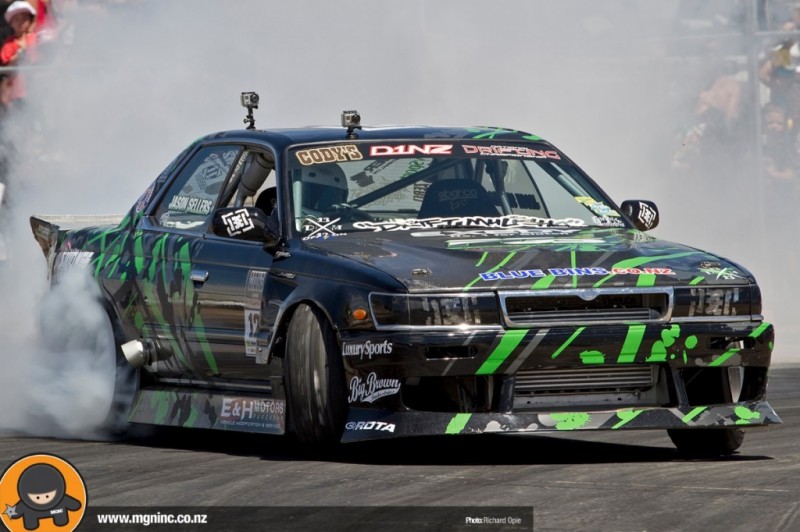 13        Jason Sellers  (Qualified 12 ) Wongs Kitchen
I'm not sold that Jason quite had the car he wanted under him this round, as he usually rides the walls but didn't seem to have the confidence to do so at this round.  Came up against Troy Forsythe, who was driving with his usual venom and again fell to the Southern champ.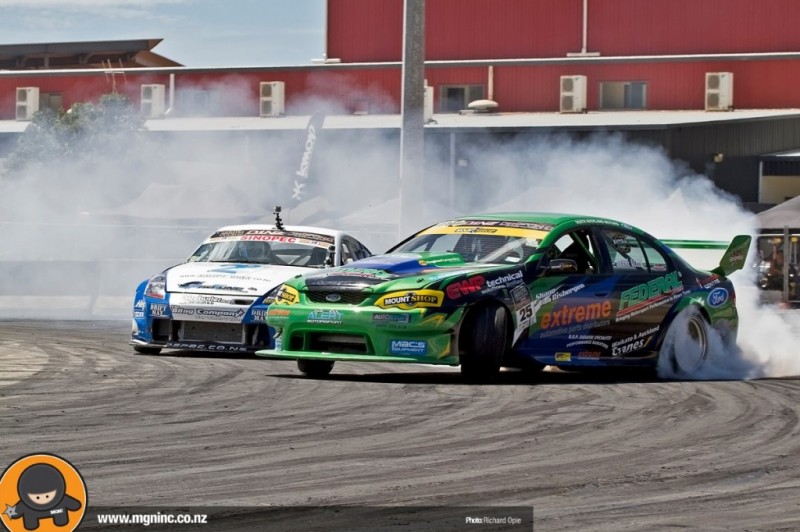 12        Shane Van Gisbergen           (Qualified 11 ) Rattla Motorsport
First ever battle win for SVG will do him the world of good.  Couldn't quite get the Rattla to hang on the wall at the first clip as long as he wanted it to in order to get into the second corner, but made a good showing after an initial spin in qualifying. He has lifted the game of all with his attention to detail, and seeking of feedback and knowledge, along with professional demeanour.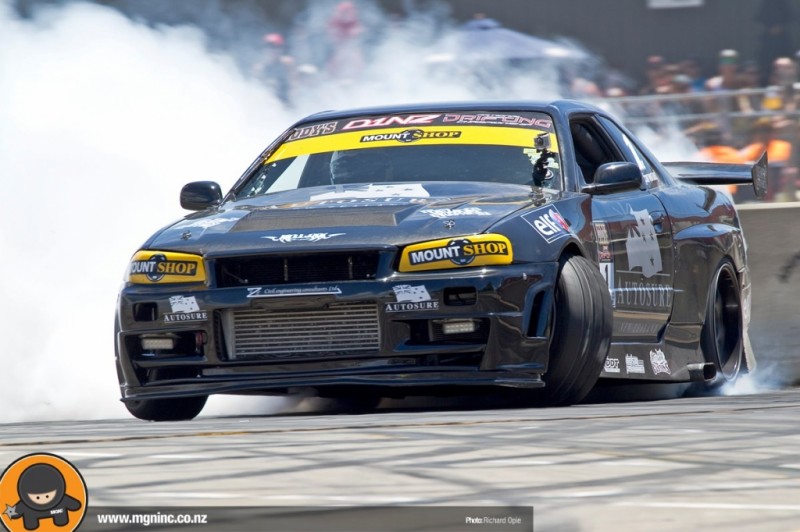 11        Curt Whittaker          (Qualified 9 ) Autosure
The reigning DK had a good first corner line, but seemed to have issues with the transition on turn 2, the car would bog down and require a noticeably violent kick to get it round the rest of the course. Wouldn't have expected to fall to Hugo Maclean and will be hungry at Hampton Downs which has proved a happy hunting ground in the past.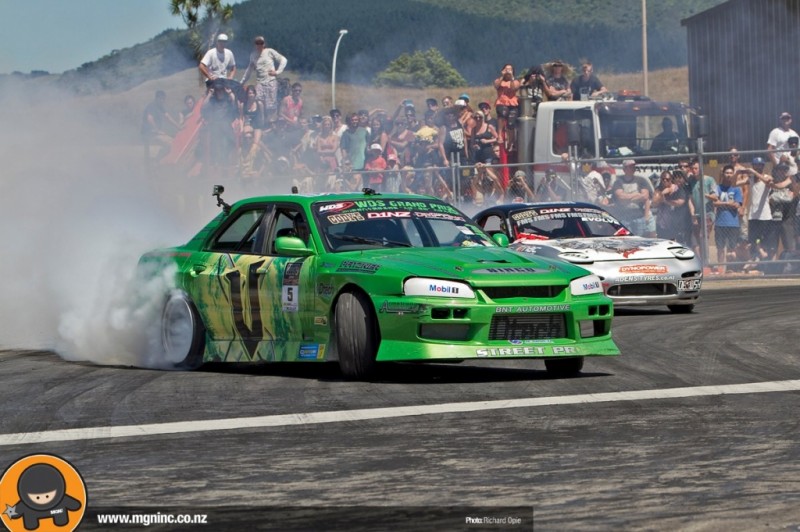 10        Cole Armstrong         (Qualified 7 ) V Energy
Had one of the battles of the event with Nico Reid and was the undoubted crowd hero. While he would have been disappointed to lose, he would have been one of those cheering the loudest for his mates from the pits.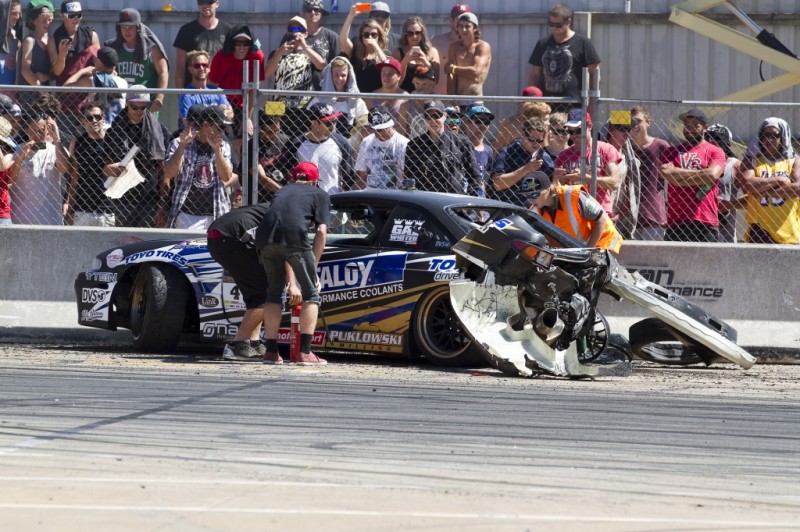 9          Gaz Whiter     (Qualified 1) Tectaloy Coolants
You all know what happened. Car….wall….bad.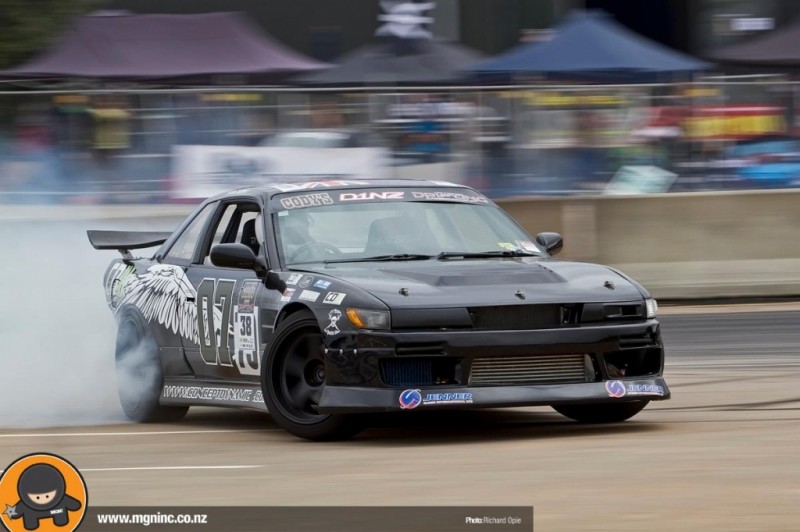 8          Sean Falconer            (Qualified 17 ) CDM
Beat Whiter and then fell to Hugo Mclean, may likely have been a bit shaken up but there is no rust on the Falcon who tagged the wall plenty of times and wasn't afraid to mix it up.  Showed an interesting tendency to almost move to make a pass which is no longer allowed.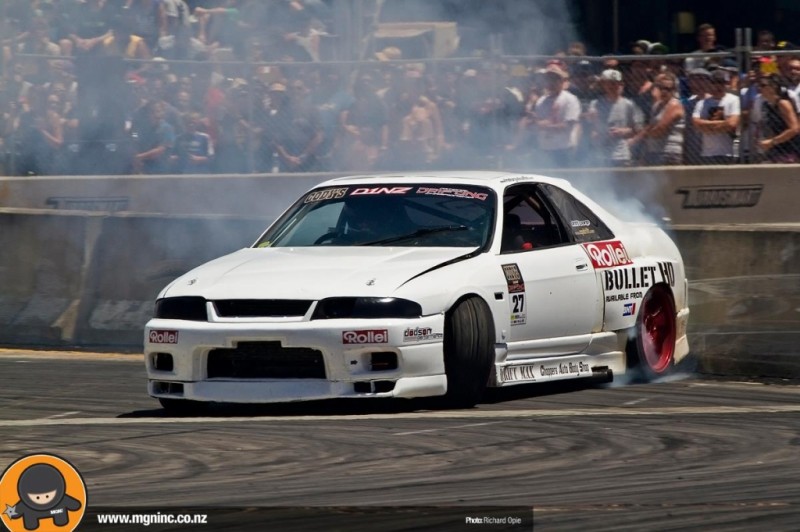 7          Zak Pole         (Qualified 6 ) Rollei Bullet
Picked as a dark horse, Zak was again smooth and aggressive. Was another to simply run into Fanga Dan (again) who is on a tear of form at the moment.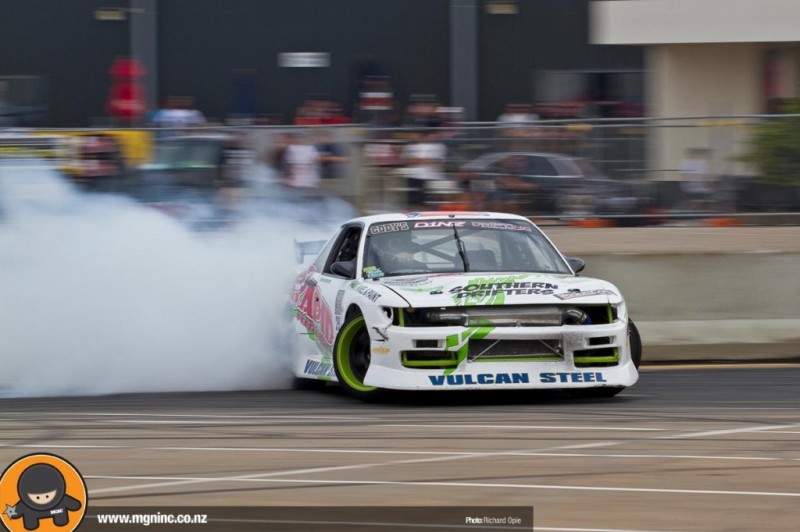 6          Troy Forsythe           (Qualified 5 ) Rapid Performance
Aggressive, fast, unafraid to wreck stuff. FSU is fast building a strong fan base in the North and it's only a matter of time before we see Troy on the podium up here.  Lost to Andrew Redward who was simply driving out of his skin.
5          Mike Whiddett           (Qualified 2) Redbull
Had an incident in his top 16 battle that affected the car and spun against Nico Reid.  Was as usual a powerhouse in the tight concrete confines and can simply put his car where most would not dare.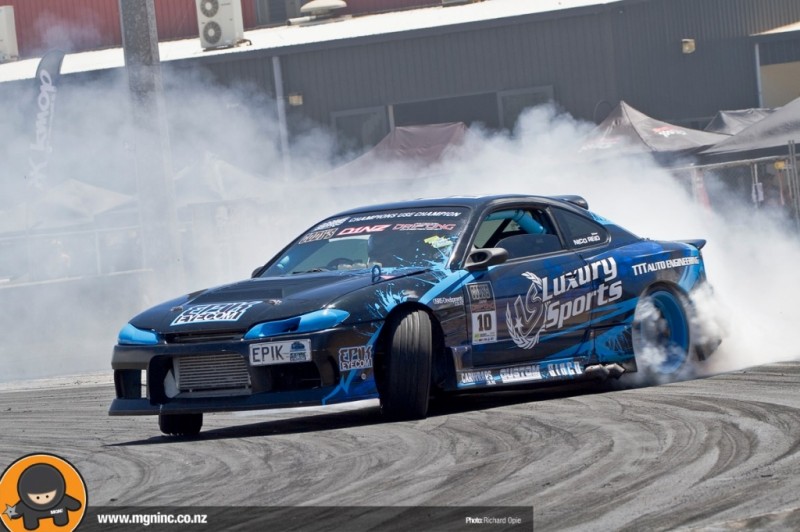 4          Nico Reid        (Qualified 10 ) Luxury Sports
Is a threat now period, it's clear that confidence is up and that Nico and his team are moving in the right directions. Was unable to overcome Fanga Dan in the semi and had a battle that probably showed us the future of NZ Drifting with Hugo Mclean. Expect to see that again in the years to come.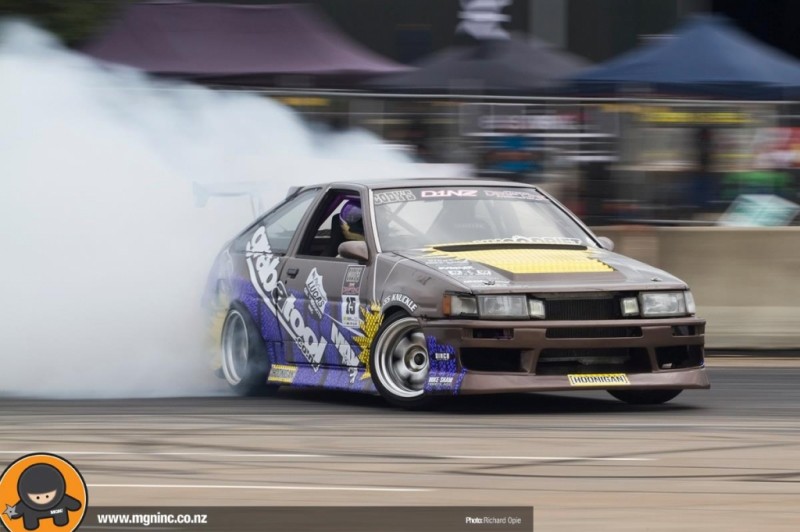 3          Hugo Maclean            (Qualified 25 ) Grabatool
Might possibly be the lowest seed to ever podium at an event. Drove out of his skin and delivered on what many have been waiting for for a while. The smile on the podium said it all and the young man will now carry some confidence for the rest of the season, knowing that the new PPRE 20b is strong.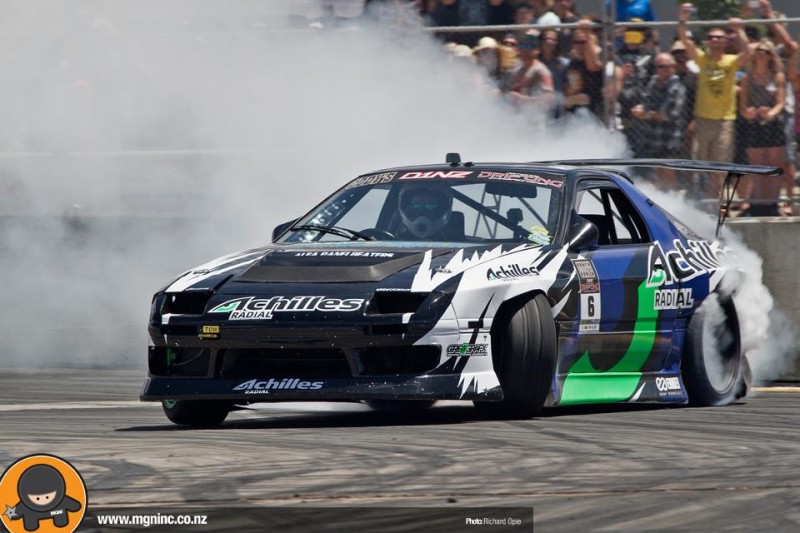 2          Andrew Redward      (Qualified 4) Achilles Radial
Well…I said it at the time in not such a dignified way but Redward lost this rather than Fanga winning it. I'd picked him to #1 qualify and he was definitely on form with monster angle and plenty of speed.  Looked like he actually had the round win in the bag when he spun on the final corner of the section to hand a 10-0 to Woolhouse. If he carries the form forward, will be one of few who can mount a challenge for the season title.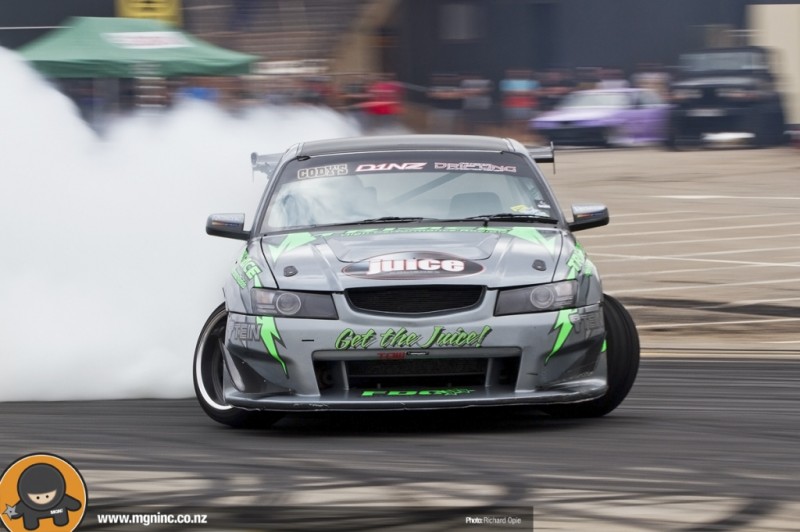 1          Daniel Woolhouse    (Qualified 3 ) Castrol Edge
Not much really needs to be said, to win…you have to be in the game and Woolhouse is doing what he needs to do.  Perhaps the most interesting thing was the fact he sat 20m back on his final chase run,  where as the 'old' Fanga would have gone barrelling in on the door in spite of the large advantage in scores. Is out to win the DK title, and will take some stopping.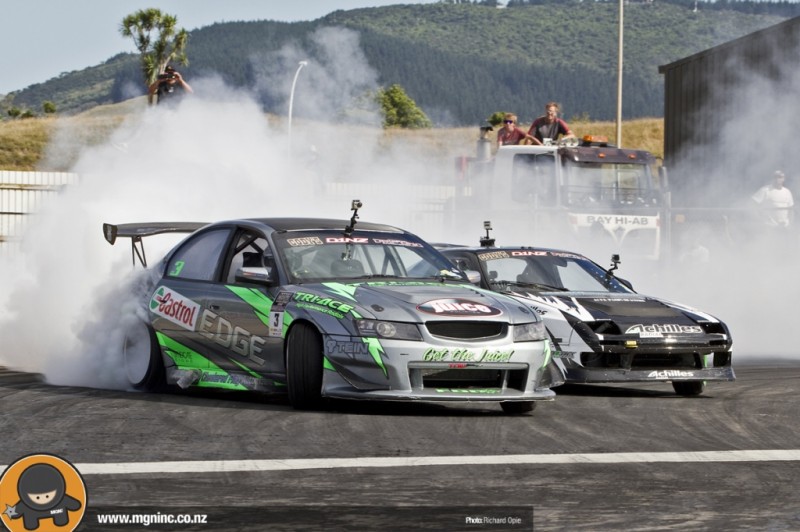 | | | | |
| --- | --- | --- | --- |
| | | Championship Points | Championship placing |
| 3 | Daniel Woolhouse | 312 | 1 |
| 6 | Andrew Redward | 237 | 2 |
| 1 | Curt Whittaker | 230 | 3 |
| 10 | Nico Reid | 217.5 | 4 |
| 4 | Gaz Whiter | 193 | 5 |
| 2 | Mike Whiddett | 185.5 | 6 |
| 9 | Daynom Templeman | 184 | 7 |
| 7 | Brad Lauder | 170 | 8 |
| 27 | Zak Pole | 153 | 9 |
| 29 | Troy Forsythe | 152 | 10 |
| 23 | Ben Belcher | 151.75 | 11 |
| 5 | Cole Armstrong | 147 | 12 |
| 8 | Sky Zhao | 141 | 13 |
| 31 | Carl Ruiterman | 136.5 | 14 |
| 12 | Jason Sellers | 130 | 15 |
| 14 | Mac Kwok | 123.5 | 16 |
| 15 | Hugo Maclean | 114.75 | 17 |
| 13 | Bruce Tannock | 113.5 | 18 |
| 21 | Cam Vernon | 104.5 | 19 |
| 35 | Kyle Jackways | 103.25 | 20 |
| 18 | Drew Donovan | 103.25 | 20 |
| 16 | Chris trundle | 92.5 | 22 |
| 20 | Gary Tenana | 92 | 23 |
| 25 | Shane Van Gisbergen | 80.25 | 24 |
| 22 | William Foster | 74.75 | 25 |
| 11 | Robee Nelson | 74.5 | 26 |
| 34 | Cody Collis | 73.25 | 27 |
| 26 | Aden Omnet | 61.5 | 28 |
| | | 61.5 | 28 |
| 25 | Shane Allen | 61 | 30 |
| 17 | Carlos Walters | 24.5 | 31 |
| 28 | Jonny Latham | 24.5 | 31 |
| 19 | Shane Rutland | 24.25 | 33 |
| 24 | Ryan Johnson | 24 | 34 |
| 36 | Darren Benjamin | 12 | 35 |