Published on December 10th, 2013 | by mrgrumpyninja
Cody's D1NZ Round 2- Return to the concrete jungle
Let's be honest and up front, most of you on some level go to car events because you hope to see a little carnage. Not car written off, injury causing carnage, but a little panel bending, up on 2 wheels , getting kinda out of shape carnage. Whangarei is the event for you then!
The drivers and crews return to the spiritual home of drifting in NZ, the region that has produced more champions than any other for round 2 of the National Championship series. You have to believe that it will be the same big loud crowd in attendance as last year, You see in the North they love drifting and they know drifting, so that makes them a particularly parochial bunch. Add in the fact Fanga Dan is the defending series and round champ, and Gaz Whiter won round 1 this season…mix in a little feeling of unfinished business for Whiter from last year….and you have the makings of a monster battle in the North.

The weekend will actually kick off for many a little early as Fanga and his team reveal their new car, while at the same time the D1NZ team will be hard at work constructing the purpose built track on what is actually a 24/7 working venue. This is no small feat and requires huge commitment and planning.  Word is that Fanga is not planning on running the new car, believing that it may just take some rubbing and bending to win this one, something he's happier to do in the older car. As we all know with Fanga Dan tho, he is an unpredictable man, and may just want to set the cat among the pidgeons by driving an unknown and therefore hard to plan for car.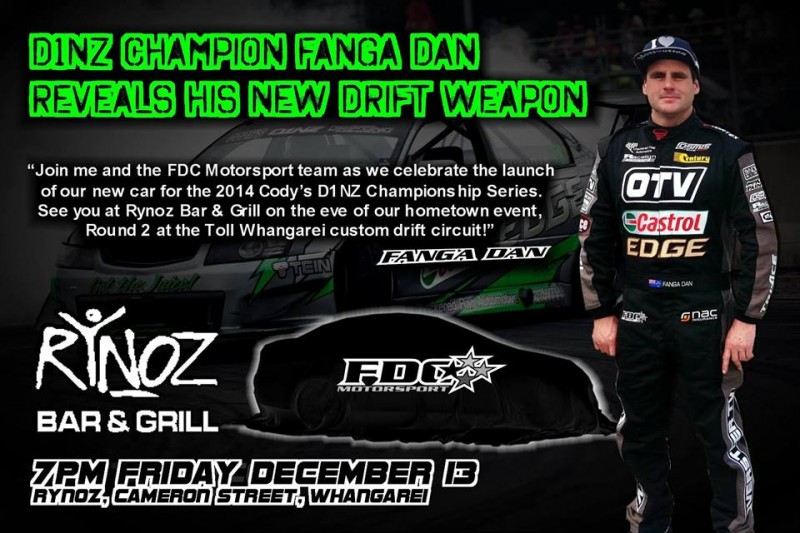 So what will face the drivers come 9am Saturday morning? Well, that is a million dollar question at this point as the event director is still debating 3 possible scenarios.  *Ignore the date on this poster*
1- run the same track as last year- that's the map you can see here.
2- run the same entry from the left, with a shallow inward switch in front of the crowd and back out to a bigger sweeping corner on the right hand side of the course (marked crowd area)  and then  back into another tighter radius corner before switching back through the track and back out the same was as the cars enter the course.
3- run it in reverse, which would have a much lower entry speed, see the cars enter in front of the main shed and finish on the VIP stand corner which was last years entry. (where you can see the pink line would be the initiation )
My hope is that it will be #2, as the speed and potential for a wall ride x 2 will provide the best test for the drivers and most excitement for fans.
From a judging perspective, Brendon Duncker steps out of the D1NZ Ute and in for Aaron Bennett. The judges took a fair bit of feedback after the last round and expect to see better scores this round. While that is more a mindset thing than a challenge, higher scores should see greater driver confidence and more on the edge runs.
VIP is my suggestion as the place to be, with most action likely to be seen on that corner. Some tickets are still available.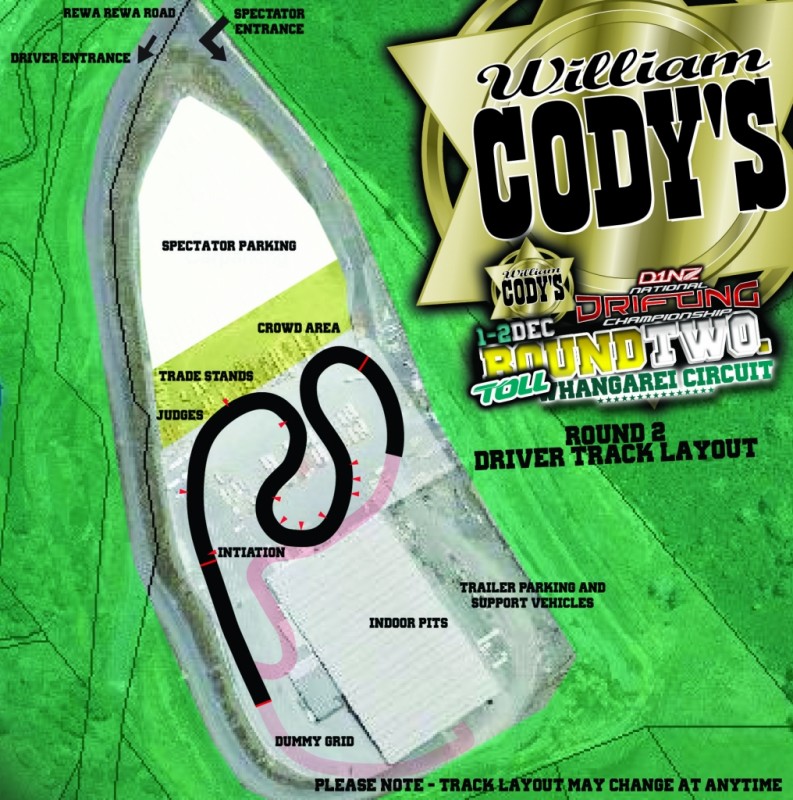 Who do we keep an eye out for then? Well, it's largely the usual suspects, with the addition of Nico Reid who are the threats. Whiddett,Woolhouse and Whiter in particular come to life when there are walls in close proximity and delight in giving the barriers a rub, while Reid seems to enjoy the confined space having honed his craft in similar settings. The withdrawl of Andrew Redward due to injury removes a real threat as his car is well suited to these tracks.  Don't expect such a strong showing from the graduates this round as they tend to find the purpose built tracks a bit tougher, while it will be a first time experience for the likes of Chris Jackson and Phil Sutherland.  This track in particular suits the V8′s and their power delivery, so the likes of Curt Whittaker and Zak Pole have to work hard and be precise to avoid bogging down in their big power 2JZ's , as will SVG in the Rattla Falcon.
Last year I put $20 on Nico for a first podium..this year I'm going to say that his good mate Troy ' The Family Guy' Forsythe is due to stand on the dais, and if my chrystal ball is correct, I think you'll find likely Whiter and Woolhouse along side him .  It's that kind of track though where an element of luck is needed, and to be honest all 3 could end up well down the pack with others hitting form on the day.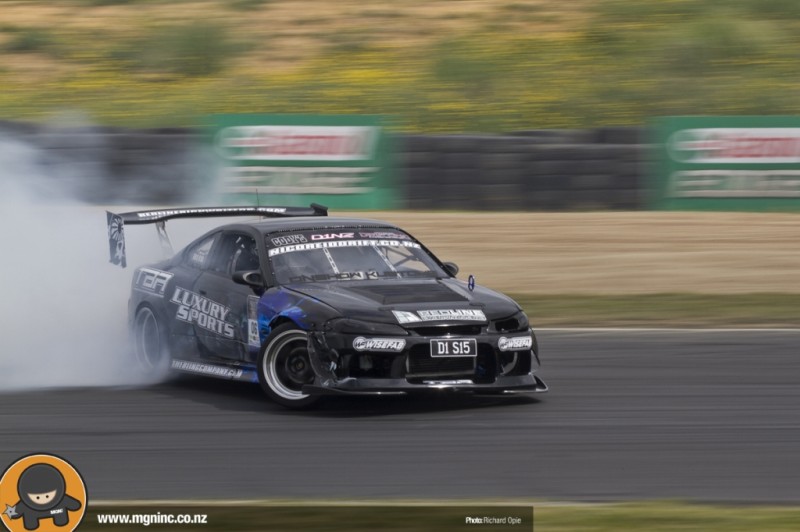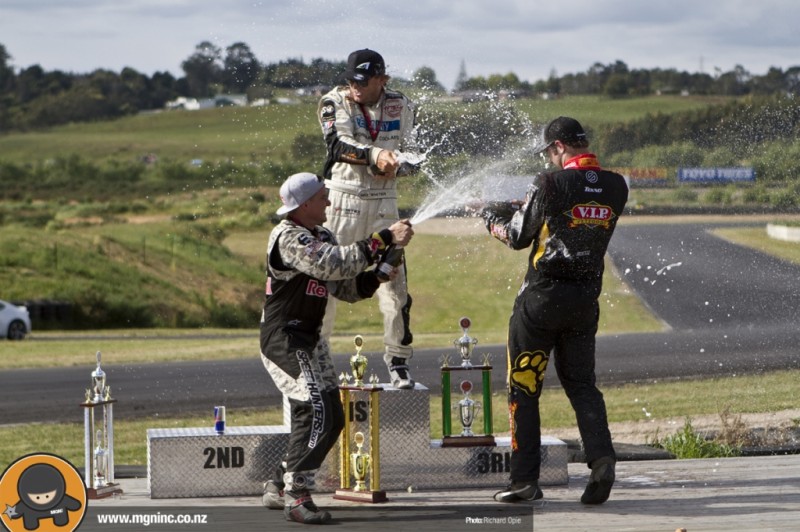 Now…who is your money on??