Published on December 5th, 2012 | by mrgrumpyninja
Codys D1NZ Round 2- Toll Whangarei
When it was announced that D1NZ was going back to Whangarei, no one really knew what to expect, and as it turned out, I doubt anyone could have predicted the way events would unfold. This is my review of round 2 from behind the microphone. Usual disclaimer…don't get upset, write your own story if you don't like it, KDF and all that shiz J
Let's start by saying Whangarei as a track was amazing, a huge thanks must go to Toll for allowing us on to what was agreed by all to be the best surface ever drifted on in NZ. Praise also must be given the dedicated D1NZ team who worked long hours to purpose build the circuit and create something that become a giant drift theatre where the players were all in prime view no matter where you sat. Most of all, the drivers and crews should be congratulated, everyone stepped up a level this weekend and put cars on the line as they ran concrete walls and risked realistically the chance of ruining their season if something went wrong and a big impact took place.
So how did the event play out?? Well 26 cars fronted the battle round after Hugo Maclean withdrew due to mechanical and Gary Tenana did not complete a full qualifying lap and was DQ'd, prompting a flurry of texts to our commentary booth inbox. (Huge thanks to 2degrees and Sky Zhao for sorting that out for us. )
Report is in reverse order of finish as always. Enjoy
Kyle Jackways- Nexen/ DTM S13
Something it has to be said is just not right with this car, it's still struggling to produce any real smoke or generate speed, Jackways was visibly frustrated in the car and just couldn't put the car anywhere near where it needed to be to threaten. Eliminated by Curt Whittaker in the top 32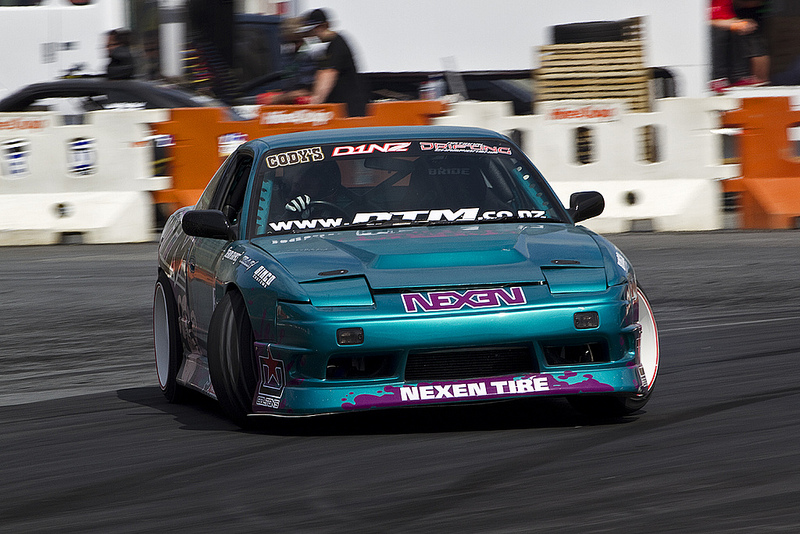 Willy Foster- Bennett Motorsport AE85
Willy hit the wall…..not once, not twice but 3 times and did some fairly significant damage to the manliest lavender coloured car around.  Every time he came out for a lap there was a massive cheer as he threw the little car into turn one.  It's probably fair to say that the track beat Willy in the end, but I have no doubt he will be back. Taken out by Mac Kwok.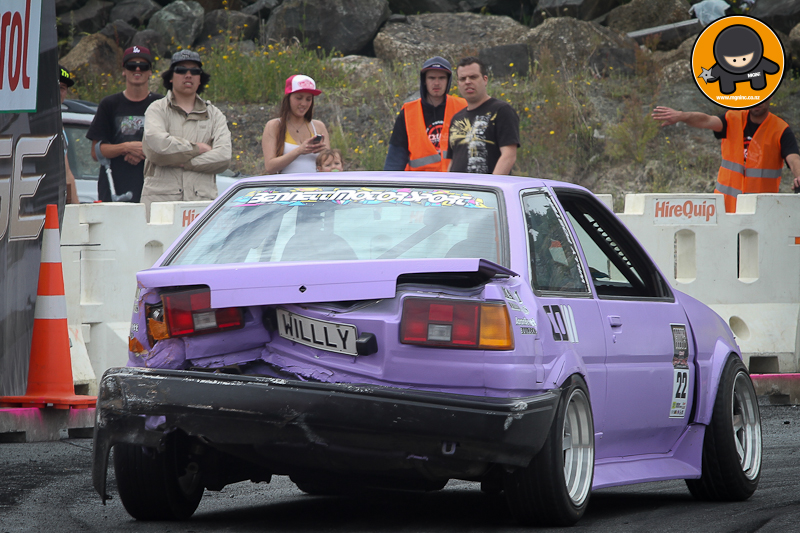 Mike Whiddett- Redbull Speedhunters RX8
Looked for all money to be on track for a top 3 qualification and a strong podium charge before a gearbox breakage took the 20b out.  One qualifying run would net a score of 55 with only one working gear and a hastily changed diff ratio, before fitting a road car gear box that was tortured by the PPRE monster engine in battles. Met a charging Zak Pole in the top 32, who to his credit was right on his game and soundly beat the wounded bull.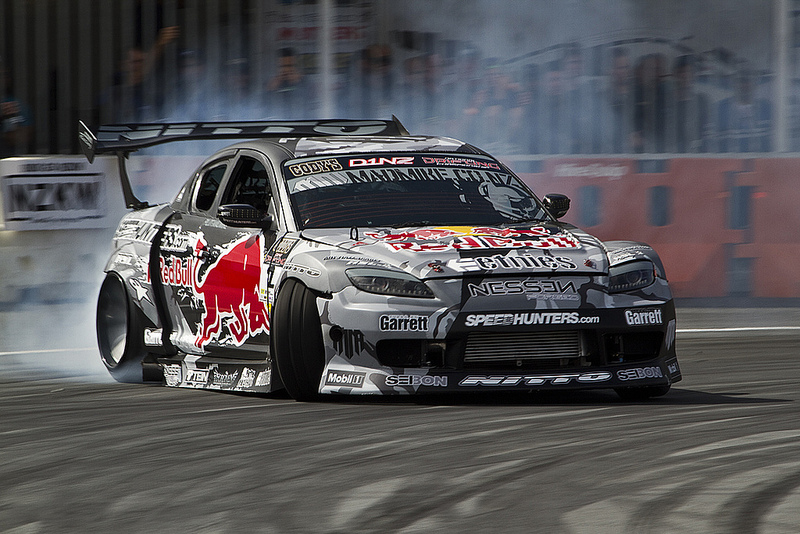 Cody Collis- Budget Tire S13
Was the first to meet the wall, and somehow managed to repair the car after a solid hit. Seemed to be perhaps just a little gun shy after that which is fair enough.  Fell in the top 32 to Carl Ruiterman who seemed to get more and more aggressive as the day went on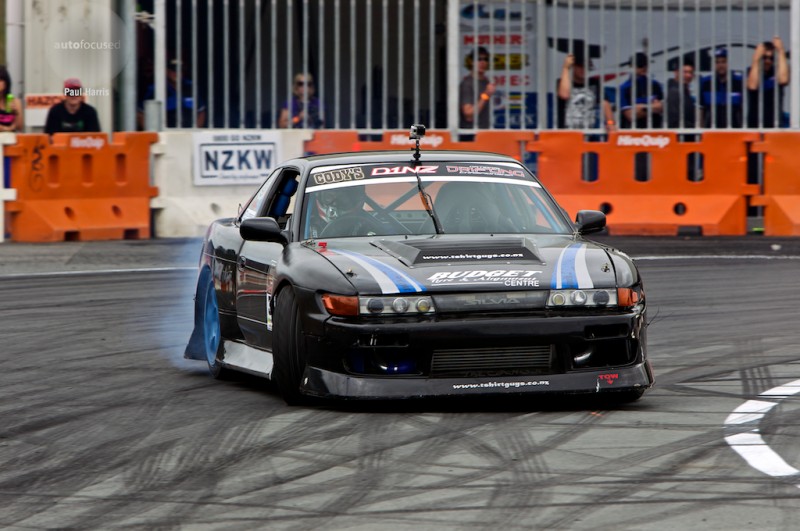 Bruce Tannock- Achilles Radial s13
It's no secret that Bruce has struggled in past on these tight concrete walled circuits and again he just never seemed to find the right level of comfort.  Would have been disappointed to qualify low after a solid season opening, and would face Brad Lauder in a top 32 battle, with Lauder advancing when Tannock got too close to an inside tire wall.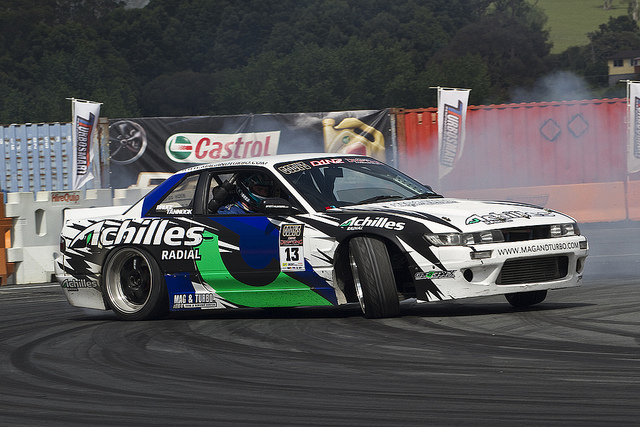 Aden Omnet- Adens Tires Altezza
I'll be honest here, I'm not too sure what to make of Aden who seemed to really struggle to make the first corner of the section and had me thinking perhaps he'd jumped to pro to fast. He did, to be fair, seem to come to life when faced with the challenge of Southern Drifters Troy Forsythe but wasn't able to stave off the always intense chase delivered by Forsythe.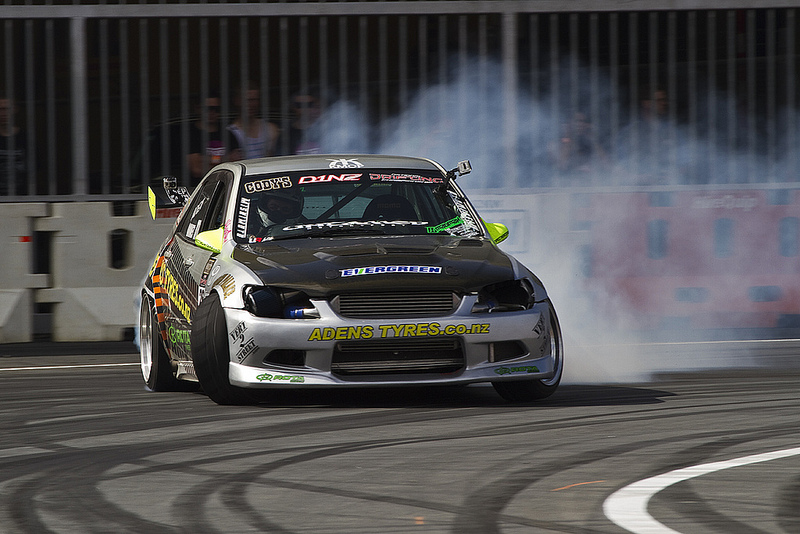 Shane Allen- Rattla Motorsport Falcon
Allen simply had too much power for the tight track, and having to get out of the gas so often made his runs quite 'lumpy' if that's the correct word. The sound of the big motor burying tires off turn 3 was amazing but it was always going to be hard to chase when he was off the gas through most of the first part of the track. Fell to Sky Zhao in the 2degress 570z in the top 32. Will need to think about how this car is set up for Tauranga when Shane Van Gisbergen gets back in the seat, as they will need to have some available throttle to mount any sort of chase on a track that will be very similar.  If only there were bonus points for the MONSTER of a burnout at the days end.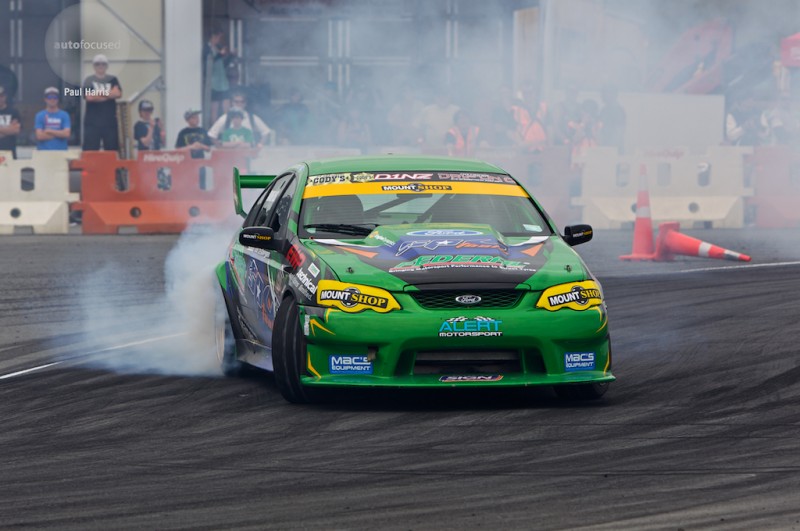 Chris Trundle- Trundles Automotive FCRX7
Trundle looked to be settling in well but then would on occasion take a shallow first corner line which would ultimately prove his undoing as he clipped the inner tires.  Had a good battle with Cam Vernon in the top 32 which eventually saw Vernon advance.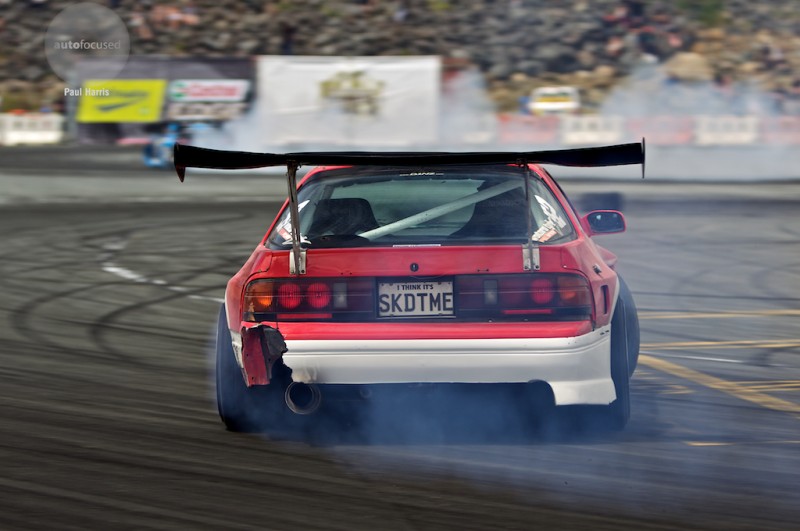 Robee Nelson- Koba Batteries S15
Robee is a proud Northlander, and put on a show for his mates is exactly what he did with some wild runs right out onto the wall at Turn 1. Robee qualified in P11 only to go out in the top 32 after making a mistake against the very calm Ben Belcher, who qualified low and seemed to enjoy battling more than single runs.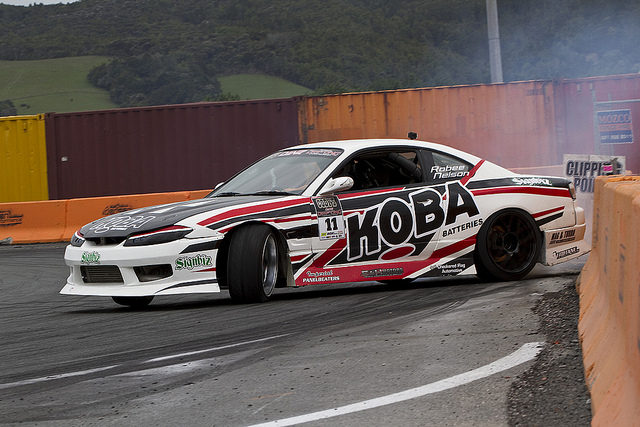 Cole Armstrong-V Energy R34
Armstrong loves to throw down for a big crowd and with big HP would have been looking to put on a smoke show for the crowd after giving the wall several love taps on the practice day to find his range.  Had a mechanical issue that saw other crews rally around on Friday to get the Green Machine back out and into the number 10 qualifying spot. Armstrong entered hard on the wall and got a little too wide in the top 32, the resulting impact straightening the car up and allowing the chasing Drew Donovan to overtake. Try as he might to force a mistake, Drew held his nerve and put Cole on the trailer much earlier than he would have expected.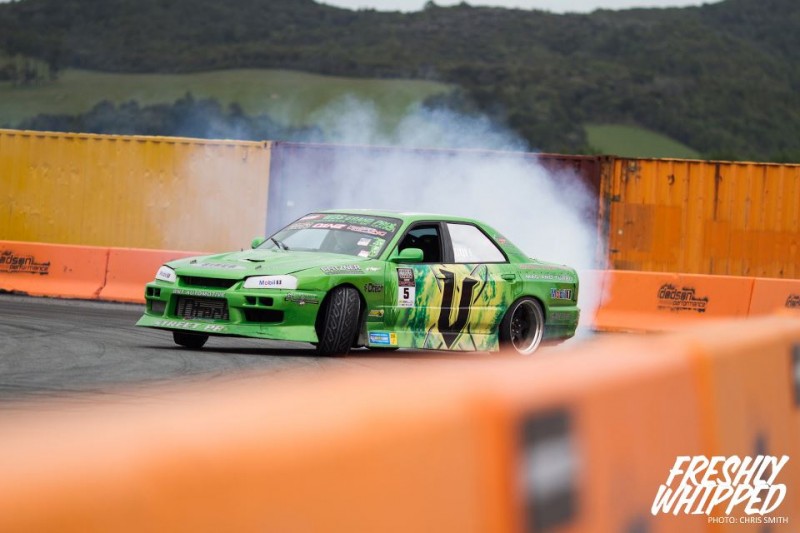 Drew Donovan- Team DMNZ s15
Wow, wasn't Drew happy to gain that win over his fellow 'Taurangian' as they were dubbed by N8tive. Drew hadn't looked overly strong in qualifying with a shallow inside line but he got the result and that's ultimately what mattered to put him into the top 16. Had a massive support crew present being originally from the North and enjoyed his crowd intro before facing the always tough Curt Whittaker.  Couldn't find enough out of the LS1 to advance but I think probably went home happy enough.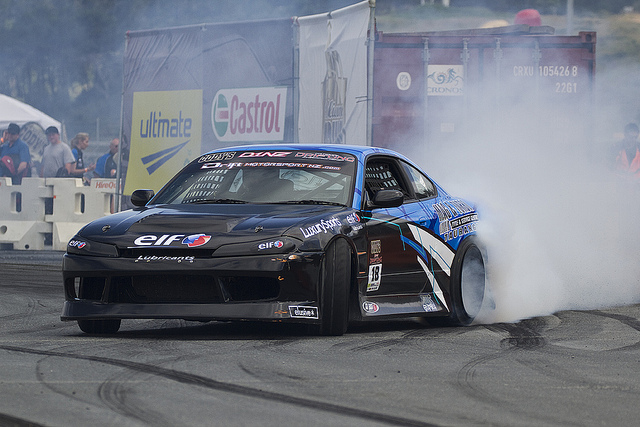 Ben Belcher- NAC Motorsport/Green Bros FDRX7
Didn't seem to really settle well in qualifying, which is perhaps expected having never competed on a track like this before. 22nd spot being a long way off his round 1 effort with the power delivery of his car perhaps not ideally suited to the lines being looked for. Got the job done in battles though and took out Robee Nelson before coming up against the on-fire Nico Reid. Has proven that he belongs at the top level.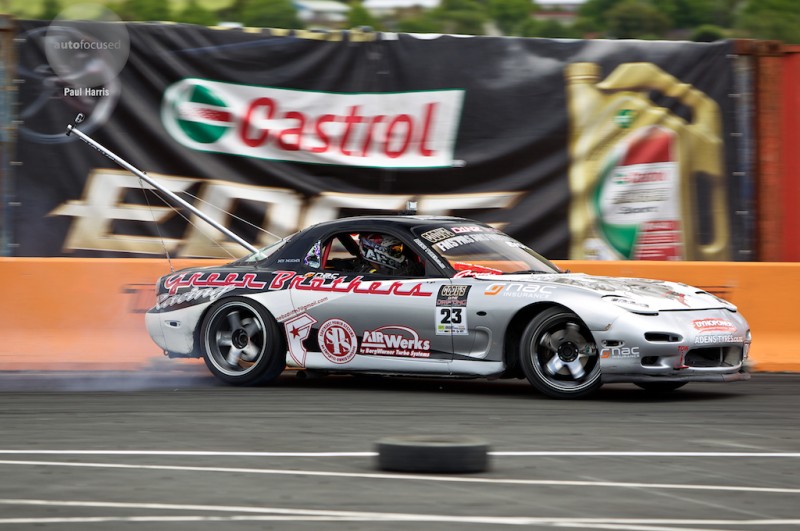 Cam Vernon- Skinny/ Gull R32
Current Pro –Am champ seemed to enjoy the track and found his feet quickly.  Ran an interesting line that saw him out on the wall but with lesser angle than what a lot of the S chassis cars were managing, which saw him grab the #16 qualifying spot and battle Chris Trundle in the 32. After winning that battle, the tough challenge of trying to beat Fanga Dan at home would loom, and it has to be said that Vernon fought a good fight. Fanga would eventually triumph with what would have been close to a panel banging chase. Vernon will take confidence into Tauranga and will be looking for his first pro top 8.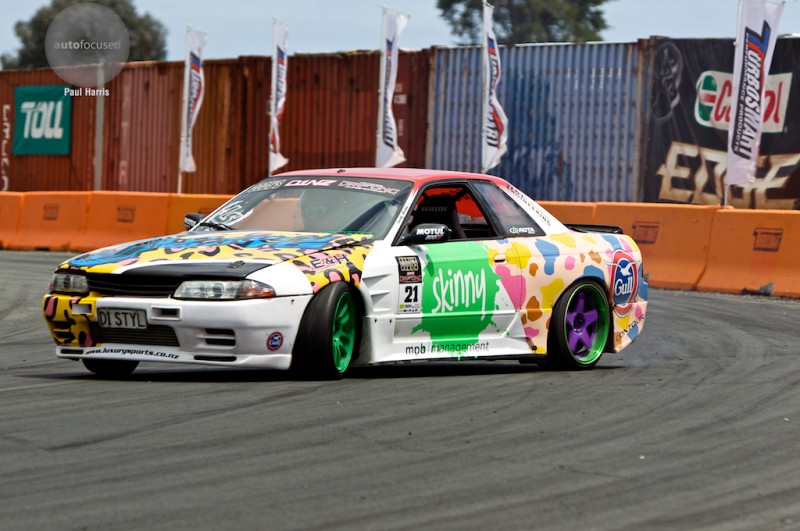 Sky Zhao- 2degrees 350Z
Sky is starting to find comfort in the 350z chassis now, although possibly still had the wrong diff ratio in the car for this track. The car appears to lack speed and doesn't really accelerate well out of turns which isn't ideal for this or the coming Tauranga track. Beat Shane Allen before coming up against Gaz Whiter and had no answer for the Tectaloy S14.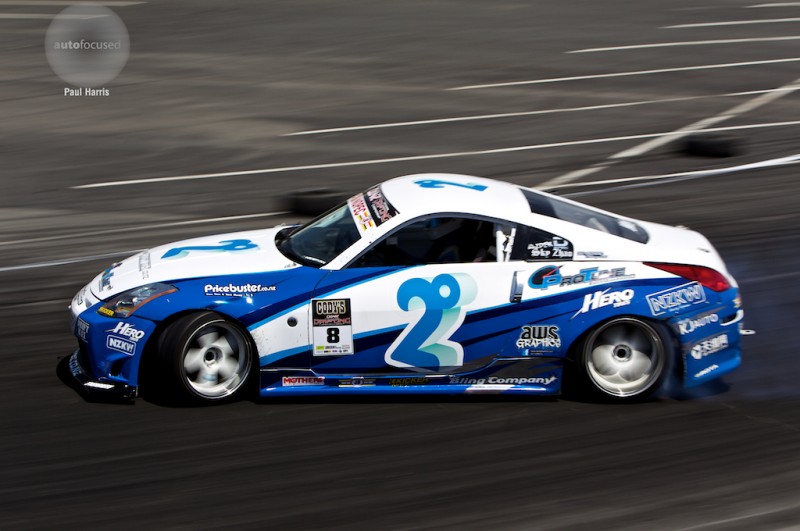 Brad Lauder- Shred Motorsport S14
Lauder was his usual consistent self but never really got out wide on the wall like some others. Had stepped up the aggression at Manfield and I was looking for and expecting more of the same but it never came. Qualified in 13th spot and beat Bruce Tannock before falling to a committed Andrew Redward who was looking really good in the Achilles Radial RX7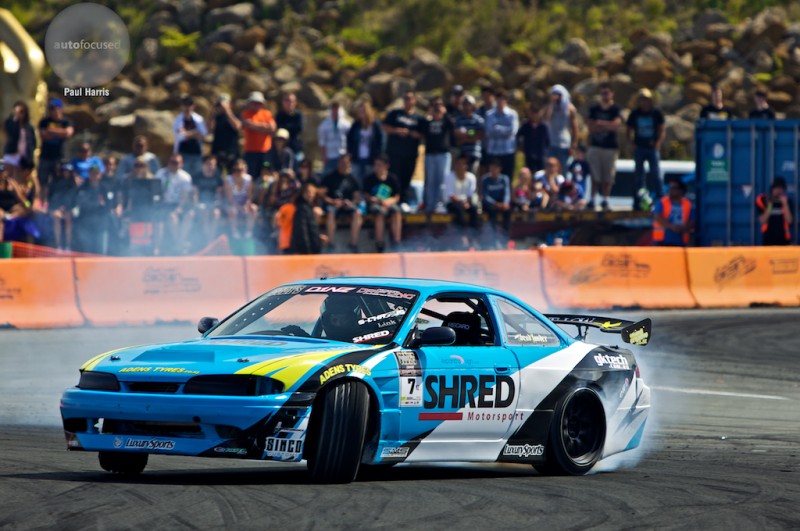 Mac Kwok- Milwaukee Tools S13
Kwok said to me "It's like driving a whole new car"  as he described how he was feeling after the team had fitted a full drift works hub and arm kit to the car in the lead up to the event, it was clear that confidence was at an all time high as Kwok ran the walls hard and mashed the throttle to smoke his rears, 8th qualifying spot a personal best for the team. Willy Foster took himself out before Mac made the same mistake in battle with Zak Pole; a wall tap on chase sending the car pirouetting around and out in the top 16.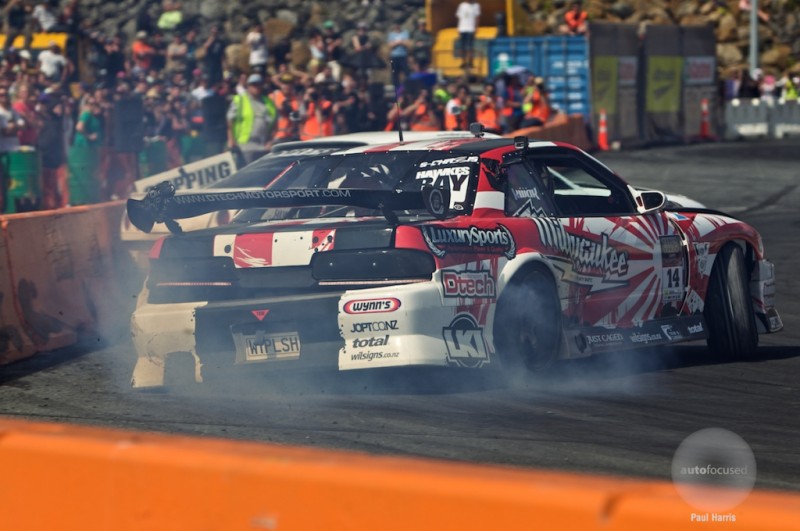 Daynom Templeman- NAC RX7
Qualified in 5th spot with a super aggressive final qualifying pass, Slim had a bye in the top 32 before meeting Carl Ruiterman in the top 16 who dialled it up a notch and took down the mega horsepower rotary after Daynom contacted the wall.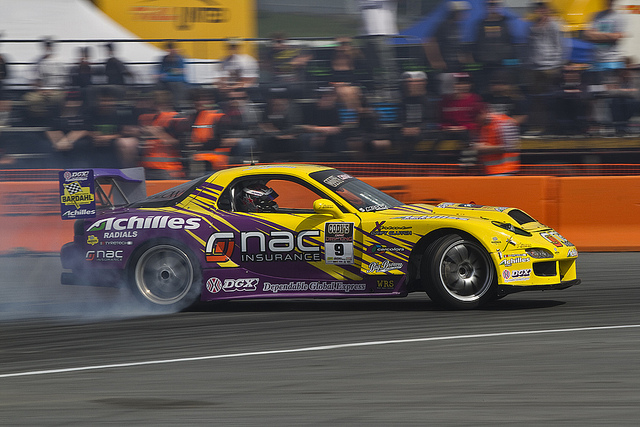 Jason Sellers- Wongs Kitchen Laurel
Jason broke 2 tensioners, leaked water everywhere, used 5 litres of stop leak and smashed a brand new go pro off the wall on his way to a number 3 qualifier spot after getting an 84 and having to go to second best score count back to separate he and Gaz Whiter.  Sellers is great at laying his wing over the wall to hit the clipping points and that is just what he did. Sellers earned a bye and met Troy Forsythe in the top 16, with the Southern man winning the battle after going OMT and forcing Jason into making a rookie mistake.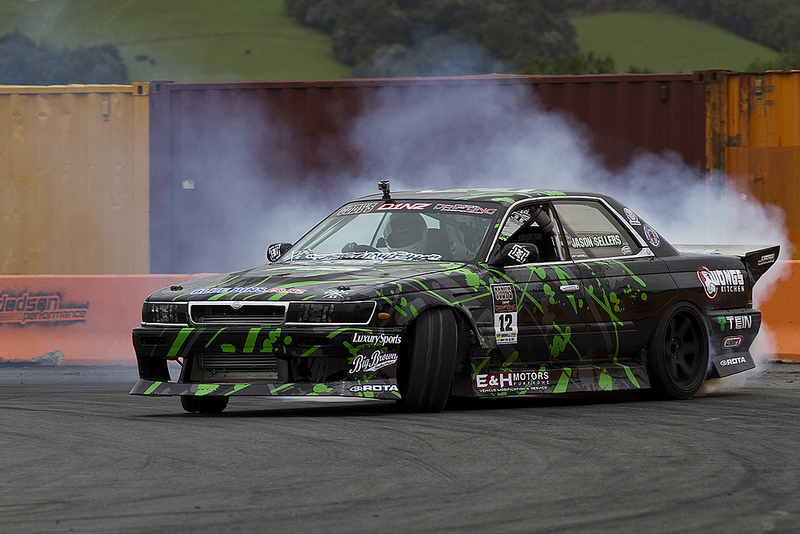 Troy Forsythe- Southern Drifters S13
I like Troy, he's unique and he brings with him a style and aggression that just screams mongrel, yet at the same time he has a very genuine quality about him. The southern slider was probably the most aggressive at attacking the first clip and knocked the sign off at least 3 times, however seemed to lose focus a bit in qualifying perhaps trying to force a top run to happen and ended up 14th. After taking out Aden Omnet in the top 32 he beat Jase Sellers before coming up against Nico Reid in what all knew would be a no holds barred battle. Judges were unable to separate after the first battle, and perhaps one of the controversial calls of the weekend sent Nico into the top 4 battles. 8th place being good, but I'd suspect not good enough for the Southern Champ.
Carl Ruiterman- GT Radial S14
Ruiterman took an interesting line all weekend through the first corner that saw him shallow and fast out to the second clipping point, and it worked well being the early pace setter before we saw a couple of real wall scrapers that put Ruiterman in 12th after qualifying. A battle with Cody Collis in the top 32 was won convincingly before dispatching Daynom Templeman to set up a battle with Andrew Redward.  Redwards aggression and speed being rewarded with Ruiterman out and finishing the event in 7th place.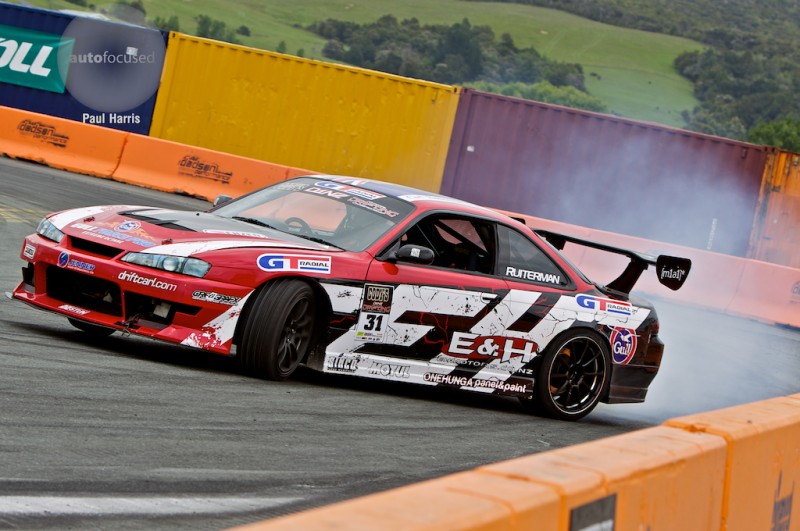 Zak Pole- ZPdrift R33
Zak charged hard all weekend and was dialling in big angle through the first corner, many picking him to be a dark horse qualifier and he would end up in the 9th spot. Fighting his way through against the always tough Mike Whiddett, before having a battle that ended with a crash against Mac Kwok, Zak would go up against veteran slider Fanga Dan Woolhouse in the top 8 and push hard making contact with the wall and ending in both cars spinning out. The end result being Fanga to the top 4, Pole having a dent in his car and some in attendance shaking their heads and asking for Judges clarification.
[in this case the judges ruled that Zak hitting the wall pushed him out into the line of Fanga which caused the contact and subsequent spin].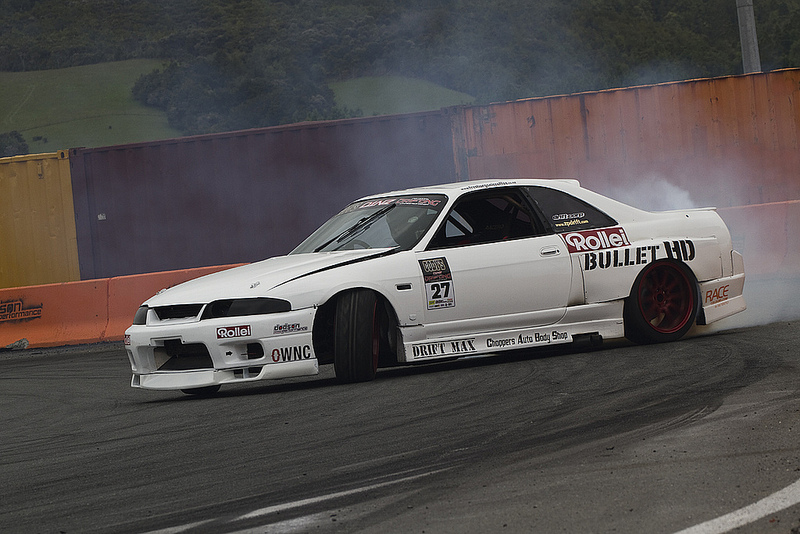 Gaz Whiter- Tectaloy S14
The Tectaloy machine was on form right from its first pass with Whiter smashing tail lights and ripping the rear bumper off at least half a dozen times.  Wanting to win badly in front of the home fans, Whiter set the benchmark with an 84 on his first qualifying run and went on to record an 82 and another 84 to back it up and grab the number two spot behind team mate Fanga Dan Woolhouse.  Up against the 2degrees 350z of Sky Zhao, Whiter simply drove away from him before meeting title rival Curt Whittaker in what will go down as one of the most controversial battles ever in NZ. Outcomes are still being discussed but on the day the judges would rule in favour of Whittaker and he would go into the top 4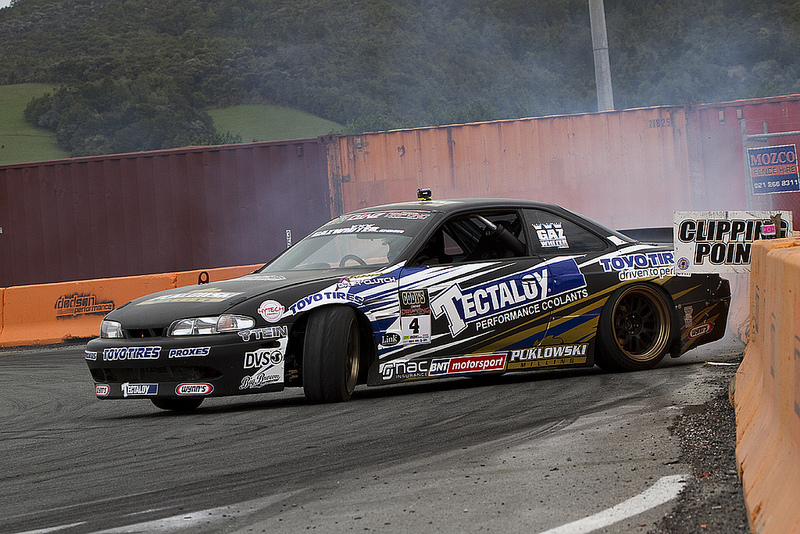 Curt Whittaker- Autosure R34
Looked to be holding back a little as expected on the first day and didn't make wall contact until late in the arvo, then arrived and dialled it up on the Championship day in usual Whittaker style.  Would possibly have expected a higher qualifying result but was judged to have been slightly off on angle. Dispatched Drew Donovan before the battle with Whiter mentioned above. Then went into what was going to be a good battle with Nico Reid only to have a power steering belt come off and wrap around everything and having to pull out of battles. This saw Nico through and Whittaker handing a win to Redward to end up 4th for the weekend.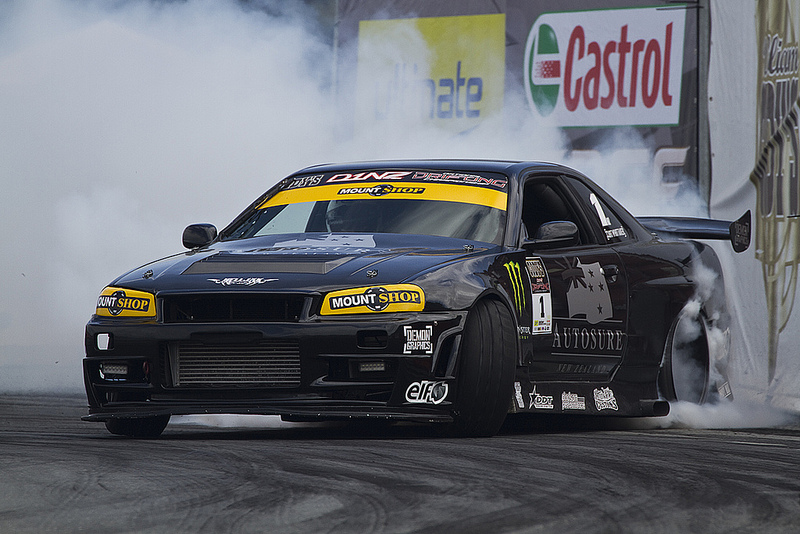 Andrew Redward- Team Achilles Radial FCRX7
Redward was on form the whole weekend and was looking comfortable in his V8 RX7. There is a reason he is the current angle King and it showed with a strong qualifying performance that saw him grab the #4 spot. Other battles have been covered earlier and the one that mattered was with Fanga Dan for a finals spot and with a round title fight beckoning, Redward over cooked it on the final corner and spun handing an unbeatable lead to Woolhouse.  3rd place a good result and puts Redward back in the title race.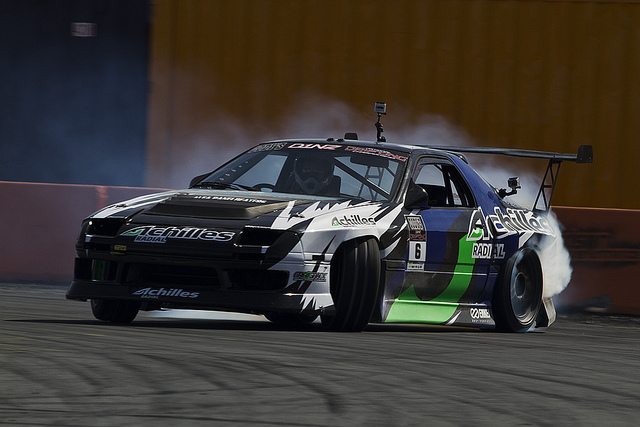 Nico Reid- Luxury Sports/ TTT S15
If you don't mind me saying I told you so, well…I did, Reid was always going to be a threat in the concrete jungle and that's what he was. Qualifying in the top half of the field for the first time gave Nico a chance to lead first and set the terms of each battle and that's what he did, before driving smart on his chase and not being trapped into a contact.  Final Battle with Fanga Dan was intense as perhaps the old and the new "resident mongrel' in the field met ( which I think they did at last season's event also) but it was one step too far and the fans went nuts regardless as Reid announced his arrival as a serious threat with his first ever D1NZ pro podium.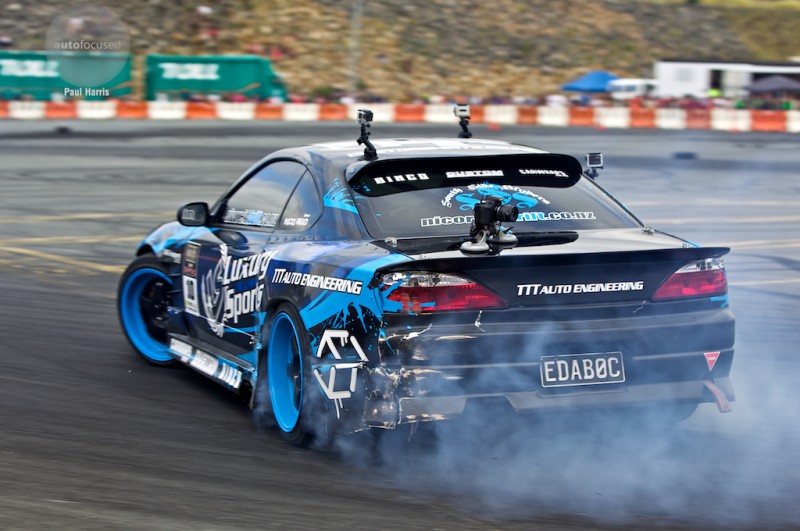 Daniel Woolhouse- Castrol Edge Commodore
Fanga Dan was crowned a popular winner of the round and after qualifying #1 it results in him leading the title race by a comfortable margin. He looked like a favourite right from when the car was first fired up and even though there were a few wobbles, Fanga got the job done and stood on the top step with his family at his side, a huge smile upon his face and emotion in his voice as he spoke, A man of few words, struggling to describe what the victory meant.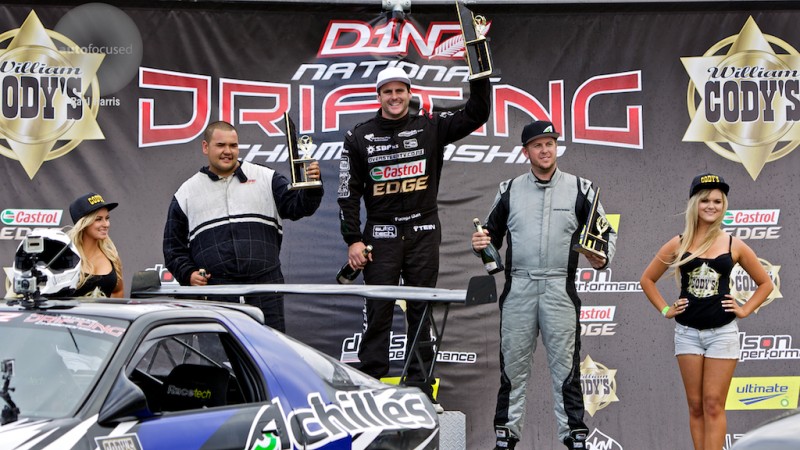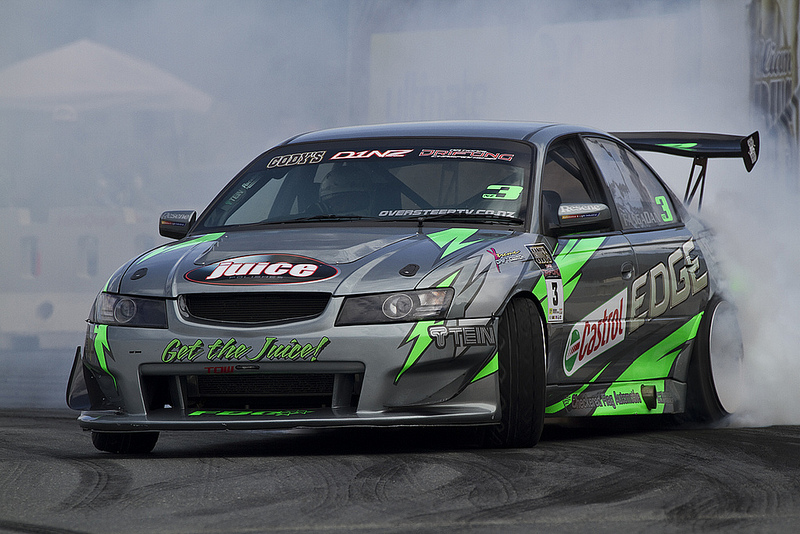 So that was Cody's D1NZ Round 2, and it had a little bit of everything. For some it will sow seeds of doubt and for others it will bring new found confidence. Regardless of where you sit on that scale, all would agree that some top notch driving was witnessed and all the drivers should take a bow.
See you all on the 19th of Jan, when we do it all again at Baypark in Tauranga.
Points after Rnd 2
D1
1. Daniel Woolhouse 204
2. Curt Whittaker 174
3. Nico Reid 146.5
4. Andrew Redward 143
5. Daynom Templeman 129
6. Ben Belcher 127.5
7. Gaz Whiter 127
8. Carl Ruiterman 124.5
9. Sky Zhao 116.5
10. Brad Lauder 115
*thanks to Paul Harris, Chris Smith and Richard Opie for images.