Events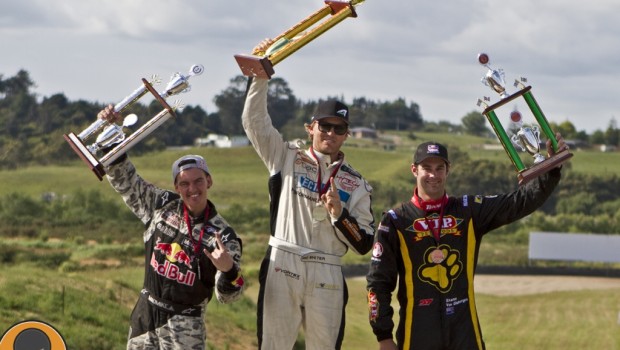 Published on November 20th, 2013 | by mrgrumpyninja
0
Cody's D1NZ National Drifting Championship round 1 2013
The Cody's D1NZ National Drifting Championship series kicked off at Hampton Down south of Auckland this past weekend.  Known as a simple track by the drivers, it is equal parts hated and feared by drivers who know that its simplicity makes it a track that many can win at, and that all are comfortable pushing right to the edge on.  It makes for possibly the best start to a championship series, in that it enables the underdogs to shine and grab early season confidence.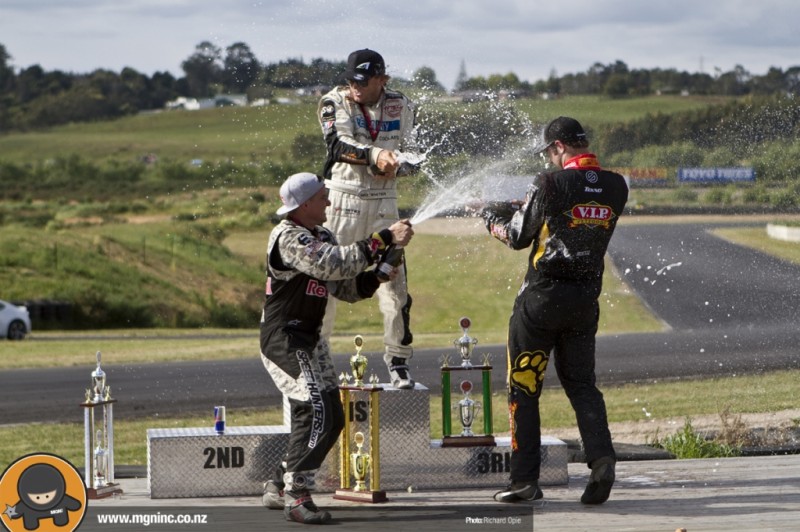 With a large portion of the field having made changes to cars, or simply taking time out over the winter to regroup, we saw what would most likely be described as a rusty performance by in large, akin to the usual first AB's test of the year, where it's still good, but not quite what you know it could be. That didn't stop the crowds coming out tho, with an estimated 5000 taking in the weekends events.
Here is my take on how things went down for my position in the commentary tower.  As always this is purely opinion, and everyone can be a bit of an armchair expert. Thanks to Chloe for Proofing and Richard Opie for Images, you can catch this round on TV3 on January 5th & 12th .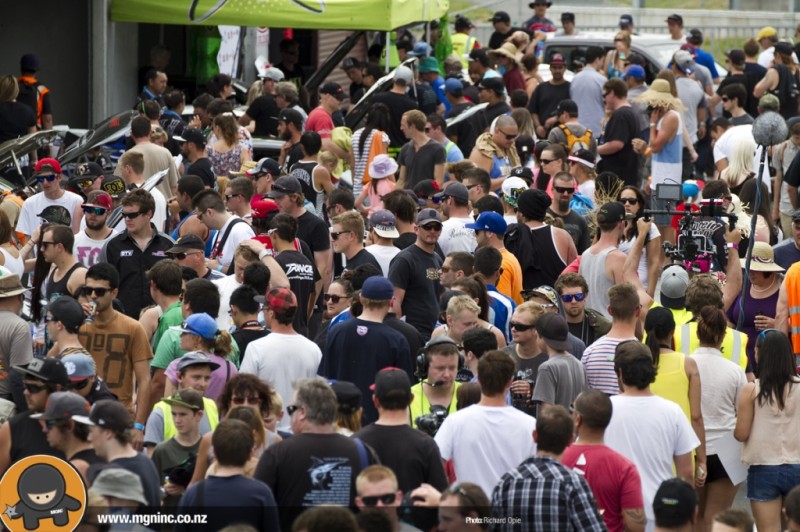 Brad Smith- BurgerFuel 350z  - 31st
Smith was re-entering the series after a long hiatus and it was always going to be a big challenge in a car that hadn't had any testing time. While some may see it as unfair to judge a debuting car on its first performance, I do wonder if the BSR team given their use of such a unique setup might come to feel that perhaps they should have done a few months of testing and track days before coming back into a full campaign.  Out in the Top 32 after a major punt in the door of the Jackways car, which knocked Kyle's glasses off and split the sill.
Zak Pole- Rollei Action Cam R33 30th
This placing would be a major upset in the eyes of many, but the Rollei Action Cam r33 just never really looked that settled. There were a number of big notable bogs and the fluid speed that was a hallmark of last season wasn't apparent.  I'd expect Zak to come back into the picture in Whangarei, and put this one down to perhaps too many off season changes without testing time.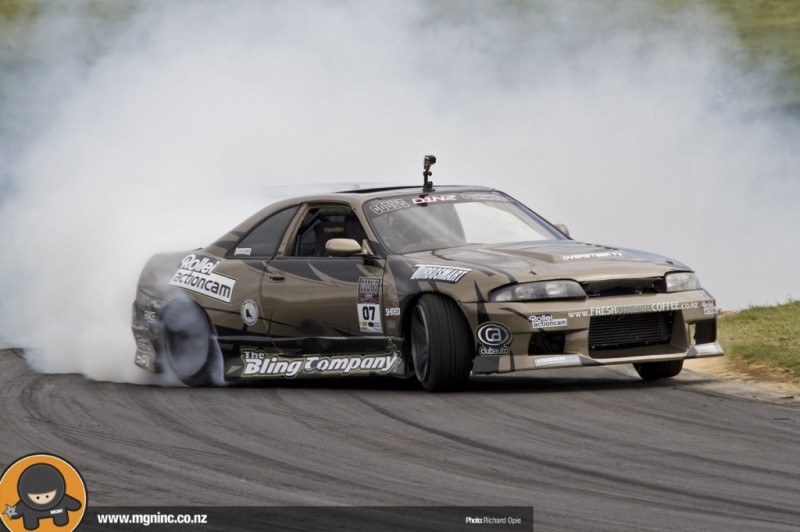 Dave Steedman – Macs S14 29th
Steedmans S14 never made it to competition qualifying and he ended up in his team mates unfamiliar RX powered S13.  Will need to get in some laps in behind the wheel of his new car ASAP  *image shown is the S14*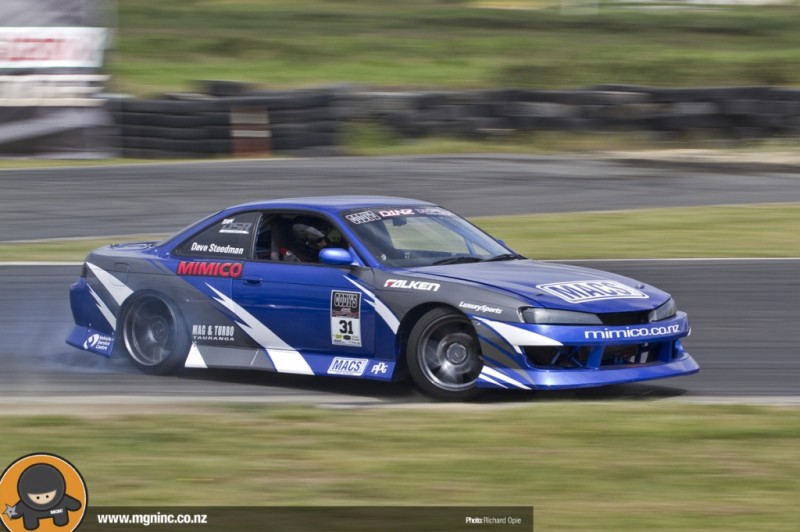 Drew Donovan- Milwaukee s15 28th
I expected bigger things from Drew after his 4th last time out at this track, still seems to be missing the pure speed needed to really mix it with the top cars and as a consequence when qualifying low gets driven away from at the bottom of the hill.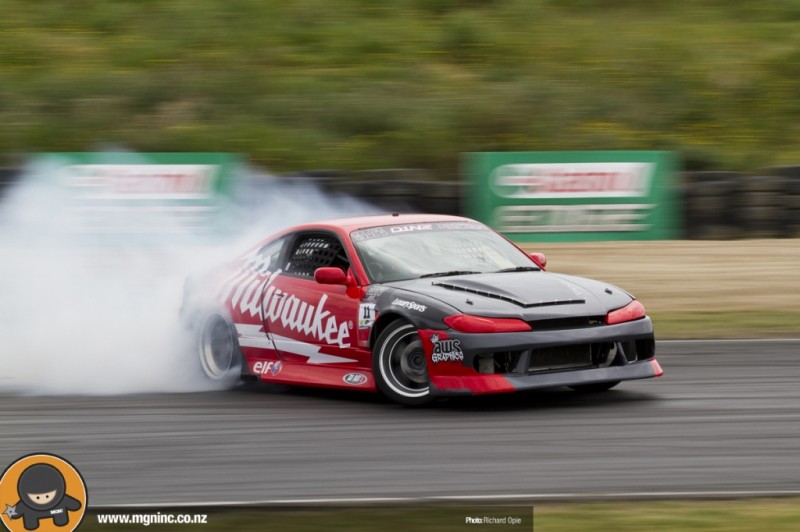 Jodie Verhulst- Milwaukee Supra 27th
Doesn't matter what happens now, this kid is the peoples champ and everyone loves her. Took current champion Fanga Dan Woolhouse to an OMT and won the hearts and minds of doubters in the process. She like Drew will need to find a way to get more pure speed, but with no pressure on her now she can learn as she goes and I'd hope for a top 8 before the season is out.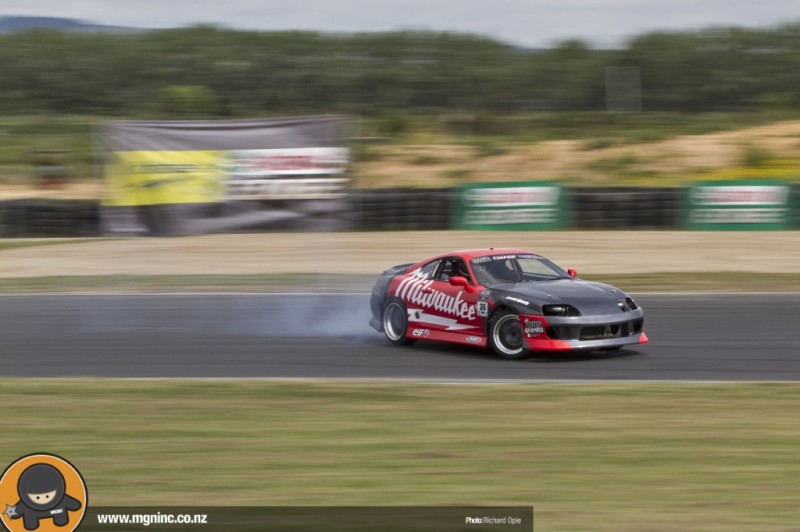 Shane Allen- Rattla Falcon 26th
The Shane Allen who chased Cole in his top 32 battle is a Shane we need to see more of! He sat right on the door and showed precise control of a big, hard to drive car. If he can re-discover that and get settled, I'd expect Taupo to be where Shane Allen might show his true potential in D1NZ and go a fair way through the field.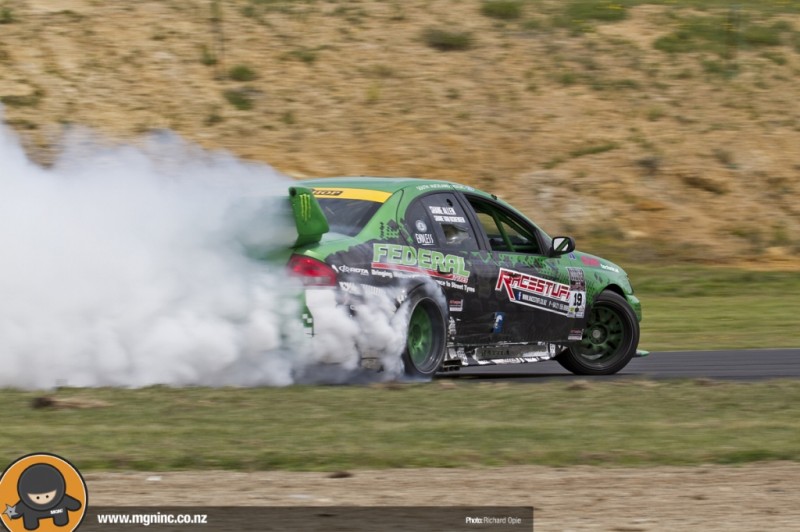 Michael Prosenik – SCR Racing S14 25th
Got to feel for Prosenik ( Pro- Sonic) who has leased a car until his own can be shipped over from OZ. With 240kw and semi slick tires inflated to 75psi, he was always going to be fighting an uphill battle regardless of how well he drove.  I kept looking at his crew during practice and the battles and they'd just shake their heads, laugh, and speak of the wonders of the Lion Red ABC bottle they'd discovered the night before in a wonderful place called Waiuku, while dreaming of LS7 powered S13s.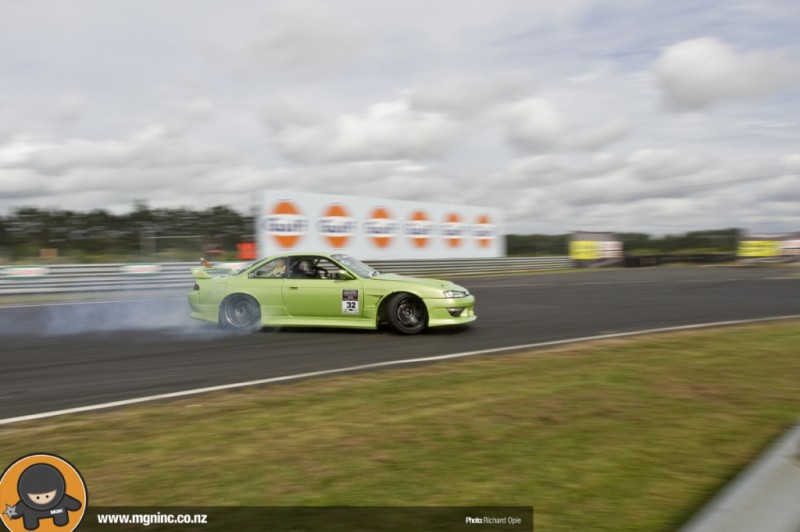 Sky Zhao- 2Degrees 700Z 24th
Has found some speed, now just needs to get used to it and will be on his way.  Made a bit of a menace of himself to Cole Armstrong in practice and actually hit him.  The new LS7 engine package and aero combo is clearly working, so seat time should begin to show some results.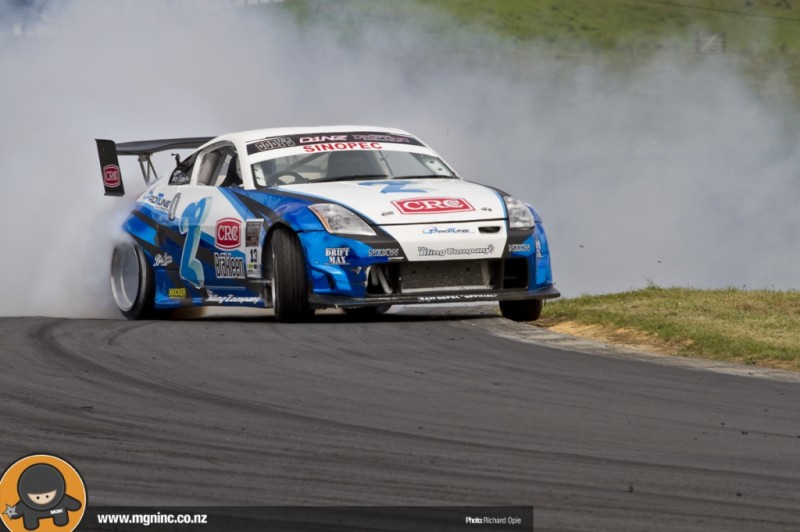 Gary Tenana- BoB Industries S15 23rd
Tough weekend Gazza T, car wouldn't stay in 3rd gear and with it popping out of gear he must have had a few clenching moments given the car kept wanting to spin and then get stranded, often in front of traffic.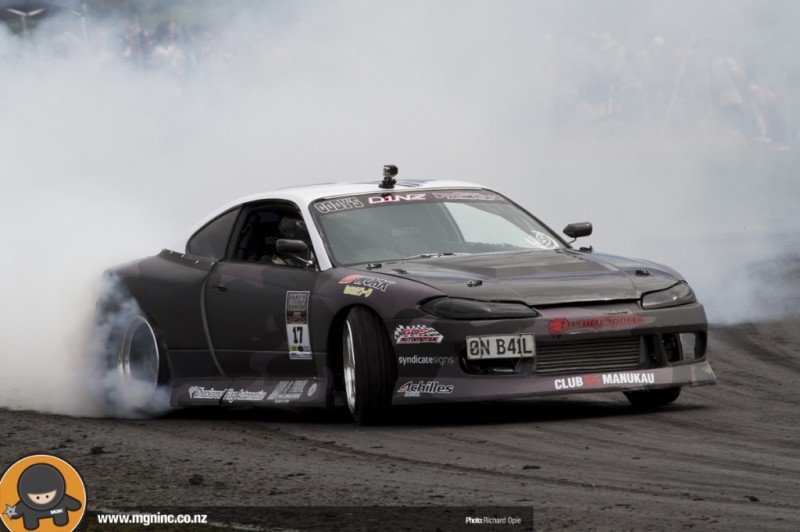 Daynom Templeman- NAC Rx7 22nd
Leroy didn't play the game, and Daynom was lucky to catch a mechanical fault in time and shut it down before the motor was seriously hurt. Will be happy to forget this round.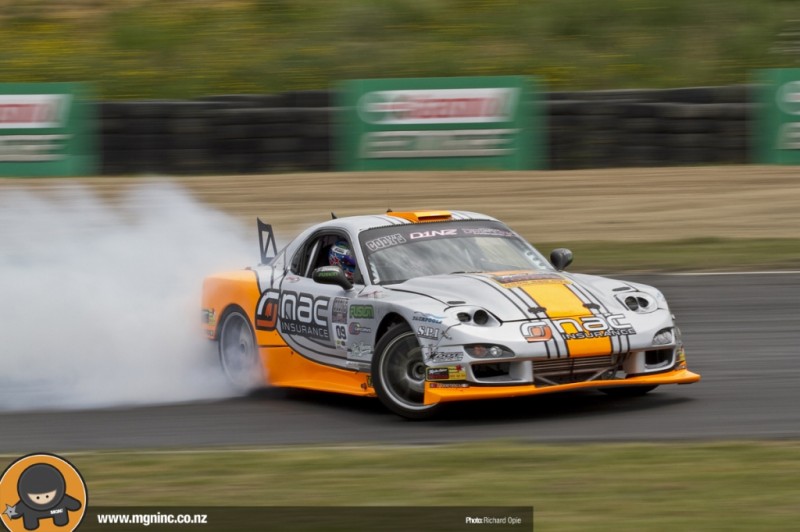 Adam Hedges- C's Garage S14 21st
Solid debut from the first time Pro class entrant, almost seems a bit odd these days to hear the outboard motor like sound of an SR20DET being thrashed to within an inch of its life. I expect to see a good showing out of the nimble little car at the next 2 rounds.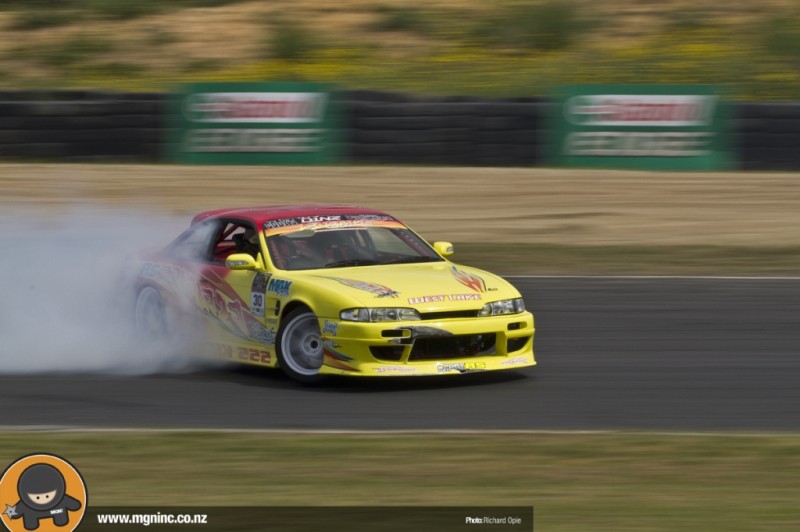 Robee Nelson- Koba Batteries S15 20th
Promised he'd get loose and had J Rood spotting for him over the weekend. Needs to re-discover whatever he had 2 seasons ago as right now it's almost like he's trying to do too many things and it's resulting in quite inconsistent performances.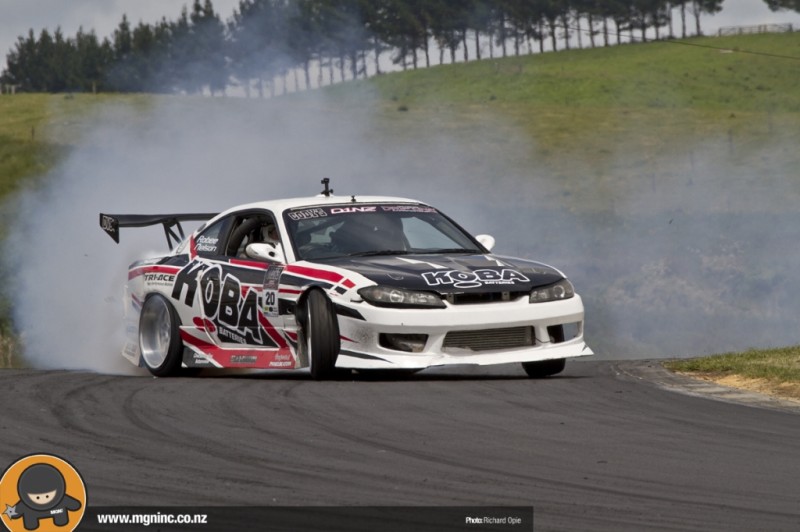 Joseph Kukutai- Gull Force Pro R32 19th
Is clearly having fun no matter what he's up to.  My personal view is that he will go further if he dials back the youthful enthusiasm a little, and focuses on hitting all the marks rather than a 'big wild show' as I called it a few times over the weekend.  Dialling back a notch and not worrying about skidding turn 1 that was unjudged, and keeping a cleaner line instead of overshooting the first judged corner would have in my view been a better option and got him further in the top 32 . Solid season opener with the #12 qualifying spot.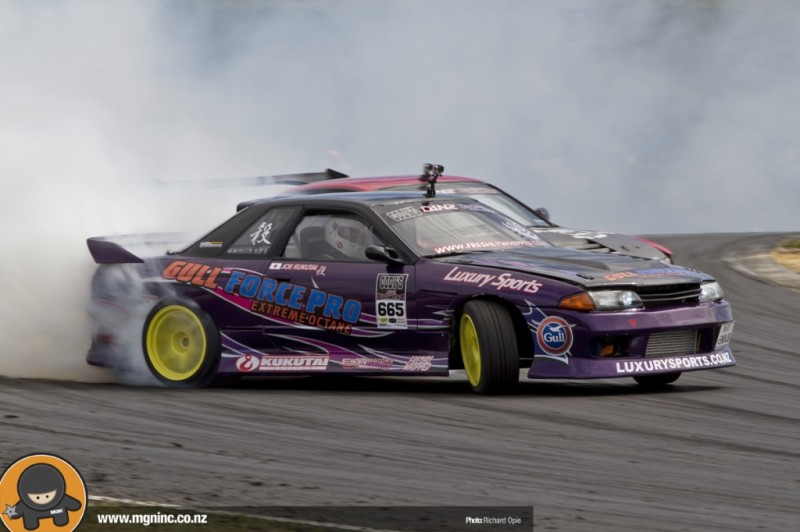 Hugo Maclean- Privateer AE85 18th
Mechanical problems meant limited laps.  Looked to be able to produce decent speed and smoke early on in the day, but wasn't ever consistently dialled in.  Qualified 10th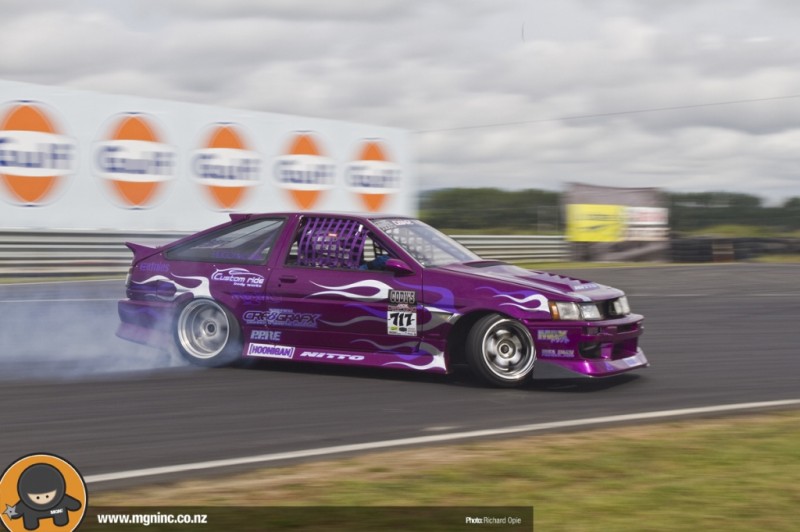 Matt Lauder-  Privateer 180SX 17th
Lauder (Louda) qualified in P6 with a great run, and then came up against fellow Pro-Am graduate Jake Hakaraia in the top 32.  Hakaraia took the win after going OMT which would be disappointing for Lauder who showed that he does comfortably belong in pro class.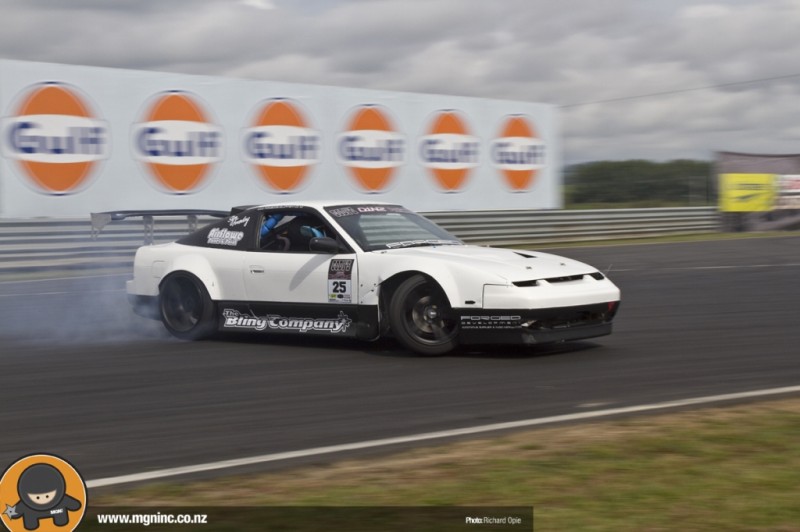 Jacob Hakaraia- Nexen Tire C35 16th
Got himself into the top 16 which will have done his confidence a world of good after mechanical issues and looking a bit untidy in qualifying. Moved himself up the order 11 places which is a good points haul and will see him fighting for a place in the season top 10 if he stays consistent.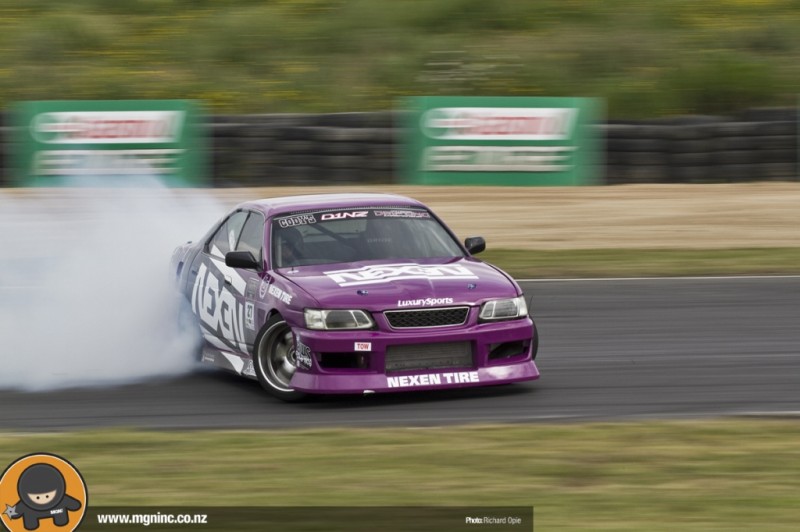 Chris Jackson- Surfab S14 15th
Current DriftSouth Champ who did nothing wrong really, didn't really stand out in qualifying but fought his way into the top 16 and made a good go of the battle with SVG. Considering the SI drivers had never seen Hampton until the day prior, they learnt a lot pretty quickly.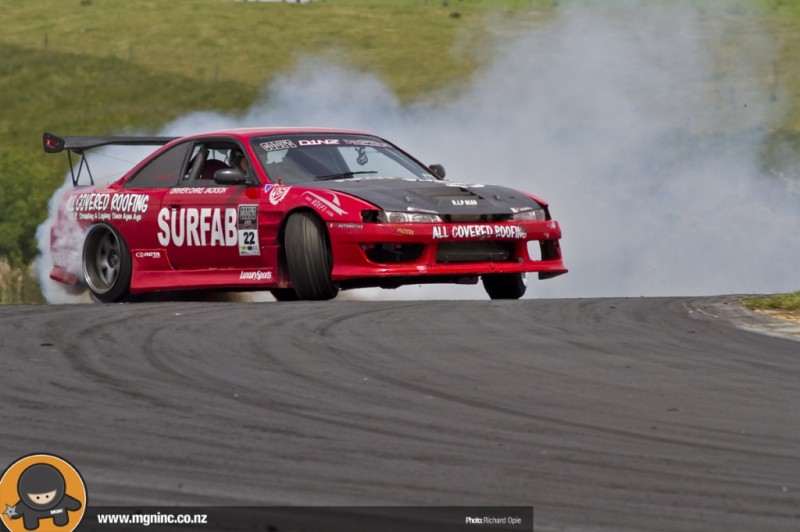 Nico Reid- Snitch S13 14th
Didn't arrive at the track until 3pm Saturday and then had a lot of problems resulting in a move to a borrowed car for Sunday. Did what he could in a car he'd never driven and managed to get into the top 16 to salvage some points. Team will be disappointed with the start in a season that promises so much for a crowd favourite. Team Manager Davey Reid mentioned that they were happy just to salvage some points after no testing time and a major rebuild. * S15 shown*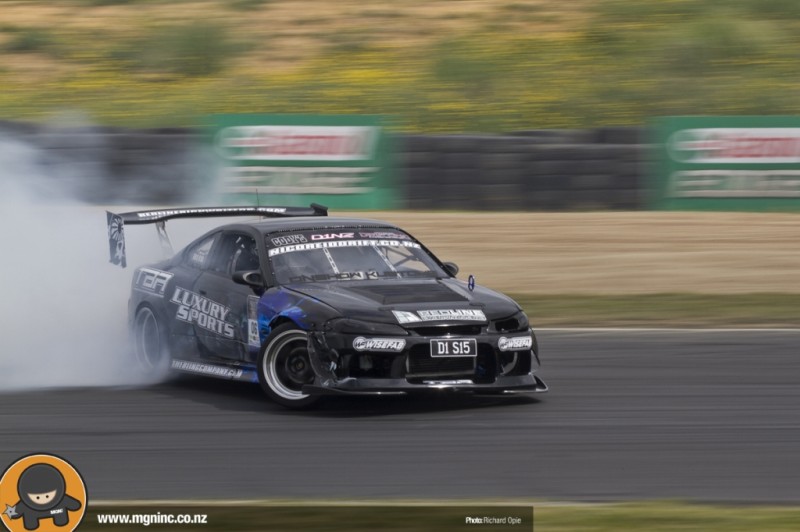 Bruce Tannock- Achilles S13 13th
Tannock didn't show through in qualifying like I'd expected and would have been wanting a better result at Hampton Downs to set up a season campaign. Had the misfortune to come up against Gaz Whiter who was on fire and took him out in the top 16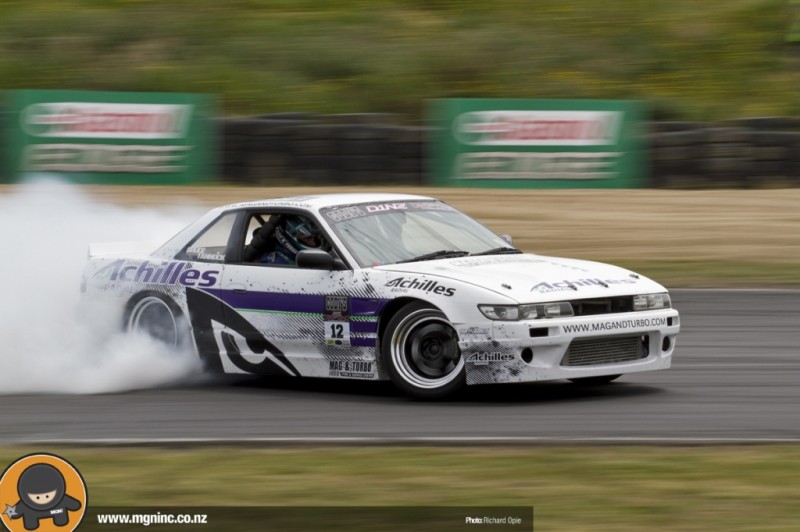 Phillp Sutherland- DD Racing A31 12th
"Philthy" had a bit of an interesting run, making friends with the sand trap on a couple of occasions.  Was said to be having some mechanical dramas with the 2JZ powered A31 cef, which was a shame as he had looked really good early on with big smoke trails as he went up and over the hill in a smooth arc.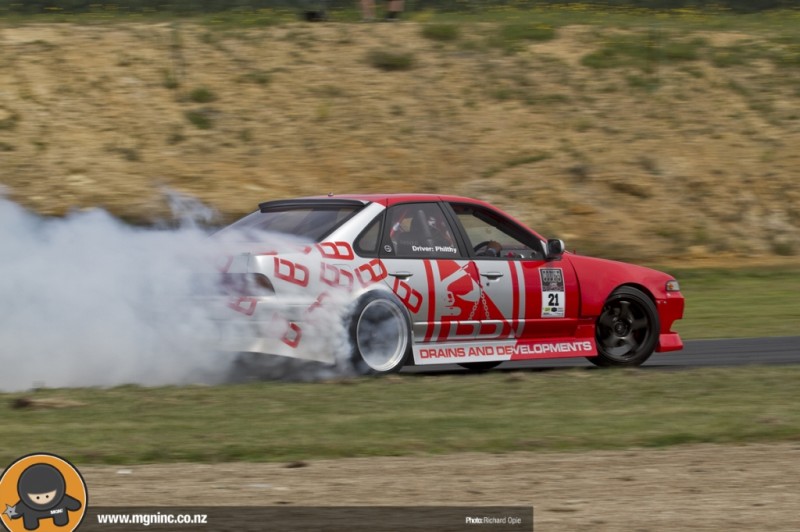 Cole Armstrong – V Energy R34 11th
Armstrong was one of a handful of top drivers who didn't really get the results they wanted in qualifying, so as a result we saw drivers battling in the top 16 who would normally meet much later on.  Armstrong v Redward was one of these and it would be the  RX7 who got the win on this occasion.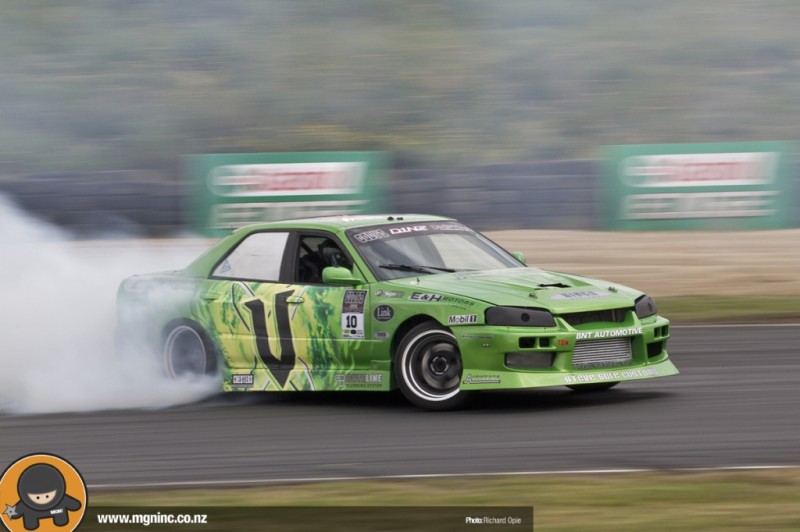 Daniel Woolhouse- Castrol Edge Commodore 10th
The defending DK has clearly had a busy off season, with most focus on his new car which is not yet ready.  My personal view is that the older car looks to have lost half a step and be a little off the pace now, so it will be interesting to see how the new slider performs.  Was part of a battle with Jodie Verhulst that will be talked about for a few months to come and then went on to face Pro-Am champ Darren Kelly who got the win in the battle of 2012 series champs.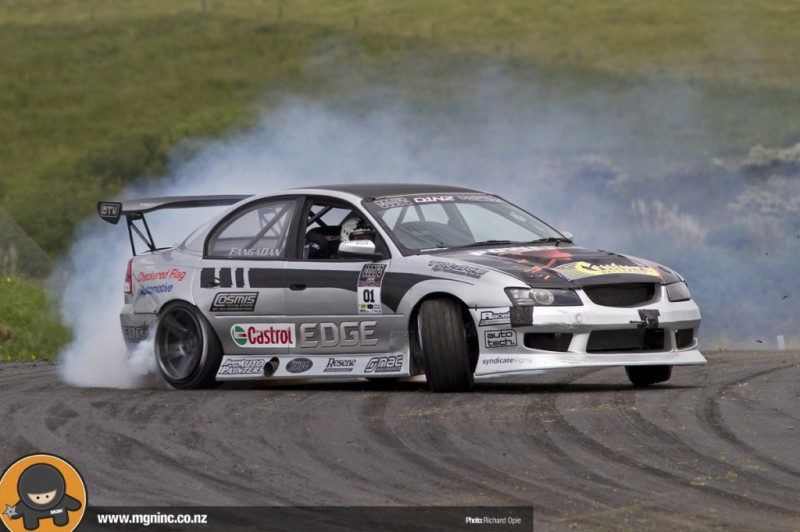 Kyle Jackways- Liquid Lab 180SX 9th
Kyle has finally found some speed and smoke, and looks to now believe in himself again after a tough return last year. Crowd went nuts when he grabbed the #2 qualifying spot and kept cheering loudly for the popular school teacher who is most well known for falling 30ft out of the sky and shattering his legs.  Battled with Brad Smith and took a hard hit that may have shaken him up, before going down to Cam Vernon, who had borrowed a car and was simply driving out of his skin. Is 7th overall in the title race due to qualifying points result.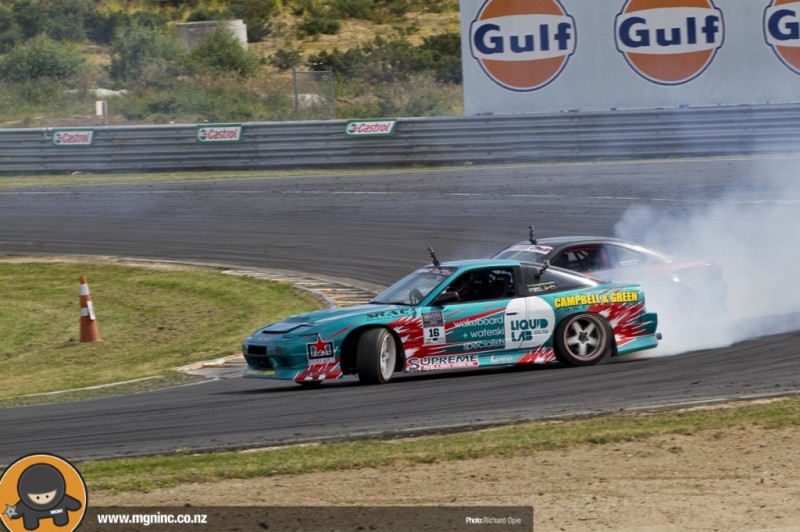 Darren Kelly – Thirsty Liquor R34 8th
Kelly belongs in Pro, there will be no questions about that after the opening round. Turned up in a car he had never driven and settled straight away into a Pro line (although he did spin and nudge the wall on entry on day 1) . Battle with Fanga Dan will have shown Kelly just what to expect now and he'll have to keep developing to fare well in the next 2 rounds.  Made the biggest move in the field from Q#23 to 8th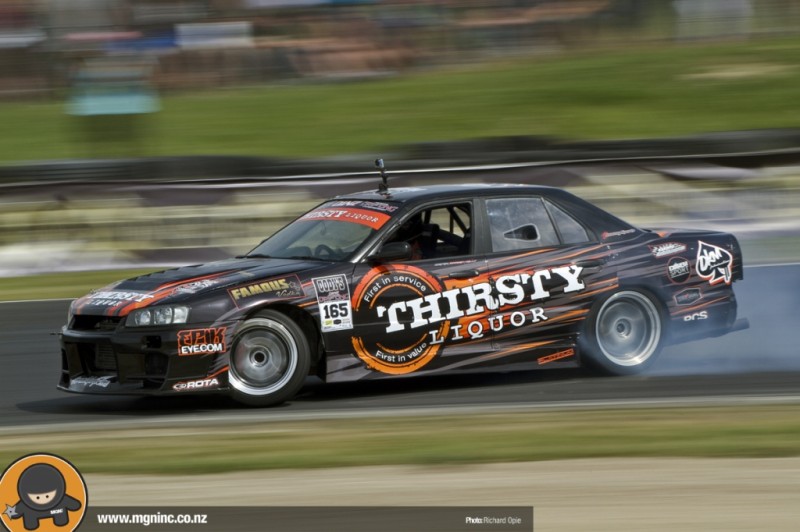 Troy Forsythe- Southern Drifters S13 7th
The Southern Peoples champ is always the same, all aggression, all the time.  Has a view that he isn't really overly worried about qualifying results and will back himself to battle his way through.  Accounted for Sky Zhao and Jake Hakaraia before falling to the extra speed Mad Mike was able to carry through the section.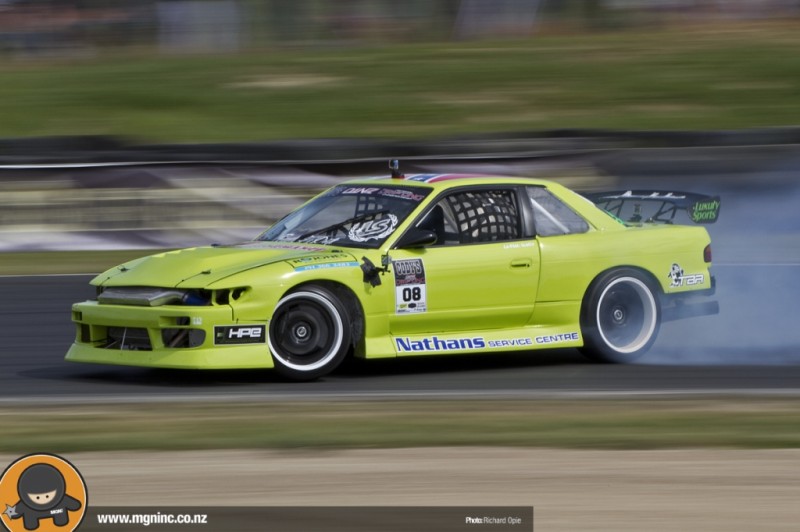 Andrew Redward- Achilles RX7 6th
Redward on past form should have dominated this round, but it wasn't to be. Possibly a little put off by some of the judging interpretations and rather than his usual fast big angle entries to turn 1 seemed to come in slower and then try and accelerate up the hill. My personal take was that he also wasn't carrying his usual angle over the hill, as he is generally the benchmark with massive lock and a well balanced car. Points are valuable though, and he will be sniffing around the title race this year.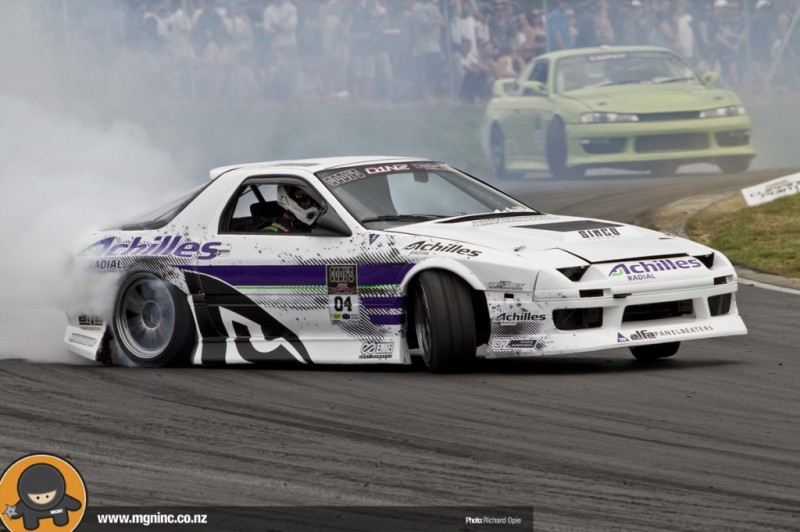 Curt Whittaker- Autosure R34 5th
Whittaker talked a little about how much it hurt to hand over the DK title they'd worked so hard for the prior year, and it looks to me like this new Dad really wants the title back. Has dialled his power back a little to get more reliability, and it seems to have removed one of the issues he was having with the car almost bogging down under too much load. Looked comfortable in all his battles and was beaten only by SVG in the battle of the Rattla stable mates.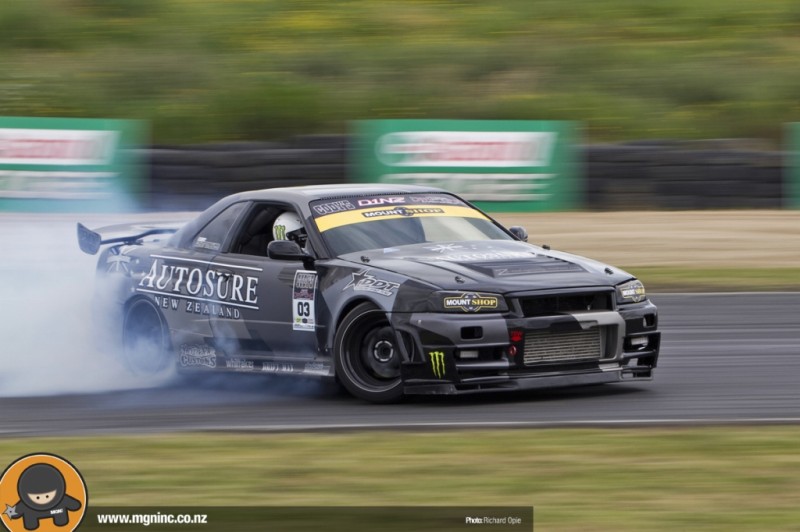 Cam Vernon- Shred Motorsport S15 4th
He's a special character is Mr Vernon,  he spent Saturday lounging on his dump truck grandstand that he'd bought in for teams to use (you get the idea, hay bales in the tray) , watching his own car being piloted by Joe Kukutai, before somehow deciding he'd accept an offer to drive the Shred Motorsport S15 on Sunday.  With no offseason practice, it was clear that Vernon simply didn't care about results and had no pressure in what was I suspect meant to be a one off drive. The fact he drove the wheels off the car, was throwing some of the biggest entries and ended up in 4th place on Pro- Am width 235 tires will now force a re-think of that as the drift bug bites again.
Shane Van Gisbergen- Rattla Motorsport 3rd
What can you really say to describe the improvements made by SVG? Has continued to improve by at least 1 place in every event he's done and now that he has reached the podium I am not sure who's going to stop him as he marches towards an eventual round win.  He's got his chasing dialled, and once he moves beyond racer precision and starts to throw a little variation at his lead runs to force his opponents to adapt will be a real threat to grab the D1NZ title.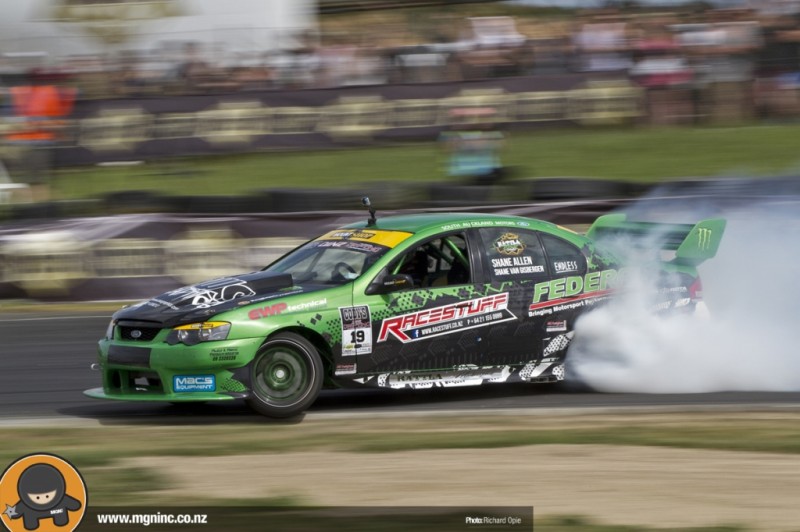 Mike Whiddett- Redbull RX7 2nd
Got his car back from Australia 2 days before the event and literally drove it until the wheels fell off. By the time Whiddett got done, he'd lost a rotor, his body kit, his handbrake and brakes and the oil lines were coming loose. Took one of the wildest rides seen in qualifying when he got the line wrong and jumped over the curb, but in true Mad Mike style just kept going foot hard up it and smashed the front bumper off the car as it jumped back onto the track. Only beaten by Whiter, Whiddett is another who looks title hungry, however will have to choose between NZ and overseas commitments.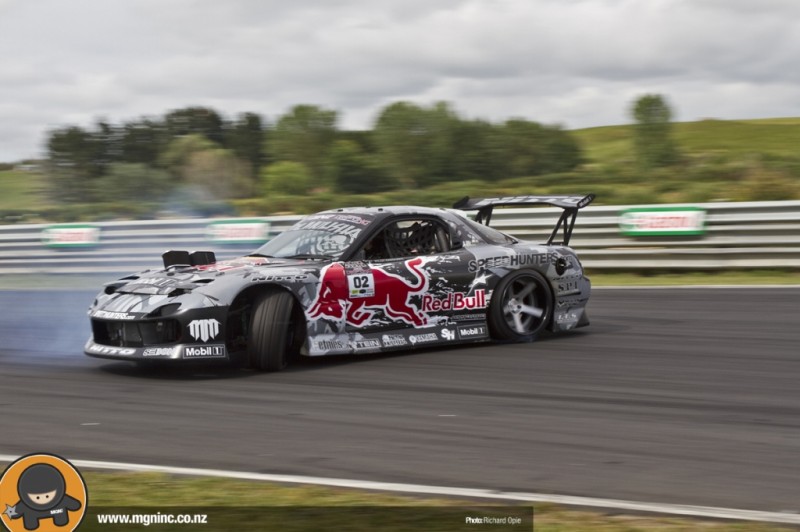 Gaz Whiter- Tectaloy S14 1st
Back atop the podium after 2 long tough years, Whiter was clearly a happy man behind the wheel of the V8 S14. Joins the elite club of those who have done a 1/1 double in qualifying first and placing first and was largely untroubled in his battles with consistent line and speed. The chase was where he shone in getting close enough, but hanging back that extra 30cm which has in past caught him out and at times caused contact or spins to avoid the lead car. Fanga Dan paid his team mate a compliment at the end of the day by saying "you can see it in his driving, he's happy again and believes in the car.. He'll be bloody hard to beat this year"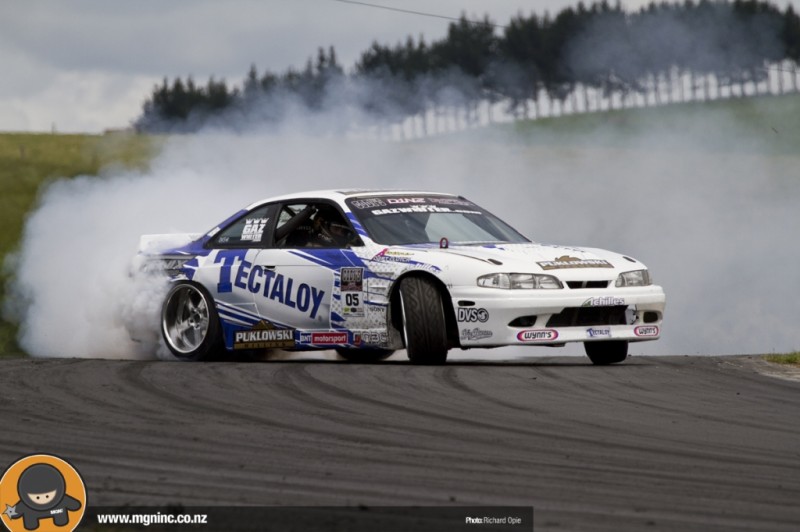 The Cody's D1NZ title race moves on to Whangarei next, which is a home round for Gaz Whiter and Fanga Dan and brings with it one of the most knowledgeable and passionate drift crowds.  Get your tickets early as there is talk of crowd limits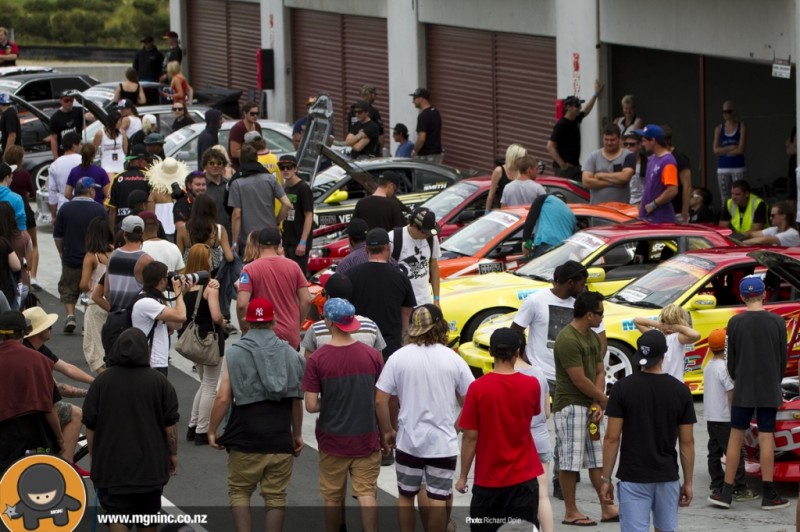 Full Battle tree