Events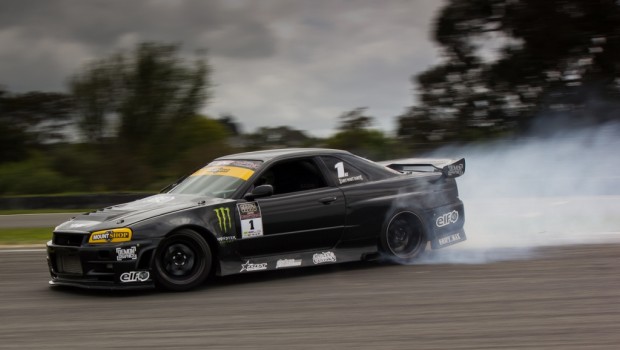 Published on October 29th, 2012 | by mrgrumpyninja
0
Codys D1NZ kicks off with a bang at Round 1- Manfield
10 years…. I need you to think about that for a moment… 10 years….that's how long there has been a national drifting championship in NZ. I found myself thinking on the way down in the car,  is there a better place to kick off the National title race then in front of one of the most knowledgeable drift crowds in the country at one of the drivers favourite tracks- Manfield in the heart of the mighty Manawatu?
You can never quite tell what the first round will bring, and with new cars being debuted, countless cars being almost completely rebuilt in the off season and new faces emerging, it can be a bit of a lottery trying to pick a winner. Most who were present on the Friday practice day would agree that any one of about 10 guys were looking strong and it would take a brave man to put money on a winner. Throw in 2 new judges who bought their own perspective, and the round really was shaping up  as being anyones for the taking.
Conditions remained pretty much the same both days, and with the biggest pro field for quite some time starting qualifying, the pressure was really on.  Some of the bigger names have been notoriously slow to start the season in the past and again didn't perform as they would have wanted or expected in qualifying.
That meant that some of the top 16 battles had a look about them that would generally be seen in the semi or final rounds.  For the really observant, there was perhaps one section of the tree that looked slightly softer than the others with no DK sitting in it, but at this level….every battle is a tough one to win and the winner was going  to have to earn it the hard way.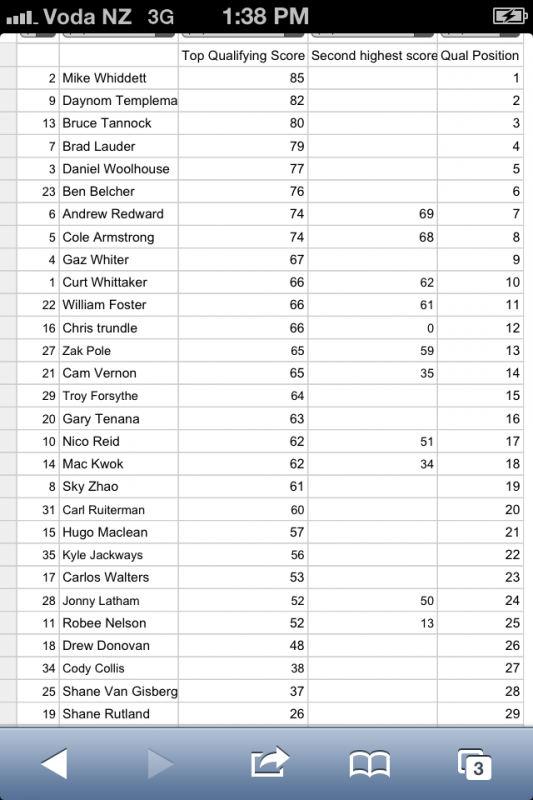 As is traditional for me…I'll run through the field in reverse order of finish.
(*Before I start, insert usual this is just my opinion…don't get all upset disclaimer , the role of friends and partners is to do the fluffy 'you did great hunny' stuff, this is as I see it from the commentary booth, and if you don't like it…..well….write your own story about it * )
DNS Qualifying
Aden Omnet- Aden's Tire Shop 2jZ Altezza - broken gearbox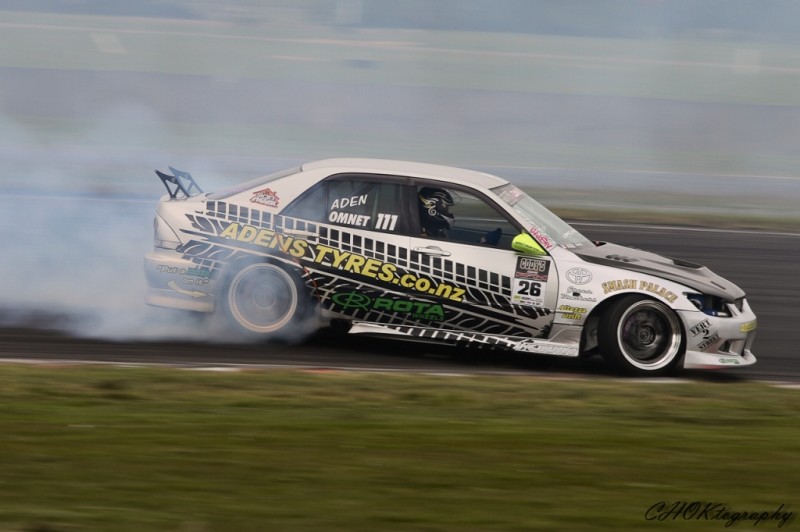 Ryan Johnson- Privateer- S13 – Mechanical
Jason Sellers- Wong's Kitchen 2JZC33 – Broken oil pump. Has to be said that Sellers was looking really strong in practice and would have been a real threat.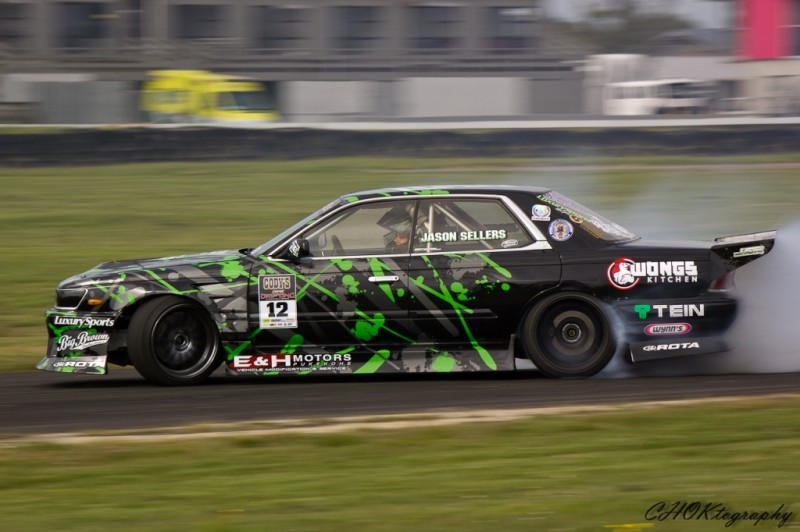 Darren Benjamin- Privateer 2JZC35 -Broken drive shaft and gearbox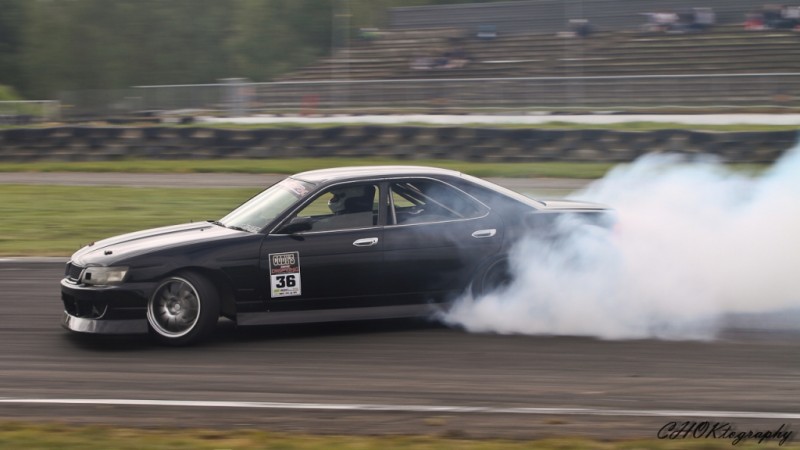 Did not qualify
Shane Allen- Rattla Motorsports Falcon – single run with power steering failure, forfeited last run to allow Shane Van Gisbergen a chance to qualify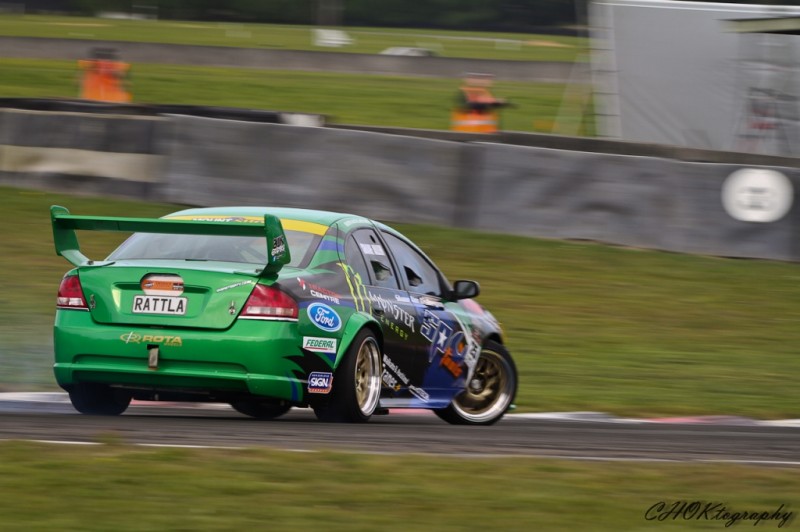 29th- Shane Rutland- Automotive Direct S14 – Eliminated by Brad Lauder, had struggled to complete the section and never looked a serious threat.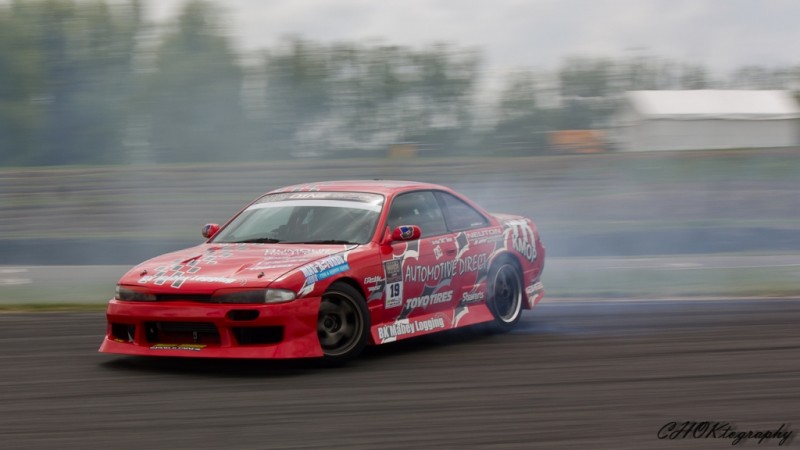 28th- Shane Van Gisbergen- Rattla Motorsports Falcon/ SPtools/ Monster Energy,  got a single qualifying run and then came up against Fanga Dan in the much anticipated Holden vs Ford battle. Was beaten by .5 of a point after holding the advantage due to a chase any veteran drifter would have been proud of. Will be a serious threat as he gets more seat time and would have progressed had it been anyone bar a top driver he faced.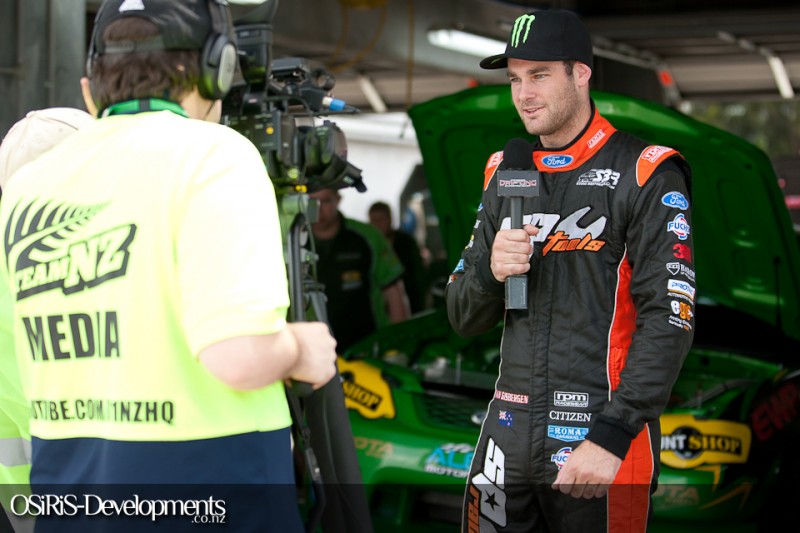 27th- Cody Collis- Budget Tires S13 – Wouldn't have been happy with qualifying result and has a strong history in drift south. Came up against rookie Ben Belcher who many have said was the best all weekend at entering the sweeper. Will be better for the experience in a D1NZ field and has good speed and makes plenty of smoke.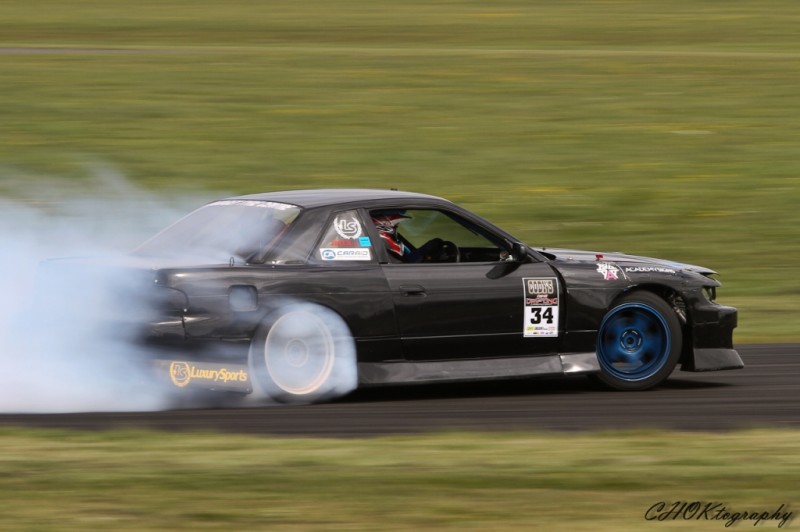 26th- Drew Donovan- Mag n Turbo Tauranga/ Elf Oils-  Struggled with a lack of speed and forward motion and came up against the very quick FC RX7 of Andrew Redward. Will need to find some grip if he is to be a threat this season.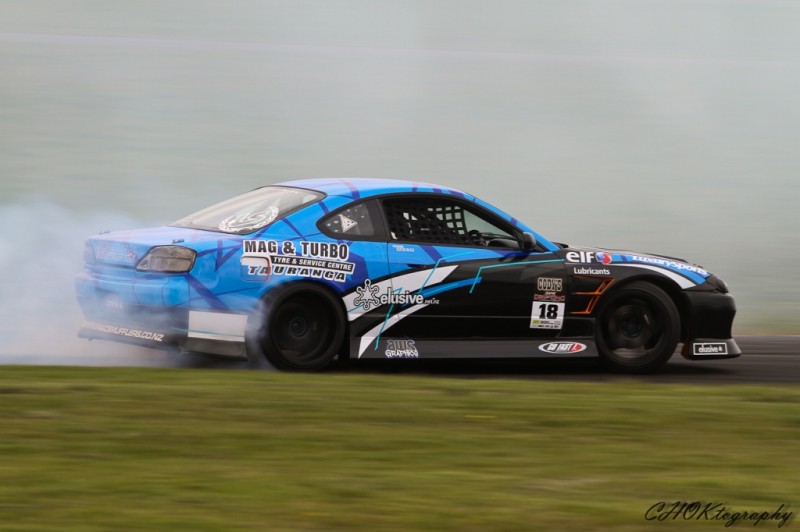 25th- Robee Nelson- Koba Batteries S15- Robee had a couple of high speed excursions across the infield and never really seemed to settle. Lost to Cole Armstrong in the top 32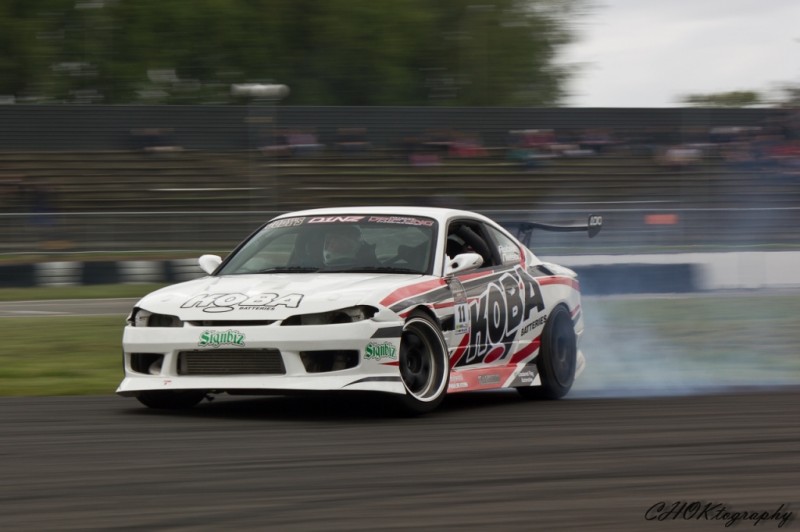 24th- Jonny Latham- HBR V8 FDRX7- Soundly beaten by Gaz Whiter in the top 32. Latham I suspect might lack the experience to make an impact this season and will need to up the aggression.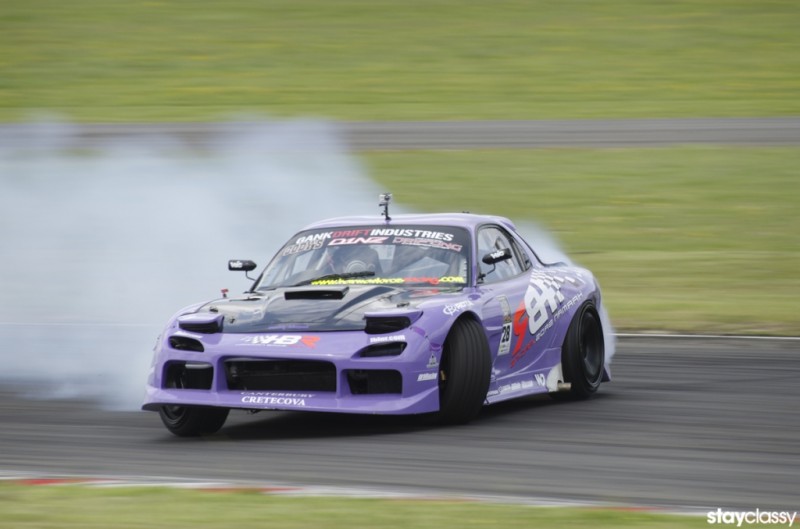 23rd- Carlos Walters- SMS Industries R33- Carlos knows the track well and would have been hoping for a good result. It seems like perhaps the 33 just doesn't quite have the speed it needs to keep up with the very quick cars now starting to emerge and Carlos fell in the 32 to Curt Whittaker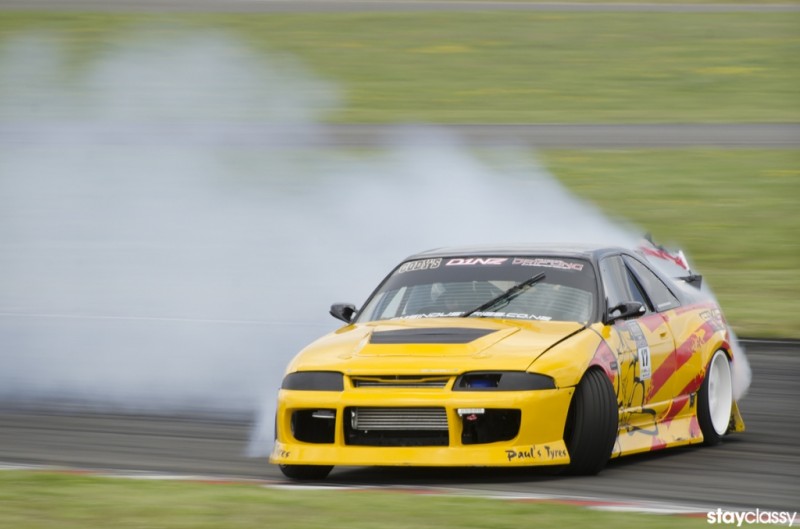 22nd- Hugo Maclean- Grabatool AE85-  Hugo seemed to come to grips with the new 20bpp power plant and at times look strong, however he also provided one of the scarier moments on the Friday when he came off the track and bounced over the gravel trap into the wall. It's a real testament to how these cars are built that the team repaired the car overnight and emerged to fight on Saturday.  Battled fellow rotor pilot Chris Trundle in the 32 and couldn't match the angle carried through the first corner.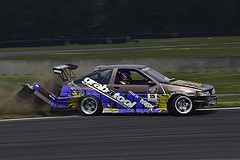 21st- Gary Tenana- BoB Industries C33- Gaza T returned to competition in the ex-McFarlane laurel and was making some pretty good smoke off those oh so pretty meisters. Had a good battle with Nico Reid that was a subject of a few side bets and wagers in the pits between pit crews who know each other pretty well.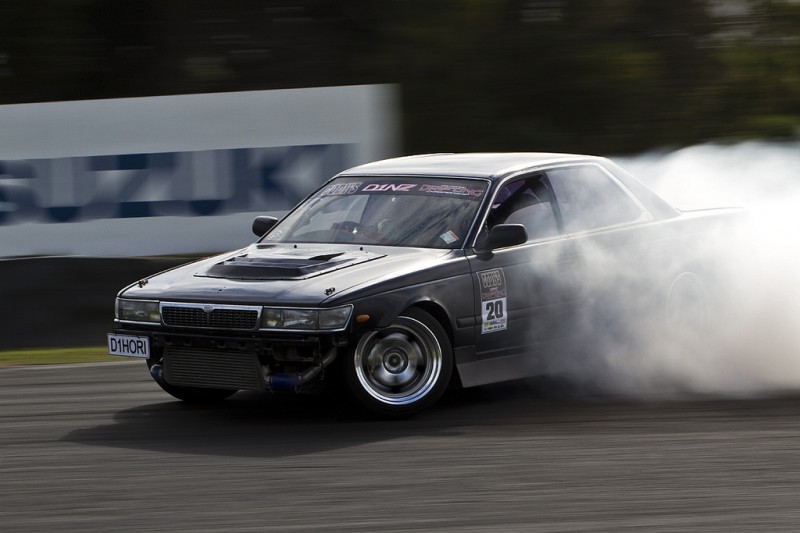 20th- Troy Forsythe- Vulcan Steel/Drift Shop s13- The 'Family Guy' it has to be said was the man everyone had eyes on after Friday, with some very aggressive chasing being done in practice. Troy certainly wasn't here to mess around and made his intentions known early. Qualifying probably didn't produce the expected results with one spin off the track and he would meet Mac Kwok in the top 32 with the HB Rep coming out on top.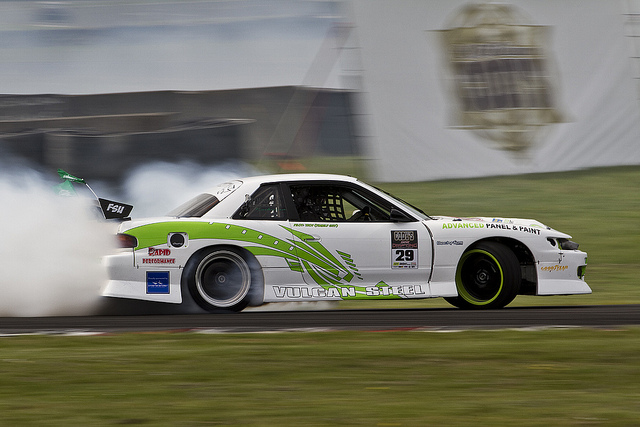 19th- Cam Vernon- Skinny/Gull R32 – The pro-am champ it has to be said seems to be lacking the speed and traction required to make a real impact in pro class.  Will need to work out how to get his big horsepower to the ground or is going to have a hard time at the purpose built courses which make up the next rounds . Was beaten by Sky Zhao in the top 32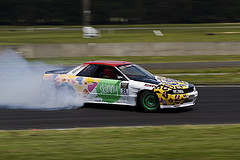 18th- Zak Pole- Privateer R33- Zac is fast and aggressive, no doubting that. Came up against Carl Ruiterman who looked to settle more and more as the day went on. Will get better as the season goes and was only in his 3rd or 4th competition event.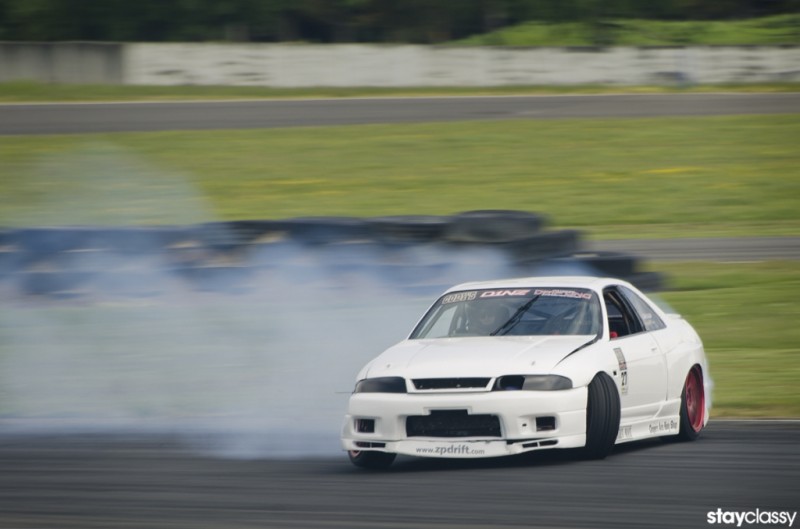 17th- Willy Foster- Privateer AE85- Foster is the underdog in most battles with the lowest power in D1NZ pro. Loves to make it hard for whoever he's battling and is always fully committed, lost to the returning Kyle Jackways in the top 32 in what was a close battle.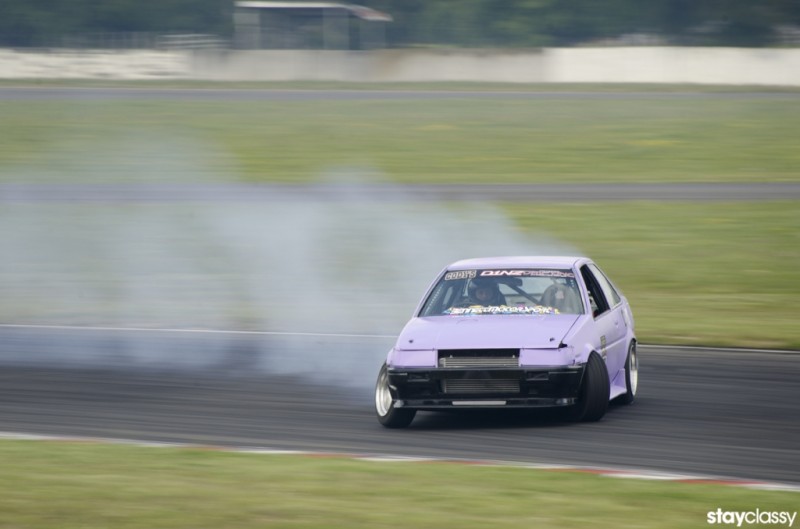 16th- Kyle Jackways- DTM/ Nexen Tire S13- Jackways has spent the last 2 years as a judge and perhaps still has a little rust due to limited time in the seat caused by an MX injury. Jackways will need to find some speed and destroy some tires at coming rounds to be a real threat.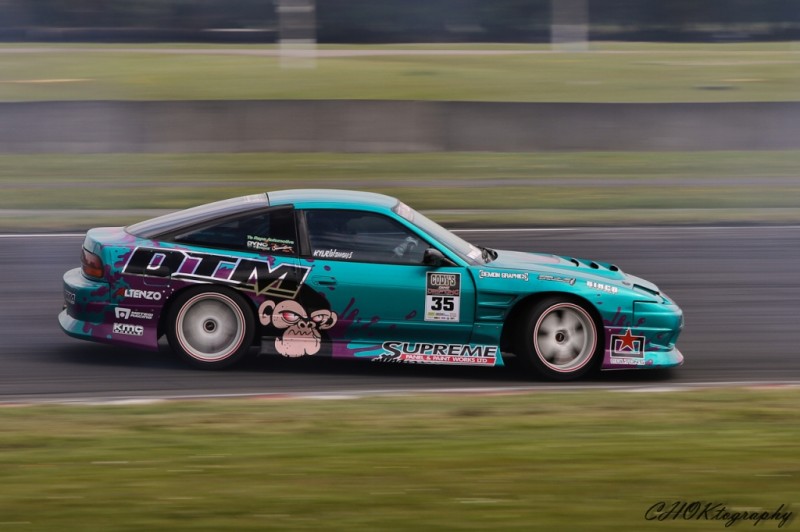 15th- Mac Kwok- Milwaukee Tools S13 V8TT- What a tough round for the bay boys. Had to replace a steering rack Friday and that came after a week of motor issues. Kwok showed some form to eliminate the threat of Troy Forsythe before managing to spin against Daynom Templeman.  Will be disappointed as a top 8 would have matched the team's best result to date.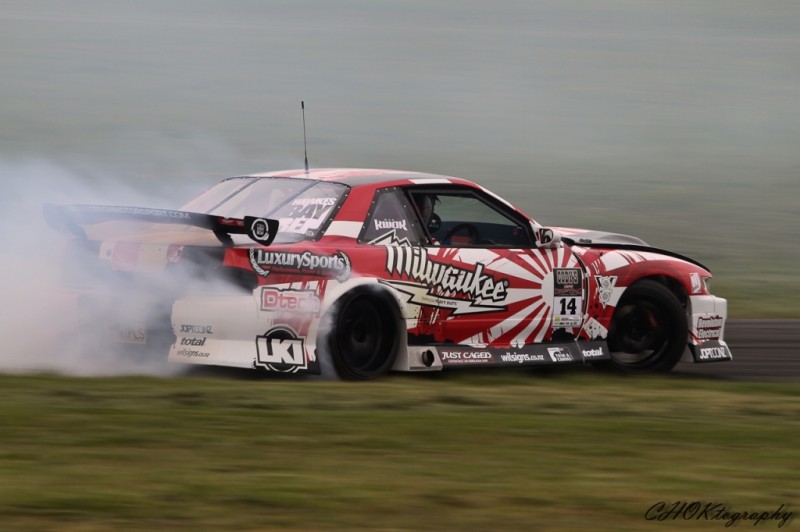 14th- Nico Reid-  Luxury Sports/TTT S15-  Nico bought the loudest support team with him, and seems to be taking this season a lot more seriously.  Beat Gaza T before coming up against the monster that is the Madbul RX7 of Mad Mike Whiddett. Nico took the fight to the Redbull athlete and some in the crowd thought he was unlucky to move on. Nico is much better in the chase where he is fearless, and might need to work on dictating a line better when leading to move deeper into the field.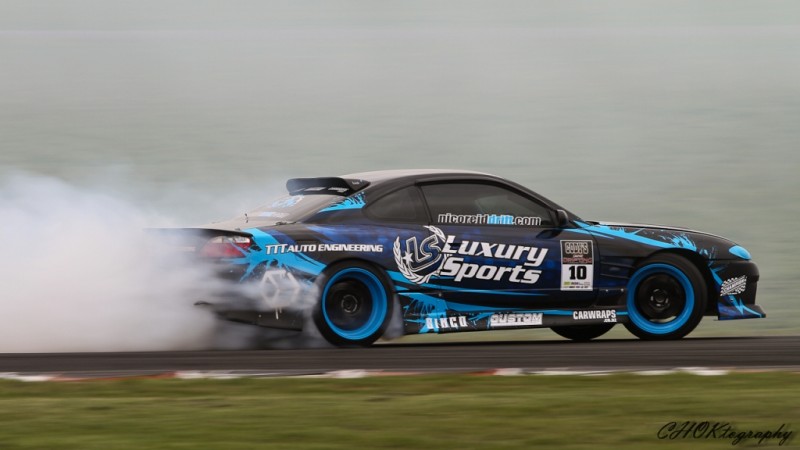 13th- Chris Trundle- Trundle had a coil issue that aborted his first qualifying run, but came back strong to lay down a good run with plenty of angle. Trundle has a very solid skill base behind the wheel coming from a Rally background and beat Hugo Mclean before coming up against Fanga Dan who was producing some outstanding driving.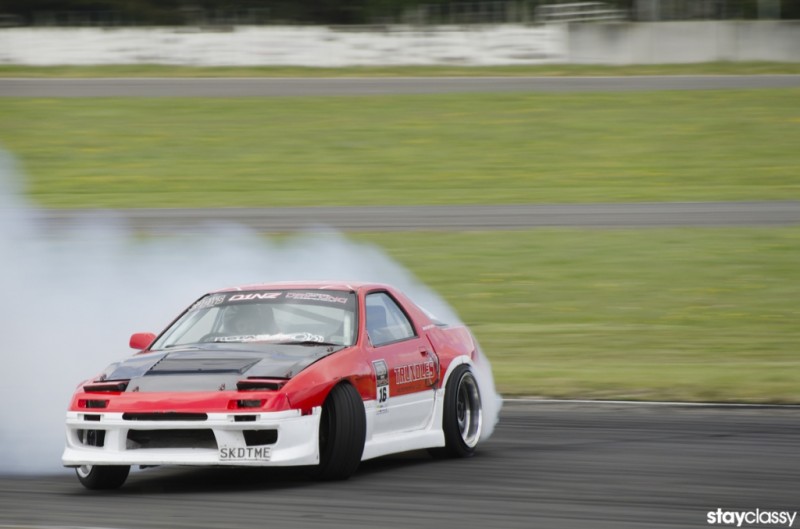 12th- Gaz Whiter- Tectaloy LS14- Whiter debuted the new LS2 V8 powered S14 and seemed to come to grips quickly with a car that is largely set up the same as his old car. Would not have qualified as well as he wanted and had an uncharacteristic spin. Seems to have some sort of season opening voodoo and was beaten by Cole Armstrong in the Top 16 due to a mistake. Whiter is again looking relaxed and confident in his car, and finds himself in the same position as last year needing to fight his way up the table.
11th- Andrew Redward- Achilles Radial V8RX7- Redward was looking fast and dialling monster angle through qualifying and as always produced that 3rd run balls to the wall effort that he is known for that either sticks or results in a spin. This time it was a spin.  Came up against Curt Whittaker in the top 16 and threw it all away while leading with a half spin on the hairpin.  I have yet to see Whittaker ever be forced into a mistake by a chase car, and that would be it for Redward who is another who also looks relaxed and confident in his car for the season.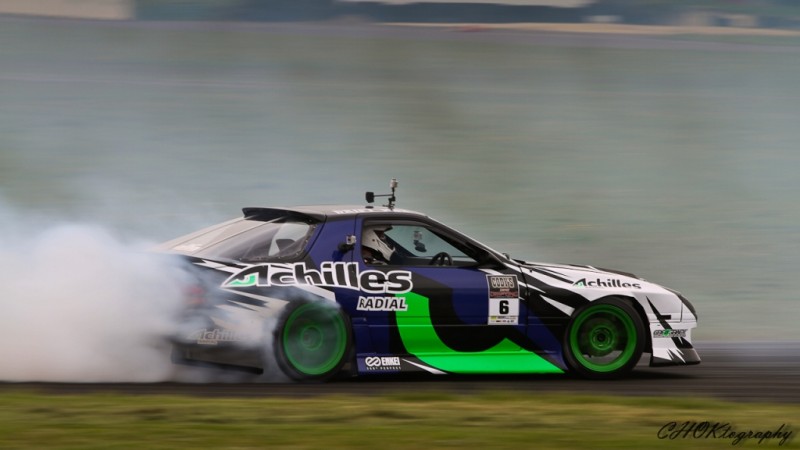 10th- Brad Lauder- Shred/ WAL S14- Brad is just Brad, I can't explain it. He seems to have bought more aggression into his game for this year or perhaps it's the new found power and was rewarded with the #4 qualifying spot. Wasn't really troubled by Shane Rutland who had 200kw less, and went into a tough battle with Carl Ruiterman, both of who I describe as being "technical" drivers. They would end up going OMT after the judges couldn't separate them before Ruiterman would move on.  Brad has shown that last year was no fluke and he now belongs in the top of the pro field.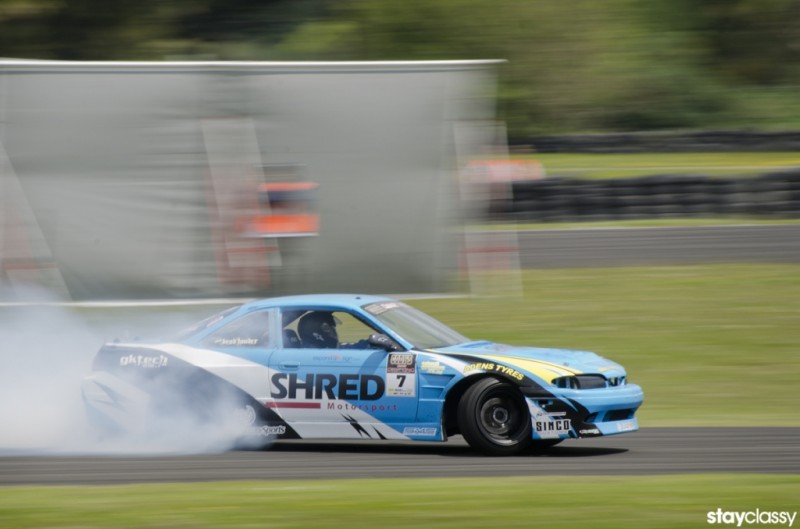 9th- Bruce Tannock- Achilles S13-  "Don't Panic" was probably the fastest car on the track until Mad Mike arrived. Looked really strong in practice and came out and laid down an 80 as his first qualifying pass, and then spun the next 2.  Earned himself a bye into the top 16 before coming up against Sky Zhao , you've seen me say before that my opinion is that Bruce needs to drive a fast car slow, and this would be his downfall again where the 570 didn't carry speed like Tannocks and the resulting correction would take Tannock out in the top 16. Will take good points due to strong qualifying.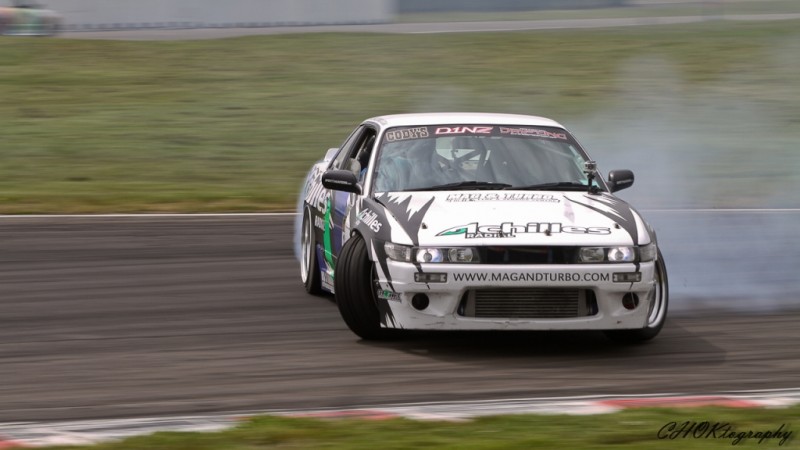 8th- Carl Ruiterman- GT Radial S14- Carl hadn't even seen his car for 4 months prior to the event, so took some time to settle back in before getting into his regular groove. Didn't have quite the precision we have seen before at Manfield which is not unexpected after a season off, and will also be feeling his way on the GT Radial Tire.  Had a tough battle with Brad Lauder before before going OMT with Fanga Dan Woolhouse in a decision that had the crowd split.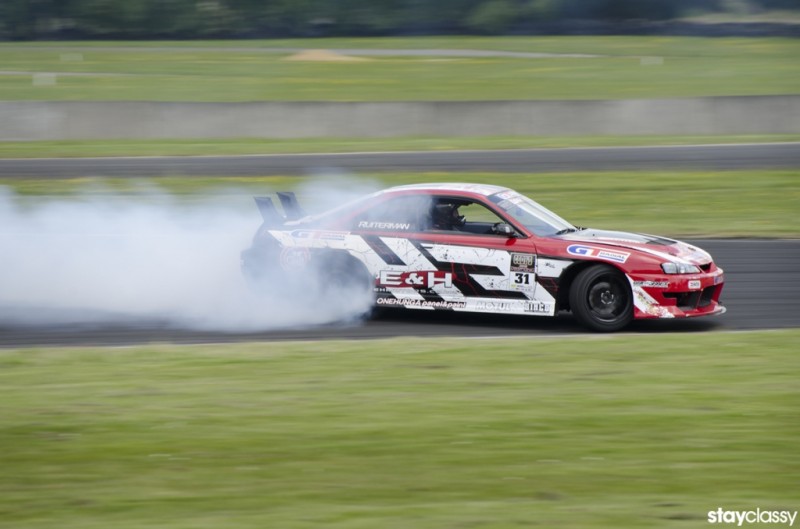 7th- Sky Zhao- 2degrees 570z- Best ever D1NZ season result for Zhao. Sky seems to be struggling with the Hero tire to put down the torque of the V8 and was left a few times struggling into the uphill section. Strong season start but will need to think about how to get the car around the purpose built street courses that tend to require quick acceleration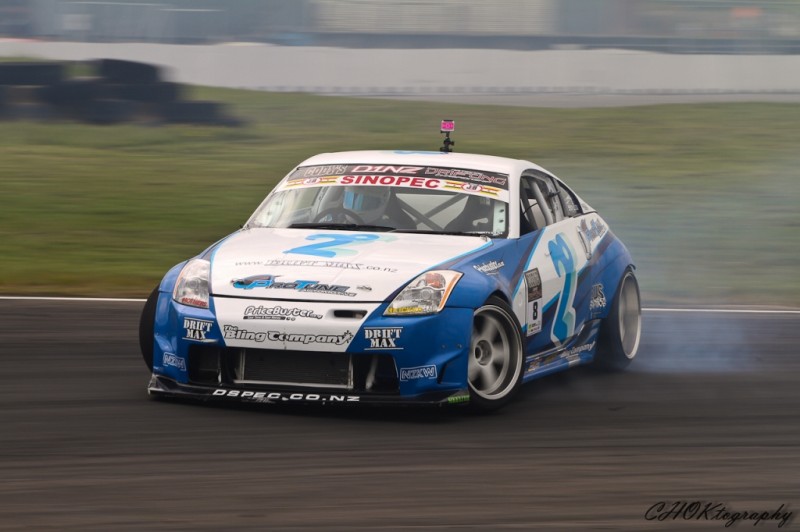 6th- Cole Armstrong-V Energy R34-  Armstrong always looks good at Manfield as the big R34 glides into the sweeper on max lock with smoke pouring off the rear of the car.  Had an early battle with the recurring electrical gremlin before grabbing the #8 qualifying spot. Had no trouble with young Robee Nelson before coming upon Gaz Whiter in the top 16. Whiter made a mistake on his chase to give Cole an advantage which he followed up with a good chase run. Would meet Mad Mike in a battle of the energy drinks, with the Mad Man showing his intentions by sitting inches off Cole's rear bumper on the section run in. Mike would grab the win after a small mistake from Cole and the usual super aggressive Mad Mike chase.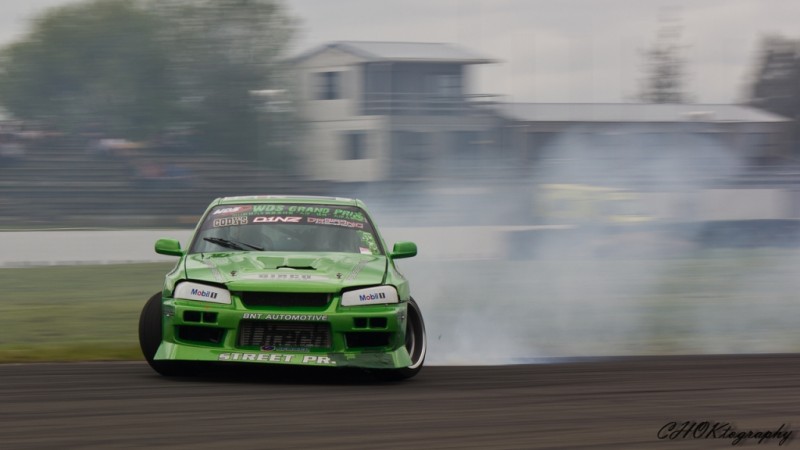 5th- Daynom Templeman- NAC/ Achilles International- Qualified #2 and I firmly believe Daynom is probably the best pure driver in the field ( SVG excluded) . Seemed to live on the limiter through the 3rd corner up over the small crest and that would be his downfall as the faster cars made ground. Lost to Curt Whittaker in the top 8.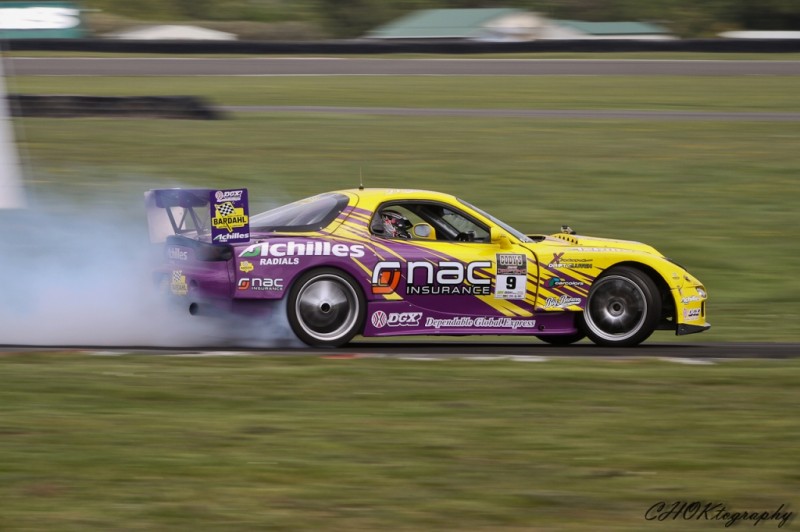 4th- Ben Belcher- NAC/ Green Bros-  What a debut from Ben, first ever D1NZ competition event and he qualifies #5 and ends up with a 4th place finish. The judges commented that Ben was among the very best at attacking the sweeper holding a consistent line run after run, and he will be a threat in what is a nimble and responsive car at most rounds.  NAC will be feeling pretty good I'd imagine about their selection of scholarship winner.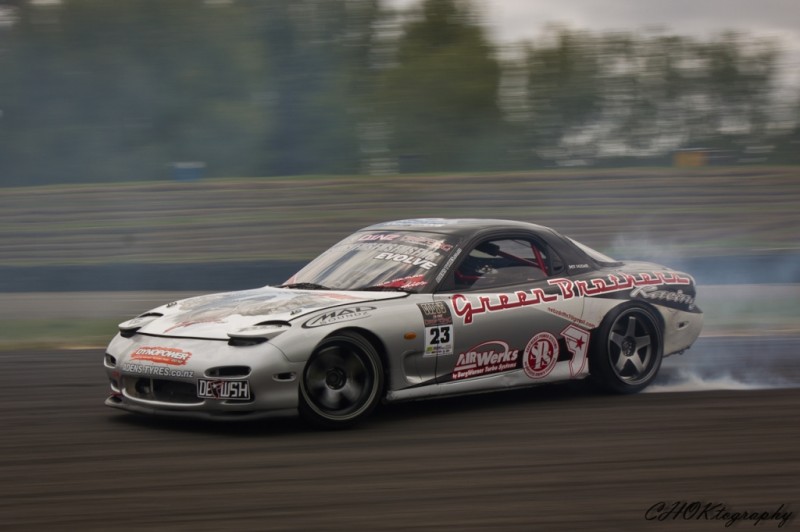 3rd- Mad Mike Whiddett- Redbull RX7- Turned up on Saturday morning fresh back from another offshore adventure and got straight down to business.  Laid down an 85 on his first pass and was never unseated from the #1 qualifier spot.  Whiddett laid clean runs each lead before applying massive pressure on each and every chase. Whiddett has great response and grip from his Nitto tires and was able to position the car where ever he wanted it to be. Was only beaten by Fanga Dan in the semi final to send him into the 3rd vs 4th battle.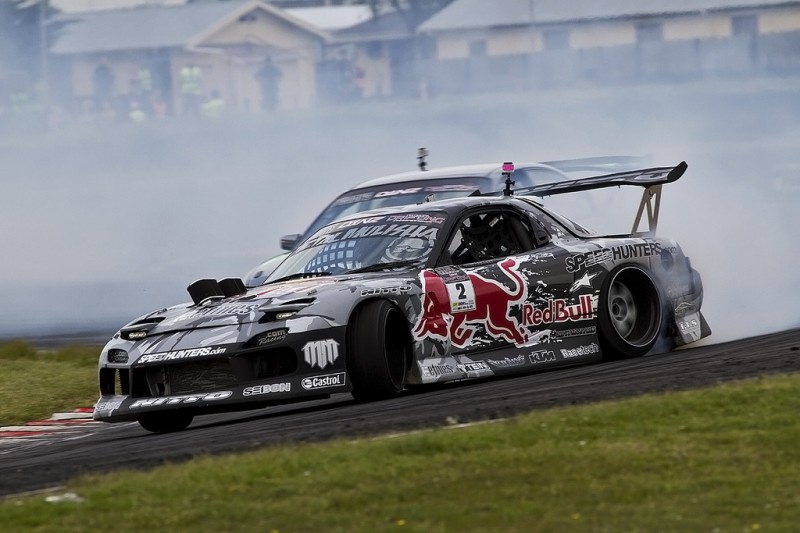 2nd- Fanga Dan Woolhouse- Castrol Edge/Juice Polishes- Well…what can be said, produced some of the best driving seen from him for many a season. Does what should not be able to be done with a big car and was focused all weekend. Grabbed the #5 qualifier spot and was looking good in the final before making contact that broke his front hub. Called 5 mins but even with help from many teams the repair could not be done resulting in a forfeit.  Strong start will keep his head in the game and will be confident heading to his home round at Whangarei.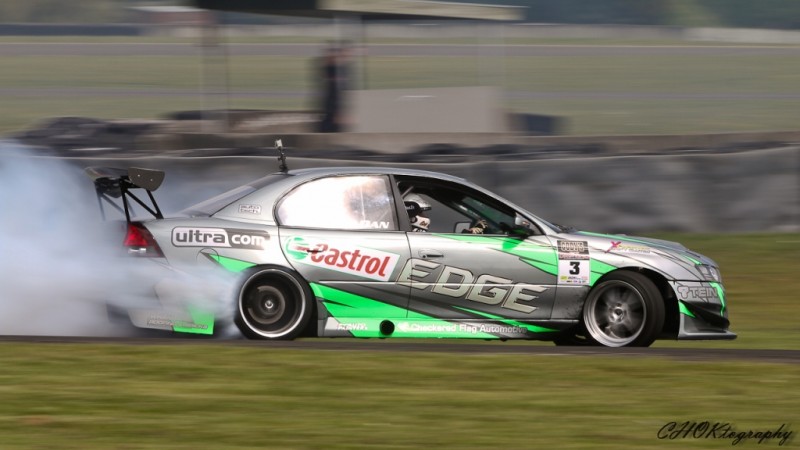 1st- Curt Whittaker- Mount Shop/Whittaker Motorsport R34- Drove smart and did what he needed to do to get the win. Had a trying practice day with a Turbo letting go and then BOV issues. Is always hard to read as he spends Friday doing reccy work and then comes out to play seriously on the Saturday. Had to play it safe in qualifying due to a leaking turbo gasket and mid pack meant an interesting looking tree.  Got his title defence off to a great start and will carry momentum to Whangarei.  New sponsors look to be coming on board which is fantastic for the defending champ.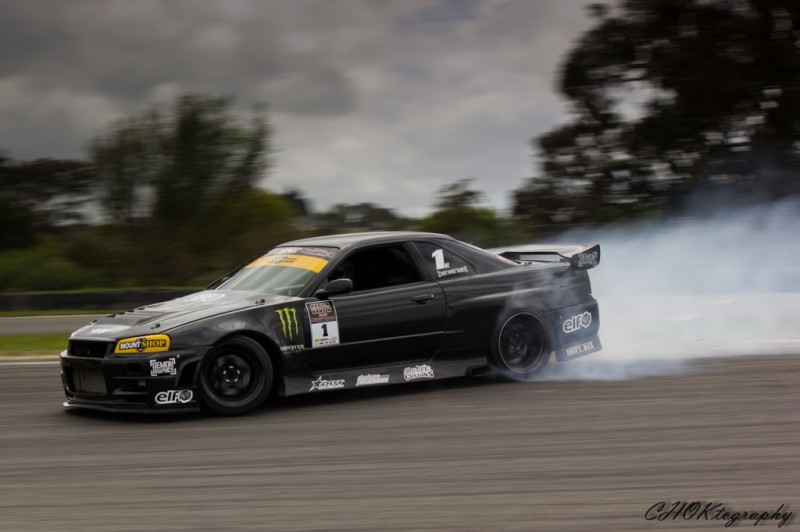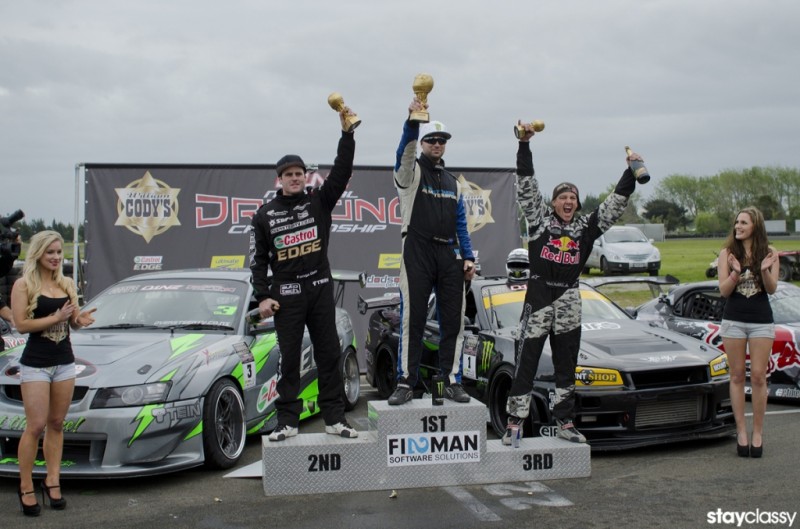 Well that was an amazing way to start the season….I can't wait to get to round 2!!
*photos provided by Lawrence Chok,Richard Opie for MGNinc, Roo Wills for Stay Classy and Erron Soon for Osiris-Developments.