Events
Published on July 2nd, 2013 | by mrgrumpyninja
0
Codys D1NZ Grand Final- Taupo- Fanga Dan reclaims the throne
It's quite an odd feeling to have been part of something all season only to not see its natural conclusion, but that was the situation I found myself in this year when a driver initiated change of location saw the Grand Final of the National Drifting Title moved to Ricoh Taupo Motorsport Park. I watched the qualifying results via a google doc sitting in a pub in Canada which strangely perhaps made it quite tense, as you could see nothing other than numbers flashing on screen a bit like a lottery.
The reason behind Taupo was quite simple, drivers love the place and Hampton Downs while close to population is not a challenge in it's current form nor is it inviting for spectators, and the drivers wanted the title contenders to have a fitting place for a season send off.  With Daniel ' Fanga Dan' Woolhouse leading the way and in the form of his life,  title contenders Mad Mike Whiddett and Andrew Redward knew that they were essentially in a situation of needing to win to grab the crown, while 4th place and current Drift King Curt Whittaker was of the mindset that he wanted to make anyone grabbing the crown earn it, and knowing that he too could stand on the overall season podium.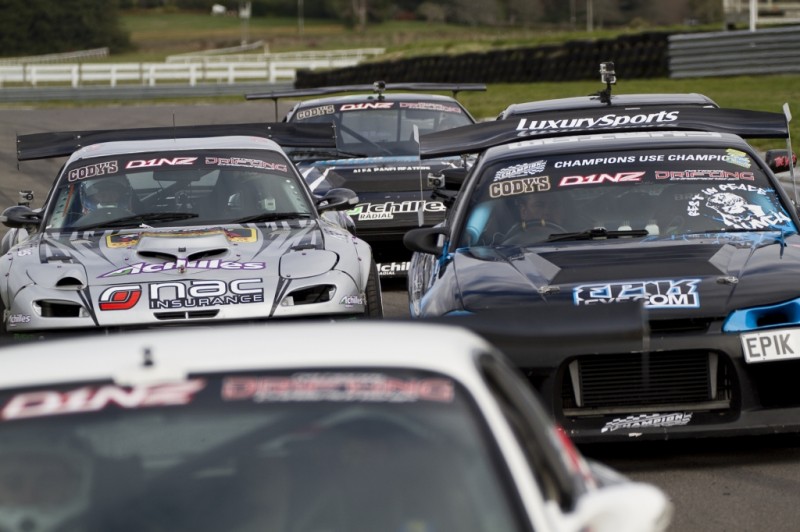 In the usual fashion, this report will run through each of the drivers in reverse order, however unlike normal this is a collection of the observations of many attendees rather than just my usual opinion piece.
A big thanks to Nate 'the brofessional' Steel who held things down and worked the Mic like a boss at Taupo, and helped with this report. Images as always are by the man in the period correct hat- Richard Opie.
DNQ/DNS
Cam Vernon- Skinny Mobile/ Gull/ E & H Motors R32
Bit of a shame to see Cam exit a full time drift career in the manner he did, with an unfortunate incident that saw a tire lying right on his race line not removed before his run sending the car airborne causing damage. Vernon did look to be finding a level of comfort as the season went on, and would have been hoping for big things in his final attempt at a full drift season.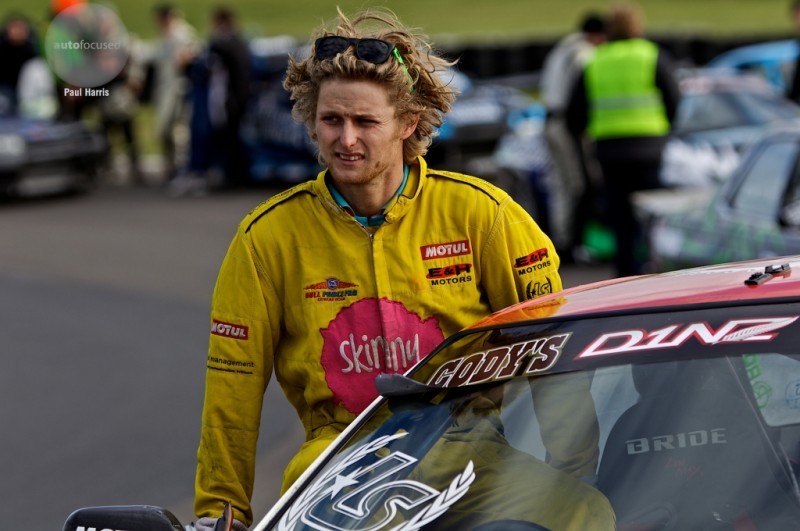 Jason Sellers- Wongs Kitchen C33
Somewhere it would seem, there is a Jason Sellers shaped Voodoo doll. This time it was a steering failure that sent the black and green machine off the track and over a tire bundle breaking the bumpers.  Probably quite happy to forget this season ever happened
Sky Zhao- 2 degrees 350z- 23rd
Zhao produced some of his best driving and his best qualifying effort last time D1NZ was in Taupo, so he would have been looking to further improve. Mechanical gremlins would see  any hope of that go by the way side and was forced to jump into the unfamiliar car of Darren Kelly to qualify and just never settled in. Lost to Robee Nelson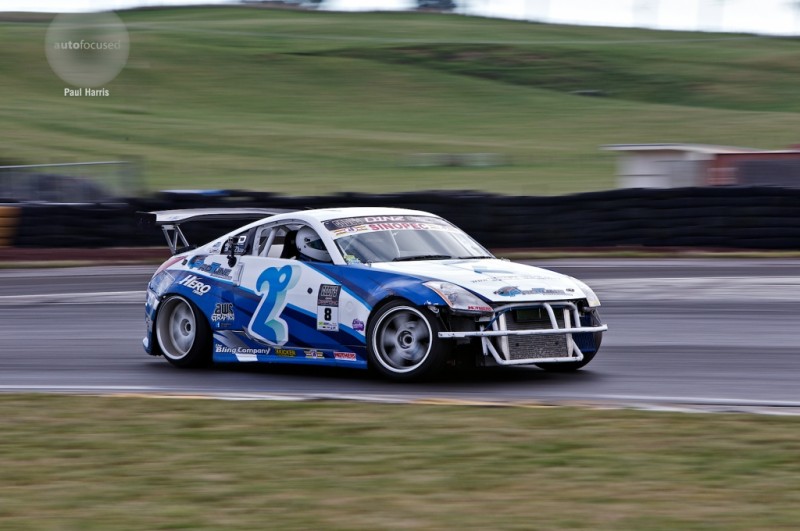 Cody Collis- Budget Tyre S13-  22nd
Cody its probably fair to note would have done a lot less laps than any other pro driver of Taupo, and never seemed to settle in. Car was sporting a brand new look and paint job, and perhaps he just wasn't in the right space to push comfortably and risk damage.  Would have been confident after a podium in Christchurch and will need to look into perhaps getting more time on the North Island tracks if he is to mount a real challenge next season. Lost to Willy Foster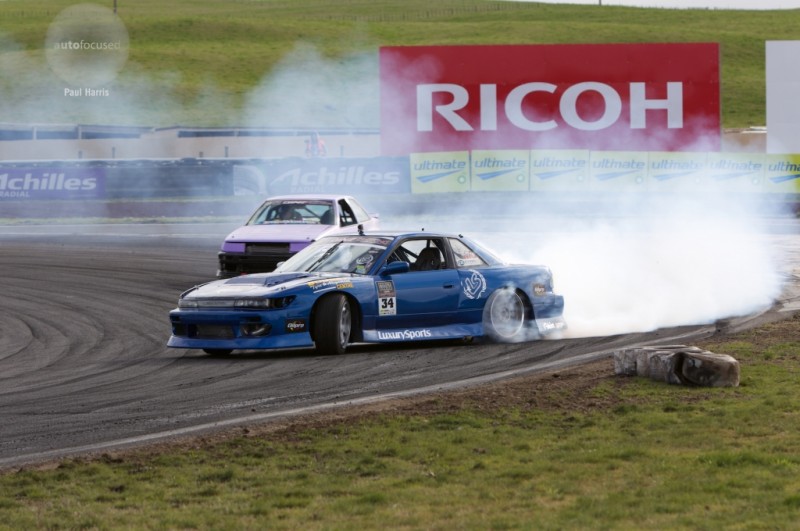 Daynom Templeman- NAC 2JZ RX7- 21st
Chased a problem miss all weekend and couldn't operate the car under the throttle load it's ideally set up for. Lost to Troy Forsythe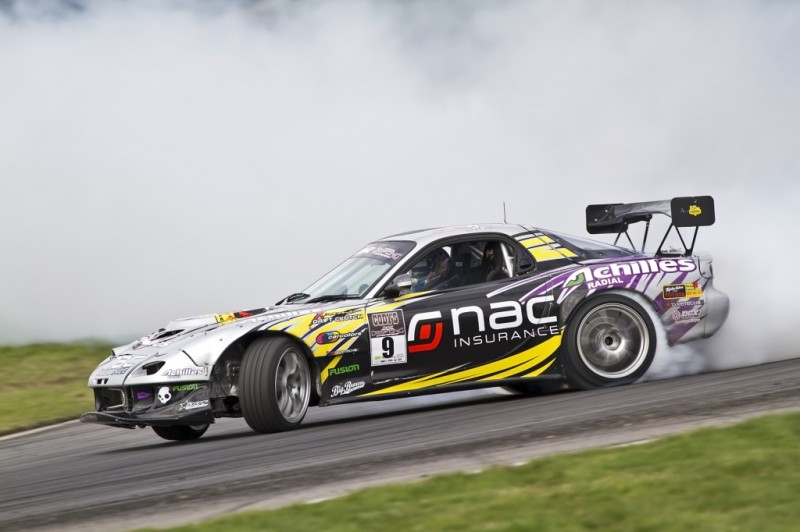 Kyle Jackways- Nexen/ DTM S13- 20th
Jackways has had a rough season returning to competition and each time he  has seemed to start to find his groove  again has had a small glitch. Self admits he made a mistake and dropped a tire off ending his Taupo campaign, but feels like he is starting to find some form again. Lost (or says he beat himself) against Ben Belcher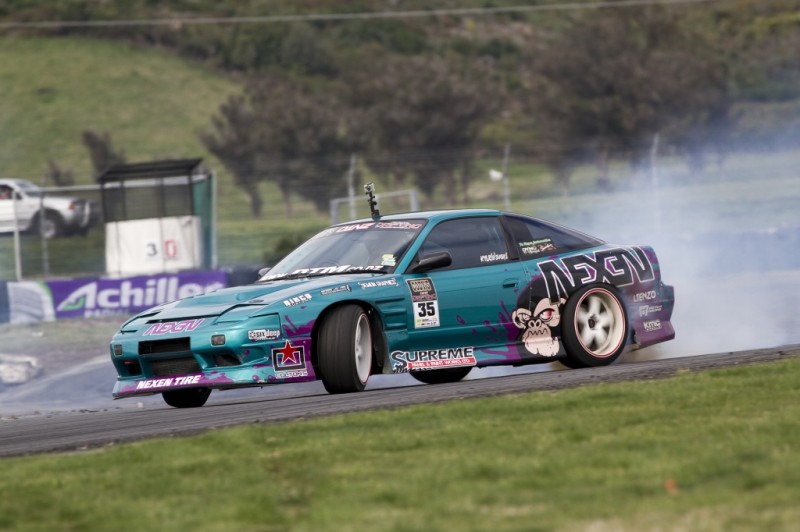 Brad Lauder- WAL/ Shred S14- 19th
Lauder just hasn't seemed to have had things go his way this season.  Felt he was doing the right things and visited the judges who gave him some feedback and things to improve on.  Lost to Zak Pole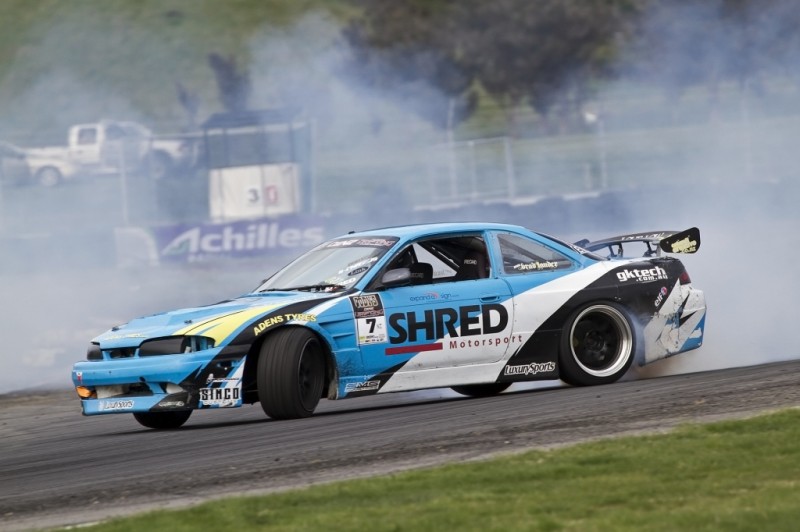 Gazza T- BoB industries C33- 18th
Gazza T had spent a fair bit of time getting ready to bring war to Taupo, and found himself chasing grip on a cold weekend. Came up against Bruce Tannock in a battle that no doubt had a side wager on it, and Gazza T elected to carry more speed than he had grip for in his chase of what is one of the fastest drift cars in NZ which sent him offline and off track. Eliminated by Tannock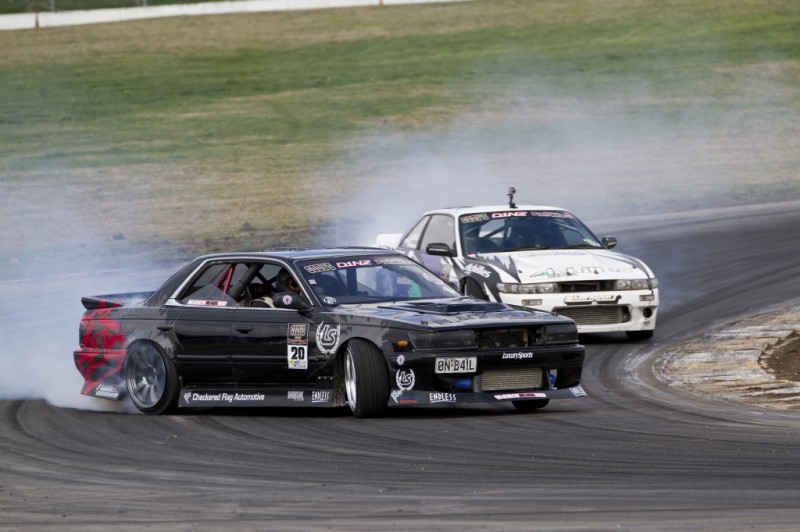 Andrew Redward- Achilles Radial V8 RX7- 17th
Came in to the event as the man Fanga Dan felt was the real threat to him lifting the crown and looked fast all of practice. Things just didn't translate in qualifying and Redward found himself unusually low down the table. Normally would have expected to be in the top 6-8 qualifiers and straight to the top 16  due to numbers present but found himself against the rapidly improving Shane Allen.  Went into the battle and had the advantage after the first run but then managed to hook 5th gear instead of 3rd into the final sweeping corner sending the car diving forward and unable to correct and save, 4 wheels off saw a 10-0 to Shane Allen and Redward out.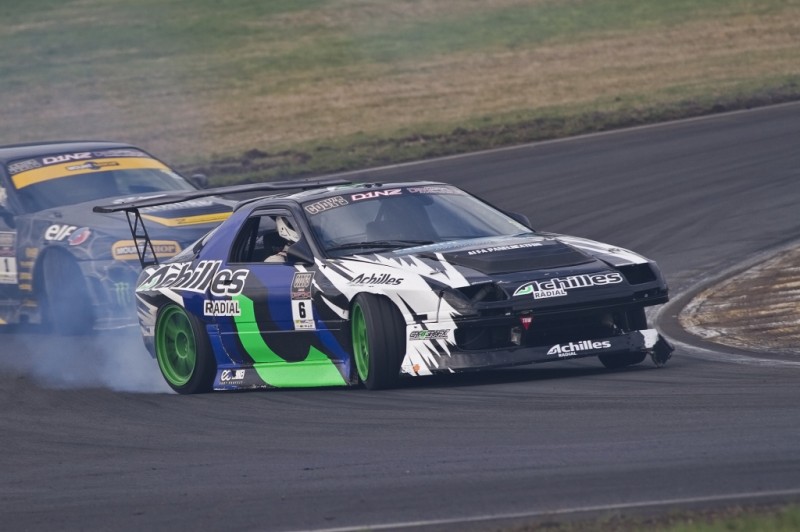 Shane Allen- Rattla Motorsport Falcon- 16th
Allen knows Taupo well and this was easily his best showing of the season with more speed and flow than prior events.  With the 'little' motor in the car, it could spend more time on the gas producing the tire smoke it is re-known for, and with both its drivers in good form the green machine was perhaps unlucky not to have 2 spots in the top 8 in the eyes of some. With rumours of 2 cars next season, young Shane will benefit from having more seat time in competition conditions.  Lost to Gaz Whiter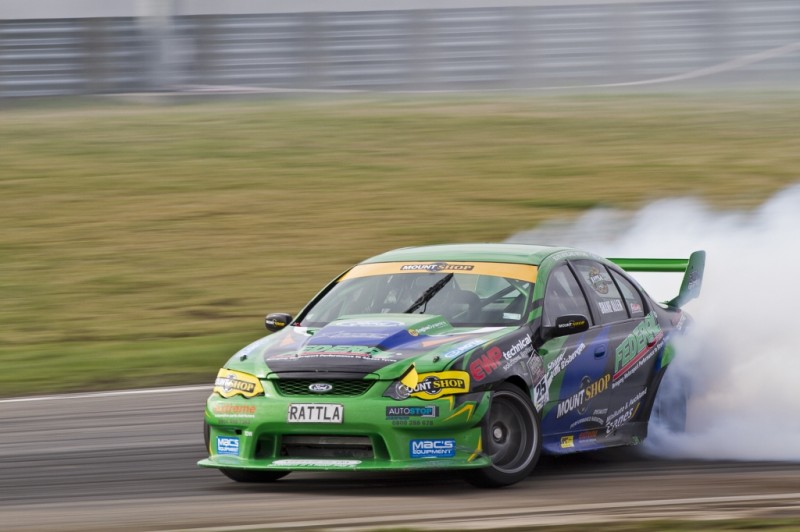 Bruce Tannock- Achilles Radial S13- 15th
Has a very fast car with a lot of traction, and was the speed benchmark through practice. This would ultimately prove his undoing as the car has so much traction that it does grip up fast and straighten causing it to appear to dive in and out of a chase. Lost to Fanga Dan after a strong lead run showing.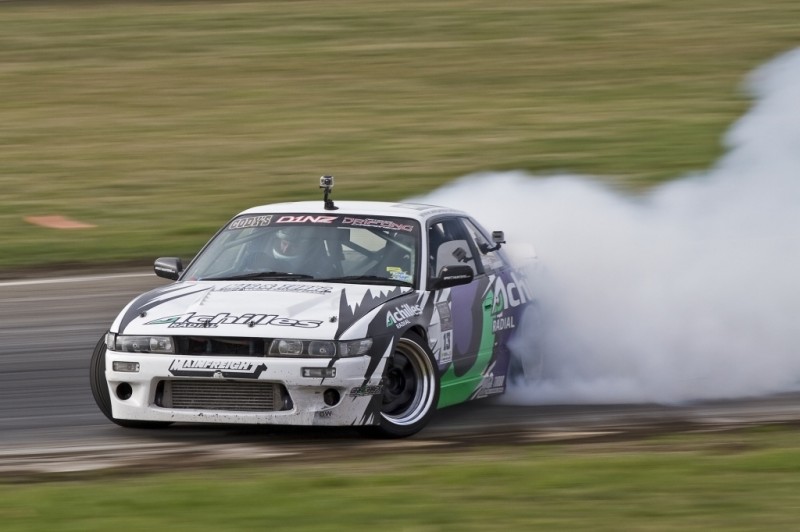 Ben Belcher- Green Bros Rx7- 14th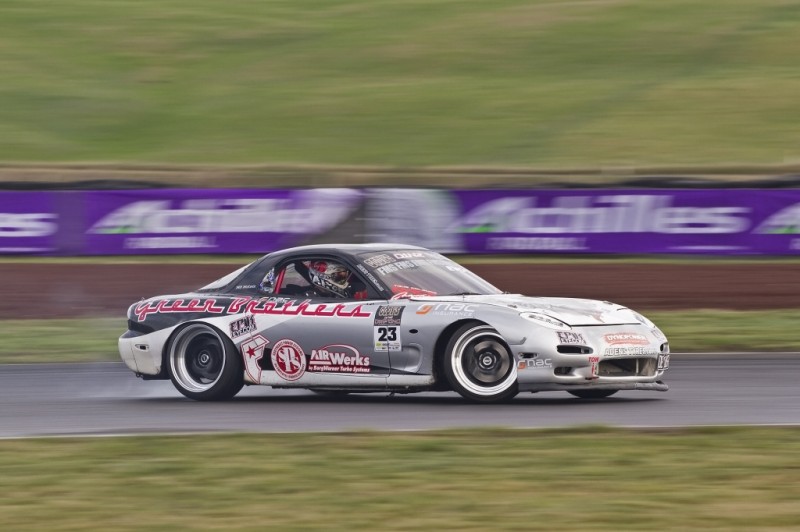 Willy Foster- Bennett Motorsport AE85- 13th
Probably just stoked to finish an event where the car hasn't hit the wall, pushed through to an OMT battle with Ruiterman before going out.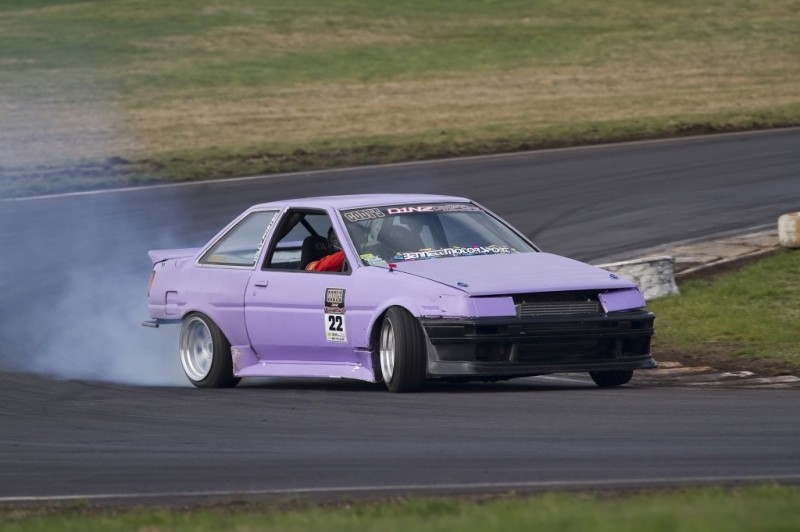 Robee Nelson- Koba S15 – 12th
Hasn't quite been the season of coming of age for Robee that was expected. Has shown some glimpses of what he can do, but just hasn't quite made it. Knocked out by SVG who was looking strong in the Rattla Falcon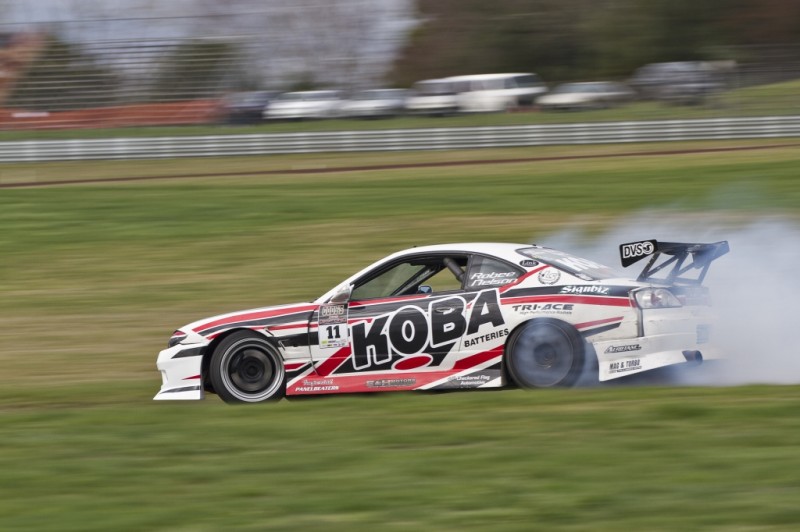 Cole Armstrong- V Energy XR32- 11th
If you've ever tried to drive someone elses car, you'll know what Cole was fighting in a hastily borrowed r32 with an XR6 turbo engine. He's made a bit of a habit of this now tho after driving the Hi-tec r33 in Oz last year and also making a good go of it. With his R34 stranded in China, Armstrong came into the event looking to have some fun and do what he could to make life tough for his fellow pros.  Looked solid but spun on his chase against Drew Donovan, which I think makes the score 2-0 to Donovan this year in the battle of the tauranga idols?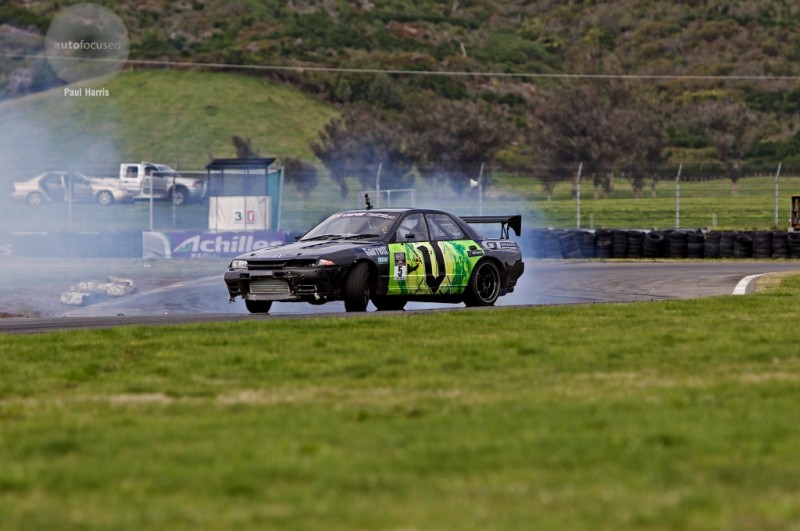 Nico Reid- Luxury Sports S15- 10th
New aero for the weekend had the car looking like it meant business, and Reid has won at Taupo before so would have been in a good space. Seems to have a habit of matching up with good mate Troy Forsythe in battles, and there is never more than a whisker between them. This time it would be the Southern Man who came out on top of the undoubted South Auckland Peoples Champ. Reids new look, new team focus and well set up car have him posing a real threat next season. ( Still waiting for those updates from the Gym on FB bro :P)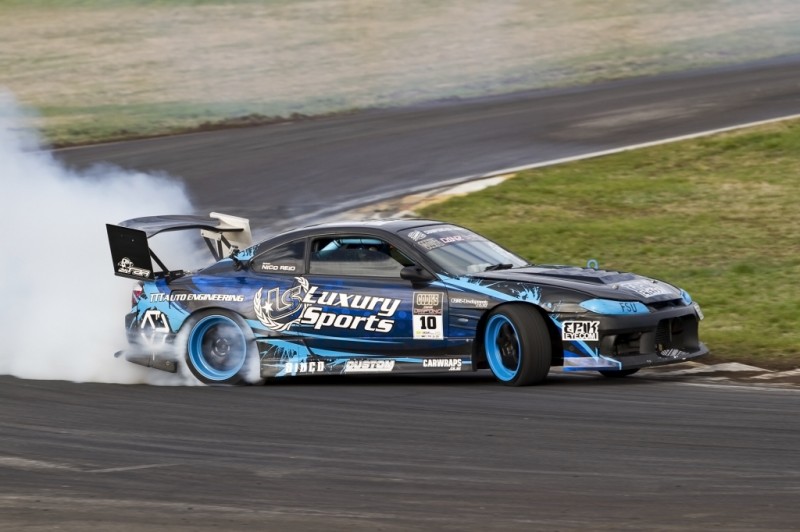 Mike Whiddett- Redbull Rx7- 9th
Nobody else would even think about flying back in from Europe to chase the NZ title, but that is what Mad Mike did, leaving his partner and son on another continent to try and grab that title that eluded him last season. Looking like he was out of contention after the sole running of  the RX8 in NZ at Whangarei, Whiddett had clawed his way back to second position and is a known threat at Taupo so many would have been thinking he was a good bet for the crown. Someone got in his way tho, and that would be Zak Pole who has enjoyed a bit of a rivalry with Whiddett this season. The battle again was tense and tight and went to an OMT with Pole emerging victor on this occasion and taking away the chance of a title from the Redbull Athlete.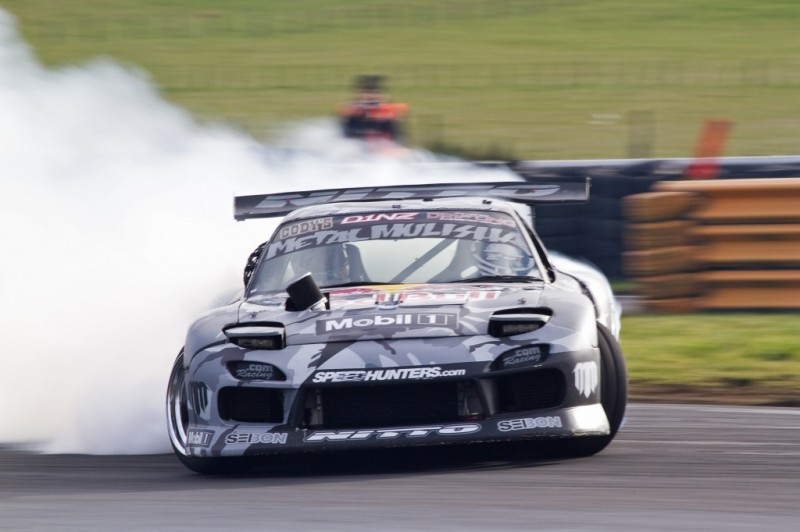 Troy Forsythe- Rapid Performance S13- 8th
Troy is Troy, he brings it each and every time and if you don't like it then tough.  The Forsythe/ Reid friendship and on track battles are going to be some of the most memorable over the next few seasons in the same way I think the OG's had Rood & JT.  Proven that he more than belongs in the top echelon of drivers.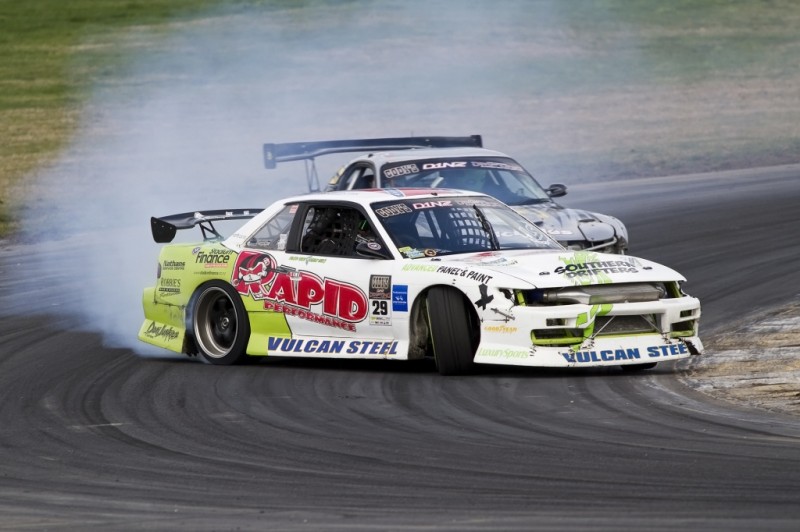 Drew Donovan- DMNZ S15 v8- 7th
Drew seemed to come on strong as the season drew to a close, favouring the longer track courses of the short tight n technical. Was said to be in the best form hes shown of the season and a real stand out in practice with big smoke and speed.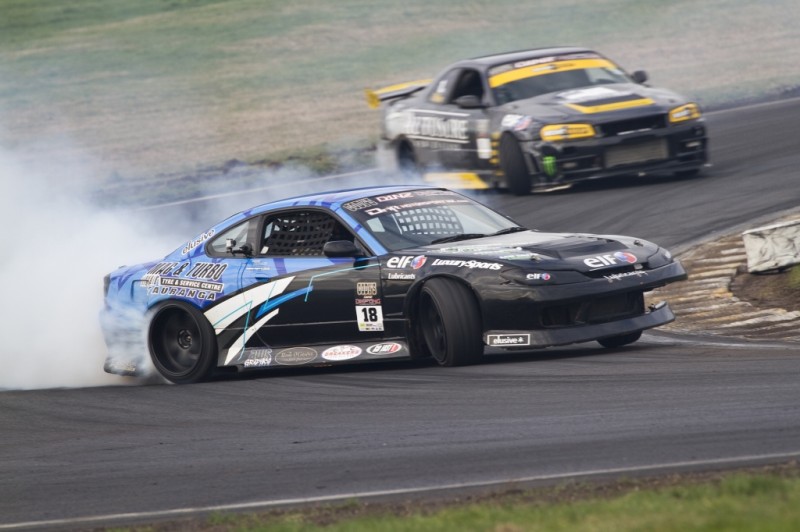 Shane Van Gisbergen- Rattla Motorsport Falcon- 6th
SVG is a pro, and he'd be a scary prospect for the field if he was able to do a full D1NZ campaign.  Still seems more at home on the chase run where his circuit skills see him able to operate mere centimetres off the car in front, and is getting better with the lead run where he'll perhaps need to develop a style or way of making a run his own as opposed to text book perfect.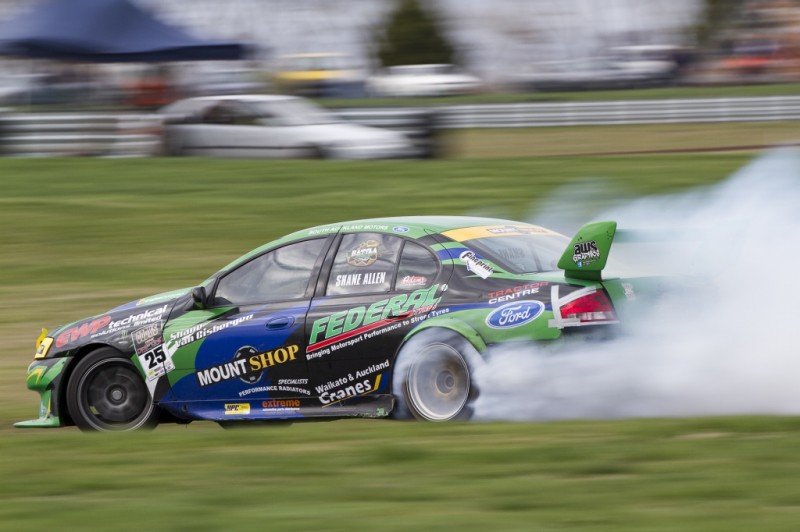 Carl Ruiterman- GT Radial S14 – 5th
Looked to be happy to be back in a car that they had to rob bits off his brothers to keep going. Ruiterman has had some bad luck this season and would have been feeling good about again being within the upper echelon of the drift ranks.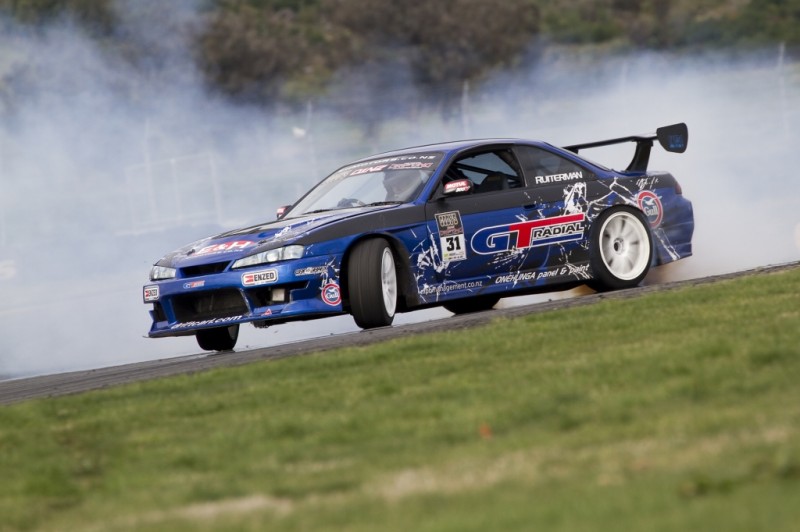 Gaz Whiter- Tectaloy S14 V8 – 4th
Didn't crash or blow up, so as per the above so was probably fairly happy. Monster battle with Fanga Dan was a highlight for many long time fans and went OMT before being beaten by Zak Pole for 3rd place.  Its been a tough debut season that the team will be keen to take learnings from but not repeat in a hurry.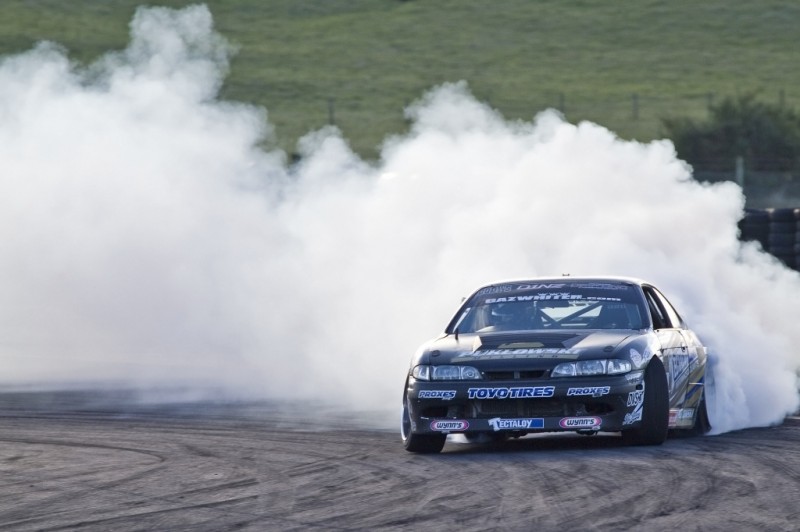 Zak Pole- 3rd
Got his win over Mad Mike that he may he felt he deserved at CHCH and had massive angle and smoke all weekend. If anything I'd observe that the car seems to switch very violently from massive lock to massive lock which doesn't make the smoothest looking run.  Is seen by many as the 'next' star within the class and it will be interesting to see how he follows on from a maiden podium.
Curt Whittaker- 2nd
On form and making anyone who wanted to take the DK title work for it, looked fast, smooth and smokey the whole weekend, all while waiting and perhaps hoping not to be told that his first child was on its way at the track!  Won all his battles convincingly up to the final where a small mistake caused him to get off onto the dirt. Proud champion who served the sport well as king.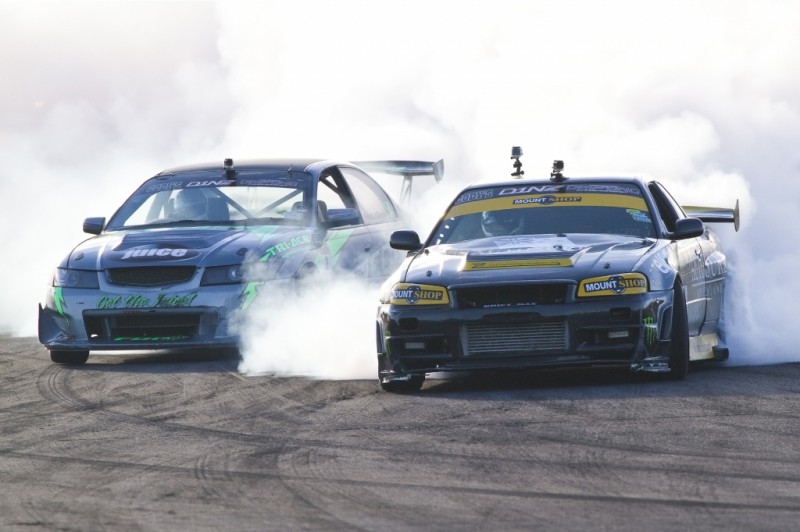 Daniel Woolhouse- 1st
1 and 1, qualify First, Finish First, thats how you put an exclamation mark on a title win.  It matters little what people say or think about results at this round, Fanga has been the form driver all season, with a new found relaxed confidence, less of the red mist he was known for and plenty of skill.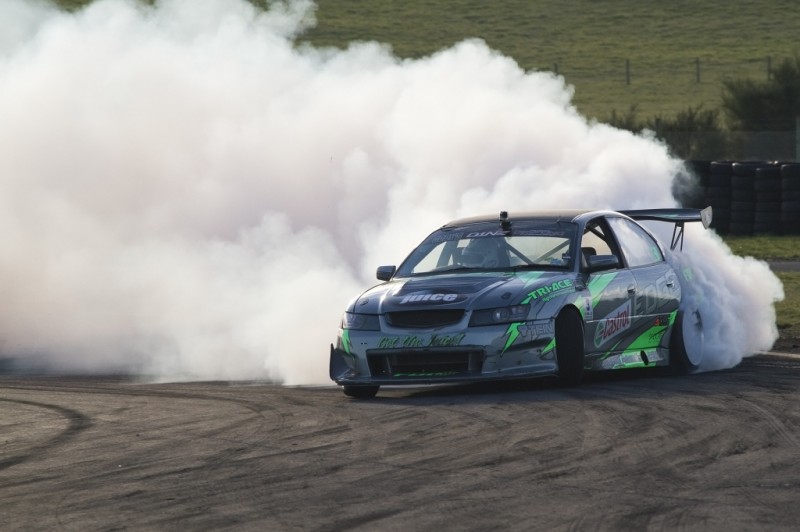 Arise King Fanga, and return to the throne you last held in 2006.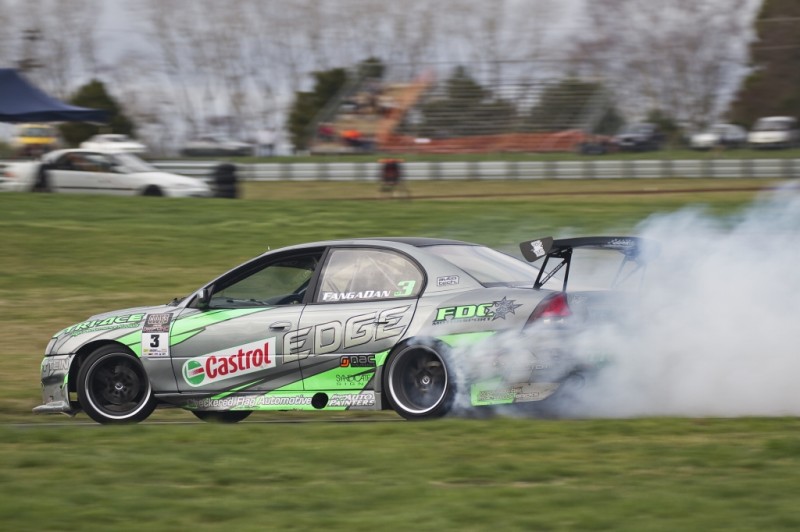 This is a nice moment to end with, as the crow passes…..and you can almost see Mike and Curt thinking …" Good on ya bro..we'll see ya next year… "