12 Rounds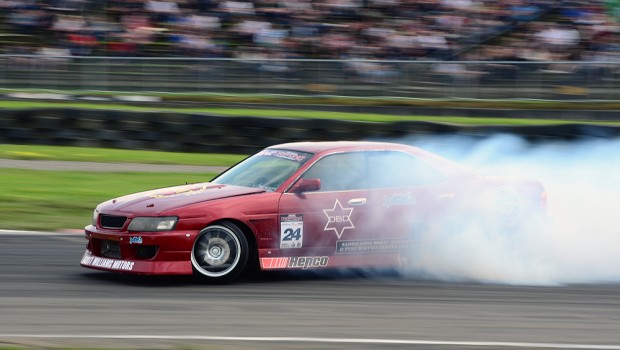 Published on November 23rd, 2011 | by mrgrumpyninja
1
All about the Benjamins….Naki style.
One of the names on everyones lips after D1NZ round 1 was Darren Benjamin, the young man from Taranaki who has stepped up from rookie to D1 Pro this year with a massive impact. Grabbing 7th qualifying spot was a pretty big achievement in his first pro outing, so we stopped by the Naki lads pit bay for a chat.
Images again are by Roo Wills-  Stayclassy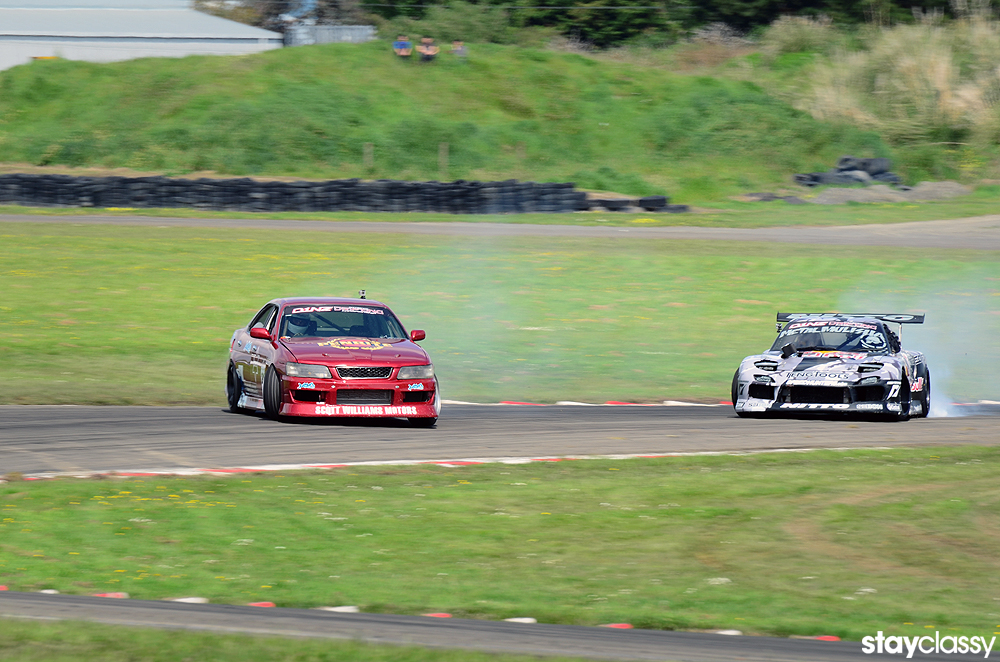 Firstly, please introduce yourself
My name is Darren Benjamin, I live in Hawera in Taranaki. I'm 21 years old and an auto technician at Scott Williams Motors.
How long have you been in the drift game for, and how did you get into it?
I started out drifting when I left school and sold my dirt bike, it gave me enough money to piece together my first rb20det laurel which I used for late night missions up the mountain and all around rural Taranaki. At some point I guess I grew up…and decided to be responsible and started doing the odd trackday instead.
After a couple of track days and various different projects, I ended up building my current car for the 2010/2011 rookie season during which I had some good success.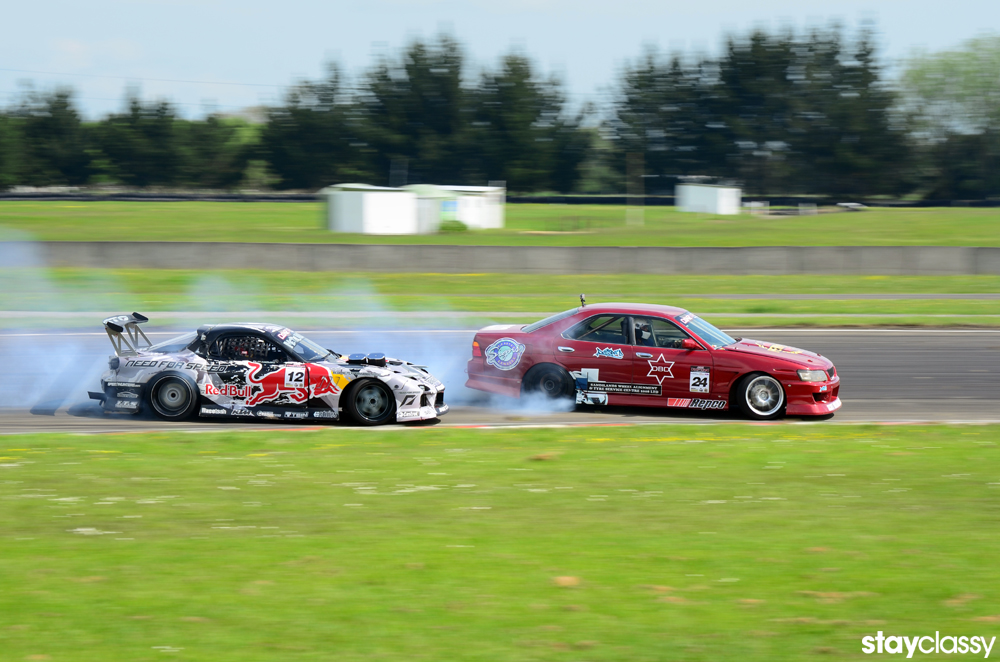 The car is a bit different to isnt it? Why c35 and 2j, Is it a proven japanese combo?
I've always liked the look of the c35 and liked the fact the no one else has one as a drift car in New Zealand (well yet anyway).
2jz because of the reliable cheap power. My motor is completely standard other than the turbo setup, injectors and link. It had done 100,000 kms as a road car and now produces twice the power and has taken a beating every meeting without any issues… touch wood.
It's taken a while to get the car handling the way I wanted. I did most of the rookie series with the car handling like a complete boat, now that we've changed a few things in the suspension/steering department it finally feels like a competitive package.
Talk me through the week before an event, who are your key poeple?
A typical week before an event would start with me checking my bank account and then trying to work out how the hell I'm going to pay for all the tyres I just ordered in. Then just carry out a check over the car make sure everything is in order before I load it up, which usually results in me calling my cousin boobies to come do a last minute rush trying to fix little bits and pieces.
Boobies would defiantly be my number one support, he's always there if I need a hand, and seeing as though me and him built the car he knows it better than anyone. Other key people would have to be my boss, he has to put up with a brain dead employee for a week prior to the event as all my attention is on drifting and nothing to do with work.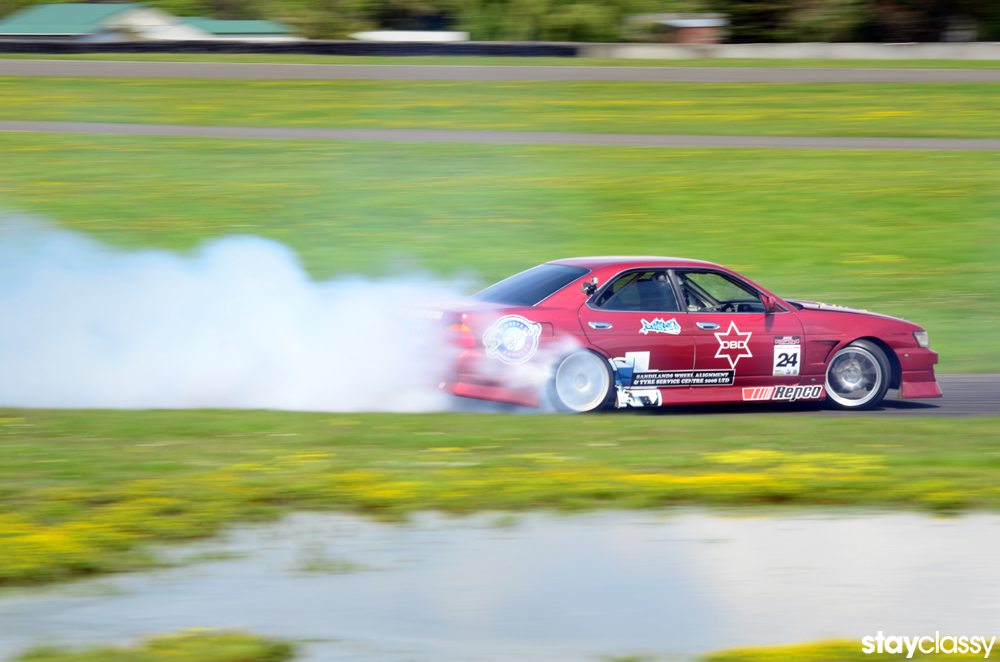 Lets talk about round 1, how did you feel about the event?
I was pretty excited for round one. It was the 1st time I had driven with a whole bunch of guys I had idolised for years, and then when I realised that I was actually competitive with them I was pretty stoked!
Who's stepping up and looking dangerous?
All us boys that stepped up from the rookies last season I think we have all shown that we are more than able to compete with the best, and we can only improve from here so watch out.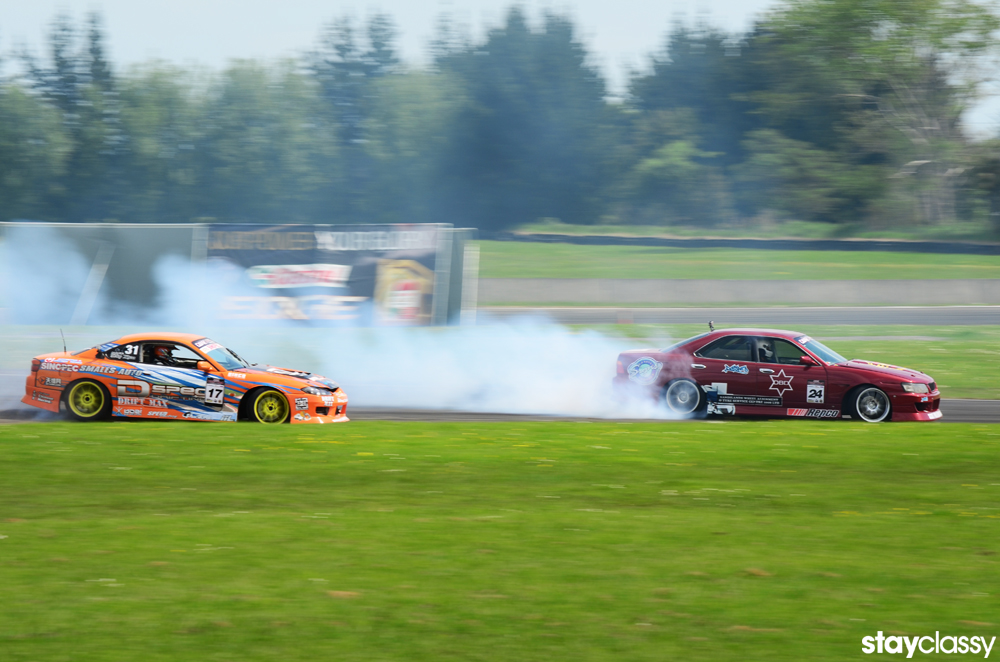 Did you expect or think you were capable of the 8th spot?
Well honestly I thought I was going to have my arse handed to me, It wasn't till I had just finished my 1st qualifying run and I knew it was a solid run that I thought maybe I would go okay. It will be interesting to see how when a few of the other top guys are competing things might look a little different then.
Who's the one guy you want to battle and beat?
Haha I"d love to have the speed to go at it with Mad Mike, he quite simply out performed everybody at manfield so that would defiantly be a goal… one day
Tell me what the season holds and what your goals are
Well I can see it being a super competitive and hotly contested championship, big prizes mean people will push harder and harder to achieve. I just want to stay competitive and if I finish the championship in the top 8 I would have more that achieved my own goal.