Sideways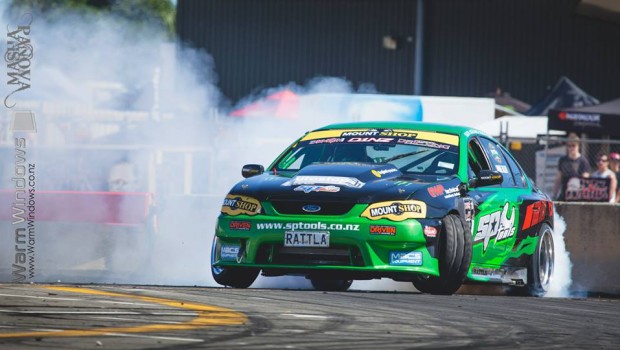 Published on January 22nd, 2015 | by mrgrumpyninja
0
Rattla Motorsport – D1NZ Round 3
1 step forward, 1 step back would be the best way to describe the Rattla Motorsports outing at Round 3 of the D1NZ National Drifting Championship.  On practice day there was only 1 name on everyones lips when it came to identifying the stand out driver and that was not as expected former Champion Curt Whittaker but the still developing Shane Allen, who was placing the big Rattla Falcon right on the walls and hitting each clip lap after lap.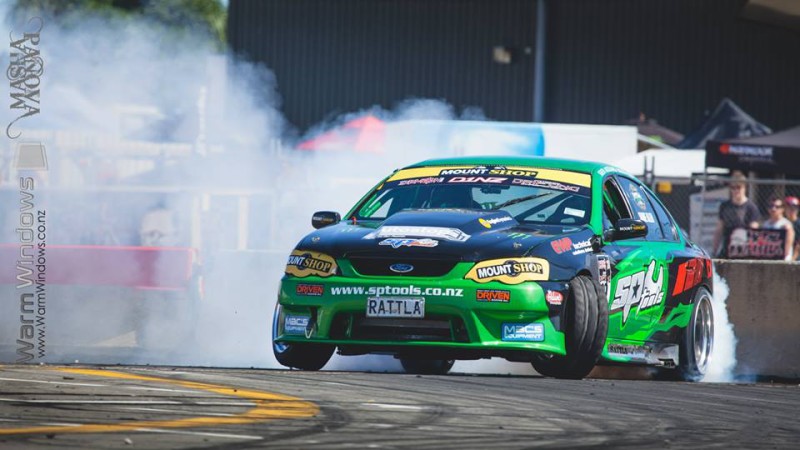 Both drivers and cars continue to benefit from ongoing refinement of setup, with Shane continuing to relish having the car to himself and being able to get in large numbers of laps and looking odds on for a good result until a heavy impact with the wall on the morning of competition dented the youngsters confidence and left him battling with some back and neck pain. Not wanting to let the team know, Shane kept things to himself and tried to do what he could, but a very safe first qualifying run was a sign that not all was right and while he came out and blitzed through 2 sections on his second pass, Shane was unable to maintain control and spun on the final corner earning a zero for the run.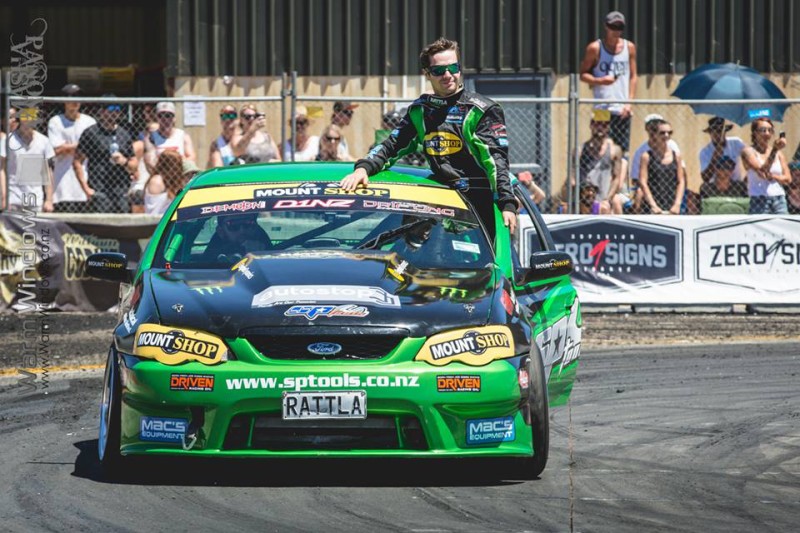 A top 32 with Jodie Vehulst as far as the SP Tools Rattla Falcon would go for the event which had been hoping to celebrate long time crew member Mark Williams birthday in style.
Over in the Curt Whittaker Autosure pit, the team was also kept busy after having a practice day incident with Shane Van Gisbergen that saw the pristine Autosure R34 looking no longer the inch perfect black beast it had been. Solid work from the team saw Curt back out on track and laying some safe laps before packing up and getting some rest for the competition day. One thing the team had noted as a potential challenge was  a lack of lock compared to other teams with their factory setup.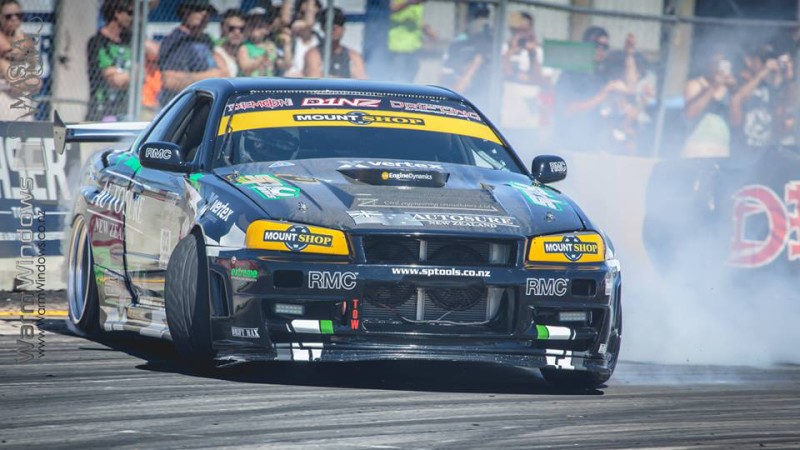 Curt had the car on song as always come qualifying, and in a sport where the top drivers are often separated by little, managed to get himself 8th position in qualifying for a first round show down with newcomer Tom Marshall in the ATJ S13.  Curt simply too fast and too smooth for Tom who tried hard to keep up with the 2012 series champ but couldn't match the Ford V8 grunt
Into the top 16 and Adam Hedges had his 600+HP Silvia screaming around the tight little track, which was well suited to his setup. Both drivers were solid in the first battle, with each making a small mistake which saw the judges make a call for a one more time battle. As Curt had rights to run first due to a higher qualifying spot, on the re run he put the pressure on with a good lead and then followed up with an accurate chase to earn himself a top 8 berth.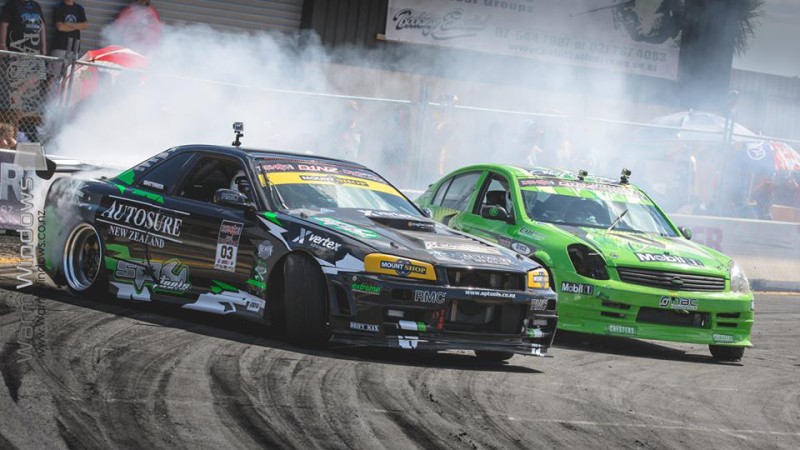 Eventual winner Cole Armstrong and the V Energy R35 had been the fastest car all day on his home track, and when the Cole & Curt lined up, there were a number of eager fans keen to hear the Dodge V8 vs the Ford V8 and the aural symphony it would provide. For Curt however, things went a little wrong as both cars went to go early on the start lights, stopped and then tried to re-start again, resulting in a huge gap between the cars that was never going to be closed down. With Cole on form chase wise, Curt needed a mistake to come and it didn't, leaving him in 8th place for the round.
With 3 rounds now complete and Hampton Downs up next, the championship sits at a tipping point with 7 drivers all within 60 points of each other at the top of the table. Both drivers are more than capable of winning on a track they know well, and are sure to be well supported on the 19th and 20th of February.
Rattla Motorsport as always thank their loyal fans and sponsors for ongoing support, and hope to see you at their next event.