Sideways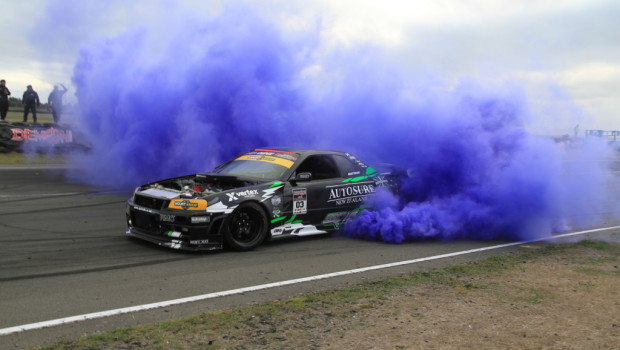 Published on April 9th, 2015 | by mrgrumpyninja
0
Rattla Motorsport Round 5 at Ruapuna
Look out….Curt is hungry for the title again is the clear message that came out of the Demon Energy D1NZ National drifting championship round 5, held at Mike Pero Motorsport park in Christchurch. The 2012 looks hungry for wins and is getting a better handle and setup on the Rattla Motorsport built 410ci small block Ford setup that now resides in the Whittaker Motorsport R34.
The Rattla team headed south with high hopes for both their cars, Curt sitting within the top 5 in the championship points, while Shane Allen was coming off a podium result at the recent D-comp event held in Taupo. Around 80 brand new tires went into the container along with the finest hardware from SP Tools who ensured the crews had everything they needed.
Both Shane and Curt looked strong in practice and were quick to find a flowing line around what is the longest section in the series. Again Shane being identified as a dark horse with big power and plenty of speed from the Rattla Falcon. Sadly he just doesn't seem to have any luck and just like in his recent foray into the Superstock world, a mechanical issue robbed him of any real opportunity to show what he could do. The Falcon crew battled fuel pressure problems and with the level of competition now within D1NZ, any issues make it near impossible to succeed
Sitting alongside him in the pits, Curt Whittaker was feeling good about the event and was among a number of drivers who elected to look for a safe first qualifying pass to ensure they would make the battle stage.  A result of 5th place keeping Curt well in the title hunt and earning the Autosure Warranties machine a bye run into the top 16 and guaranteeing a decent point haul heading for the final round
Highly competitive by nature, Curt was intent on maximizing his haul and when current champ Gaz Whiter went out in the top 16, followed by series leader Darren Kelly going out in the top 8, saw his opportunity to climb the series leader board. An early OMT scare against Dave Steedman was quickly out behind him  as he moved on to battle the rapid RB26 of Shayne Giles and got another W.
A semi-final show down with Bruce Tannock saw a good fight but the cool head of Whittaker applied pressure and set himself up for another final showdown, this time against Nico Reid.
As the higher qualifier, Curt would lead first and set off aggressively knowing how much speed Reid had. Tragically for the likeable Reid and the crowd, 3rd & 4Th gears let go and he never entered the section handing Whittaker a 10-0 and almost unbeatable lead. To Reids credit, he never gave up and did his lead lap in 2nd gear, peeling tire rubber and smoke out while Curt showed his experience to give enough room and not trap himself into a mistake.
Curt said of winning " I've just gotta thank my family, my guys and this Rattla Team, we all work so hard to get here and its awesome to be able to reward everyone with a result" … " We're not done yet, anything can happen at that Final and these young fullas haven't tackled Pukekohe before"
Rattla Motorsport and Whittaker Motorsport as always thank their loyal fans and sponsors, keep checking our Facebook page for the latest updates