Circuit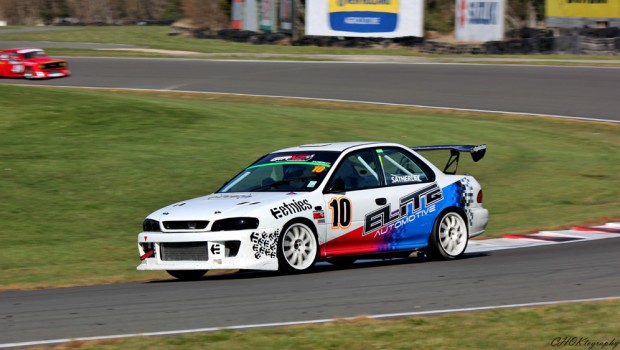 Published on September 14th, 2011 | by mrgrumpyninja
0
season wrap- tony satherley- gt cup champion
Here is the season wrap from the world of Palmerston North based racer Tony Satherley.
Tony runs a WRX in the NZGT class and during winter does all he can to support his local car club, alternating a role doing whatever needs to be done to help the events take place, and trying to prepare his own race car for each race.
Tony is now the ICS GT cup champion and I think this deserves some recognition given he runs on a budget lower than a snails belly
Photos are care of Lawrence "CHOKtography" Chok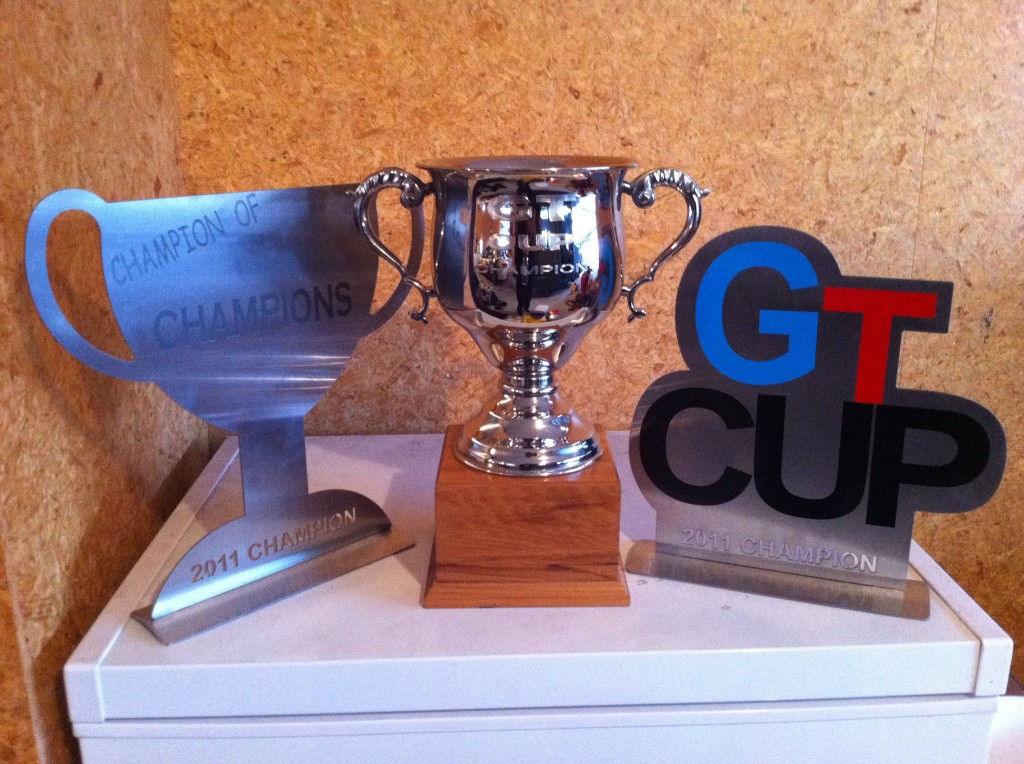 The final round of the United Travel/Manfeild Winter Series was held on Sunday September 4th.
Going into this round, the GT Cup standings were looking like this: I had a 70 point lead over Richie Arber (Mitsi Evo) in 2nd place, then it was 1 point back to Craig Bartosh (Ford Capri Turbo) in 3rd, and 8 points back to Kerry Halligan (Mitsi Evo) in 4th. So as you can see things were pretty tight, and it could still be anyone's for the taking – especially when mechanical issues can come into play – basically, if I failed to complete a race, my lead would be gone!
My hopes for it to rain were again shattered and we were greeted with another awesome day of sunshine – four "winter" series rounds and not one of them was wet!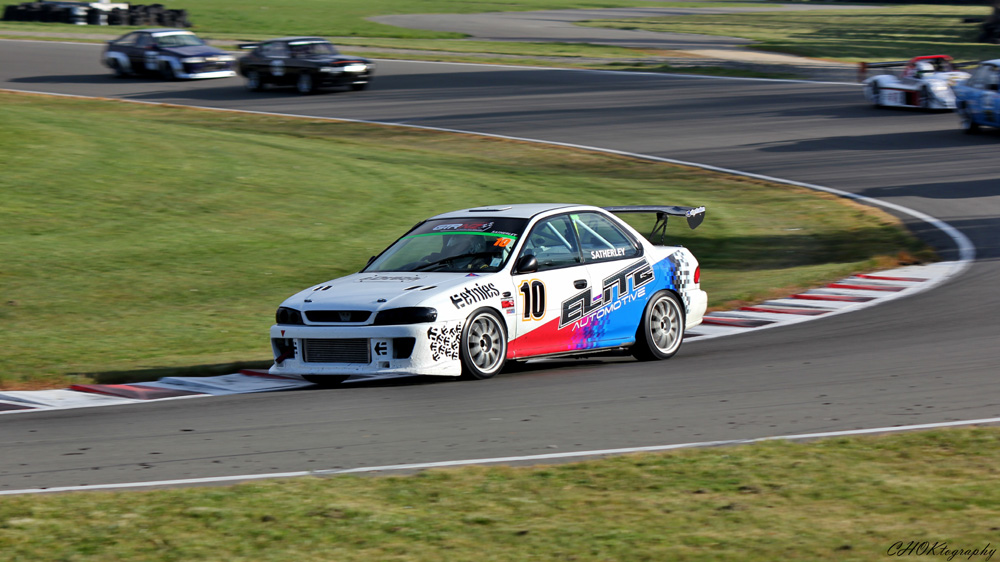 This round was shaping up to be a good one judging by the amount of high profile cars I could see in the pits. It seems that a lot of the heavy hitters from the GTRNZ series had come out to get a bit of testing/practice in before round 1 of the summer race season starts in early October.
We had 31 cars in the class for this round, and some of them very quick. Ross Thurston made a return in his Mitsubishi Evo, along with Wayne Huxford driving the Macbilt Subaru 22b replica – these 2 would be the most experienced, and quickest drivers out there on the track – but lucky for those of us that were in the running for the championship, they had not attended all rounds so even though they would most likely win all the races, they wouldn't be able to top the points we had already accumulated.
Qualifying:
Qualifying was going to be a bit of a tough one with 31 cars out there trying to lay down a good lap to get a decent grid position for race 1. Of course it was pretty crowded, but I managed to latch onto the back of Ross Thurston and thought if I could (try) and follow him around, I would have a chance of setting an okay time.
The car wasn't handling that well, possibly due to the tyres getting towards their last legs (sorry BT! Will sort some replacements for you) and having too many heat cycles to provide as much grip as they used to. I knew I wasn't going to be as quick as previous rounds, but I stuck it out for 4 laps following Thurston and figured I should have done okay so went back to the pits – no point wearing the tyres out even more – best to save them for the actual racing.
Qualifying results came back and you could see that the top end of the field was certainly flying! Number 1 spot went to Wayne Huxford with a 1.09.3 (making him the quickest Subaru around Manfeild); 2nd went to local contender Kerry Halligan with a 1.10.4; 3rd Colin Parkin in another Subaru – 1.11.2; 4th Ross Thurston, also struggling with old tyres, at 1.12.3; 5th Scott Kreyl with the car fresh off the boat from the World Time Attack Challenge in Sydney with a 1.12.8; and me qualifying in 6th place with a 1.13.9.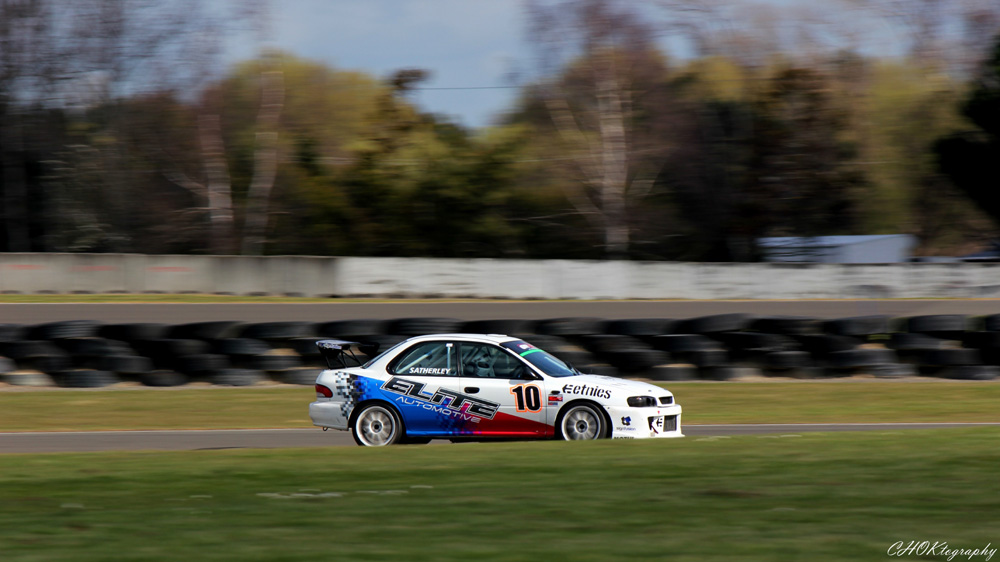 Race 1 – Scratch Race from Qualifying Positions:
For race 1 it was good to see that the first 3 rows of cars on the grid were 3 Mitsubishi Evos, and 3 Subaru WRXs not a V8 in sight! For me, this race was just going to be follow the leader as I can't compete with the experience and horsepower that the guys ahead of me have got. I just had to try and hold my position, and hopefully I would finish in 6th place, with no real chance to better that unless one/some of the top guys had mechanical issues and they couldn't finish.
Scott Kreyl didn't show for race 1, so that looked like a chance for me to hold 5th place which would be a good bonus.
The lights went out and we were racing, I got a really good start and shot up the middle of the 2 cars in front of me and it was a drag race for the first corner with cars 3 wide going around turn 1. Chased through the infield still tightly bunched up, then around the hairpin and onto the intermediate straight – this is where I watch the other guys disappear! From then in it was just a matter of me maintaining my position and following the guys in front, watching them get further and further away after each of Manfeilds straights! As race 1 usually is, it was a fairly boring race – basically, the real quick guys up front were together in a pack, then there was a big gap back to me, by myself, then another big gap back to the rest of the field.
Due to some handling issues I backed off for the last few laps and finished comfortably in 5th place, but Richie Arber had made it through the rest of the field to finish in 6th place behind me, showing he was determined to put up a good fight for the trophy.
Huxford won that race, with Kerry close behind in 2nd, Colin 3rd, and Ross Thurston 4th. Huxford busted out some more 1.09 laps, and the other 3 behind him were all running 1.10s – making it probably the fastest field the GT Cup class has ever seen!
I still managed to set a best lap of 1.13.4 so was quite pleased with that given the handling issues I was having.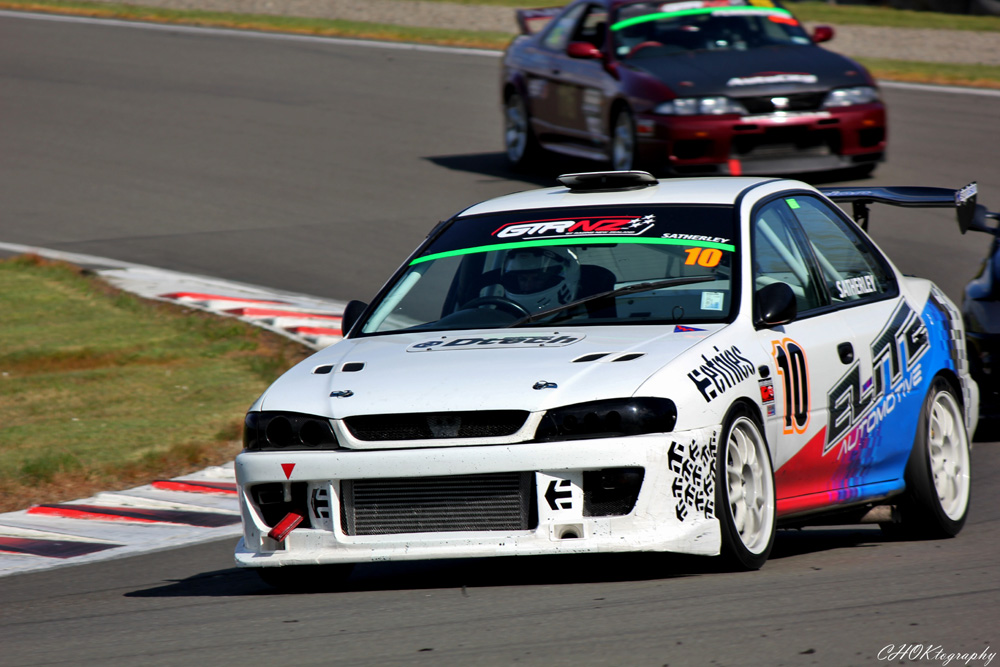 During the break between race 1 & 2, I made a few adjustments to the swaybar settings and the suspension to hopefully try and sort the handling issues – I guess the main problem was the tyres, so was just trying to balance the car out a bit and get a bit of extra grip that the tyres were struggling to provide.
Race 2 – Reverse Grid Handicap (from 2nd best lap time in Qual & R1):
Here's an in car video
As per usual, race 2 starting positions were based on our second best lap time taken from race 1 & qualifying. This had me starting way back (nearly around the corner!) in grid #35 with a 40 second handicap. I was starting in a group of 3 cars, with Paul Bass (RX7) and Glenn Smith (Evo 10) in front of me.
Colin Parkin (WRX) and Ross Thurston (Evo) were starting 5 seconds behind me, then Kerry Halligan (Evo) and Wayne Huxford (WRX) were let go another 5 seconds behind them.
I got a good start and shot straight in between Paul and Glenn and started to chase the pack that was ahead of me. After 1 and a half laps I had caught up and started to pass some cars – mostly under brakes going into the corners after the straights, and also passing through the in-field (I can't pass the powerful cars on the straights).
By lap 3 I had made good ground and caught another pack of cars, passed a few going underneath them around Higgins corner. On my way down the back straight on that lap I could see Ross Thurston on the charge behind me – he passed me going into Dunlop corner. Coming down the front straight into turn 1 we caught another pack of cars, so it was certainly busy going through the in-field. Made another few passes, came around the hairpin, and then saw Wayne Huxford in my rear-view mirror, he was flying so I moved to the side to let him through – no point trying to challenge him around the next corner as he would only blow past me on the straight anyway!
Made it through some more cars, and on the 5th lap ended up catching up to Richie Arber (Evo). Now I only had Richie, Jeff Cooley (RX7), Huxford and Rosco ahead of me. All going well I could make it past Richie and Jeff and try to grab 3rd place. Given we had 1 lap to go there could be a chance that I could catch up to them enough through the in-field and try to get them under brakes into Higgins or Dunlop, but it wasn't to be – for some reason the race was cut short by 1 lap, and the chequered flag was out as we went down the front straight (to start our 6th lap). Ah well, 5th was a good finish for me, and it was a really fun race. Bonus was that the adjustments I made to the suspension etc helped a bit and the car didn't feel as bad as it did for the first race.
I would have thought that Kerry would also be flying past me at some stage in that race, but it turns out he had a bit of a freak accident in which one of his brake duct pipes fell off, got wrapped around his axle, causing bits to flap around and severe some wiring which caused a brief fire in the engine bay. Luckily it was only a small fire and there was no major damage.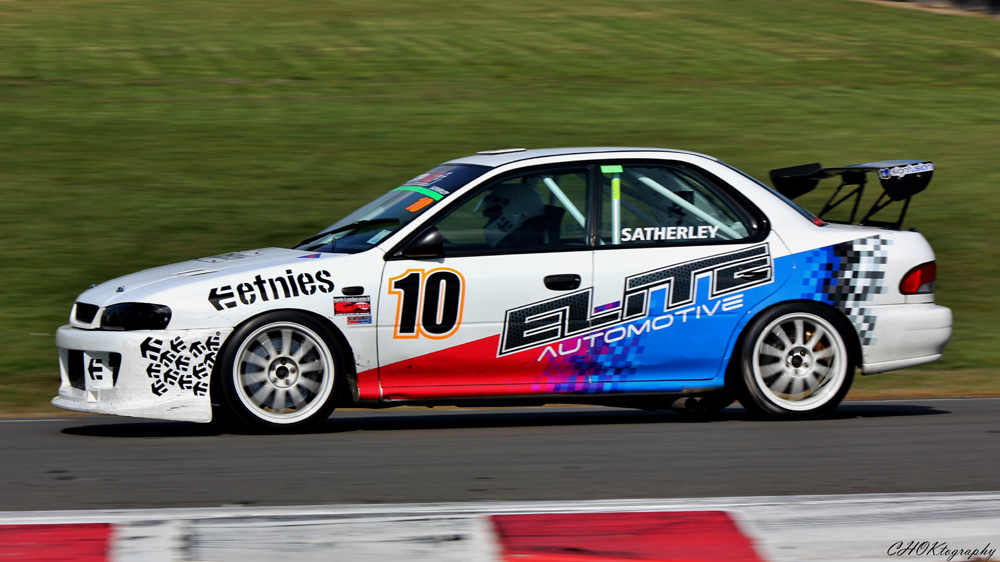 Race 3 – Reverse Grid Handicap (from 2nd best lap time in Qual, R1 & R2):
Race 3 is the same format as race 2 in regards to the handicap, but takes into account your laps from race 2 as well. This put me in a similar starting position as before, just one over in grid 36. Paul Bass and Glenn Smith were in the grid boxes ahead of me, all 3 of us starting on the 9th flag drop with a 40 second handicap.
Got another decent start, but Glenn Smith in the Evo 10 ahead of me did as well. I couldn't match the power of his car so just stuck behind him and waited for a passing opportunity. Glenn's car has a decent chunk of horsepower so it is extremely quick. Also being 4WD made it hard for me to catch him in the areas I usually catch the other cars (through the in-field). I just kept following him, as we both made our way through the cars that started ahead of us. We both managed to pick off quite a few cars and we were steadily making our way through to the pack currently leading the race.
On lap 4, Ross Thurston went flying past me, and then passed Glenn ahead of me. Ross was on the charge again, and it was pretty much a given that he would take the race win!
I then noticed a lot of smoke coming from underneath Glenn's Evo… it didn't look too good for him, but he still pressed on. We both passed a few more cars, and then it was just Ross in 1st place (by quite a distance), Glenn in 2nd, and me right on his tail in 3rd. Glenn's car was still smoking, and now I could see massive flames shooting out from underneath! Glenn had now become aware of this and decided to pull over and stop the car on the back straight to get the fire tended to. This pretty much handed me 2nd position, so I continued around Dunlop corner onto the front straight to the chequered flag.
Glenn's car had burst a power steering line, spraying power steer fluid over his hot exhaust causing the smoke, and then fire. He was very lucky that the car did not sustain any serious damage from the fire.
With the final race done, the points were tallied and I had won the ICS GT Cup for the second time. I finished 97 points ahead of Richie Arber in 2nd, with Craig Bartosh rounding out the top 3.  Unfortunately for Kerry Halligan, his car issues in race 2 meant he couldn't go out for the final race, so sacrificed valuable points leaving him in 4th place overall.
As an added bonus, and a complete surprise to me, I also won the "Champion of Champions" trophy for the driver who gained the most points overall out of all the classes competing in the series! This was a really close one though, as I only just beat Simon Wellum (RS Cup driver) by 3 points to take this trophy.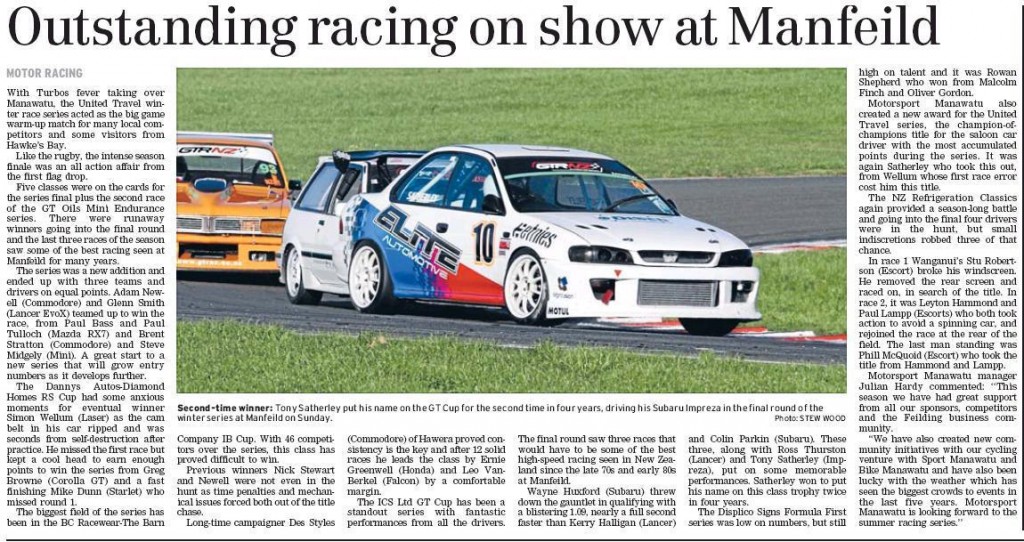 Once again, a big thanks to all those that helped me throughout the Winter Season:
My wife Alana
Eddie @ Elite Automotive
Marcus & Ryan @ Etnies Shoes
Craig & Nick @ Mag & Turbo Palmerston North
Dave & Jade @ DTech Motorsport
Carl @ Sign Fusion
Wayne @ Ocean & Ice
Stephen Brown-Thomas
Al Maclennan/Macbilt
Ross Thurston
Mum & Dad
Julian Hardy and Motorsport Manawatu for running an amazing series.
And all my friends who came to support me at each round.
Everyone's support is greatly appreciated, without you guys my racing would not be possible. CHEERS!!!
Tony