12 Rounds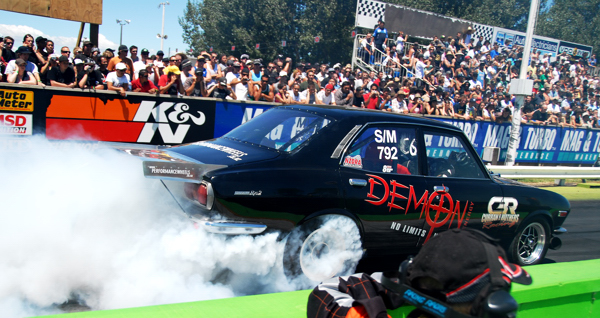 Published on July 26th, 2011 | by mrgrumpyninja
0
NZDRA rep Dan Johnson tells us whats up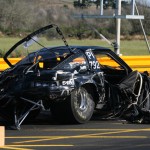 Ok let's get this bit out of the way , there was an incident a few years back that made the news and made the driver pretty well known, that man was Dan Johnson. A combination of factors saw one of our top import race cars reduced pretty much to scrap, and from memory also made Dobbo's "plays of the week". Sh1t happens, and people move on, so that is all we are going to say about the matter.
I say this upfront, as while that is what perhaps bought Dan Johnson into the mainstream spotlight, he's actually as I found out been campaigning cars and winning events for many years. He's one of those guys who just has a love for his sport, and is further taking this dedication to another level by also being a class representative to the sanctioning body (cue- IH/NZ- DRA debate) . Due to this, he was also able to spill the beans about what's actually going to happen this year on our drag strips.
Dan sent me a few pics to help with this article, which got me searching the memory banks, and wondering how many all motor warriors got sick of being torn up on Friday nights by the Black RX2 sporting the 1MADPP plates. We might actually see if Aaron "REVLMT" Bennett wants to talk in the near future and I'm sure  it will probably come up.
So here we go….. DJ roll on up to the staging lights.
Usual starter, introduce yourself to the world of MGN.
Sure, I'm Dan Johnston of Auckland,  I'm 32 and married with 2 kids!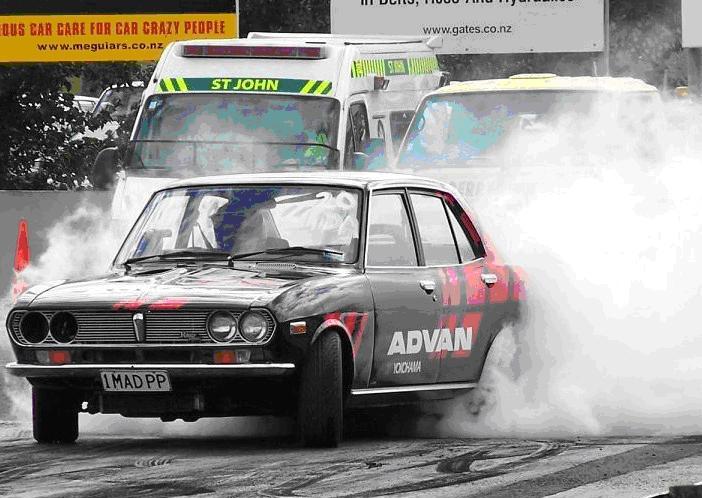 How long have you been drag racing for
I've been racing for the last 10 years or so, perhaps a bit longer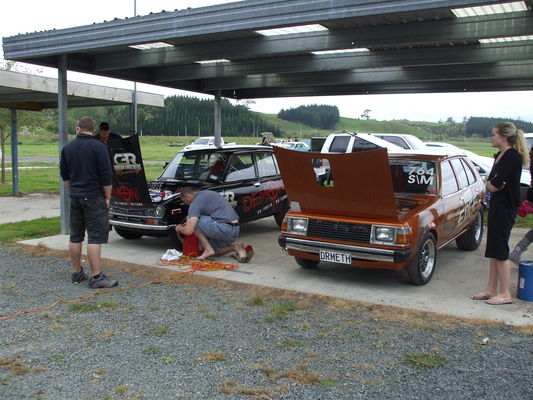 You initially started off with the PP rx2, What made you decide to step up?
Well I actually brought the RX2 off Brent and Kim 10 years ago, and after years of tweaking the PP to get it down to a 12.3, I went to Brent after seeing what a great job he did with another mates car (Daniel Tyes 323) and said lets do a NA PP Methanol motor and before you know it the PP was on trade me and we'd built the mean as 13B Turbo for it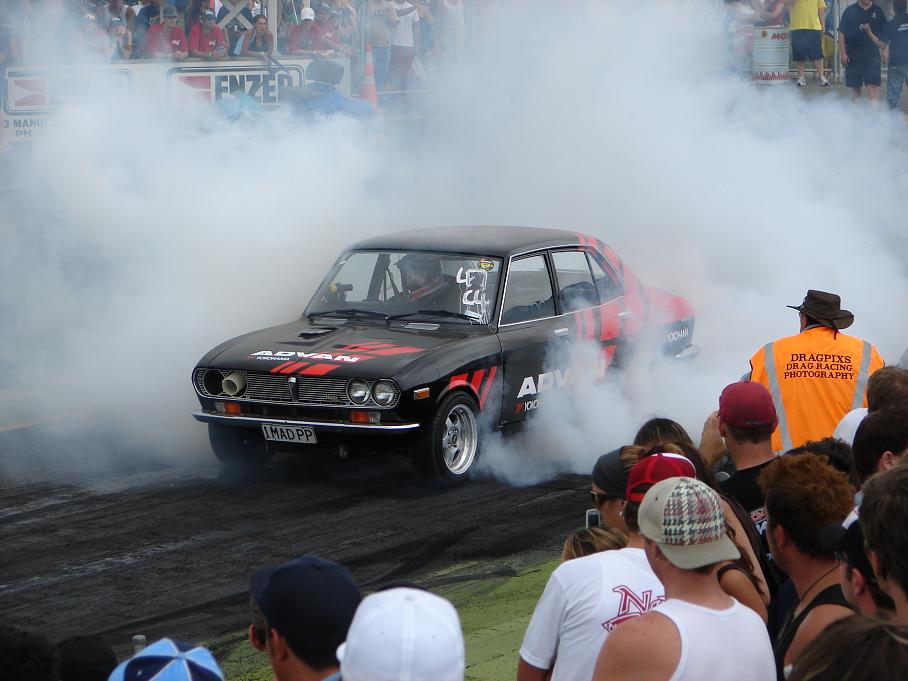 How steep was the learning curve, small to large tire?
Ha it was steeper learning curve going from a 12 second car to a 9.0 second car in one meeting! The first time we took the RX2 out in its sports modified guise was in masterton and Brent did such a great job at the tuning he got me down to a 9.0 in the first race meeting and the old RX2 didn't know what hit it! We were going that fast the two skins of the bonnet spilt apart at half track and it looked like a blue whales gaping mouth, so we pulled it off and ended up putting bolts through them in the turn around time to get back out there for the next round.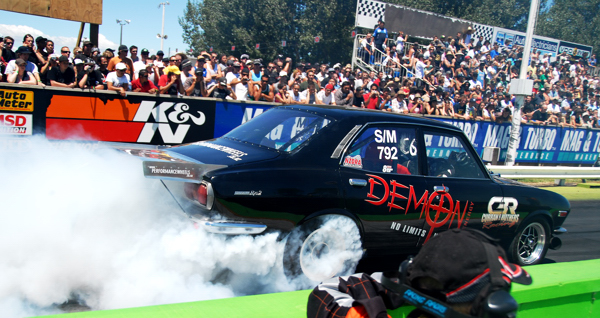 But yeah going from the small tyre to the big tyre of the RX7 was insane, the feeling of  the extra grip of the launch was insane! And the feeling of 2 shoots trying to propel you into the windscreen at 170 mph was nuts at the other end!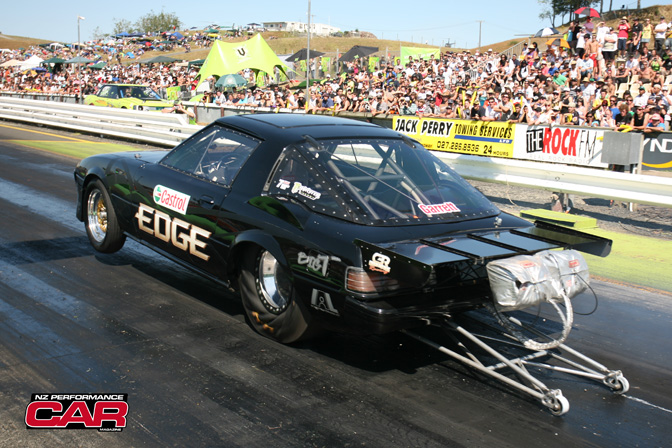 Most respected rival or guy you know is going to cut a good light and give you a good run for your money?
Don't tell Brent but after seeing him get his reaction times down to a near perfect every time I'm dreading lining him up! But imagine the games that'll be on when we do!
How much work do you do on the car?
Its about a 70-30 split between Brent and I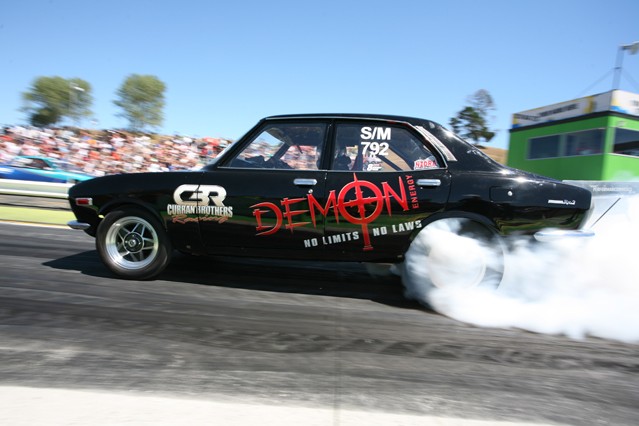 Talk me through a week before a big meet with the team
Well I get it pretty easy actually! Brent does all the hard work the week before making sure his car is good to go, and if he needs any help he'll give me and Paul a call, then we load up nice and early and roll to the track and unload the mountain of gear that is required to run a car at the level he does week in and week out!
Lets talk about your other role as NZDRA rep, clearly has its challenges ?
Yeah its hard to keep everyone happy, but I'm really enjoying being the voice for the sports compact drivers within the NZDRA and trying to help the sports compact committee grow into a class that all the other racers stop working on their own cars and walk over to the bank to watch, and we're getting there, the purist V8 guys are starting to ask a lot of questions about these chook cookers!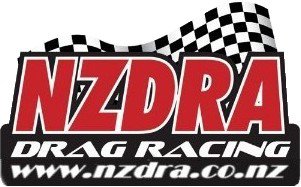 For those who aren't aware, whats the high level view on the sport currently? Obviously with your position, you can only give facts not opinion
Well without giving all NZDRA's secrets away and giving you the exclusive! They have plans in place to continue to run a national series this year, and after having the nationwide drivers meetings we found the drivers want to back NZDRA because at the end of the day its their governing body and us as drivers get to have our say in how our sport is run. So I think the future is looking pretty good for our sport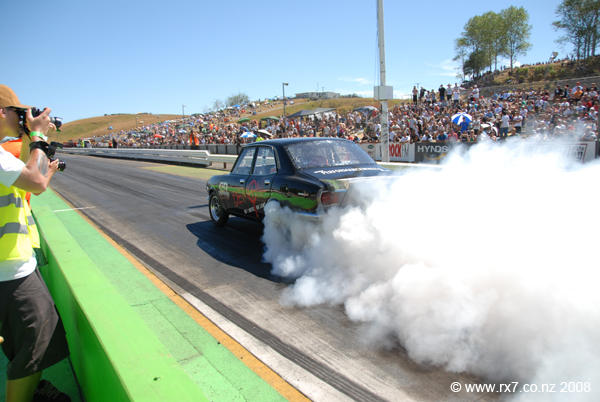 I asked a couple of other guys, whats changed over the past 5 years, have our cars got to fast for the tracks?
With guys now spending the money in the right places like the bigger diffs the stronger gearboxes, yes they're getting a lot faster but they're also spending it on the safety aspects of the cars as well, look at how many import crashes we've had over the last 2 seasons, and every one of the drivers walked away, so that is a massive upside, the tracks are always looking at ways to make our sport safer, so I wouldn't say our cars are too fast.
Lets go with something a bit more fun then…..the new DJ racer… what is it? When will we see it?
Ha, well it's a FD RX7, left hand drive from the states, with the complete engine bay built by Brent, with one of his insane engine combos (but you'll have to wait and see it at the track) and its got a air shifted Lenco behind it so it should go alright! As for when it'll be ready we're aiming for the start of this season to get out there and have some fun with it and enjoy the fruits of our labour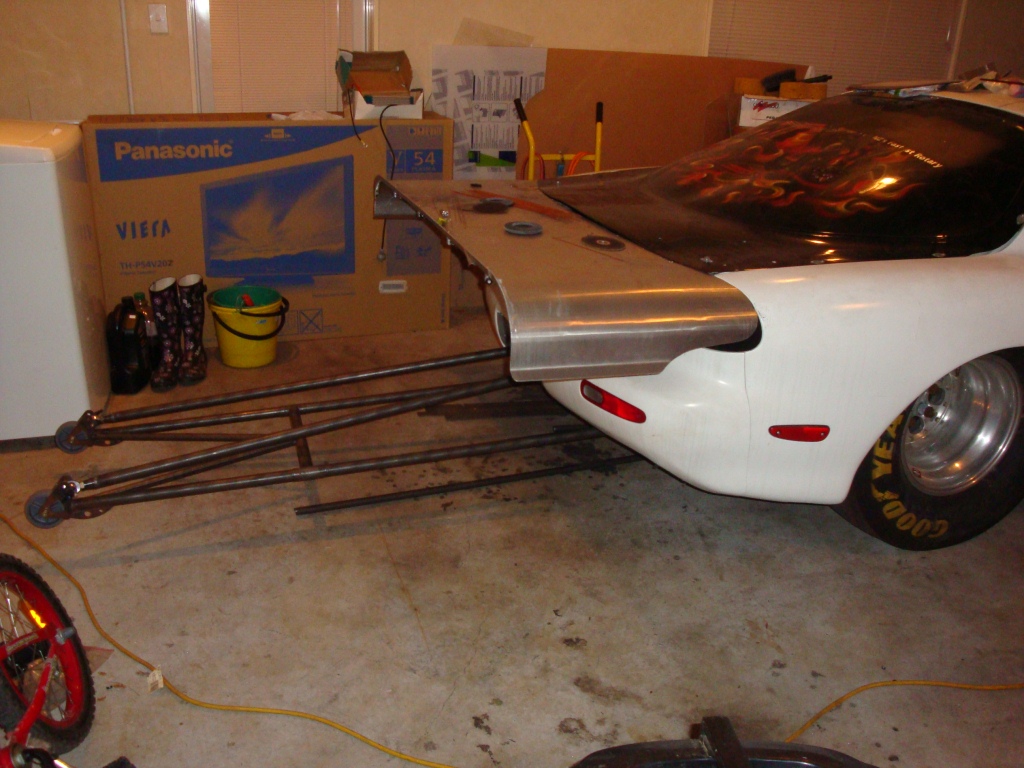 And lets close with whats DJ's vision for the future? Get the car to Oz/Us to run? Live in world piece? Just get to the end of the week and have a cold bourban?
Well there's always time for a beer and a jager at the end of the week!
I'd love to take the car to oz to show our cousins across the ditch what we can do on a level playing field (excuse the pun) but for now I just want to get the car out there and enjoy running it for a whole season of travelling the country to race meets where we get to have more beers and jager! (theres a theme here- MGN)