Circuit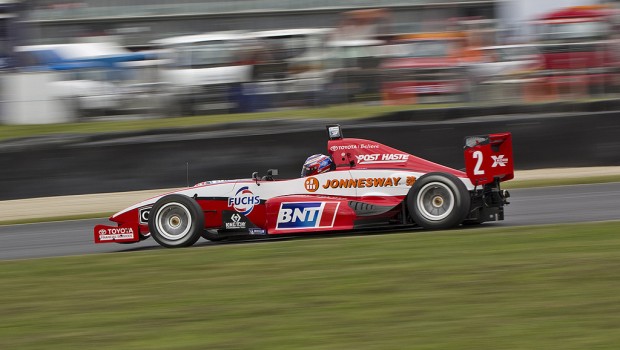 Published on February 6th, 2012 | by mrgrumpyninja
0
Nz Motor cup and IRC at Hampton Downs
I've quite enjoyed my season so far as the voice of the IRC. If you don't know what IRC is, it's the Independent Race Classes, essentially a collection of what I'd call "passion" racers who are in cars as much for the camaraderie and fun of being involved as actually going out to win. Don't get me wrong, these guys (and girls) mean business when they are out on track, but with so many classes also having classes within classes, you get inevitable speed differences and a lot of guys just racing themselves or one or 2 others for pride and fun, and there is as much joy if not more in the social aspects of a meeting
The opposite of this is the Toyota Racing Series, which this year has attracted drivers from 12 countries to attack a 5 week long series with some of the best young talent ever seen in this country taking part in the show. TRS is serious business, with team of engineers, big dollars and a fair amount in terms of driving future riding on doing well down under for some of the series emerging stars.
Thanks to my friend and man of questionable old school motoring tastes Snoozinrich, I can share some of yesterday with you.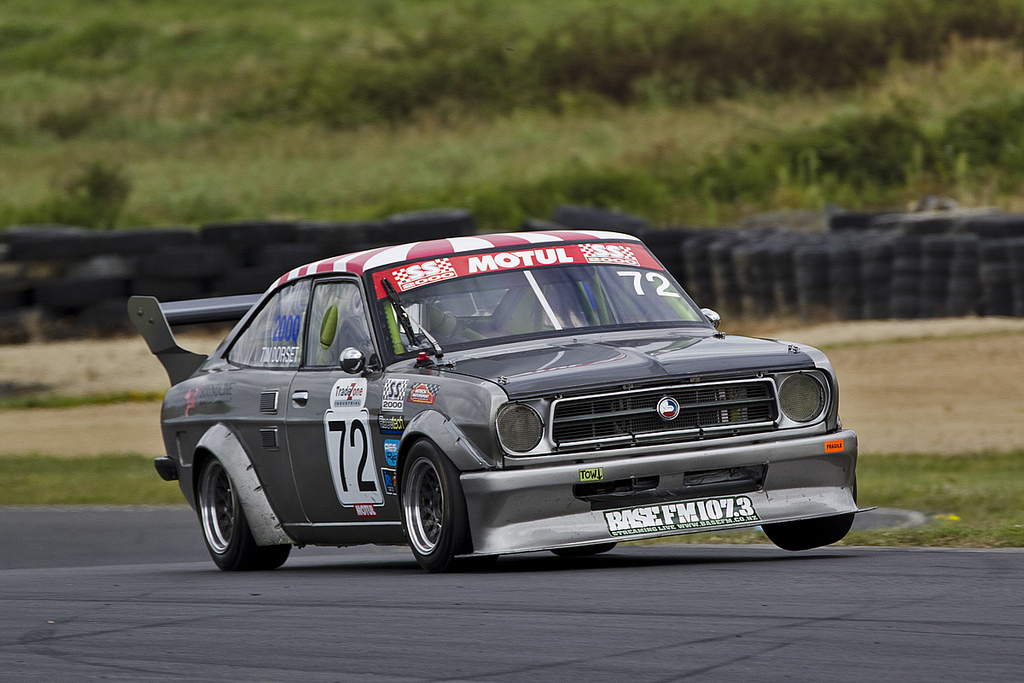 It's quite a varied program at IRC, out first for the day were the New Zealand Sports cars and Star Cars. This class is a great example of the variance in an IRC program with what I sometimes call Catamarans on wheels doing some of the fastest lap times you will see all day, mixed in with Fraser/Caterham 7s, the odd MR2 and the S.T.A.R cars which are short tube chassis' with motorcycle engines.  It was to be  a Geoff Short benefit day in his Juno, taking 2 wins from 2 starts ahead of Dave Glasson who you can see here in his Radical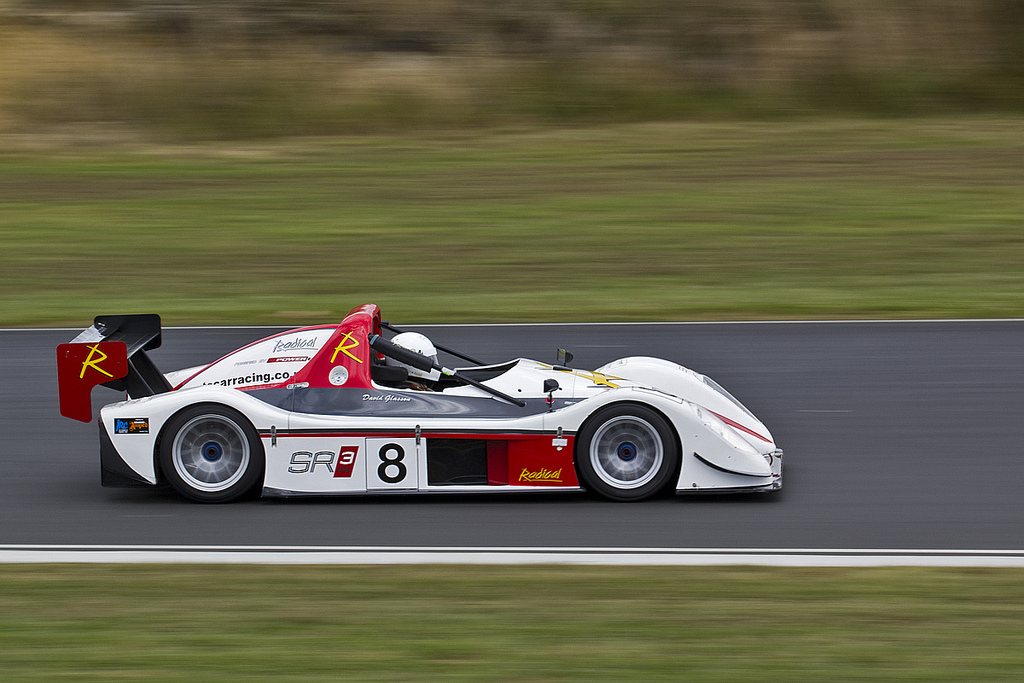 Following the sports cars were the Nitto Tires NZ six and HQ's. I probably shouldn't mock these cars as much as I do as the man who hires me runs in this class, but it does at times resemble the motorway to West Auckland with bumper to bumper Holdens and Fords, no inch or quarter given as these evenly matched cars do battle. Race 1 on the Sunday went to #82 David Dovey, with Brent Cooper in the #11 HQ winning that battle, While race 2 had a little drama as Steve Bennebrook copped a 5 sec time penalty handing the win to #51 James McLaughin, who had battled with #40 Bronson Porter the whole way.
Formula First, pretty much just go back to any other post you've seen me write on IRC, Sheppard, Hellier, Scott and Higham at the front again dicing and dueling for the win. It would be Rowan  Sheppard grabbing 2 from 2 on the day, the last race there was .060 separating the first 4 cars as they crossed the line 3 wide.
Kumho Tires pre-65 is a strange class, I think you probably love it or hate it. I'm kinda getting to love it just because of the massive variety of cars and the pure carnage that often seems to happen.Billy McKinnon aka Mr Coby is the man to watch, generally from the back of the field and on a dry track is always going to be hard to beat. At one point McKinnon going 1.16.01 , in a car from 1965….. you do the math…bet your WRX or Evo can't do that.
Formula Ford, gotta be honest, just couldn't get into this class. 8 cars on a track where they disappear from sight is just plain hard work. Andre Heimgartner had a great battle all day with Tom Alexander, whom I am told is under the mentoring wing of the legendary Kenny Smith, and managed to come away with 2 from 2 in the Pink Batts # 1 entry
SS200o is always of interest to me. It's sort of the most relevant class to those of us who've grown up on an import car diet, and it feels like the handicappers in this class are doing a great job. Ant Te Rito is simply a machine in the #41 Raka Staka Honda Civic, and when I saw him line up to start from the pits in race 2, I knew we'd be in for something special. Te Rito delivered, driving the wheels off his car to take 3 from 3 for the weekend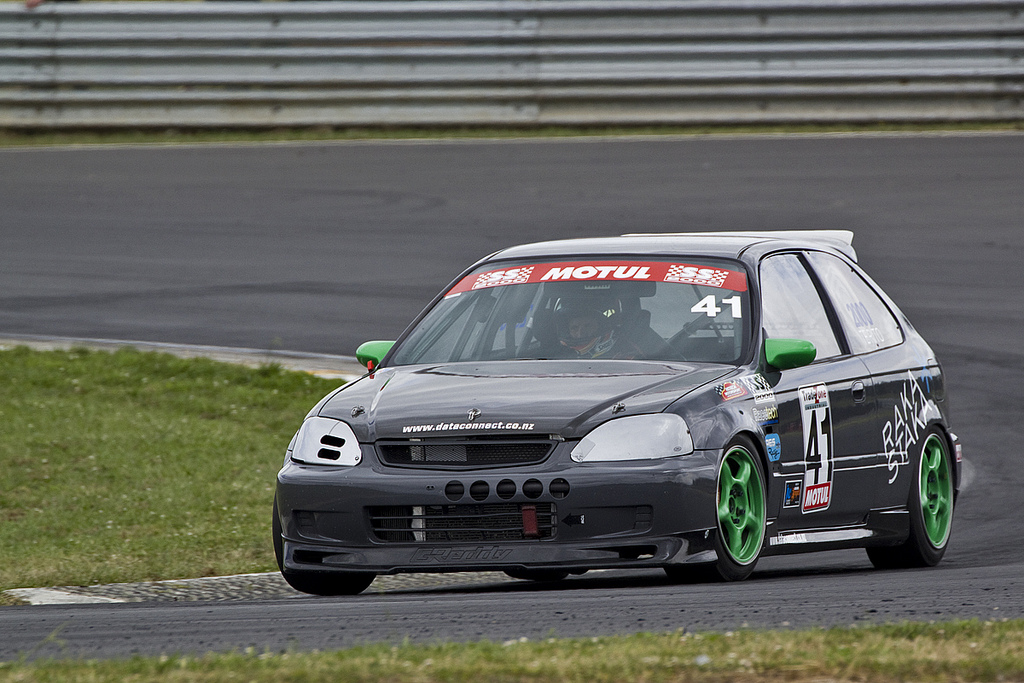 Koken Superminis also run as part of the IRC, and as usual there were battles all over the track , #36 Steve Midgely taking the win in the first race, unfortuantly I missed the second.
Toyo Tires have one of the longest standing sponsorships in NZ motorsport, and it would be Matt Lockwood in the #7 Coloursteel car who was the star of that show in the Toyo Tires Pro 7 class.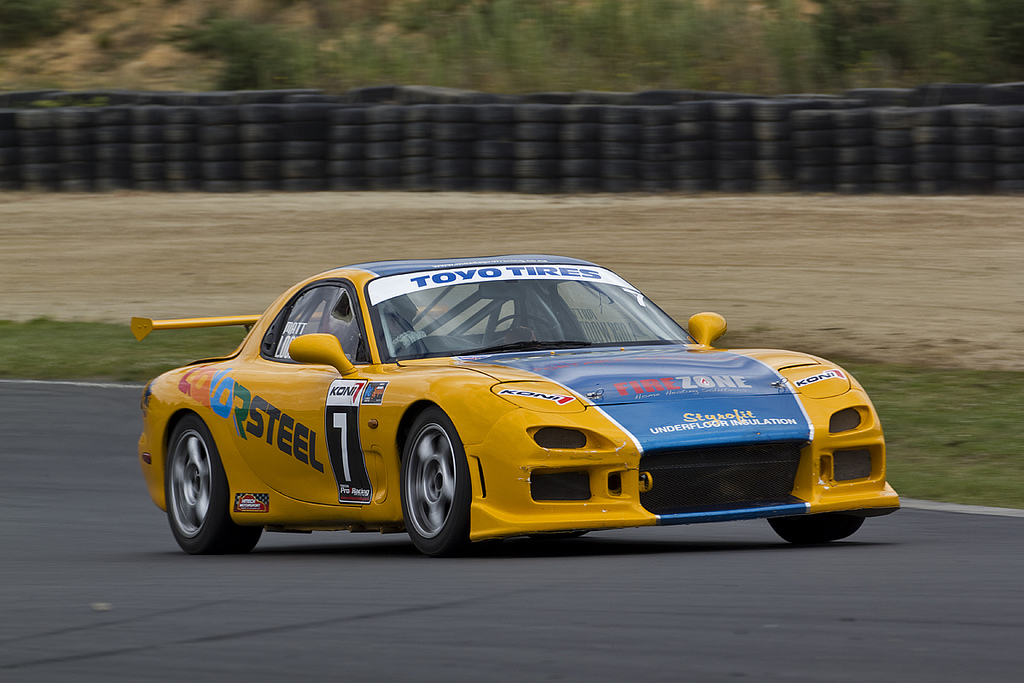 Bridgestone Porsche is also a long standing relationship, and the class is growing again with the invitation of the GT3 cup cars to the series. Craig Innes showing the cup cars speed along with Aaron Harris, while #63 Kev Etches showed the benefits of his racing experience to grab a win.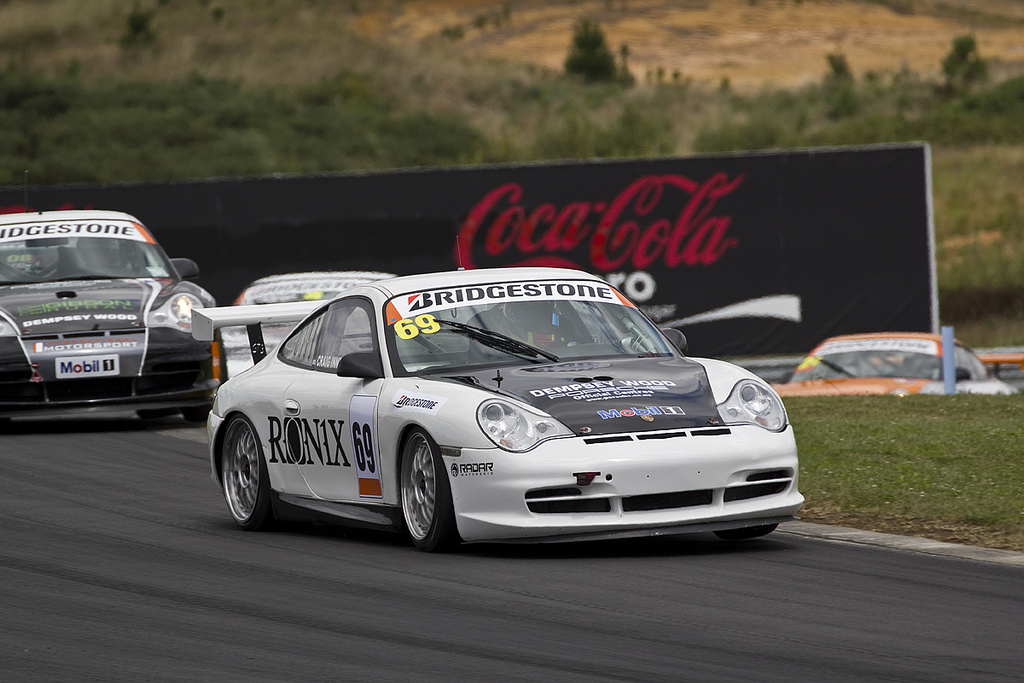 The reason most were there though was the Toyota Racing series, and with Eric and Chudleigh taking over commentary, I got to simply stand and watch as this swarm of angry hornets attacked the Hampton Downs Circuit. It was a little confusing to understand how the format for the motor cup worked, and I think it was something like a combined aggregate of the 2 Saturday qualifying sessions, not that it really matters as it was simply fast at the front, and least faster as you went back.  There was a morning race to wet the crowds appetite,and with a bit of an incident taking Josh Hill out and creating some pit lane tension, it would be Ferrari Academy driver Raffelle Marciello who would simply storm away with a win before the lunch time break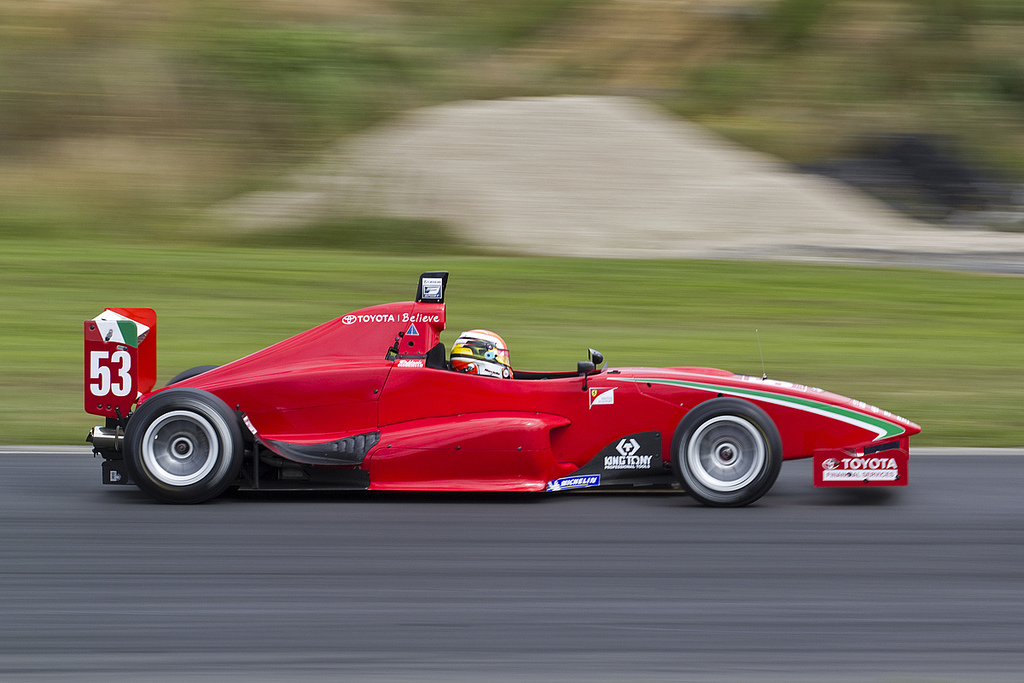 The main race was to be a 20 lap affair, and the grids would see rising star Nick Cassidy on 1, with countryman and defending title holder of the NZ Motorcup Mitch Evans on 2. Evans is not competing in the full series and was simply back to defend a title he held, before going down to try and defend the NZ Grand Prix at Manfield next week.  I'm sure you can find a more detailed report elsewhere if you are that way inclined but I'm going to just surmise this into – bonifacio crashes out on lap 1, several laps under safety, Russian driver who's name I couldn't spell or say spins, then drives into sand trap- safety car, Cassidy never really looked like being caught, although Van Asseledonk did seem to be making up some ground, Last lap madness strikes and Damon Leitch and Jono Lester decide to trade training tips while forgetting to drive race cars, Lietch doesn't finish and Lester goes from 8th back to last.
Man of the moment though, and thoroughly deserved winner of the NZ Motor cup and now series leader. Nick Cassidy #2 for BNT/CRC/Jonnesway,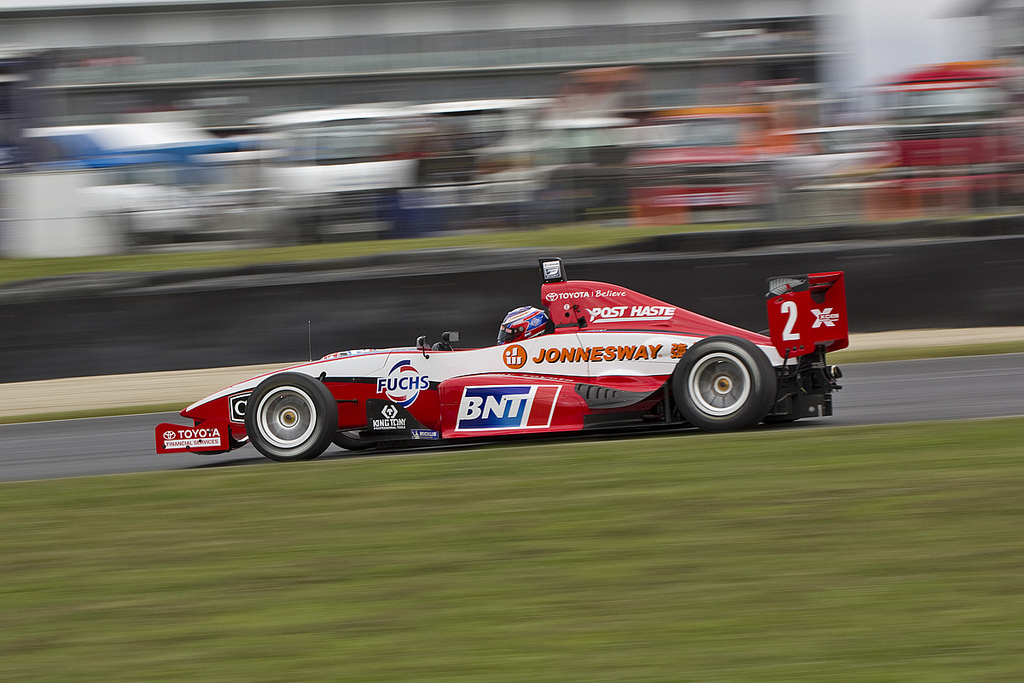 For anyone who was there, sorry about the PA, its horrible.
And now on to Manfield the TRS train goes!!!