Sideways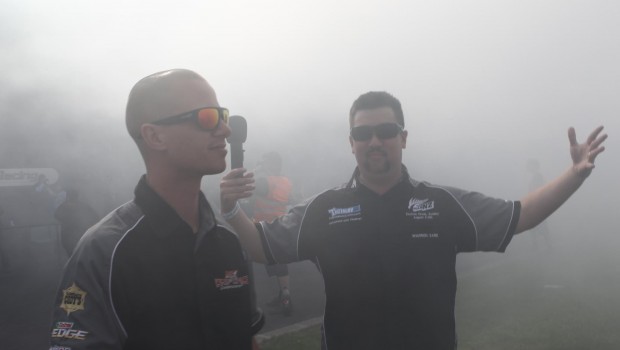 Published on November 29th, 2011 | by mrgrumpyninja
1
D1NZ comes home to Pukekohe for Round 2
They call it the fastest drift corner in the world, the drivers talk of it being a heart in your mouth ride, the bumps mid corner can unsettle even the best and send them spearing out of control towards the sand or armco, Ladies and gents…. Welcome to Pukekohe park, the home of NZ drifting and scene for one of the best drift events seen for many years.
Castrol Edge presents the D1nz national drifting championship series round 2!!
Cup sponsors Driftmax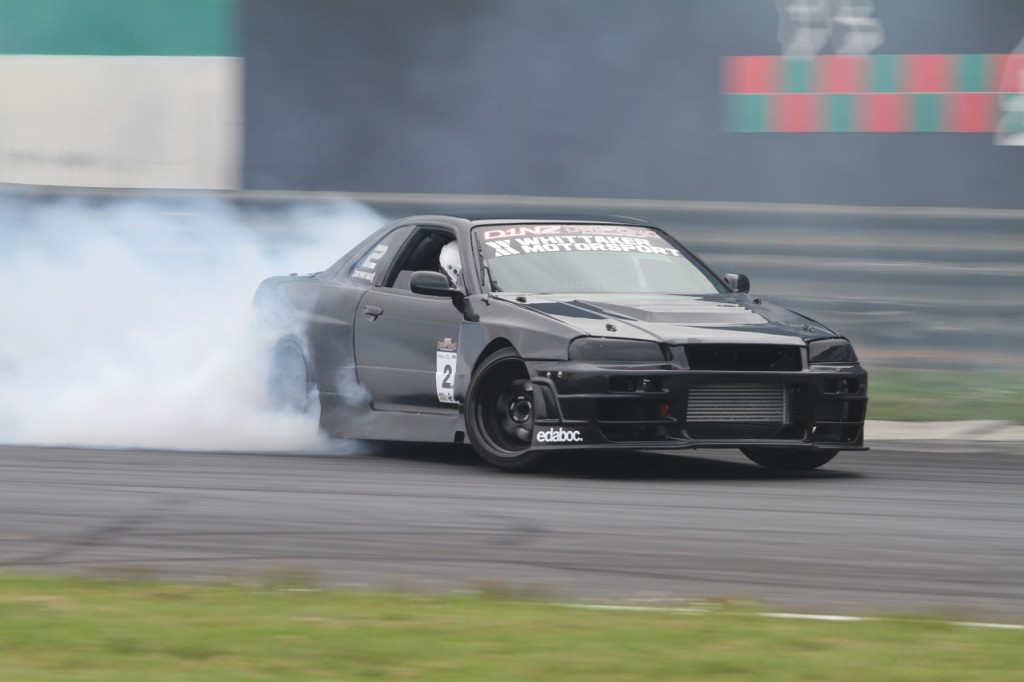 After a fantastic season opener expectations were high for the event, which along with drifting would also introduce the new Time Attack series to the drift public.  With a solid field of entries, a host of super enthusiastic Pro-am drivers and 10 of the countries fastest time attack racers registered, the scene was set for a massive 2 days of tire smoke and top notch battling.Friday is the day of the Pro-Am driver, and the easiest way for me to do this is just to run images in order of how the top results fell.
Taking out first place after qualifying in second, was the AOSC sponsored S15 of Shaneo Poulton. Shaneo has easily the most powerful car in Pro-Am and is starting to come to grips with the 400+kw monster Silvia prepared by All Out Motorsport. This car has more fruit than a party at Elton Johns house, and as Shaneo gains more and more experience it will be tough to beat him.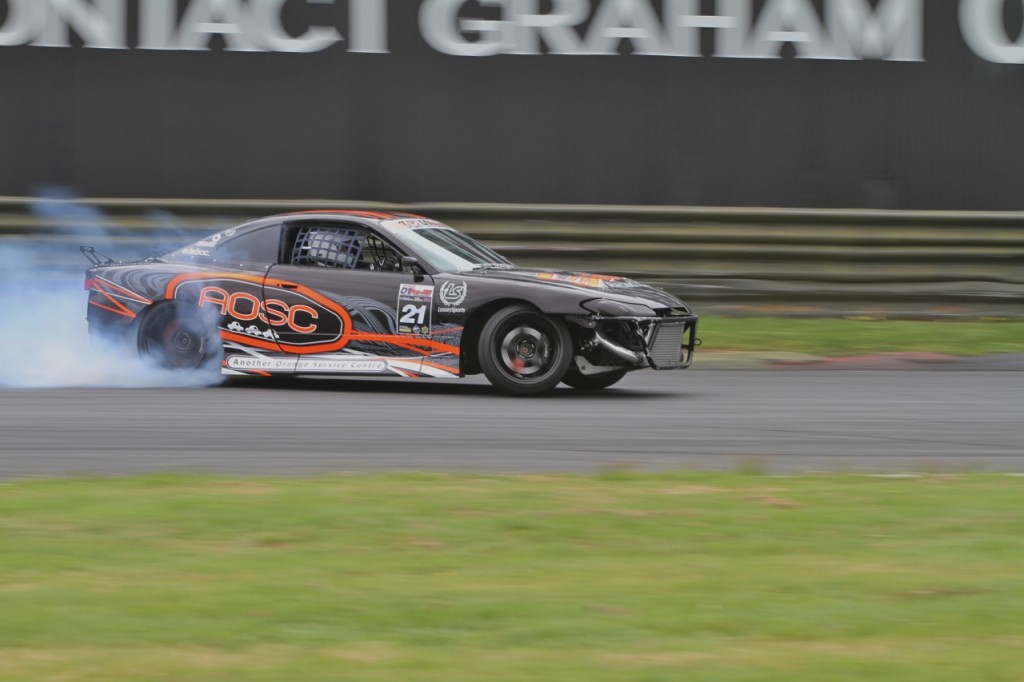 Close behind in a final that I found tough to call from the commentators vantage point was Cam "sheep shagga" Vernon in his E&H motors prepped R32 skyline. Vernon was the class of the field in qualifying, with the local man far more comfortable firing his car into the sweeper than any other pro-am driver, showing the benefit of many laps with seasoned pro Carl Ruiterman as a tutor. Vernon would ultimately fall to his own enthusiasm, chasing Poulton in while holding the advantage and having to straighten when the switch was made at a slower than expected speed. While no doubt kicking himself, it will have also been a valuable lesson for Cam who's 330kw and lack of fear makes him quicker than most entering judged sections.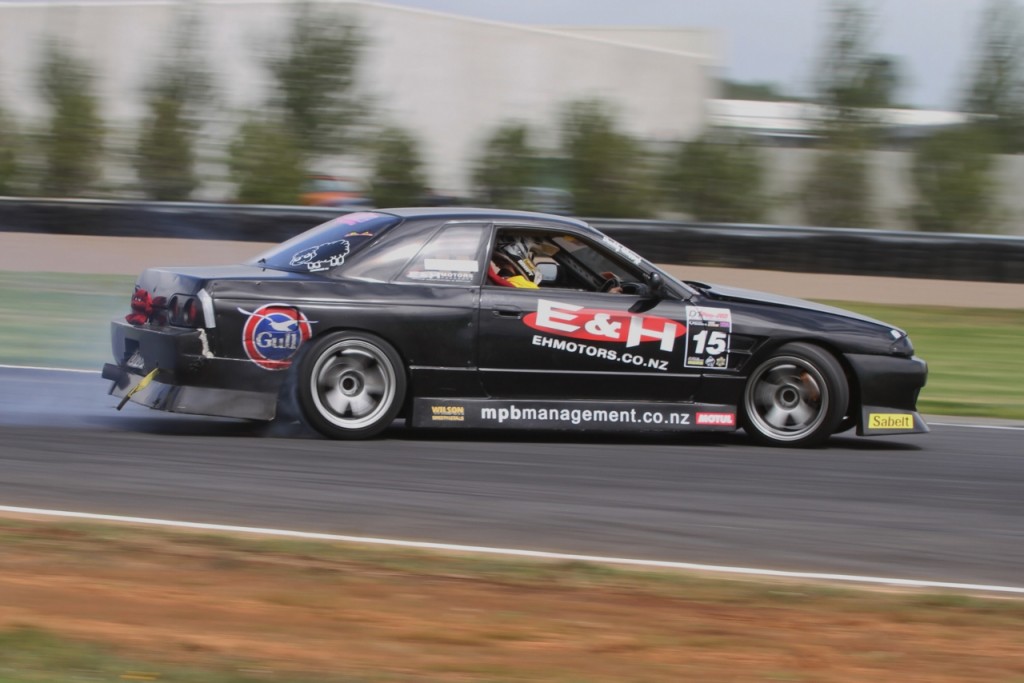 In 3rd place was a man more renown for his straight line skills but proving himself to be quite at home in his Laurel , Joe "Yoda" Kyle of Joe's Mechanical fame.  In an ironic twist it was Vernon's 32 that knocked Kyle out in the semi final, perhaps giving Joe a taste of how so many have felt over the years at various drag events. Kyle seems to be another on the improve, and will challenge for a top 3 for the season.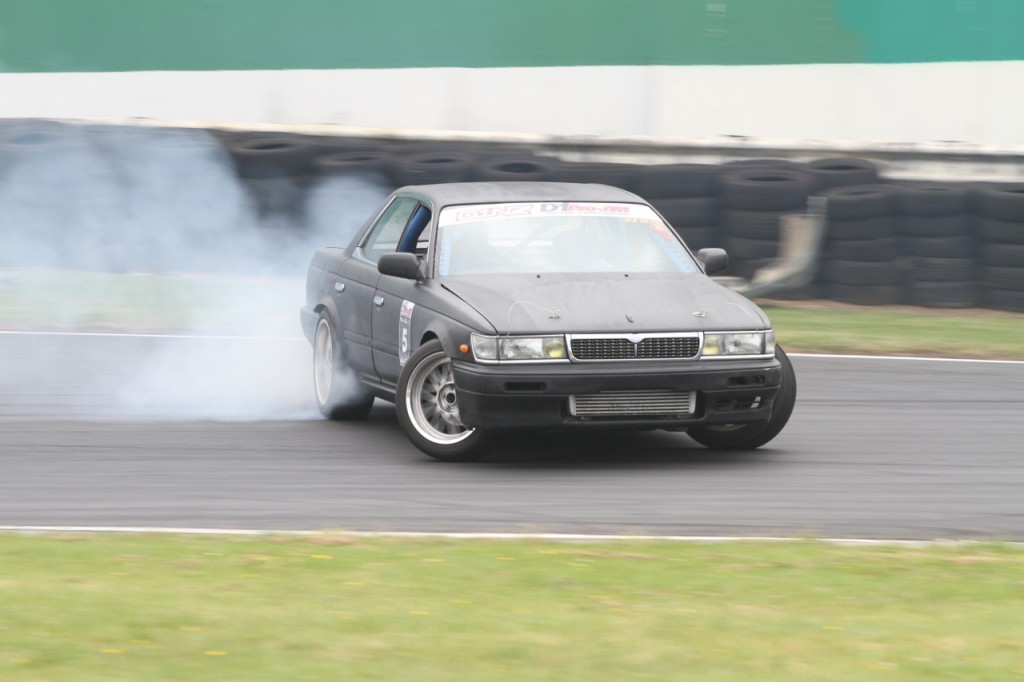 Seems a good place to chuck in an image of round 1 winner Russell Sifleet, who was looking on track for another strong performance, only to discover that Castrol Corner is not a nice place when it goes wrong and driving your car down the straight with coolant falling out of  it isn't so good for it.
I"ll cover off time attack now, before getting onto D1NZ Pro, the drivers had 3 sessions each day with the clock running every lap. Done with full transponder setup there would be no disputing times, and drivers could focus on getting consistent lines. In first place in the Pro- Am section, for cars with WOF and Rego, was event sponsor and regular racer Harry Dodson, who drove his car down and ran a 1.01.687 for the fastest overall time.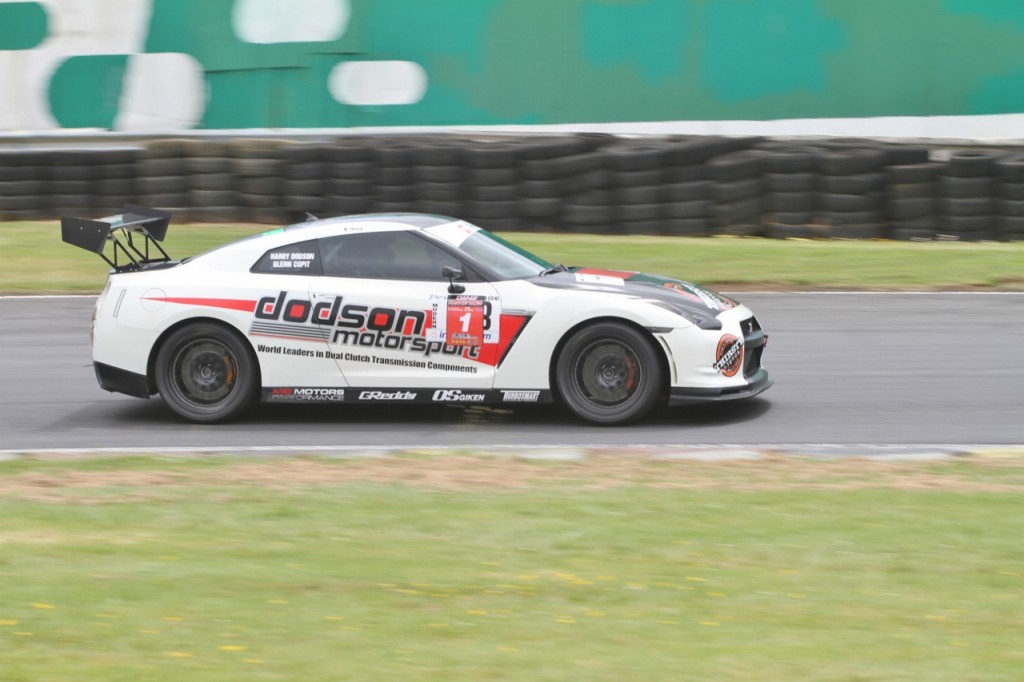 In the Pro section where rules were more open, it would be local man Hans Ruiterman who would put his 309kw S14 race car around the track in an outstanding 1.02.853 to take the win. Ruiterman was attacking the corners like no other driver, taking full advantage of his Porsche Cup Michelin slicks and looks to be a driver who could do very well in 'field' racing series such as gt2.  Hans was understandably happy after a long Thursday night at the family workshop E & H motors doing final tuning tweeks.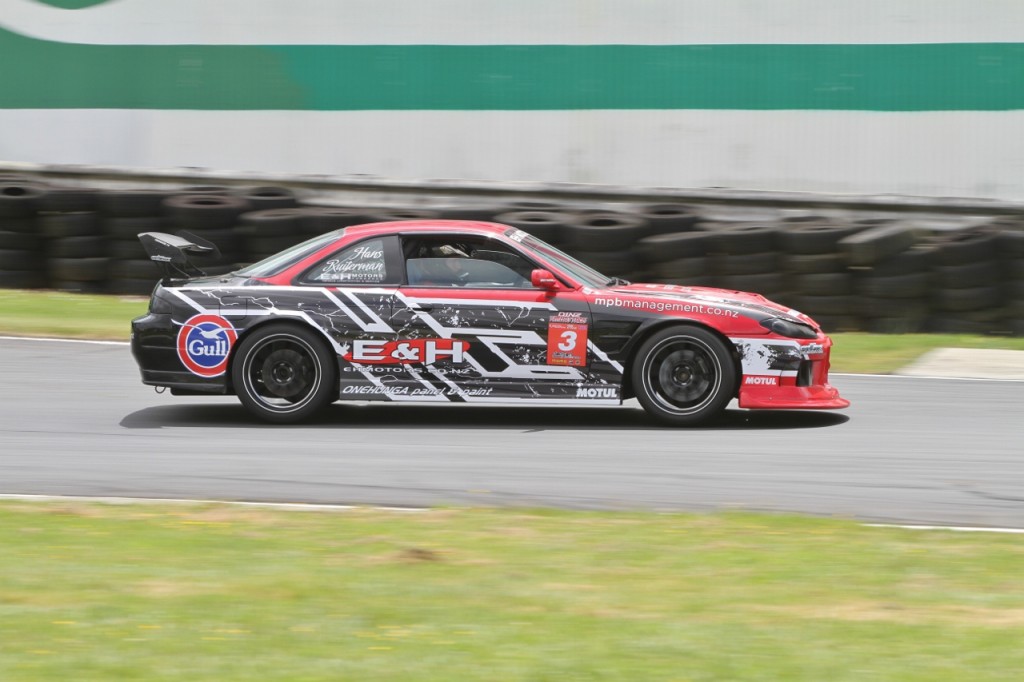 In a somewhat freindly rivalry dubbed the 'girlfight' , Kat Benson would beat out Kerri Mareeba in an unofficial ladies battle where both girls improved their lap times massively, Kat dropping 8 seconds, and Kerri 11 seconds over the course of the weekend.  Both girls interestingly commented how they really enjoyed the event, and enjoyed the respect they got in pit lane.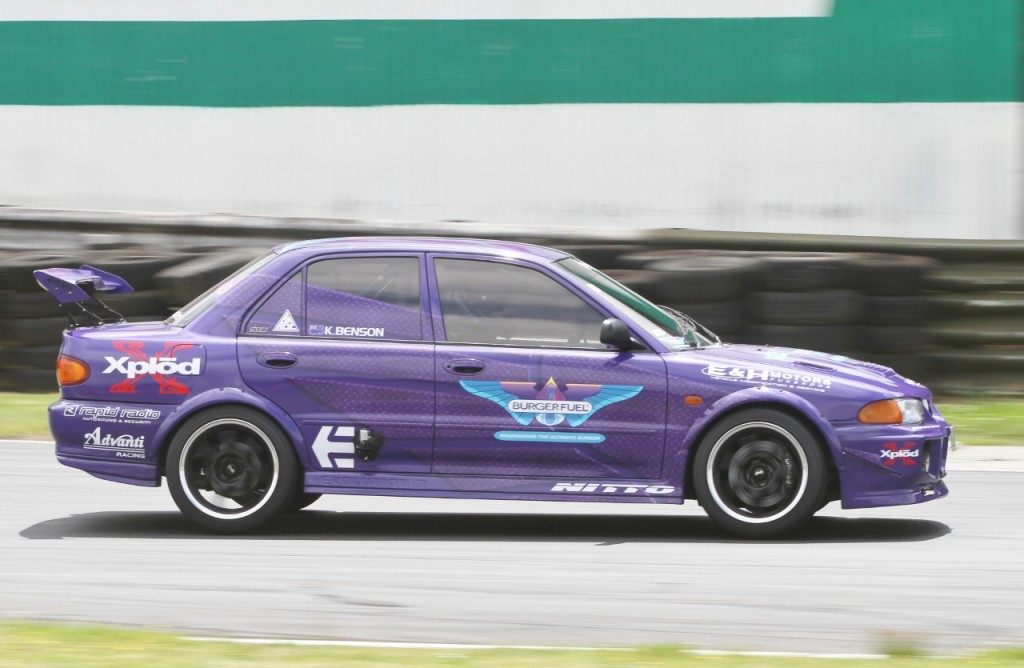 Full field results were - Harry Dodson, 1.01.687 -sat, Hans Ruiterman 1.02.853- fri, Daniel Currie 1.06.018- sat, Leon Scott Motorsport 1.06.159- sat, Stephen Brown-Thomas 1.06.185- sat, , Kat Benson Racing 1.07.747- sat, Kerri Mareeba 1.09.128- sat, Scott Kreyl 1.13.675- friday.
So, that brings us to D1NZ pro, and it would be fair to say the lead up to the event had been somewhat messy for many teams for various reasons.  When I wrote my initial preview, it wasn't even clear if the Whittaker team would be present due to circumstance beyond their control. Oh how fortunes change.
The qualifying format was to be made up of 3 passes, single highest score counted, with the field doing passes in reverse order from last seasons results, although for some reason Fanga Dan was among the first cars to run in spite of last seasons placing.
To say that qualifying proved a huge shock would be an understatement, and it would be this man- Darren Benjamin in his 2JZ C35 laurel that would grab the number one spot with a score of 84. Some how….Benjamin did this with only 4th gear!!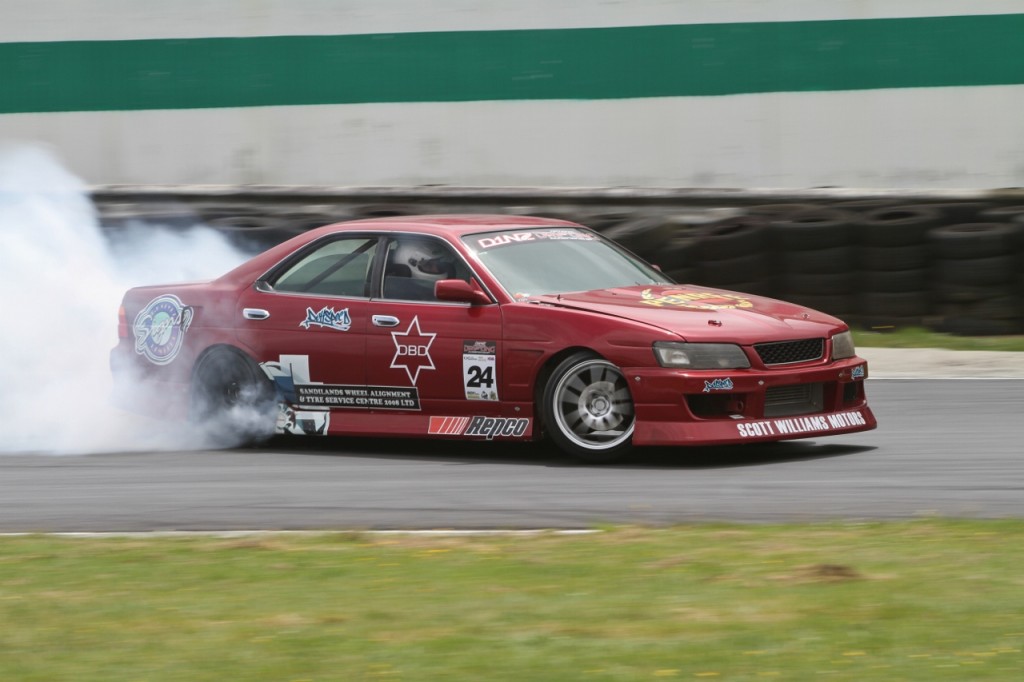 Grabbing # 2 spot was clear crowd favorite Cole 'Promo girl hunter' Armstrong in the V Energy R34. With only 2 competition meets under his belt in the new car, Armstrong was the pace setter with his score of 82.00 giving him the top spot right up until Benjamins last run.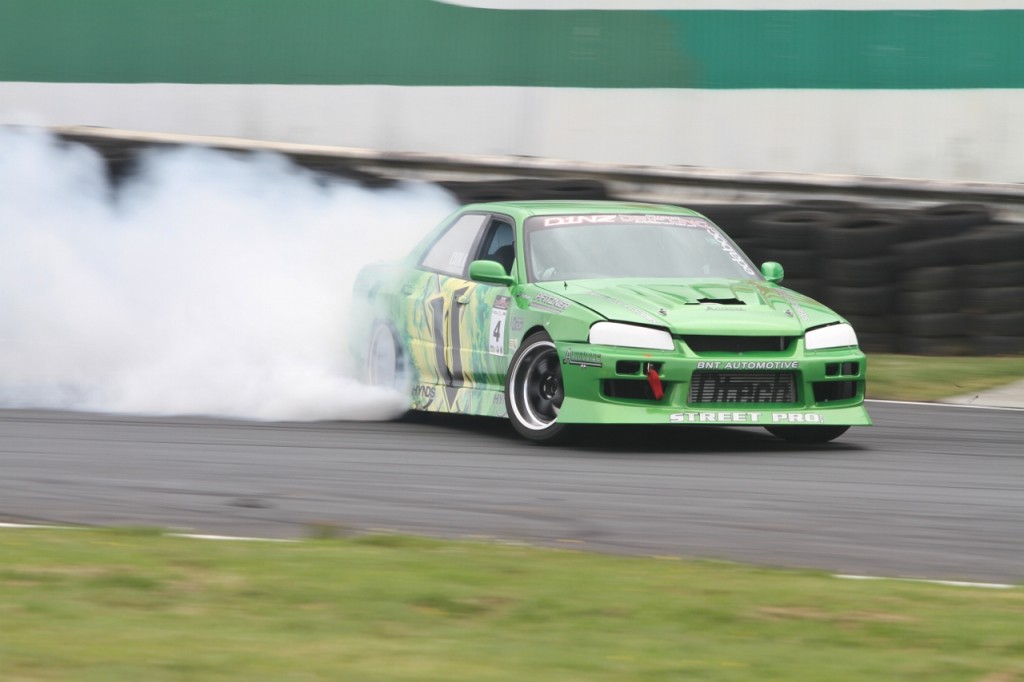 Taking the 3rd spot was Gaz Whiter who had backed his car into the armco on his second run. Whiters car had stalled after initiating into a drift on the sweeper leaving him a passenger, and it was only due to the hard work of Tony Whiter, Pun, Sam G, Vaughn C,  Jase Sellers, a sledgehammer and a cargo strop that the car even made it out. Video link is here ,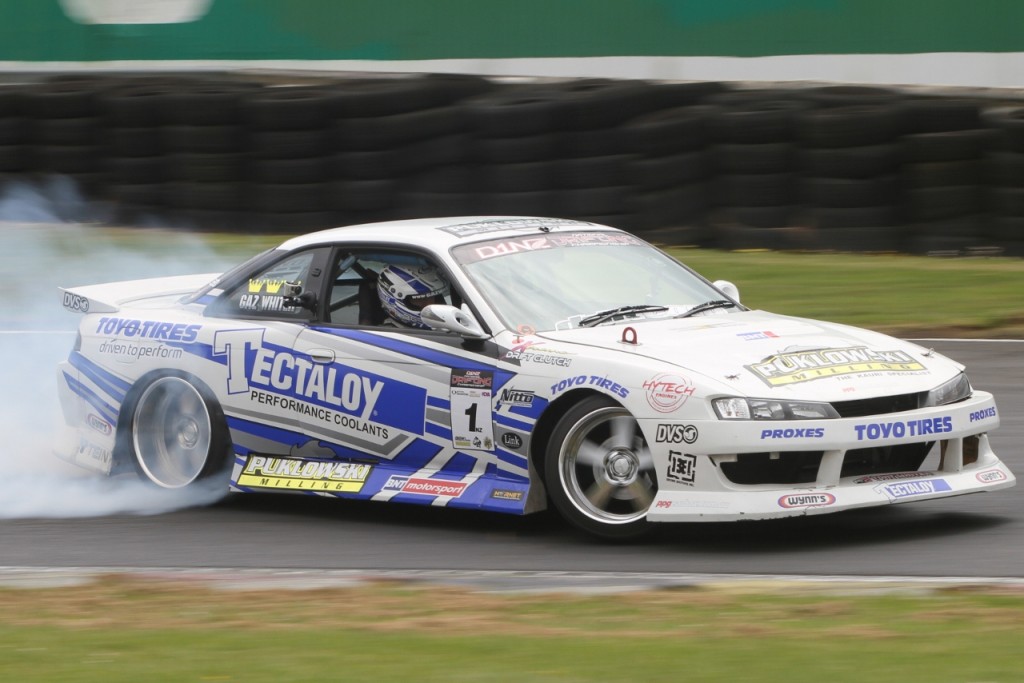 So on to battles the cars would go, and with Jason Seller suffering a broken alternator bracket, Hugo Mclean forgetting if he was in time attack or drift, and Brandon Rogerson suffering a mechanical the field would comprise of 20 cars, meaning most would have a first round bye.
Of those to battle in the top 32 round.
Randall Liupuhi in the champion lubricants S15 would eliminate Bruce Tannock in the Achillies S13, before falling to Cole Armstrong in the top 16
Sky Zhao would take out Robbie Nelson, before going down to Darren Benjamin in the top 16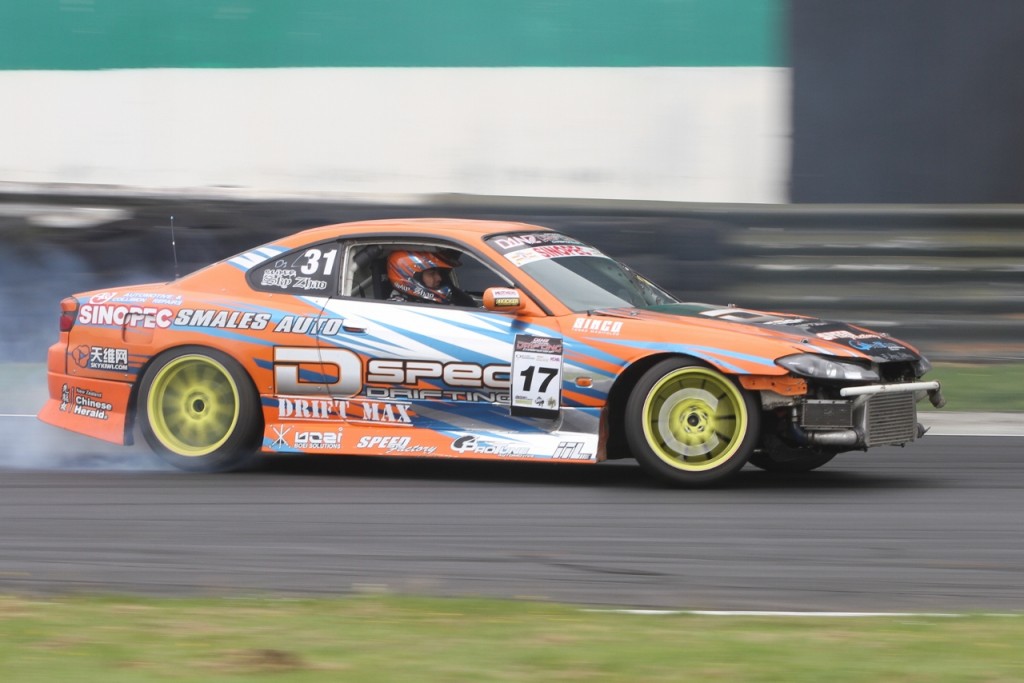 Nico Reid in his new S15 would battle Andrew Redward who had borrowed Cam Vernons R32 due to breaking a valve spring in his own RB powered S14. Nico would take the battle after Redward DQ'd, only to go on to face Fanga Dan where the pair would touch resulting in Reid failing to make it back before his 5 mins repair allocation.
Dave Steedman and Mac Kwok  in the Milwaukee s13 would be the other top 32 battle, with Kwok advising out due to a lack of power steering. A shame for the Hawkes Bay team who travel a long distance to every event. Steedman would be eliminated by Whiter in the top 16.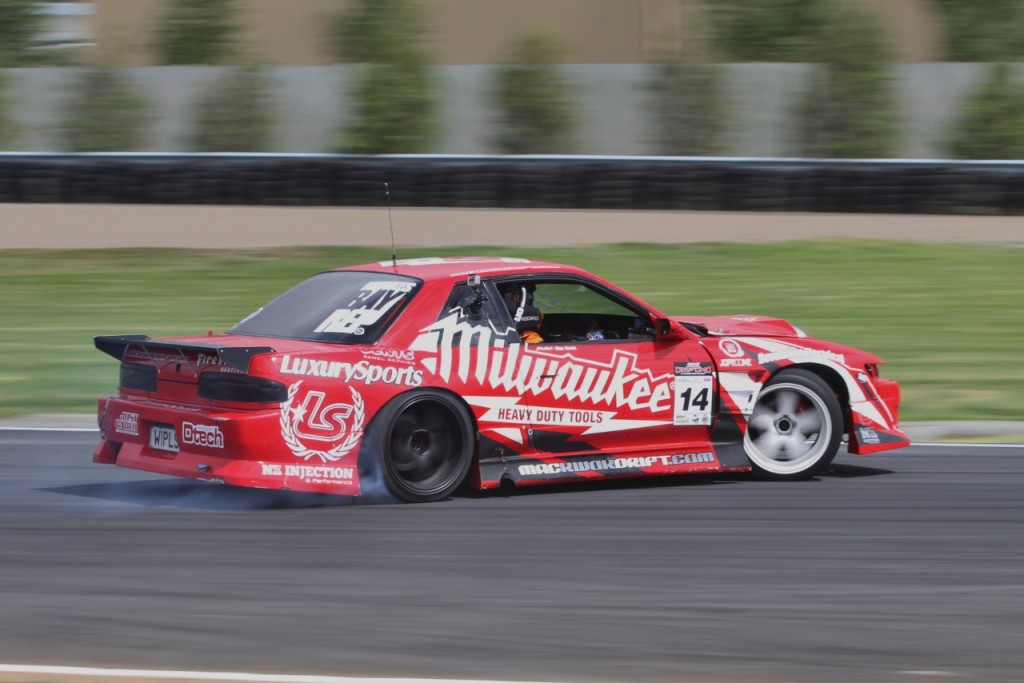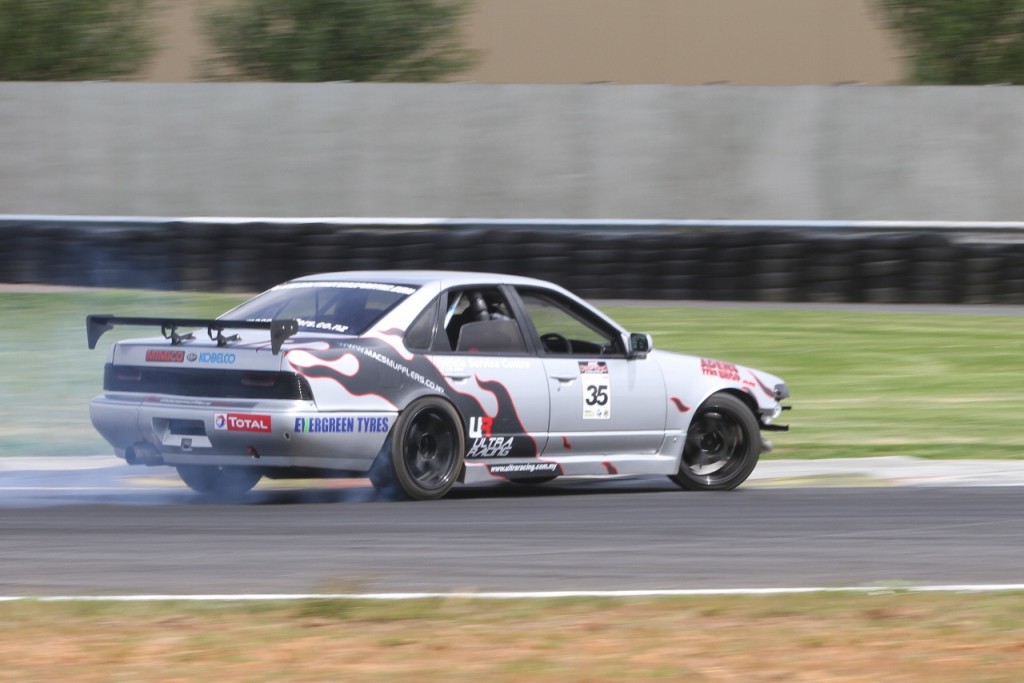 On to the top 16 parade, and due to the vocal encouragement of the crowd all the drivers laid down solid warmup burnouts, a move that would prove fatal for series leader 'Mad Mike' Whiddett who had his diff cry enough on him taking him out of battles after qualifying 7th.
Benjamin beats Zhao comfortably.
Bradley Lauder (Q8) and Mark Burling (Q9) go OMT after 2 torrid battles with Lauder eventually going through
Fanga Dan Woolhouse wins over Nico Reid – 5 min violation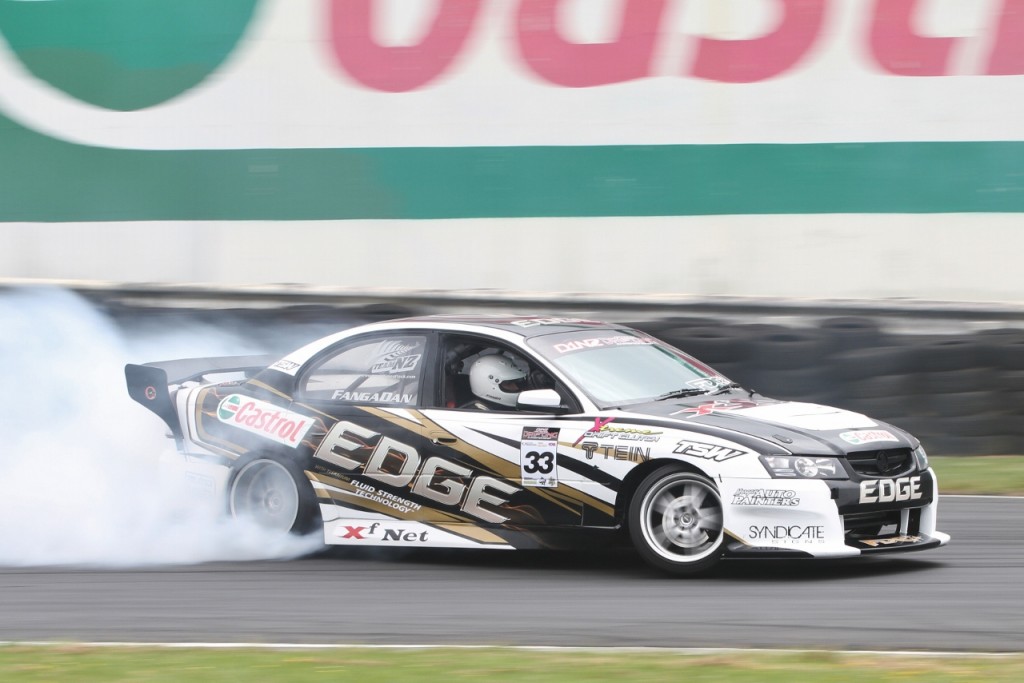 Curt Whittaker beat Matt Jackson after Jackson lays in an incredible run and then loses it on the chase after almost going in backwards.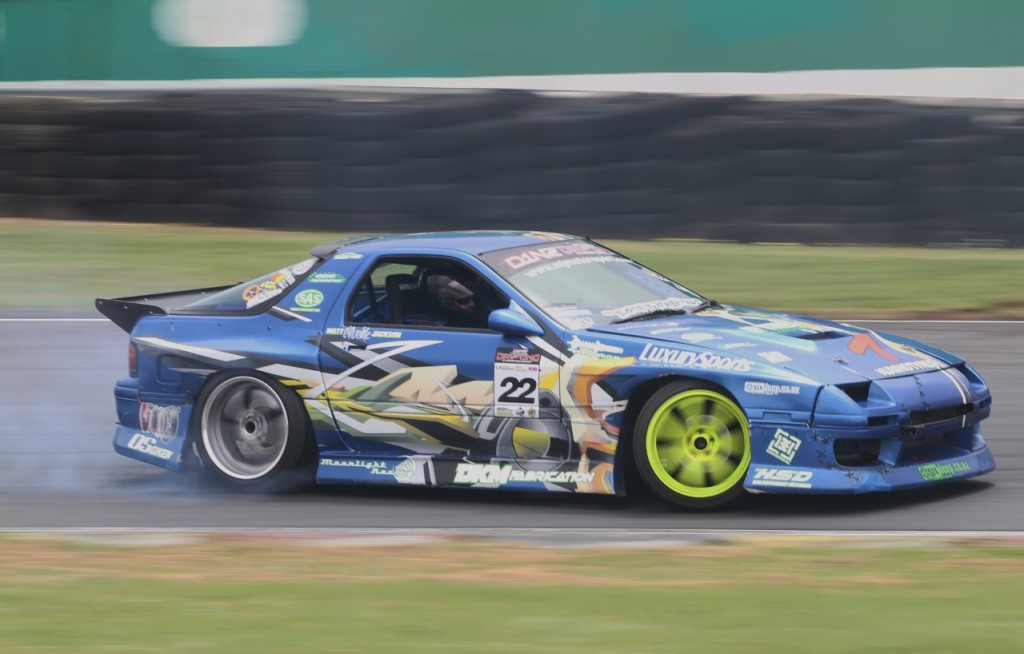 Cole Armstrong beats out Randall Liupuhi, Daynom Templeman wins over Mike Whiddett by forfeit, Whiter beats Steedman & Steve Sole beats Chris Trundle
and into the top 8 we go……..
Benjamin beats Lauder in a rematch from last years rookie series, the pair go OMT with Lauder pushing Benjamin right to his limits
Curt Whittaker beats Fanga Dan Woolhouse in an intense battle where the pressure gets to Woolhouse and he half spins.
Armstrong takes out Daynom Templeman, who had a tough weekend with noise and starting issues
Gaz Whiter takes out Round 1 nemesis Steve Sole in a battle that looked like it might be close again.
Top 4,
Whiter and Armstrong go OMT until Whiter hits Armstrong and bends a rim leaving him unable to continue
Whittaker takes out Benjamin with a simply insane chase run.
Final results.
4th place and not able to complete the battle with Benjamin- Gaz Whiter- Tectaloy S14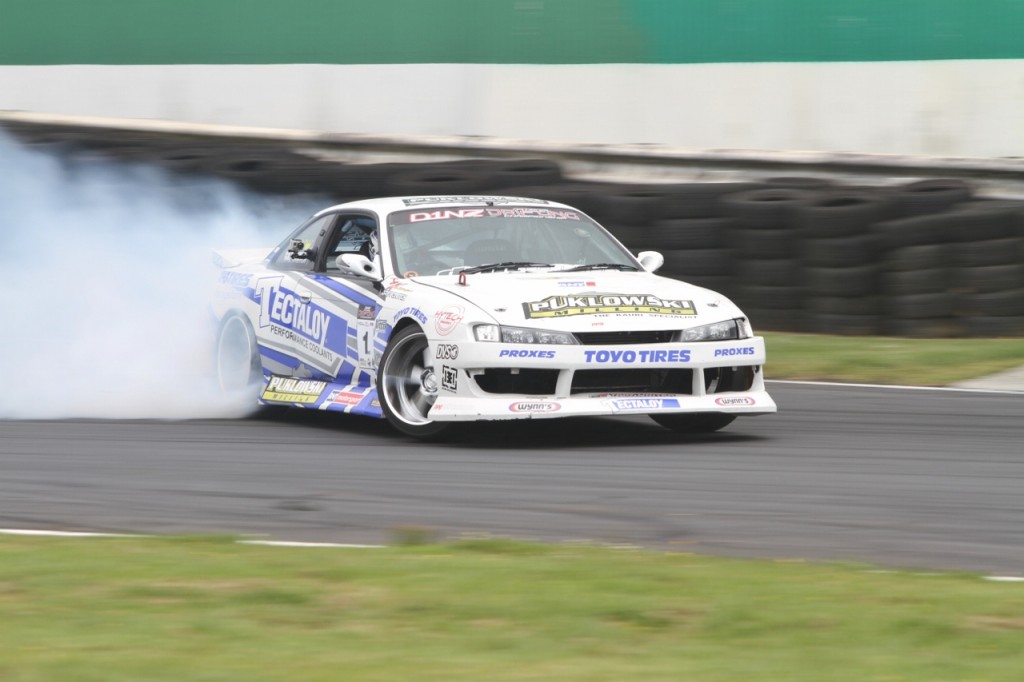 3rd place and driver of the weekend in my view- Darren Benjamin- Scott Williams Motors C35
2nd place and now series leader- Cole Armstrong- V Energy R34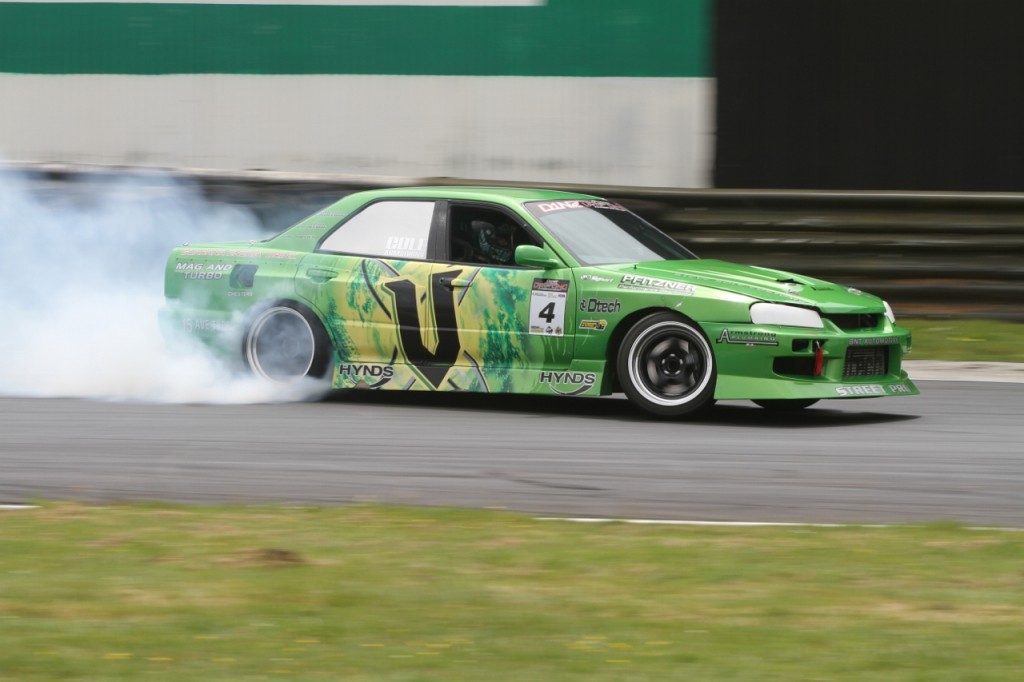 and your winner after going OMT in perhaps the best final I have ever seen,certainly the best in recent memory…
CURT WHITTAKER – WHITTAKER MOTORSPORT 2JZ R34!!!!!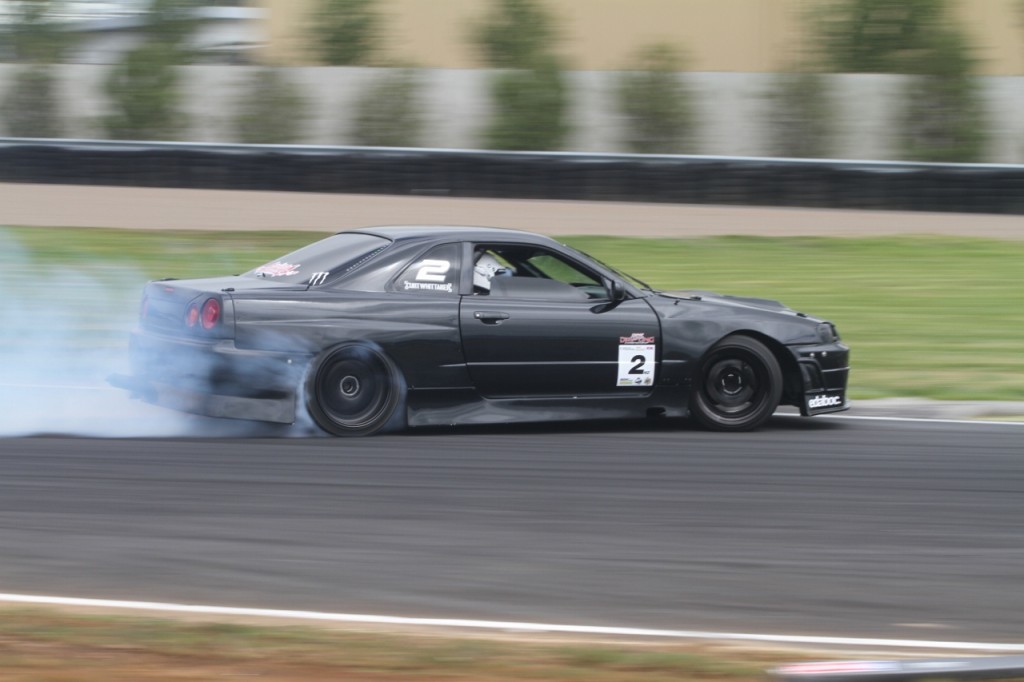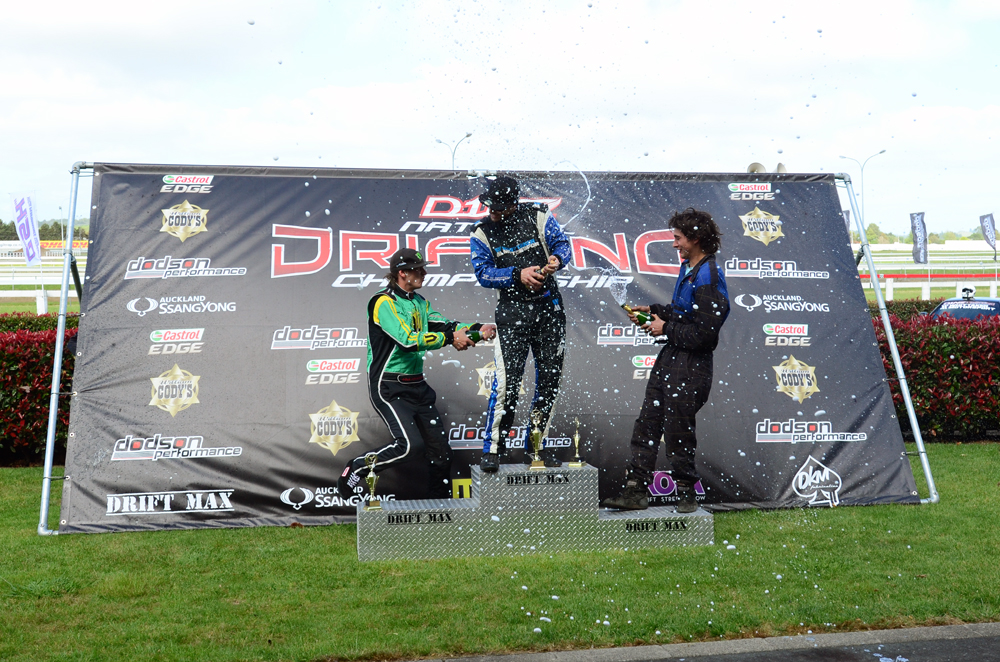 The points table now looks somewhat interesting heading into round 3 at the tight and technical Taupo reverse track, if the first 2 rounds are anything to go by, you wont want to be anywhere else on December 16/17th!!
Cole Armstrong 179
Mike Whiddett 167
Curt Whittaker 162
Darren Benjamin 154
Daniel Woolhouse 153
Gaz Whiter 133
Bradley Lauder 127
Steve Sole 127
Andrew Redward 119
Mark Burling 111
Sky Zhao 109.5
Nico Reid 109
Daynom Templeman 87.5
Mac kwok 87.5
Bruce Tannock 83
Chris Trundle 82.5
Matt Jackson 80.25
Dave Steedman 80
Robie Nelson 79.5
Dimitri Amos 55
Randal Luipihi 54.5
Hugo Maclean 48.75
Jason Sellers 48.5
Jock Bennett 26
Brandon Rogerson 24.5
Carlos Walters 24.5
Drew Donovan 24.5
Shane Rutland 24.5
Will Cook 24.25
How big is the title fight this season gonna be??? bout this big…….