12 Rounds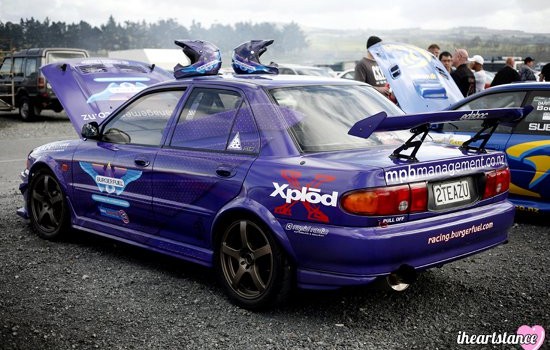 Published on June 10th, 2011 | by mrgrumpyninja
7
Block ya ears…its 12 Rounds with KBR!!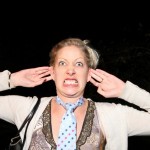 Lock up your booze, bolt down your furniture and block your ears! Welcome to 12 Rounds ….the Kat Benson edition. Join me on a journey told with no inside voice, far to much laughter and giggling and more than one raised eyebrow from the interview subject. Kat & I have known each other for many years and are no strangers to giving each other more than a little cheek, so this was quite a fun experience. Plus anyone who knows a Benson knows how they love to talk!!  so this wasn't really a difficult process:)
Ok..Ready… now try and remember to breathe Kat, Firstly, who are you?
Ohh…yes right…are we on??  I (that's me..Kat…yay!!its all about me!) was born on April 24Th 1984, I am told by my mum I made a speedy entrance into the world. (Blah blah insert long boring  awkward school and teenage years and lots of pointless Kat rambling and taking off on tangents) .  I bought my first Evo II when I was 17 (ish).  I've always taken a natural shine towards anything with a motor [MGN- insert adult toy joke], and if there's a possibility of me driving it I've always been first in line or at least tried to push my way there.  My main motivation was driven out of sibling rivalry [MGN- Kat makes comment about being 100% honest here] – I always wanted to be one up on my big bro, Allister who was drag racing a tidy GSR at the time [MGN- Allister Benson at one point owned Australasia's quickest 1800 GSR].  Having a naturally competitive spirit I had to have a taste of this drag racing thing too, so that's when the dream of Kat Benson Racing was born.
Since the first Evo 2 (it was the first to wear the 2teazu plates) I've owned various versions of Evo's and a few other speedy machines over the years, however when I had the opportunity to purchase my current weapon (1994 GSR) came up I'd had enough of driving in a straight line and wanted to develop my skills as a driver to see what I and the car could do as a combination on the track.  Its only really over the last few years of competing where 'Kat Benson Racing' has really taken shape due to the support of my sponsors, friends and family.   If  I were to have a fast n Furious quote moment….you know life 10 seconds at a time and all that,  it would be something like "slow is boring, second place is still losing and as long as it's fun I'm all for it".
So that probably nicely leads us to the Kat Benson Burger Fuel racer, its a re-birth really isn't it? A straight line warrior reborn as a track dancer.  Tell me about the cars history, and its "evolution"  to its current spec.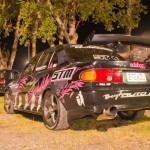 The car definitely has some history.  As Allister's ( Big Brother) 9 second drag machine it had been stripped to the bare minimum and worked like a racehorse by STM and Michael "Cookie" Cooke to try and get those 9 second time slips.  The conversion was a huge amount of work – things like changing the tune from c16 to 98 pump gas and now Gull Force 10, getting it street legal and certified, drive line changes (yes…all those box jokes you love) , a more track friendly suspension setup, bigger brakes,the list goes on really. I'm also quite proud of my "girly" touches, so the interior is looking a bit more homely these days, oh and the exterior which now wears a rather purple scheme, in stark contrast to the black and silver, then black and pink she once was. [MGN- only race car I've ever seen with floor mats? to which Kat giggles and mentions a girl needing comforts ] *photo credit- Erron Soon
You mentioned earlier this is not by any means your first car, it's one of many?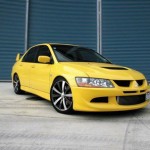 I've been fortunate enough to own an Evo II, VI, VII, VIII, and Nissan Onevia – all of these I've raced at some point… When it comes to daily drivers I've owned  a Version 9 Subaru WRX, Audi A4, and a V8 SS Holden Ute
Any favourites amongst the collection or ones you wish you hadn't sold?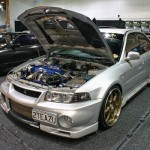 One of my favourites was definitely the Evo VI which had a T78 Top Mounted Turbo – such a staunch car which took two show awards at Auto Salon, but in saying that if I had of held on to it,I probably wouldn't be in the position of owning the GSR today so in hindsight it was meant to be!
Tell me about your experiences as a track racer, and what's been the hardest thing to learn?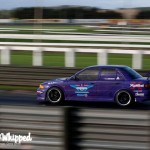 I've been competitively racing for around year now so I'm relatively new to track racing, but I have been taking part in club track days for a number of  years. I think that the experience I have at pace behind the wheel has given me a few advantages while learning. There's plenty still to learn which only track time can provide so I try to get as much track work in as possible in varying conditions, broadening my experience in differing levels of competition and at different tracks.  The hardest thing to get my head around has been braking points, it has taken me at least 12 months at open days and track events to get on top of that, but advice from experts such as Carl Ruiterman, Ian Sheppard and Andrew Redward has helped hugely.  *photo- Chris Smith- Freshly Whipped
Ok, so time for a tough question, you have Burger Fuel on board as a sponsor and also Sony amongst others, what would you say to someone who perhaps thinks "how did she get that" or " what's she really done to deserve that backing? "
I strongly believe that everything happens for a reason, and if you want something bad enough and are willing to work for it opportunities will come your way which allows you to succeed.  I encourage all to just get out there, find a brand they believe in and be the best ambassador they can.  Its not easy, but with hard work and determination your dreams become a reality. I live and breath motorsport and I am confident that I am providing proof that I am a worthy competitor at events – I'm currently the fastest female in New Zealand for Time Attack, and I take every opportunity I can to help out my sponsors.

Your primarily focus is on time attack, which is quite different to full field circuit racing, its driver and machine vs the clock rather than other cars. Any reason for that?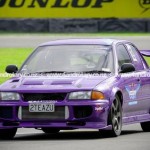 Time attack gives me the opportunity to compete against myself as well as other drivers.  Benchmarking my own personal bests through timed laps gives me a real sense of determination and you don't have the distraction of other drivers on track which makes it all about your own skill, race lines, set up, etc.  Time Attack is a discipline in which I can strongly focus on my own skill development and also be able to make constant developments to the car, bettering my lap times and technical ability as I go.
* photo credit- Lance Hastie
Time attack isn't huge in NZ currently, why do you think that is.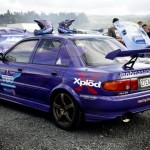 I just don't think that Time Attack has received the same push over here because of the lack of events which can boast a high-calibre competition attracting media-buy in.  It's gagging for the exposure and investment and all that's needed is the above to make it happen.  Overseas, Time Attack is one of the fastest developing disciplines of performance motorsport and it's only a matter of time before we see the same trend in NZ… I can't wait!  *photo- Taryn Croucher – iheartstance
How do you think we could get more females out racing ,  or is that not important and you're just as happy racing the men.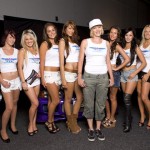 I would love for more females to be competing in motorsport, but not being a sports psychologist I can't tell you the reasons why there aren't more chicks on the track – apart from the stereotype that goes with motorsport really.  There's no reason why more females shouldn't get out there, and  it's definitely not that they're lacking in ability. Perhaps if an event organiser in NZ were to run female only track days it would encourage more girls to get out there?  Maybe it's also something to do with not wanting to be out on the track at the same time as the big boys, but in my experience neither sex is more naturally skilled than the other it just comes down to experience and courage. * photo- DFimages
What does Kat Benson do outside of racing to relax?
Haha, what does that mean?  To be honest motorsport is a huge part of my life.  if I'm not driving I'm usually watching but in times where this isn't the case I'm mountain biking [MGN- and crashing], go karting, cutting serious shapes on the d-floor or engaging in general 'blonde' activities like breaking bones while being towed behind fast-moving watercraft. [MGN- example of Kats awesomeness is at the end of this interview ]
I saw recently that you are in a "relationship" with a top NZ drifter, do you think you could drift, or does that take a special skill set and mentality (read- lack of fear/brains)?
I don't dispute it's a special skill set – I'd even go so far as to say I'd like to see some of the world's best track drivers give it a go and do well, the purpose of buying my onevia was to dabble in drifting so yeah, I know how to crack out the basics.  The only reason I sold the Onevia was because the opportunity with the GSR came up – who knows where I could have been today if I had have kept her!?  In saying that, I don't regret making the switch because Time Attacks where my heart's at and I can't wait to see what the next 12 months brings with the Burger Fuel  GSR!
Finally, who does KBR need to thank for support?
Burger Fuel, Sony Xplod, E and H Motors, Rapid Radio, Advanti Racing, Gull Force 10, Racelign, EDABOC Streetwear, STM, Iheartstance, MGN Inc, Beanbag, Redwardo all my family and friends and the photographers who support me and take wicked photos of my car and last but not least Mary Brown at MPB Management – my life manager and best friend.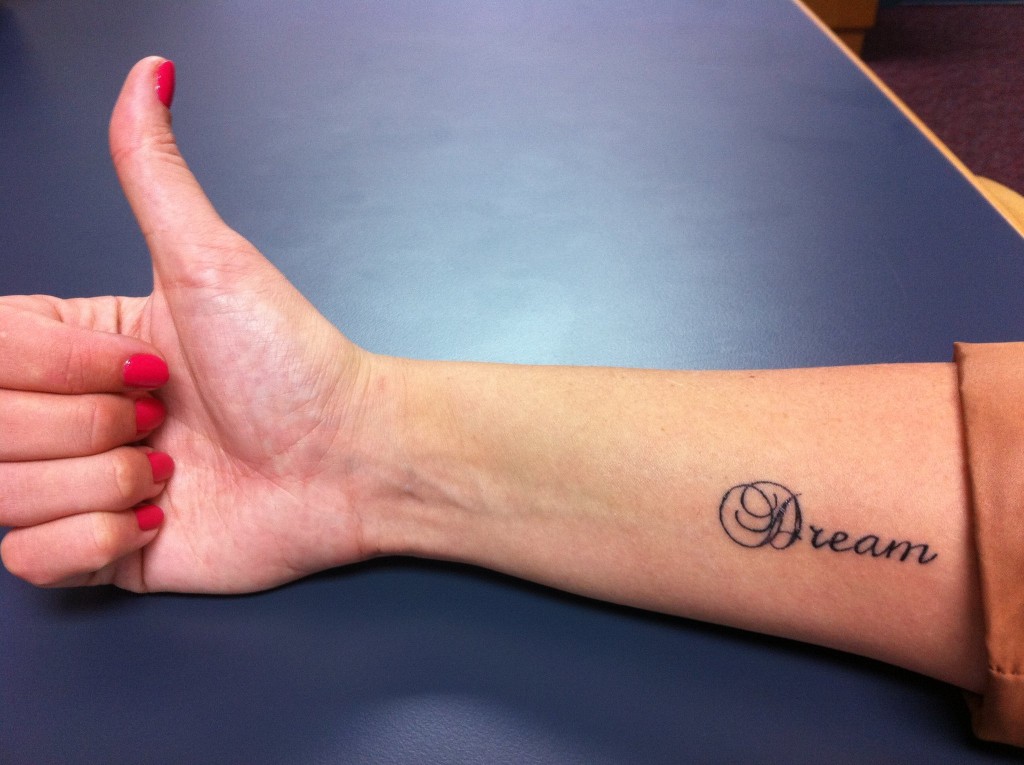 So there you have it, you can take a breathe now Kat.  It's not easy trying to make a name for yourself and being taken seriously as a track racer, so good on you for getting out there at giving it a go. Far to many people in the opinion of this grumpy ninja love to talk about how fast they are, yet come time for action they can never be found at any track event.
Keep on keeping on, this is Mrgrumpyninja and the Junior Benson signing out. Kat……loooookkk oooouttt!!!!!