Sideways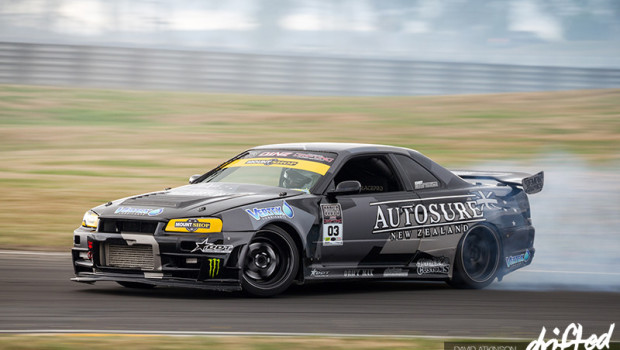 Published on February 26th, 2014 | by mrgrumpyninja
0
Whittaker podiums at D1NZ round 4
Autosure Warranties driver Curt Whittaker has moved himself into a clear 3rd place in the Cody's D1NZ national drifting series with a solid 2nd place finish over the weekend at Ricoh Taupo Motorsport park.
The well sorted 2JZ powered R34 Skyline performs strongly on the Taupo track and Whittaker is something of a specialist at the venue with a number of podium results, although this time he was without the normal spotters prowess of father and often calming influence Len Whittaker,  who was unavailable for the event. Fortunately a more than capable replacement was found in friend and long time D1NZ driver Steven 'Soletrain' Sole.  The influence of this role is crucial, and drivers often struggle if given the wrong read and advice.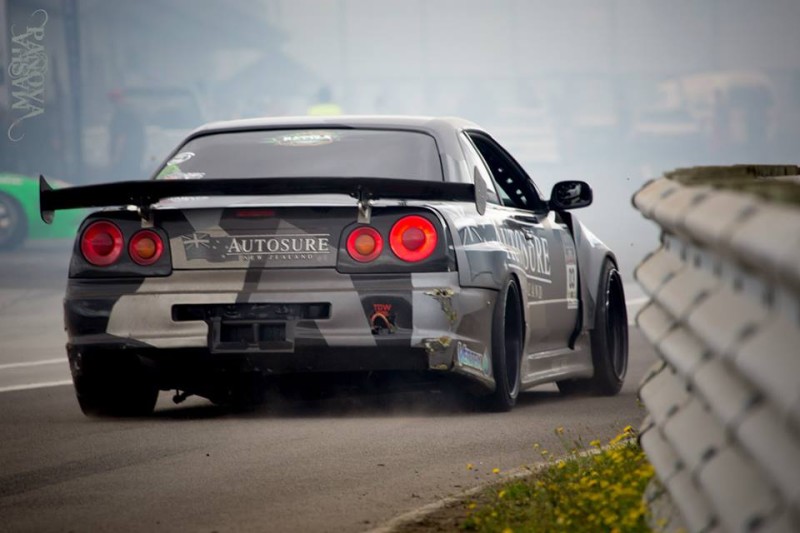 Even with the usual approach of testing and not showing his hand fully on the Saturday, the black Autosure beast was still clearly among the stronger performers in practice and Whittaker was always looking likely to figure in the results even though he didn't really start to bring his A game runs until Sunday when it really started to matter.
An unusually conservative 1st qualifying run netted a score of 66, before Whittaker showed what he was capable of with a run of 90 to sit him in 4th place and give him a bye run straight into the top 16 and a battle with Adam Hedges.  Hedges had no answer for the outright speed of Whittaker who simply drove away from him while keeping good angle, and then produced a close chase run to set up a battle with Matt Lauder, who'd taken out current champion Dan Woolhouse. Lauder was valiant in his effort and took the fight to Whittaker, but couldn't quite match the runs delivered by the 2012 Drift King, who was clearly on the hunt for points and a round win.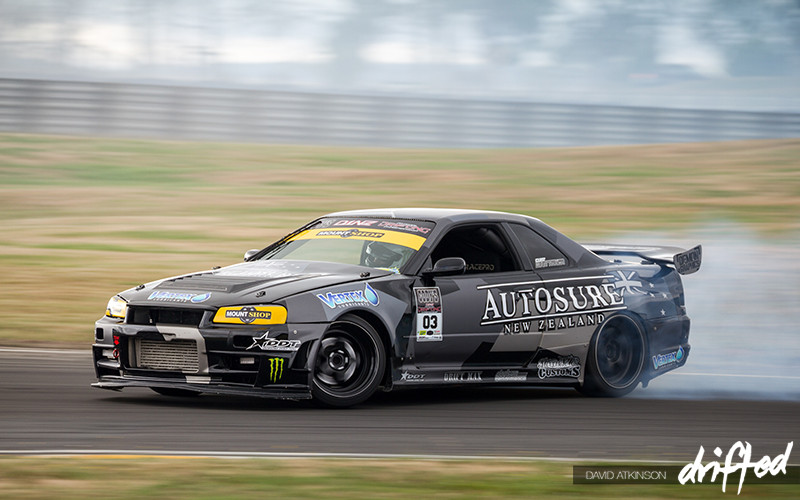 It was at this point that perhaps the defining call of the weekend was made by the judges, as Whittaker in the Autosure R34 took on current series leader 'Mad' Mike Whiddett and was judged to be the winner after Whiddett was judged to have slowed on the final corner while leading, causing Whittaker to make contact and spin the RX7.  All 3 judges were clear in their call that Whittaker had been in full control of his car and the contact was caused by the lead car. While some debate did ensue, the call stood and that set up a battle that is always separated by the smallest of difference, as Whittaker and 3 x Champ Gaz Whiter lined up in the final of the round.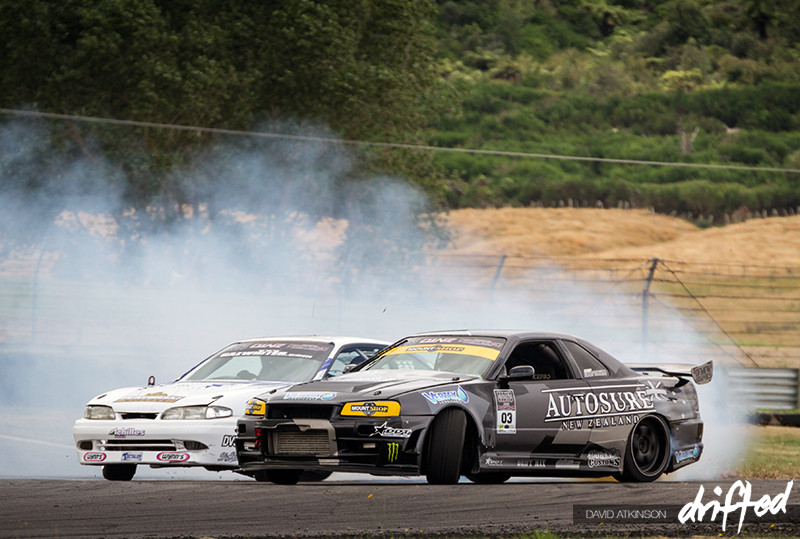 Both cars set off and all eyes were fixed on the track as Whittaker lead the first run and both cars initiated with the speed and aggression befitting of a final. Whittaker grabbing the early advantage as Whiter made a small mistake between clips 2 & 3, although it would have been a half a point of difference max. The drivers then swapped over and roles were reversed as Whiter lead with Whittaker chasing and making a great job of it right until the final corner where Whiter managed to create enough of a gap to get the win in a closely fought final. The Whiter team thrilled after rebuilding an engine the day before and Whittaker paying tribute to that in his podium speech in a great show of sportsmanship .
Curt and the team have now taken a clear 3rd spot, and are still within reach of reclaiming the title. With 2 rounds to go and 224 points potentially on offer as a maximum, the Christchurch round that last year was a car killer shapes as a true test of championship credentials, a challenge the team are looking forward to.
Whittaker Motorsport/ Rattla Motorsport wish to thank there loyal sponsors. Autosure New Zealand, Vertex Lubricants, Elf Oils, DDT, Drift Max, Mount Shop Rattla Motorsport. EZE Engineering, Dodson Performance, Demon Graphics and Monster Energy
You can follow Curt on Facebook for more updates https://www.facebook.com/pages/Curt-Whittaker/58144934663?fref=ts
Photos appear care of
Maria Panova-  https://www.facebook.com/pages/Maria-Panova-Photography/199192686935339?fref=ts
Drifted/ David Atkinson https://www.facebook.com/drifteduk?fref=ts