Sideways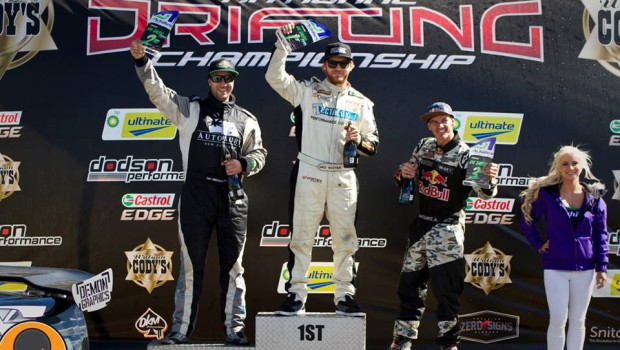 Published on February 25th, 2014 | by mrgrumpyninja
0
Whiter wins D1NZ Round 4 after massive rebuild effort
Tectaloy S14 driver Gaz Whiter had his head in his hands on Friday morning, having just done 2 laps of the Taupo race track, there was a forklift hovering over his engine bay and inspection showed that his competition engine had suffered a significant failure caused by a loss of oil pressure.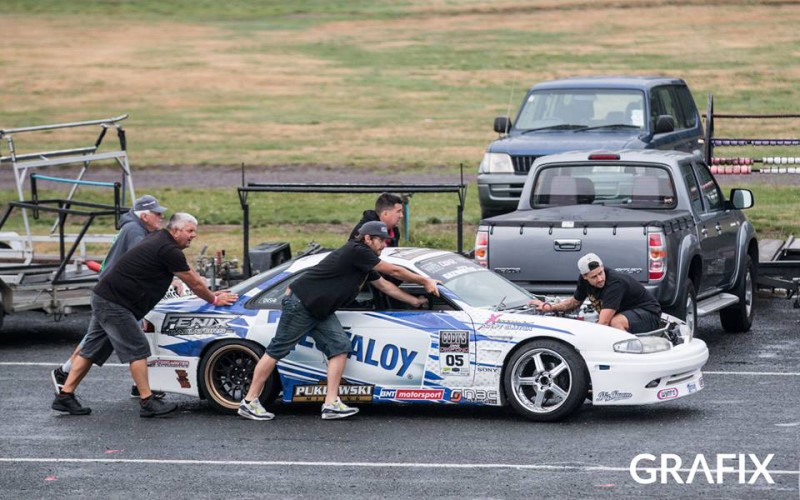 Many teams would give up when faced with that type of challenge but thanks to some resourceful sponsors and the gracious folk at AV8 Motorsport & John McIntyre Racing, Gaz along with Father and Crew Chief Tony Whiter and the team set about the lengthy process of stripping the motor, inspecting, cleaning and then rebuilding it.  When the car emerged from the sheds at 4pm Saturday, not a single person in the venue was looking at any other car as it was driven on a couple of soft test laps before being given a Whiter spec shake down session.  Saying ' we'll, it's as good as its gonna get', Whiter and the team headed for some much needed rest before the Sunday qualifying and battles.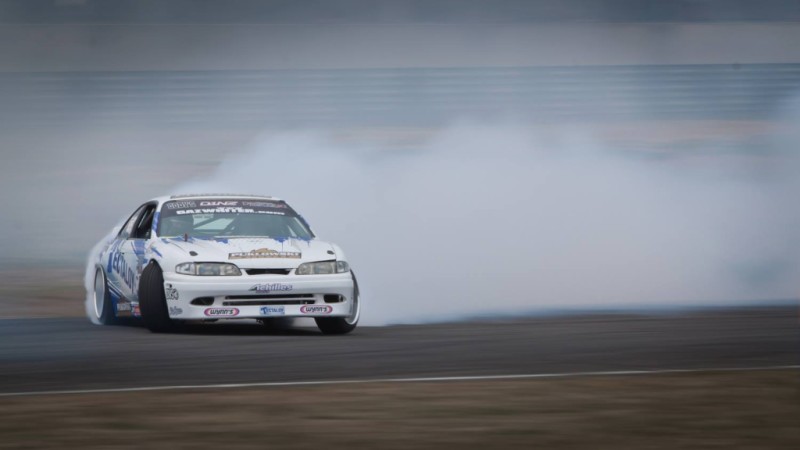 Sunday morning was classic Taupo, with a cold start to the day before becoming hot and humid. Whiter was as relaxed as one can be when sitting over the top of several thousand dollars of hastily but carefully put together engine that is about to be subjected to several wide open throttle sessions of tire shredding madness. He approached practice with enthusiasm, being a day behind most other drivers and had some great sessions  with Shane Van Gisbergen and Nico Reid in particular where the 3 were swapping positions and couldn't be separated.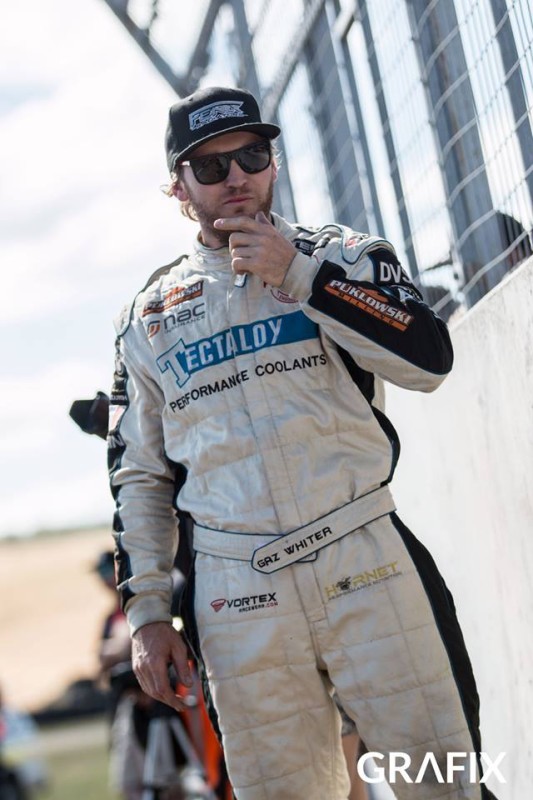 Whiter qualified in P6, scoring an 86 and an 80 which was identical to Zak Pole, with Whiter getting the higher spot based off championship points. That put him into a first up battle with South Island new comer Guy Graham Bagrie in his FC RX7,  Bagrie put up a valiant fight but was always going to be at a power and experience disadvantage.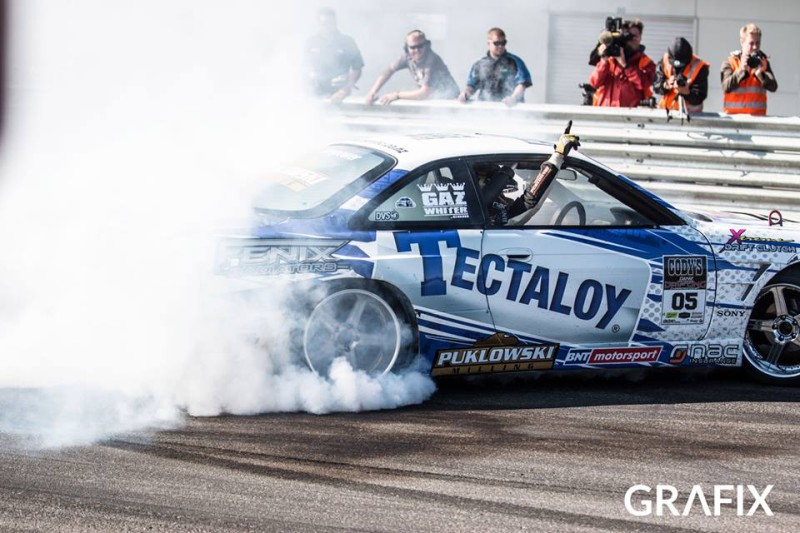 That would set up a battle with NAC Insurance stablemate Daynom Templeman, and while both cars were fast, Templeman was notably shallow in his efforts to maintain proximity and that would be his undoing which set up another battle with Achilles driver Andrew Redward.  Redward is a danger man with a fast and nimble car, and was coming off a win at Tauranga which gave him confidence. The judges in fact couldn't separate the pair after the first battles and ordered one more time. The runs in the eyes of many being identical mirroring of each other. Going one more time it looked as if another battle might be on until Redward was forced too shallow through the inner turn 3 switch to stay with Whiter, and that would send Gaz into a battle with Cole Armstrong for a spot in the finals.
By this time it was clear that Whiter had no fear of damaging the car and was simply out to extract everything he could from the car. A clinical dispatching of Armstrong setting him on a collision course with old foe Curt Whittaker in the final after Whittaker had beaten Mad Mike Whiddett to clinch a final spot.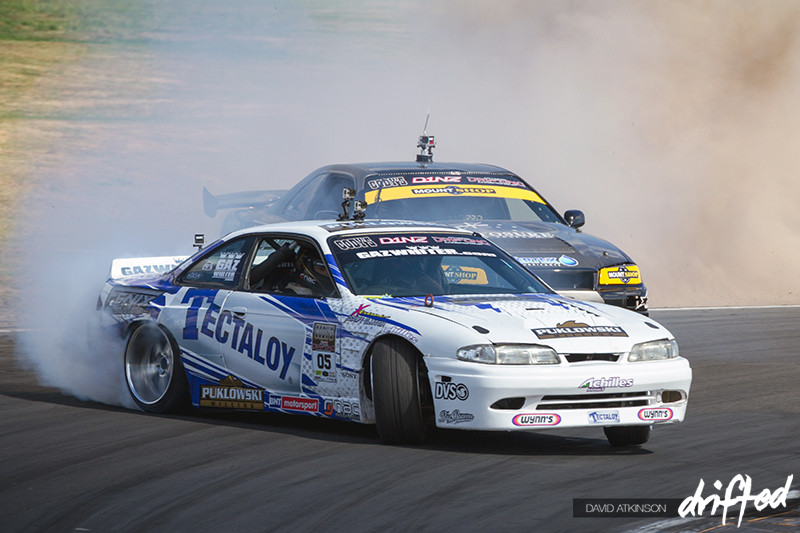 With both drivers knowing each other well, the Tectaloy slider was going to have to be driven inch perfect to gain victory. Whittaker as the higher qualifier would lead with Whiter to chase first.  Whiter delivered a solid run with perhaps the tiniest of mistakes, it was very close on all the score cards and Gaz's spotter would have relayed that info via the radio comms. Knowing that he had to give it everything, the limits of the Achilles 123 rubber was tested by both cars with a fast, aggressive final run that was only separated in the end by the final corner where Whiter managed to eek out enough of  gap to earn himself 100 championship points for the round win.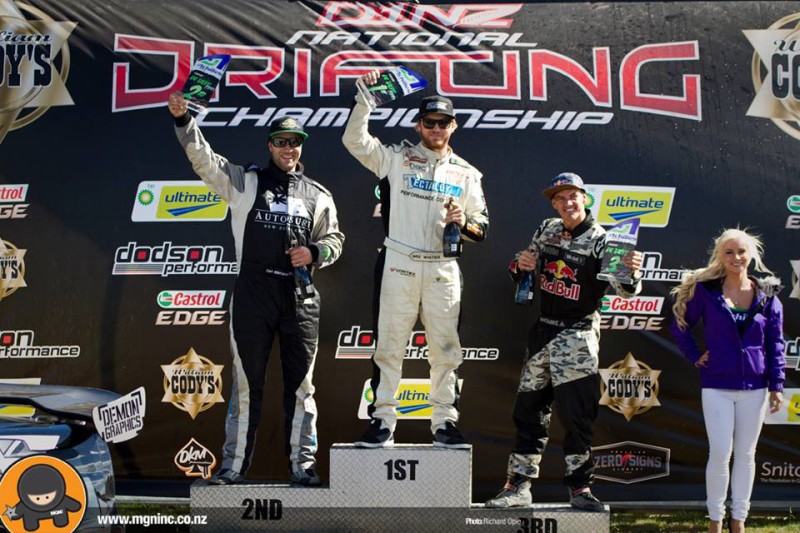 Whiter has now closed the gap to Mad Mike Whiddett and with 2 rounds remaining is well placed to try and reclaim the D1NZ title.
Gaz Whiter Drift wish to thank all their loyal sponsors and fans, and a special thank you to those who lent a hand to get the car running again for this round .