Sideways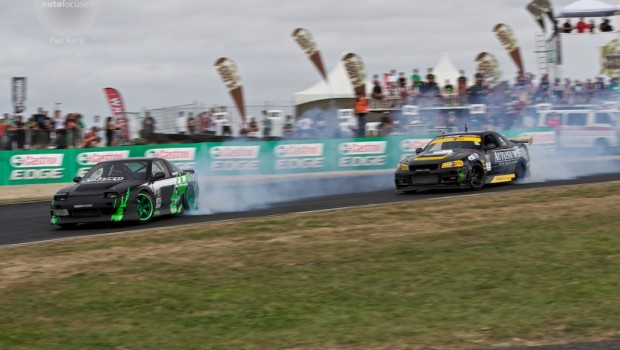 Published on March 5th, 2013 | by mrgrumpyninja
0
Whiter proves talent in unfamiliar car
For Tectaloy Driver Gaz Whiter and his team, this really is turning into a tough season.
After spending hundreds of hours and thousands of dollars to bring their not even season old race car back to life after a huge accident at the Tauranga round of D1NZ - LINK HERE  the team then suffered a fatal engine failure during practice for Round 4 at Hampton Downs.
Whiter had looked strong through Friday practice, entering the section some 5-10m before most other drivers with a broad smoke screen and good angle, only to have it all come undone at 10am on Saturday morning when after not even one lap the engine decided to snap 2 rods and vent all the oil out of a sizable hole in the block. VIDEO HERE
Back in the pits, a team meeting was called with a decision made to compete in Justin Roods still 2006 spec 180sx with some 240kw (as opposed to the usual 350kw) so the team could continue to collect season points. The objective being to simply qualify and hope to make the top 16 and get 55 points.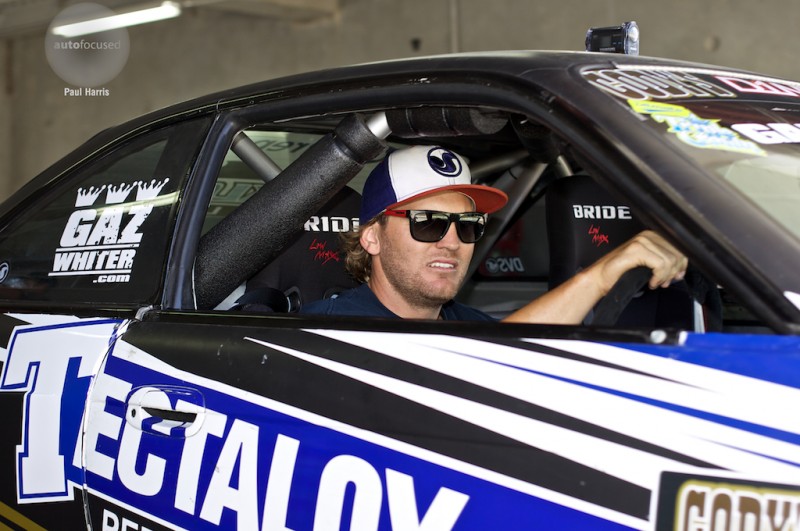 Whiter did a single low speed lap to check the car and came back saying ' this car handles like sh1t' , however he was determined to do what he could and having never even driven the car in anger, would come out in qualifying and spin twice including a near on collision with the armco, before on his 3rd lap pulling it all together and doing enough to grab the number 16 qualifier spot.
Facing South Islander Cody Collis, who had over 300hp more was a real challenge, and Whiter rose to the occasion with a solid drive that delivered  a clear win. He would then move into the top 16 against #1 qualifier Nico Reid and after a tense battle which included a chase run some 10kmh per hour faster than had been managed in qualifying, Whiter would advance after Reid misjudged the speed at which he needed to chase and got offline.
Into the top 8 and old foe Curt Whittaker would stand in the road of a top 4 appearance. In what was largely a repeat of the Reid battle, the lack of  speed from the 180sx would prove an opponents undoing and Whiter would go into the top 4 against a charging Andrew Redward.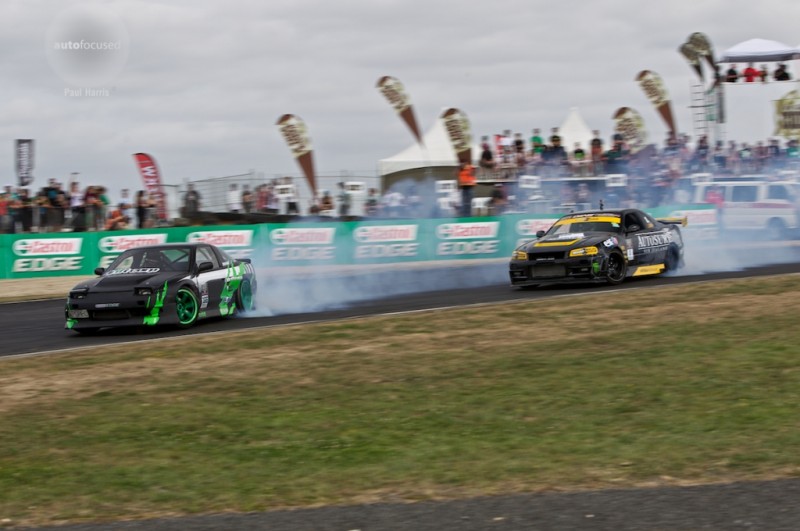 Redward had looked to be the form driver of the weekend, and simply had the Achilles RX7v8 humming, disposing of Whiter in a display of pure speed and aggression and then matching it with a close but controlled chase.
A battle for 3rd & 4th was more than the team had hoped for, however Cole Armstrong and the V Energy slider were simply to big  an obstacle to overcome, with Cole also exploiting the power and speed advantage to create an unbeatable lead.
The Whiter Team would leave the event happy none the less, with Gaz having proved his clear talent and solid season points being gathered. A huge thanks goes to all the sponsors, fans and Justin Rood for the loan of his car, and we look forward to seeing you in Christchurch.