Sideways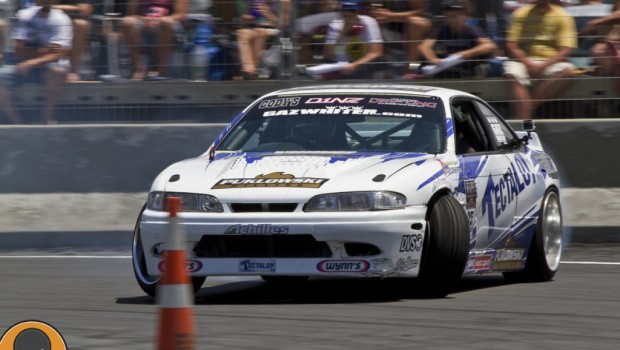 Published on December 16th, 2013 | by mrgrumpyninja
0
Whiter continues strong season start
Tectaloy s14 driver and 3 x National Champion Gaz Whiter continued his strong 2013/4 season start over the weekend at his home event in Whangarei.  Ultimately Gaz beat himself on the day with a silly mistake putting him into the wall and placing him in 2nd for the NAC sponsored event, giving the team further confidence for the rest of the season.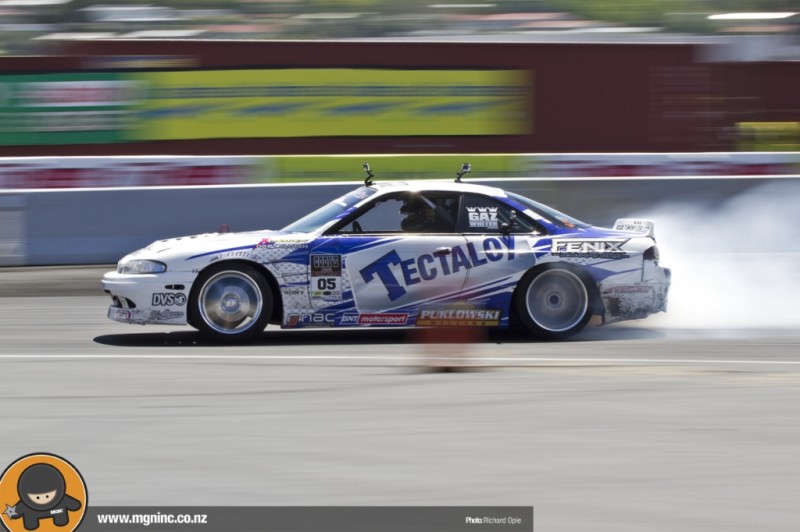 For Whiter, the event held at the Toll trucking yard in a venue known as the 'Concrete Jungle' had an element of unfinished business,  and it was clear from when he arrived to check out the course and unload his car on Friday night that he was looking for a big  performance in front of home fans. Eliminated in the top 8 after qualifying #1 the season prior, this was an event that the Tectaloy team badly wanted to win to repay the strong support they have enjoyed from the local community over the years.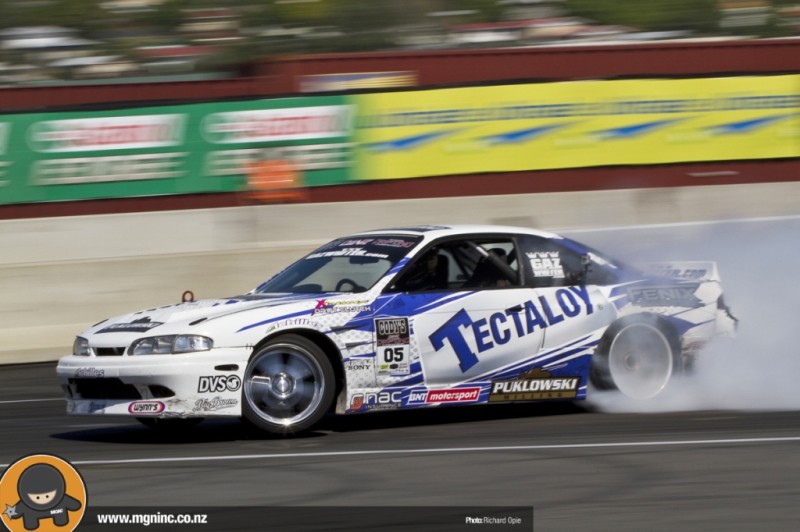 Saturdays practice day saw Whiter looking to master a highly technical line that had all the drivers trying different methods in the quest for a flowing line, the fast entry and then short sharp switch proving to be a challenge for all to master. It all came together by the end of the day with crew chief Tony Whiter heard in the pits to be pronounce 'Garry has lost him mind!! Him and Tannock  ( Bruce in the Achilles S13) have lost their minds, they are gonna wreck both cars!" .  Told of this afterwards, Gaz simply laughed and said ' whatever ' with a big smile on his face.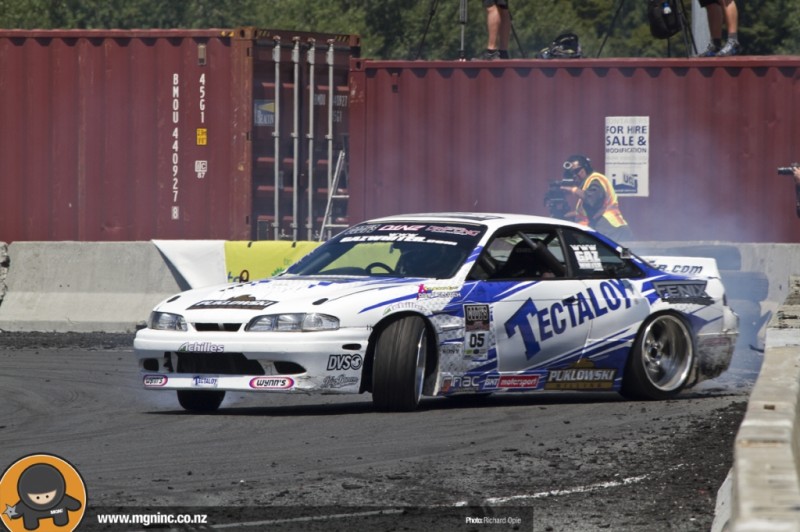 Sunday was competition day and it was a huge scare for the team when the Tectaloy slider fired into the section on a near perfect line, apex'ed the second clipping point then turned into the third and lost all drive. A collective hush went over the crowd as a thought of ' not again' must have been going through the minds of many after last seasons engine dramas. Fortunately it was  a rear diff that had simply cried enough after being punished by a combo of sticky Achilles rubber, Xtreme drift clutch and G Force gearbox, and the team were able to replace it and get back out for a 2nd run to get Whiter into the top 32. His score of 85 only good enough for 9th place, giving an idea of how tough competition was going to be.
Into the top 32 and the Tectaloy machine would go up against Dave Steedman, who has returned for 2013/4 but hasn't had a lot of seat time yet. The big v8 too strong and fast as Whiter pulled away on his lead run to advance to battle Chris Jackson, the current DriftSouth Champ.  Jackson came pretty close to tipping Whiter out with mistakes made by both, but the call went the way of Gaz to set up another showdown with Curt Whittaker in the top 8.  These 2 have serious history, especially at this venue and everyone was looking forward to the battle. Whittaker had qualfied #1 with a 94.5 and was going to be super tough, unfortunately the crowd was robbed of seeing what would have been titanic due to a hub failure on Whittakers Autosure sponsored car that couldn't be repaired.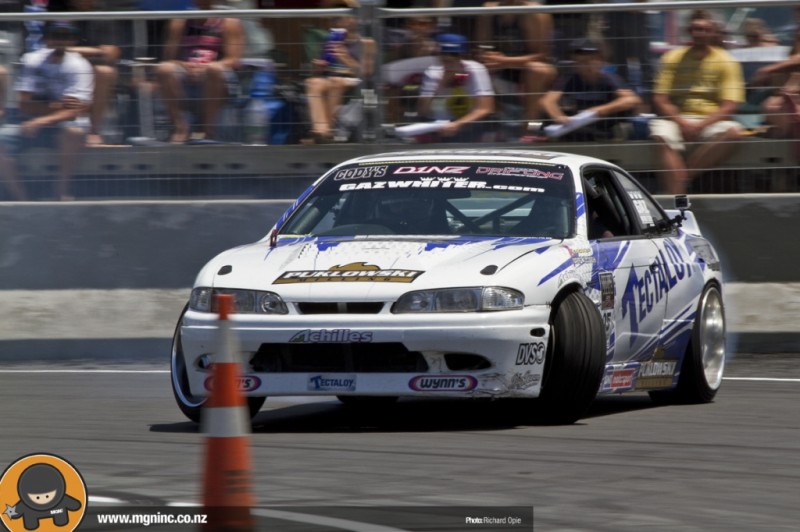 Cole Armstrong stood between Whiter and a second consecutive round final, the V Energy driver having been in blazing form all day and Gaz knew he had to step up and deliver, which is exactly what he did with better lead and chase runs than seen in other battles, putting him on collision course with Mad Mike Whiddett, whom he'd met in the final at the opening round of the season.
In the end, it  was almost a strange anti-climax, the crowd on its feet to watch a final between 2 amazing drivers. It was not to be though as both came down the short straight and went to initiate, Whiter simply running out of room and lightly tagging the wall with the rear of his car which sent the front end spinning in to a 2 tonne barrier with the front wheel on opposite lock. That broke all the suspension arms and there was no way the car could be repaired in the allowed for 5 minute period.  "I just had no room," Whiter explained as crew members examined his – fortunately only lightly damaged – car. "Mike was slow away, I couldn't really see where he was, then I was in the wall, it was as simple as that."
"No-one likes winning like that," admitted Whiddett, "but a win is a win. Unfortunately in practice this morning I wrecked our good gearbox and we didn't have time to change it before qualifying then the battles so we had to lock it in third (gear) and hope for the best."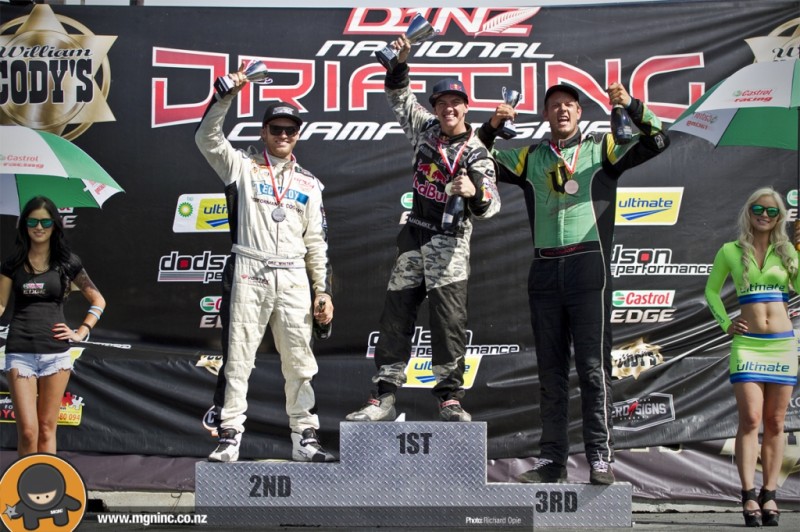 Whiddett now holds the series lead overall by just 2 points over Whiter, the 2 strong early front runners over V8 Supercar pro Shane Van Gisbergen. With all 3 looking good on the short track, expect to see fireworks at Round 3 in Tauranga on the 18th and 19th of January.